Home Depot's Window Shutters Review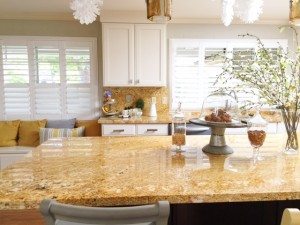 Window shutters have been a godsend since we live on a pretty busy neighborhood street. We have a constant flow of walkers that go by our home at all hours of the day. It is the funniest thing that people love to look into our home. We struggled for years trying to solve our looky-loo problem. We wanted to avoid covering our windows and blocking any sunlight. I knew from the start that I wanted wooden plantation style shutters. As you probably know these type of shutters are an expensive investment, so my husband was pretty reluctant with this choice. I waited patiently for him to warm up to the idea of wood shutters. After a few failed attempts of window treatments, we finally checked out Home Depot's window shutters. I'll let you in on a secret; I knew all along the exact features I wanted when it came to the wooden shutters. You see, I had them in my childhood bedroom and loved them!
~ A Note About the Nester ~
When we interviewed contractors for our kitchen remodel, we had one who felt our skylight should not be off center of our new island. He suggested we cover it up. Since we lived in the Pacific Northwest for seventeen years, we gasped at this suggestion of covering up precious sunlight!
Here are a few of the features I love about these plantation shutters.
Wood
We had synthetic blinds at our last home, and they did kind of bend a bit and didn't look like wood at all. Wood has a stiffness that is in a league all of its own.

Clearview
The photo above shows the non-clear view; it has a rod that attaches to the louvres. I had this growing up in my bedroom, and they quickly became loose, and the shutters wouldn't hold their place.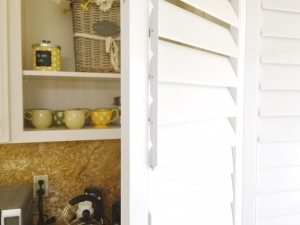 Here is a close up of the alternative placement of the rod. With our system, you can tighten or loosen the tension of the louvres. The rod is located on the backside hidden from plain sight and it doesn't obstruct the view out the window.

Ability to open up the shutters
I wanted to have the option to open up the shutters and have an entirely unobstructed view out our windows. The Rockwood company representative said, most people don't want this feature, and she almost made me feel like I was a little bit crazy to be requesting it. But, most days our shutters are folded back and open. In the above photo, we had the right shutter totally removable so we could wash the window. Since the faucets are tightly positioned against them, we are unable to fold them and open them up like a normal bi-fold shutter. I hope this makes sense?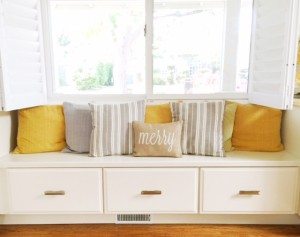 I love our wood shutters, and they provide the privacy we need but also allow in sunshine quite nicely. My husband now agrees that it was the best investment for our window treatments. In fact, before the shutters, he was planning on landscaping our front yard for privacy and closing up the front with a fence. We are both happy that we didn't compromise our curb appeal, and rather the beautiful plantation shutters add such a beautiful touch to the kitchen and the windows.
Cheers,

Here are some posts you might find interesting:
https://happyhappynester.com/2016/03/durable-fade-resistent-sunbrella-is-the-best.html
https://happyhappynester.com/2014/08/kitchen-remodel-part-2.html
https://happyhappynester.com/2014/08/chalkboard-labels-for-organizing.html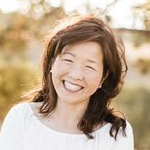 Latest posts by Janine Waite
(see all)