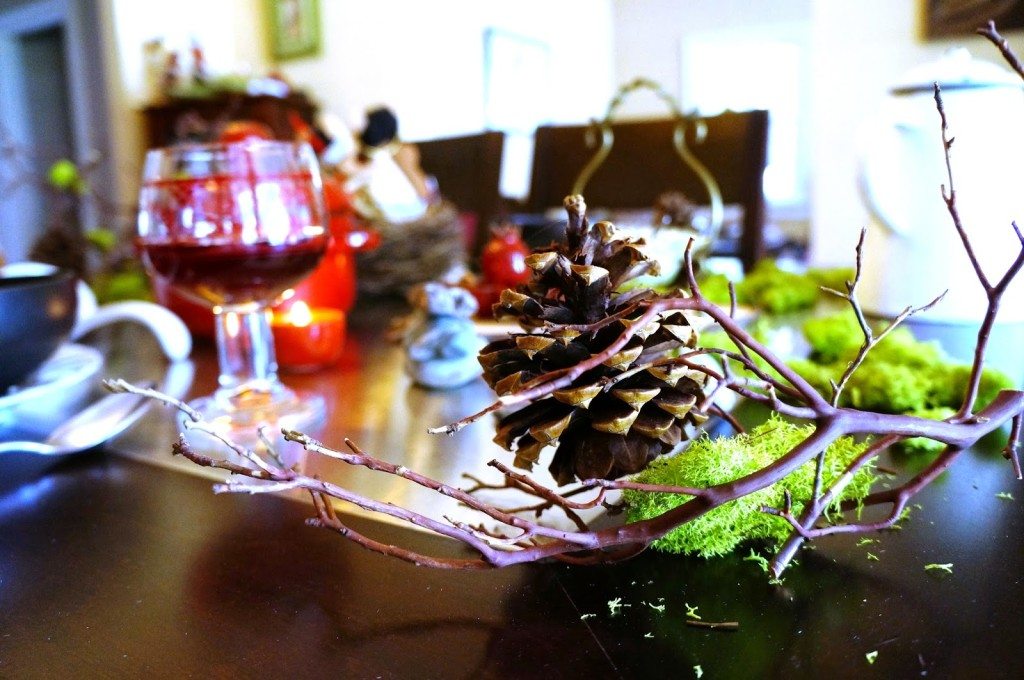 A Guest Post ~
My dear friend, Colette from Coco in the Kitchen is a multi-talented kind of gal. She can whip up the most creative and delectable dishes as well as design her own company logo! In addition to all her many gifts, she is such a caring and thoughtful person. Recently, I had my annual breast mammogram and she supported me through the whole thing! What's more amazing is that she is a breast cancer survivor who has the most positive outlook on life! I feel so blessed to have her as a friend, and I hope you love this post and her website as much as I do! Here is the link to her blog:
Coco in the Kitchen
Sit back and get comfortable and enjoy her intimate writing style and gorgeous photos, and make sure to leave a comment for her! So, without further delay, I would like to introduce Colette…
***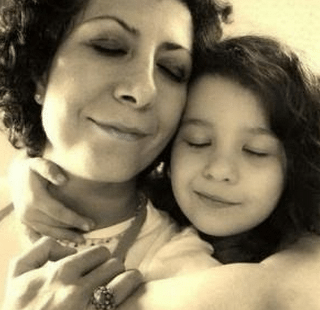 Bringing elements that echo Nature into the home creates a relaxing
environment. Anyone who hikes, camps or fishes will agree. One of my
favorite bedtime rituals is to flip through magazines. Last week, I was on the
look-out for inspiration do a guest post for my friend Janine of the Happy
Happy Nester blog. I met her on Instagram, if you can believe it and while
we have not yet sat face-to-face over coffee and pastries, we talk daily
and share ideas. Janine has a very refreshing sense of style that conveys
her happy spirit. I was not sure what I was going to do for her blog, but
I knew it had to be something very special.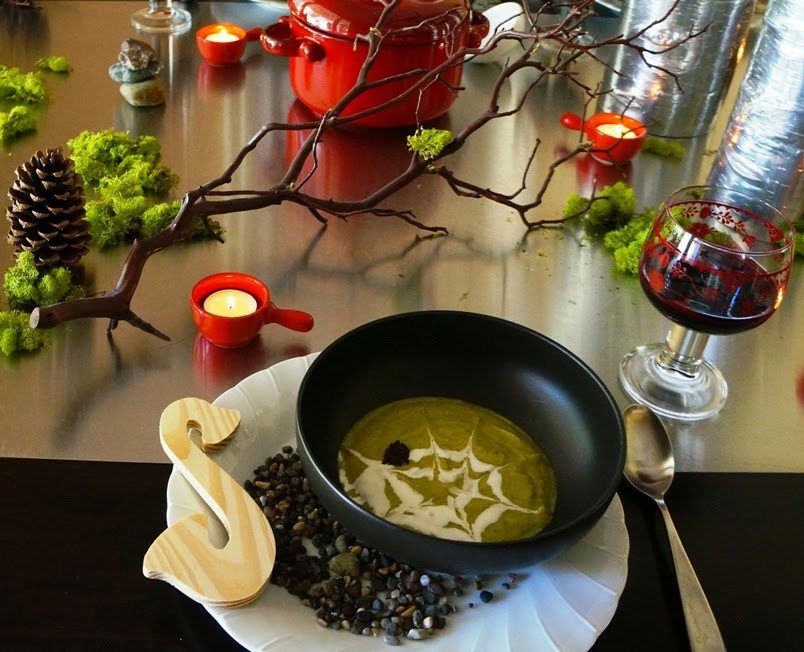 Images spread across the pages of magazines fill my head with big ideas
that sometimes creep into my dreams. This happened last night. I woke me
up in the wee hours somewhere between 2 and 3 am with a brilliant idea –
setting the dinner table. After all, it is always good to be prepared. That is
how a candlelit woodland-inspired tablescape came to be. In the spirit of
Autumn entertaining, this theme sets the scene for a casual, but festive
meal.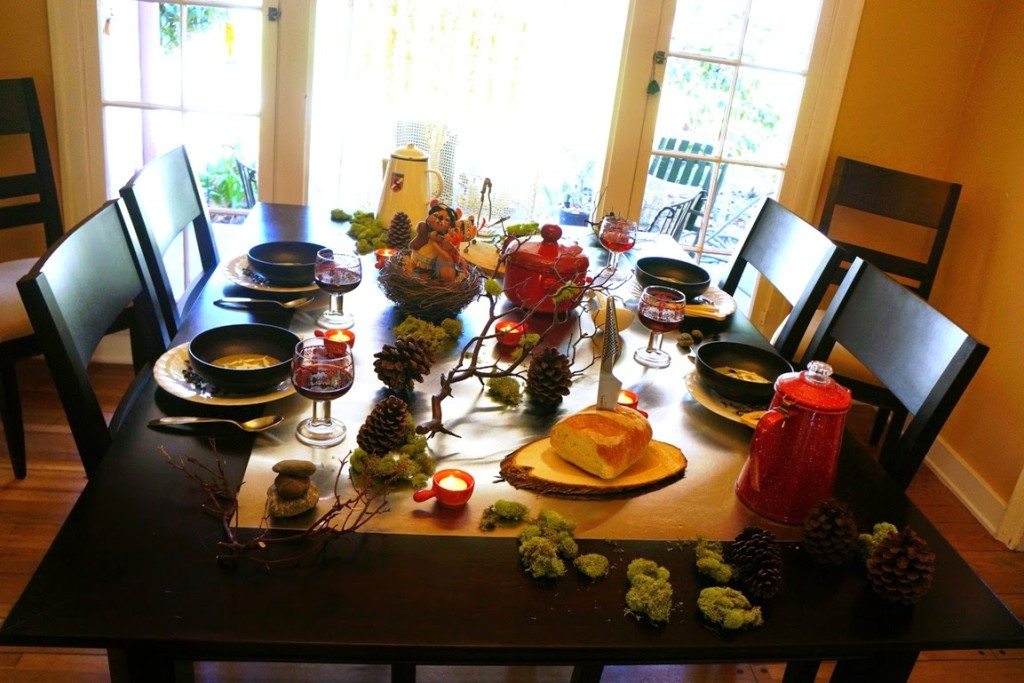 Various elements that I imagine finding along a hiking trail collected
onto our dining table: Spongy, green moss, twisty twigs and pot-bellied
pinecones. The Anna Lee Native American mouse family standing in a bird's
nest (there is a baby in a papoose on the mommy's back) recall our history and
a season of thanks-giving. A cedar plank made a good home for a fresh loaf
of bread and a knife dug into the bread from above mimics a wood ax
resting on a tree stump.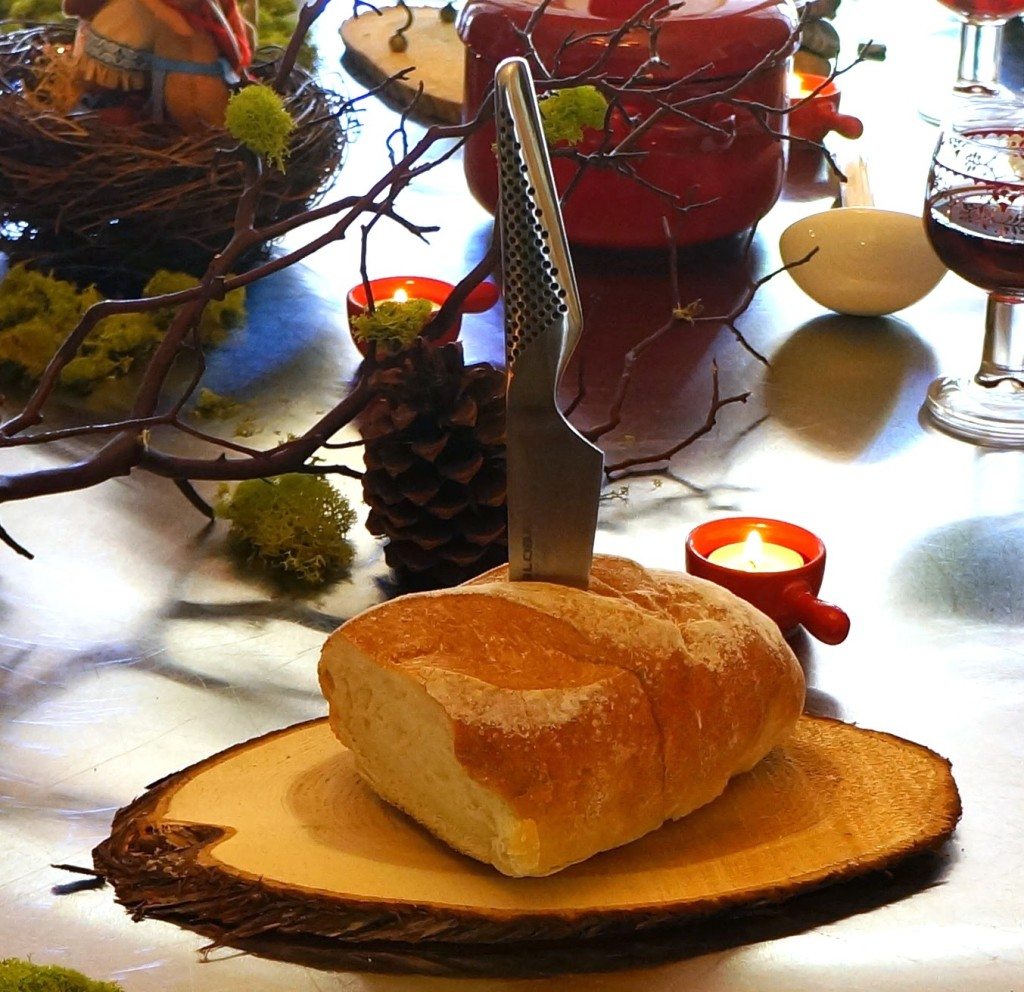 Tealights cast a warm glow over the table and create a soothing
mood. Flameless LED tealights are now readily available and safe around
kimono sleeves and little hands.
Place settings are marked by large letters cut out of wood and
placed onto a charger plate. Tiny pebbles collected from visits to the
seaside add a bit of nostalgic whimsy. Stacked river rocks here and there
add a zen-like charm. A glass of ruby-red wine is always an inviting
sight.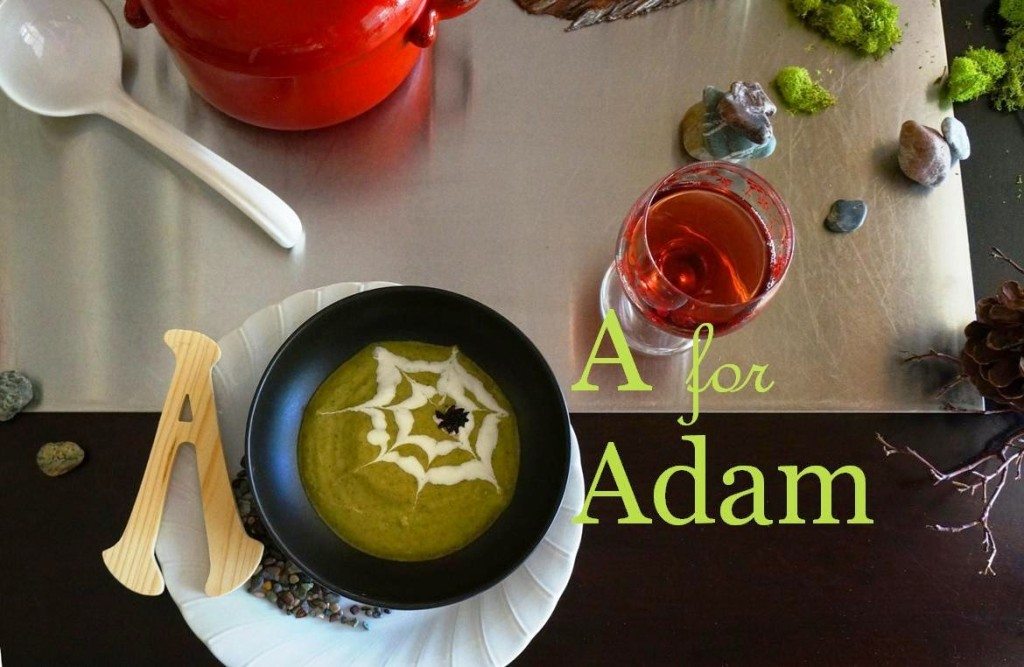 Waiter! There's a BUG in my soup!
A cozy soup is most appropriate to enjoy
the last of summer produce. Zucchini, parmesan cheese, cannellini beans
and fresh herbs come together in warm bowl of a creamy, emerald blend. A
bit of Halloween comes to join the party. The sour cream spider web and raisin
spider make sure the mood remains anything but too serious. Get the
recipe and how-to instructions
here
.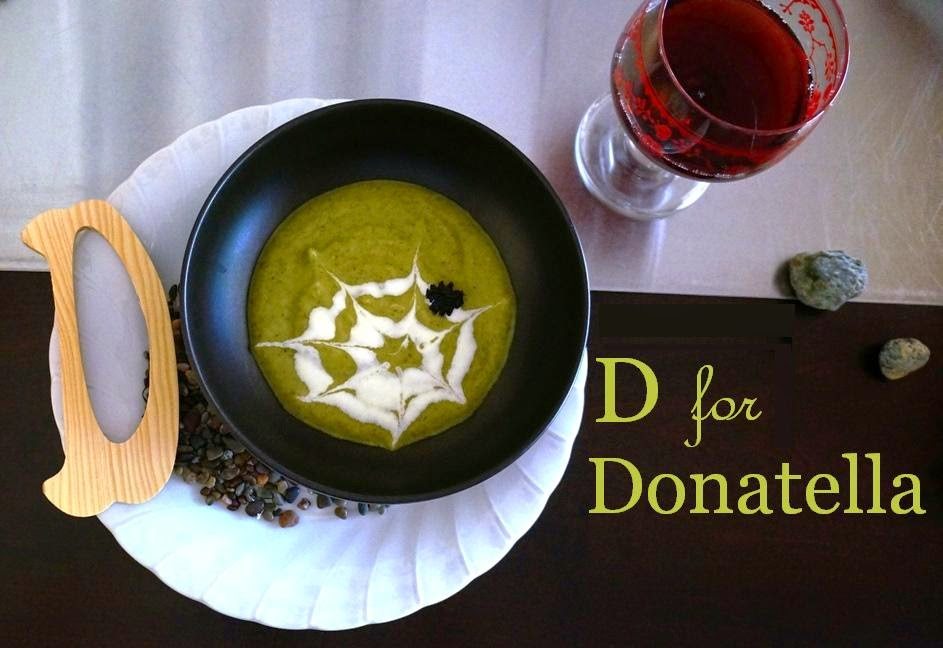 A lucky find at a charity sale years ago was a Pilgrim Bear Couple
carrying a pumpkin candle holder. They fit in nicely in the woodsy
setting. A red ceramic pomegranate salt cellar offers two kinds of red
pepper flakes from homegrown crops. The pomegranate is a common symbol of love
and family in the Armenian, as in most other Middle Eastern cultures.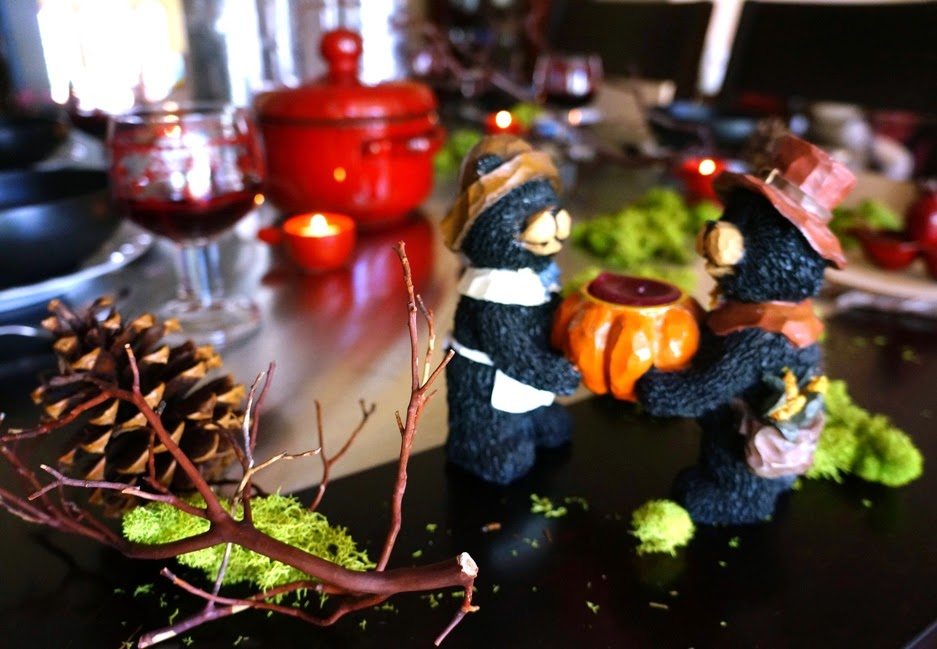 A patina-covered Buddha bust resting in a birds nest adds to the
serene Eastern feel among stacked pebbles, branches and vibrant green
moss.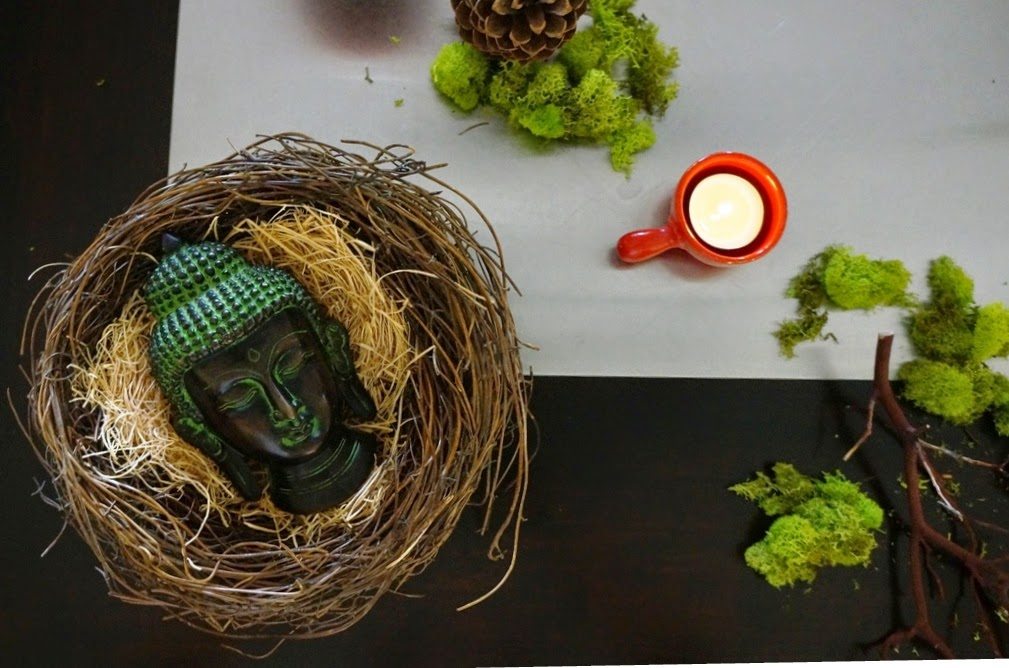 The overall composition of the table decor is stunning, but free-form. I
spent a good portion of several hours reshaping the look of the table,
moving things around, adding some things, removing others. The
silver-toned birch tree trunk vases add more height and interest to the table.
They are wedding presents and a beautiful tribute to the metalworking
craftsmen of my heritage.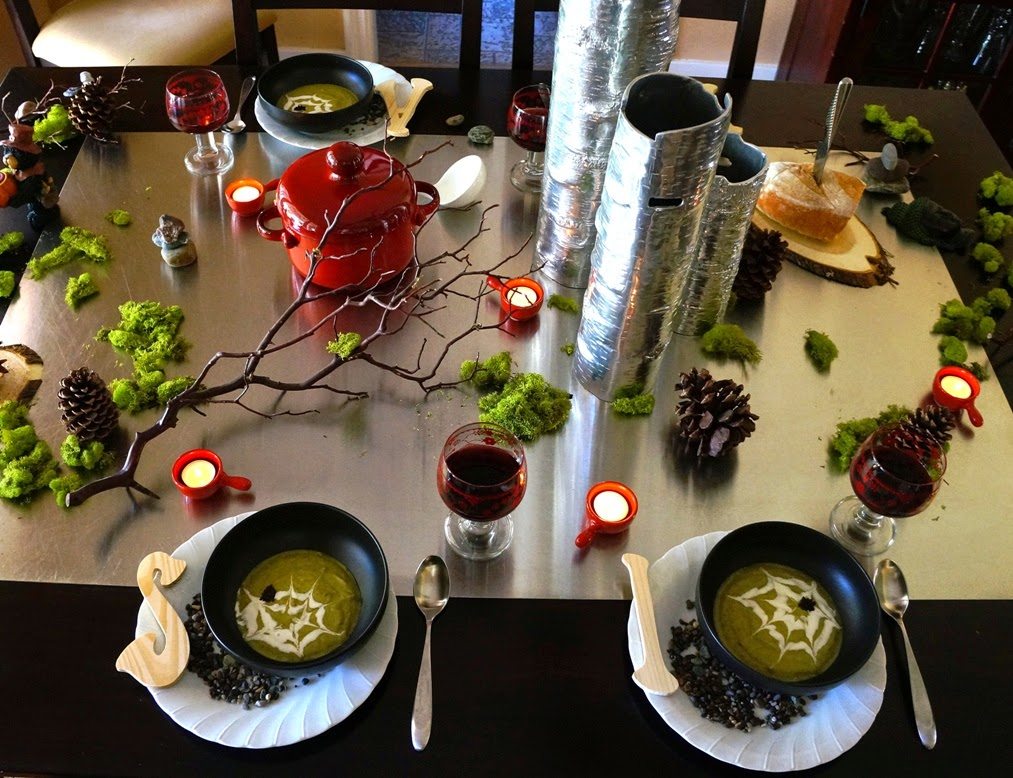 Every seat has a different view that offers topics for
conversation and promise a vibrant social gathering.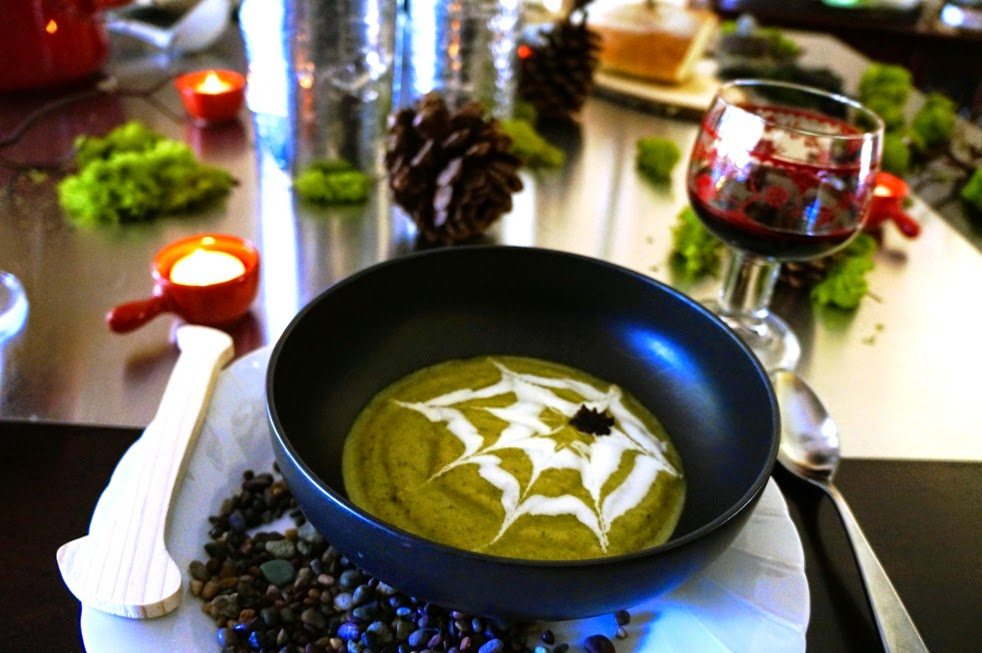 The mood changed as the day progressed and the sun cast
ever-changing light over the table. By nightfall, the twinkling tealights were more apparent and their golden glow cast welcoming shadows over
interesting curves and bends of objects on the table. The objects and their
positions also changed. The Native American mouse family gave way Pilgrim bears
which later gave way to the Buddha head and birch trunks. The look and feel of
the table morphed and each time, presented a different, yet equally
charming venue for a home-cooked gathering.

Hopefully, you are inspired to raid your cabinets maybe even your kids'
toy boxes for interesting things to set your own themed table. It may be
difficult for you to match some of the items like the clay pomegranate
salt cellar which is a souvenir from Armenia that my parents brought for us.
The Native American mouse family is an Anna Lee original and is now
discontinued. I found mine on ebay and am sure you will find something,
too. Don't forget to take photos of your beautiful table and share with
me. I cannot wait to see your ideas.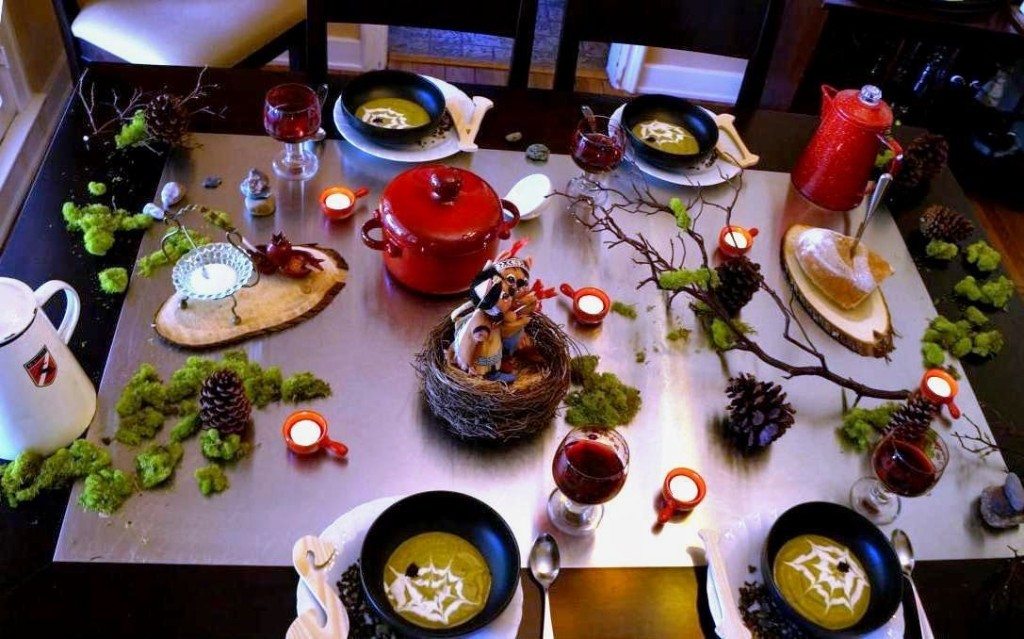 This time of year, we think back to what we learned from history
books about the early days of our country and all the blessings in our
lives. A woodland-inspired table makes a cozy setting to gather with those
people who are the best gifts we have ever received and invites them to come
back and stay with us again.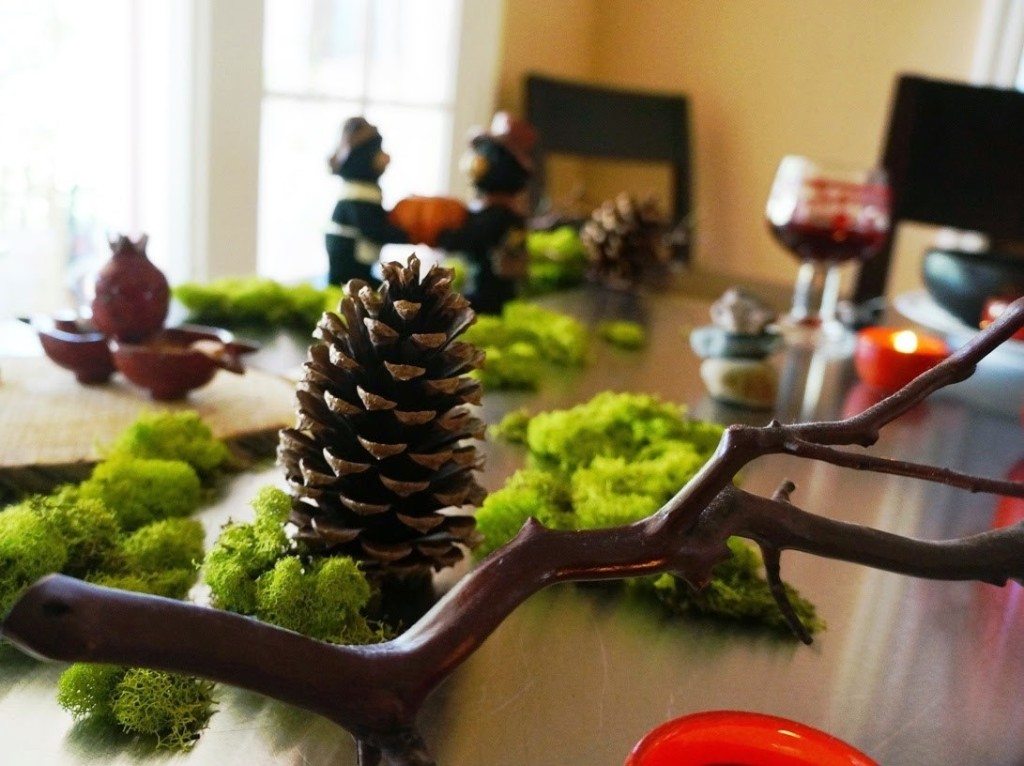 Where to Find Things
*Cedar plank = foodsafe, found in the supermarket meat section to
be used for roasting salmon.
*Moss, pebbles, wooden letters, cinnamon-scented pinecones, twig
nest, tealights = local craft supply store
*Manzanita branches = etsy.com
*Metal Buddha bust = abchome.com
*Birch tree trunk vases = Michael Aram Collection
*Serving items = target.com
*Native American mouse family =annalee.com, Home Goods or
ebay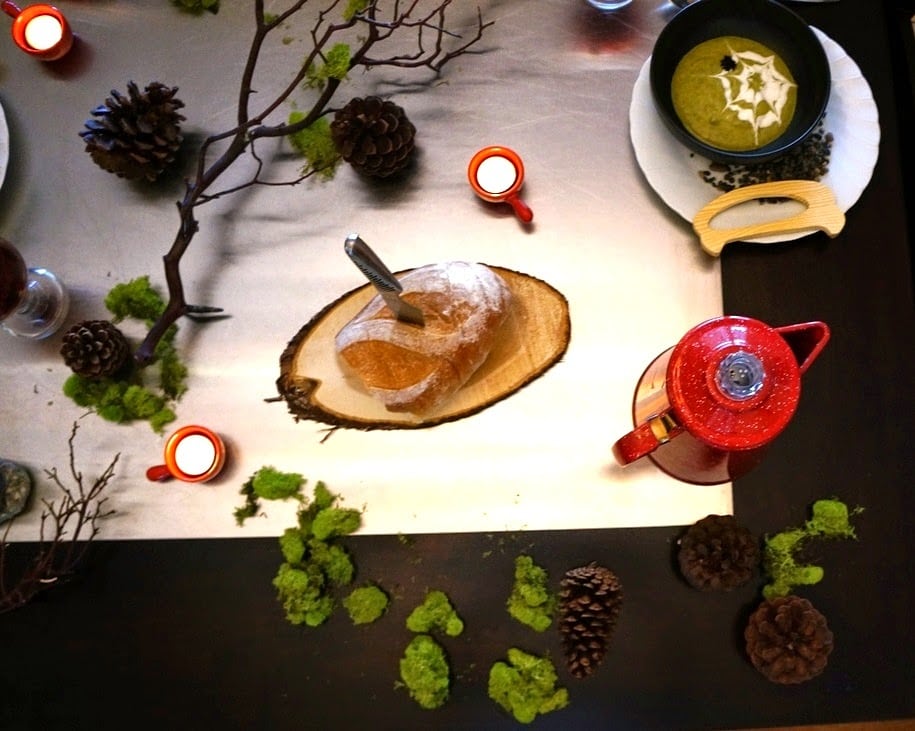 Thanks so much for visiting! We hope you found this post inspiring and create your own Woodland Themed table decor! I know that Colette has given me a bunch of fun and fresh ideas for my next table setting! Leave a comment and don't forget to subscribe via email so you don't miss out on future blogpost.
Cheers,
Janine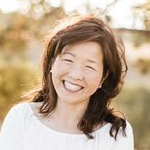 Latest posts by Janine Waite
(see all)