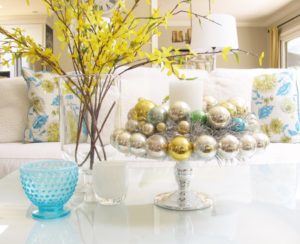 Creative Cake Stands
I have gathered up 12 creative cake stands photos this week, and I'm super excited to share them with you today. You see, I collaborated with my blogging friends, and I'm always amazed how we all have the same assignment but yet our results are so unique. We definitely put our signature on our designs which make it especially fun to share these with you today. If you happen to have either a white or glass cake stand sitting around, I hope this post inspires you to try using it in a new way.
A Note about the Nester
I love cake so much that when I was working in an office, we would get a craving for cake and would go out and find the nearest bakery! Ah, I always have room for a bite of delicious cake.
I've linked to all their blogs and found most of the cake stands on Amazon, and other websites. The following post contains affiliate links.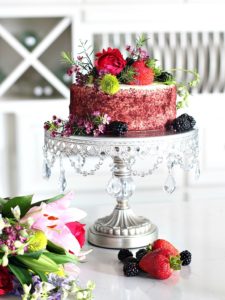 Floral Cake Stand
The House of Silver Lining | Antique Silver Beaded Cake Stand
I love how Shauna added some fresh flowers to her cake and stand which gives it a nice fresh touch. She created a lovely pairing of vintage and flowers. Shauna told me that this Red Velvet Cake is incredibly delicious!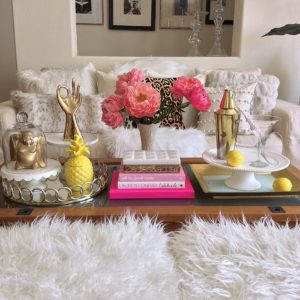 Cocktail Stand
2 Ladies and a Chair | White Beaded Cake Stand
Tamara and Joan are masters of decorating and entertaining! They are also such sweet friends of mine, and I admire their enthusiasm, talent, and creativity!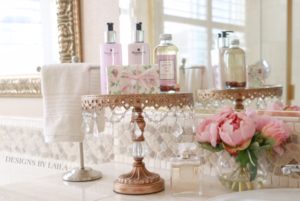 Bath Stand
Designs by Laila | Antique Gold Cake Stand
Laila has such a beautiful style, and I adore how she displayed her bath essentials. Such a gorgeous, welcoming arrangement for guests.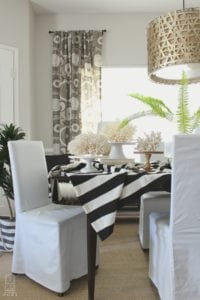 Elevated Decor
Oscar Bravo Home | White Pedestal Cake Stand
Oscar designs such wonderful compositions of decor, and his use of cake stands shows off his beautiful beachy coral. Isolating them on the cake stands is a perfect way to draw your eye upward and into the space around the table.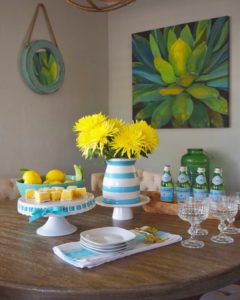 Dessert Display
Crazy Chic Design | White Ribbon Cake Pedestal
My dear friend, Amy has a fun color-coordinated dessert display. I love how it so summery with blues highlighted with the lemon yellow dessert and flowers.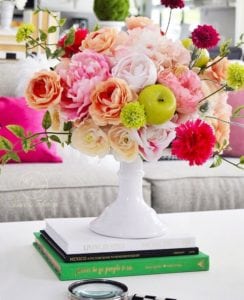 Floral Stand
Home and Fabulous | White Pedestal Cake Stand
Liz has such a beautiful bouquet of flowers that are bursting with amazing colors. She chose to create a fun display with her cake stand, and it definitely captures your eye and leaves you breathless.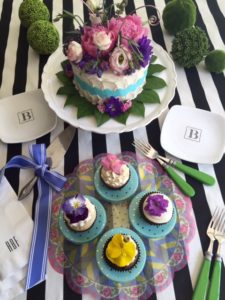 Cupcakes and Cake Stands
Meme Hill Studio | White Cake Stand
I so want a piece of cake at this point of my post! Looking at these photos is killing my diet! Wow, this gorgeous display of delicious desserts shows off Amie's great skill with color and patterns.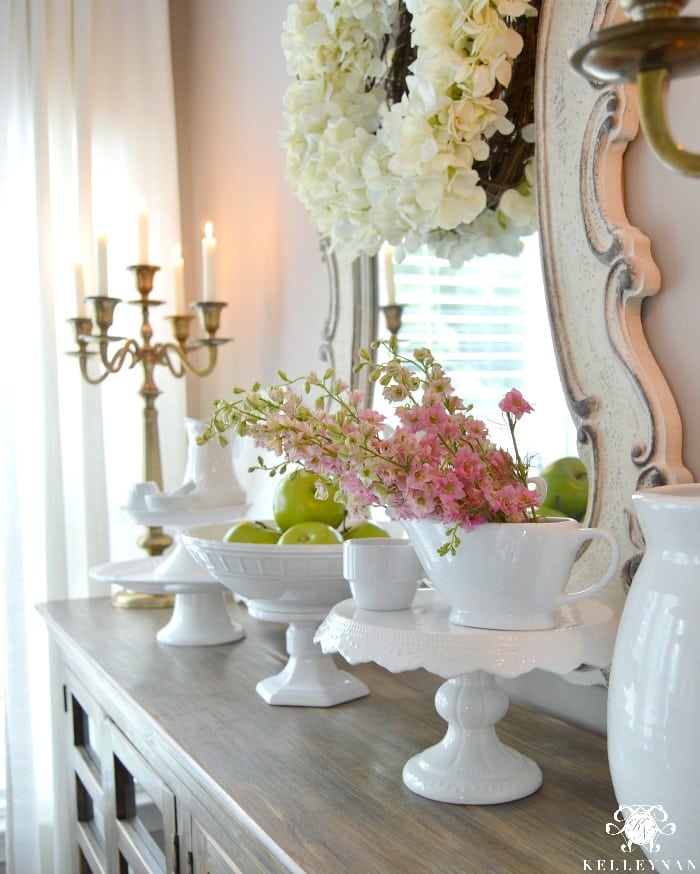 Beautiful Collection of Stands
Kelley paired the same color of stands together and despite patterns, they coordinate beautifully. Her gorgeous display makes me want to gather all my white decor and decorate our coffee table or console.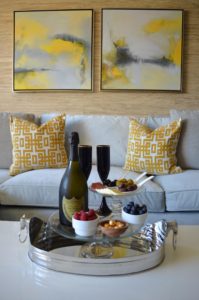 Appetizer Stand
Mod Max Glam | Glass Cake Stand
Reesa styling is impeccable, and I love how she used two stands to create different levels to the layout. Mixing it up creates an interesting composition for the eye.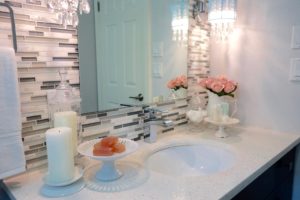 Bath Stands
Too Chic for Words | White Cake Stand
Susana displays her bath items on such beautiful stands! I love how they add some interesting height to the countertops.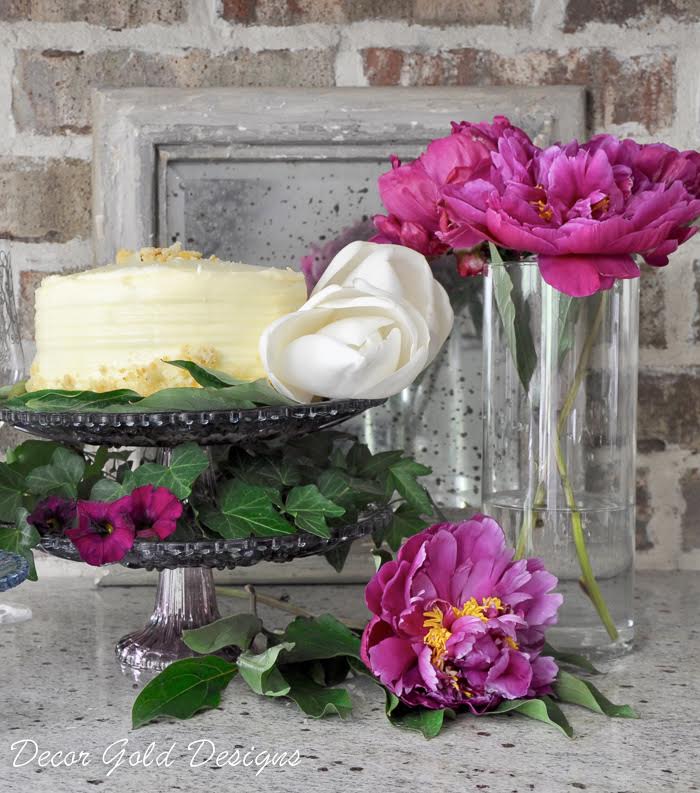 Flowers and Cake Stands
Decor Gold Designs | Purple Anthropologie Cake Stands
Jennifer combined flowers and cake, and the results are a beautiful combination! I'll have to try this next time we have a celebration with family and friends. Her cake stands are too die for, and they are Anthropologie stands.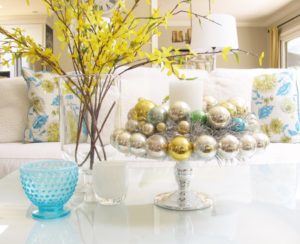 Candle Holder Stand
Happy Happy Nester | White Cake Stand with Silver Pedestal
If you want to enjoy your vintage holiday ornament wreath year round, just add it to a cake stand and plop a candle in the middle. I love how this looks on our coffee table and how the colors work great during the spring and summer months. Here is the wreath making tutorial post: Vintage Wreath creative cake stands
Such a fun group of bloggers and we had a blast chatting about how much we all wanted to devour some yummy cake! There were lots of photos of cake texted back and forth and even looking at some of their photos here, makes me crave some cake. I'm sad to see the project come to an end and hopefully instead of creative cake stands we'll come up with another interesting theme that we can share with you in the near future.
Cheers,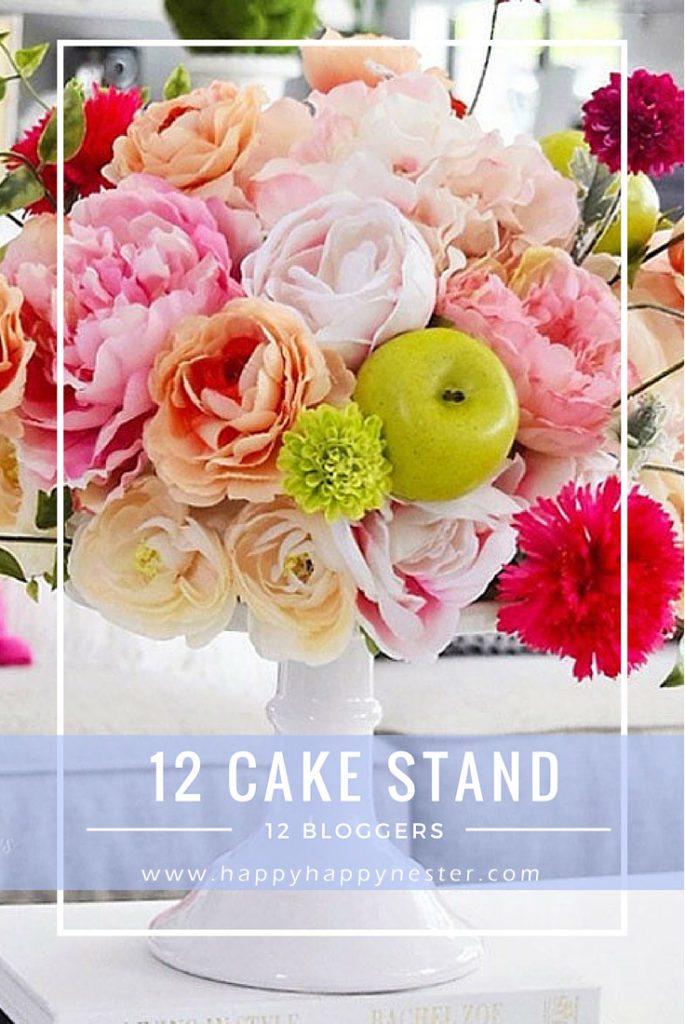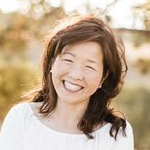 Latest posts by Janine Waite
(see all)