The seasons are starting to roll in about now, and it's time to start decorating inside the house! If you've been looking for something to help style your home, here are some unique two-tiered cake stands for seasonal decor, food, desserts and, more!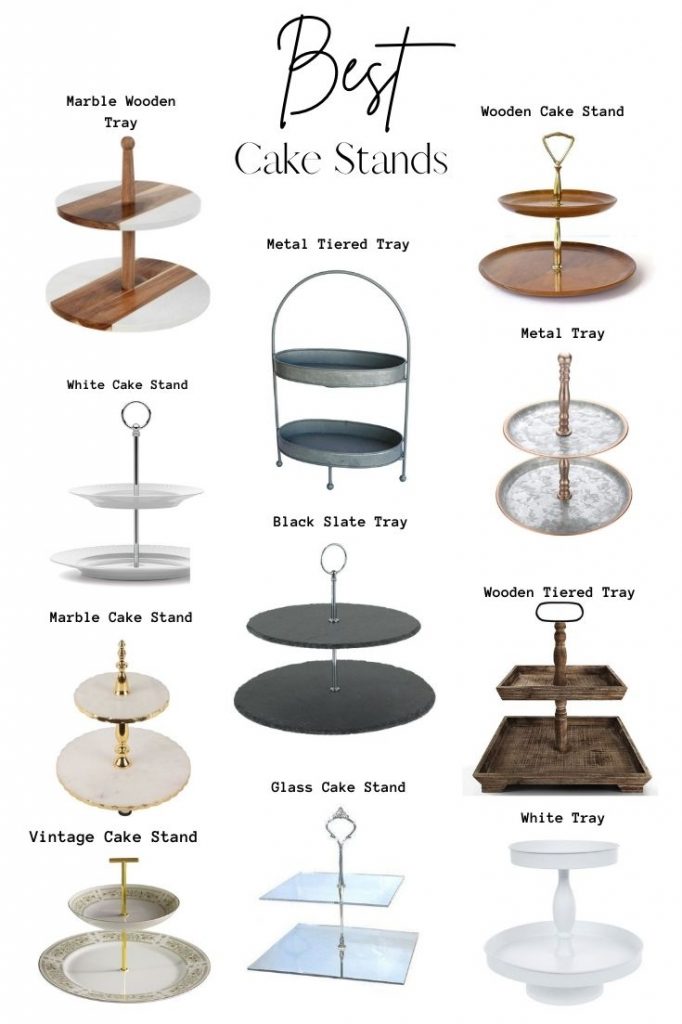 I have always loved decorating the inside of my home for any and every season, event, or occasion, so if you're like me, this post is the one for you! So feel free to keep scrolling to find some unique and stylish cake stands to fit inside the heart of your home.
Check out these two-tiered cake stands to incorporate some style within your home to give it a look no one else will have!
Regardless of your style, there is something for everyone here! So come on, stay a while and keep scrolling to find the perfect cake stand!
If you love this Boutique of The Week, then check out my other Boutique of the Week blog posts! Enjoy!
The Best Two Tiered Cake Stands
*This post contains affiliate links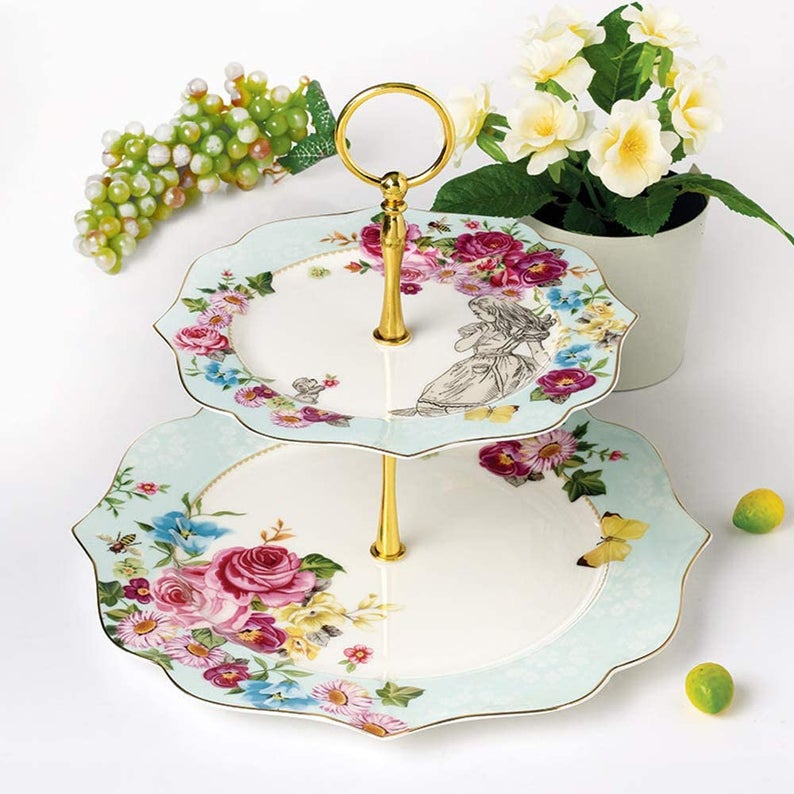 Use as a cupcake stand, dessert stand, or serve for fruit and another sweet treat. People can use this tray for events and parties such as tea parties, baby showers, graduations, weddings, Christmas, thanksgiving, or home decor!
This tray is an elegant Royal British ethnic roses pattern lightweight 2-tier cake stand. It gives vintage and translucency with strength and a smooth, luxurious feeling. Perfect for every occasion!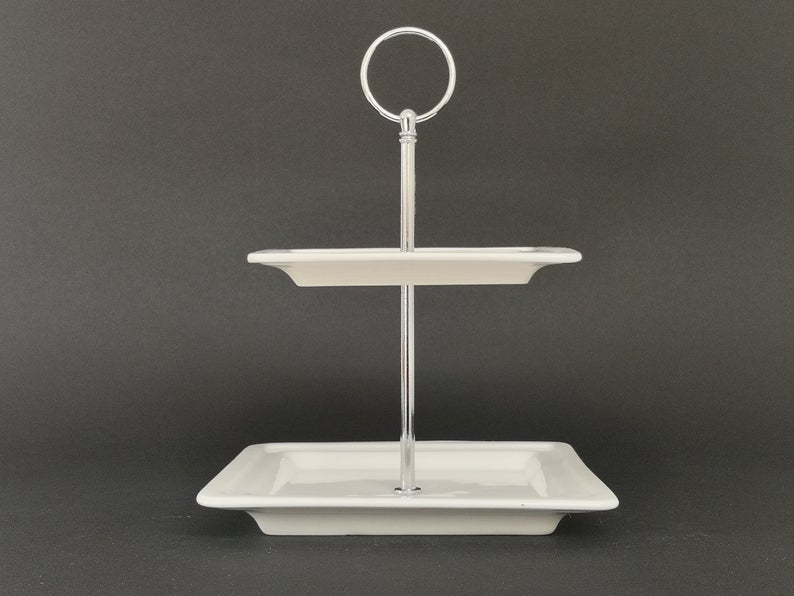 This tray is one of the best two-tiered cake stands because of how elegant, simple, and stylish! This pretty cake stand would be lovely for a birthday party tea party or as a centerpiece on any tea table.
Check out this vintage serving trap to have for holidays, parties, events, and more!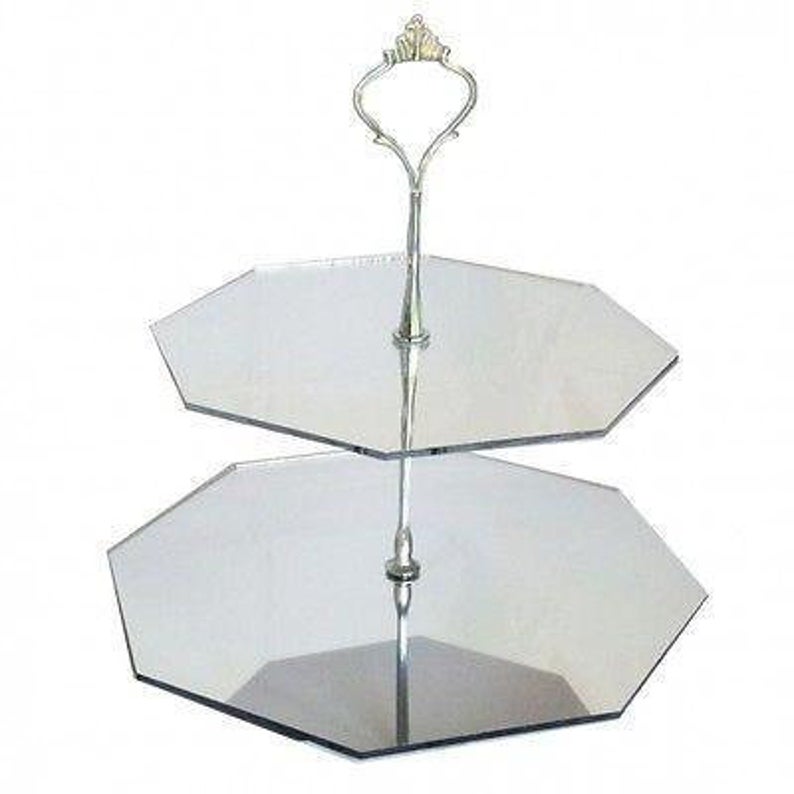 Here is a beautiful glass cake stand that people can decorate with decor, food, dessert, and more! So if you're looking for a simple but unique serving tray to have within your home, check out this cake stand!
It's lightweight, supplied flat packed with a silver-handled rod, and is easy to put together. All in all, this is one of the best two-tiered cakes stands out there!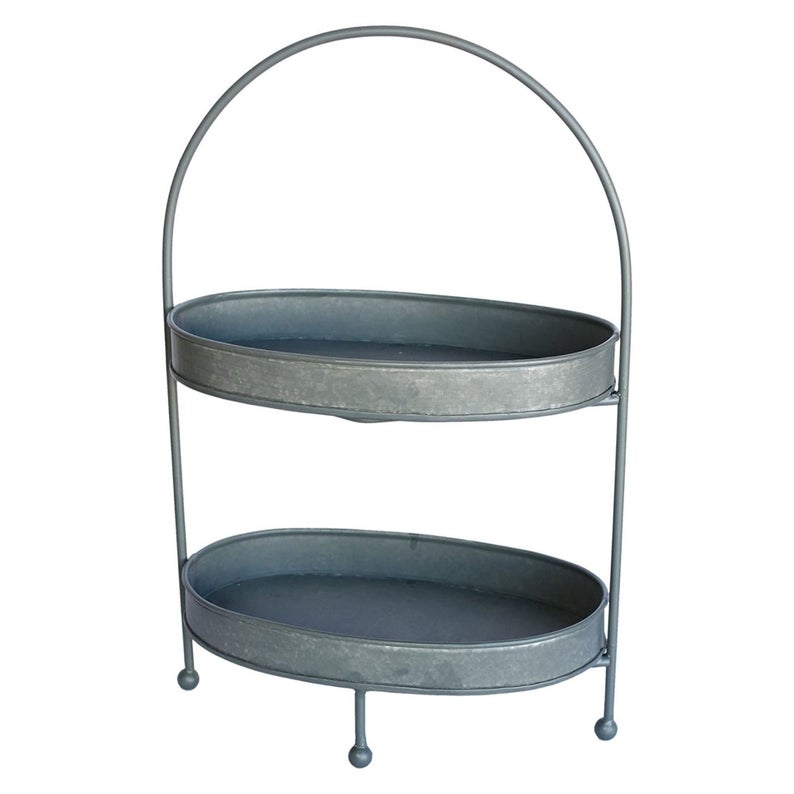 This cake stand features a matte, antiqued finish that compliments a wide variety of decor styles. The oval shape is ideal for shelves, vanities, and other narrow spaces.
Perfect for storing spices, toiletries, jewelry, knick-knacks, and more. Definitely one of my favorite two-tiered cake stands because of the simple look!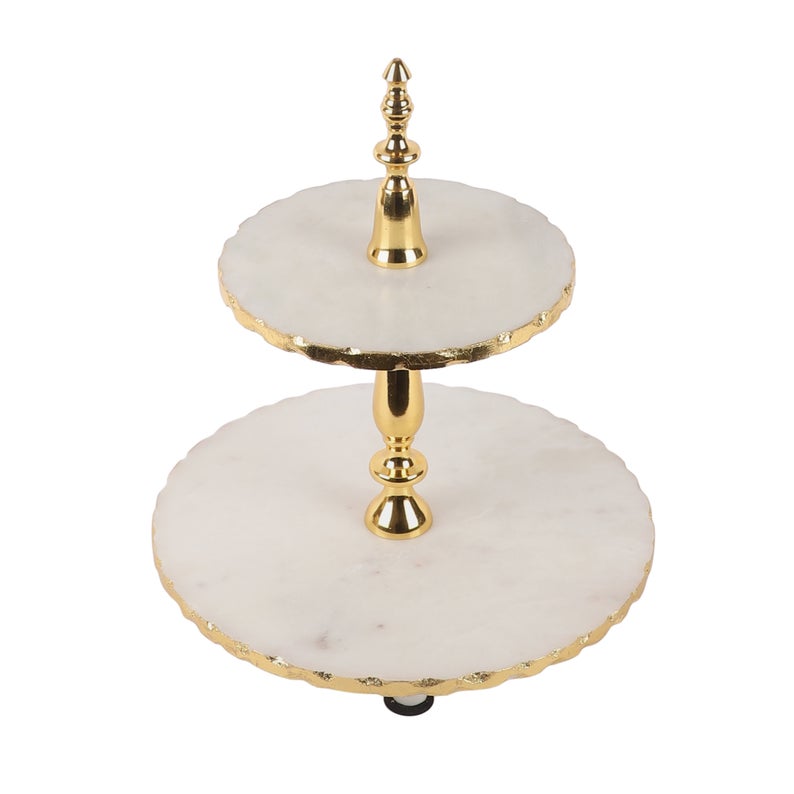 Display all your beautifully baked and decorated cake, pastries, sweets and, more! This cake stand will display your pastries arrogantly while adding a touch of integrity to their natural aesthetics.
Stop placing your pastries all over the kitchen counter and begin to place them in style. Its beautiful, unique design complements any occasion!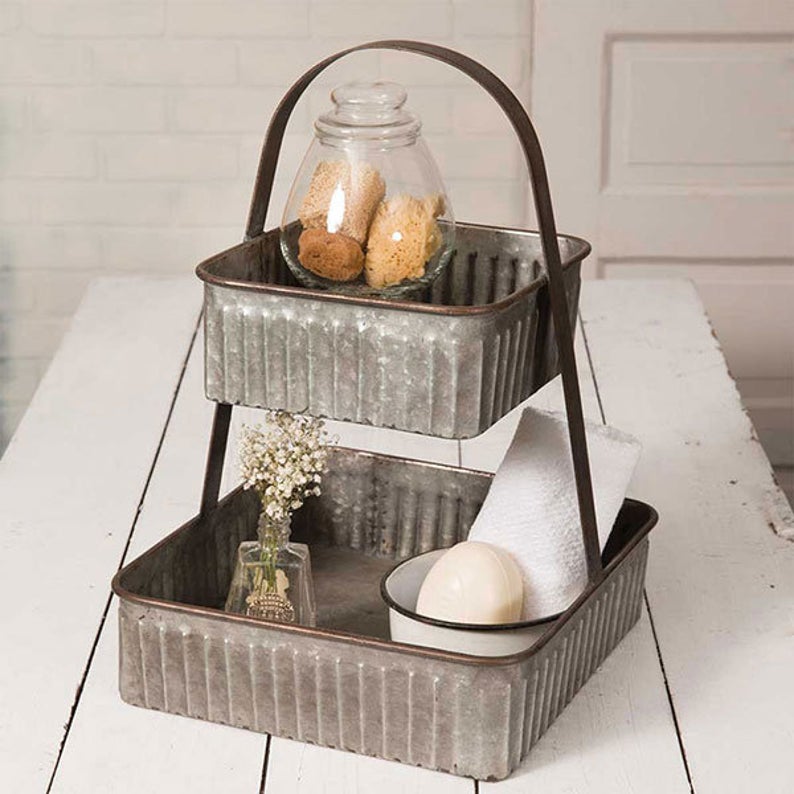 This two-tiered cake stand is perfect for any room in the house! It can hold decor, treats, or any necessities needed! Not only is this tray able to meet your needs, but it's also stable and durable so that it will last for many seasons!
Check out this square metal tray to start decorating your home today with decorations, foods, desserts and, more!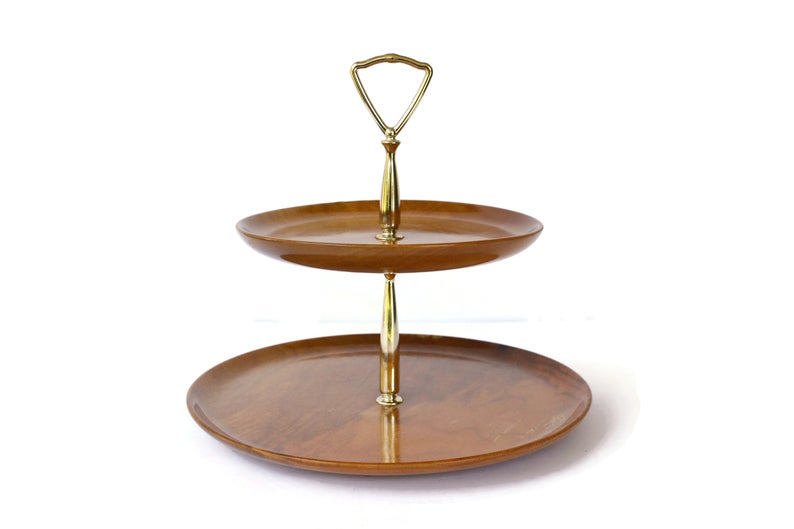 Absolutely gorgeous mid-century Oregon Myrtlewood two-tiered tidbit tray! Features two Myrtlewood plates with stunning wood grain and a brass-toned handle.
Perfect for serving appetizers or desserts at a wedding or dinner party. In excellent vintage condition with no chips, cracks, stains, or deep scratches. Matte finish is in excellent condition!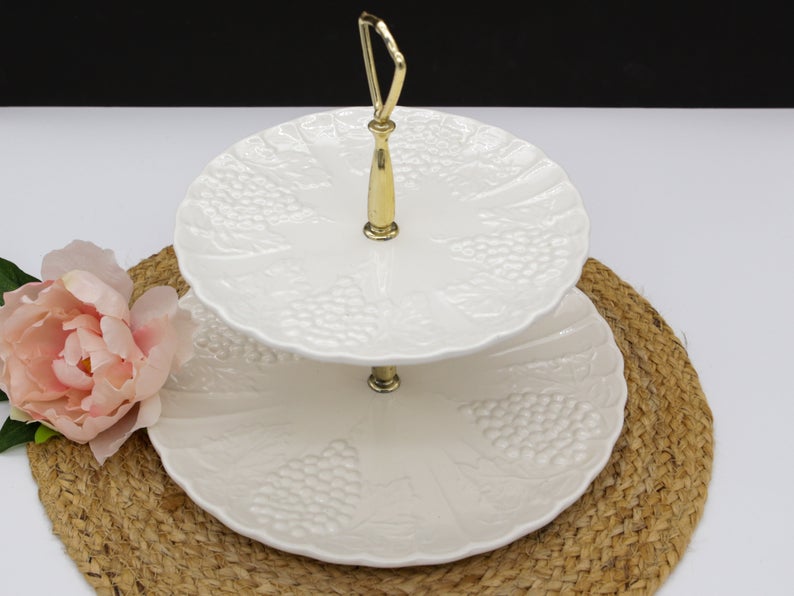 This cake stand is a unique two-tier serving/cake/appetizer plate in an unusual raised grape leaf and scallop design. The elegant design and style of this two-tiered cake stand will look stunning within your home!
Check out this vintage cake stand to add some elegance to the heart of your home!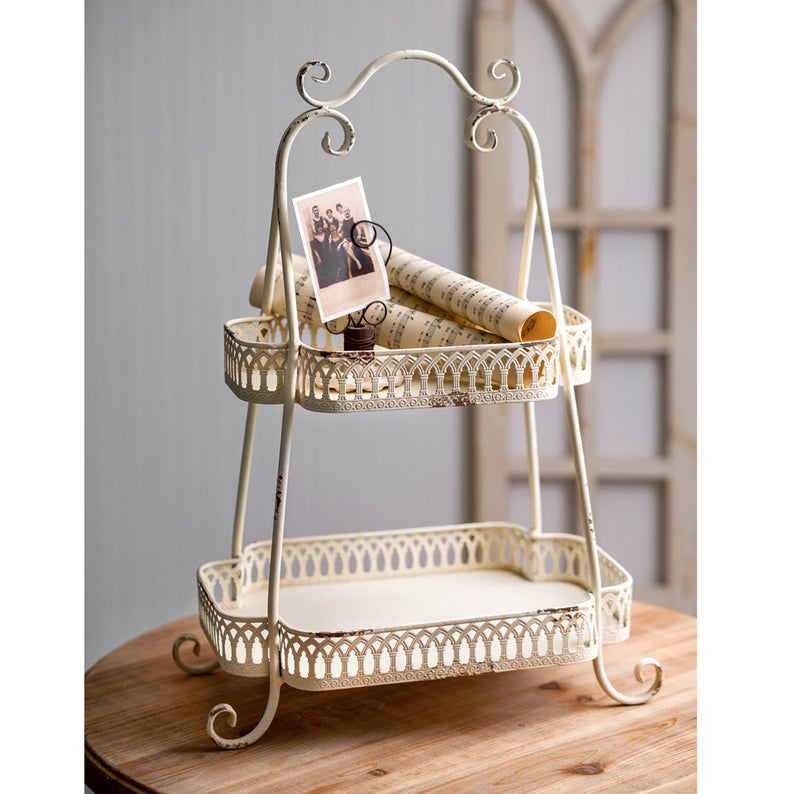 This two-tier tray has unique scrolled designs and is a beautiful addition to many decorating styles. This tray will fit anyone's style within their home!
If you're looking for a rustic, farmhouse look, check out this cake stand to start styling! With one of these two-tiered cake stands, you won't be disappointed!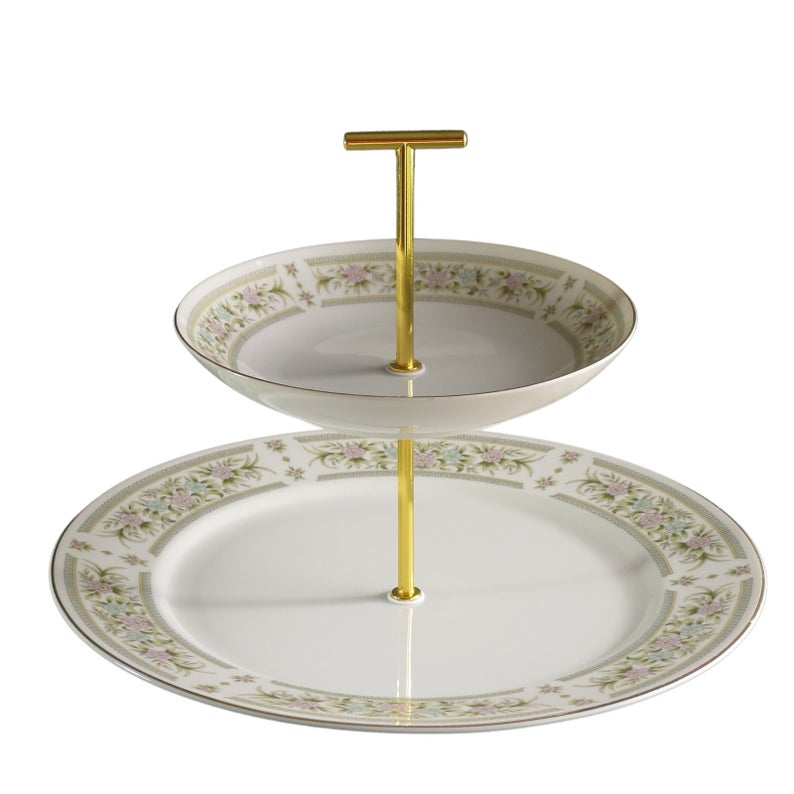 Your beautiful table will be stunning with this plate stand. Fill it with veggies & dip, crackers & cheese, desserts, or cucumber sandwiches.
The lower plate is the size of a small platter making this plate stand wider than most. China is in excellent condition! All in all, it's one of the most elegant two-tiered cakes stand out there, which will create a wonderful look within your home!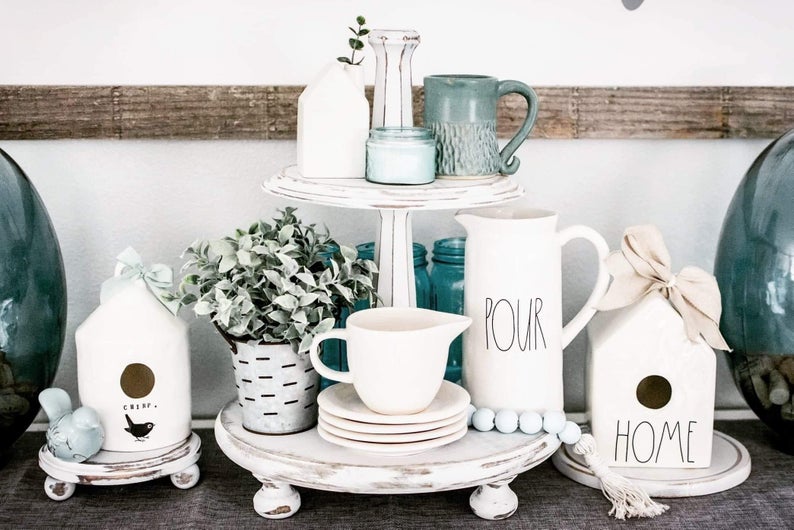 This tiered tray is in excellent condition and will look amazing with any room in your home! If your style consists of rustic, farmhouse decor, then this cake stand is perfect for you!
Style this wonderful tiered tray with your favorite decor pieces, foods, desserts and, more!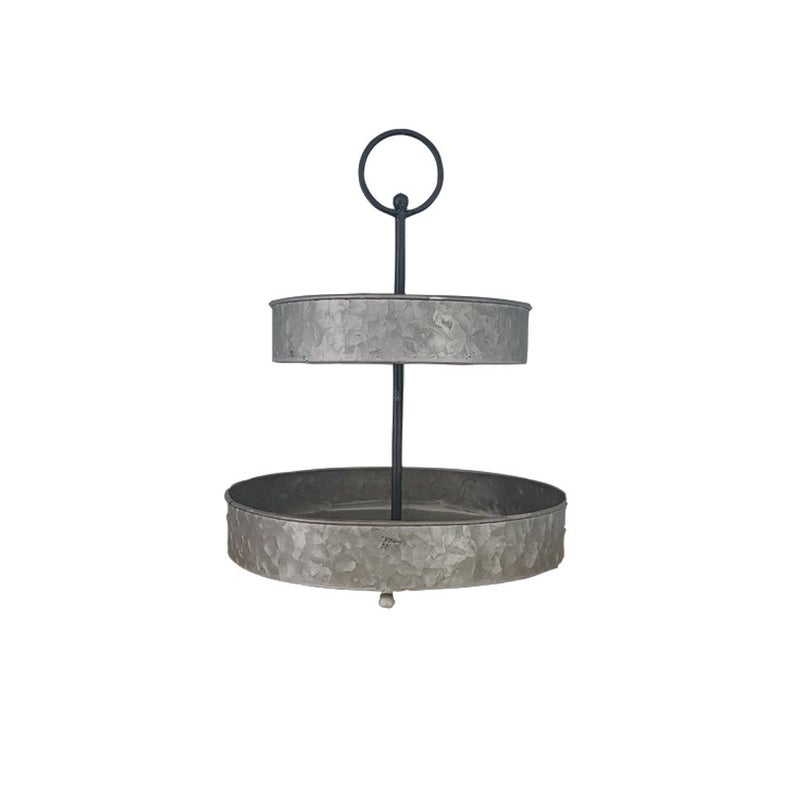 If you've been looking for more farmhouse decor, the search is over. This metal two-tiered tray is the best pick of two-tiered cake stands out there!
The simple style, along with the addition of your decor and treats, will look stunning within your home!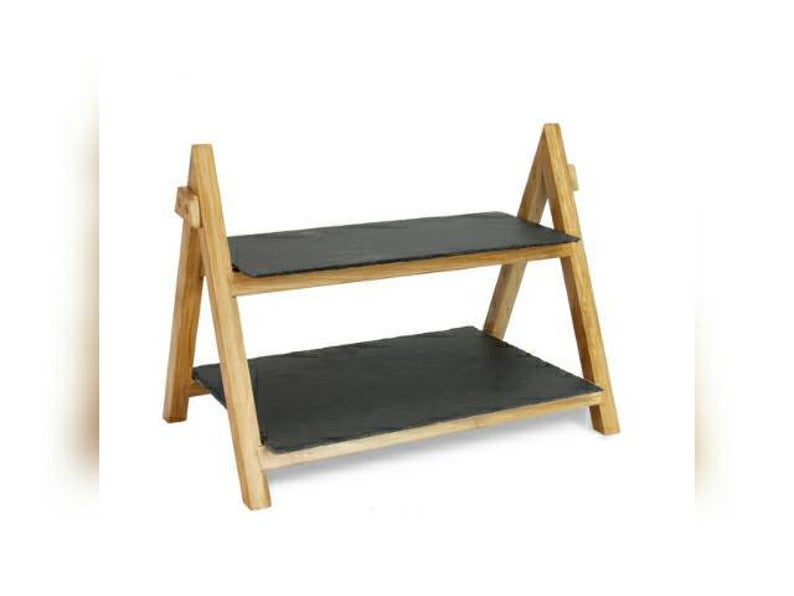 The 2 Tier Slate Stand provides a spectacular answer storing anything from sweet treats to delicious Italian meats and antipasti. Displaying your scrumptious desserts or appetizers without cluttering up your already busy table!
Place the 2 removable slate platters on the sleek wooden frame, and instantly create a more dynamic, attractive space for serving up amazing food for your friends and family!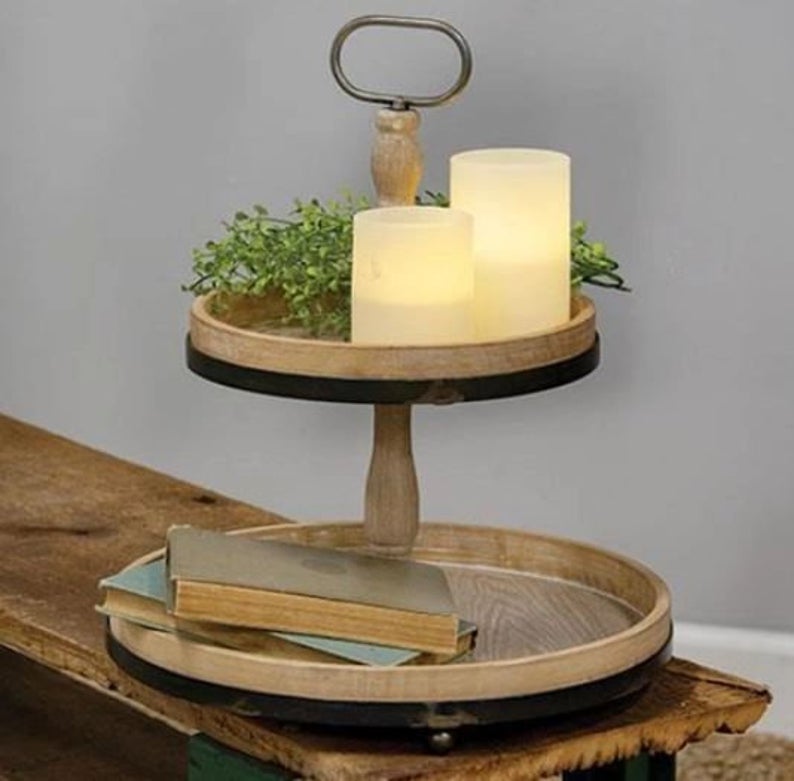 This cake stand is made up of distressed wood and a metal two-tiered tray. It's also a multi-tiered tray organizer made from rustic wood with black metal trims. The tray has a carrying handle and raised feet for displaying on surfaces. Use to display candles, decorative fruits, and much more!
This tray is one of the prettiest two-tiered cake stands I have ever come across, and I knew I had to share. The simple look, amazing stability, and great durability will last for many years!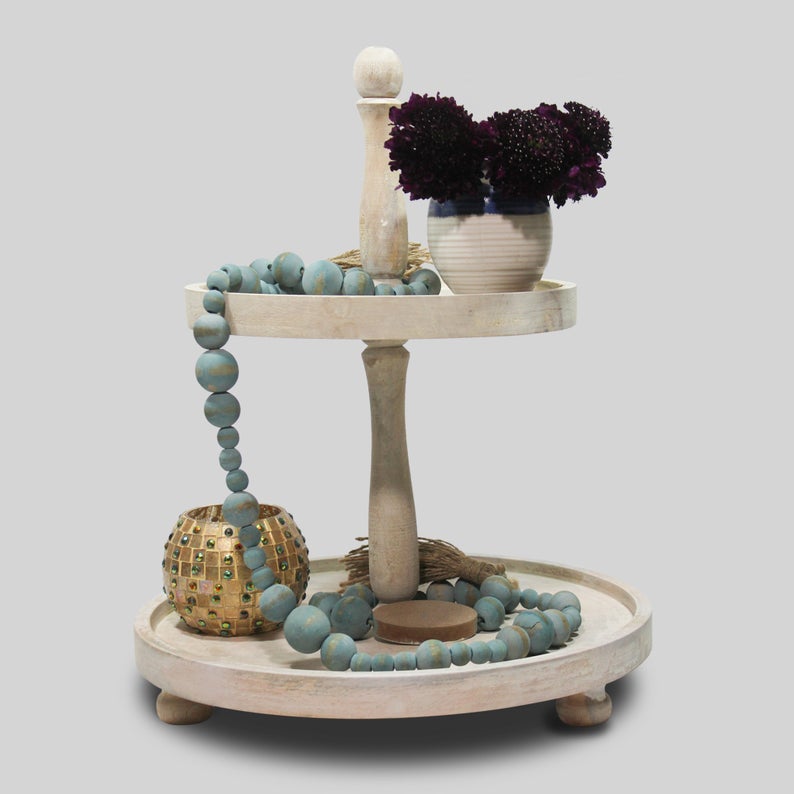 This rustic style two-tier tray is made from high-quality mango wood. Generously sized and perfected to display your seasonal or holiday decorations in any room of the house.
Use it for entertaining and serving – it makes the perfect cupcake/pastry stand. So easy to assemble, this two-tiered tray is built to last!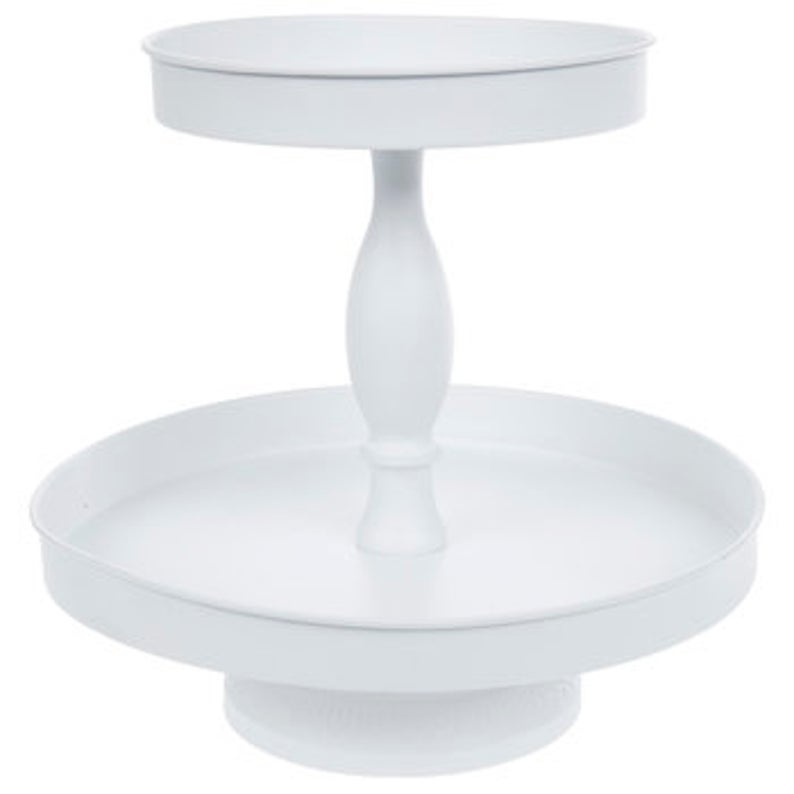 Rise above the rest in home decor with White Two-Tiered Metal Tray. This cute pedestal piece features two tiers with a lipped edge and a matte white finish.
It's perfect for catching jewelry, knick-knacks, and small items or for use as the base of a beautiful centerpiece. Accent your home with style!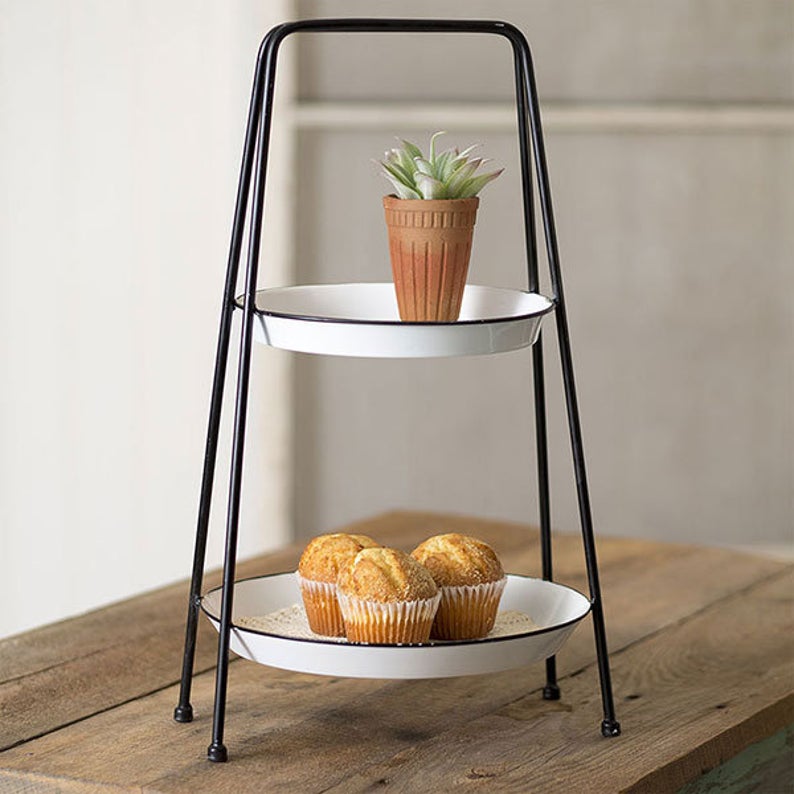 Looking for a styled cake stand? Here is one of the best two-tiered cake stands that will make you realize why you didn't get this earlier.
This handmade serving tray is a wonderful cake stand for your favorite foods, desserts, treats and, more!
This beautiful two-tiered wooden cake stand is one of my favorites and will soon become yours too. It's perfect when styling for every season, event, occasion, or party!
The simple look of the wood will look fabulous within your home whether you decorate it with decor, desserts, and more!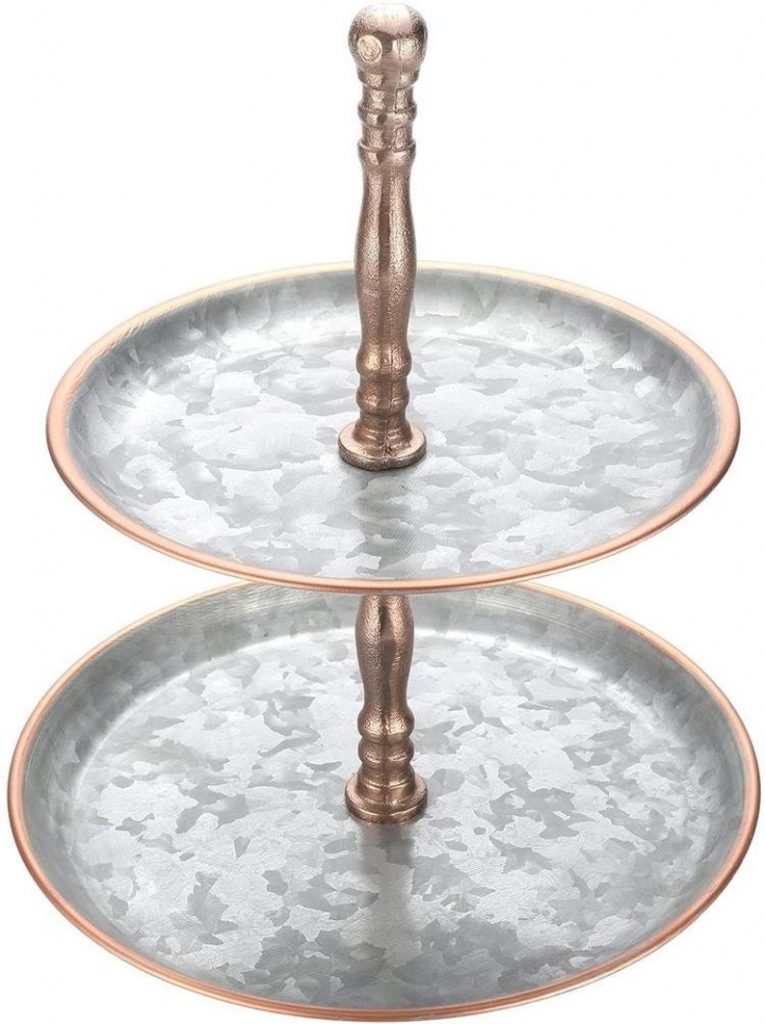 Elevate your entertaining game to a whole new level with this 15 inch high, 2-tiered galvanized metal serving tower cupcake stand.
This tray provides plenty of space for layering desserts, pastries, snacks, appetizers, and other party foods or can be used for seasonal decorative displays!
The galvanized metal, copper rim accent, and vintage copper pedestal and pillar will add charm to any table or buffet!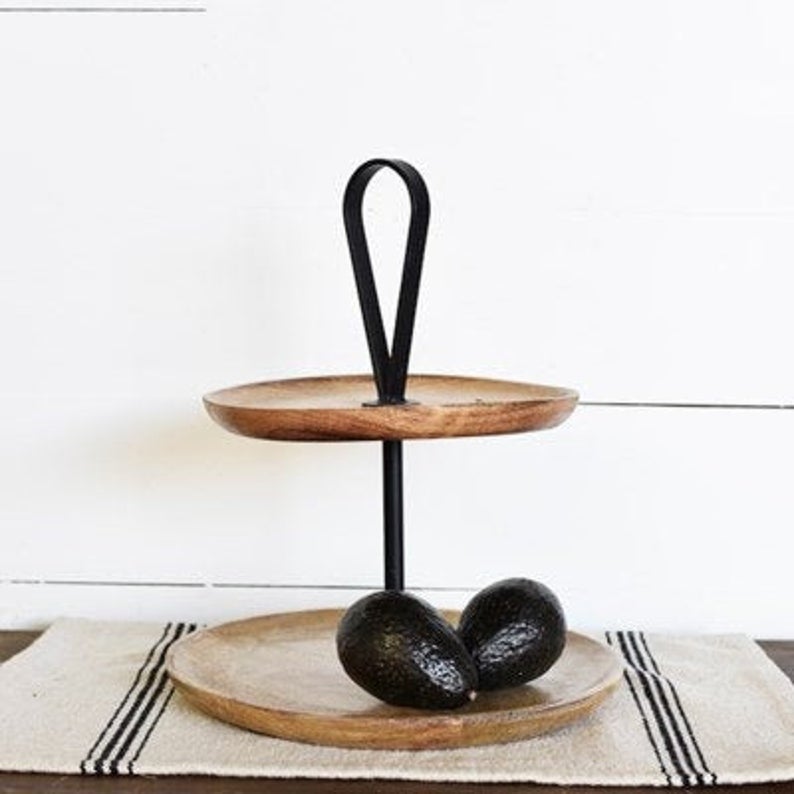 Display your trinkets, treasures, and other items on this modern farmhouse-inspired tier tray. This cake stand screams a simple, farmhouse, rustic look and will look amazing within your home!
Because of the style, durability, and fit for any season, this is one of my favorite two-tiered cake stands ever!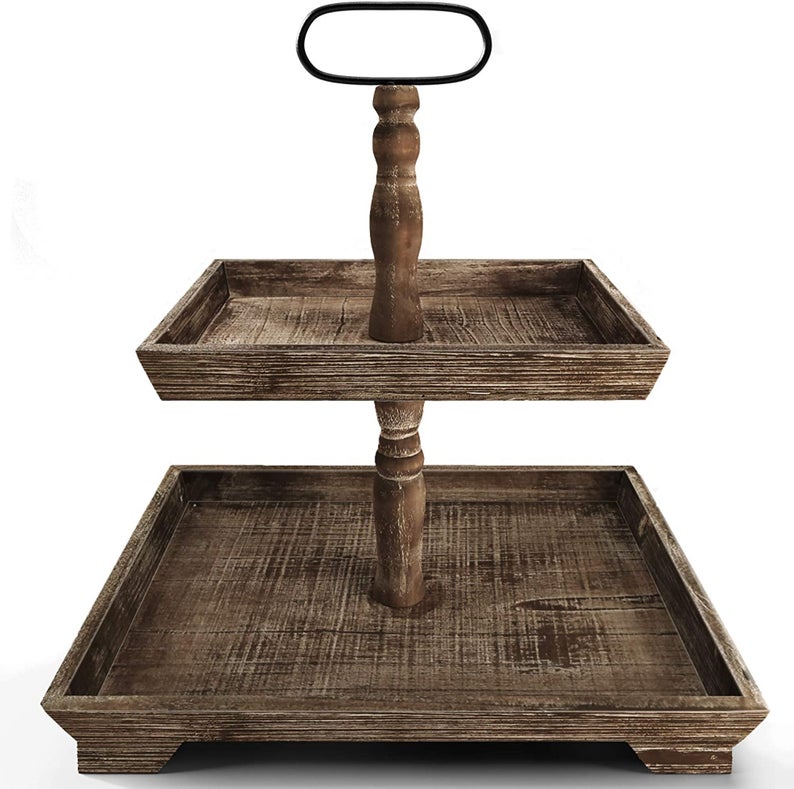 Display all your favorite decor with this farmhouse 2 tier stand. This wooden tiered tray complements any tier tray decor items you may have.
Use this decorative tiered tray in your kitchen, living room, or entry hall to bring your home to life!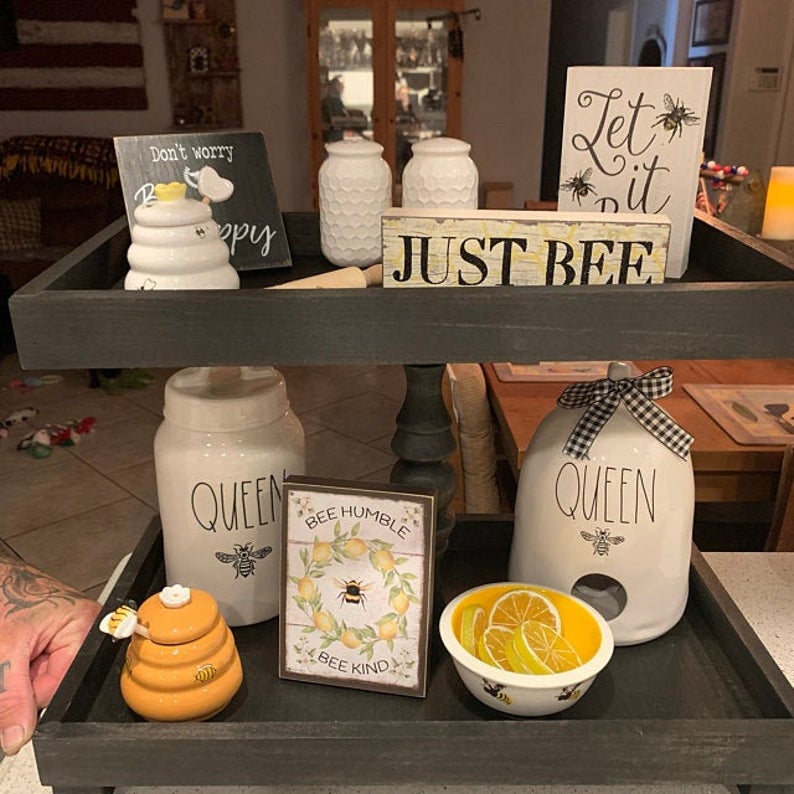 This two-tiered wooden tray is cute and is functional, and will blend in with your décor while keeping things organized, which is always a win!
It would be perfect in your bathroom to keep clutter off the counter, at a coffee bar, kitchen counter, coffee table, or even as a display for your handmade items at a craft show or store. Of course, this tray also makes a perfect wedding gift or add that special touch to your wedding décor!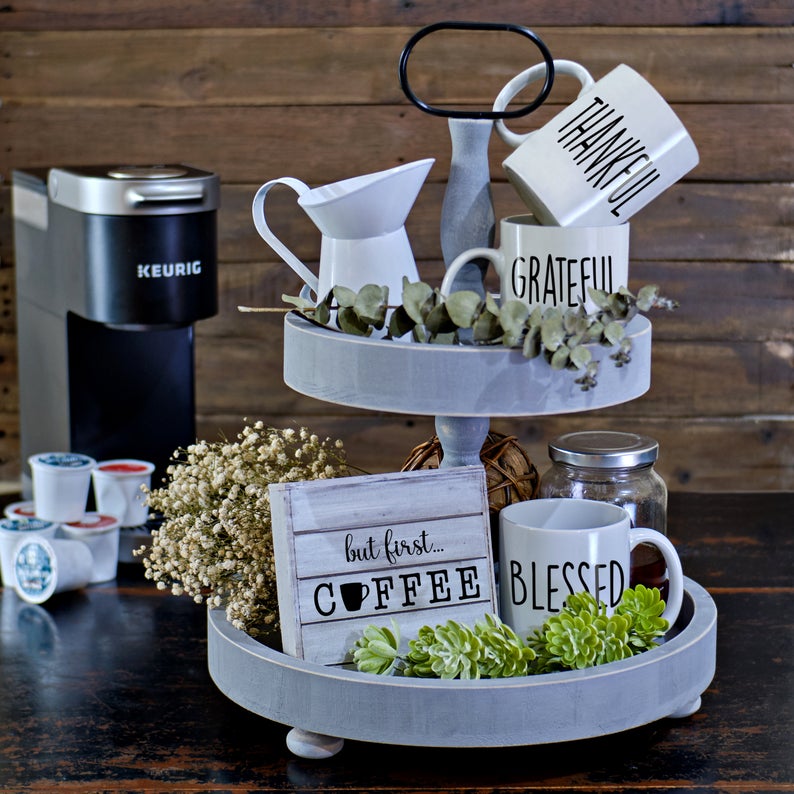 Bring a smile to family and friends who enter your home with our decorative two-tier tray that comes with a string of natural farmhouse beads.
This farmhouse-tiered tray is spacious enough to be styled in different ways with different items for every season!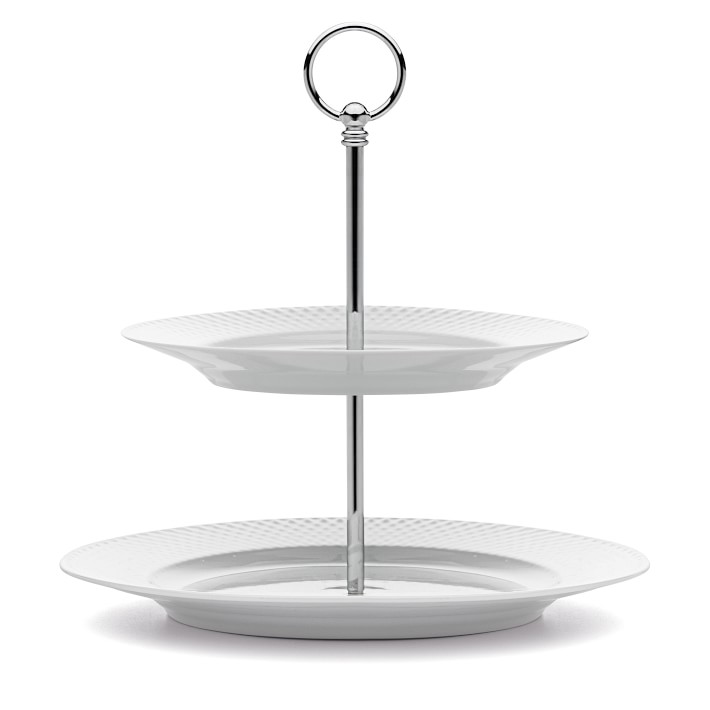 Inspired by a midcentury pattern found in the archives of Lyngby, the beloved Danish porcelain maker, the Rhombe collection features classic lines and subtle geometric texture!
Portuguese artisans craft this tiered stand from porcelain with a glossy white glaze for the perfect balance of versatility, elegance, and durability!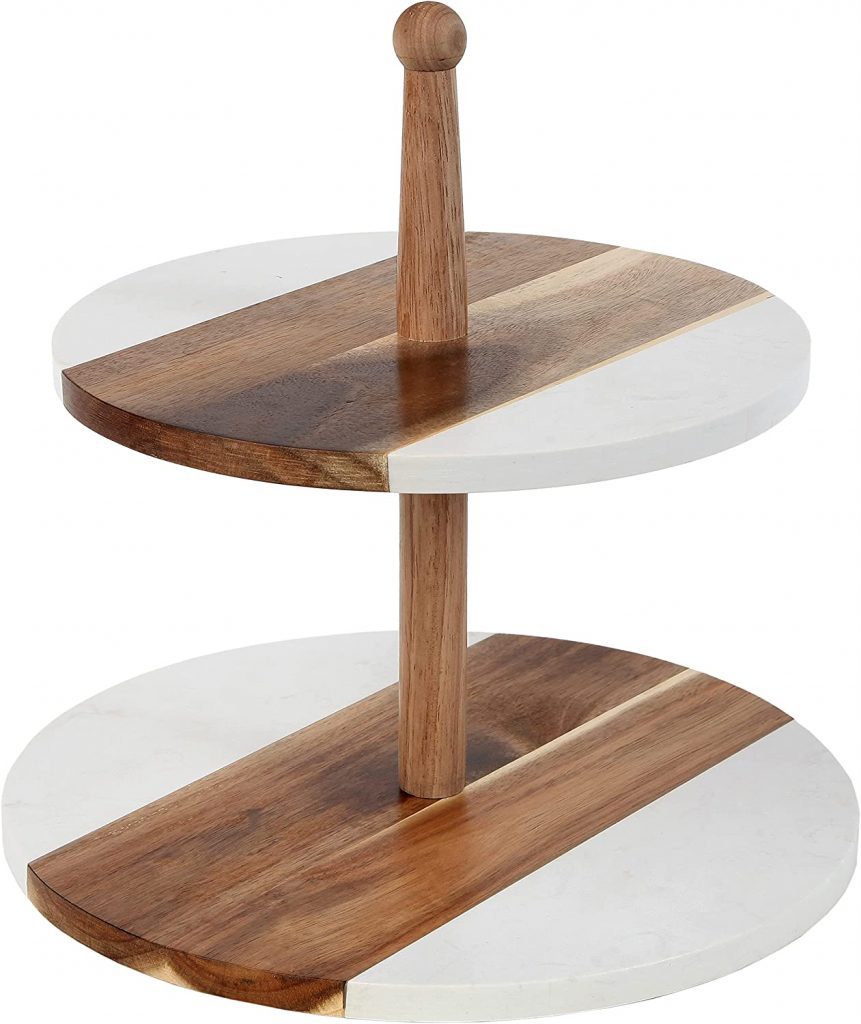 Add some class and natural beauty to your kitchen with an acacia wood 2 tier tray, perfect for rustic, contemporary, or modern decor.
Serve and display charcuterie and cheese, bread, fruits, desserts, cupcakes, macrons, and more. A two-tier tray is also convenient for organizing spices and showcasing candles, flowers, or jewelry!
For anyone that appreciates rustic kitchen items, elegant serving trays, or just beautiful décor. Our two-tier tray is a perfect gift for weddings, anniversaries, or birthdays!
---
Thanks so much for checking out these two-tiered cake stands! My daughter loved finding all these beautiful items, and I hope you enjoyed her collection!
Have a great Wednesday, sweet friends,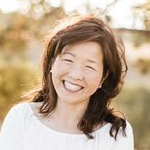 Latest posts by Janine Waite
(see all)