Have you ever made a recipe and had it flopped? It's so frustrating to invest all your time and money and not have a great meal to serve your family. Well, today my friends and I are sharing our families tried and true best Thanksgiving dinner recipes!
*the following post contains affiliate links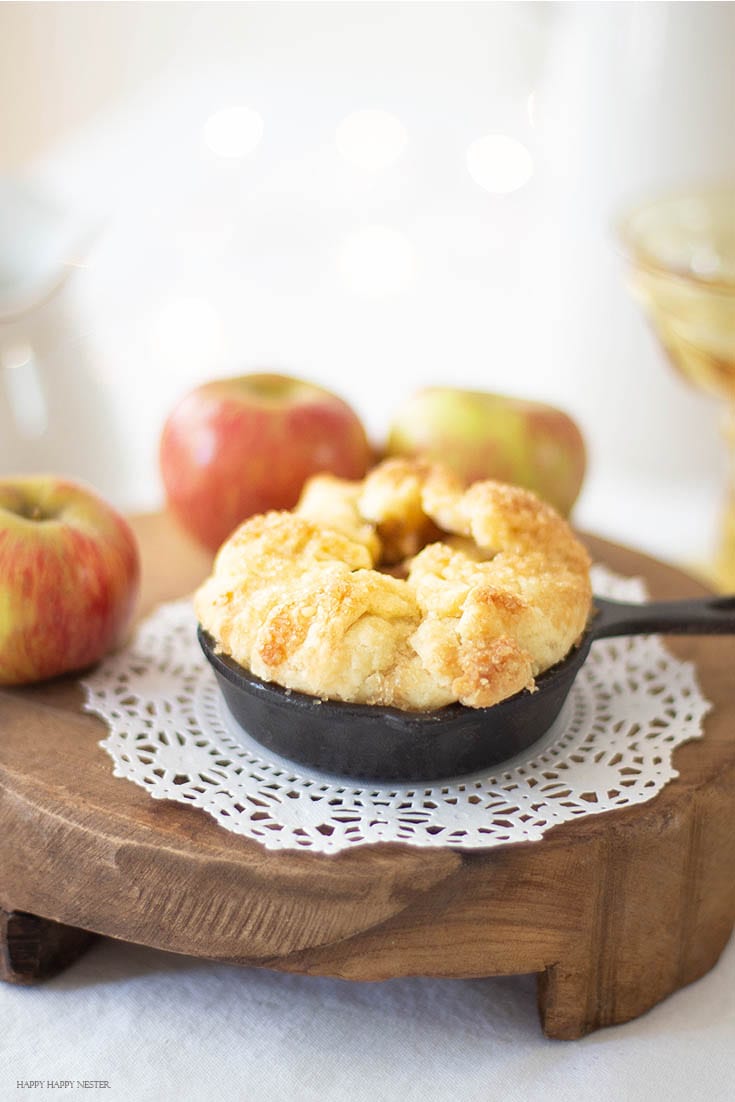 Here is a Helpful Thanksgiving Planning Chart

Ok, let's answer some questions you may have surrounding Thanksgiving.

1. What to Serve for a Traditional Thanksgiving Dinner?
According to Wikipedia the traditional Thanksgiving dinner includes turkey, stuffing, crab, cranberry sauce, mashed potatoes, gravy, Brussels, sweet potatoes, green beans, rolls, and pumpkin pie, apple and pecan pie. Of course, there are many variations and additions, but these seem to be the current standard meal.
2. What is the Most Popular Food on Thanksgiving?
Well, half a billion people have searched this on Google, and the most popular food is a turkey. Sorry, Mr. Tom, you are a favorite for the Thanksgiving dinner.
3. What Time is Traditional for a Thanksgiving Dinner?
Do you find you eat around 3:00 pm and wonder why are we eating so early? I think there are a few reasons, and some of them may be that people travel, and so we don't want them traveling late at night, so dinner is early. Also, there are the football games, so maybe that has pushed dinner to be early? Whatever the reason, it is nice to have an early dinner like the olden days so that we aren't going to sleep with a full stomach.
4. What Wines Pairs Well with Turkey and Stuffing?
Well, if you have the stuffing with the turkey, you'll want to serve, Cabernet Franc, White Burgandy Blanc, Chardonnay, Merlot, Pinot Noir, and Sparkling Wines.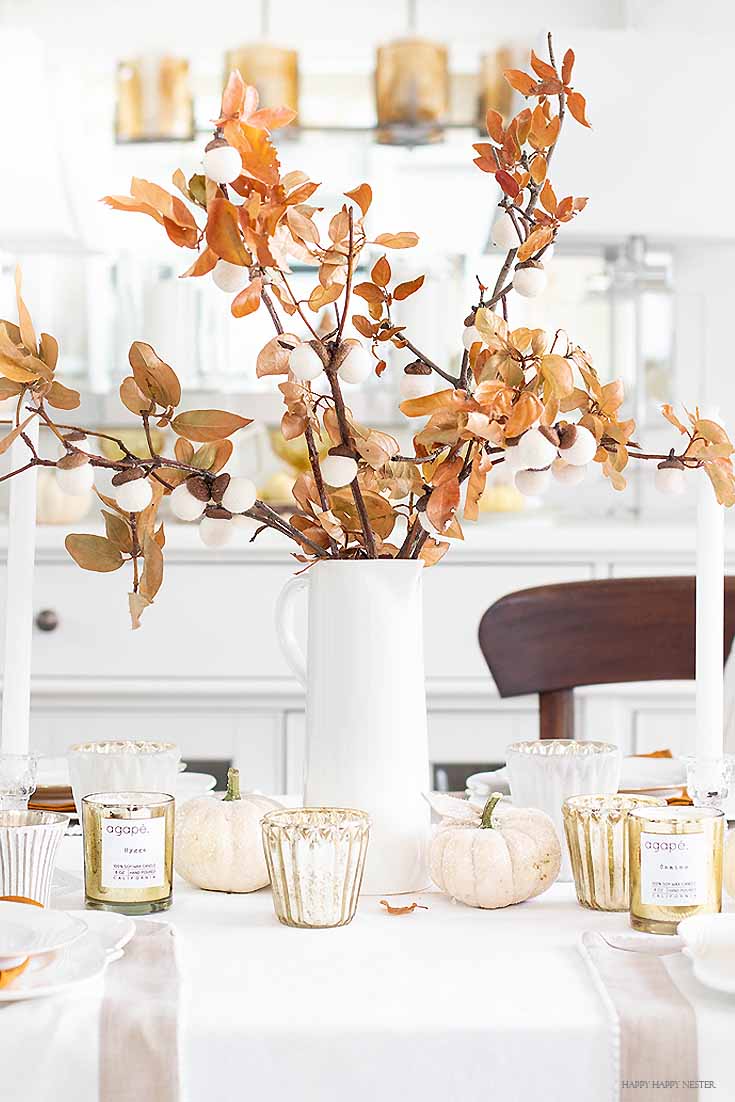 We Are Giving Away Two Prizes
$260 Cash via Paypal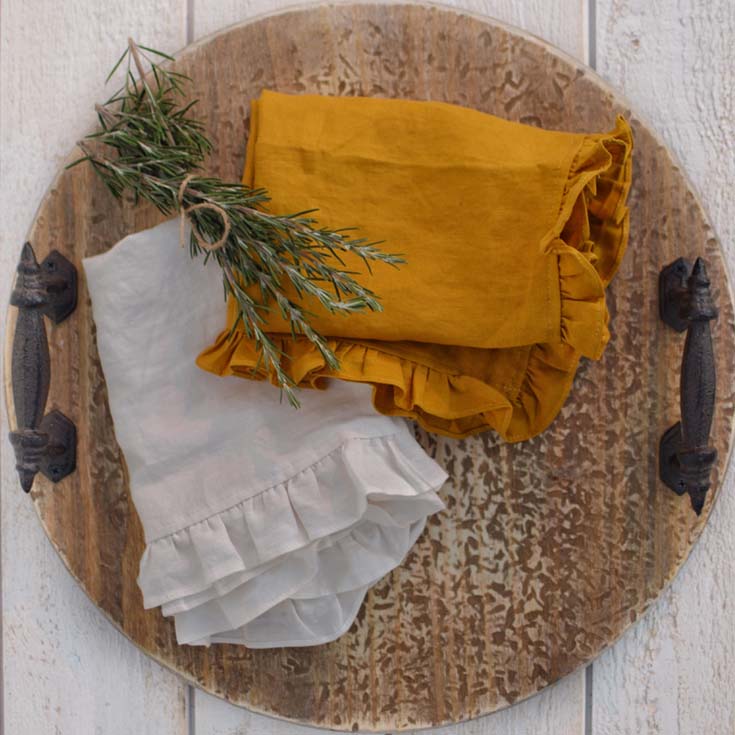 2 Hallstrom Home Linen Tea Towels
1. Giveaway requirements are for US citizens.
2. You must visit each blogger's blog post and leave a comment on which item you would like to win. Also, mention what you would do with the item.
3. Please leave an email on one of your comments so that we know how to reach you if you win.
4. The giveaway will run through Tuesday, November 20, 2018, 11:30 pm PST.
 Here are the Blog posts you must visit.

Every year, I say that I'm going to try another new recipe, but I always come back to my favorites. And you're in for a feast since I'm sharing not only my favorites but also my friend's tried and true best Thanksgiving dinner recipes.
Tried and True Best Thanksgiving Dinner Recipes
Appetizers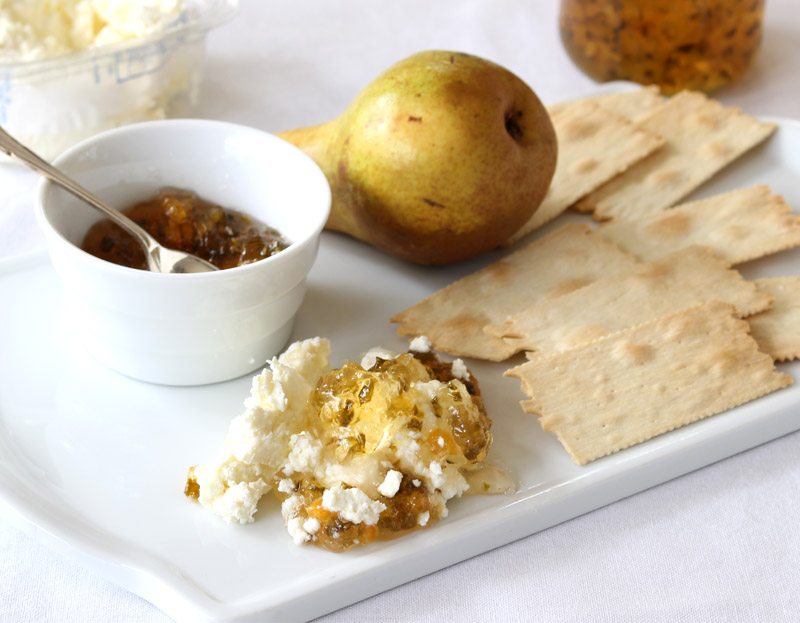 Peach Jalapeno Pepper Jelly is my favorite appetizer. Combine it with European Cream Cheese and rustic crackers, and you will have a delicious sweet and spicy topping.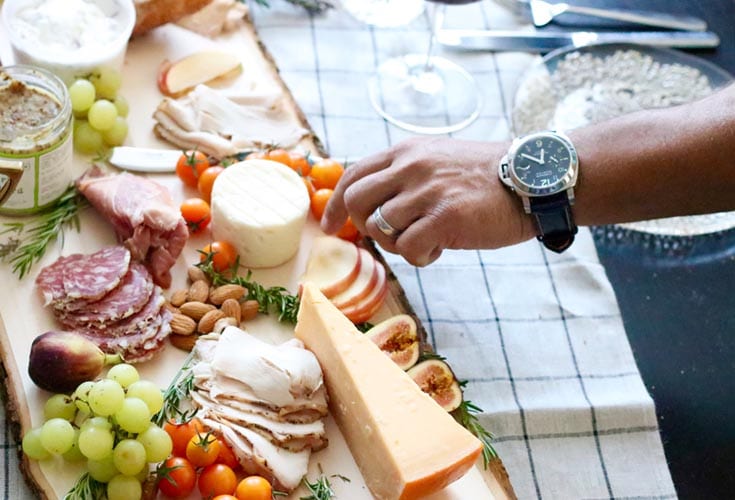 This amazing ultimate appetizer comes from my dear friend, Ashley from Modern Glam. This How to Napa Style Charcuterie Board is the most inspiring and informative post. You'll want to quickly go out and buy your cool wooden board and load it up for Thanksgiving.
Drinks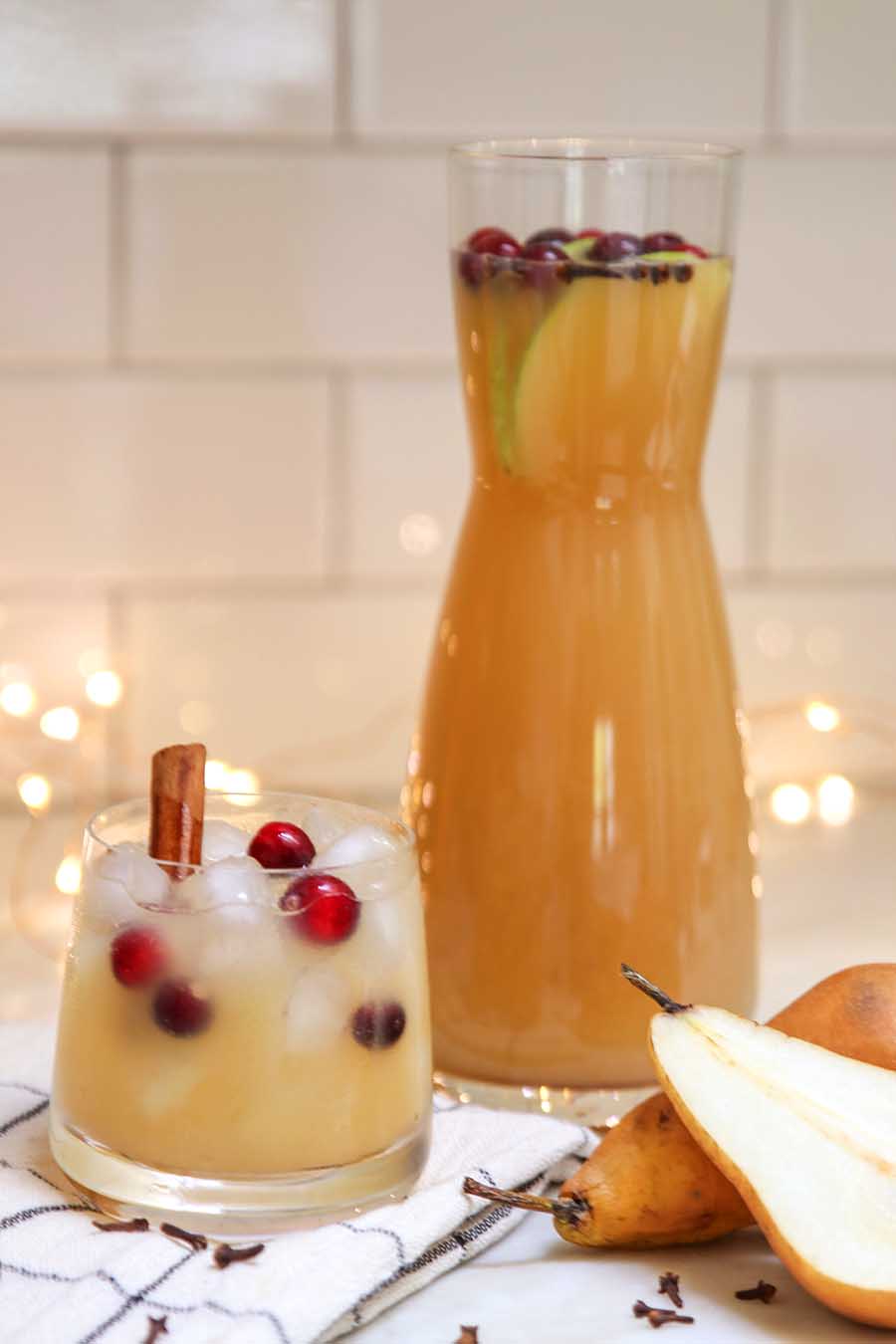 Don't you love this refreshing Thanksgiving Punch? Do you need wet your whistle this Christmas? Ashley from Modern Glam has the best drink recipes. This lovely non-alcoholic recipe combines ginger beer, pear nectar and a splash of lemon.
Salads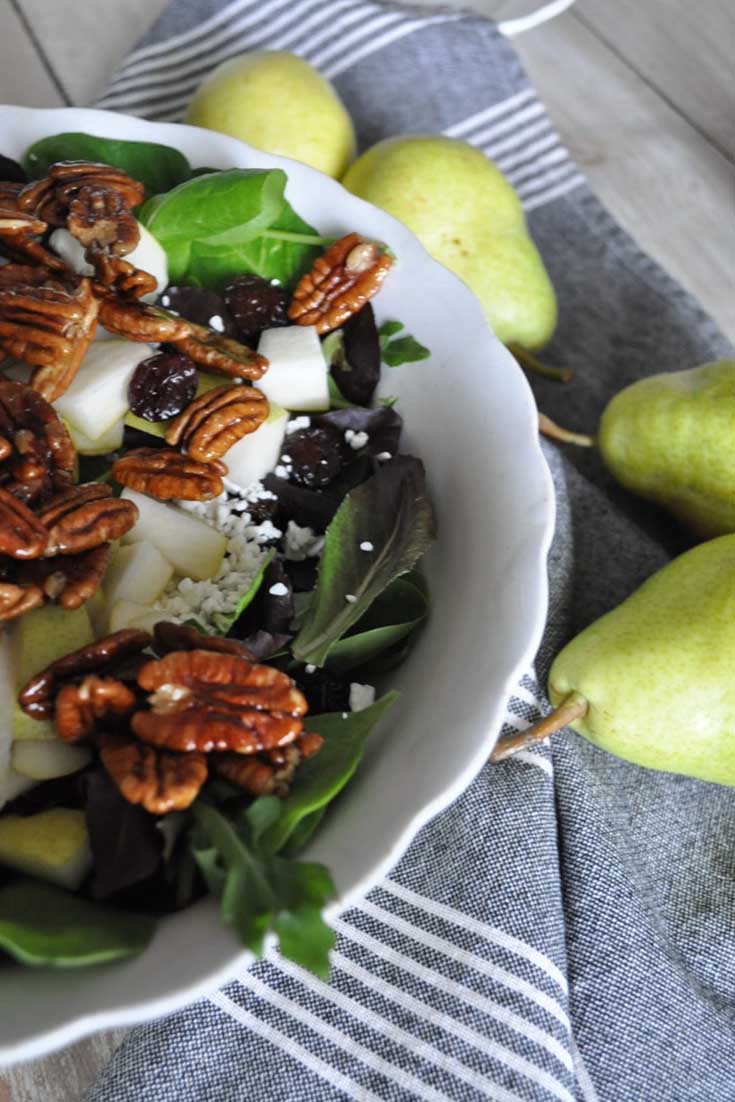 This beautiful Thanksgiving Pear and Goat Cheese salad recipe is from Becky at Becky's Farmhouse. I love that Becky's post includes how to make sugar pecans as well as a sweet dressing.
Turkey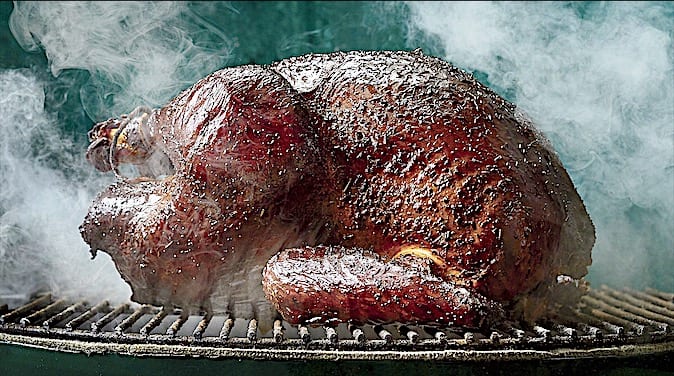 Leslie from My 100 Year Old Home is sharing her fabulous How to Smoke a Turkey post. I've always wanted to know how to smoke meat, and I'm so excited to give it a try. Thank you, Leslie.
Side Dishes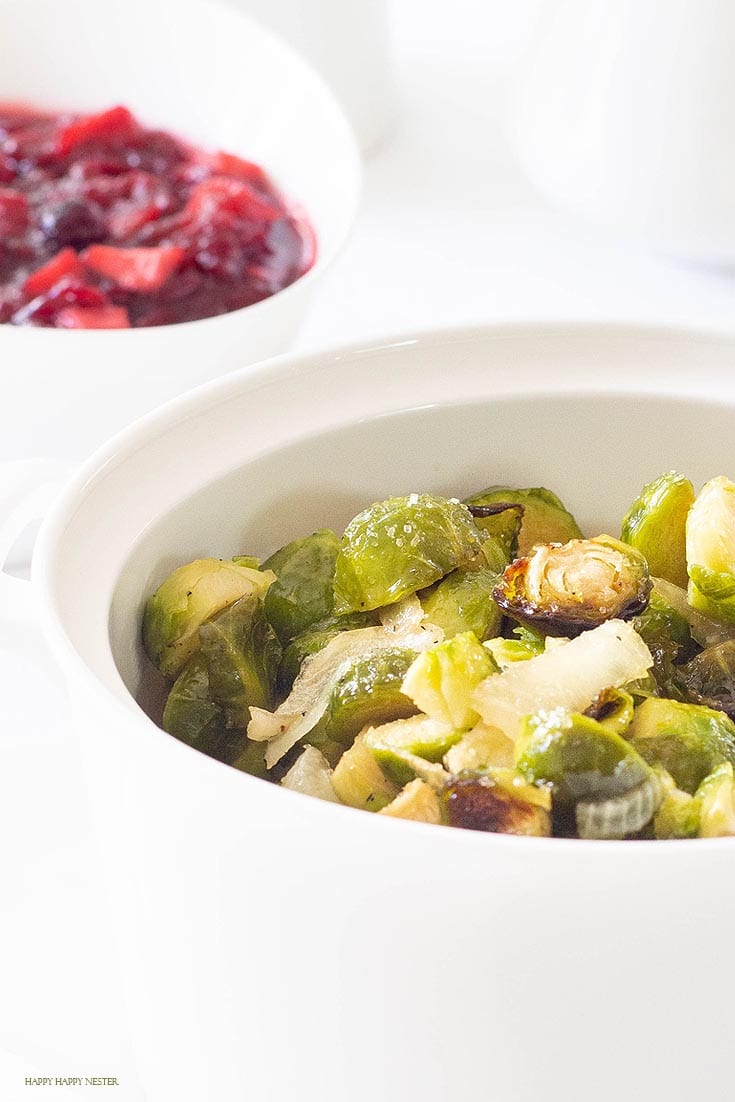 My Best Caramelized Roasted Brussels Sprouts Recipe is now my family's favorite veggie. The roasted onions add sweetness along with a bit of added sugar. So far, I haven't had a Brussels dish that tops my recipe.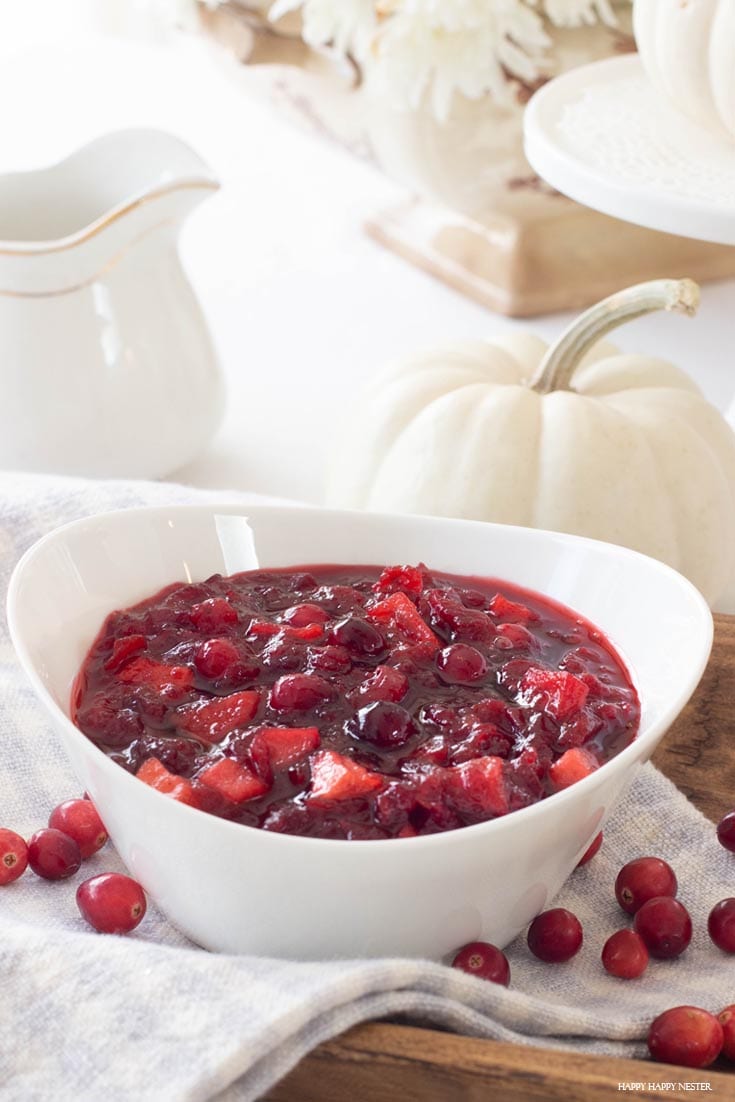 My Maple Apple Cranberry Sauce Recipe is the perfect blend of fresh tart cranberries and sweet maple syrup and apples. You'll not want to lose this tried and true best Thanksgiving dinner recipes.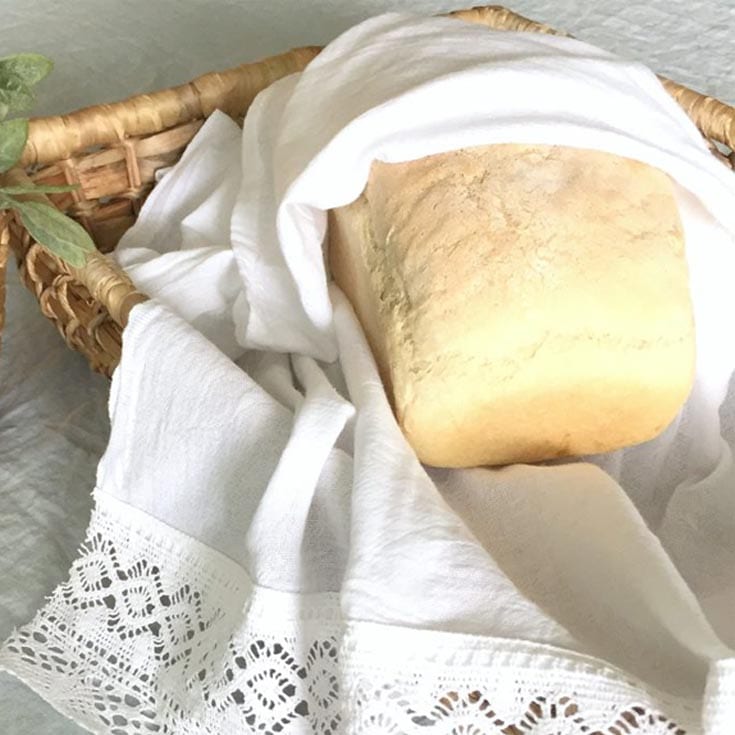 You will totally love this bread recipe from Rhonda at Hallstrom Home. Rhonda's Bob's Bread Recipe looks delish, and I can smell the bread as I'm writing this post.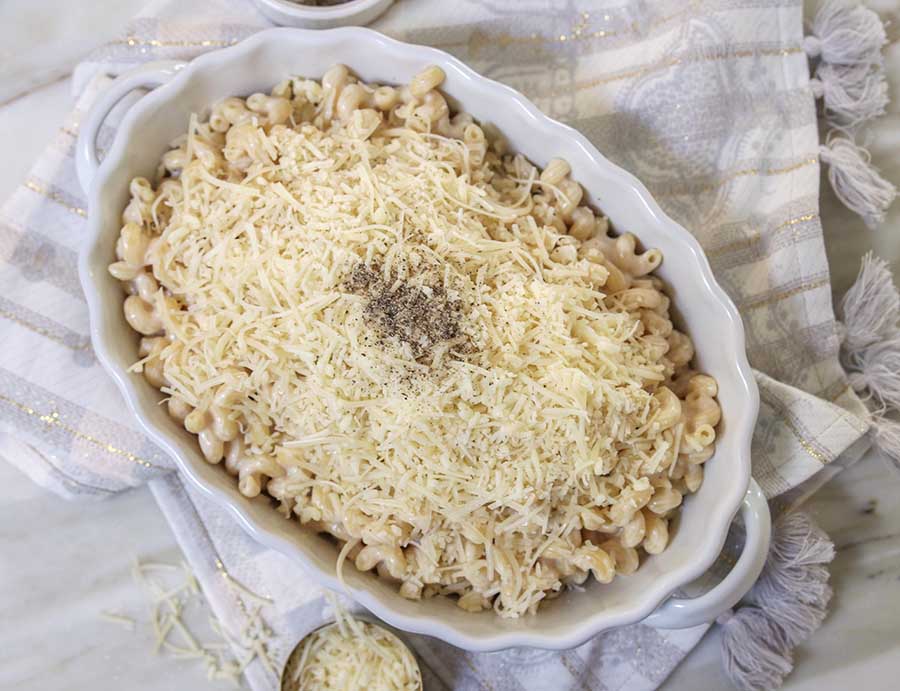 Who doesn't love a scoop of homemade Organic Baked Macaroni and Cheese? Ashely has this scrumptious side dish that will add a bit of comfort food to your table.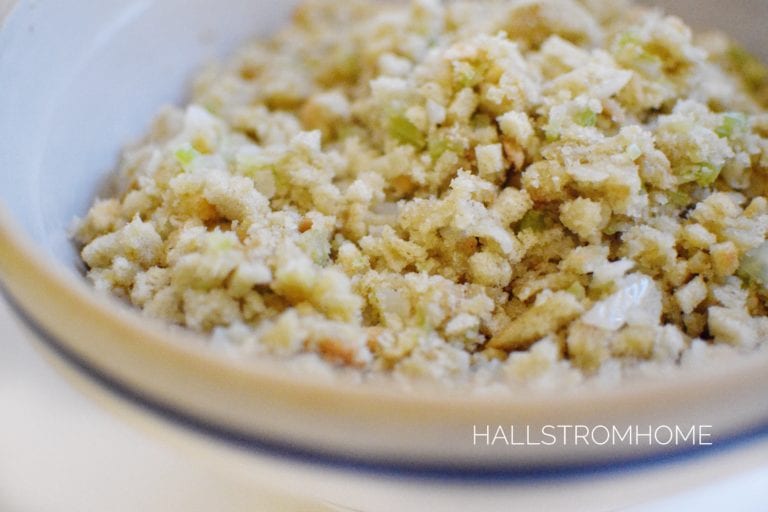 Who doesn't love a good stuffing? Rhonda from Hallstrom Home whipped up her delicious Homemade Stuffing Recipe. We always love to make our stuffing from scratch and we use a rustic bread for ours. I can't wait to try Rhonda's recipe this year.
Desserts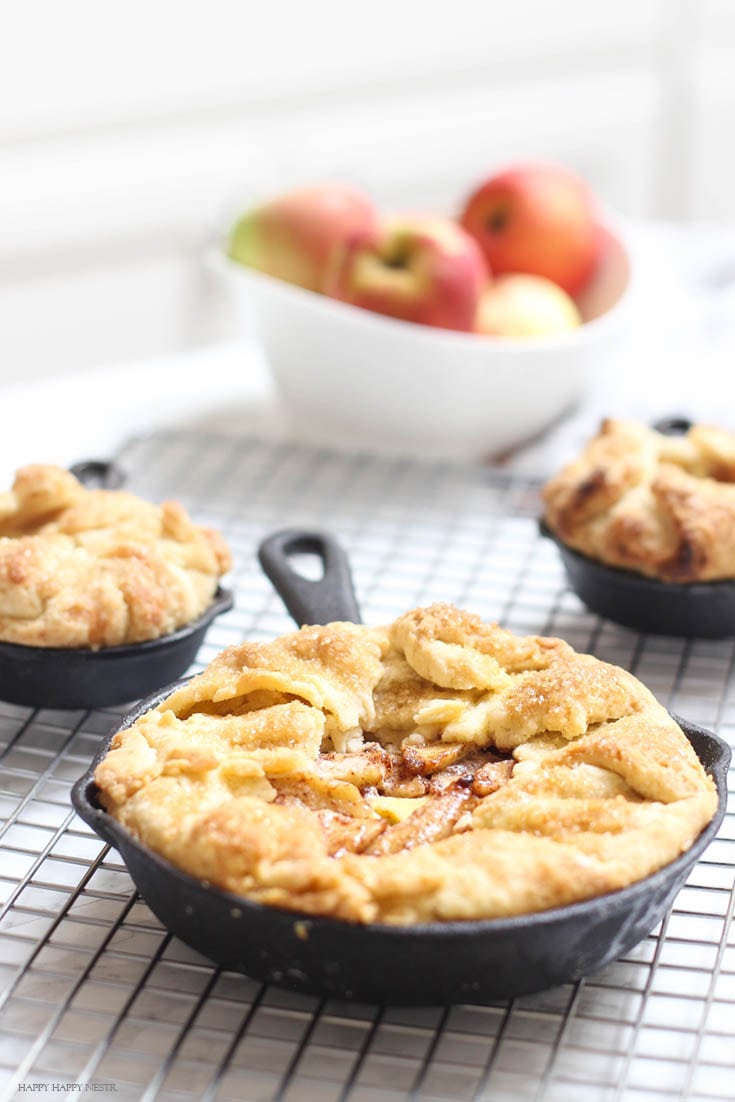 My Mini Apple Tart with Custard is seriously to die for. Well, I don't want you to die, but you need to make this if you make anything from this post. 😉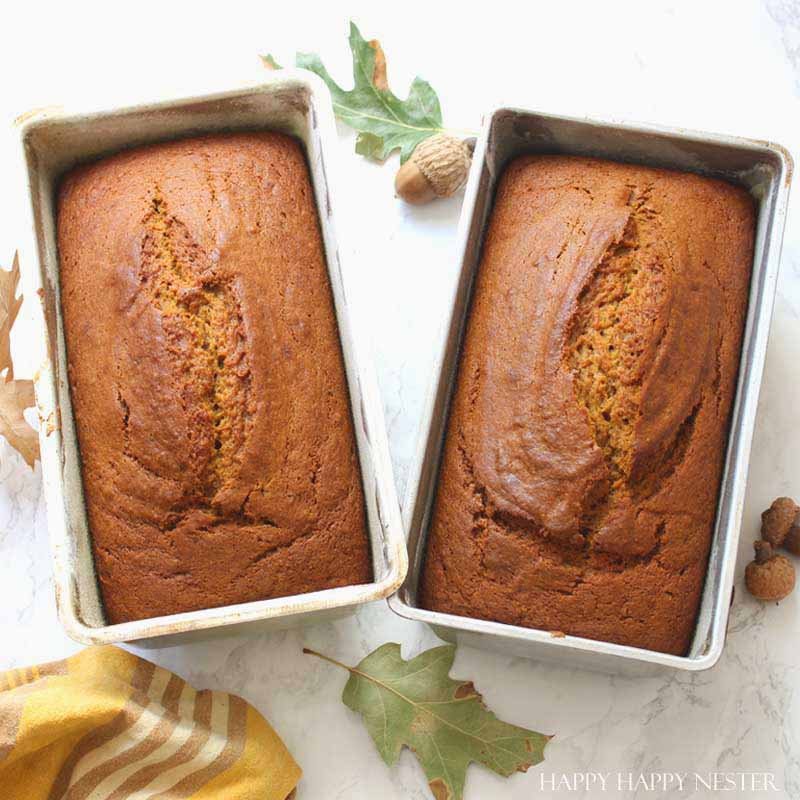 My copycat Starbucks Pumpkin Bread Recipe is just like the real thing. It is an easy recipe, and as you can see from the photo, it makes two large loaves. My family devours them the minute they pop out of the oven.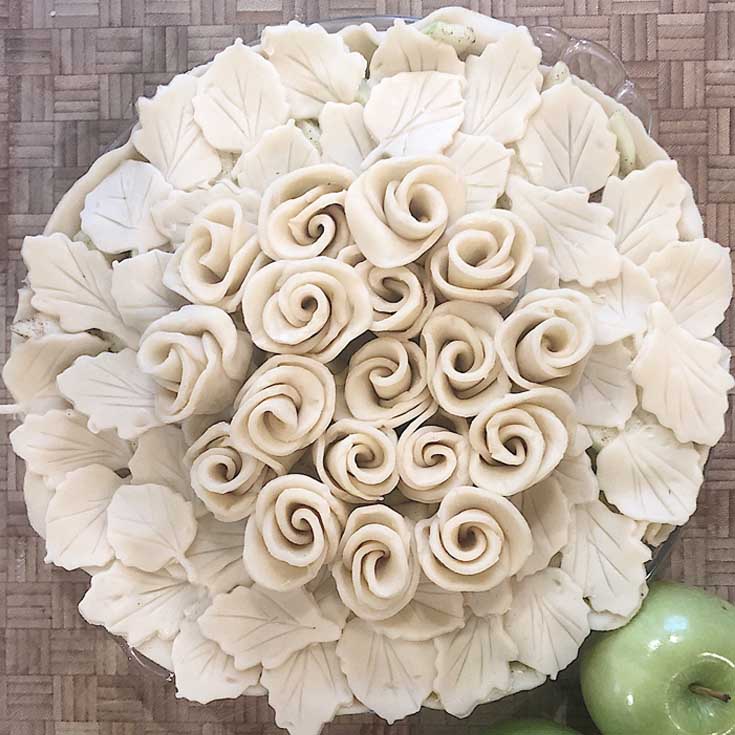 Leslie from My 100 Hundred Year Old Home created a masterpiece with her apple pie. You are super lucky that she is sharing her Favorite Apple Pie Recipe along with how to create this stunning rose crust topping. Oh my, I don't think I would not want to eat this pie since it is so gorgeous.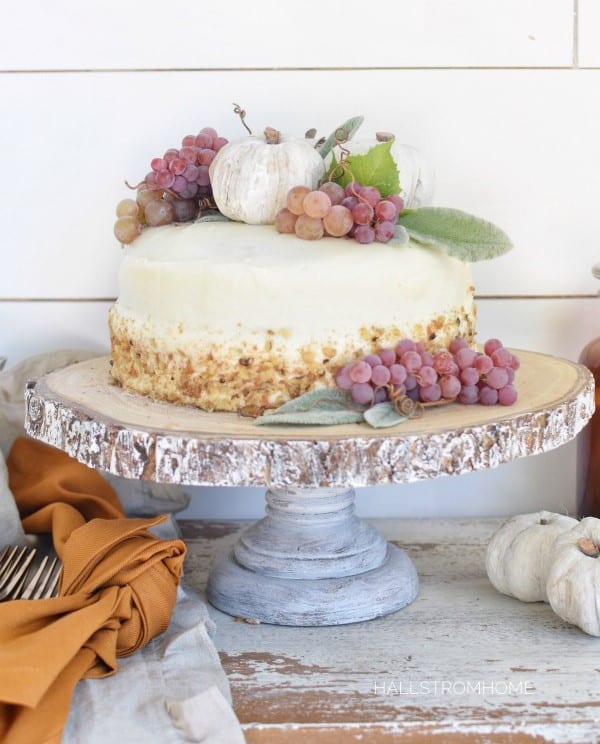 Rhonda from Hallstrom home Best Pumpkin Spice Cake. Everything she bakes is the bomb as Rhonda says! And that is a good thing.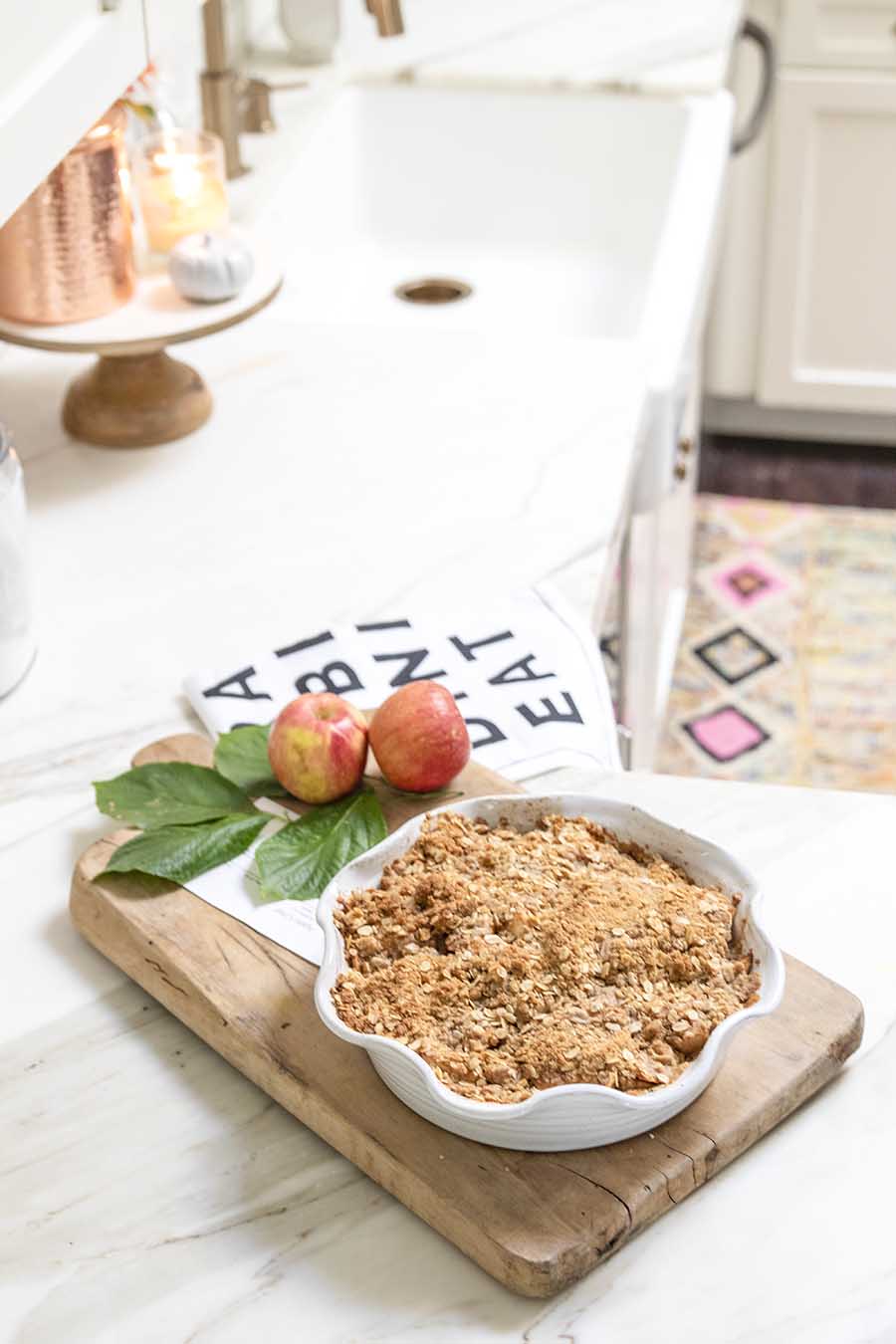 Don't you totally want a portion of this Apple Crisp Recipe? It looks so delicious and perfect for Thanksgiving. I'm sure this is a long time family favorite in the Luengo home.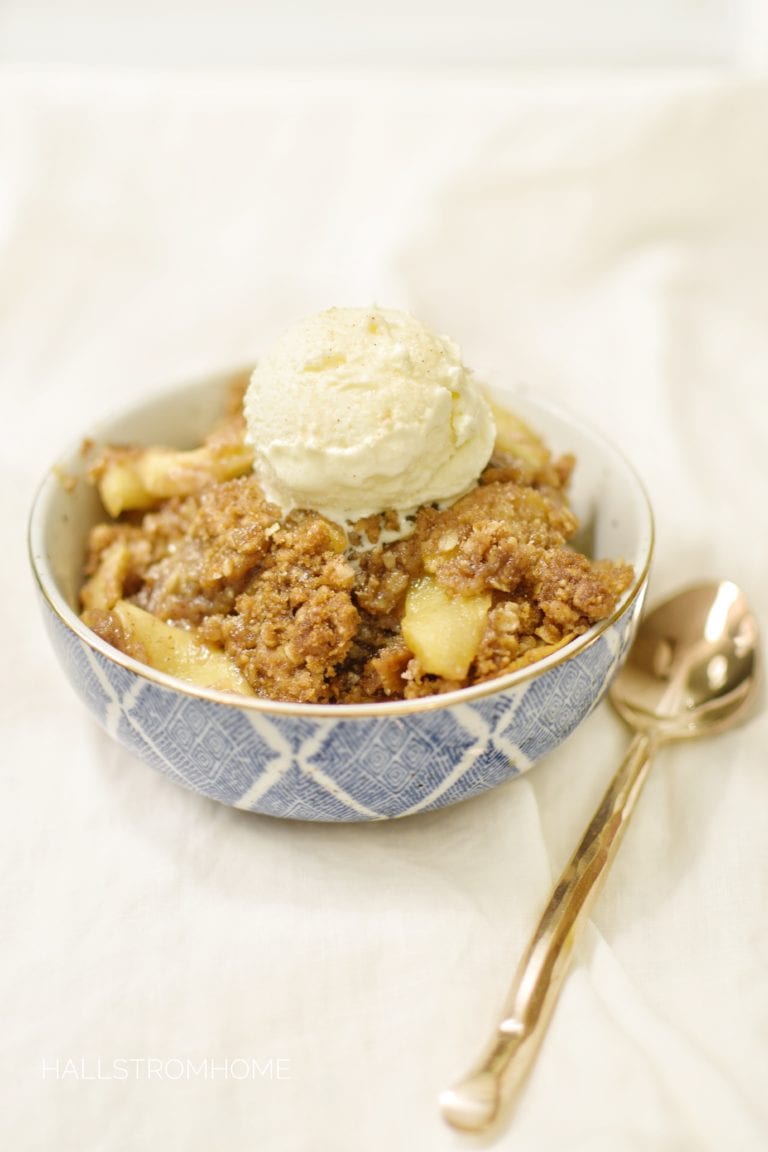 It appears that apple desserts are in season. This is an Best Apple Crumble Recipe from Hallstrom Home. Rhonda is always whipping up such delicious desserts in her farmhouse in Washington.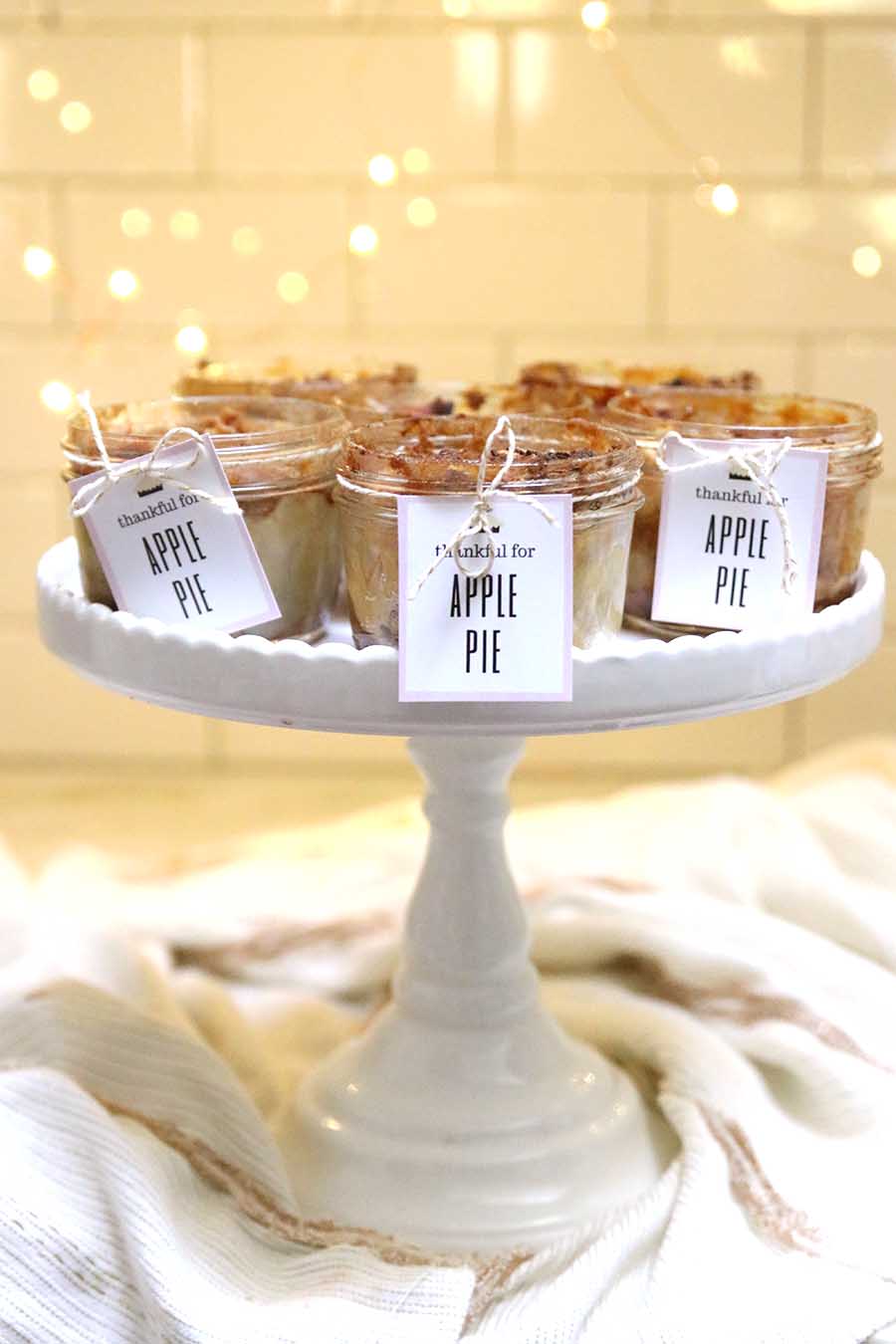 These adorable Mini Mason Jar Apple Pies adds a personal touch for a Thanksgiving dessert. Each guest would have their own individual mason jar dessert with just the right amount of apple pie after eating a big turkey dinner.

Well, I think you are now pretty ready with our tried and true best Thanksgiving dinner recipes. All our Thanksgiving dishes are family favorites, and you know what kind of food critics family can be. So, I hope you enjoy a few of these recipes. And if you are here for the Thanksgiving Giveaway, please leave a comment below with which item you would love to win and why.
Happy Thanksgiving and thanks for stopping by.
Cheers,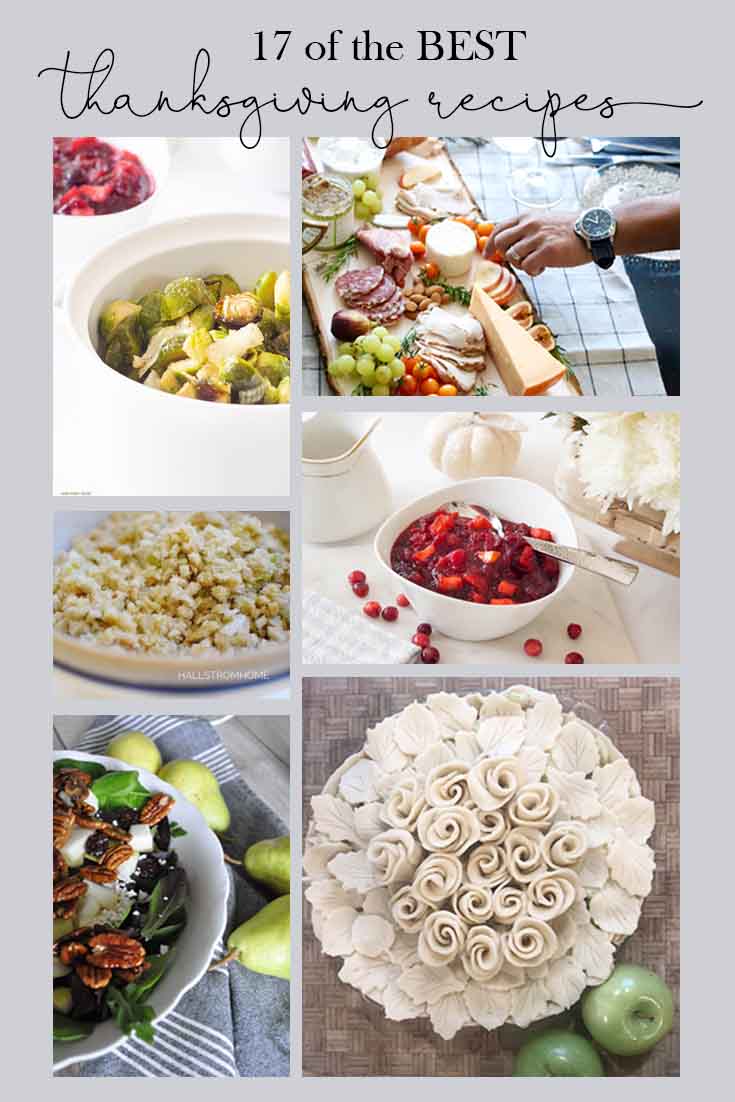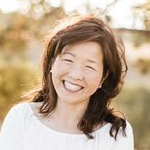 Latest posts by Janine Waite
(see all)