My childhood memory of making candles goes back to when my older brother came home from college and was eager to teach my siblings and me the craft of candle making.
Ok, the date was sometime in the 70's so our candles were bright and psychedelic!
Does anyone use that term psychedelic anymore?
You can imagine that as a young girl, I was so excited to make some colorful and multi-scented candles.
But, today this post is not about me but my talented colleague and friend. I want to introduce to Rachel and her company, Agape Candles. Her candles are gorgeous and luxurious with their sophisticated scents and beauty.
I'm lucky to have them displayed around my home, and I hope one lucky winner will have that chance to own one of her candles. At the end of this interview, we will share how to enter this fun candle giveaway.
So grab a coffee or tea and let's get to know Rachel.
Agape Candles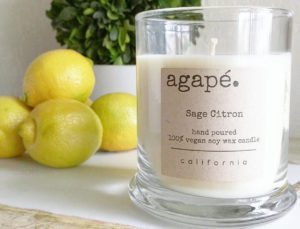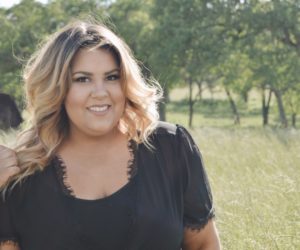 Interview:
HHN: How did your love of candle making get started?
Agape Candles: I have always loved mixing scents. As long as I can remember I have mixed my perfumes or lotions to the exact fragrance, I feel this defines me for that day. I started making candles for my home because I felt like I wasn't able to find an exact fragrance in a candle that spoke to me. It was important to me that when creating this line, the different fragrances would capture you and invoke a sense of comfort but also uniqueness.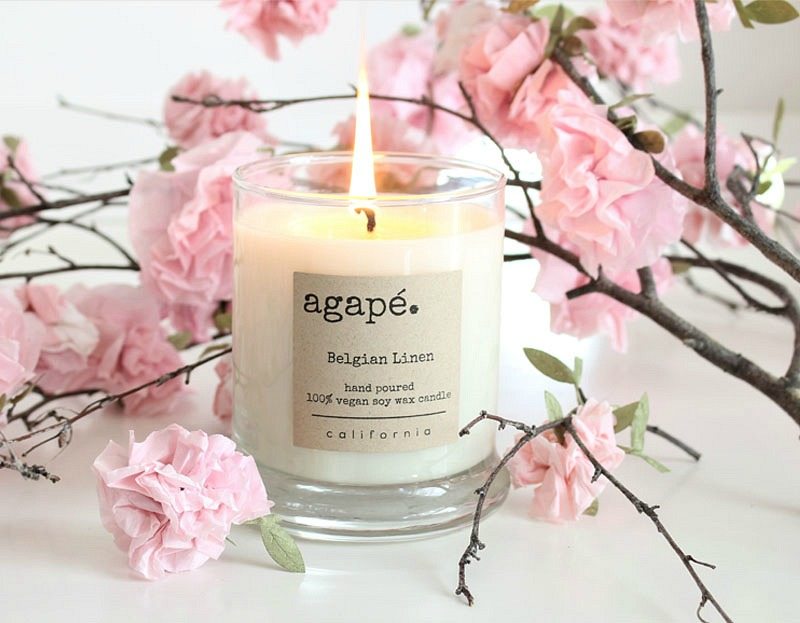 HHN: What was your first candle sale? And to whom?
Agape Candles: Growing up my mom always had the house perfectly decorated and a candle going. I remember walking down the hallway and could smell her major stash of the of Partylite candles she kept in the cupboard – oh, the 90's! She had multiples for every season. So naturally, my sweet Mama was my very first sale and is still the biggest Agapé Candles fan! And of course, now she has a lifetime supply!
My first big candle sale was to The Owl Box @OwlBoxVintage, a vintage and gift boutique in the heart of downtown Tracy, CA. They are passionate supporters of local makers and artisans. The owners Gail and Rachel – a Mother and Daughter duo – have been great mentors to me throughout this journey and they also carry my full line in their boutique!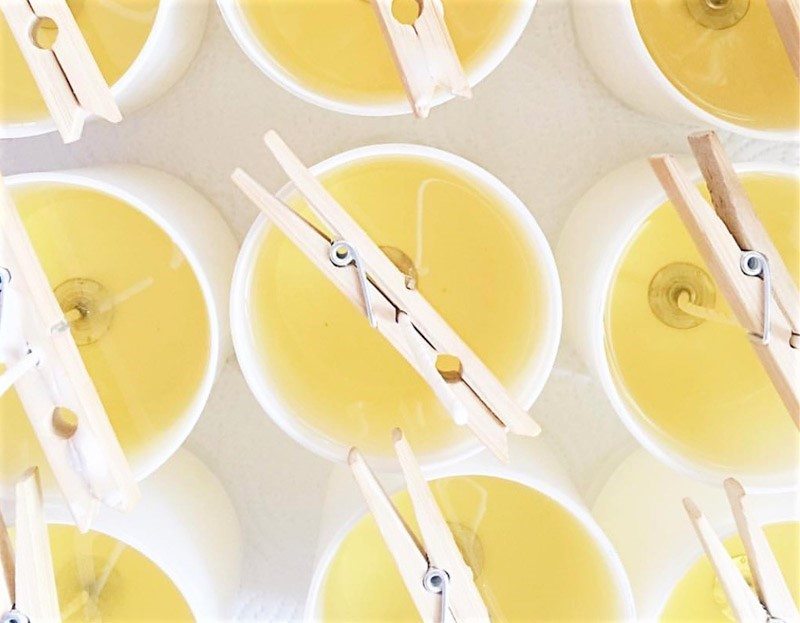 HHN: If you could have a dream vacation where would it be and why?
Agape Candles: I've given this quite a bit of thought and narrowed it down to two! First and foremost I would go to the decor motherland, Magnolia Market! I would spend the day eating Joanna's famous cupcakes and shop 'til I dropped! Then, rent a U-Haul and road trip it back home, stopping at all of the amazing antique and vintage shops Texas to California has to offer!
My international destination would be Santorini. I've always wanted to stay in one of those white stucco homes built in the hills, overlooking the sea with the strum of a Spanish guitar playing in the background.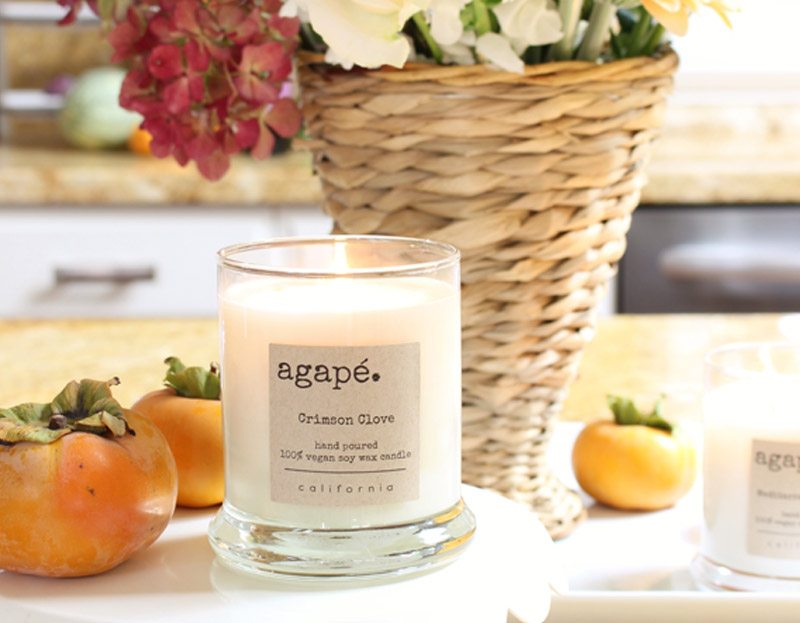 HHN: What are your goals for 2017?
Agape Candles: I've always set New Year Resolutions, but this year I decided I would have a word to go by. My word for this year is Flourish. This goes for all aspects. Firstly, my business is really like my baby. I want it to grow and flourish, not just with the success of sales, but also with the message that is behind it. The meaning for Agapé is the highest form of love. It is the most unconditional and encompassed love that exists. Agapé is the word used for the love God has for his children. I would also love to expand and flourish in boutiques throughout the U.S and lastly, I would love to try to learn a second language fluently! ¿Habla español? or pouvez-vous parler français?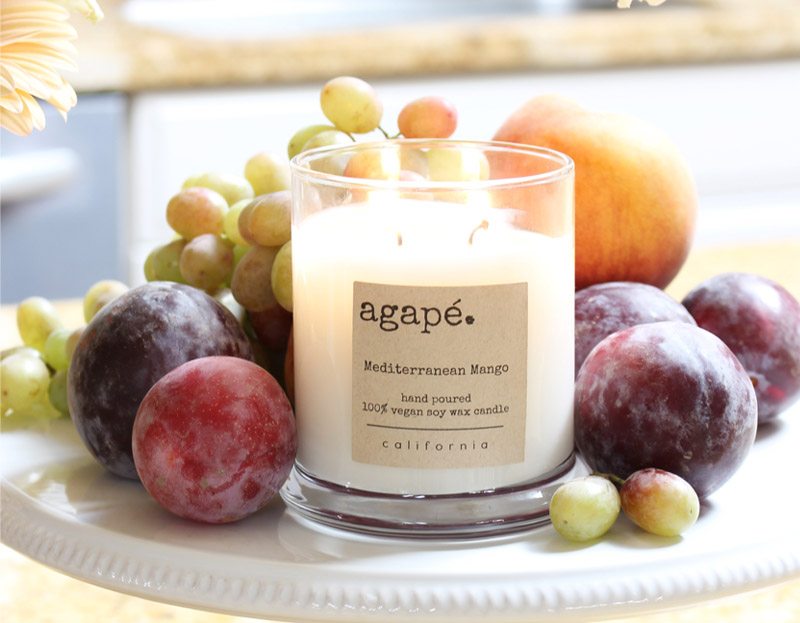 HHN: What is your favorite scent?
Agape Candles: Oh gosh, it always depends on my mood. But my absolute favorite is Lavender. There is something so soothing, yet refreshing about it. It reminds me of a warm spring day, and that's my favorite. A close second would be grapefruit! I always have Fresh Pompelmo burning in my home.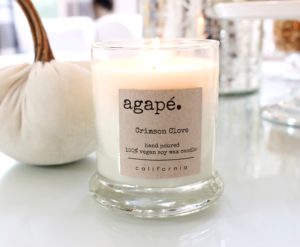 HHN: What is your favorite thing to collect?
Agape Candles: I absolutely love collecting bottles. Old wine jugs and apothecary's vessels are timeless to me. I love to think that with so much forever changing in this day and age, we have kept the same concept when storing a fine wine or seltzer. It's neat to see the different designs of glassware over 100 years or so.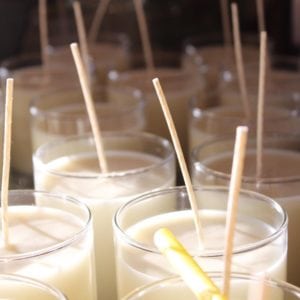 HHN: What are some important things you do when making your candles?
Agape Candles: Production wise, I always make sure everything is clean, lined up and organized before I even start mixing and pouring. So, I like to turn on good music that pulls my creative side out – sometimes it's a Pandora station like John Coltrane, and sometimes it's Santana! I also strongly feel it's important that when you are making something by hand, you are doing it with love and good intention. I pray over each batch and put all of my positive energy into it. Besides, nobody likes bad juju!
Thank for your patience, here is the candle giveaway information. So, please drop us a comment below, and that counts as an entry. If you sign up for my newsletter subscription that counts as another entry. If you already are a subscriber to Happy Happy Nester, please mention it in your comment. This giveaway is for US citizens. Also, the winner will choose a candle of their choice. The giveaway ends 10:00 pm Pacific Standard time, January 30, 2017. Thanks, everyone and have a great weekend!
Cheers,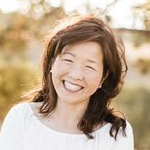 Latest posts by Janine Waite
(see all)