The best chef's knives are A great investment
Our best chef's knives are so sharp that I have to be careful not to cut myself accidentally. Last Mother's Day, my family showered me with some incredibly sharp knives that make food prep a breeze. Up until now, our collection of knives has always been rather pathetic. I am sure a lot of your can relate to this.
~ A Note About the Nester ~
I have a strange fear of knives and swords. I'm always covering my eyes when watching movies that involve sword fighting. My husband and I joke that in a previous life, I must have died by the sword.
The following post contains affiliate links for Amazon and Shopstyle Collective.
A majority of our knives are so dull that it would be more efficient to tear things with my hands rather than use my super dull knives. Probably you are like me and reluctant to spend the money on this small kitchen equipment. I also wondered if a more expensive knife is worth the big investment. My brother who buys the best equipment completely researches products before purchasing them. He has a few amazing chef's knives, and our son appreciates their incredible craftsmanship. After admiring his for many years, we finally have a collection of two knives that have quickly become our best chef's knives.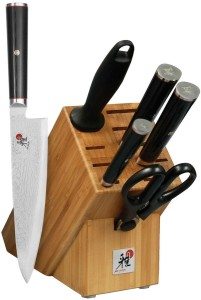 My family bought the Japanese made Miyabi knives. Here is Sur La Table's web description of the meticulous construction of these lovely knives.
The Miyabi Kaizen collection combines advanced ice-hardening techniques with the artistry of traditional Japanese craftsmanship. The knives are carefully crafted with a vg10 "super steel" core that is surrounded by a graceful Damascus pattern that exposes the meticulously forged 65-layer steel construction.
Blades go through a CRYODUR four-step ice-hardening process for superior strength, flexibility and corrosion resistance. The edges are then hand-finished by master craftsmen using a traditional three-step honbazuke blade-honing technique for a lasting edge. The resulting blades are optimally sharpened to precise angles for outstanding edge retention.
Jointly developed by ZWILLING J.A. HENCKELS and Chef Rokusaburo Michiba, MIYABI knives exemplify the traditions and craftsmanship of Japanese sword makers with the excellence of German engineering. It is a knife with an authentic Japanese blade designs, extraordinary sharpness and the comfort."

Super Sharp
Sharp knives are incredible when it comes to food prep, cutting vegetables is not a struggle anymore. I used to have the grocery store workers cut my fish into serving sizes since all our knives were dull, but now slicing the fish is not a problem with my new Miyabi knives. My son sharpens them for us about every six months and afterwards they are just like new.
Best Overall Knife
We use this knife for just about all our cooking needs. I cut veggie and also slice homemade bread with it. It cuts through a loaf like it was butter!
Nice Handle
It feels like a well-balanced knife, not too heavy and not to light. It is a substantial weight, and the handle is solid and easy to hold.
Just note that if you buy this beauty, always to be careful with your every movement so that you don't cut yourself. Sometimes just a light tap on will penetrate the skin. If you decide to take the plunge on investing in some new kitchen knives, let me know what you think. Or if you have any additional questions in regards to the best chef's knives, send me a line.
Cheers,

Here are some posts that you might enjoy reading:
https://happyhappynester.com/2016/01/tips_18.html
https://happyhappynester.com/2016/01/tips_12.html
https://happyhappynester.com/2016/03/review-of-our-cast-iron-skillets.html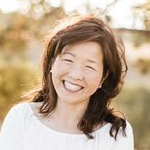 Latest posts by Janine Waite
(see all)