This the Best Tuna Casserole Recipe that we have made for years. This recipe is my husband's comfort food and there is nothing like a warm yummy old fashioned tuna casserole for dinner.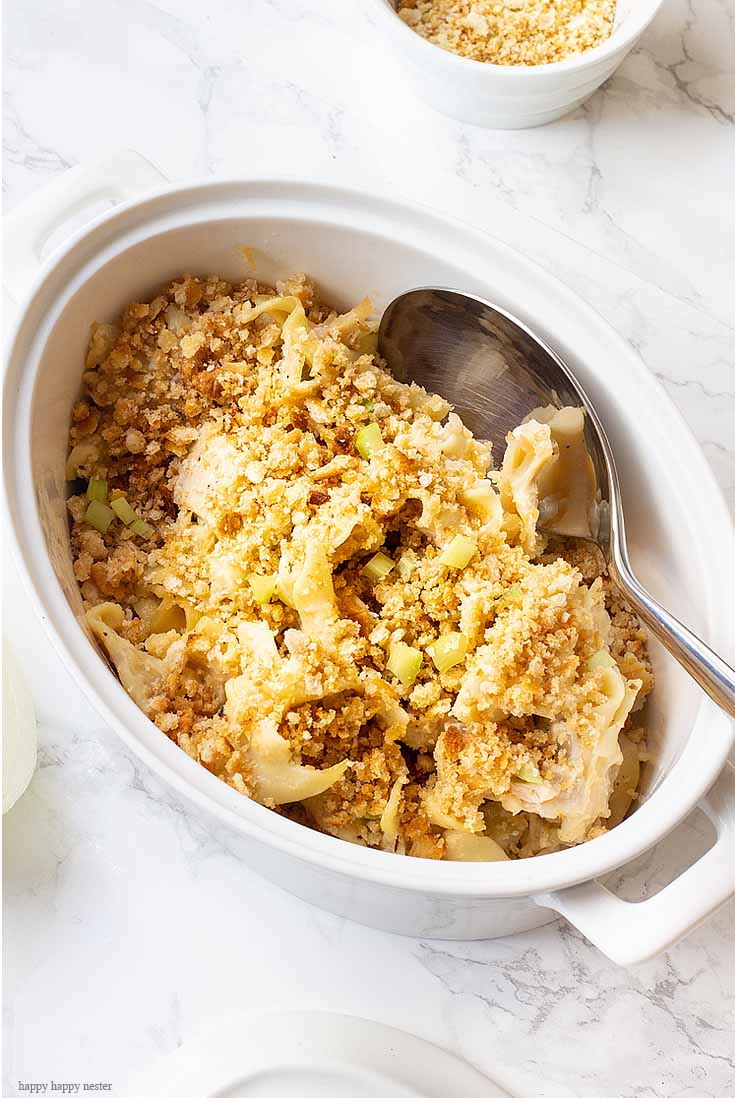 The Best Tuna Casserole Recipe
If you love wide egg noodles, cheese, onions and tuna fish, then you'll fall in love with this recipe. I found it in an old cookbook from a local church. All the women contributed their favorite recipes and low and behold I tried, Mrs. Ogawa's Noodle and Tuna Fish Casserole. Oh my, I think it was many years ago when I first made it and ever since we call it using Mrs. Ogawa's name. Our family doesn't know her but we sure love her traditional tuna fish casserole recipe.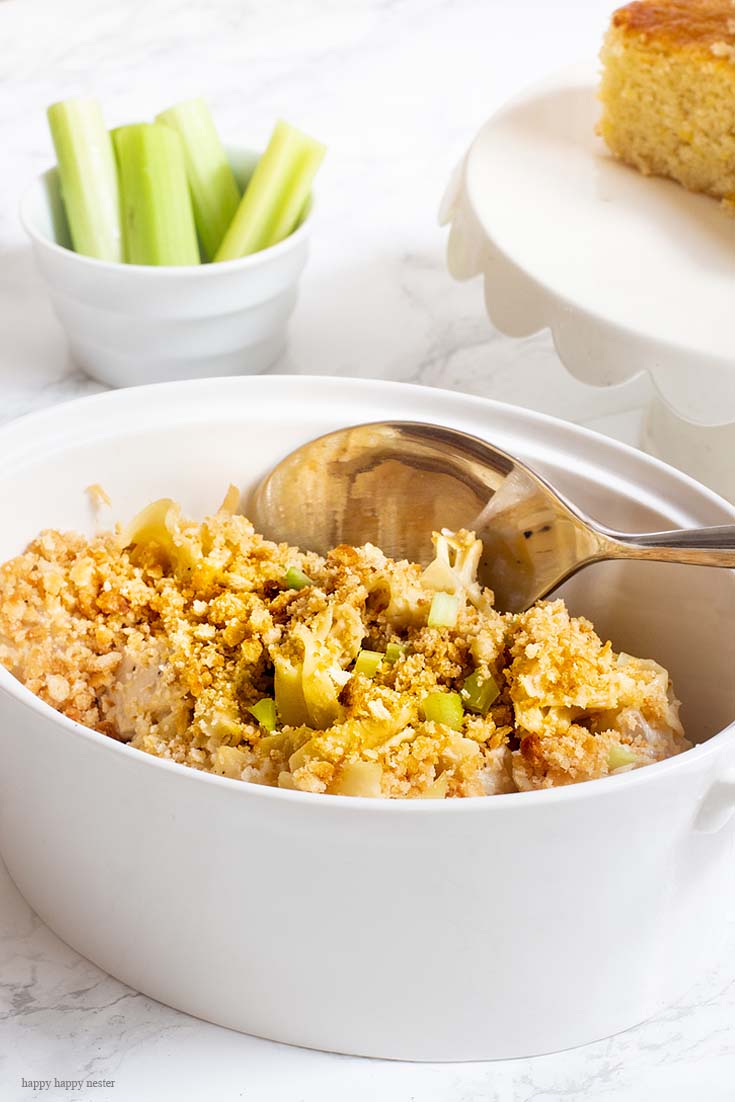 I always love the stories behind recipes. Don't you just love it when recipes get passed from one generation to the next?
This casserole is your traditional recipe with a few twists. It contains cheese and mayonnaise which I believe give it a rich and creamy taste. Pair the cream and soft noodles with the crunch from the onions and celery and it is overall a delicious combination of ingredients.
Well, without further delay here is Mrs. Ogawa's Best Tuna Casserole Recipe.
Mrs. Ogawa's Tuna Casserole
This delicious combination of tuna, cheese, celery, mayo, and mushroom soup is all comfort food. It is an easy casserole to make, and your family will love it.
Ingredients
6

oz

egg noodles

1

can

tuna packed in water, drain

9 ½ oz can

1/2

cup

mayonnaise

1

cup

celery

chopped

1/3

cup

onion

chopped

1

tsp

salt

1

can

condensed cream of mushroom soup

10 ¾ oz can

1/2

cup

milk

1 1/2

cup

cheddar cheese

grated
Topping
2

cups

rustic bread cubes

3

tbs

butter

2

tbs

olive oil

1/2

tsp

salt
Instructions
Cook egg noodles according to package directions, drain.

In a large bowl, combine noodles, tuna, mayonnaise, celery, onion, and salt and pepper.

In a saucepan, heat soup, milk, and cheese until cheese is melted. Mix well.

Add soup mixture to noodle mixture and mix well.

Turn into a buttered casserole.

Bake, covered, at 425 degrees for 20 minutes.
Topping
Cut rustic bread into cubes. Saute in a pan with olive oil and butter.

After the casserole is done place on top and bake uncovered for about 5-10 minutes more.
Nutrition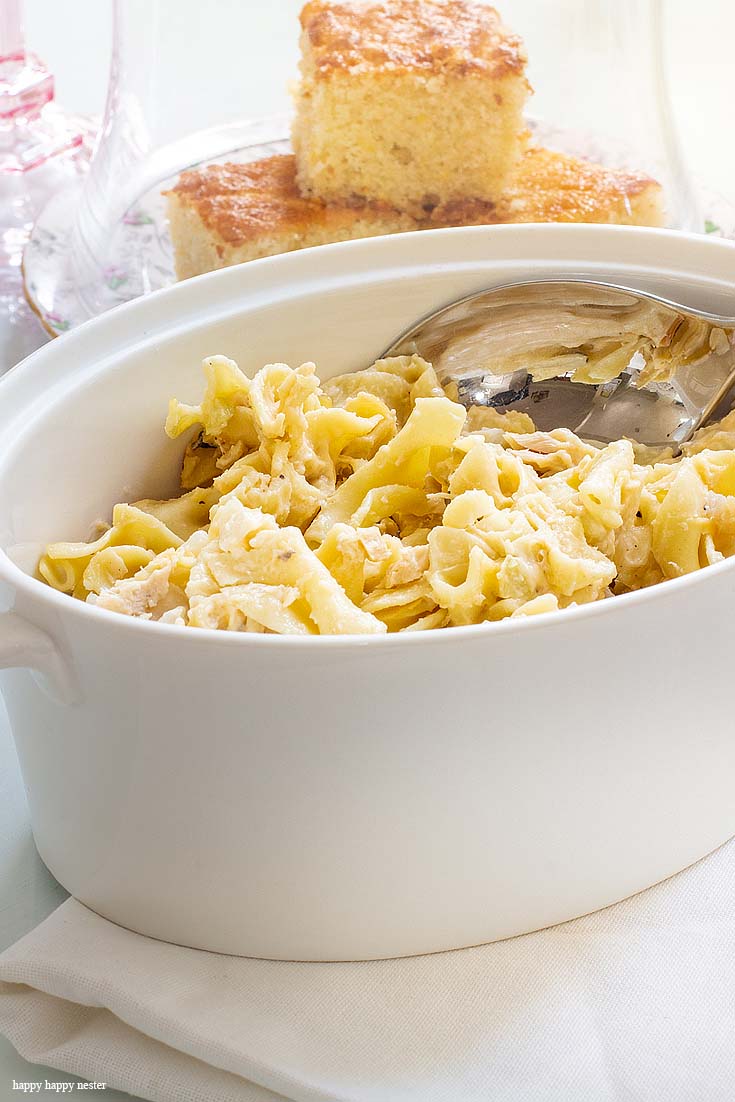 So, this is a photo of the casserole without any toppings. I recently tried crushed up ritz crackers with drizzled butter, try like 1 cup crushed Ritz crackers and 2 tbs melted butter and mix and top. It is a nice light topping compared to cut up breadcrumbs with butter. I think I'll try topping it with breadcrumbs saute in garlic and olive oil next time. I'll update and provide another photo.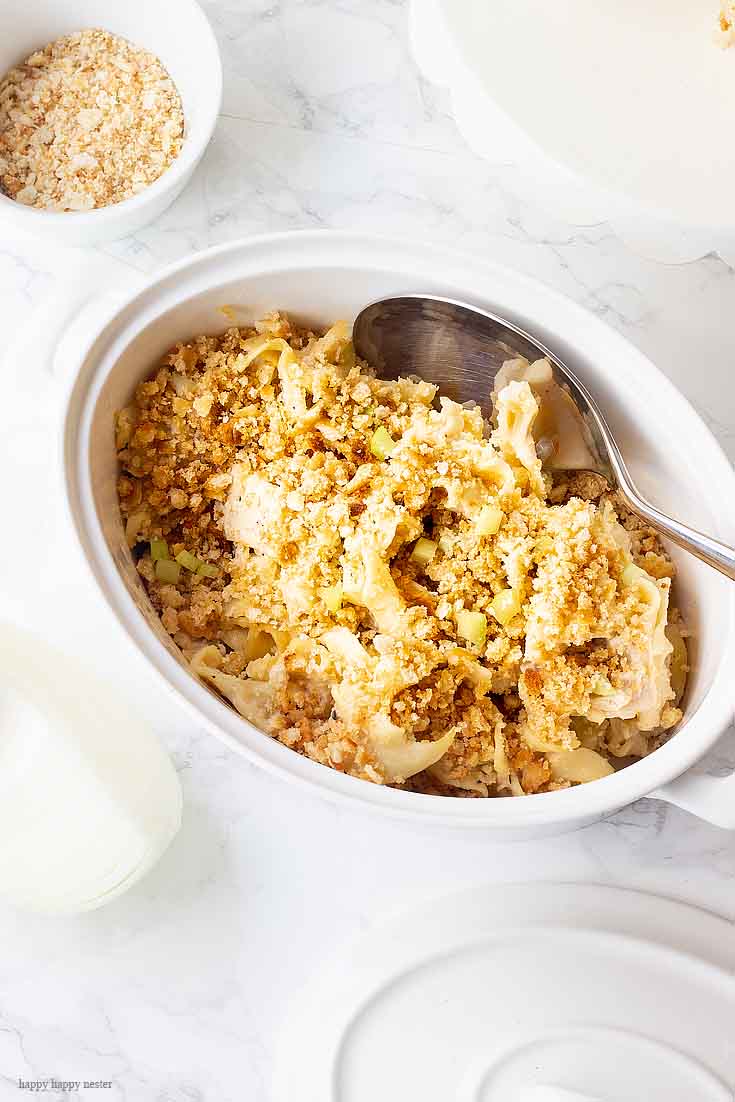 Well, I love this dish and I truly feel it is the best tuna casserole recipe that I have in my repertoire. If you are making dinner and want some more comfort food recipes, make sure to try the following tried and tested dishes.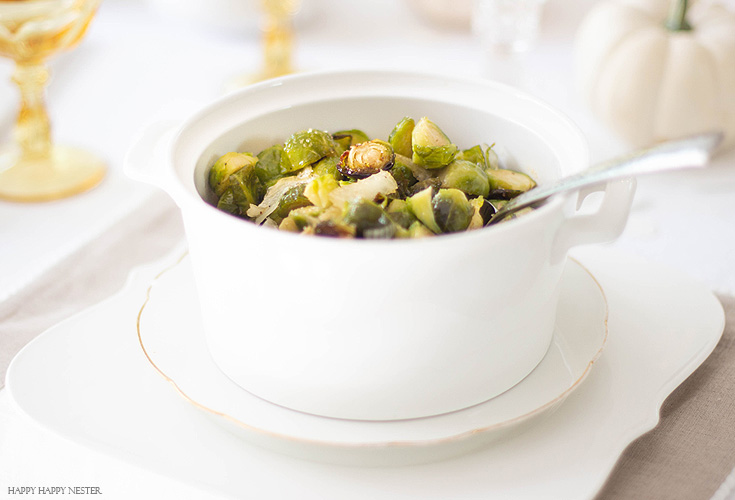 Here is my Carmelized Brussels Sprout recipe.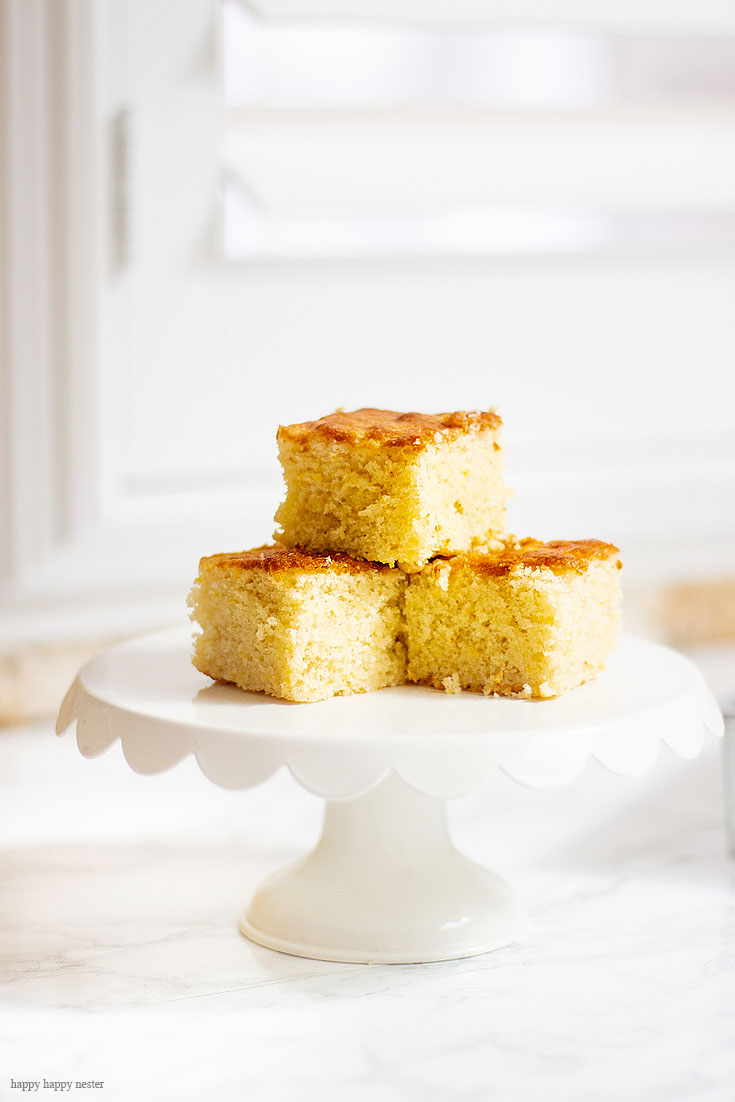 And this is the Best Cornbread Recipe that I'm sure you'll love!
Thanks for joining me and I hope you I hope you enjoy Mrs. Ogawa's recipe as much as well do!
Cheers,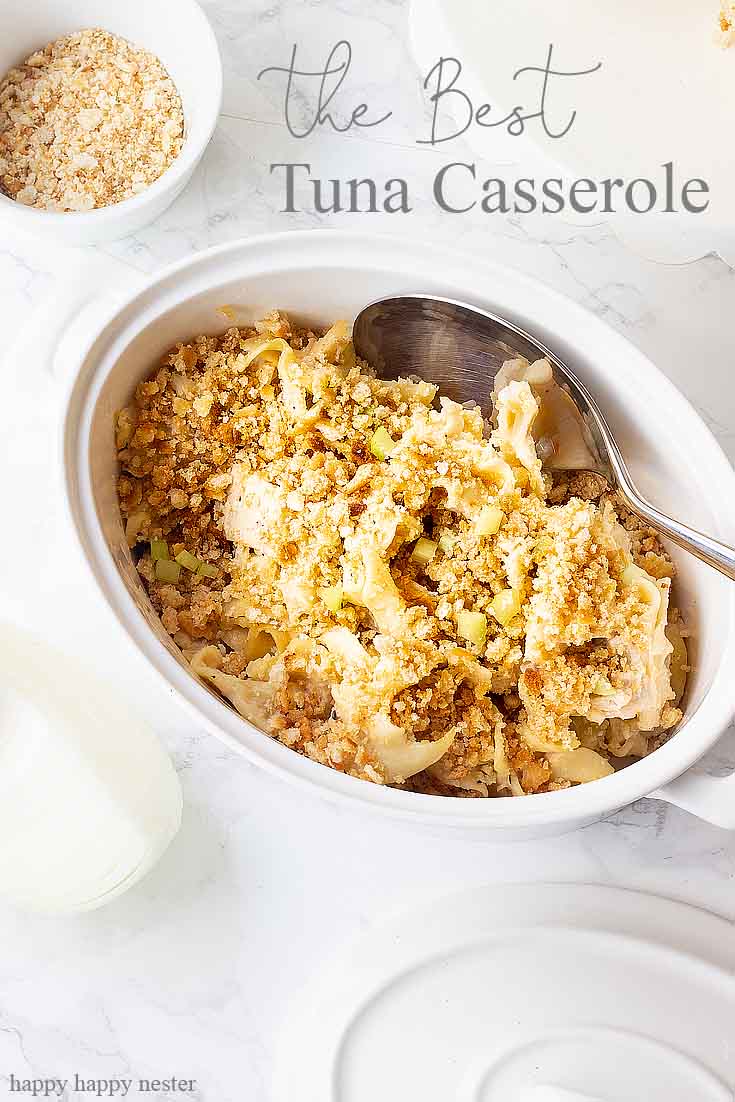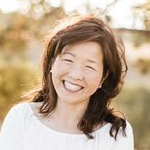 Latest posts by Janine Waite
(see all)