First of all, what is a Breakable Chocolate Heart? It's a heart-shaped chocolate mold that you break to see what is inside! The great thing about making this is you can use any flavor of chocolate, so have fun with this tutorial.
You can place many different types of treats underneath a breakable heart, but here are just a few options: candies, baked goods, chocolate-covered strawberries, pretzels, and cookies. A breakable chocolate heart is a sweet treat 🙂
I had always wanted to create my own breakable chocolate heart, so I was very excited when the mold arrived in the mail. The idea of making a good-sized chocolate heart filled with more chocolate goodness sounds so delicious to me I couldn't resist.
And since this project turned out pretty well, I decided to create a tutorial so you and your loved ones can make this at home too!
This project is part of a Valentine's DIY blog hop. So make sure to check out my friend's fabulous projects. Their posts are at the end of this blog post.
Here are some of my other Valentine's Day projects:
How do you celebrate Valentine's Day? Every year we send mini packages full of baked goods like a breakable chocolate heart to dear neighbors and close friends.
And then, as a family, we spend the day together doing whatever makes us most happy, which is usually exploring nature, going on an adventure, or staying inside where it's the coziest.
Breakable Chocolate Heart
Believe it or not, the process of making these sweet treats is super simple because of the small list of supplies and easy instructions.
Plus, this dessert is perfect for Valentine's Day because what better way to celebrate this holiday than gifting a chocolate heart?
It sounds like a simple yet delicious way to honor friendships, relationships, and extra special bonds.
Frequently Asked Questions About Breakable Chocolates Hearts
What is a breakable chocolate heart?
It's a heart-shaped mold made out of any flavor of chocolate that's filled with more chocolate sweets! Of course, I'm talking chocolate-covered Oreos, pretzels, strawberries, nuts, and cookies. But you can also serve it with candy, money, and toys!
How much do breakable hearts cost?
Each heart-shaped mold costs around $15, but you can create as many chocolate hearts as you like once you have the mold. Once broken, not only can you eat what's inside, but the chocolate heart is also edible, so it's a double win!
What is the Best Melting chocolate?
I've used Merckens and Wilton and I LOVE Merckens melting chocolate. When I heated the chocolate over the double boiler, Merckens came out smooth and silky and Wiltons went from soft to semi-hard quickly. I had to spread it like thick butter rather than smooth like the Merckens which slid around the mold.
The Wiltons Chocolate Meltaways got horrible reviews on Amazon and now I know why it got those awful critiques. So, I highly recommend you use Merckens Chocolate!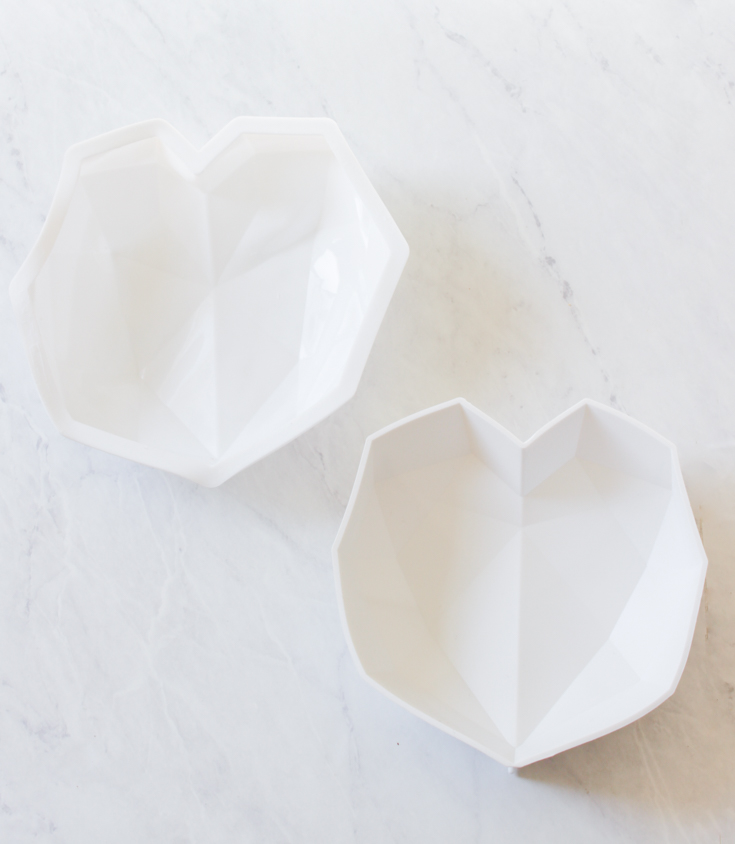 How to buy the best heart molds
I tried a few molds and found that they aren't all equal. The first (located in the upper left corner in the photo) one was way too flimsy, and the one (located in the right bottom corner of the photo) that worked had braces on the back.
How long do breakable hearts last?
If stored, it probably should last a long time. However, if you want to pop it the freezer, that will work out great.
How to store breakable hearts?
Seal it in an air-tight container and keep it away from any heat. But, do not place it in the refrigerator since it takes on the flavors around it, the sugars rise to the surface, and the chocolate changes appearances.
How to Make a Breakable Heart
*The following post contains affiliate links
Supplies:
12 ounces white or cream melting chocolates
spatula
white icing
candies
Step 1 – Melt Chocolate
Place about 2 – 3″ of water in a medium-size pot. Place white melting chocolate in a heat-proof bowl. Make sure the bowl can withstand heat and that the bowl is larger than the pot.
Place the pot and bowl on the stove. Turn the heat to medium to low and stir the chocolate until melted. Once the chocolate's melted, you can remove it from heat. Make sure to wipe the outside of the bowl of water.
Note the bowl may be hot to touch, so wear an oven mitt. Also, make sure to use Merckens melting chocolates that create a super smooth chocolate!
Step 2 – Pour Chocolate into Mold
Pour about half the chocolate into the mold. Tilt the mold and move the warm chocolate around the mold. As the chocolate firms up a bit, keep moving around the mold to coat it. Place the mold on your kitchen counter and let cool. If you want to shorten the process, you can place the heart in the refrigerator or freezer.
Make sure you place the remaining chocolate back on the pot of hot water while you layer the chocolate. This step keeps it warm for your second layer. I kept the flame on simmer.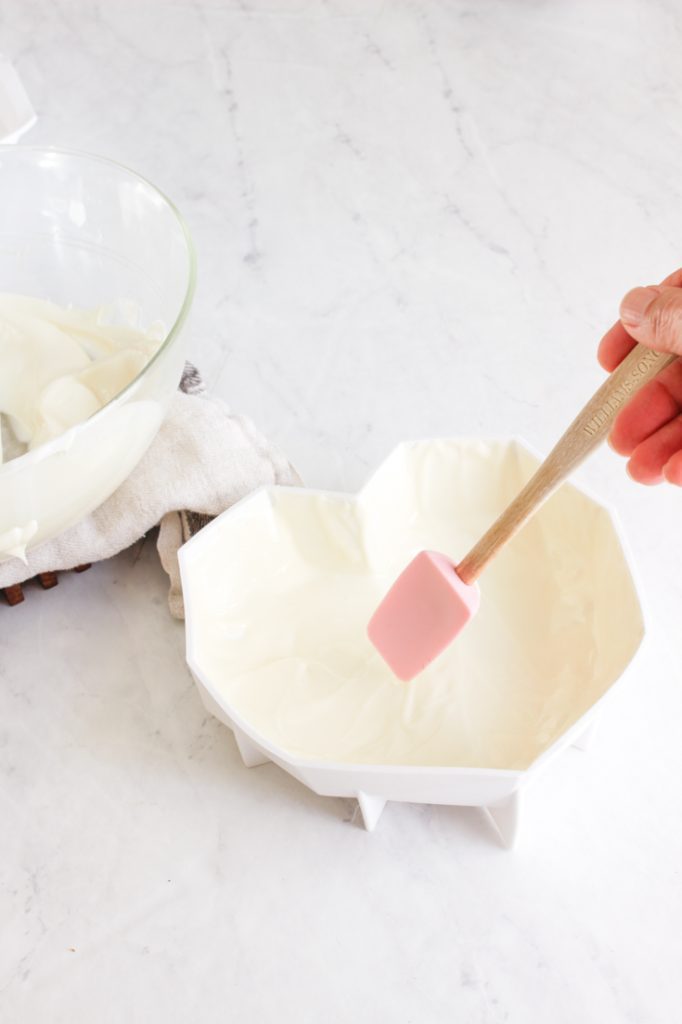 Step 3 – Cool and Add Another Layer of Chocolate
Once the first layer is firm, you can take the melted chocolate and spread it over the first layer. The sides were a bit thinner, so I made sure to coat the top and sides.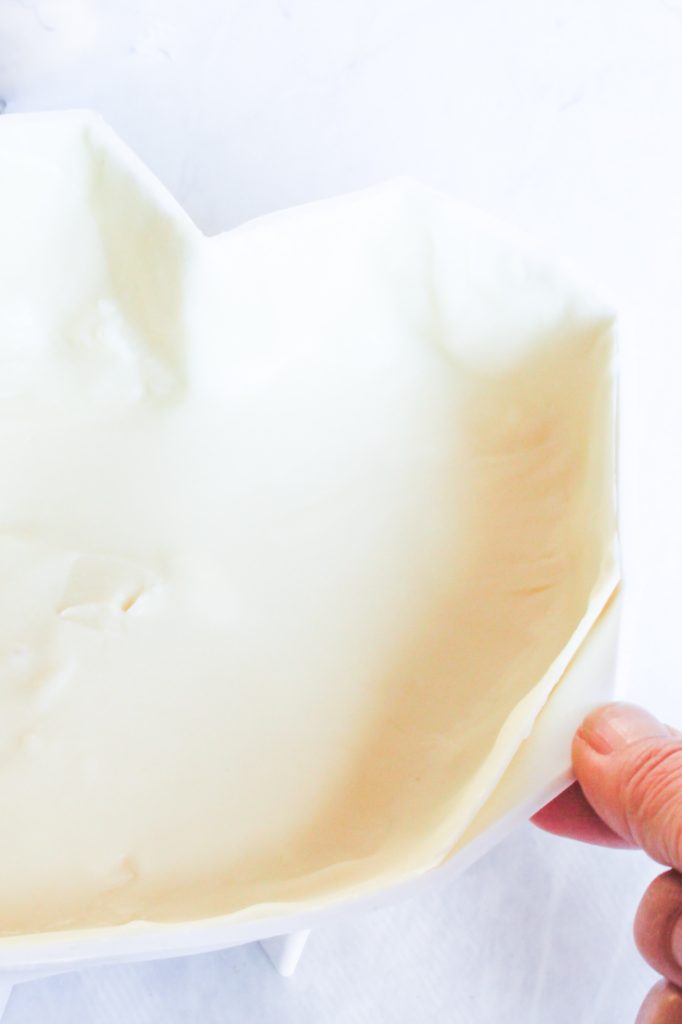 Step 4 – Remove Chocolate From Mold
Once the chocolate is cooled, gently pull it away from the silicone mold. I ended up pulling it away around all the sides, then pushing back the silicone mold and then gently popping the heart out.
I placed the cute little wafer flowers on the top of the chocolate heart by placing a little dab of white frosting on the back of the flower. Then I placed the flowers on each section of the diamond shapes. If you don't have any white frosting you can try placing a small amount of corn syrup or honey instead.
---
Even though Valentine's Day is a one-day holiday, I believe we should spread kindness and appreciation to the ones we love every day, no matter the date.
One way of doing so is by baking. I love to bake, and almost everything I make, I give to others which is one of the many ways to say, "I love and appreciate you." It may be a small gesture, but any amount of affection is worth seeing a smile on someone's face!
That's why this week is all about desserts. I want to encourage you to get in the kitchen and bake something for your friend, family member, neighbor, and whoever else you cherish.
That's why I made this breakable chocolate heart tutorial. I wanted to create something fun yet straightforward that anyone can recreate at home.
In this case, it's the little things that matter. I love bringing a bit of sweetness to my friend's day!
Happy Valentine's Day,

Here are my Friend's Fabulous Valentine's Day DIY's

Pottery Barn Heart Shaped Pillow Knock-off // Craftberry Bush
DIY Wood Heart Garland // The Happy Housie
Rustic Twig Party Favors // Most Lovely Things
DIY Twine Wrapped Heart Filler // Zevy Joy

Breakable Chocolate Heart Tutorial // Happy Happy Nester
Air Dry Clay Heart Keychains // Modern Glam
Simple Hanging Paper Heart Tree // Sincerely, Marie
DIY Stucco Heart Wall Art // The DIY Mommy

Valentine Paper Placemats (or Platemats?) // My 100 Year Old Home
Fingerprint Heart Mug // My Sweet Savannah
Easy & Affordable Valentine's Day Wreath // The Design Twins
Christmas Garland to Valentine Wreath // Tatertots & Jello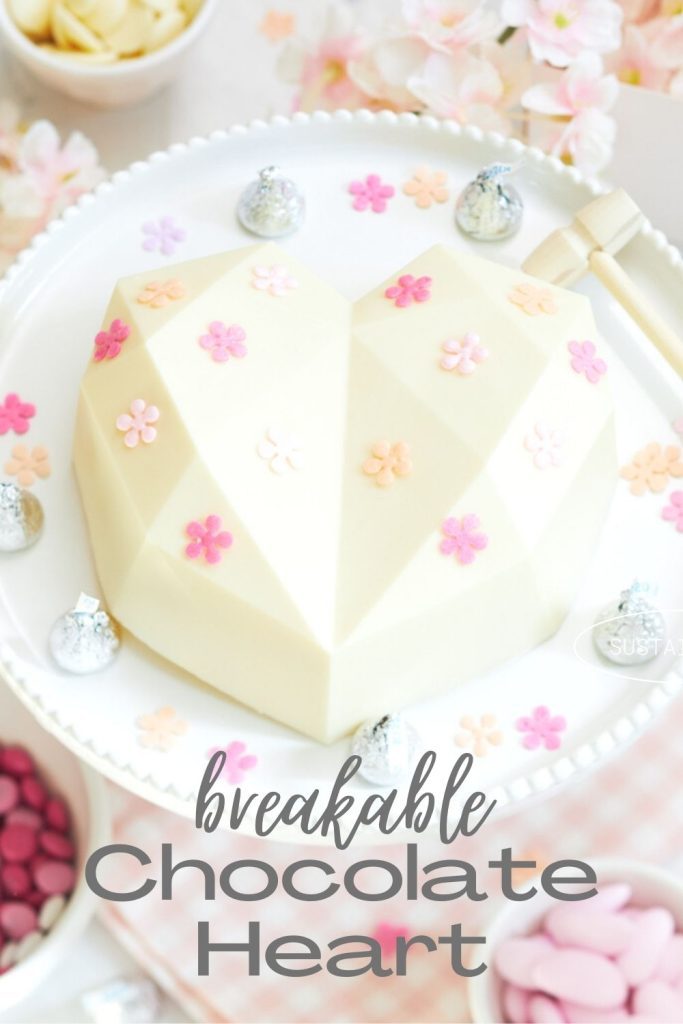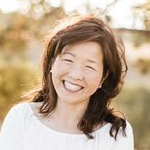 Latest posts by Janine Waite
(see all)