Create a fun, easy Valentine's Charcuterie Board with all your favorite desserts. Here is a list of all the sweets you'll need for this dessert board. I shopped all the items online and never left the house!
Valentine's Day is such a fun gem among the cold winter months. A charcuterie board is something that my daughter and I love to create and enjoy. And this year, we had a blast diving into this delightful tray of our favorite treats!
Before I dive into my project, I want to announce that this post is part of a fun Valentine's Day Blog hop. MaryAnn from Classic Casual Home asked me to join this group of talented bloggers. So, make sure to check out the list of bloggers at the bottom of this post.
---
I look forward to creating Valentine's Day crafts, desserts, and home decor. Here is a list of some of my holiday projects!
So as some of you know, my daughter helps me over here on the blog. She's my best friend, and I'm so lucky to have all her tremendous help.
We are doing everything together during this pandemic, baking, blogging, hiking, etc. So it's only fitting that the two of us have each other for this year's Valentine's Day. We plan to enjoy this charcuterie board filled with all our favorite candies.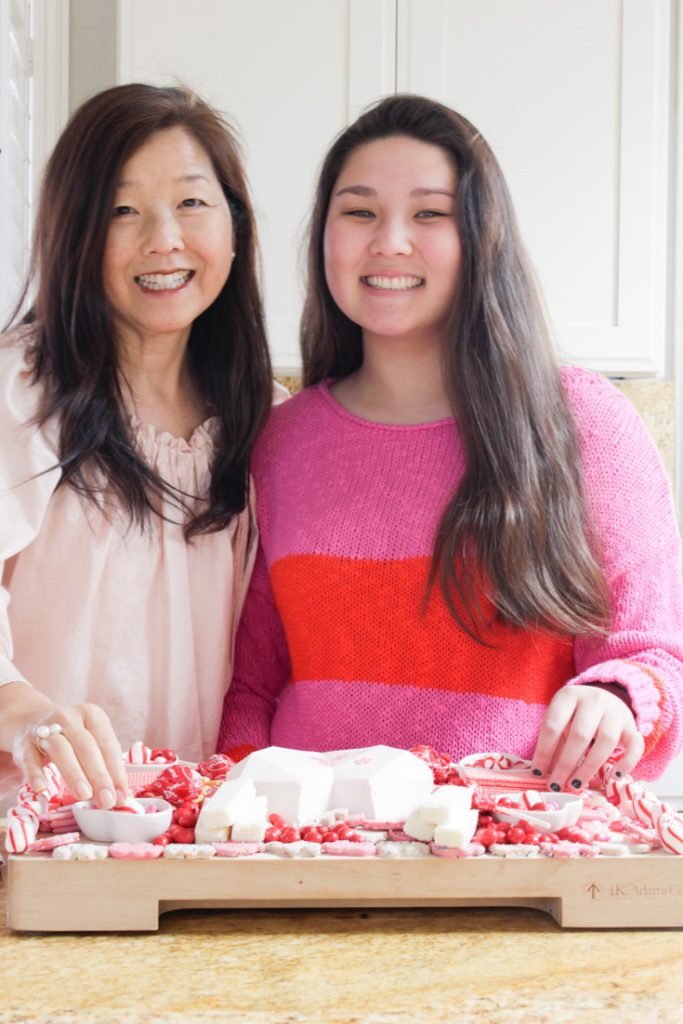 Valentine's Charcuterie Board
We built this fun Valentine's charcuterie board a couple of days ago, and it's taken all our willpower not to nibble on the delicious treats! And today is the day for my daughter and me to dive into this festive dessert board.
We had a blast creating this pretty board for you, and we hope you have a chance to make one for you and your friends.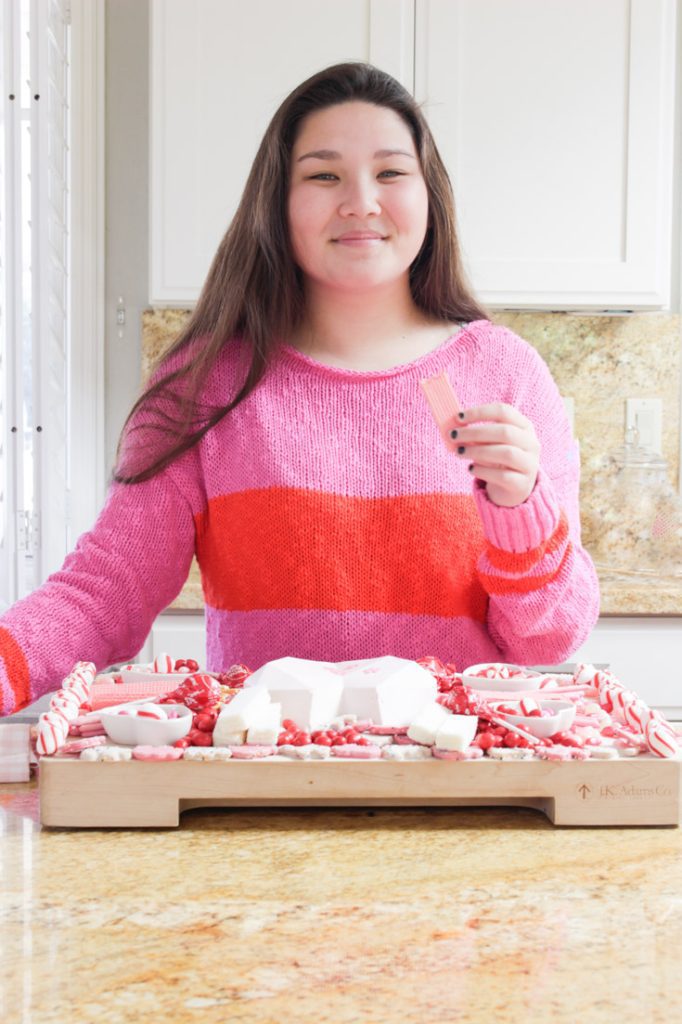 I made it simple this year, and I used my wood cutting board.
When I set out on this project, I realized that I didn't own a rectangular charcuterie board. So, I pulled my favorite JK Adams wood board without spending money. So, use whatever board you have in your home to create this Galentine's Day treat.
You might be wondering about Charcuterie Boards.
Here are a FAQ's
How do you pronounce Charcuterie?
Ok, let's get how to pronounce the word out of the way. It is "shahr-ku-tuh-ree".
What is a Charcuterie Board?
It is derived from the two French terms, chair and cuit. Chair in French means flesh, and Cuit means cooked. It is now used as a way to prepare and assemble meats paired with cheese, crackers, bread, fruit, and sauces. But of course, a Charcuterie has many themes. And now we have dessert and candy boards that accompany the various holidays.
The great thing about a Charcuterie Board is that you can style it however you wish. Add a few Valentine's candies with some cookies, and it will look perfect for a holiday celebration.
The sky's the limit when it comes to creating a great charcuterie board.
In this tutorial, I'll show you step-by-step how to build your Valentine's Charcuterie Board! I've done the hard part of coming up with the candy and design, now all you have to do is copy my layout!
You'll be happy to know that I bought everything online, and all these Valentine's Day desserts arrived on my doorstep. I love online shopping, and I save so much time these days.
For this board, you'll want to make my chocolate heart. Don't panic. It's easy to make, and I posted how to make a breakable chocolate heart on this post.
Let's get this Valentine's Day project started.
How to Build a Dessert Board
*The following post contains affiliate links
Ingredients:
Wafer Cookies ( Strawberry Pink, Lemon White)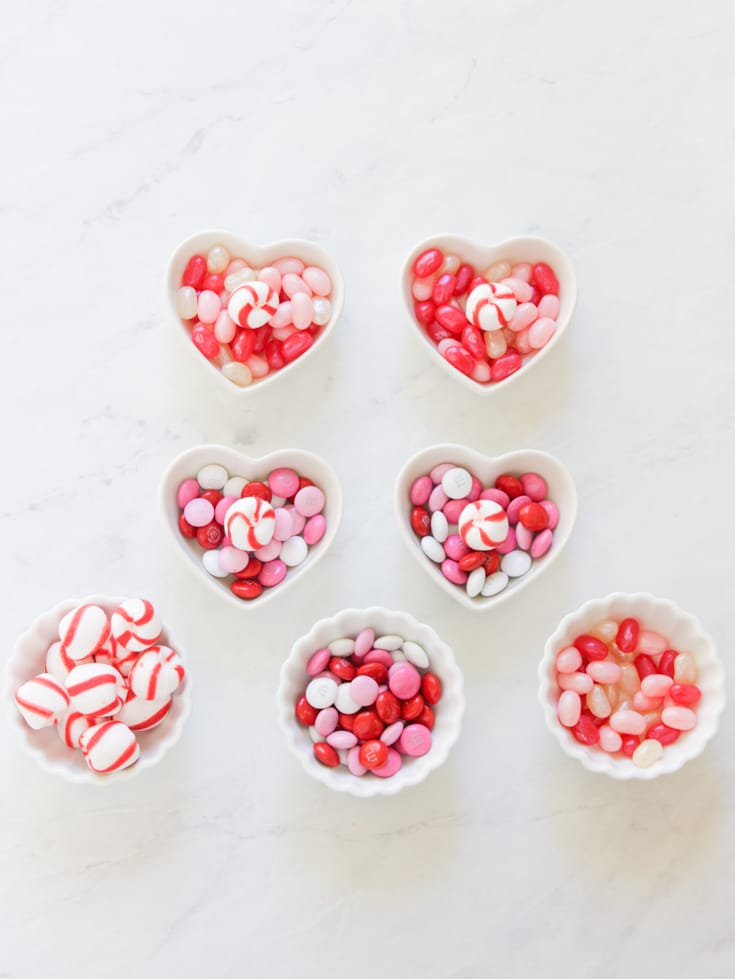 Here are the ingredients to add to the ceramic hearts. Fill two of the heart dishes with M&M's and the other two with Jelly Beans. Then top each bowl of candy with a peppermint.
Valentine's Charcuterie Board Directions: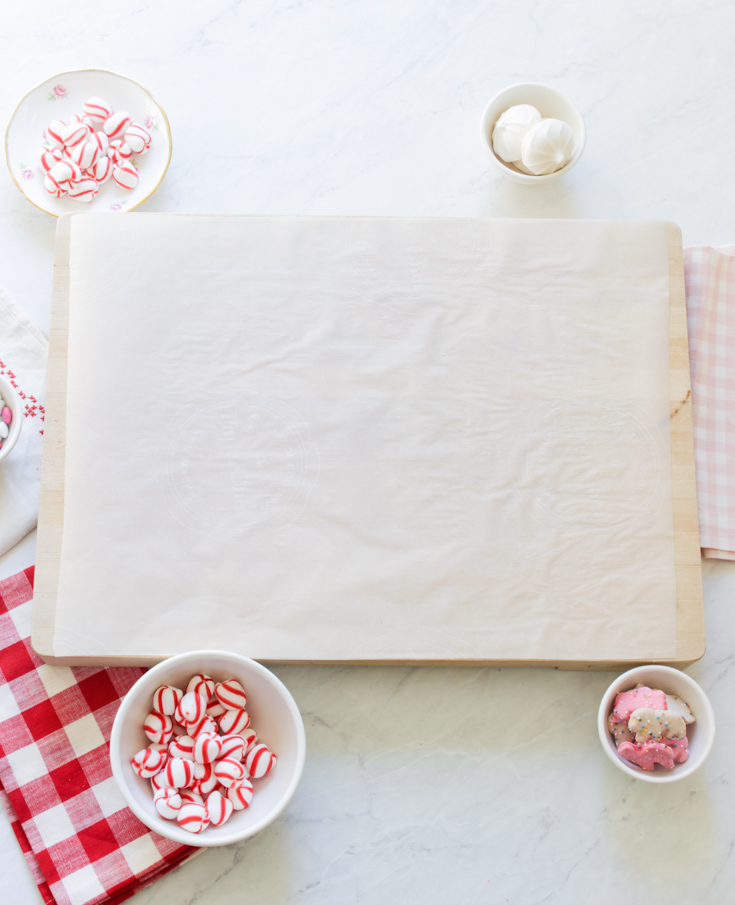 Step 1 – Prep Your Charcuterie Boad
I used my favorite cutting board for my charcuterie. Also, I always like to place parchment paper down when creating my boards since it makes an excellent protective barrier for the food.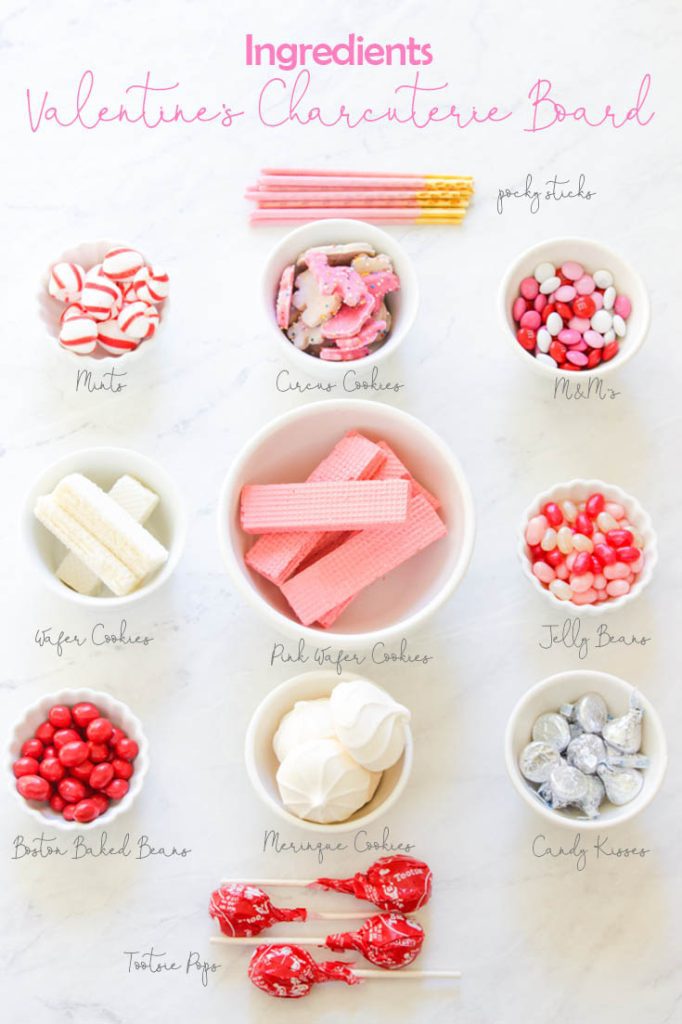 Step 2 – Gather All The Ingredients
I loved making this little image of all the treats that my family loves. But, if you have family favorites, don't be afraid to include them on your board.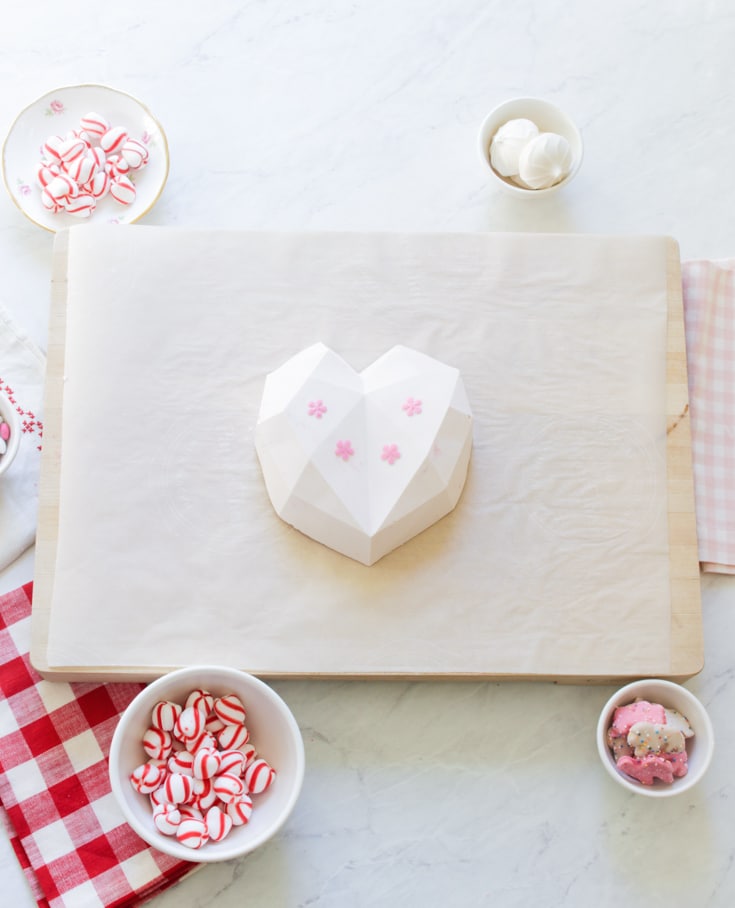 Step 3 – Place The Chocolate Heart
This edible chocolate heart is so easy to make, and I love how it's the centerpiece for my board.
Make sure to check out how to make it on my blog post. Over in the tutorial, I share some essential tips on the chocolate mold and the best chocolate to use for the project. Yes, I learned the hard way by failing a couple of times.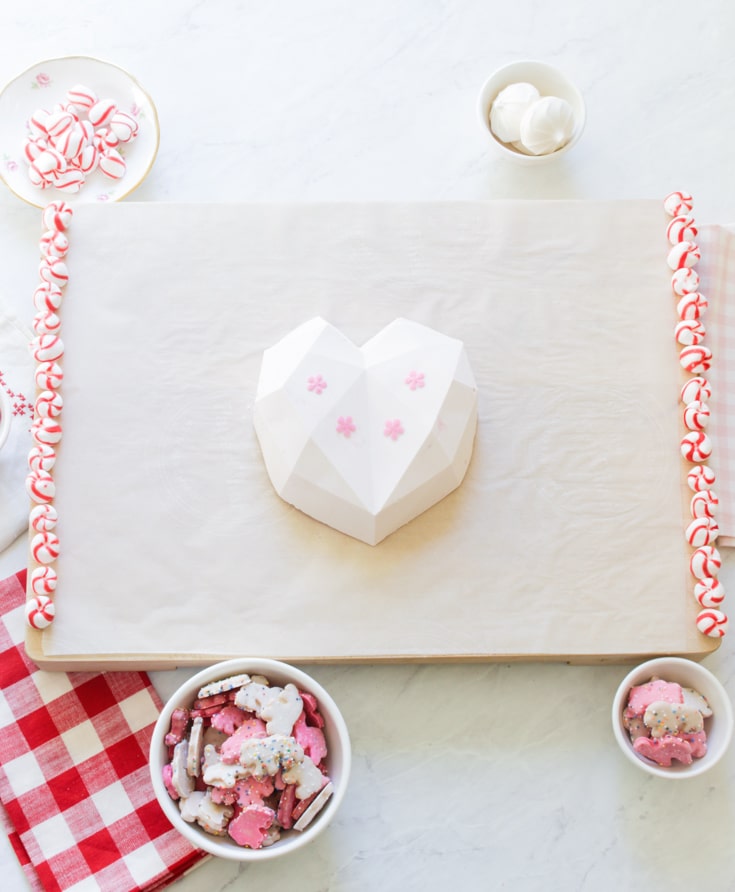 Step 4 – Place Mints on Border
These soft peppermints are so yummy. They come individually wrapped, so they stay fresh for a long time. We've had this supply since Christmas. They're so cute and cheerful on this board.
Step 5 – Place Circus Cookies on Border
Uh, we love these sweet Mother's Circus Cookies. They're perfect for Valentine's day, don't you think?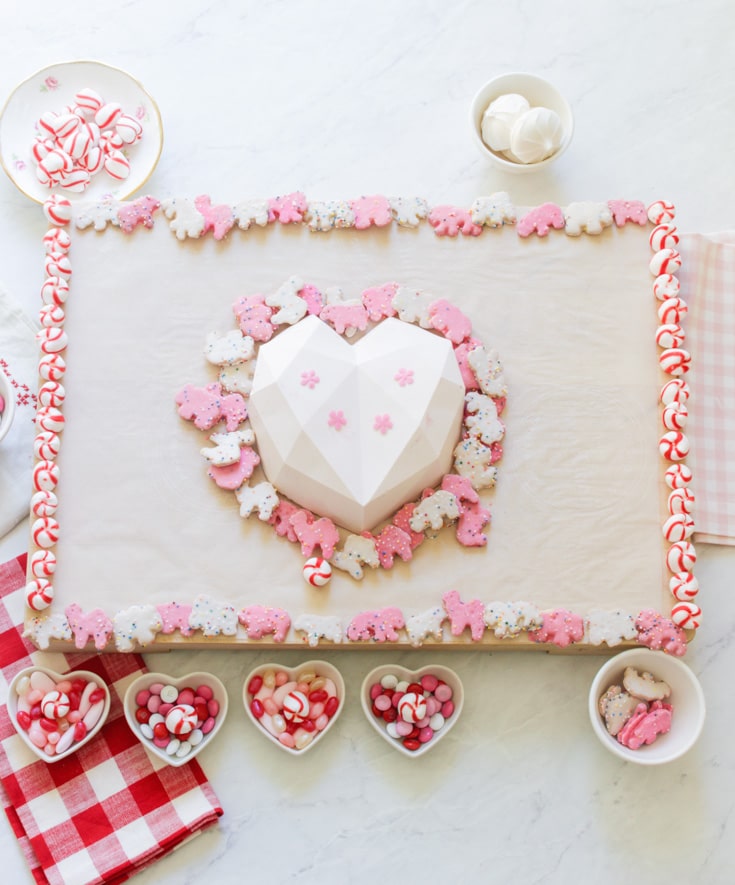 Step 6 – Place Cookies Around Heart
Step 7 – Place Ceramic Hearts Filled with Candy
I bought these dainty heart dishes over on Amazon. I was pleasantly surprised at how inexpensive they are and how cute they are on the board.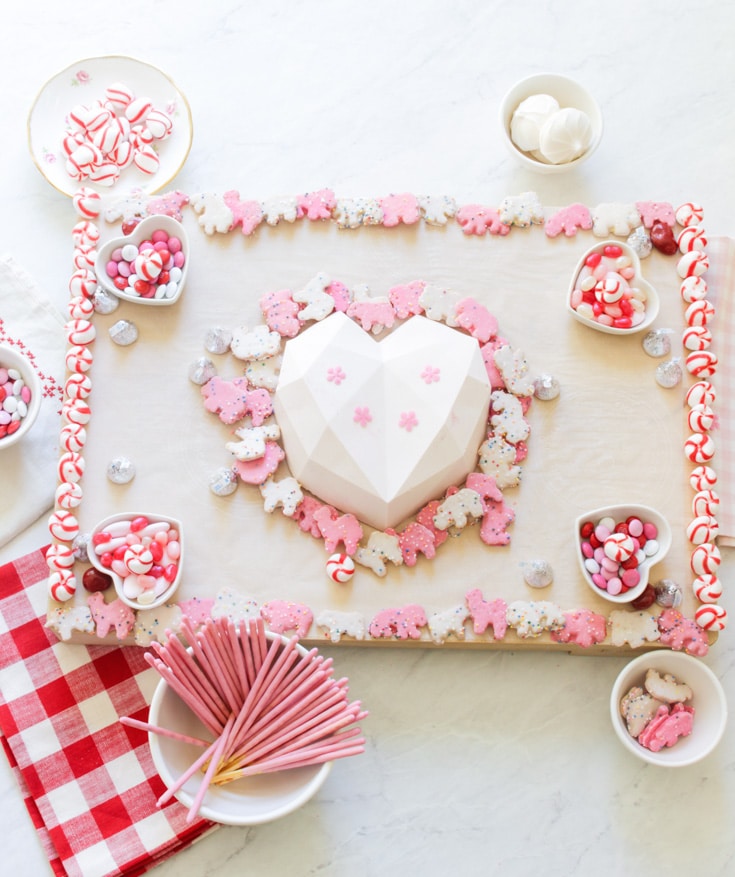 Step 8 – Place Hershey Kisses
You can place them on your board now and at the end of your creation. Think of them as little accents.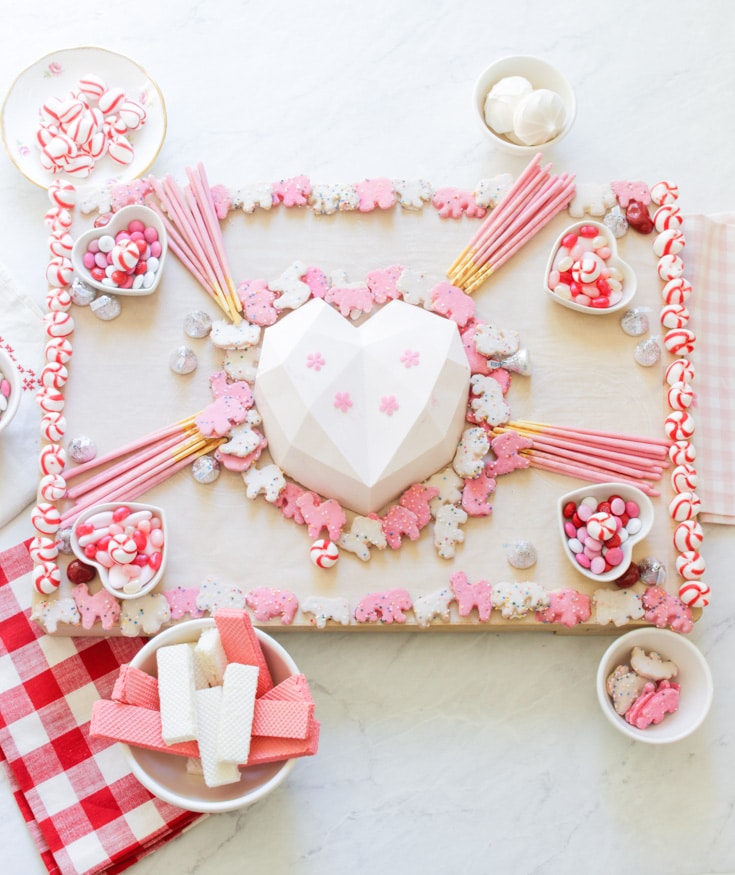 Step 9 – Place Pink Pocky Sticks
My kiddos love these pocky sticks, so it was a no-brainer to include them on this Valentine's Day Charcuterie board!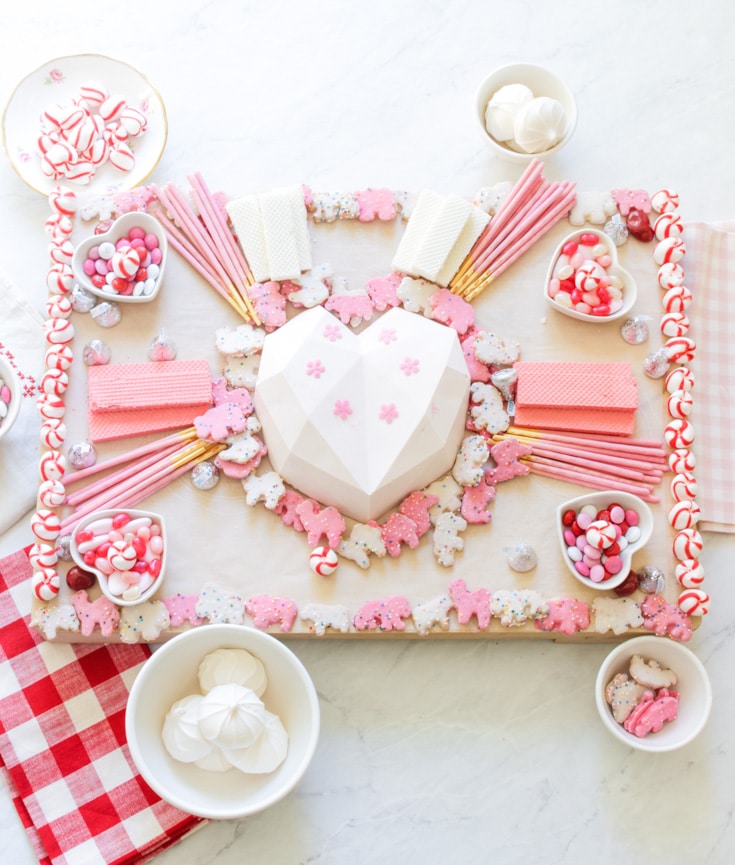 Step 10 – Place Pink Wafer Cookies
My family loves wafer cookies, and the pink and white ones are perfect for Valentine's Day! Plus they make me smile. 🙂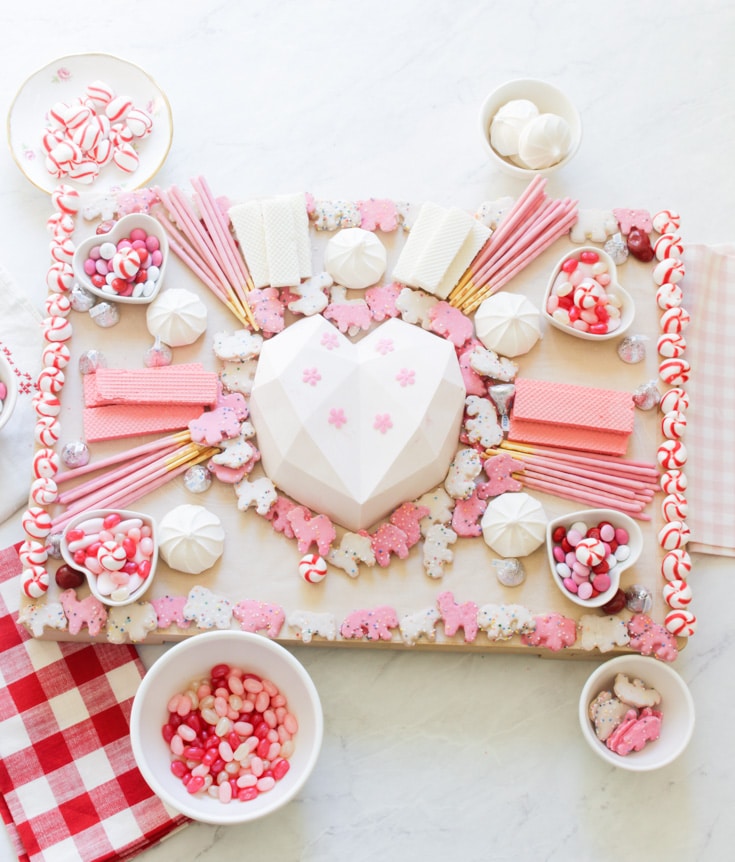 Step 11 – Place White Wafer Cookies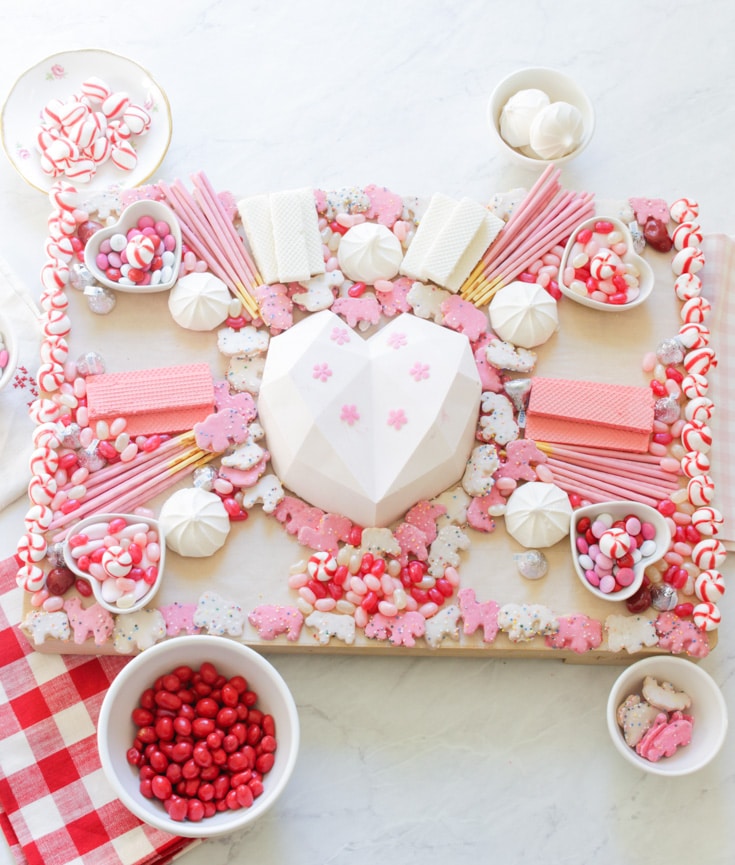 Step 11 – Place Jeweled Jelly Beans
These jelly beans are so pretty, and I love how shiny they look. I placed them in a few spots, and then I used them as filler wherever I had empty spaces.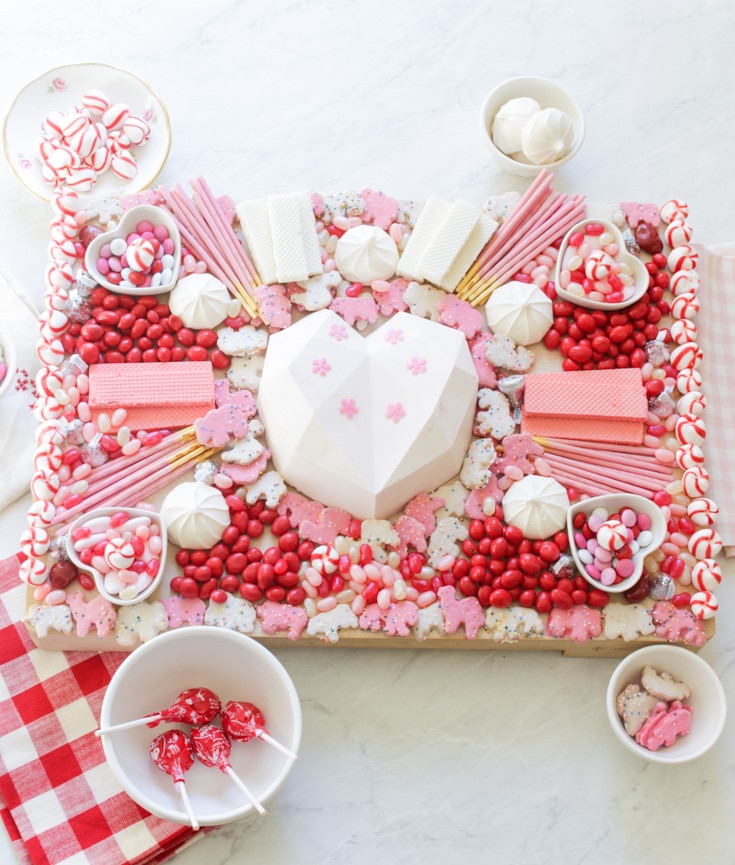 Step 12 – Place Boston Baked Beans
Do you see a pattern? I'm working in sections, and the candies and cookies radiate from the middle.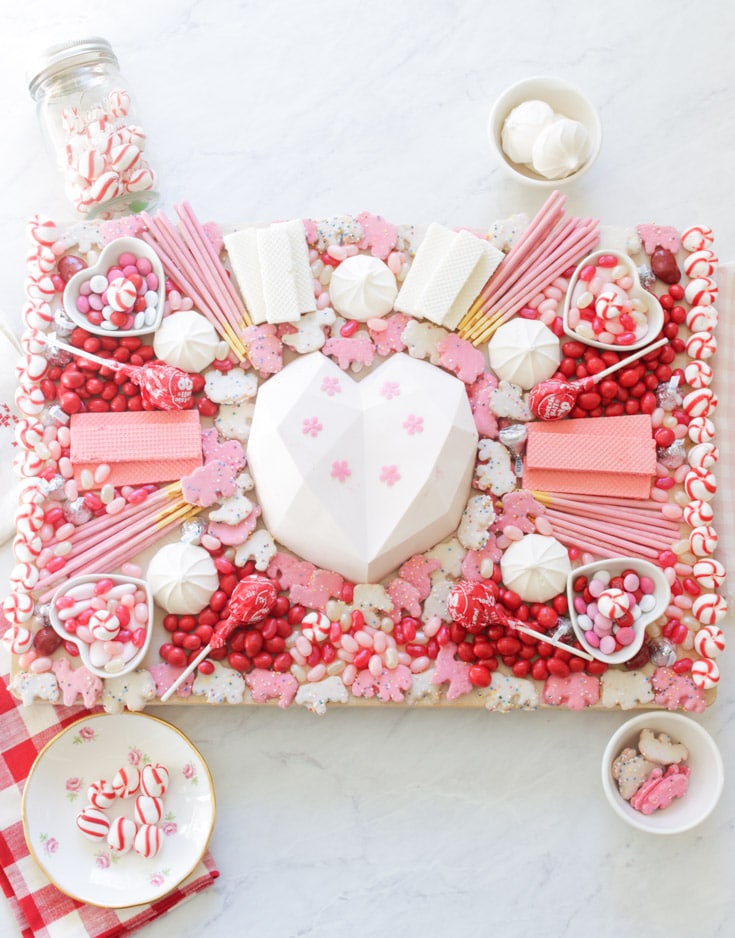 Step 13 – Place Tootsie Pops
A Few Extra Tips for Creating A Valentine's Day Charcuterie Board
Choose Pretty Colors
I tried to use only pink, white, silver, and red candies and cookies when designing this board. When choosing your items, it's best to have some colors in mind before you buy your supplies. If your colors look pretty together, your board will look gorgeous.
Fill In The Gaps
I tried to fill in all the spaces between candies. Creating a board that is bursting has a remarkable effect on the eye, and it's impressive.
Layering Is Ok!
Don't be scared to layer ingredients on top of each other. Layering gives the illusion that the board has an abundance of desserts. But, instead, you want to create a board that's literally eye candy!
Treat Your Board as a Composition
I work in sections to make it easy to design. I quartered the area with this Valentine's board and placed the chocolate heart in the middle as my main focus. I moved out from the heart to the rest of the sections.
Create a Border
I always like a border around my board. I think of it as a gardening hedge. Have you ever seen gardens with a boxwood border that is pruned and tidy? Then inside the fence is a mismatch of English flowers?
This is the same idea. The border contains the chaos that is inside its frame.
---
Most of all, have fun and enjoy munching on all the delicious treats!
Well, Happy Valentine's Day to you and your family.
Cheers,

---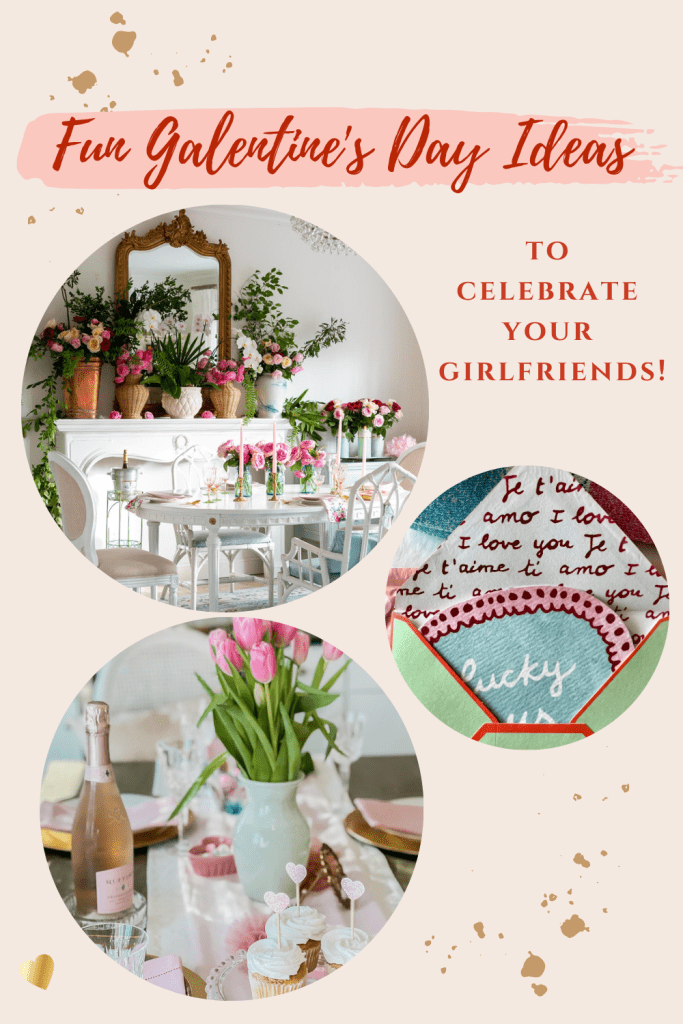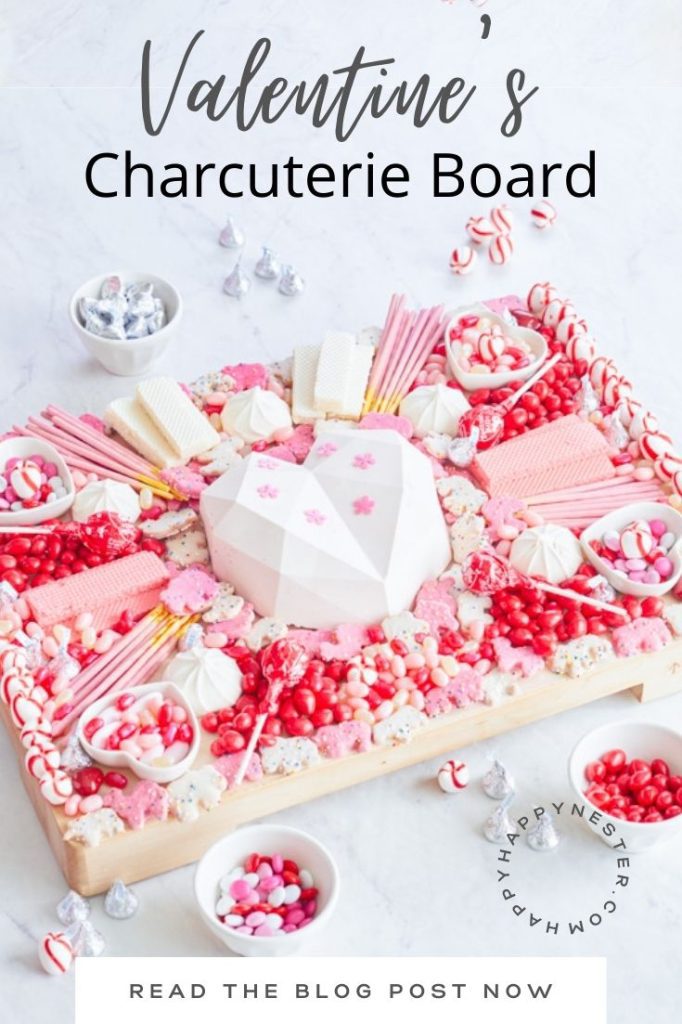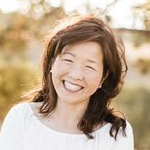 Latest posts by Janine Waite
(see all)