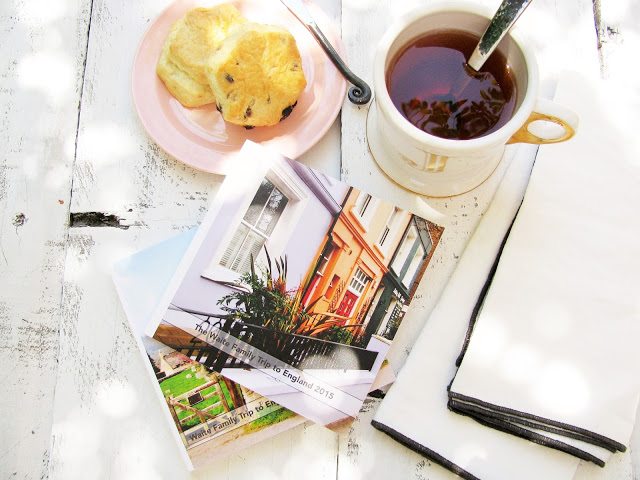 Chatbooks
This past spring, we took a trip to England and stayed in Notting Hill, London, Cotswolds and Bath. We have a little vacation schedule where we take a major trip every other year. So, this year was merry old England. I did a bit of research before the trip since I'm the organizer, I feel that in a previous life I must have been a travel agent. With the help of several great websites, I was able to create a pretty fun trip. My husband is not too crazy about the whole city scene, so I had to plan half of the trip in the beautiful Cotswolds countryside. So, let's get beginning our fun adventure to England.
~ A Note About the Nester ~
When I was a child and the last of five kids, we all piled into our 1960's station wagon. My brother and I were relegated to the back seats since we were the youngest. If any of you remember the back seats faced the opposite direction to traffic. So, I was always car sick, but the one great benefit was we had full access to the cooler and all the wonderful food that it stored. Of course, we loved the control this position brought us!
Let me just note that I have organized all but a few of our trip photos into these wonderful photo books, called
Chatbooks
. They are a great deal, for the basic book it costs $6.00. They are increasing their rates by $2.00 in two months. Still at the higher cost, it is a bargain. We are promoting these little photo books since we love them and also the company kicks back a little bit of money to us if you sign up for a subscription. So, enjoy signing up and use this link to order your first book!Here is the code to use when ordering: happy215
Chatbooks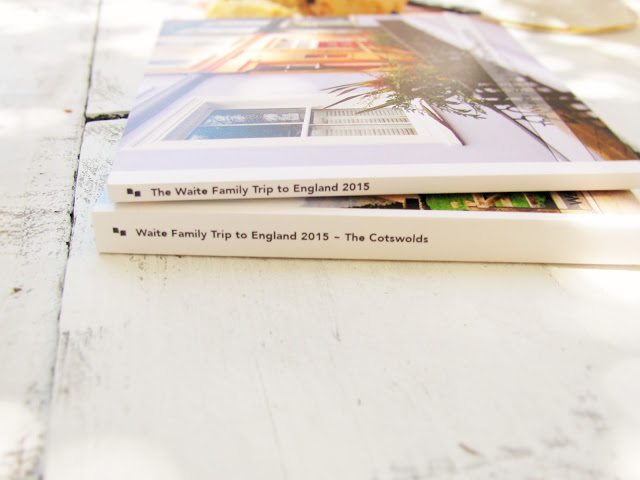 Notting Hill, London
We flew into Heathrow Airport in London, England. We quickly headed off to our little flat in Notting Hill. What a quaint little neighborhood and so beautiful. Our flat was just perfect and we met the agency representative (
One Fine Stay
) who helped orient us to the apartment and the city. The nice thing about this apartment was that it came with a handy cell phone that had lots of traveller apps, like
Uber
.
This is the window box just outside our apartment. So gorgeous!
The following photos are from the beautiful apartment. It was so light and wonderful!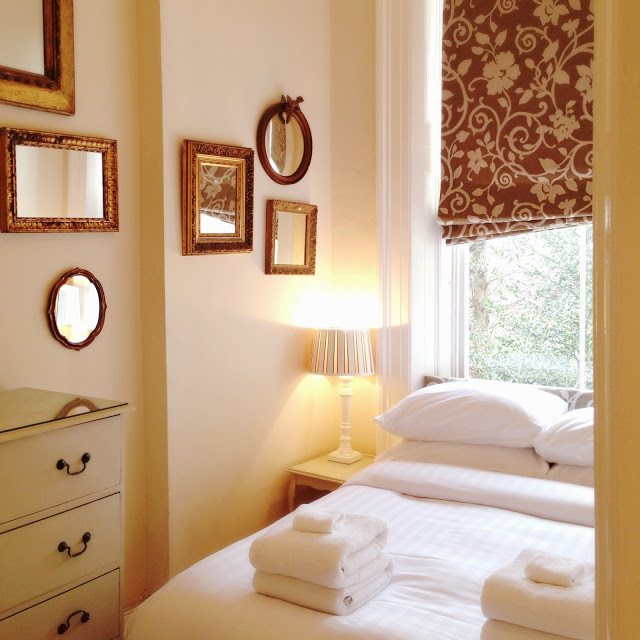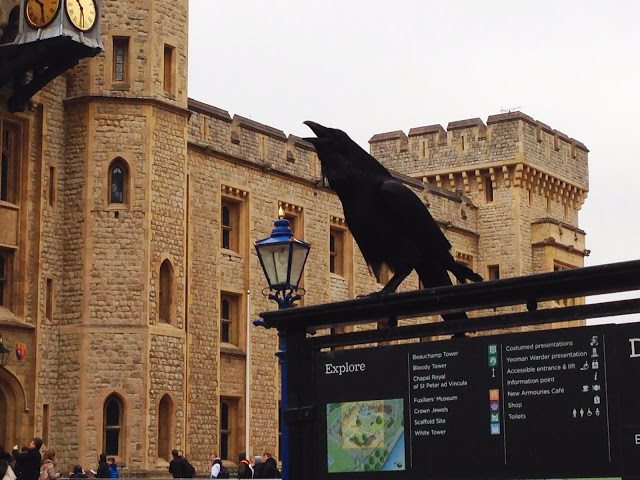 We ended up using Uber throughout our stay in London since they picked us up curbside and it was about the same price as the Tube. While in the city we took a tour of the Tower of London. I bought an advance package through the great site, Viator.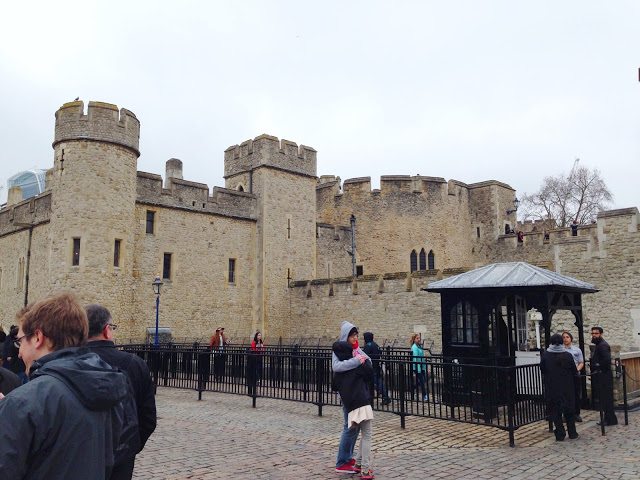 We just had to take this photo!
Stow-on-the-Wold
Now off to the Cotswolds, and Stow-on-the-Wold.
Well, we arrived on a Bank Holiday, and we weren't quite sure the buses from the train station were working. Luckily for us they were and we had a quick trip to our quaint rental cottage.
I'm on the social media app, Instagram and I have gotten to know a woman that has a rental cottage. We, of course, rented her adorable cottage and I felt like I was in the movie, "The Holiday!" Here is the link to her rental cottage: Loraine's Cottage
Yes, these are the wonderful stairs. Note the awesome rock on the right side. Those are typical Cotswold rocks.
Don't you just picture sheep walking down this alley? Supposedly, if the towns have a big open square and wide streets, then it was a town that used to depend on sheep for its revenue. Stow-on-Wold had the big town square where the sheep were bought and sold.
Oh my, this restaurant was so great! I ordered a Salmon Pie and it was delish. The top was covered with yummy cheese that was broiled and crispy.
I found a tour guide who took us around the heart of the countryside. Ken did all the driving and talking, so it was a pleasant and less stressful way to view the quaint towns. We had a fabulous time with him for the day.
Don't you just love this lovely thatched roof home? Ken our tour guide explained that the thatched roofs would sometimes allow insects to drop out of the ceiling. So, the canopy bed came in handy at keeping the critters away from the sleeping homeowners!
This is the beautiful town of Burton-on-the-Water. The day we visited it was packed with vacationers and tourists.
If any of you watch, "Downton Abbey" you may recognize the next couple of photos. This is the building that I believe the character, John Bates got into a brawl just outside the doors.
Bampton, A Downton Abbey Town
This is the small and cute town of Bampton. It is a very sleepy town and doesn't look like a film crew would take over the streets and sights. Here is the church that they use for the show.
This Old Bampton rectory is used for the exterior shots of Isobel Crawley's house. Ken was pretty in tuned with the filming schedule and the crew was due in the following week, so bummer for us that we didn't get a chance to see the filming.
Warwick Castle
Ah, Warwick Castle. This site is a little cheesy, but our teenagers still enjoyed it. I signed up for their scary dungeon tour and boy, it was pretty scary. It was like walking through a haunted house, but you were participating in the tour! My daughter and I held on to each other the whole time!  But, our teenage kids loved it and all of us had a fun day.
They had a conservatory that served tea and pastries. As you can see, it was so beautiful and serene. Peacocks roamed the gardens You can spy a teal and blue one on the hedge!
Warwick Castle was amazing. It is owned by Madame Troussets and part of the park has a castle with wax figures. You can walk through the castle and view life in England around Victorian times. Also on the grounds they have a various shows, a falconary show, a firey tribuchet, jousting and much more. We stayed the whole time and we were there to the end of the day.
Bath
Next stop, Bath. Unlike our first trip, we decided to stay overnight, and we got to spend a fair amount of time enjoying the sites. We fell in love this beautiful town. So, this Bed and Breakfast pictured here was an interesting and beautiful home that Lord Wellington built for his mistress. I read somewhere that Lord Wellington inspired the name for the famous dish, Beef Wellington. Supposedly he preferred to eat his beef in between two slices of bread. I must admit that I have never eaten Beef Wellington.
The famous Roman Baths. The day we went wasn't too crowded, so we had a fabulous time. We were able to enjoy the audio tour that came with our tickets. I highly recommend using this interesting tour.
The Cresent is impressive and quite breathtaking! We just happened upon it while walking around town. I half expected to see a Jane Auten character show up on the one of these doorsteps.
So this is the famous, Sally Lunn Bun restaurant. It is the oldest residence in Bath. And once inside, you'll notice how the rooms are small and the walls and floor are a little uneven.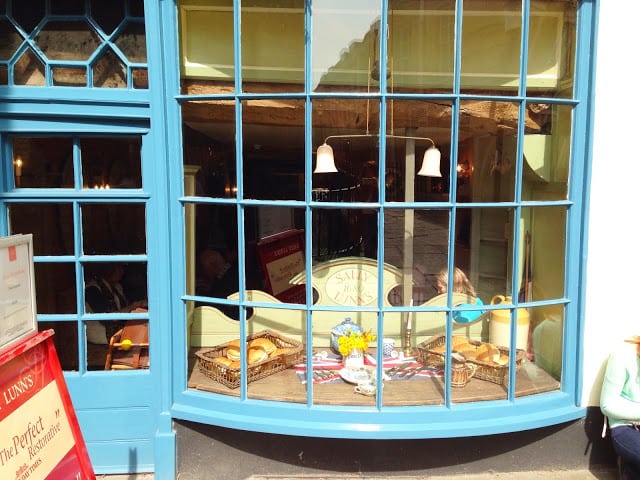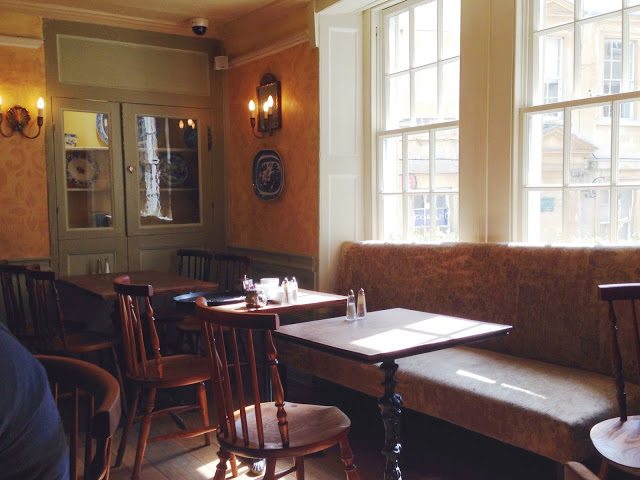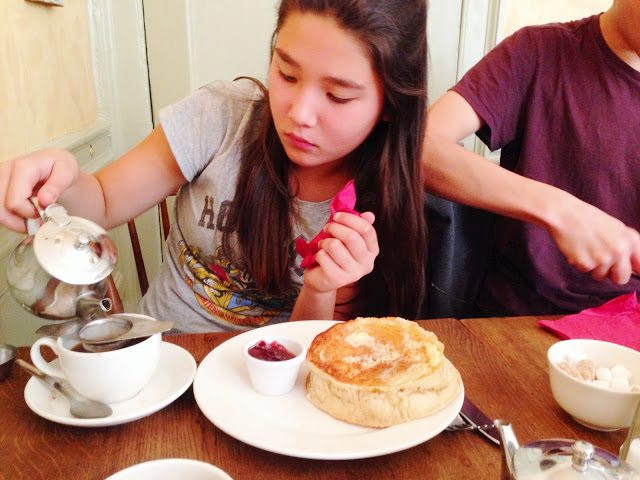 Oh my, these buns were so unusual and amazing.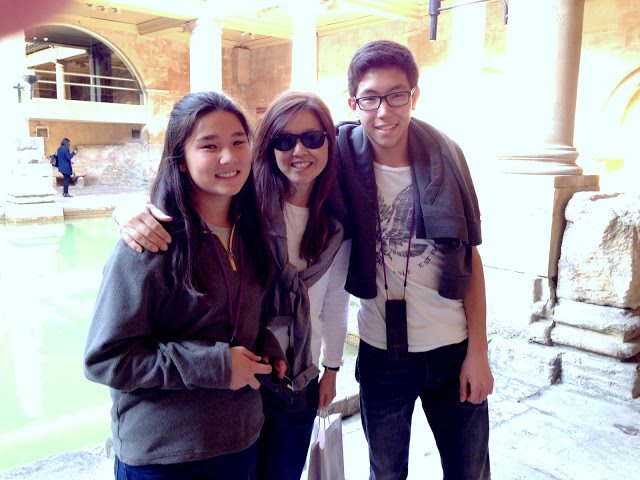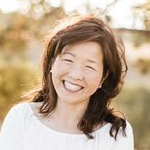 Latest posts by Janine Waite
(see all)