If you are planning One Week in Kauai Hawaii, then you might want to check out our recent and somewhat informative vacation. On previous trips, we have traveled to Maui and Kona, but this year we decided to change it up by visiting the island of Kauai. Can I just say, we have fallen deeply in love with this tropical island of Kauai?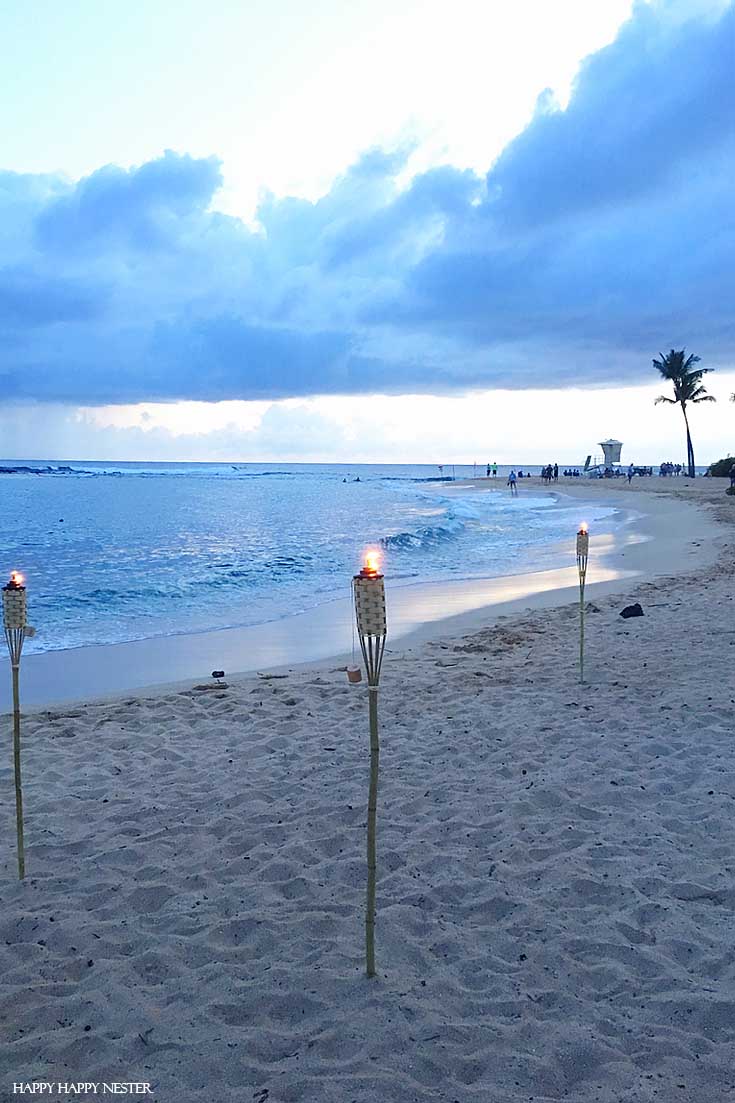 This trip was our first time on the island of Kauai, and I thought it would be nice to share a few of the things we experienced on our trip, and hopefully, you can benefit from this post. If you want to see my other trips, here is our cool family trip to England.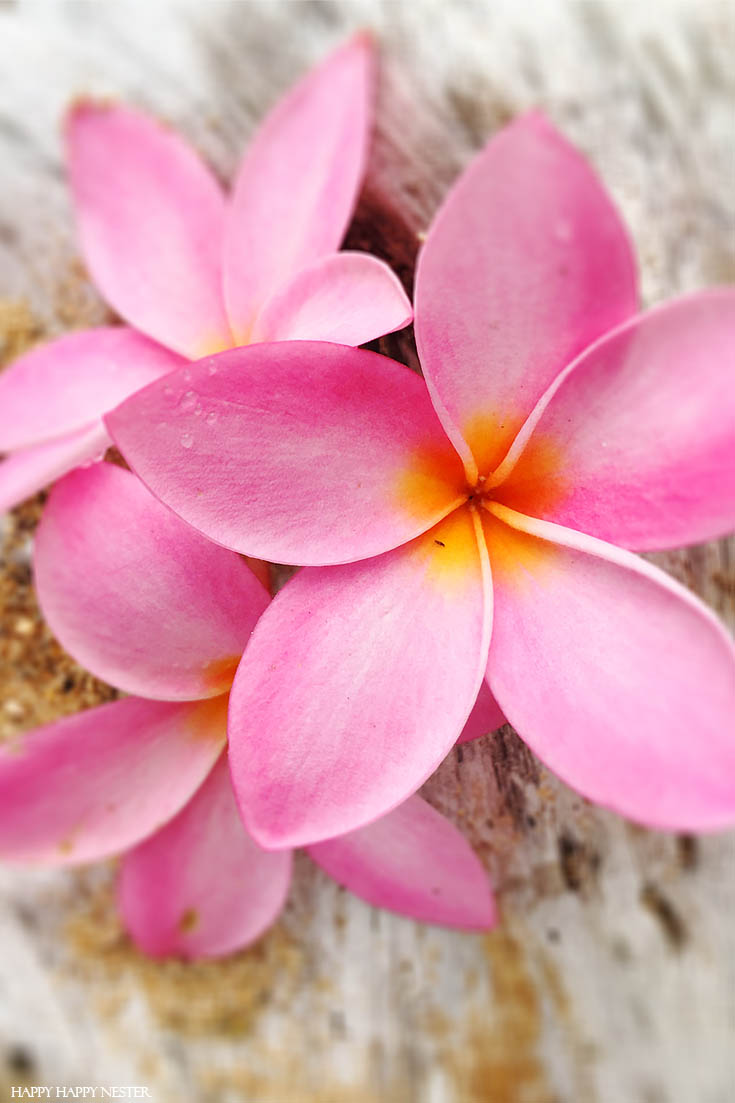 Here is our one week in Kauai Hawaii
My husband wanted to stay in two parts of the island just to mix things up a bit. Initially, I was a bit reluctant about his idea since I thought it might be too disruptive to our schedule. But now, looking back, I'm super happy we changed locations mid-trip. But seriously, once we got familiar with the island, we soon realized that the island isn't that big. We found that to travel from Poipu to Princeville took us about an hour and a half. So, technically we could have taken a day trip to either town and stayed in one spot the whole time. So whatever way you want to plan your trip, it all will work out swimmingly.
So let's adventure to our first destination.
Poipu – South Kauai
We did find that Poipu was a bit sunnier, warmer, and drier than the northern part of Kauai. The whole time we stayed in Poipu the weather was perfect. We found it hot but not as humid as Princeville, which is a town located up north.
Our Poipu Rental

Air Conditioning
We found our first place via VRBO, and it is a condo located in a new development in Pili Mai. If you like comfortable accommodations and air conditioning, then you'll love this place. I found that the photos on the internet didn't do it justice. The VRBO number of this condo is property #813662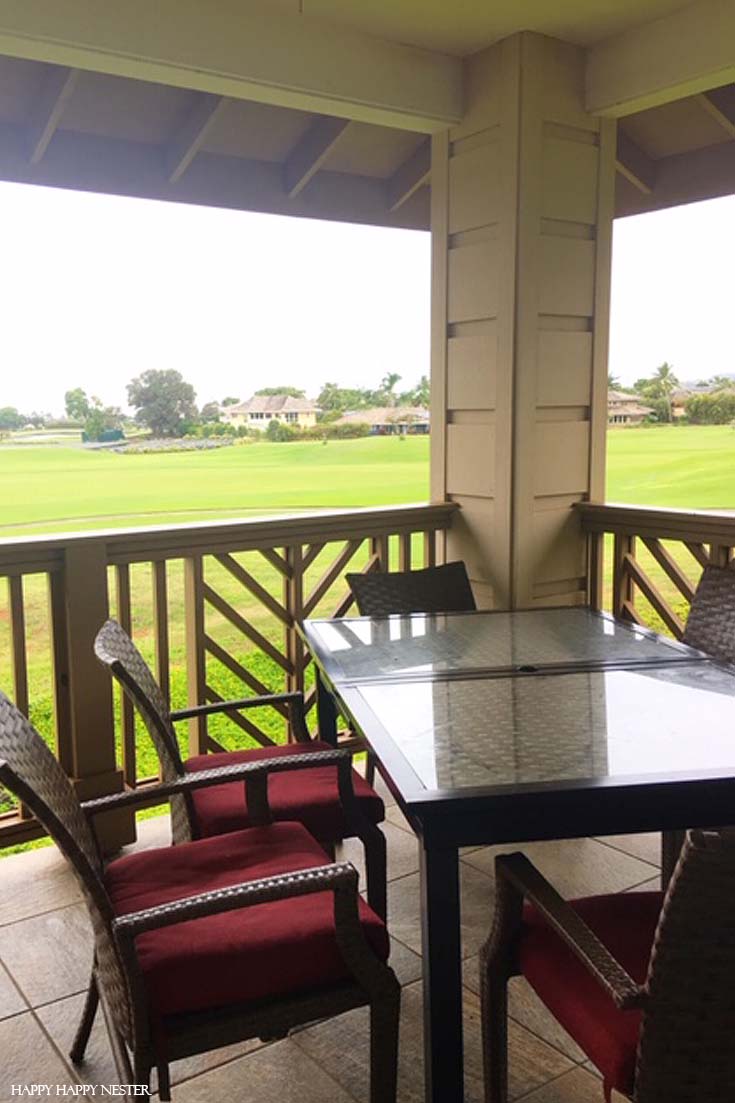 So we were told that electricity on the island is incredibly expensive, so to have air conditioning appears to be a luxury. Well, our first rental had air, and we loved that we could get some relief from the humidity and heat. I was under the impression that Kauai's weather was not as hot as the other islands, but in the summer, I feel that all bets are off.
HOA Accommodations
All the accommodations were lovely, and the development came with a workout room, pool, jacuzzi, kiddie pool, and bbq area. One evening we did bring all our food to the bbq area and cooked our dinner out in the beautiful warm evening.
Miscellaneous Items
Of course, our condo came with a washer/dryer which was awesome since we only brought a few beach clothes so we could travel lightly. Also, the condo came with a garage that is full of beach supplies, chairs, beach tent, umbrella, boogie boards, and floaties. So when it came to our beach trips, we were fully equipped for a great day at the beach.
The Hawaiian Life
Ok, one funny thing happened every day around 5:30 am, one lone rooster cock-a-doodled-dooed like an alarm clock. Little did we know that the island has a crazy amount of wild chickens and roosters. Even if you stay at the high-end resorts, I still feel like there will be chickens on the grounds.
The Town of Poipu
Dining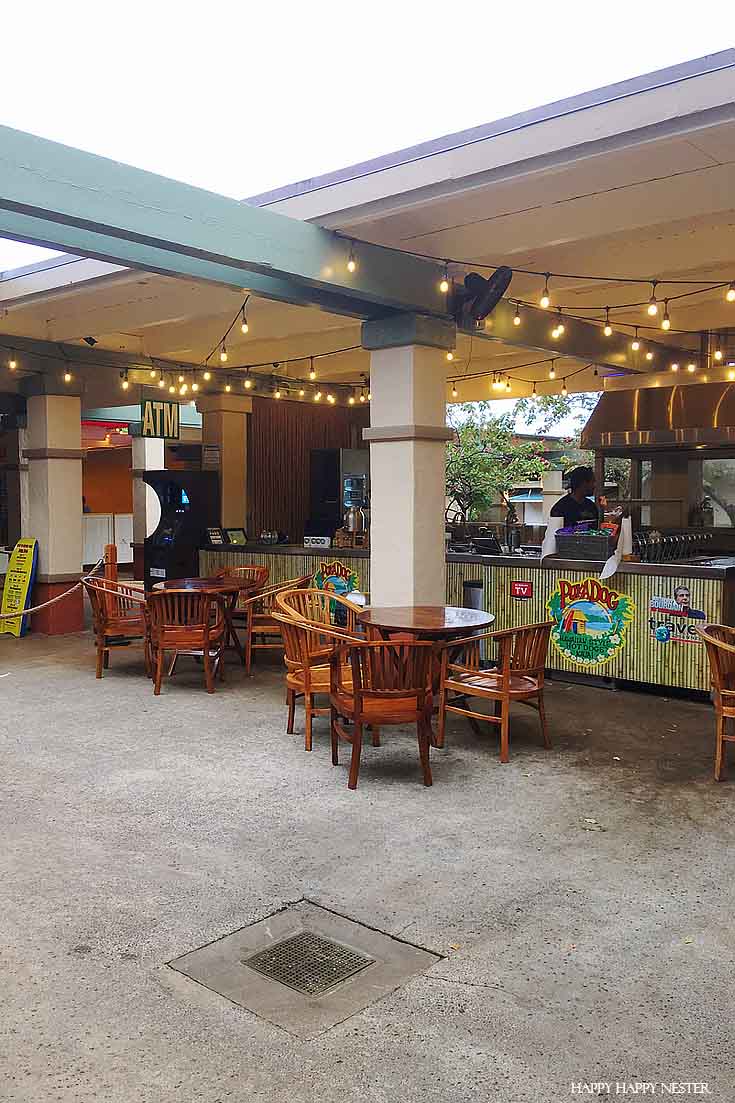 Puka Dog – the best hotdog ever!
Gosh, not sure why I didn't grab a photo of their hotdogs. I had enough opportunities since we ate there a couple of times. So, a while back Anthony Bourdain visited one of the restaurants and featured it on the episode, No Reservations Hawaii. A friend mentioned it that we should check out these unusual hotdogs. Oh my, they are so delicious and like no other hotdog you have ever eaten. Of course, they had a veggie dog which my husband and I both ordered.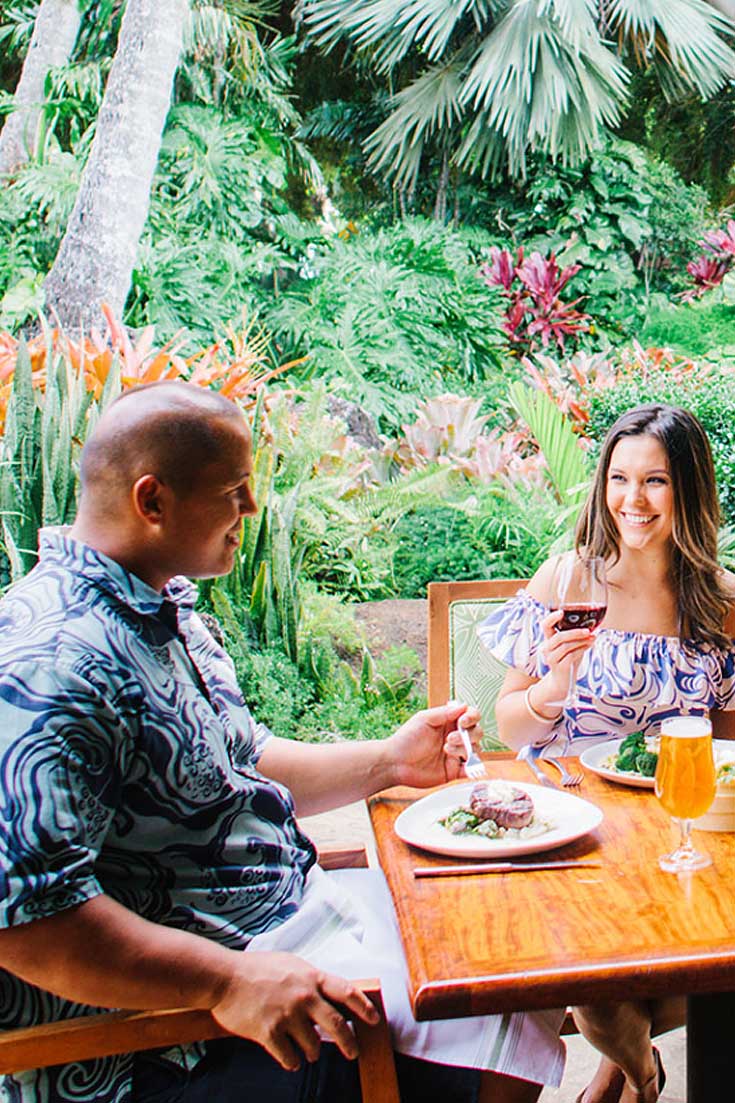 The interior of this restaurant is gorgeous. The night we dined there, our food did take a while to arrive. We didn't mind the wait since the atmosphere was so enchanting. It does feel a bit like a tourist trap, but on our first night, we welcomed it.
This casual restaurant and the service was excellent, and the atmosphere was upbeat and fun. The service was prompt, and the food was good. I had a delicious fish taco. If you can nail a spot near the window at sunset that would be awesome since it overlooks Brennecke's beach.
I recently found out that there is an umbrella company that owns a bunch of Hawaiian restaurants, and Brennecke's and Dukes are all owned by them.
Pietro's Pizza
Not sure what we did, but we had the pretty lame service. Everyone was getting their food before us, and our pizza got delivered to the table behind us. The pizza was like $28, and the New York-style did not live up to its expensive price tag. Also, the restaurant has no air conditioning since it is open to the shopping plaza.
Beaches
Poipu
On our first day, we hung out at Poipu. It is a beautiful beach, but it is pretty crowded and not too private. We did see a swimmer get rescued by a local man, which was a bit dramatic. There is a lifeguard, but he had just left for the day, so the local guy grabbed the rescue board and quickly swam out to the guy. You'll find most beaches are equipped with bright yellow life boards for emergency rescues.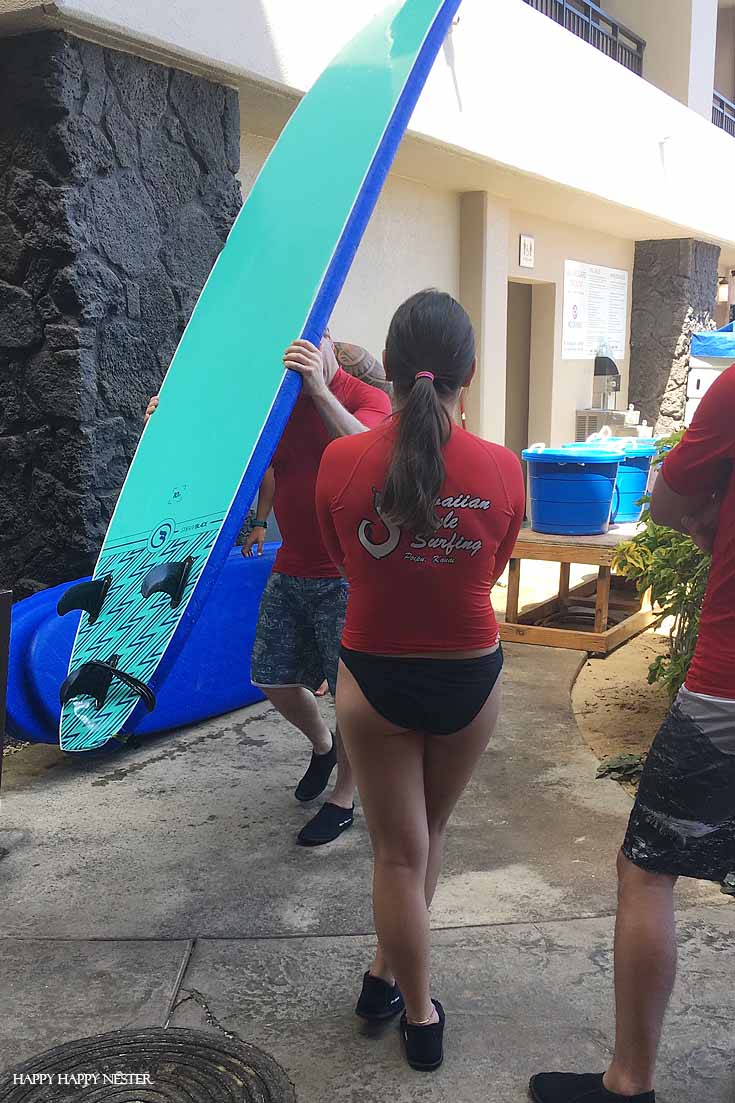 At the far end of Poipu beach is a Sheraton Hotel, and they have an Activities Center where my family had surf lessons from a company called Hawaiian Styled Surfing. My two kids and my husband had a great time, and they felt that the lessons were super worth the $85 per person.
Ok, just a little but important note, the surfboards are covered with a foam surface for easy learning. This foam makes the surfboard less slippery so that it grips a bit easier. Well, my son had an allergic reaction to the foam on the second day of surfing, and he broke out in a horrible rash. Despite wearing the surf T-shirt, he still had an adverse reaction. When he visited the local Urgent Care Center, the doctor mentioned that she sees this happen a lot to tourist.
Polihale Beach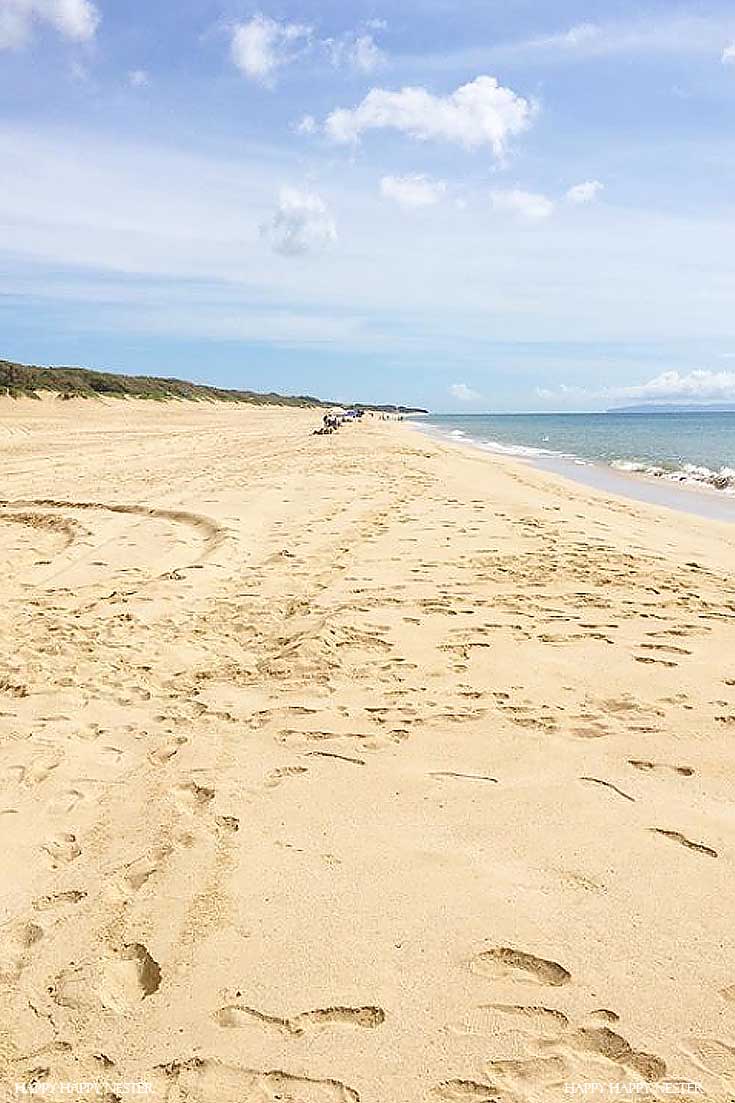 Ok, this is by far is my favorite beach ever. It is a 20-minute drive north up the coast, but so worth the effort. There is a 3-mile dirt road to the beach, but our rental car did just fine with the dirt road. If you take the drive slowly, your rental car will have no problems at all.
Unfortunately, this beach doesn't have a lifeguard, so be smart when you are in the water. The view is like no other beach I have seen! The water has a sandy bottom, and the water during the summer is warm and comfortable. They do have shelters at the beach, but they are set back away, so make sure to bring an umbrella or a beach tent. We figured that since we were spending one week in Kauai Hawaii, we could buy this excellent beach tent at the local Costco for like $40.
Here is our next destination for our one week in Kauai Hawaii
Princeville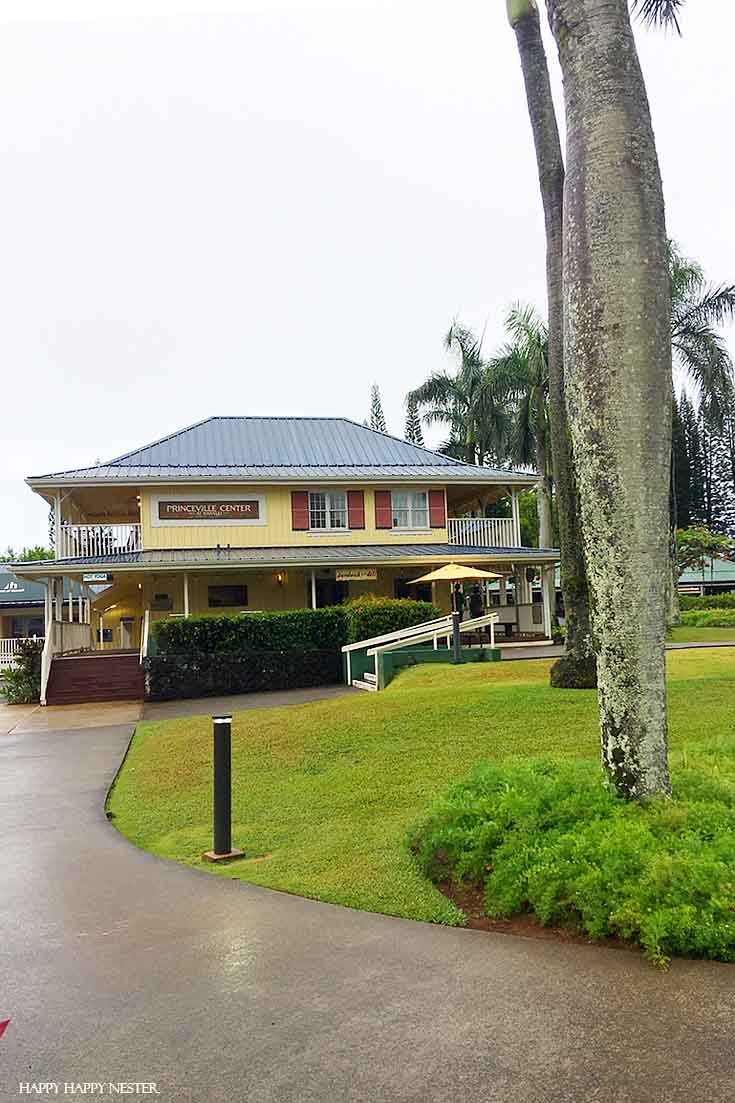 We stayed in the area of the Princeville Resort. So, this is a significant development of condos, houses, and hotels. Our little place I found on VRBO and the property #1070255 and built 2001 and there are only about seven small cottages in this neighborhood. The interior decor of the place caught my eye.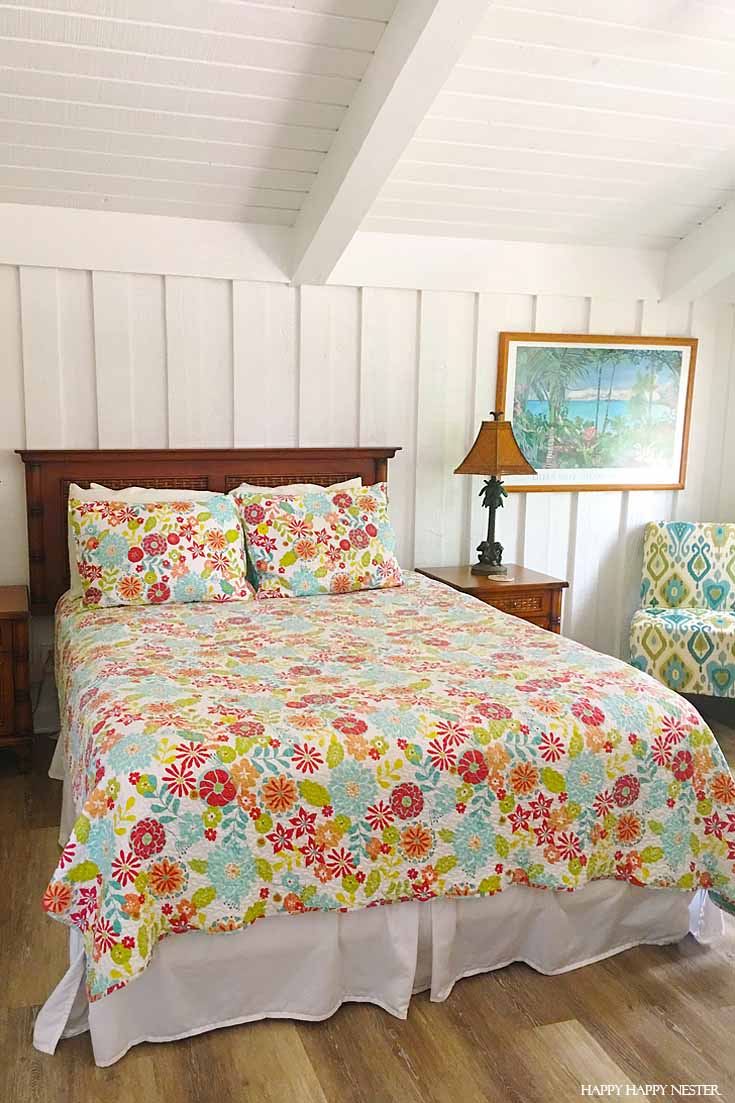 So, I was smitten by the cute beach cottage decor, and I disregarded the little note about no air conditioning. Looking back, I don't think we should've booked a place without air conditioning. The outdoor temperature was ok, a mere 82 degrees, but the humidity was 87%. These humid conditions create a sticky day and night, which meant we all didn't sleep well. The cottage had many ceiling fans, but still, it was uncomfortable and damp.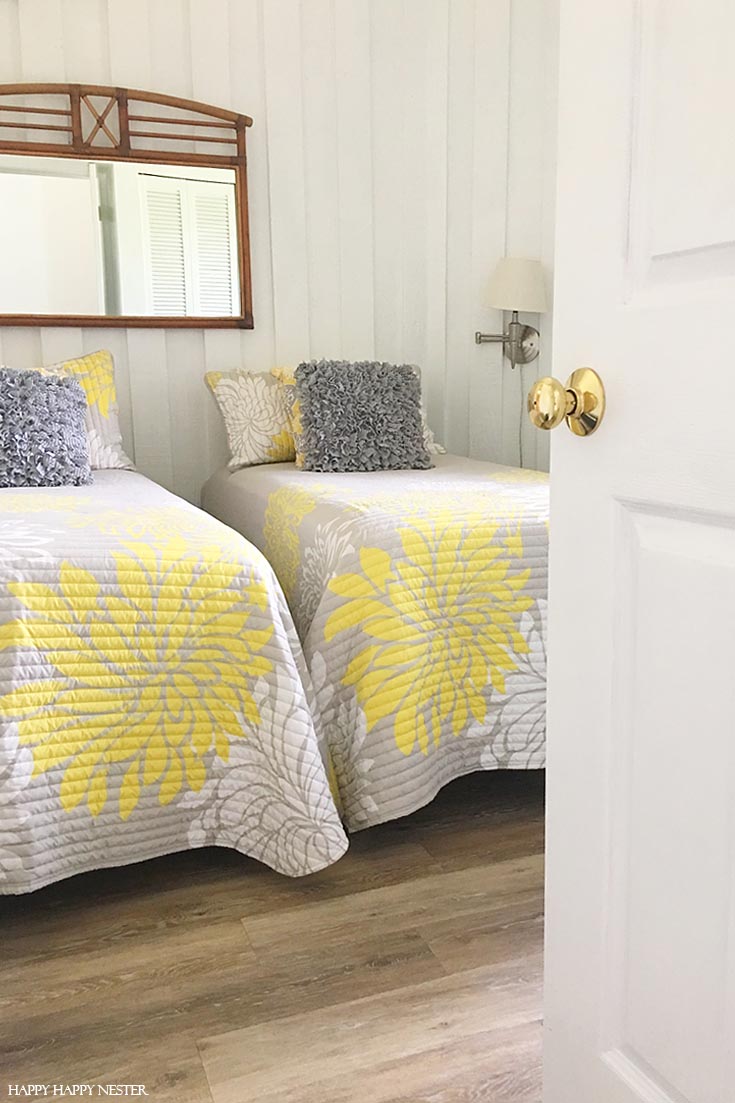 Where we stayed in the Princeville Resort, it had a few shops and a great grocery store. We did shop at all the stores and even used their excellent urgent care one evening.
Princeville Anenemites
Foodland
After eating out at many expensive restaurants, we finally found that the local grocery store was the best option for meals. They carried yummy fresh Ono and Ahi. It is probably the best Ono I have eaten outside the fish that my husband caught a few years back on another trip to Kona. The key to buying fish at this market is you have to shop in the morning since by evening time (after beaching) the daily fish supply gets obliterated.
Princeville Towns
Princeville Resort
We dined here with a gorgeous view of the ocean. Sunsets are spectacular here, and the food is yummy. We ordered about five plates of sushi which came to a $200 bill. So, we loved the food and the atmosphere, but the service was abysmal. It could've been we got a bad waitress. After our one week in Kauai Hawaii, we were a bit paranoid that somehow we had jinxed all our dining out experiences.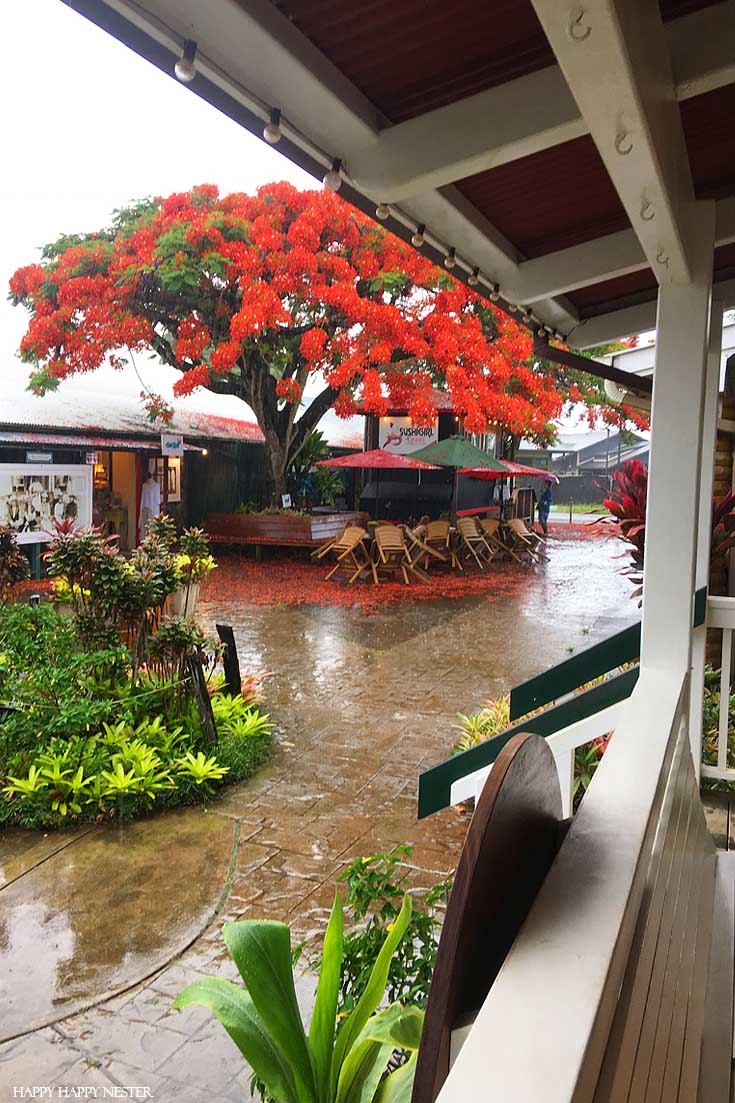 Kilauea
The Kong Lung Historic Market
The main Kong Lung store was originally built in 1941 by the Kilauea Plantation store. It supplied provisions for the plantation workers, and now it was renovated into a market of stores and restaurants. It is such a quaint and charming place to enjoy a yummy pastry and Kauai coffee!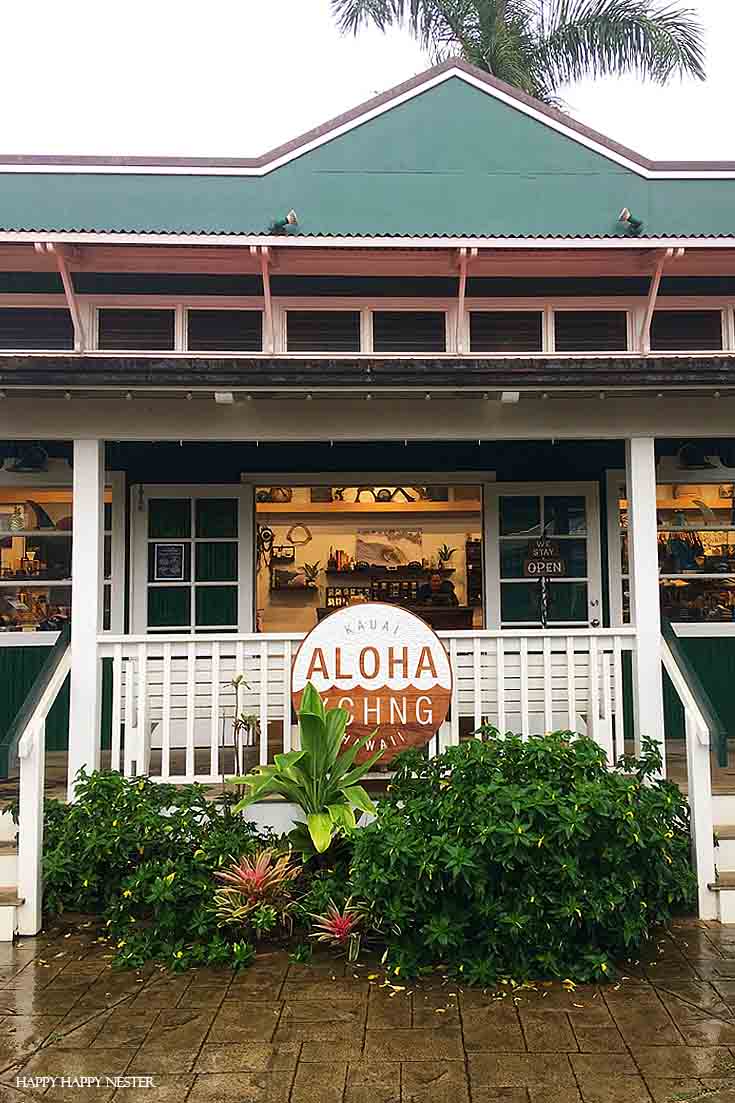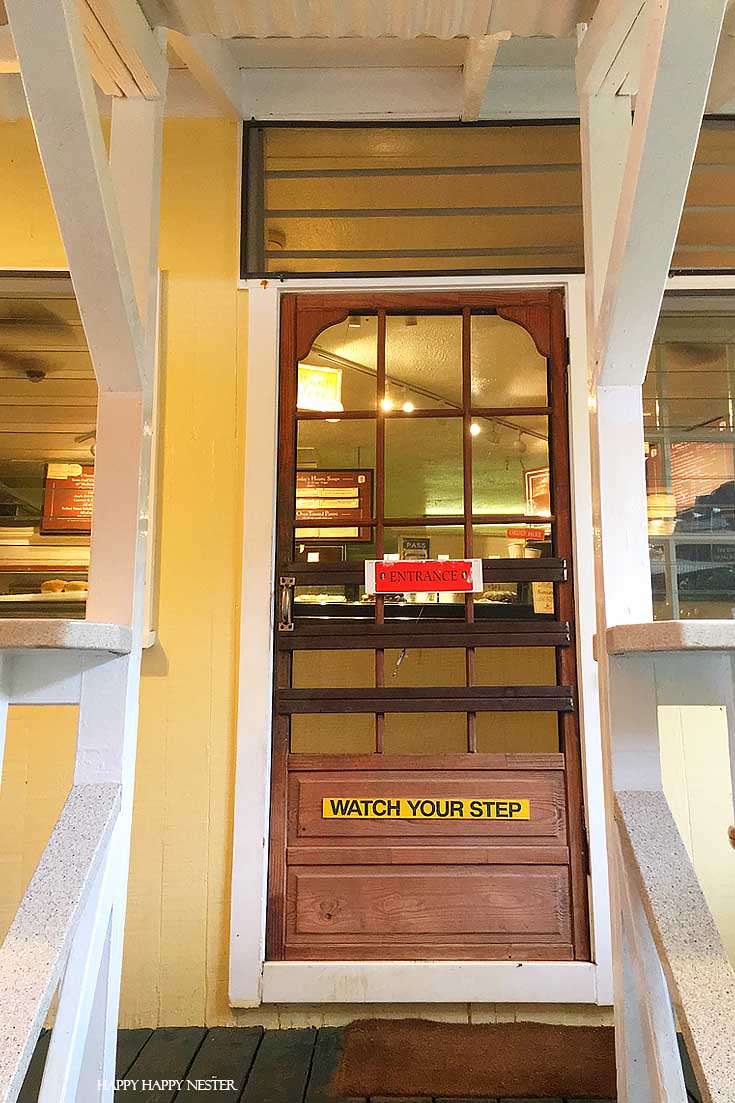 On one rainy day, we decided to go shopping. So, this adorable town had a few boutique shops and this fun coffee pastry shop. When we left the cafe, a guy had set up his little spot, and he was ready to perform his songs with his guitar. If you have a free morning or afternoon, this is a fun spot to get coffee and hang out.
Koloa
This small Hawaiian town is an adorable and full of touristy shops. We did have shave ice and bought a few things at the shops. It does have a small grocery store which isn't as big as Foodland in Princeville. Overall, a fun little destination for an hour of strolling.
Beaches in Princeville
Sealodge Beach (Kaweonui)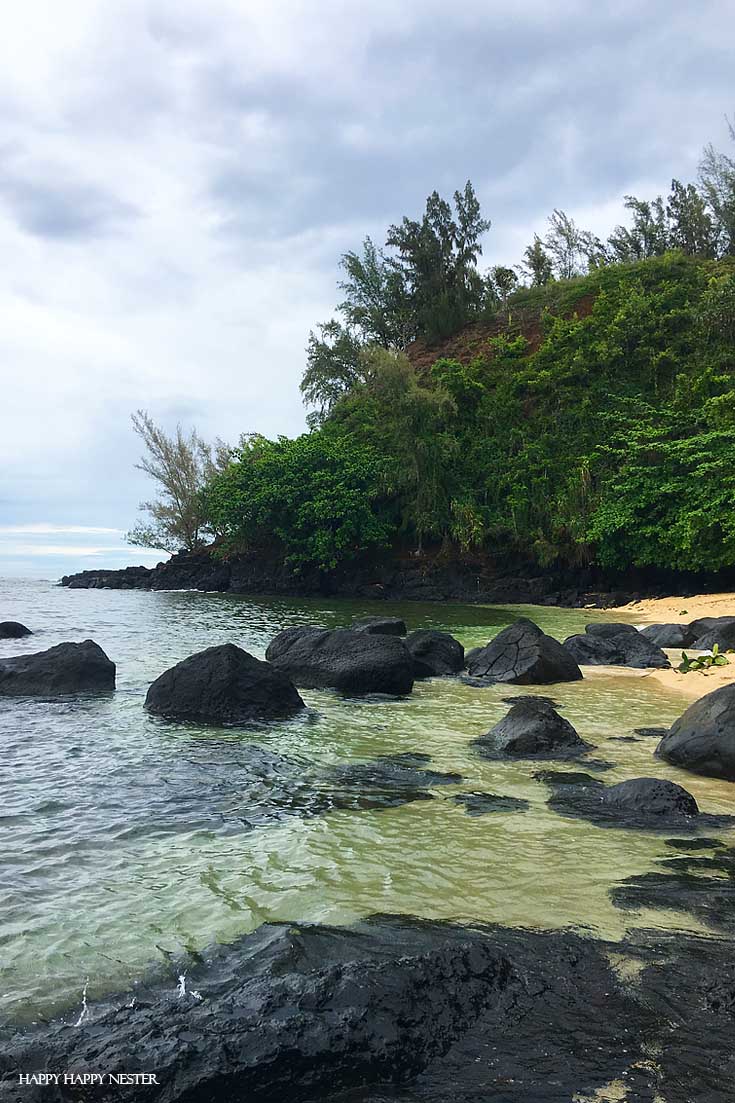 If you spend one week in Kauai, Hawaii, you'll want to visit Sealodge Beach. This private beach is probably one of my favorite spots in Kauai.
Location
It is in the Sealodge neighborhood, and there are a few beach parking spots. If you take the main road of Ka Haku road into the Princeville Resort area, you will take a right turn on Kamehameha road. You'll take that road to the ends, and you'll see the parking for the beach on your left.
Trail
The trail can be a bit tricky, and if you aren't a hiker, then I probably wouldn't attempt it. We traversed down the path right after it had rained. So, the ground was a bit slick, and the leaves were slippery. We wore out water shoes and found a bunch of obliging sticks from the woods. I just took my time walking down the path and made sure to avoid the slippery parts. The last part of the hike is over volcanic boulders. I just sat down and carefully made my way. The whole trail is probably about a 1/2 mile long.
What you'll see
We saw anywhere between 15-20 sea turtles when we snorkeled. They were grazing on the grass along the left side of the beach. My husband went out snorkeling beyond the turtles and said it was the best he saw on the island of Kauai.
The beach was pretty much empty, and at the end of our stay, another family showed up. So, if you like a private and beautiful beach, this one is for you!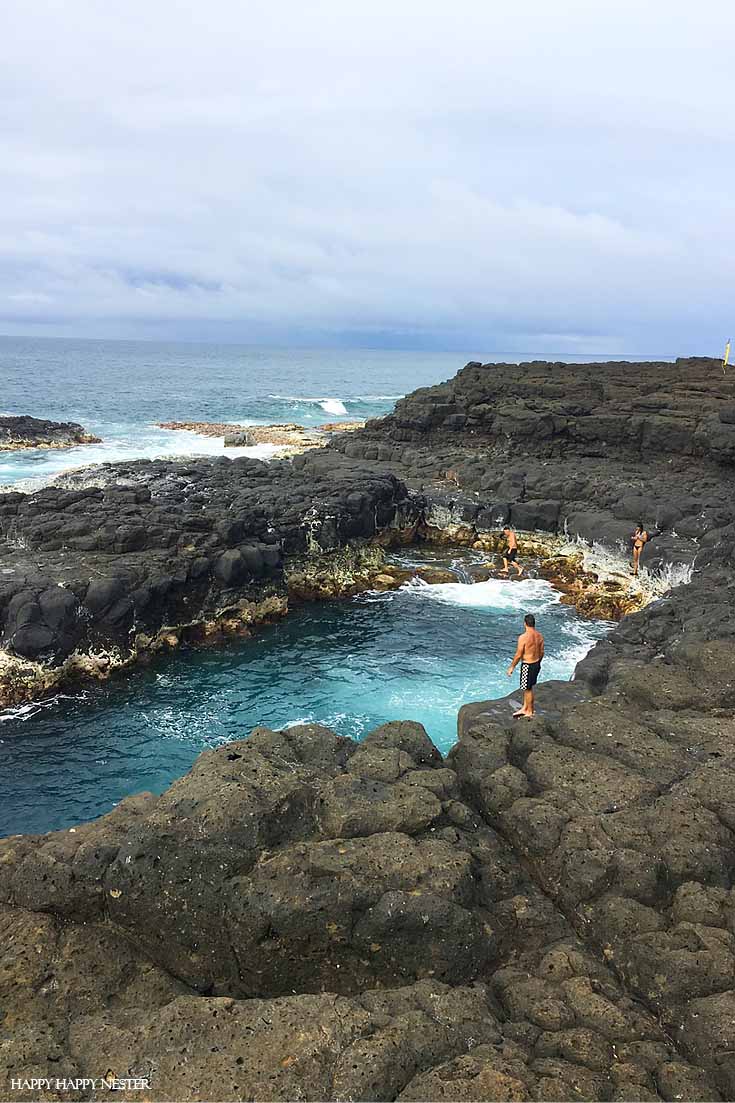 Queen's Bath
Location: Kapiolani Loop
Take the main road, Ka Haku road in Princeville Resort. Turn right at Punahele road and then an immediate right at Kapiolani Loop. There is limited parking so either visit early or late in the day.
We ventured down a steep hike down to the ocean to check out this spot and I think the tide wasn't quite right. My photo of the pool is not the Queen's Bath, I feel like it might be the one above it. The waves were rough and the few swimmer's that went into the water were risking their lives. The YouTube videos I've seen show a calm and gorgeous type bathwater environment! So, if you visit the Queen's Bath make sure to check the tides.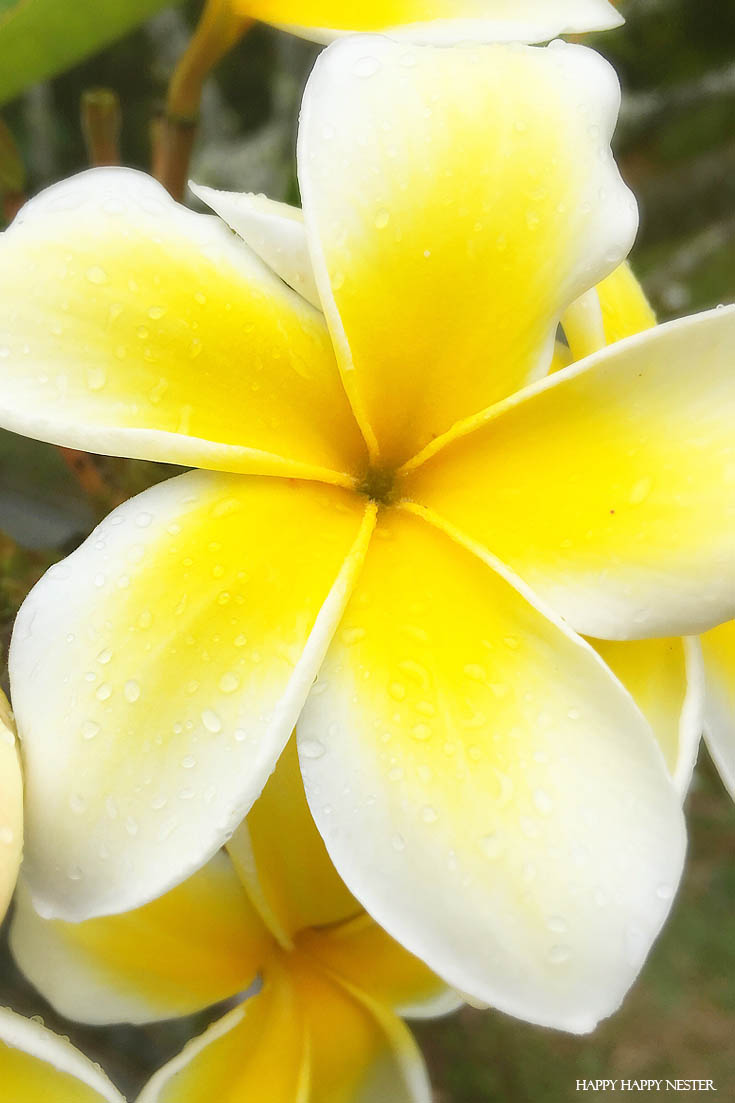 We thoroughly enjoyed our one week in Kauai, Hawaii, and we will definitely make it back another summer. I have not experienced Kauai in the winter, but we did book a vacation a while ago for a spring vacation getaway. It turned out that we gave our place in Princeville to our friends since we couldn't make the trip. They did bail on Kauai since it rained every day of their stay. So, I plan only to visit Kauai in the summer so that we get the least amount of rain.
I wish I were better at posting our summer vacations. If you are interested in visiting Montana and want to stay on a ranch, then you might enjoy this Montana trip post.
Well, until our next vacation, Happy Travels,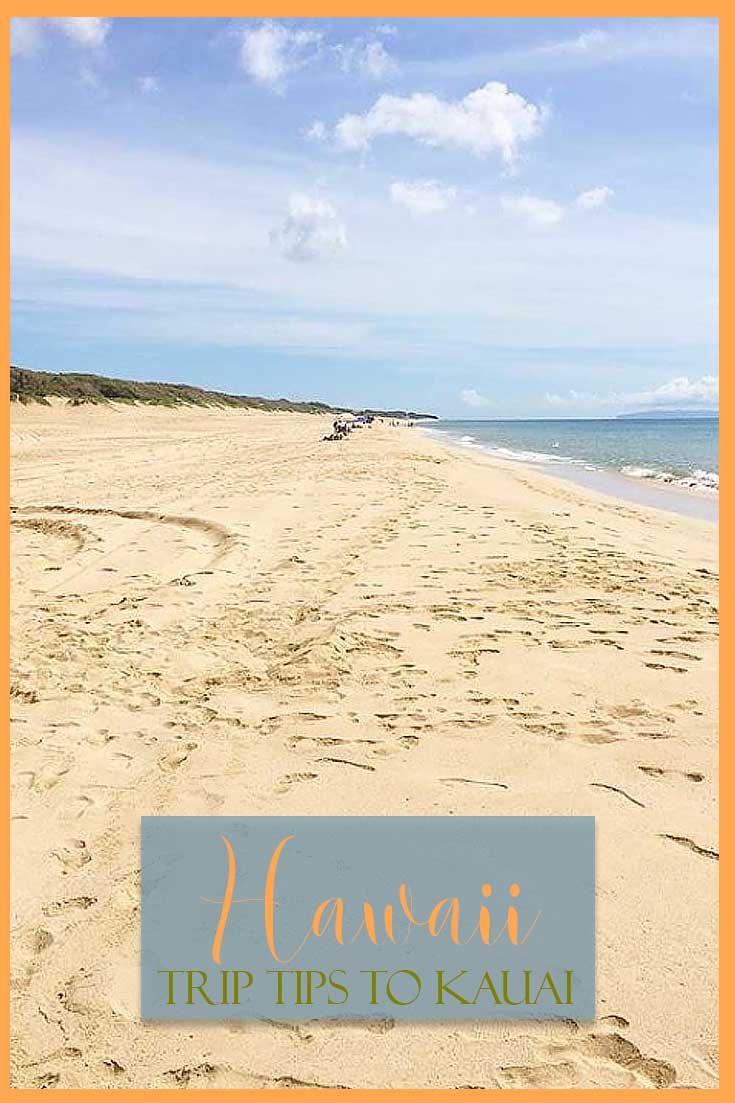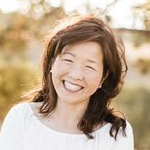 Latest posts by Janine Waite
(see all)