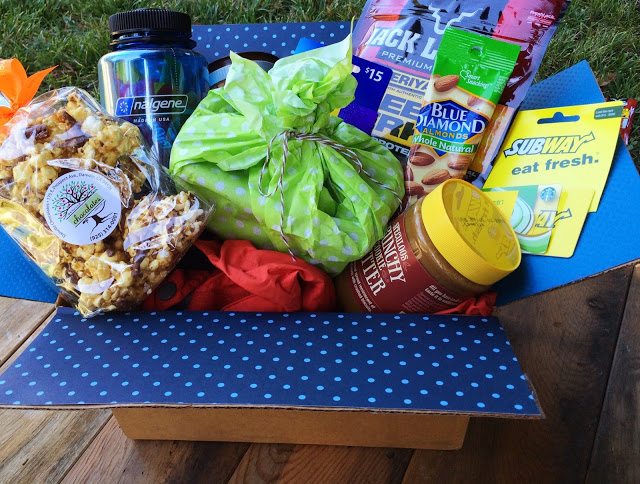 School is now in session! It's a wonderful feeling to be back on a schedule. It's also a surreal feeling that another one of my children is living away from home and enjoying the college life. We successfully navigated purchasing dorm supplies, paying tuition and getting our college boy moved into his new space. Whether your college kid moves into a dorm, goes away on an internship, or just moves out it's a big deal! I'll try not to get too emotional, but I hate when they leave. I thoroughly enjoy my children and love having them around. I also love having my house full of kids and friends. It fills my heart. I have two left at home, so I'm really going to try to take it slow and enjoy each moment with them.
Note about the Nester
When I was accepted to a college in Southern Utah I was so excited to go! I packed up everything in my room and loaded my car to the top. I had a friend moving down there too and we decided to caravan the 300 mile distance on the same day. I turned up the volume on my stereo and stepped on the gas! Needless to say, I got a speeding ticket and a tailgating ticket because I was in such a hurry to get there. One hard life lesson right from the start, but it didn't get me down.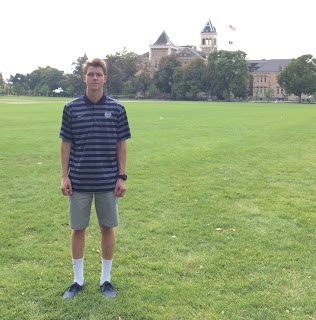 He's so excited to have his photo taken. Ha ha!
My college boy lives 600 miles away, so I can't just hop in the car (no more speeding tickets for me I'd like to add) and see him without some planning. However, I did get to spend some time with him last week, and he showed me his campus, I met his roommates, and he took me on a tour of the town. I can see that he will love this adventure! One of our neighbors goes to the same University, so we stopped at her dorm room to visit as well. We sat down and visited in the common area with her roommates and some of their friends. I asked these amazing college kids "If your parents sent you a care package or a little something in the mail, what would you want or need?" The first response surprised me, one girl said, "Nothing that makes me cry, I'm already homesick." The girls explained that some of them had received packages that immediately started the water works. They all agreed they would love to receive candy, treats from home, money, gift cards, and movies. When I got home, I immediately got to work listing some of my college kid's favorites and some items you can only get in our town in California.
Some important things you must consider when sending packages in the mail are; the weight of the package, cost of shipping, and mailing anything perishable. Be very careful sending homemade goodies during the summer and autumn months because mail trucks can get overheated! We have a local store that my kids love called
Danville Chocolates
. I checked with them about shipping, and they only ship during the middle of October to March because the chocolate will melt or spoil. I'll have to buy those delicious chocolates that he loves for Thanksgiving or Christmas, no problem.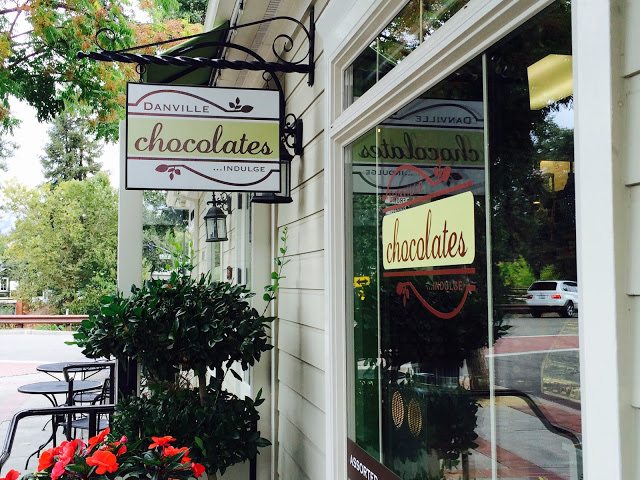 In this day and age, it's so easy to send our kids money, gift cards, e-cards, and memes through cyberspace, even simply through a text message! (Wow, our world is crazy awesome!) But don't you love it when you go the mailbox and find something that's just for you? It's not a bill! It's something that was thought out and meticulously chosen because of you and for you. I DO! I love getting things in the mail! (Message me your address and we can be pen pals!)
Here is a list of things I'm considering sending to my college kid:
nuts (brain food)

dried fruit (because it's his favorite, and it will last a while)

Nutella

(who doesn't want hazelnut and chocolate?!)

Nalgene

water bottle (he lost his, and it's his favorite)

candy (it's the perfect time to stock up on bite-size candy due to Halloween around the corner)

iTunes card (for cruising town or homework background music)
rain coat (he left his home, oops!)
a framed photo of our college kid's dog, "Ranger"
a stylus for his iPhone or iPad
a silly quote or cartoon to make him smile
cookie butter from Trader Joe's
I think that's a pretty good list so far. Wait a minute…. you've never heard of
cookie butter
?! Cookie butter is a delicious spread reminiscent of cookie dough and gingerbread. We affectionately call it "heaven in a jar," you may know it as speculoos or biscoff. Our family puts it on EVERYTHING; toast, sandwiches, crepes, pancakes, waffles, fruit, cookies, carrots, fingers, or we just eat it by the spoonful. It's guaranteed to make you happier.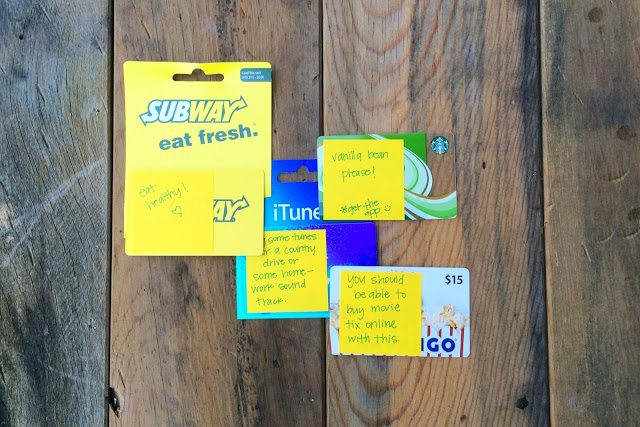 Gifts cards I know he will use. Most of these cards have apps to scan and store the value! #awesome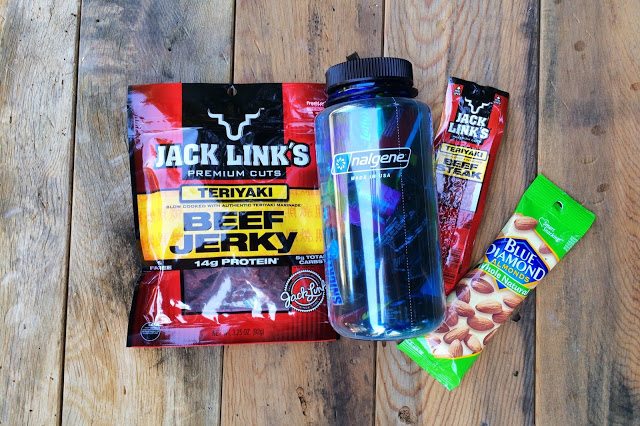 Beef jerky and nuts are easy to ship! I also filled his water bottle with bite-size Halloween candy!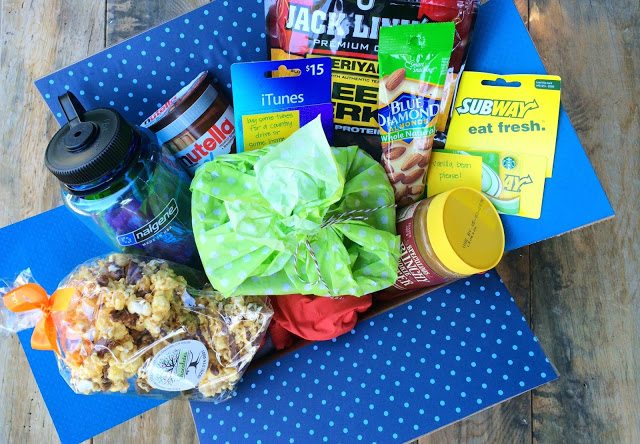 I managed to fit everything on my list into this standard shipping box, even his raincoat! Plus Janine and I decorated it in his University school colors!! #goAggies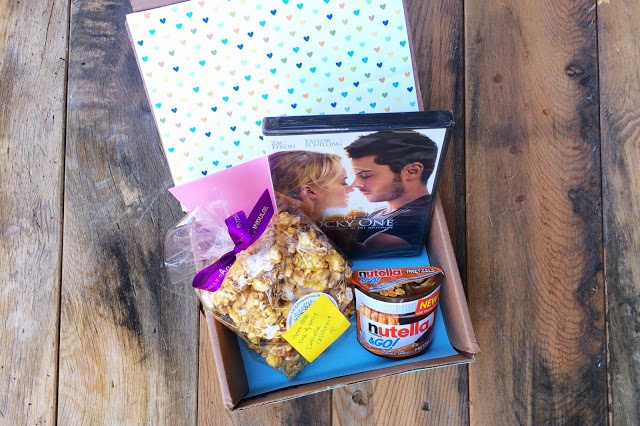 I couldn't forget to make a care package for my favorite neighbor who is at the same University.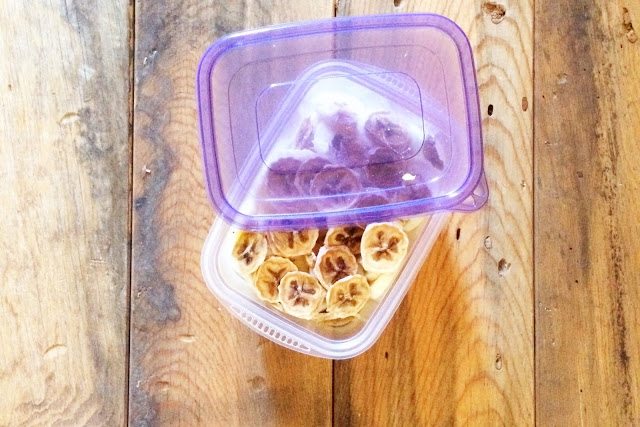 I was able to dehydrate a dozen bananas and pears in my food dehydrator and packaged them in reusable ziploc containers. He can repurpose the containers for leftovers or other items. Dried fruit is light-weight and easy to ship. Dried fruit can last a little longer in transit or his backpack.
Last, but not least. I've included a photo of my college kid's trusty side-kick, Ranger. I hope he gets good use out of all of these items, but mostly I hope this care package makes him happy. We are so proud of his hard work and efforts, and I know he's going to love the college experience.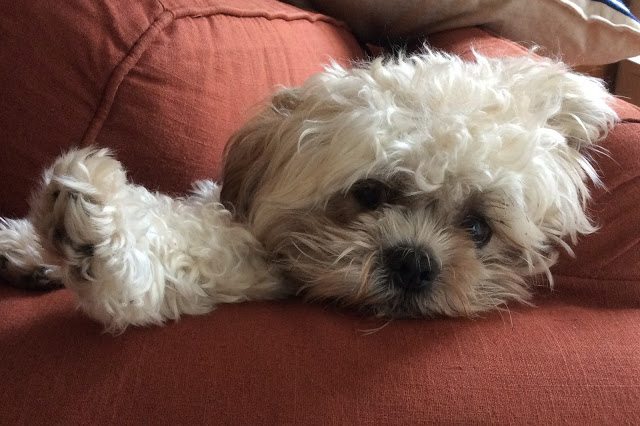 I checked with the United States Postal Service and they have flat rate boxes for one easy shipping fee. The smallest box (5 x 8 x 2 approximately) starts at $5.95, this would be an easy and inexpensive way to send your college kid a care package also. Link to more info
here
.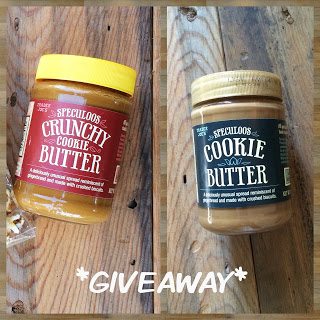 Happy Happy Nester would love to give away some "heaven in a jar" aka Cookie Butter, to three randomly picked readers who leave a comment below. For added fun, tell us your favorite treat you had to have when you were at college or when you first moved out. We can only ship to U.S. residents. Winners will be drawn Wednesday, September 30 by midnight.
From Ranger and myself, we hope your day is happy!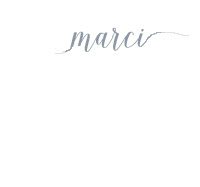 *** We have drawn some names for our Cookie Butter giveaway! However, we feel like everyone in the world needs to have Cookie Butter in their life! Janine and I have decided to give Cookie Butter to everyone who made a comment before the Wednesday deadline. I've replied to all of your comments. Please email us at
[email protected]
with your name and mailing address so we can share some of this yummy goodness with you. As always, thank you for reading and commenting. We greatly appreciate it.
Hope your day is happy,
~marci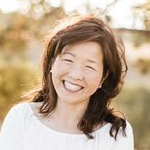 Latest posts by Janine Waite
(see all)