Autumn always has a fruit harvest, so creating Flower Arrangements with Fruit makes sense! Make a bouquet that blends fall fruit with fall flowers. Persimmons, black figs, and kumquats dot the arrangement of dahlias.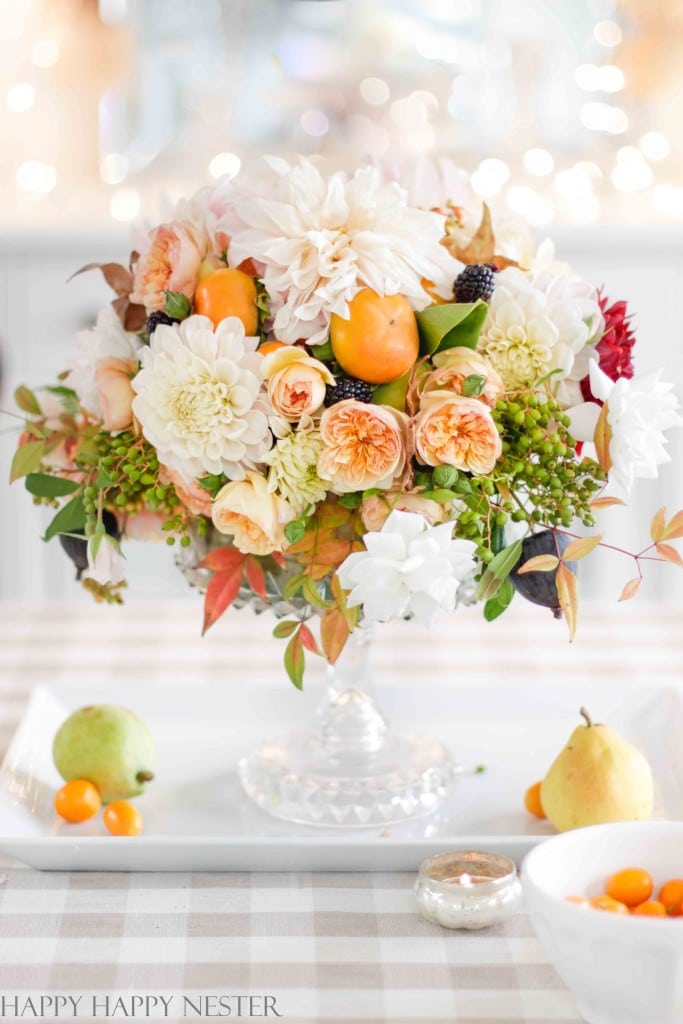 Try something new this year, and design a fall harvest flower arrangement for your home. No need to find fruit on the branch, you can cheat that look with my ideas. This simple bouquet uses fruit in some places in lieu of flowers. So, that means fewer flowers you have to buy!
Arranging flowers is one of my favorite hobbies. So you can imagine that I have plenty of pretty floral arranging tutorials over here.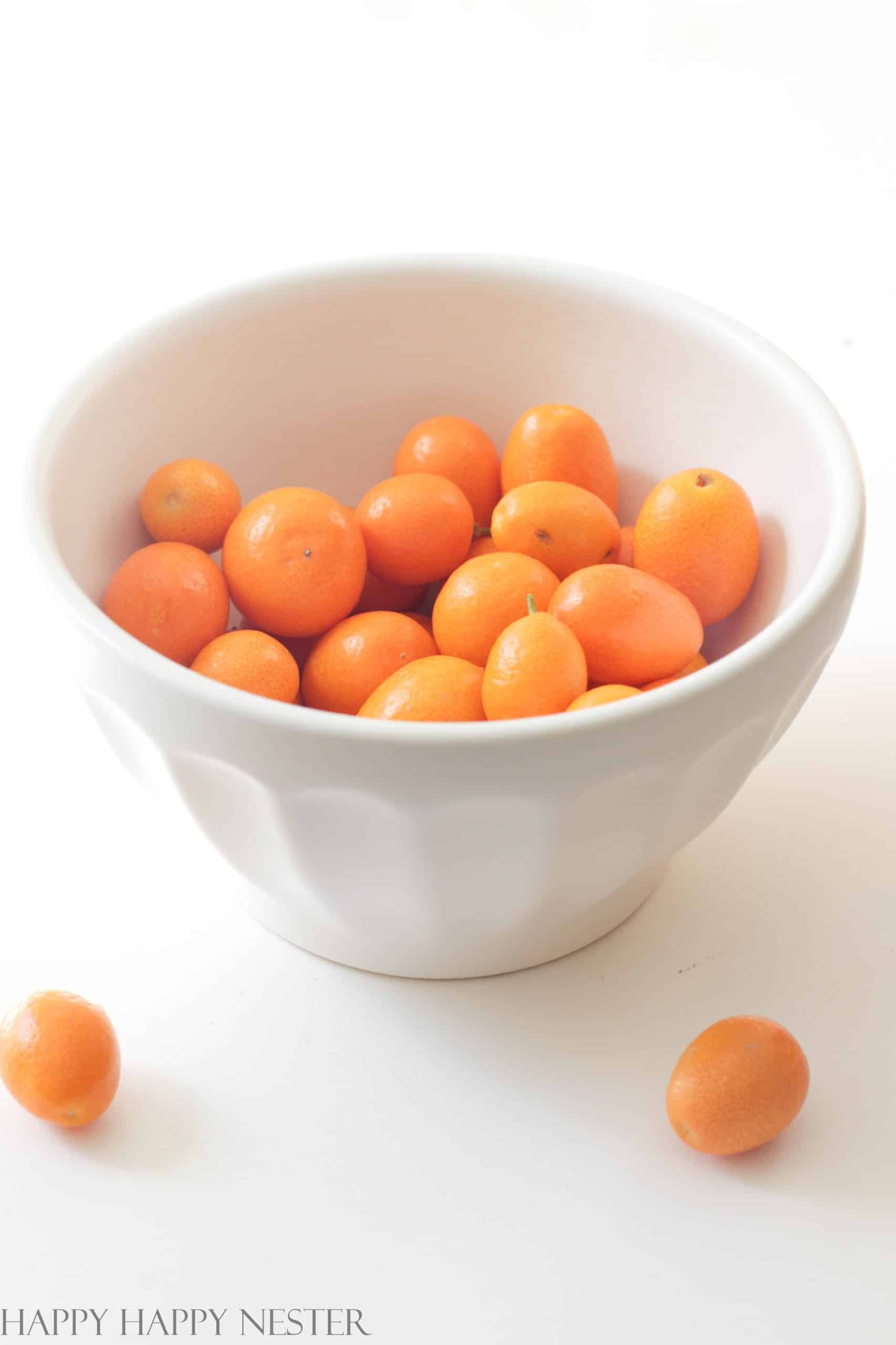 Today's floral arrangement is a little beyond the traditional bouquet.
I know that many years ago the Europeans added fresh fruit to their floral arrangements. I remember thinking how unique and pretty the idea was at the time. Now I'm revisiting that concept in this easy fall bouquet.
I have a variety of ways of working the fruit into the arrangement, so let's start this floral project.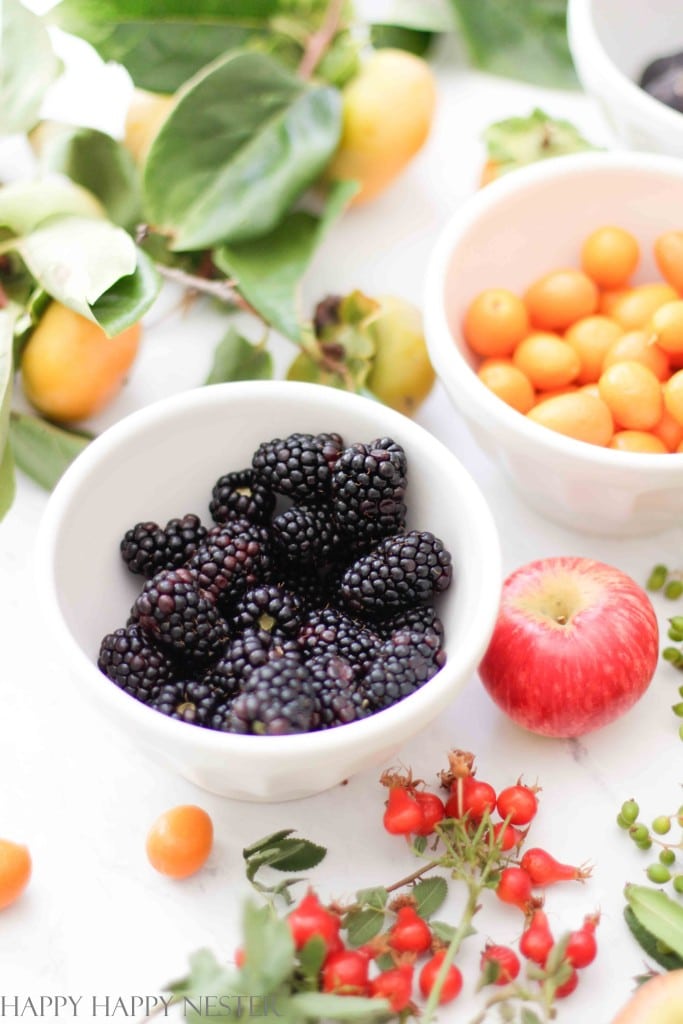 And by the way, this post is part of a fun floral blog hop, so make sure to take a look at my friend's beautiful fall bouquets!
How to Make Floral Arrangement with Fruit
I love picking out the flowers at the San Francisco Flower Market. Since I don't have any dahlias in my garden, I made a special trip to the market with my daughter.
But the cool thing about this flower arrangements with fruit is that it doesn't require many flowers. The fruit play just as important of a role as the flowers.
Supplies You'll Need:
flowers – dahlias, white and peach roses
fruit – blackberries, persimmons, apples, kumquats, and black figs
fall leaves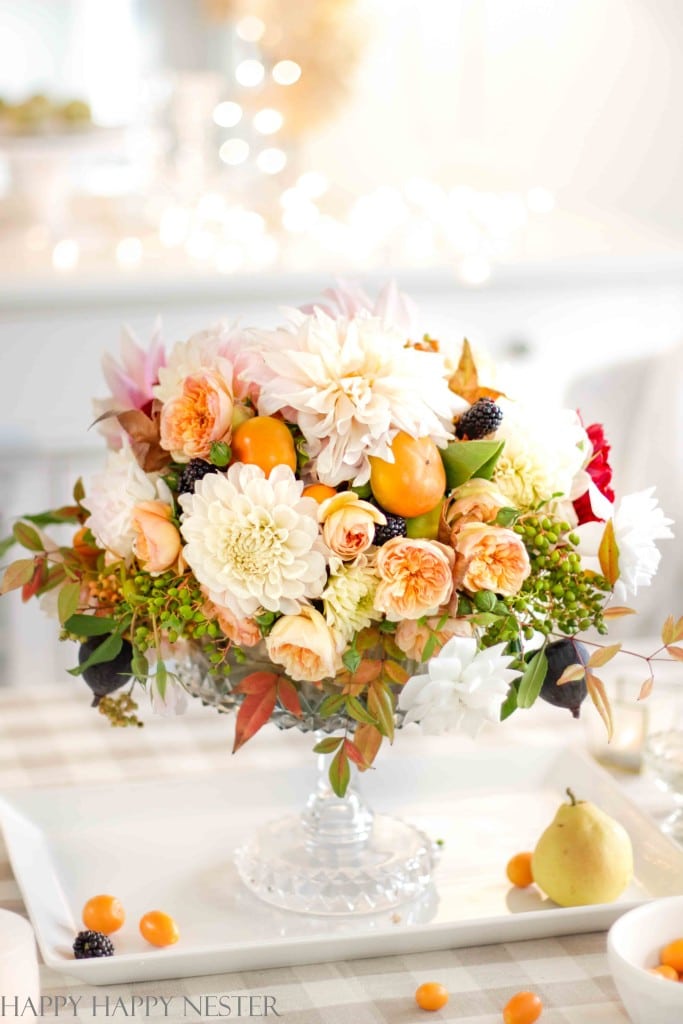 Here Are a Few Things to Consider When Making Your Bouquet
Choosing a Vase
Once this bouquet enter my mind, I locked onto the idea of finding a fruit compote to use as my vase. I wanted the bouquet to spill out beyond the rim and also, have a bit of elevation to the arrangement.
I found this hundred-year-old glass compote at a wonderful antique shop in our town. Here are a few that you might like for your arrangement.
The lesson when choosing a vase for your flowers is to think outside the box. Use a container that is going to showcase your flowers the best.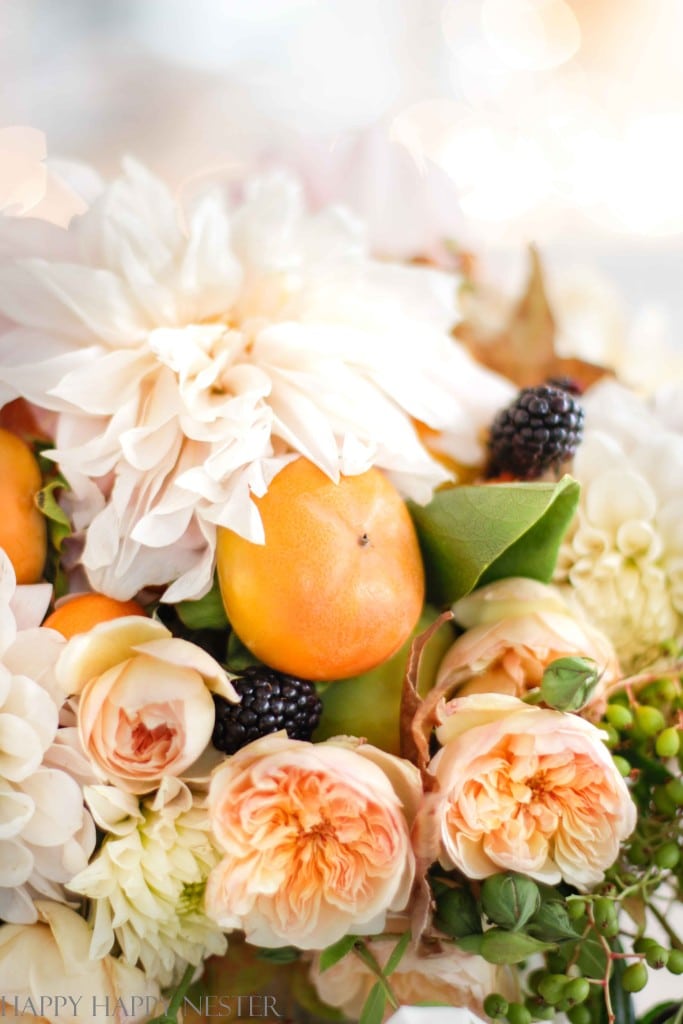 Choosing Flowers
Since I planned to use lots of fruit with various colors, I kept my flower color palette to peach, pink, and white. Keeping the flowers almost all the same colors, made choosing them easy. The flower market can get a bit overwhelming with lots of choices.
I bought large pale pink and white dahlias and they are the showstoppers!
Supporting flowers are the bouquet of mini-peach garden roses that had the prettiest rose scent!
To prep, the flower, trim off their leaves and cut off the stems, and place them in fresh water.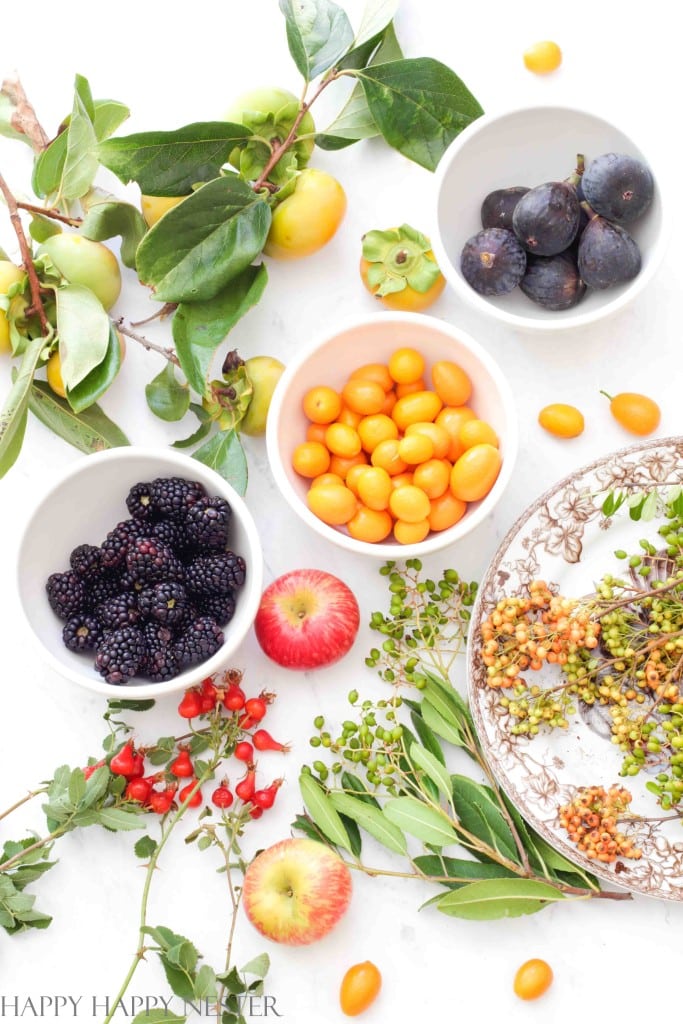 Choosing Fruit
Fall has a bounty of flowers and fruit and it makes it fun to combine the two in an arrangement. Let's take a look at what I used in this bouquet.
Persimmons: They are always a fall favorite! The orange color is perfect for bouquets. I picked these from our local golf course!
Black Figs: During the fall, Trader Joe's often carries black figs. I love the richness they add to a fall arrangement.
Kumquats: To buy these on branches is pretty expensive at the flower market, so I bought a little container of fruit at our grocery store. The orange is such a fun pop of fall color in my bouquet.
Apples: Whole Foods gets little crab apples in the fall, but they weren't in stock quite yet. So, I found the tiniest apples I could find. If you have a crab apple try, you're all set for adding them to your flower bouquet.
Blackberries: Like the black figs these berries add another rich color to the floral bouquet. They also capture light and sparkle a bit, which is a good thing. If you can find them growing in a field, grab a few for a bouquet, but be careful of the thorns!
Choosing Greenery and Leaves
Berries: I always pick these cute green and orange berries. I'm not sure of their name, so if you happen to know what they are, please leave a comment. I love that they add a touch of color and that they drape so beautifully.
Nandina: We have a few nandina bushes in our garden and they have their leaves have the pretties fall colors. Also, I love how dainty the leaves are, they don't overpower the bouquet. I used them to hide the base of my fruit compote.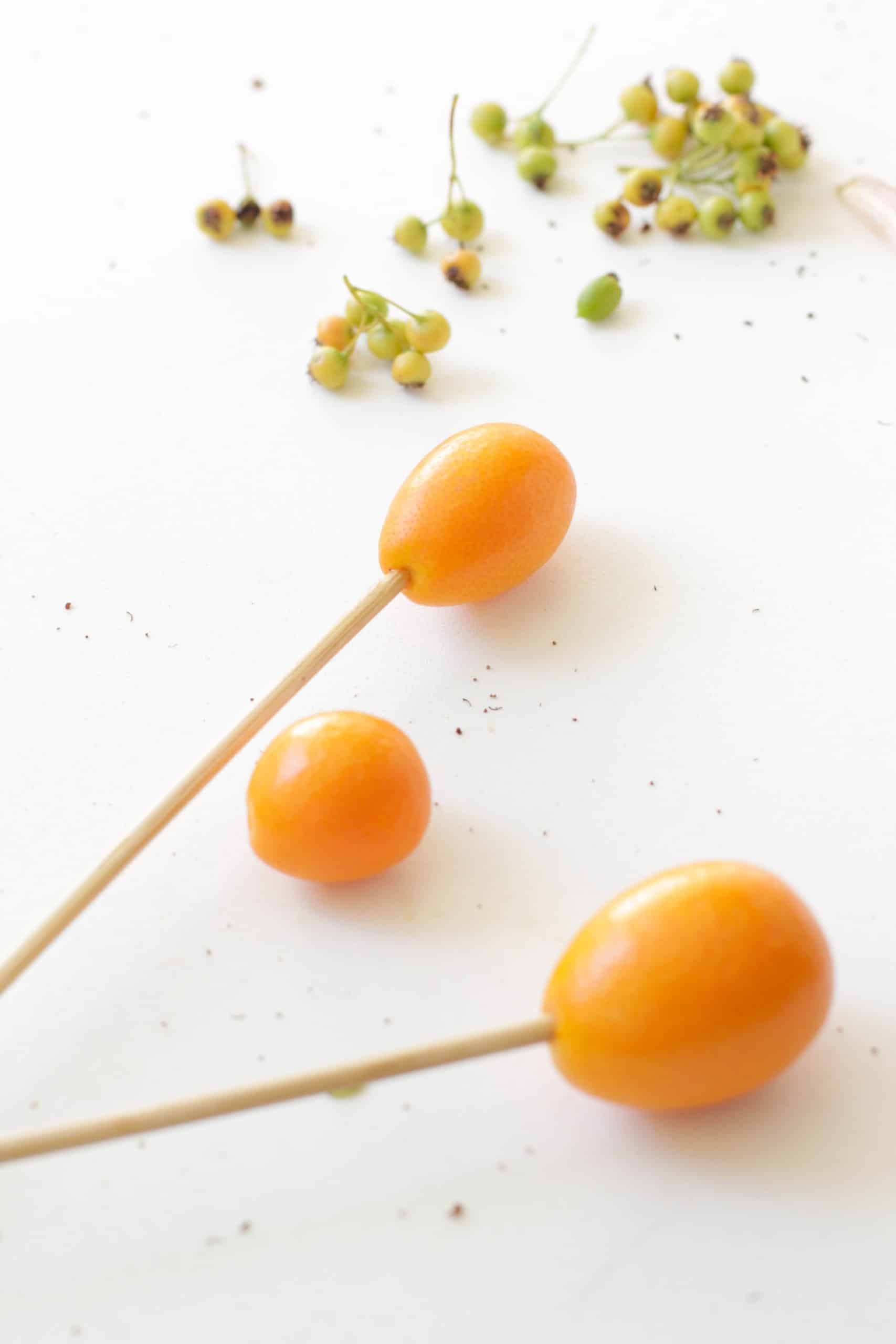 Prep the Fruit
Attach Fruit to Skewers and Branches
I attached most of the fruit to my wooden shish kabob skewers. But, to make a more natural appearance, I did use a branch to hold my black fig. I skewered the top of the berry branch into the bottom of the fig. I love how it looked and it allowed me to have it hang down from the arrangement.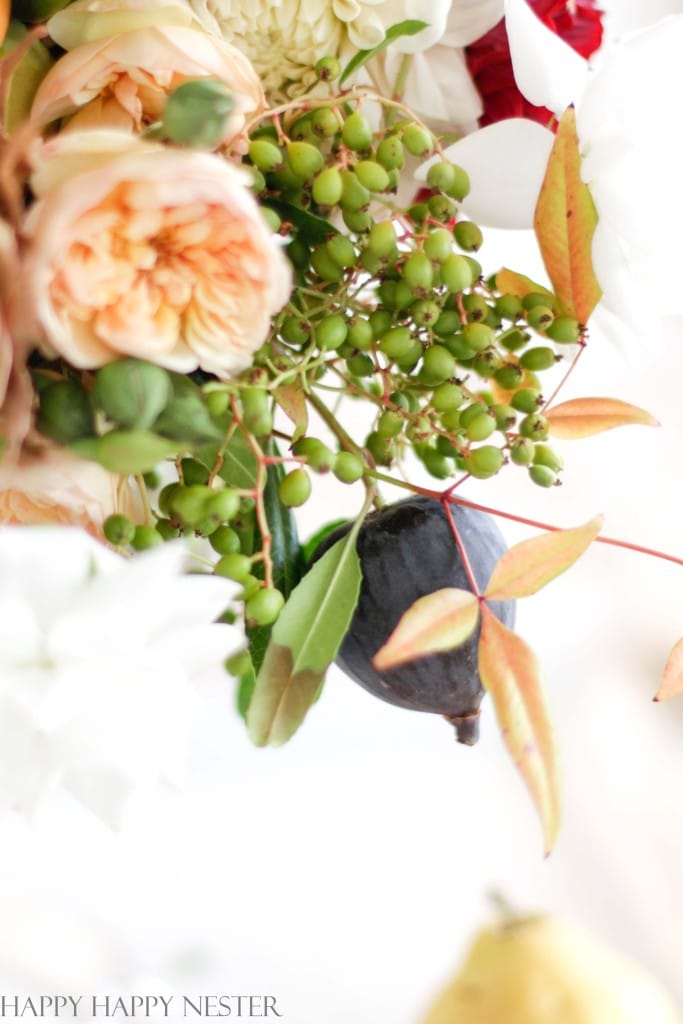 Let's Make The Bouquet
Once you have all your supplies prepped, you can begin building your flower arrangements with fruit.
Step 1 – Place Floral Foam in Your Vase
Cut and place the green floral foam into your vase. You want a snug fit so that it doesn't tip out and fall over.
You can also use tape on the top of the vase and form a grid for the flower stems. Here is a tutorial from another post on how to make this tape grid.
Step 2 – Place Dahalias
Since the large dahlias are the stars of the show I strategically placed them in my vase first. As you can see, I placed them on the top, middle, and sides. The showstopper is placed in the middle and on top where they'll be seen.
Step 3 – Insert Fruit
Place the fruit in the arrangement where they'll show off the most with their colors. I like the combination of orange and purple, so I tried to place them side by side.
Step 4 – Add Greenery
Anywhere you have gaps in your arrangement, insert a bit of greenery. I love to create movement with the greenery since they drape and hang so nicely. You can see in the photo below the greenery is poking outside the main bouquet. Their organic lines create a nice flowy composition!
Also, don't forget to place a few leaves to drape over the base of the vase. I like to cover it since the dark green floral foam isn't too pretty.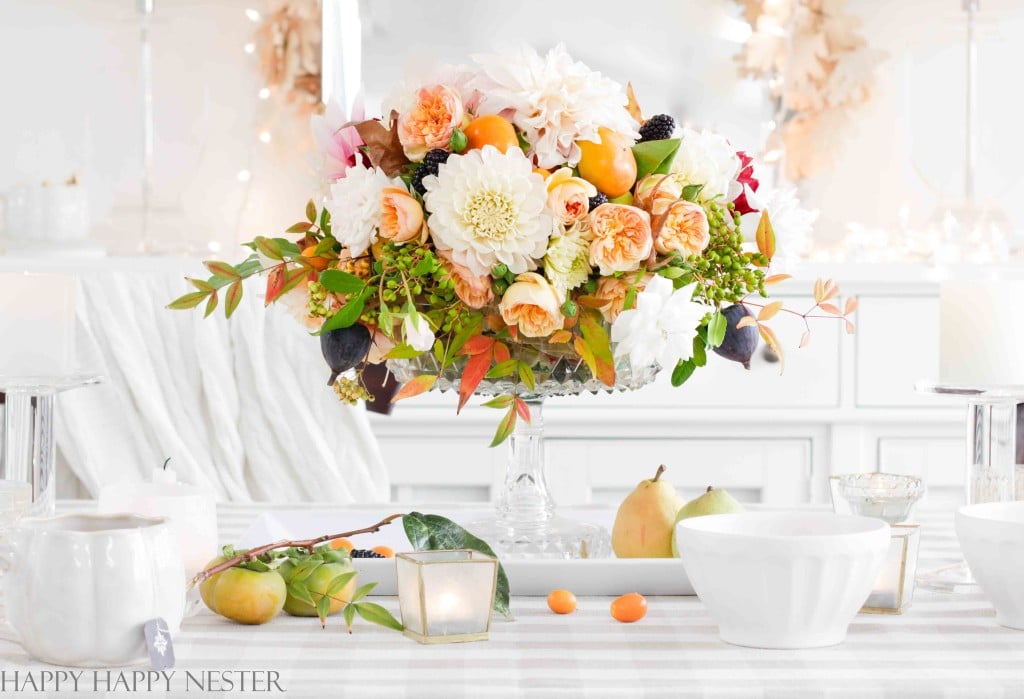 A Few Floral and Fruit Tips
Flower Preserver
Don't forget to add your flower preserver to the water since it definitely helps preserve the flowers.
Add Water
After the first day of arranging your bouquet, check the water level. Freshly arranged and cut flowers drink up the water so add water. I'm always amazed at how thirsty they are and how low the water is on the second day.
Tape Grid
You can use scotch tape to make your grid, but make sure to secure the tape down on the rim. The best is to use waterproof floral tape that will stick nicely to the glass rim.
Mist the Fruit
Misting the fruit with fresh water keeps it fresh and hydrated. This will keep your fruit lasting a tiny bit longer.
---
---
Thanks so much for stopping by my flower arrangements with fruit post! I hope you're enjoying this fun fall flower arrangement blog hop today.
Cheers,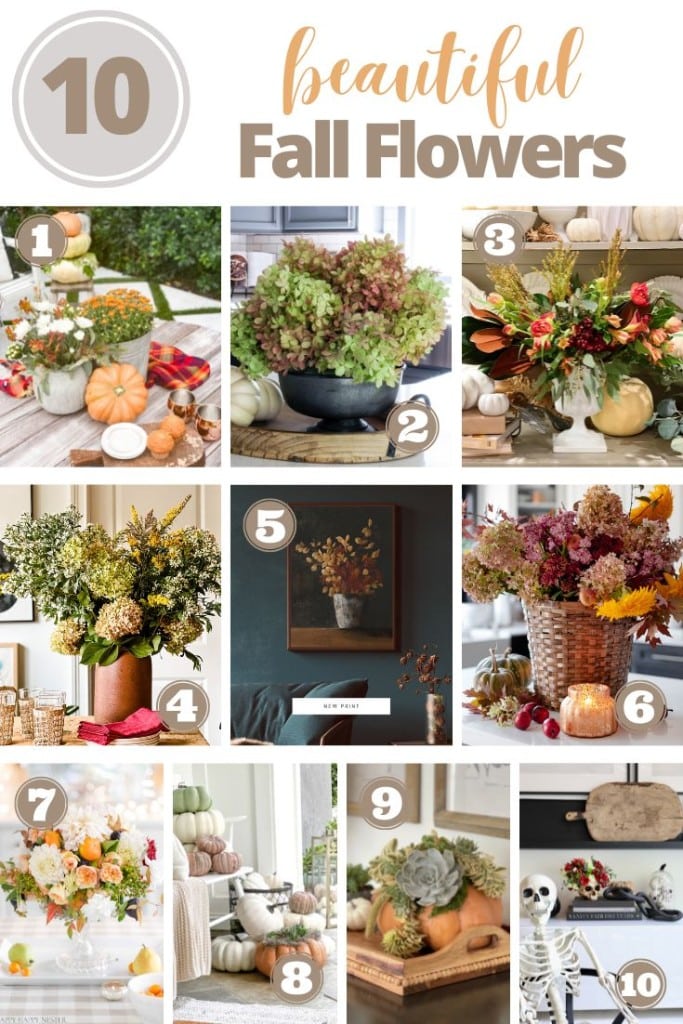 Blogger's Best Flower Arrangement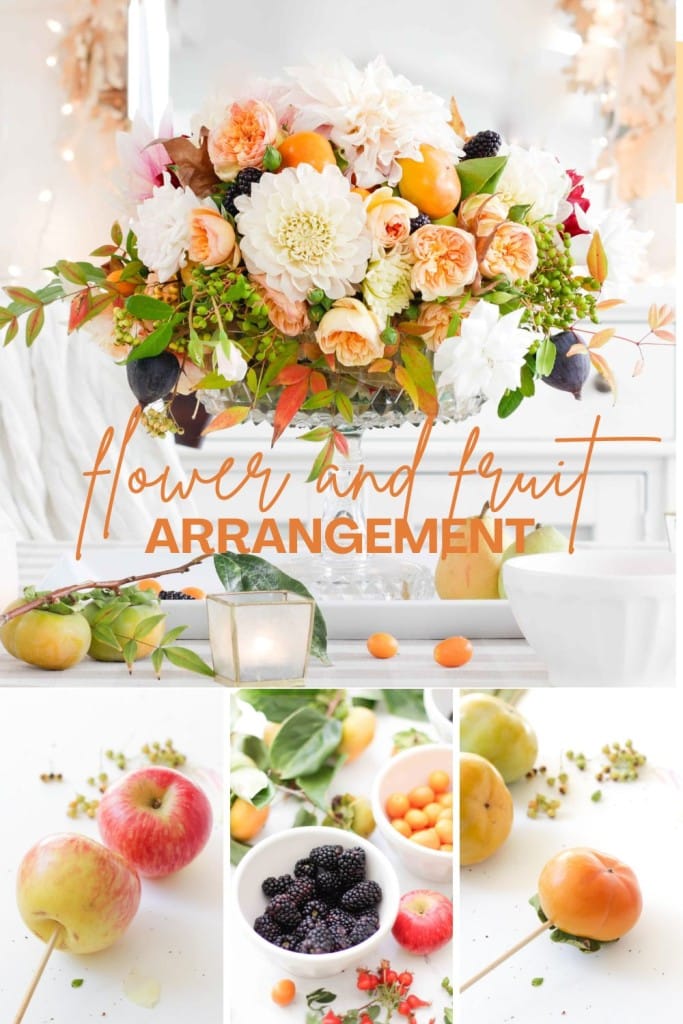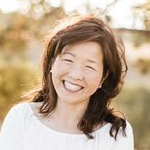 Latest posts by Janine Waite
(see all)