Folex Professional Carpet Spot Remover is the best carpet cleaner solution around. Before using the carpet cleaner, I thought I might have to throw my indoor/outdoor carpet out since the stains were old and stubborn. Well, read below to find out my results.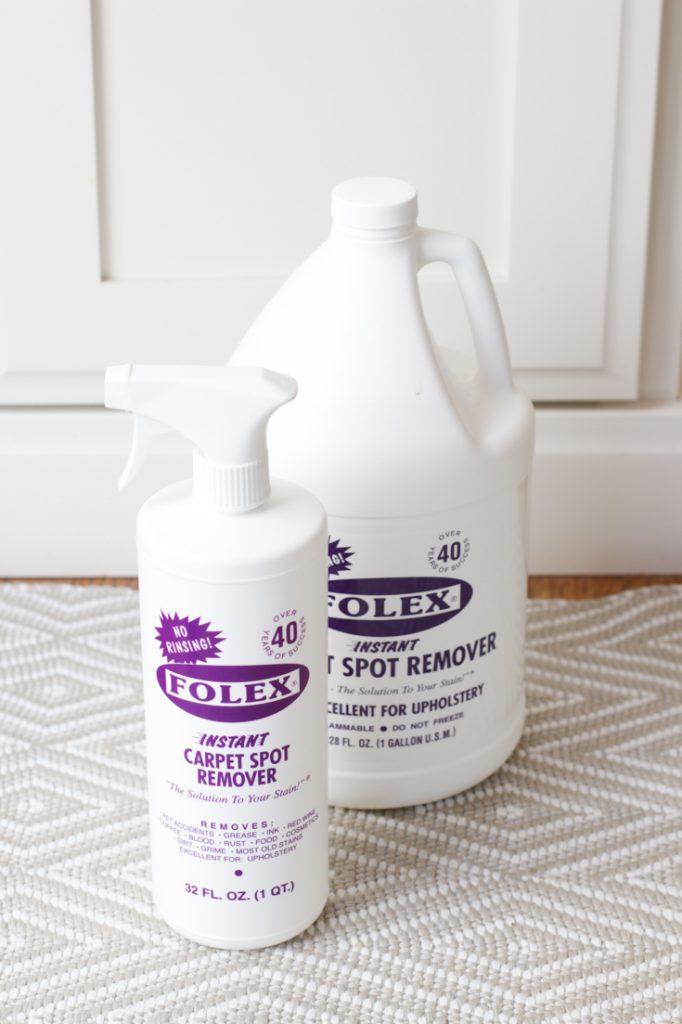 Over the years, I tried quite a few stain removers on my carpets. And I had mixed results in the past; some spots came out, and others stayed ground in. Well, we kept the throw rug and looked the other way when it came to the stains. But, this summer, I knew that I had to get it cleaned or toss out the carpet since it was super filthy.
But before diving into this DIY, I should mention that I enjoy reviewing and studying products. I have a few that you might find helpful and exciting.
5 Reasons My Crate and Barrel Sofa is the Best
*The following post contains affiliate links
Ok, back to the Folex professional carpet spot remover review.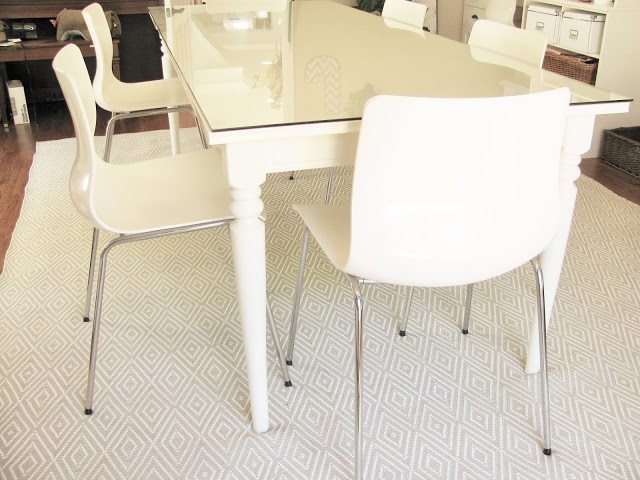 I love this indoor/outdoor rug from Dash & Albert. But over the years, it has weathered the traffic from our family of four. And lately, it is looking rather sad and stained.
So, I asked my friend, Ashley (Modern Glam), if she knew of a good carpet stain remover. Well, she mentioned the product Folex. Gosh, how is it that I have never heard of Folex?!
I wasted no time and went down to our local Ace Hardware and bought a couple of bottles.
Uh, after my first use, I quickly realized that this stuff is so amazing. I'm blown away by how it's like the magic eraser for carpets!
Folex Professional Carpet Spot Remover Reviews
So, let's review the various stains that were on my Annie Selke carpet.
Dirt Stains
Since this carpet is in our dining room, it has high traffic from the kitchen to our outdoor dining room. You can see in the photo below that my family had stained the edge of the carpet, and the spots looked like they were here to stay.
As you can see later, these dirt marks came out beautifully.
Does Folex Work on Old Stains?
I know that some of you might be wondering if Folex takes out old stains. Well, my carpet had quite a few old stubborn stains that were dark and really worked into the carpet fibers. I thought it was a lost battle.
I called a carpet cleaning company and sent them photos, and they quoted me $150-$200 with no guarantee that they could remove the stains.
So, I took matters into my own hands, and if you look at the next photo, you'll see that the stains are gone! It is seriously a fantastic carpet cleaner!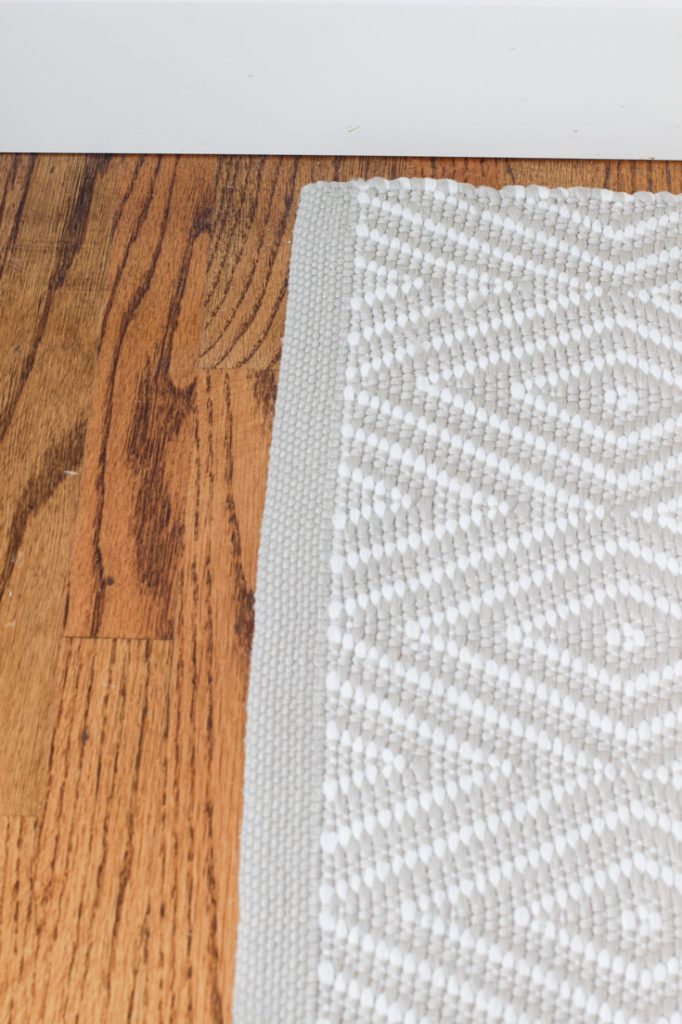 Does it Work on Food Stains?
Since this carpet is in my dining room, you can imagine that my family has spilled lots of food on it. I found quite a few stains that instantly came out when I sprayed and washed Folex on them.
So, I got a bit excited about this stain remover, and when my husband spilled jam, ketchup, and sauces, I removed stains from our tablecloth. I now following him around with a spray bottle. Well, not really, but I definitely always have a bottle nearby to spray any stains.
I read that others had success with removing wine, chocolate, and grease stains.
Does it Work on the Car Carpet?
Once I saw that Folex removed carpet stains, I instantly ran out to our car and sprayed it on a few stains. I sprayed and wiped away the stain with a small towel. Well, it immediately got rid of old stains in the back seat. I also cleaned up some stains in our trunk. The fantastic thing about cleaning the car's carpet is that you don't need a carpet machine.
Over the years, I worked on these car stains with no success. So, I'm happy to report that Folex is an excellent car carpet stain remover.
What is the cleaning process?
Test
First, spray a small section of carpet, then blot dry with a clean towel. Spray the stain generously with Folex and kind of rub the solution into the carpet. If your rug doesn't react to the solution, then continue to work on your stains. Test a minor spot before committing to a large area.
Spot Clean
If you have a ton of spots, I recommend you spot clean first. So, spray and blot with a towel. Repeat until the stains disappear.
Outdoor Rug Cleaning
If you have a low pile outdoor rug, I recommend you clean it outside. Once you spot clean the carpet, place it on a low fence or wall, and spray it with a hose. If you can only drape half the rug on the wall, rotate the rug and spray the other half. Place chairs in front of the carpet and pull the ends onto the chairs. Draping the rug over the chairs allows movement of air, and the carpet will dry faster.
When drying my throws, I use outdoor metal chairs that won't damage the water and rug. Also, so you know, my rug was dry by the end of our warm summer day.
---
This Folex is such a fabulous cleaner. And if you have the time to clean your throw carpet, I highly recommend using Folex. My project took a couple of hours of work, so make sure you have the time and energy. Or, you can hire a professional carpet cleaner who probably has Folex carpet solution in his machine!
Nonetheless, I'm happy with my rug cleaning results! Our Dash & Albert throw rug looks as good as new, and it's super clean and pretty!
Thanks again for joining me today!
Cheers,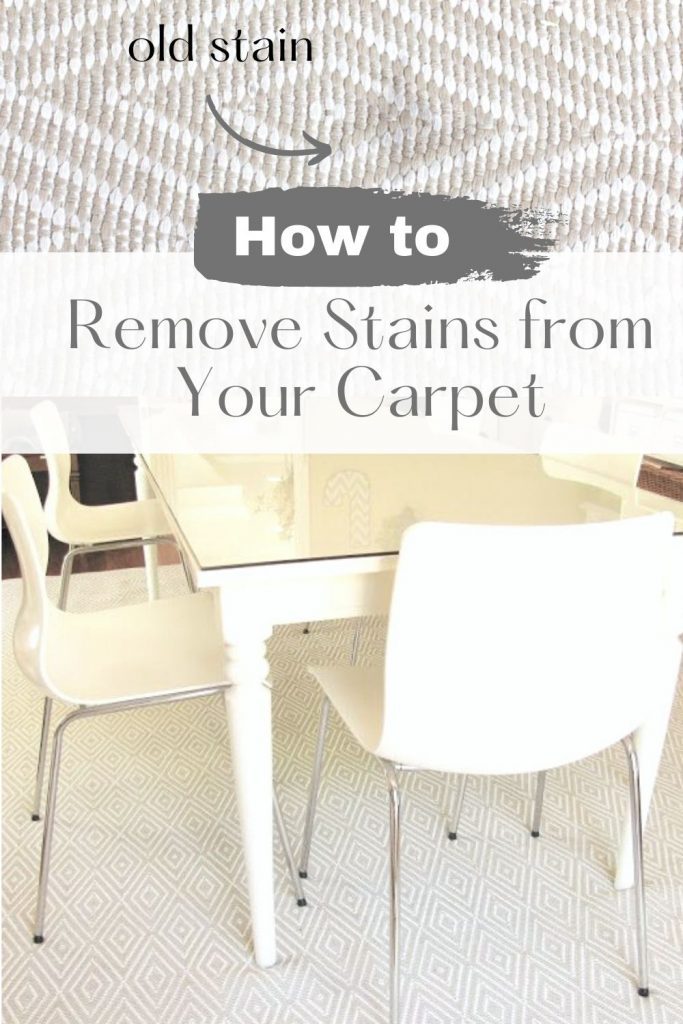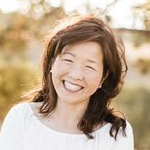 Latest posts by Janine Waite
(see all)