Valentine's Day is a holiday for romantics. This Valentine's, I created a Fortune cookie Recipe and 13 free printable fortunes.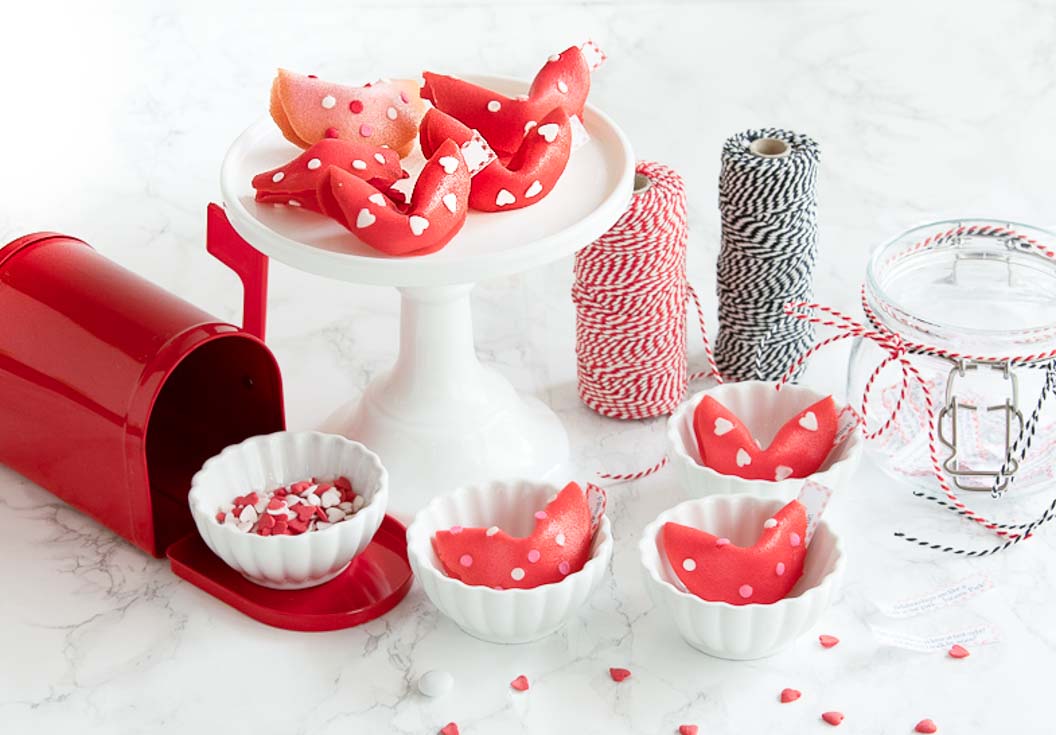 Every year I look forward to Valentine's Day. To me, Valentine is that little shining star in an otherwise dreary dark wintery days. So, today, I'm happy to share with you this fortune cookie recipe all decked out for Valentines! Also, I'm part of a fun Valentine's Day blog hop, so I hope you enjoy all the wonderful projects at the end of this post. *This post contains affiliate links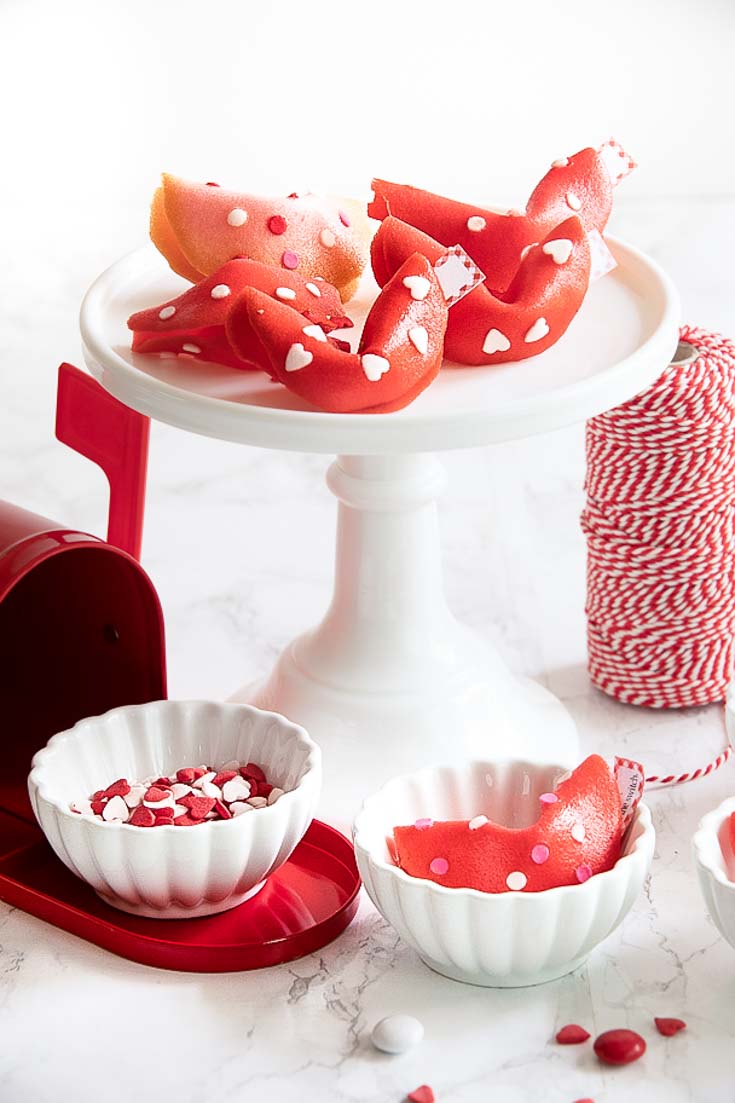 I have fond childhood memories of tagging along with my mom on her errands, and we would stop by a Japanese cookie factory in Gardena, California. She would purchase this huge rectangular tin of flat cookies that we called Senbei. So, these yummy disk-shaped cookies are like a flattened round fortune cookie. Well, this got me thinking, and of course, I had to go down the road of finding out who invented the fortune cookie.
The Fortune Cookie History
So once I started researching information about the Chinese fortune cookie, it turns out that it's roots are actually in the 19th Century, Kyoto Japan. It was a flat cookie that had a fortune wedged into the bend of the cookie. Yes, it is what we call Senbei! But, Japanese immigrants who lived in San Francisco, California, invented the fortune cookie. Yes, there is a little fortune cookie factory in San Francisco. I've visited this cute shop, and if you are ever visiting San Francisco, here is the address.
Golden Gate Fortune Cookie Factory
56 Ross Alley
San Francisco, CA 94108
The first person in the United States to make the first modern-day fortune cookie is Makato Hagiwara. He served the fortune cookies at Golden Gate's Park Japanese Tea Garden. Benkyodo Co. made these cookies, and it looks like they now mostly make the rice confection, mochi. Here is their address:
Benkyodo Co
1747 Buchanan St
San Francisco, CA 94115
Ok, back to why I made these cute little cookies. As you probably know, I love baking cookies. Yes, I have an Almond Cookie, French Macaron Cookie, and a yummy Chocolate Chip Cookie recipe. But, I thought how fun they would be to create a festive red Valentine's Day cookie with little messages about love and relationships. I went ahead and rounded up 13 little sayings about love, and you can download the printable if you subscribe to my blog newsletter. If you are already a member, email me, and I'll send them along to you for free.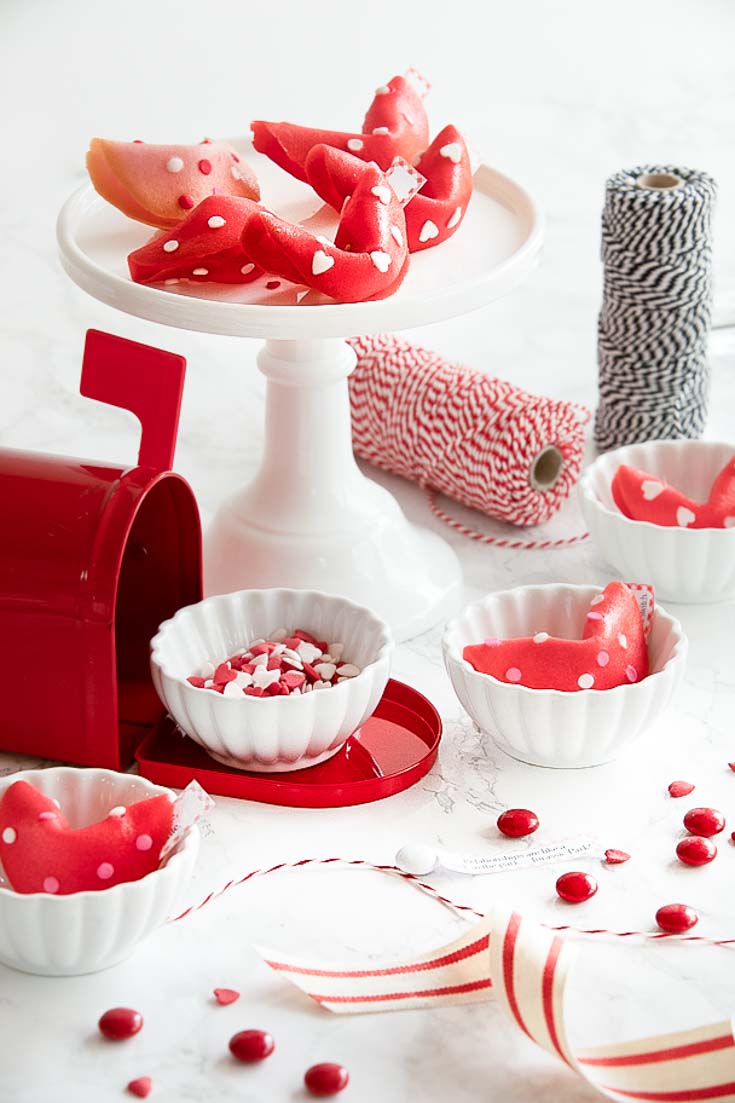 A Few Tips About This Fortune Cookie Recipe
1. Bake only two cookies at a time
You only have a couple of seconds to shape the cookies once they come out of the warm oven. So, unless you have another person helping you, only place two cookies on a baking sheet at one time. If the cookie does get hard, you can put it back in the oven to warm it up again.
2. You might want to wear gloves
These cookies have to shaped while they are hot and straight out of the oven. I did not wear gloves, and my fingertips got a bit burnt. Next time I will buy some gloves.
3. Use a baking Silpat
I tried baking these cookies on parchment paper, and they were harder to remove them from the cookie sheet. I ended up using the silicon Silpat baking mat, and they came up quickly.
4. These cookies are best fresh
This fortune cookie recipe is lovely, but the cookies do get sogging the next day. Maybe if I placed them in an airtight container, they would stay crunchy longer.
5. The dough lasts a couple of days when refrigerated
I found this out when I couldn't make all the cookies on the same day. So, if you are short on time, you'll be happy to know that if you wrap the bowl with plastic, the dough stays fresh and can be used later.
6. If you place candies in the cookie, place them along the edges
The candies will fall off if they are in the fold areas. Placing candies along the edges is the best place.
7. Make them in a 3 1/2″ circle
If you get a funky shape, I found that I could use my finger to smooth out the rough edges. So, don't panic if the cookie edges are not perfect.
8. Insert the fortune cookie quotes after baking the cookies
Our printer is a laser printer, and the ink smudges if the ink gets wet. So, I had to insert my little fortune papers in the already baked cookies. Don't worry; there is plenty of spaces in the cookies in which to add your paper messages.
Here is the printable link
Get your free 13 fortune cookie messages by filling out the form below.
Download the Free Fortune Cookie Printable HERE:
Fortune Cookie Recipe
These crispy fortune cookies are delicious and easy to make.
Ingredients
2

egg whites

½

cup

flour

1

tsp

cornstarch

½

cup

granulated sugar

2

tbsp

rice flour

¼

tsp

salt

½

tsp

almond extract

3

tbsp

cooking oil

3

tbsp

water
Instructions
In a large bowl, whisk together flour, rice flour, cornstarch, sugar, and salt.

In another bowl whisk the egg whites until frothy.

Add the oil, water, extract, and egg whites into the flour mixture. Stir until it is well mixed and cookie dough resembles a thin pancake batter. If it is too thick add a small amount of water until it is the right consistency.

Add red food coloring to the batter. I add the food coloring to half the mixture and I place the food coloring on a spoon before adding it. It only takes a little bit of dye. You do want a nice deep red cookie.

Place a Silpat cooking mat down on a cookie sheet.

Spoon a teaspoon and a half of batter on the Silpat mat.

With the back of a teaspoon, spread the mixture into a 3 ½ inch circle. You can shape the cookies with your finger if you like.

Add sugar heart candies to the shaped cookie. Place them along the edges so that they aren't in the sections that will be folded.

You'll only want to place two cookies on a sheet. Once the cookies are out of the oven you only have a couple of seconds to mold them.

Bake at 325° for about 10-11 minutes.

Once out of the oven, either wear gloves or use your bare hands. The cookies will be pretty hot.

Lift the cookie off the sheet with a metal spatula and fold the cookie in half. Make sure the candy hearts are the outside of the cookie when you fold them.

Then place the cookie fold side down on the rim of a coffee mug. Hold in place to make sure you have the shape of a fortune cookie.

Place in a muffin tin to hold the shape of the cookie.

Download and print out the paper's fortunes.

After the cookie is cooled insert the paper fortunes into the cracks of the cookies.
Nutrition
Serving:
18
cookies
|
Calories:
60
kcal
|
Carbohydrates:
9
g
|
Protein:
1
g
|
Fat:
2
g
|
Saturated Fat:
1
g
|
Sodium:
38
mg
|
Potassium:
9
mg
|
Fiber:
1
g
|
Sugar:
6
g
|
Iron:
1
mg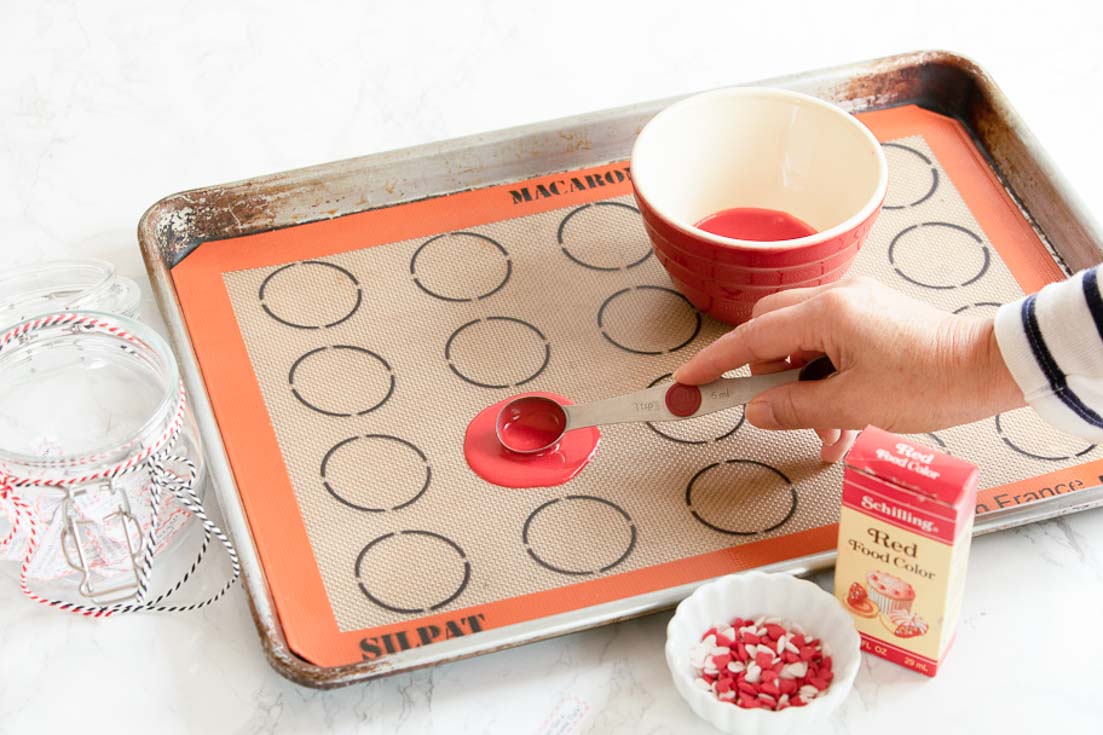 I used the backside of my teaspoon to spread the dough into a 3 1/2″ circle.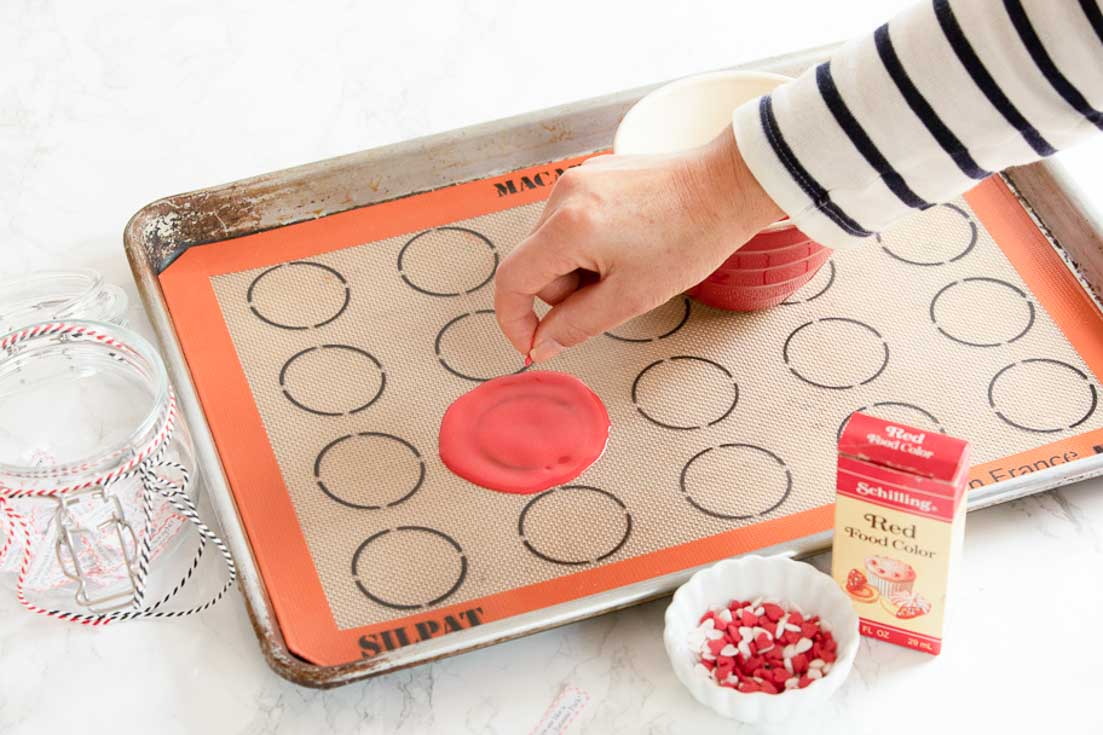 I love these adorable sugar candies, and I'm excited how it made this classic fortune cookie recipe such a fun Valentine's Day project.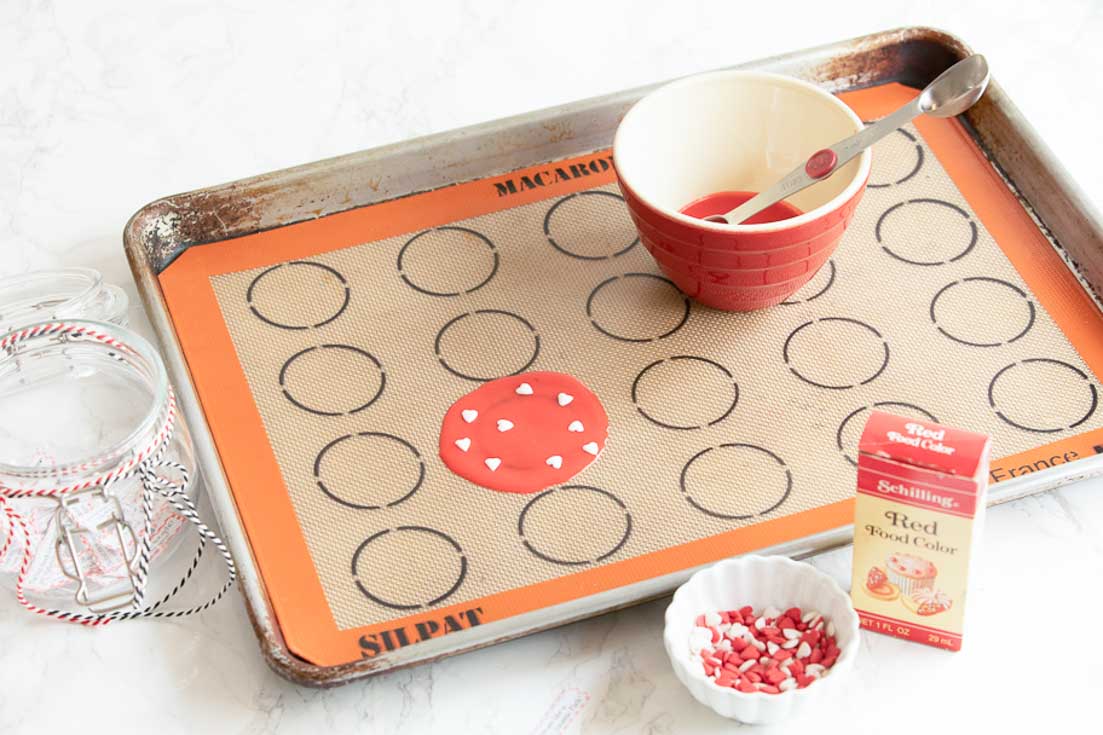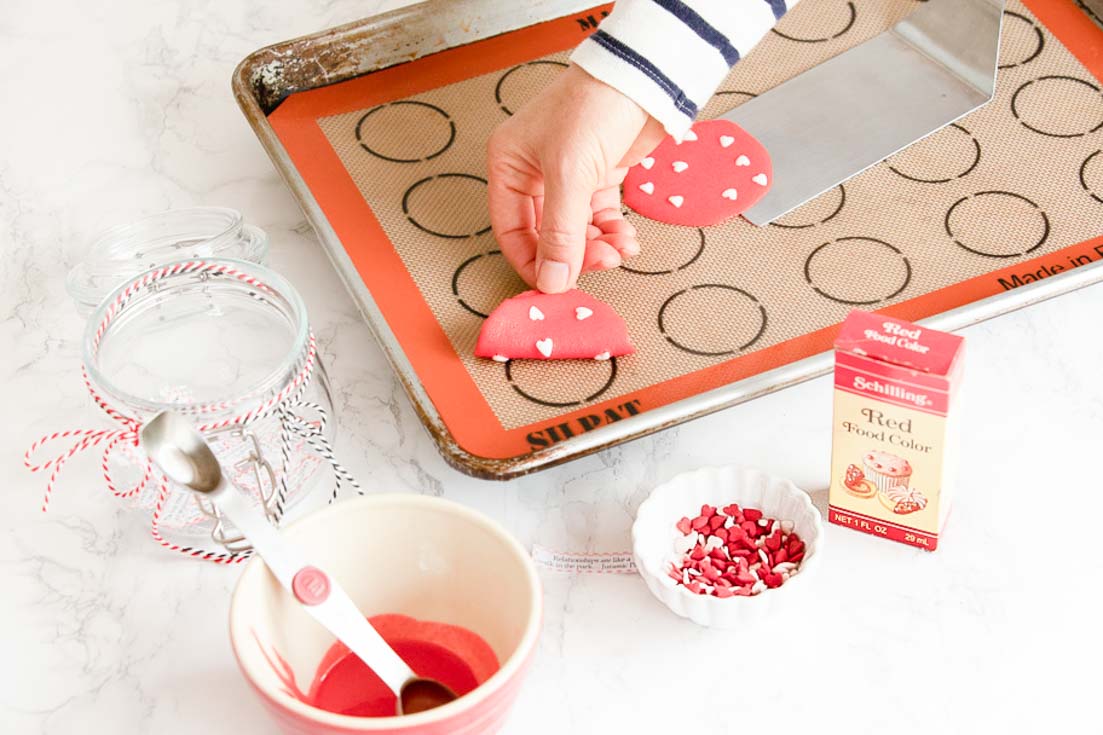 Once the cookies are out of the oven, quickly fold them in half. Make sure the candies are on the outside of the cookie.
Then place them on the edge of a coffee mug and pull the ends down the sides like shown in this photo. Thanks so much for joining me on this yummy and fun fortune cookie recipe post. I have plans to morph this recipe into many other baked projects. So, stay tuned, but in the meantime, Happy Valentine's Day! Happy Baking,

Check Out These Great Valentine's Day Projects!
Thursday

Valentine's Day Craft – My 100 Year Old Home // Dollar Store Valentine's Day Decor – Craftberry Bush // DIY Valentine's Day Pillow – The DIY Mommy // Baked Valentine's Day Donuts – Inspiration For Moms

Paper Heart Treat Bags – Sincerely Marie Designs // Valentine's Charcuterie Board – Town and Country Living // Valentine's Day Stationery – The Handmade Home // Valentine's Day Puppy Chow – Two Twenty One

Valentine's Decorating Ideas for Your Home – Wildflower Home Blog // DIY Valentine's Day Decor – She Gave It A Go // Valentine's Table Setting – Hallstrom Home // Unromantic Valentine's Day Decor – Cassie Bustamante
Friday

Simple Valentine's Day Porch – Modern Glam // Valentine Paper Medallion Mantel – Tatertots & Jello // Easy Valentine Garland – Twelve on Main // Valentine Project – The Tattered Pew // Valentine's Day Tablescape – Jennifer Maune

Fortune Cookie Recipe – Happy Happy Nester // Dairy Free Linzer Cookies – Zevy Joy // Valentine's Day Table Setting – Sanctuary Home Decor // Valentine's Day Desserts – Life Is Better At Home // Galentine's Day Ideas – Pink Peppermint Design

Printable Valentine's Day Decor – The Happy Housie // DIY Valentine's — Finding Lovely // Floral Heart Printable – A Blue Nest // Valentine's Day Printable – Lolly Jane // Valentine's Day Gift Ideas – Art of Everyday Living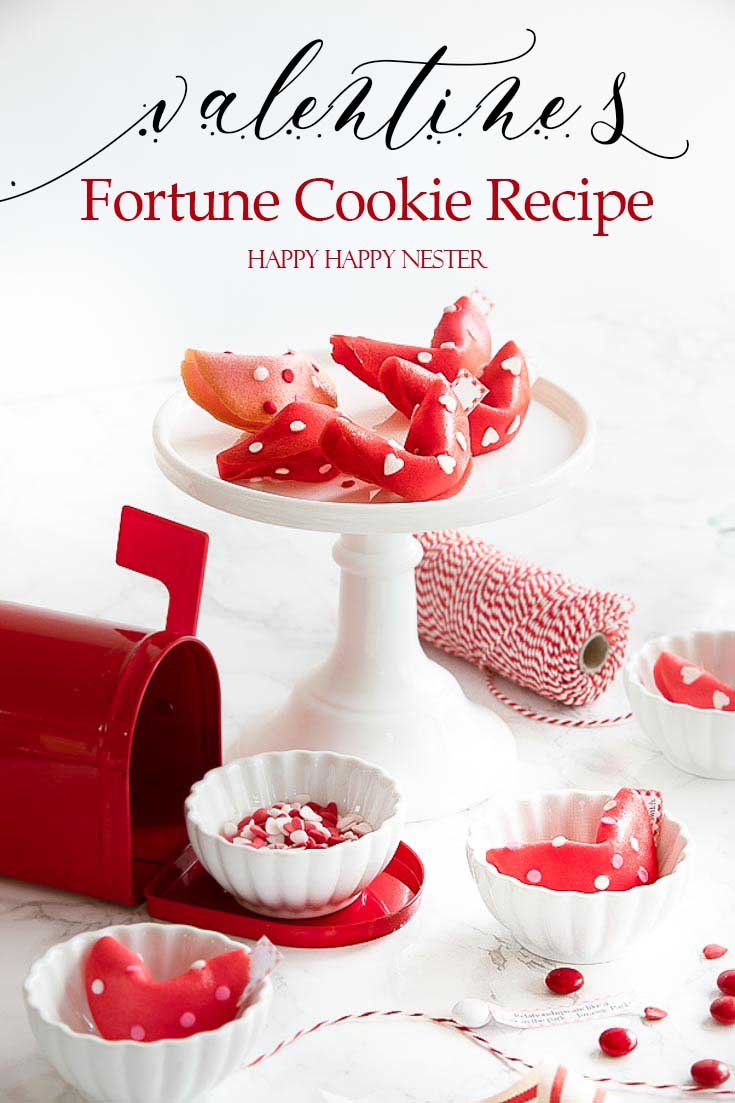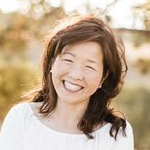 Latest posts by Janine Waite
(see all)