This adorable Gingerbread House Mug Topper recipe is the best. Make these delicious gingerbread houses for your family or as gifts to give to friends. Package them with fun holiday treats and candles for perfect Christmas gifts!
Learn how to make these homemade houses with my no-fail ginger cookie recipe. Also, find out which cookie cutter I recommend for this holiday project.

I've always wanted to make these cute houses but didn't have the gingerbread house cookie cutters. So, I finally got my act together and ordered them.
Also, I'm excited that I love my gingerbread cookie dough recipe. I was worried that the dough would spread when baked, but this recipe is good and doesn't spread. So, it works great with this project.
I think that some of you might not have the interest or time to deal with icing your gingerbread houses, and if that is your scenario, you can build the houses. A plain little gingerbread house is just as beautiful.
So, let's get in the holiday spirit!
Yankee Candle Partner
Yankee Candle sponsors this blog post. And I am happy to collaborate with Yankee Candle this fall. This means I am receiving compensation for my efforts in creating this post. All our opinions are authentically my own, and all convenient shopping links add no additional cost to you.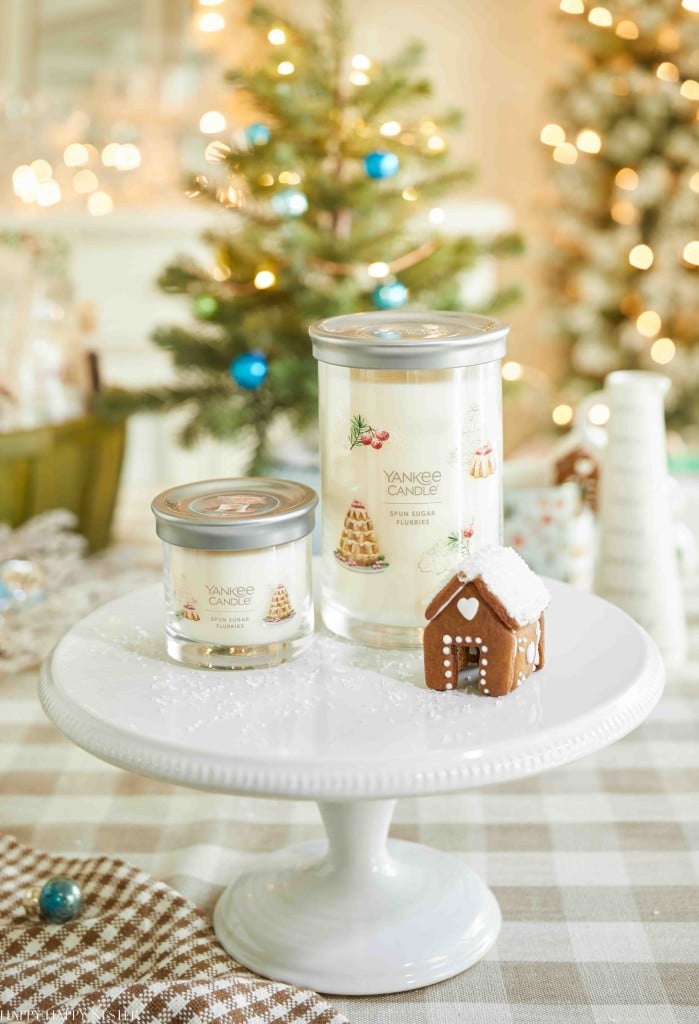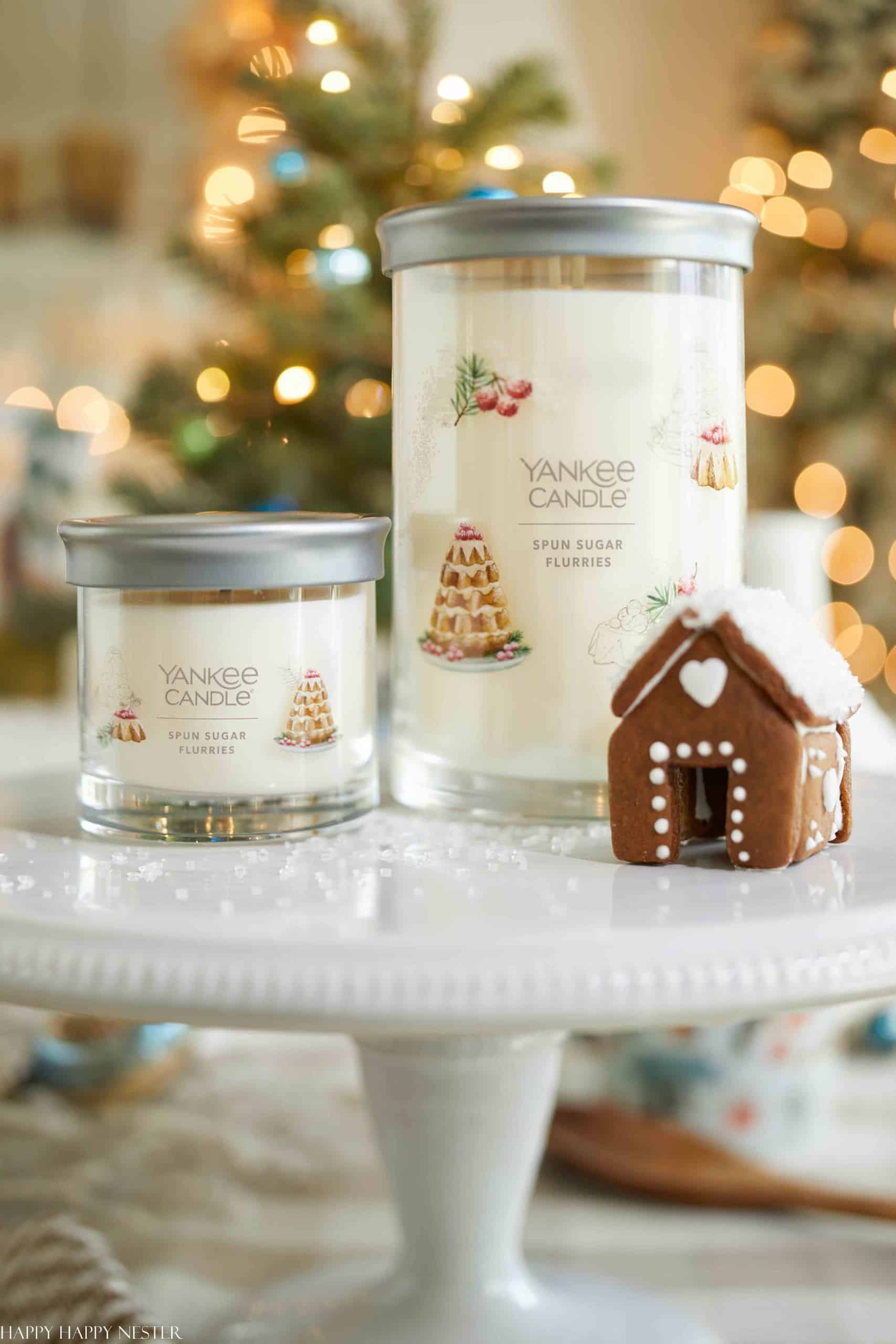 But before we dive into the gingerbread houses, let me share my latest obsession.
I love pretty candles for the holidays!
The twinkle of the light and fragrance puts me in the mood for decorating, baking, and watching a fun movie. And this year, I'm excited to introduce the new Snow Globe Wonderland Fragrance Collection.
These candles are perfect with any Christmas decor since the Spun Sugar Flurries are available in white.
The cute dessert images on the glass vessel put me in the mood to bake!
And speaking of baking, let's take a peek at what I've been busy making in the kitchen!
Gingerbread House Mug Topper
Tips For Making These Adorable Mini-Gingerbread Houses
Refrigerate the dough
Gently move the cutout dough when transferring
Ice and decorate your gingerbread pieces before building the houses.
I spread icing on the roofs with a butter knife. Then I covered the icing with sugar sprinkles. This eliminated piping a design.
Instead of piping a heart design, I used a heart candy.
Also, to stabilize the gingerbread house while it's resting on the mug, I place marshmallows inside the house. I put a dab of icing on both sides of the house and attached mini marshmallows to the icing.
Ingredients You'll Need For Making Gingerbread Houses
Shortening
Molasses
Vinegar
Egg
Flour
Baking Soda
Cinnamon
Ginger
Salt
Powdered Sugar
How to Make Your Mini-Houses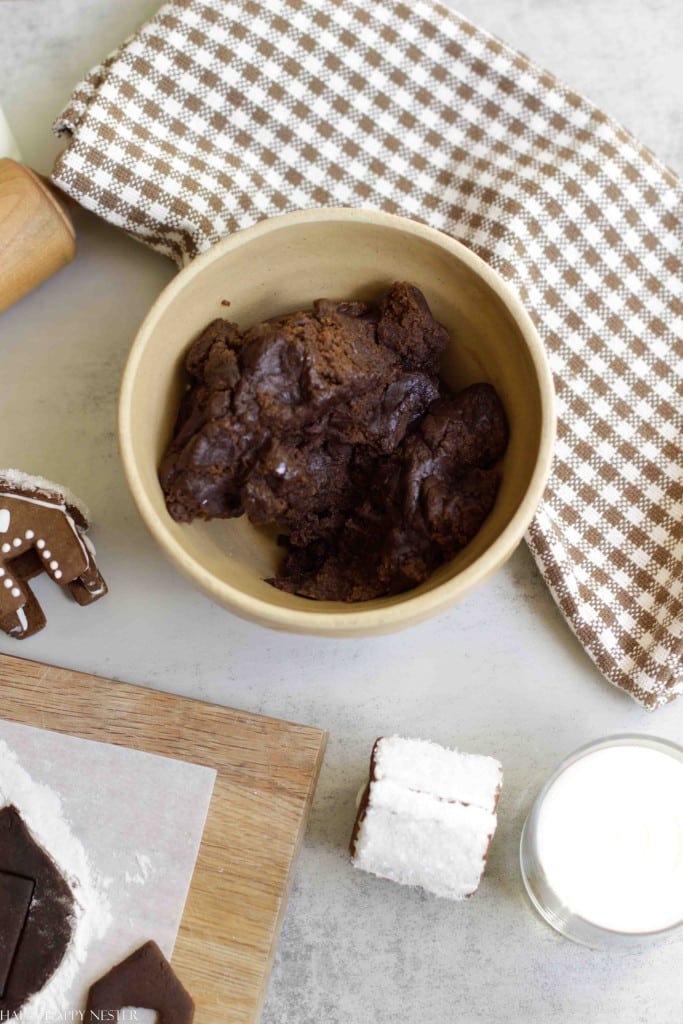 Step 1 – Make Gingerbread Dough
Make the dough and chill it for 30 or 40 minutes.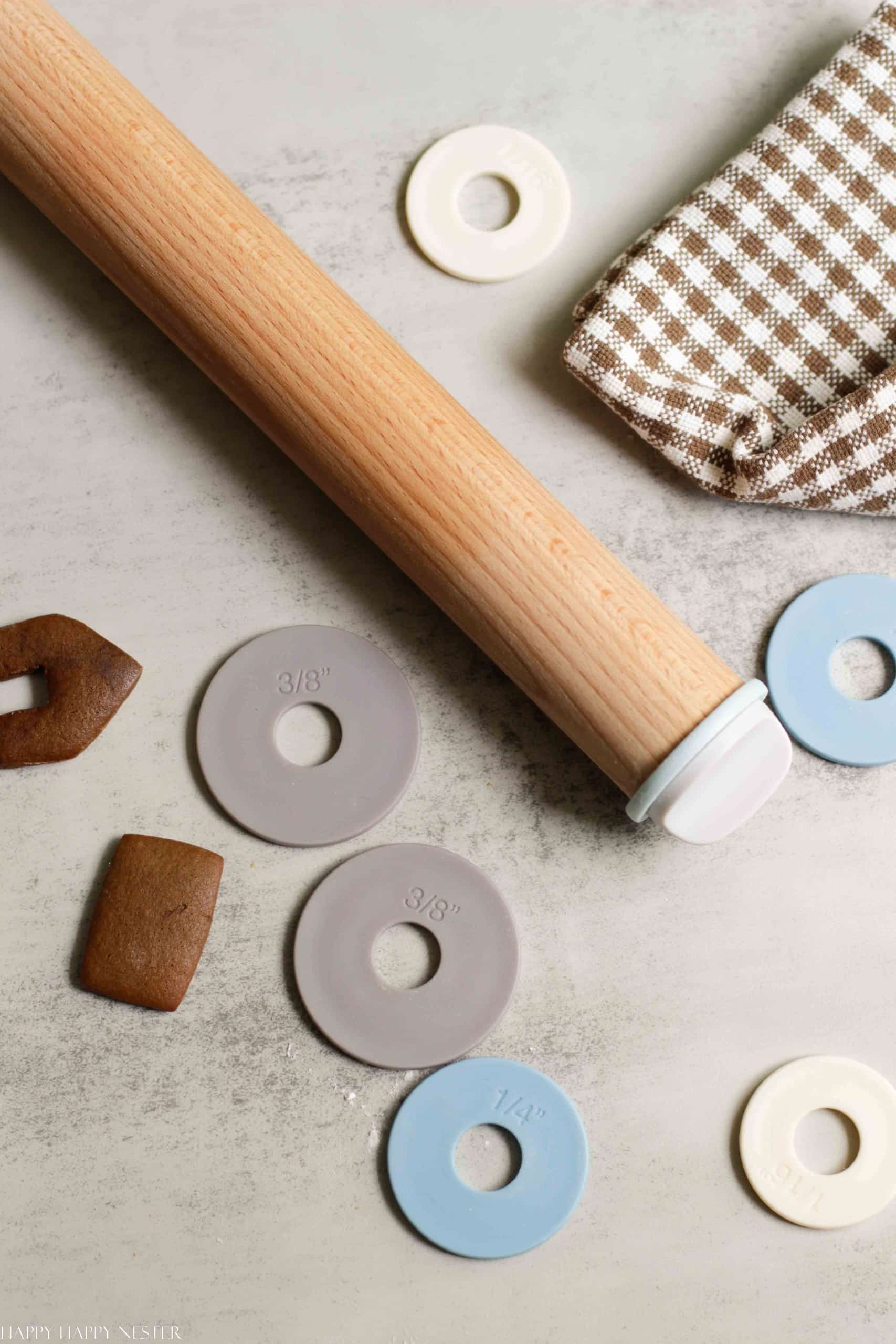 Step 2 – Roll Out Dough
Roll out chilled dough on floured parchment paper. I used my rolling pin with measuring rings so that the dough thickness was 1/6″ inch.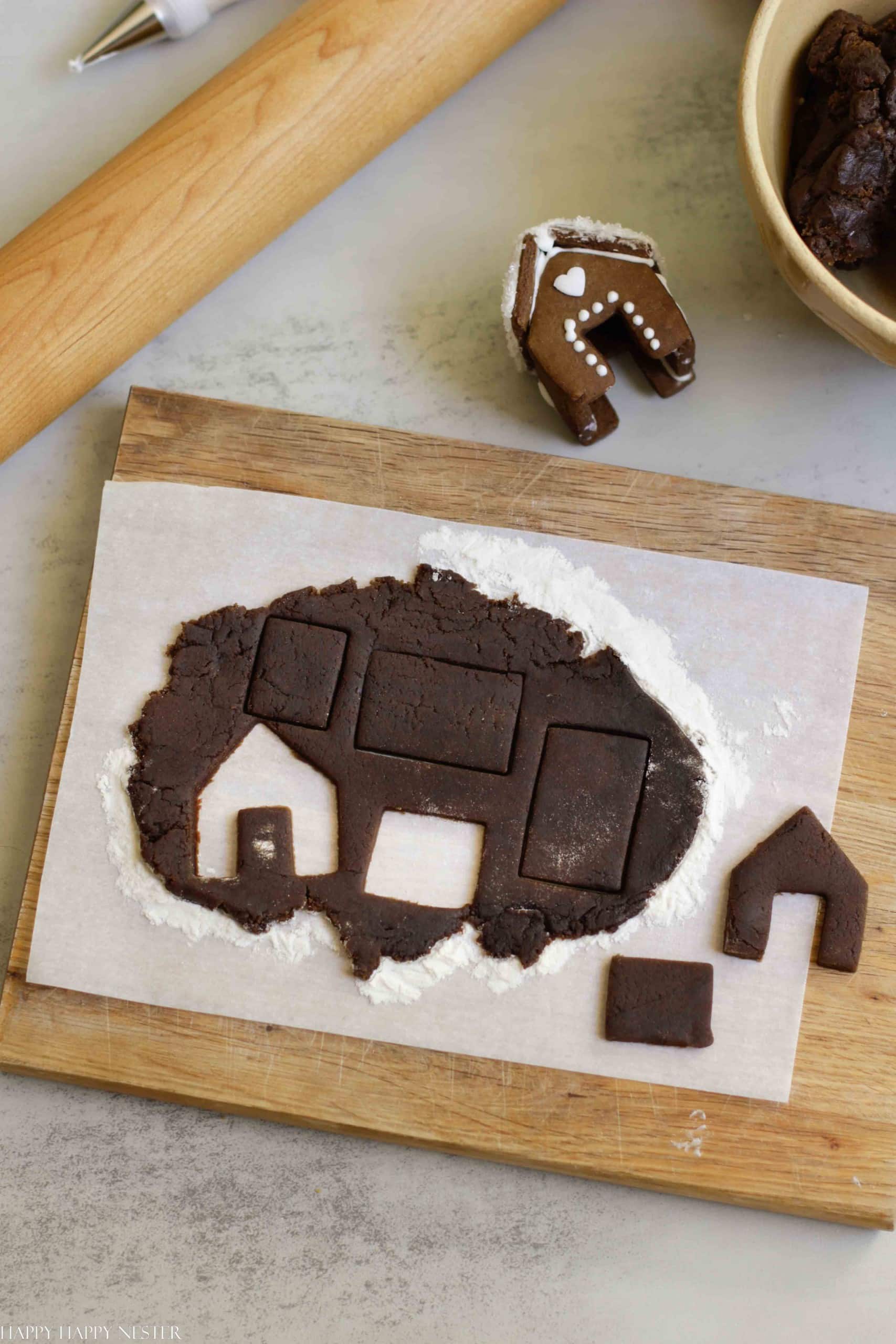 Step 3 – Cut Out Shapes
Cut out shapes with your house cookie cutter. You'll need to cut out two of the roofs, sides, and front and back walls. When lifting the gingerbread off the parchment, I used a thin floured knife and lifted it carefully so that the dough kept its shape.
Step 4 – Bake
Bake in a 375-degree oven for about six minutes.
Step 5 – Ice Cookies
Once cookies are cooled, ice the roof and front and back panels. I decorated my walls before building the mini-gingerbread houses.
I found when pipping, and the icing wanted to create a tip and lift and form a peak. So to make a dot, I placed my piping tip on the gingerbread and squeezed just a tiny amount of icing. This prevented a hill from forming when I lifted my piping tip.
I also used a candy heart on the front and back, so I didn't have to pipe a heart. I know my piping skills aren't consistent and pretty!
Allow gingerbread icing to harden before touching and building your house.
Step 6 – Build Your House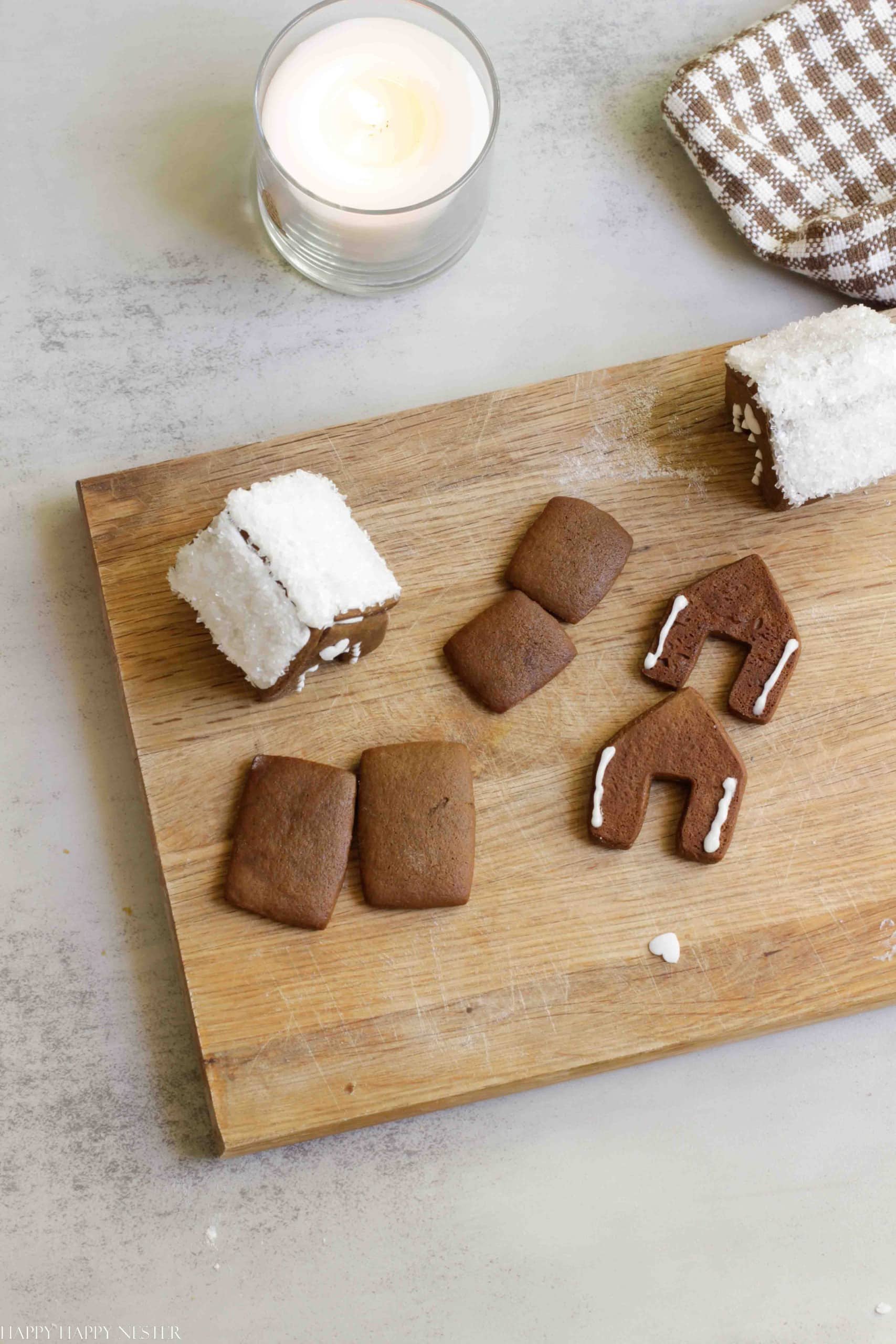 Work on one house at a time and place a line of icing along the inside edge of the front wall. Place each side panel against the front wall and match up the edges along the line of icing. Prop up the three walls on your kitchen counter.
Add icing to the inside of the back gingerbread wall. Attach it to the side panels by lining their edges with a line of icing. The sides are rectangular, and the long ends are the length of the house.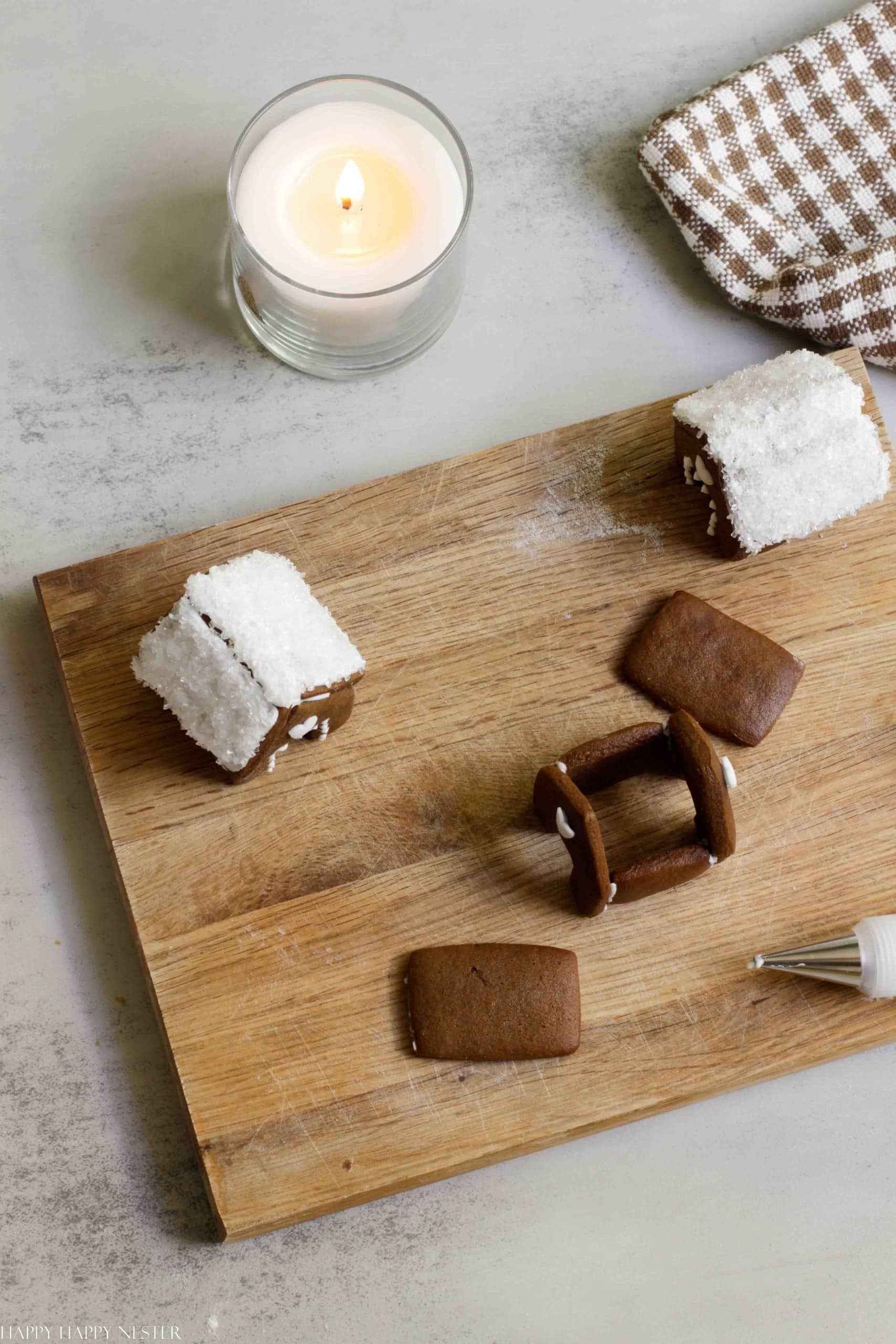 Straighten the house and keep it propped up on your counter.
Allow the house walls and icing to dry and set before attaching the roof.
Once your house foundation is stable, add a line of icing to the top of all the walls. Place each roof on each side of the house. Hold them into place until they are set and don't slide down.
Gingerbread House Recipe
This adorable Gingerbread House Mug Topper recipe is the best. Combine cinnamon, ginger, molasses, and flour to make these delicious holiday house cookies!
Ingredients
¼

cup

shortening

¼

cup

granulated sugar

¼

cup

molasses

¼

tbsp

vinegar

½

egg

whisk an egg and measure out ⅛ cup

1½

cups

sifted flour

sift the flour first and then measure

¼

tsp

baking soda

¼

tsp

ground cinnamon

¼

tsp

ground ginger

⅛

tsp

salt
Instructions
Combine shortening, sugar, molasses, and vinegar in a medium-sized pot.

Place on the stove and bring the sugar mixture to a boil. Remove from stove and let cool.

Add egg to the cooled ingredients.

Sift dry ingredients and add to the egg mixture.

Mix well. Chill for at least 30-40 minutes or more.

Roll out the dough on floured parchment paper. I rolled it ⅙" thickness.

Gently transfer the dough to a parchment-lined baking sheet.
Nutrition
Serving:
1
house
|
Calories:
39
kcal
|
Carbohydrates:
3
g
|
Protein:
0.1
g
|
Fat:
3
g
|
Saturated Fat:
1
g
|
Polyunsaturated Fat:
1
g
|
Monounsaturated Fat:
1
g
|
Trans Fat:
0.4
g
|
Cholesterol:
4
mg
|
Sodium:
33
mg
|
Potassium:
67
mg
|
Fiber:
0.02
g
|
Sugar:
3
g
|
Vitamin A:
6
IU
|
Vitamin C:
0.001
mg
|
Calcium:
10
mg
|
Iron:
0.2
mg
Royal Icing
This wonderful icing will make your gingerbread house come out perfect.
Servings:
12
gingerbread houses
Ingredients
1½-2½

oz

warm water

1 

tbsp

meringue powder

2

cups

powdered sugar
Instructions
Using your mixer bowl add warm water and meringue together.

Whisk by hand until frothy.

Place the mixing bowl on the mixer. Now add the powdered sugar all at once.

Attach the paddle to the mixer and mix the icing at the lowest speed for 10 minutes.

If your frosting is too thick add water by a tablespoon.

The piping frosting should be the consistency of slightly runny, so follow the 10-second rule below.

The frosting to construct the houses should be slightly thicker, like a soft and somewhat runny toothpaste consistency.

Place icing in bowls and add desired colors.

Cover extra icing with plastic wrap. I place the plastic straight onto the icing preventing air from drying it out.
Notes
Important 10-Second Icing Rule!
Drag the tip of a knife through the surface of the icing, letting the knife go approximately an inch deep, and slowly count to 10. If the surface of the icing smoothes over in approximately 10 seconds, then your icing is the correct consistency and is now ready to use.
Nutrition
Serving:
1
gingerbread house
|
Calories:
156
kcal
|
Carbohydrates:
40
g
|
Sodium:
1
mg
|
Potassium:
1
mg
|
Sugar:
39
g
|
Calcium:
1
mg
|
Iron:
0.02
mg
Make a Gift Basket
Place a few of your homemade gingerbread house mug toppers in some cellophane bags and add them to a pretty gift basket. Anyone would be happy to receive one of these cute treats and other holiday items like a Yankee Candle from the new Snow Globe Wonderland Fragrance Collection!
If a basket is too big of a project, place a few houses in a holiday mug and wrap the whole gift up in a cellophane bag with a pretty ribbon.
The possibilities are plenty, and this cute and unique gift is perfect for a hostess gift, the mailman, teachers, and more.
Who wouldn't want a yummy gingerbread cookie?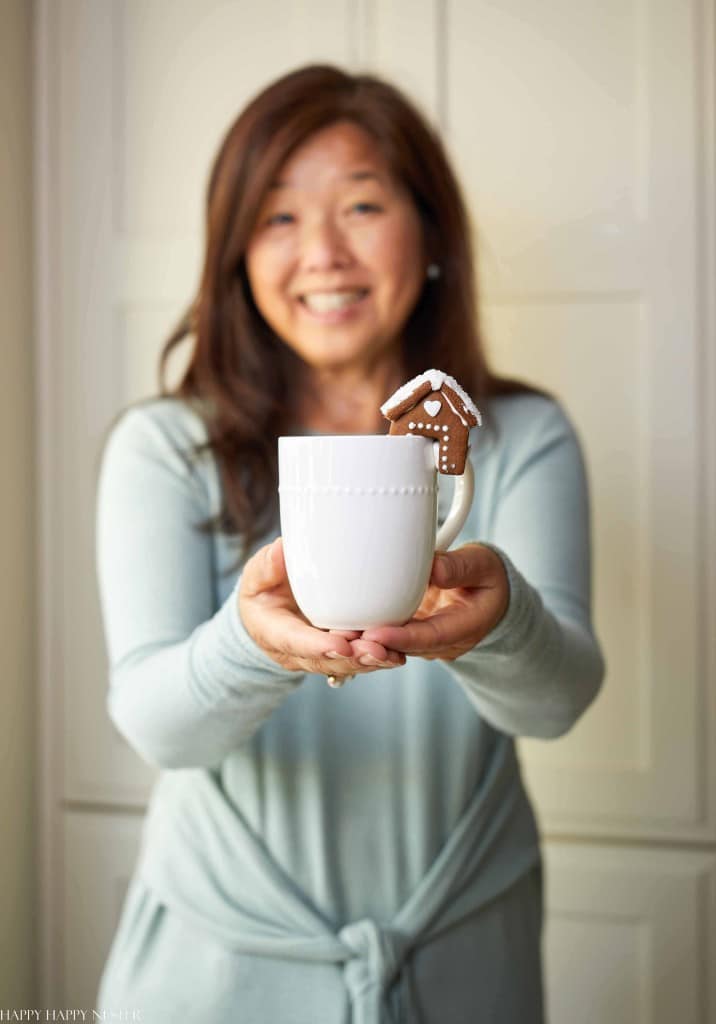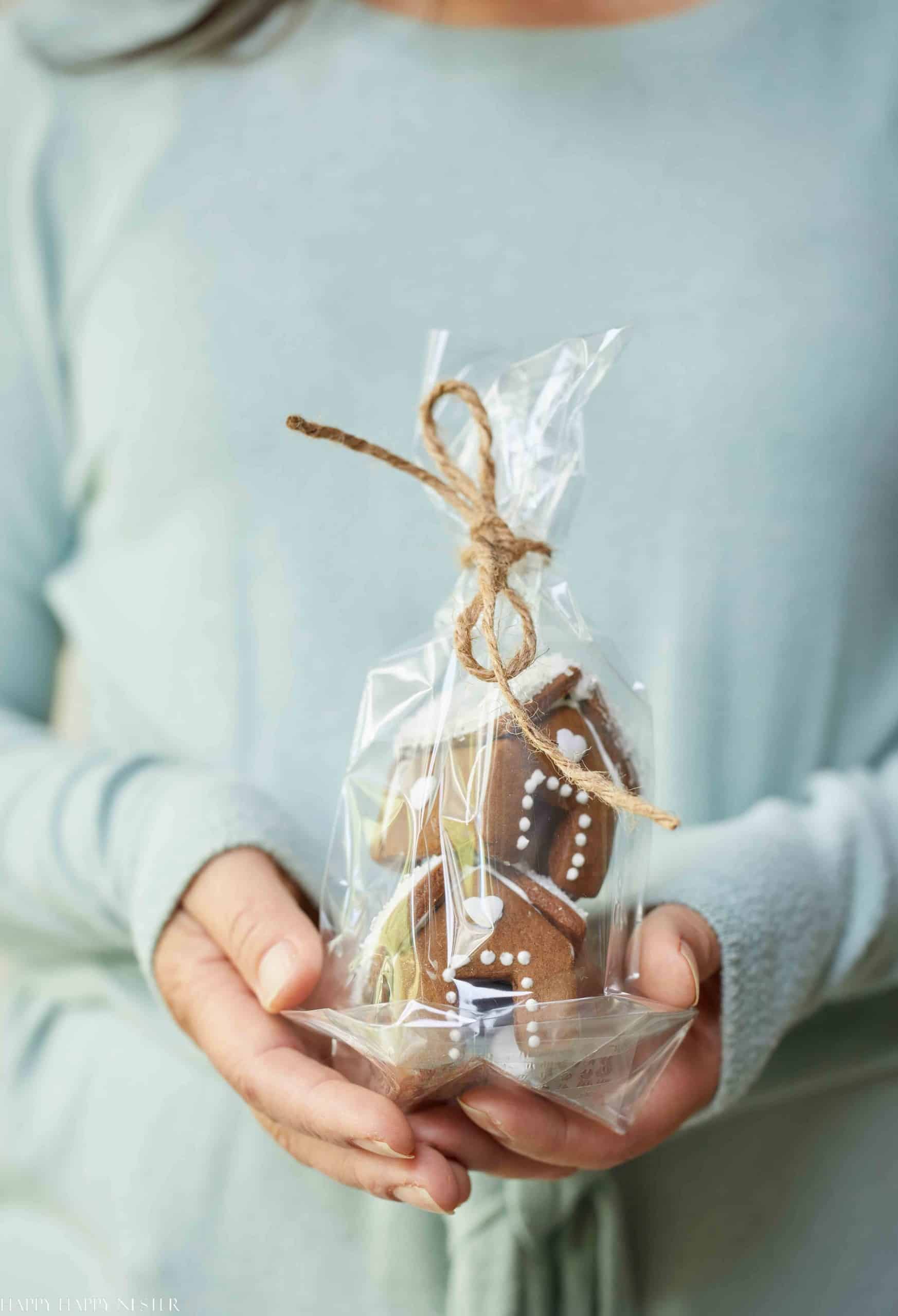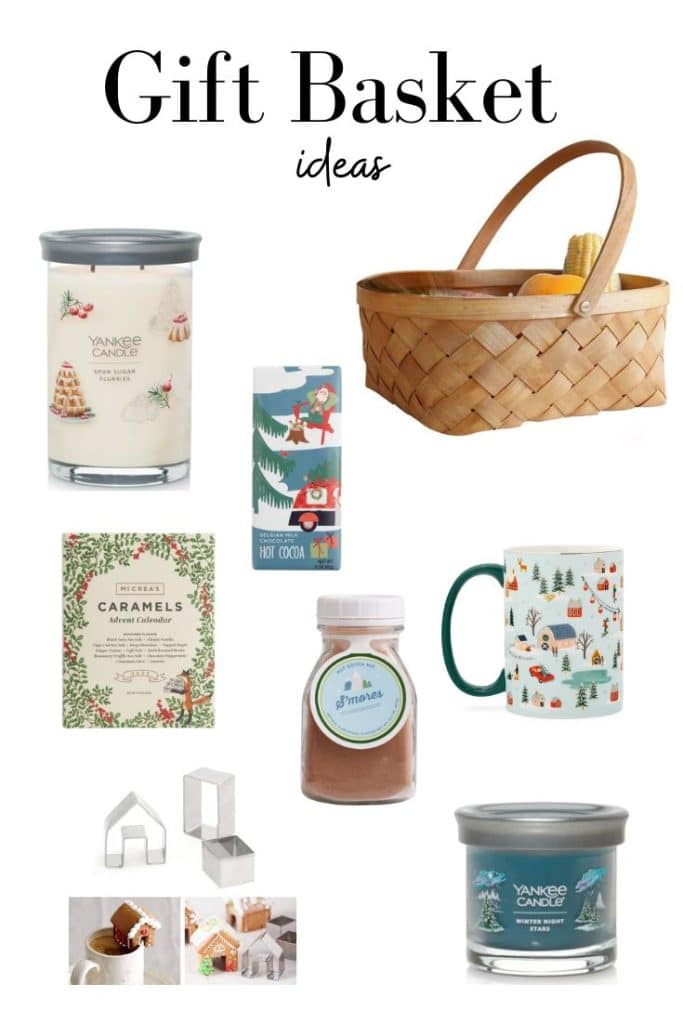 Spun Sugar Flurries Candle | Chocolate Candy Bar | Wooden Basket
Chocolate Caramels Advent Calendar | S'mores Hot Cocoa | Village Coffee Mug
Gingerbread Cookie Cutter | Winter Night Stars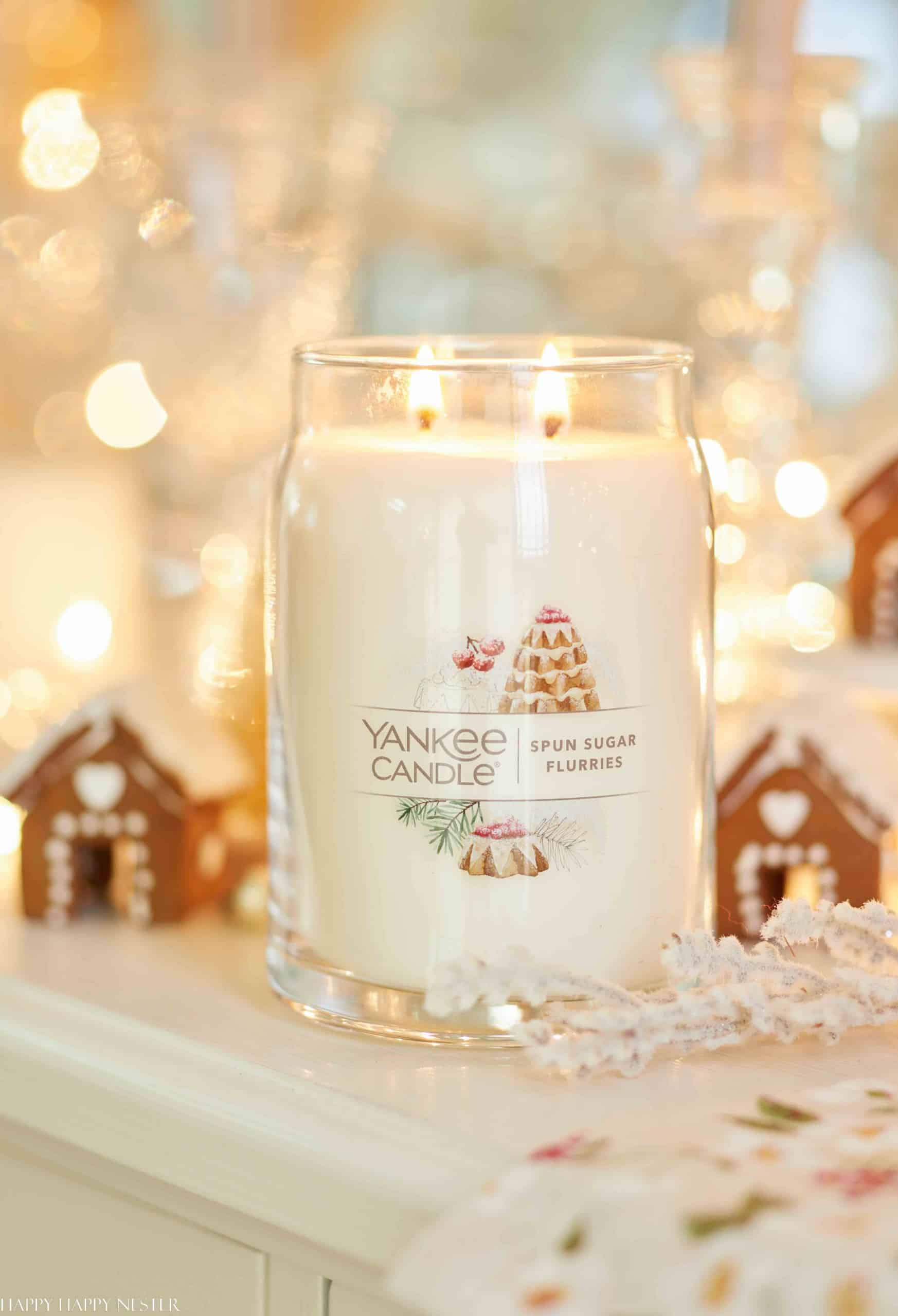 Well, I hope these Yankee candles and my gingerbread house mug topper recipe inspire your holiday spirit!
Here are some more projects that you might enjoy for Christmas.
Thanks so much for visiting this blog post and project!
Cheers,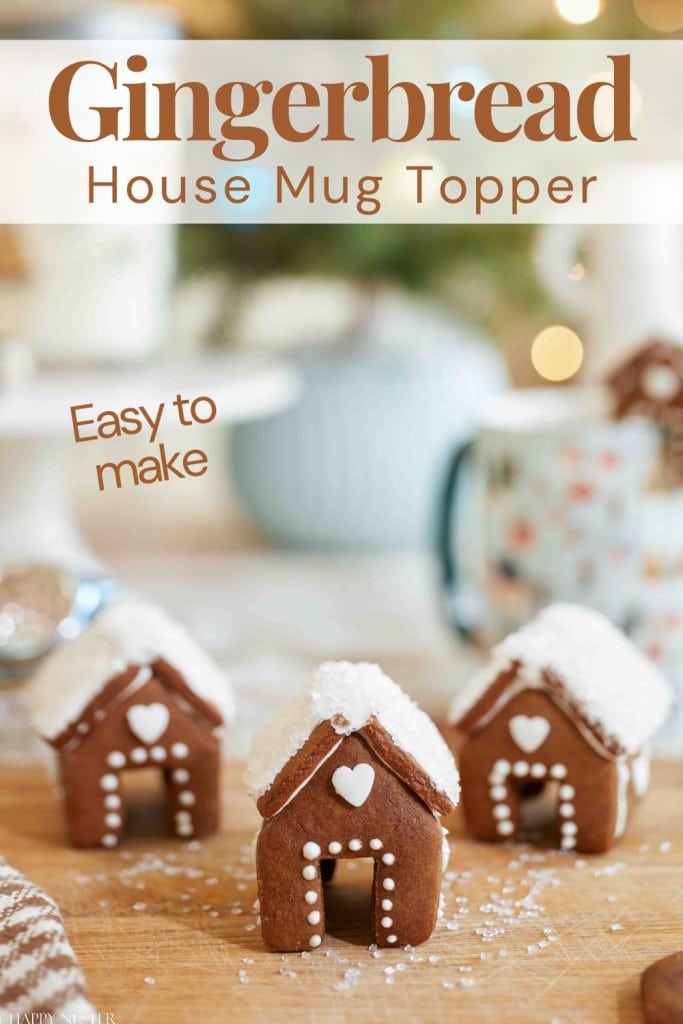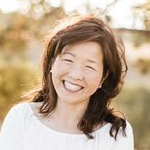 Latest posts by Janine Waite
(see all)