Get ready for the holidays with creative cool gingerbread house ideas, including charming ornaments and mugs adorned with gingerbread designs. Add a festive touch to your decor with these delightful gingerbread-themed accessories. Enjoy crafting tiny, edible gingerbread houses that are as fun to make as they are to eat.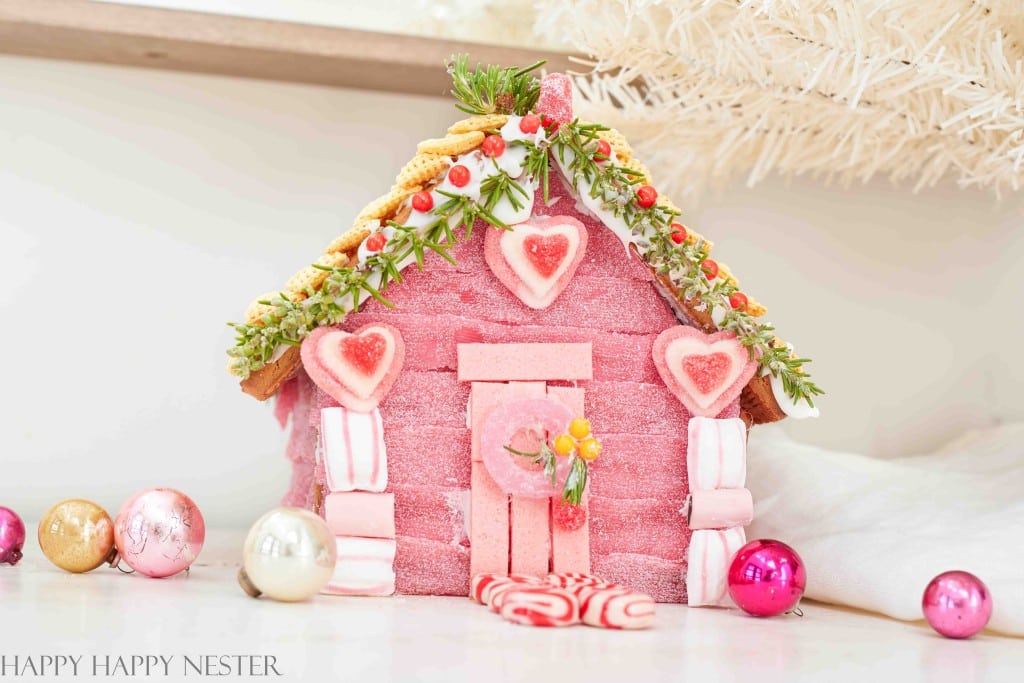 I'm sharing my unique take on a gingerbread tree, adorned with pink candy, a roof made of Chex cereal, and fresh rosemary for a whimsical touch.
Lately, it's been a whirlwind of projects for me. Thankfully, my recent crafting session with Leslie from My 100 Year Old Home was a lifesaver. We both managed to get a head start on our holiday projects during this little retreat.
I'm thrilled about the series of blog posts I'm preparing to launch over the next few weeks.
But today, let's talk about some fantastic gingerbread house concepts, ranging from classic designs to more unconventional and creative styles.
I'm excited to share this DIY project with you, which is part of a blog hop that my talented friends and I have collaborated on. You're in for a treat because their beautiful creations are truly impressive!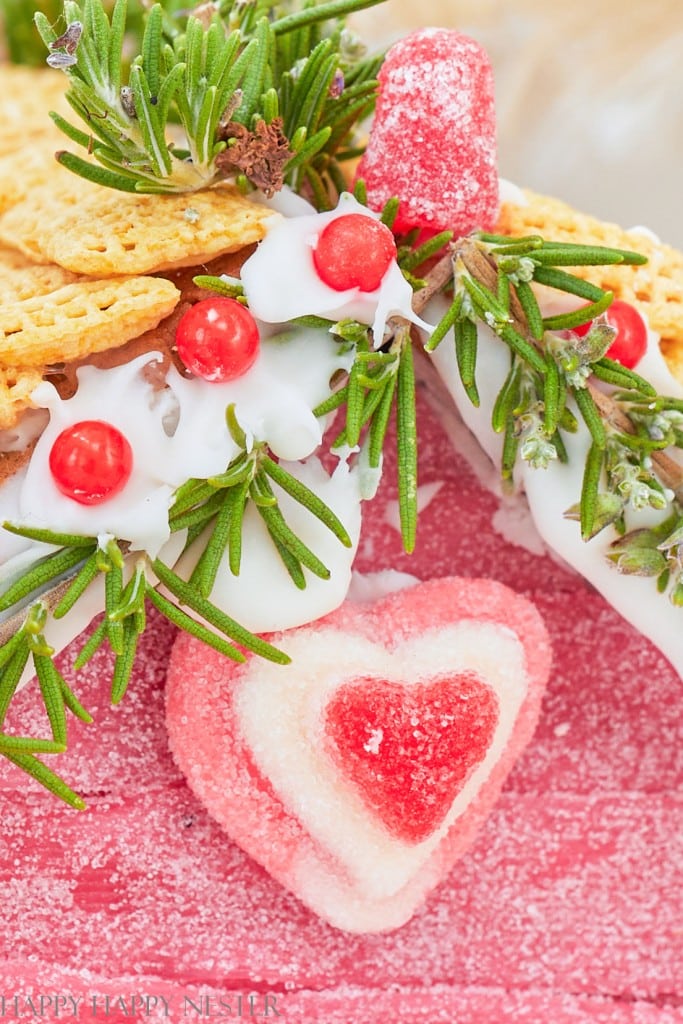 HERE'S MY GINGERBREAD HOUSE
Supplies You'll Need
Instructions to Create A Pink Gingerbread House
Step 1 – Construct Your House
This is always the tricky part of making gingerbread houses. Take your time on each step and allow the icing to dry and harden before moving to the next step. If you aren't going to eat it and aren't a purest, you can use hot glue to put the house together.
Step 2 – Add Roof
I focused on crafting the roof, first spreading it with icing before carefully arranging the Chex mix to resemble shingles. Starting from the bottom, I worked my way up, layering each new row slightly over the one beneath it just like a real roof.
Step 3 – Attach the Shingles
I used a candy that had a layer of sugar on it, so it had a difficult time attaching to the gingerbread house. If you want the pink look, I would use pink gum.
Step 4 – Add Rosemary and Icing
I did a layer of icing along the roof's edges and then placed fresh rosemary inside the edge.
And that's it. I didn't get too fancy with my house this year. But, I love how it turned out.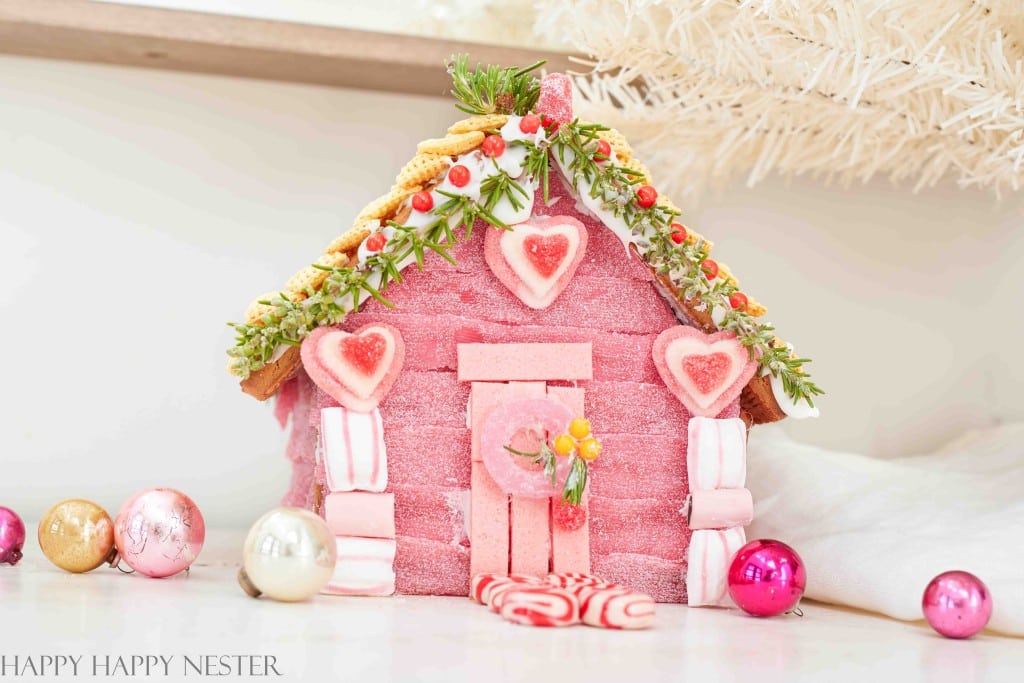 Over the past few years, I created quite a few gingerbread houses. Here are a few of them and I'm also including my friends as well.
This year, gingerbread houses have become a major trend. It seems like Pottery Barn really set the tone for the season with their extensive range of gingerbread-themed items!
Let's take a look at these fun holiday projects!
COOL GINGERBREAD HOUSE IDEAS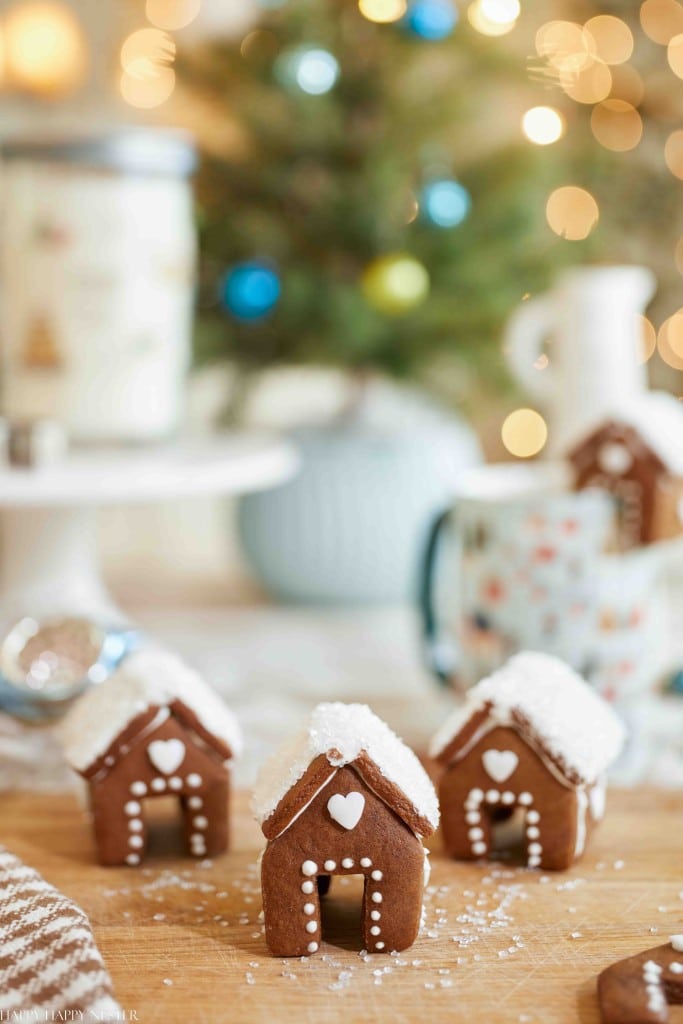 GINGERBREAD HOUSE MUG TOPPER RECIPE
This adorable Gingerbread House Mug Topper recipe is the best. Make these delicious gingerbread houses for your family or as gifts to give to friends. Package them with fun holiday treats and candles for perfect Christmas gifts!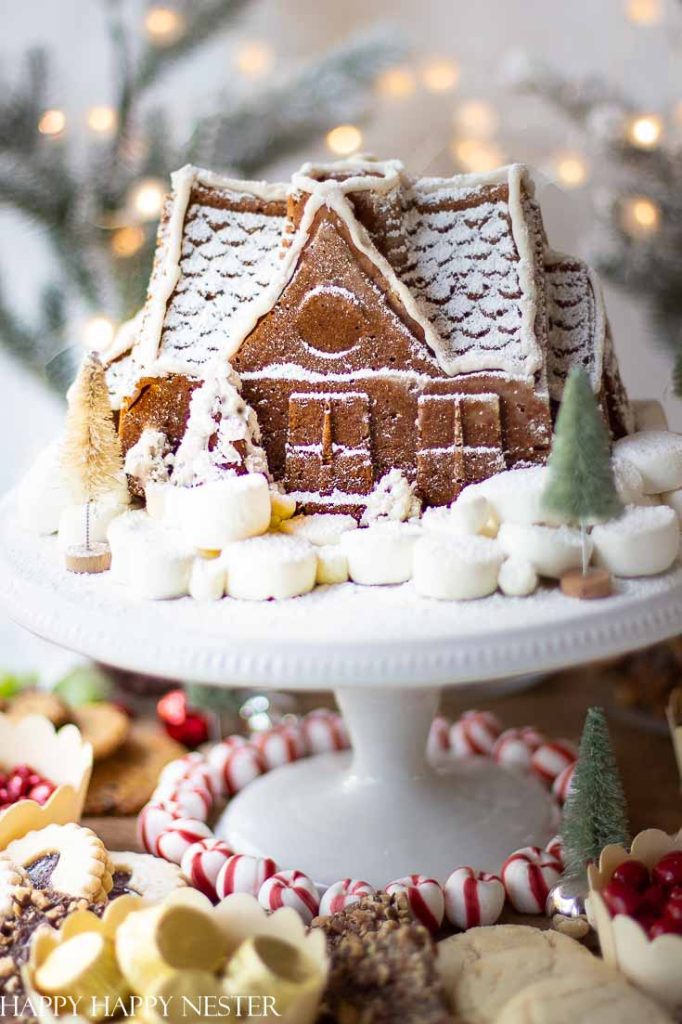 CHRISTMAS DESSERT CHARCUTERIE BOARD IDEAS
Christmas Dessert Charcuterie Board Ideas Are Popular This Time Of Year. So I Decided To Join The Crowd And Create A Board Of My Yummy Cookies.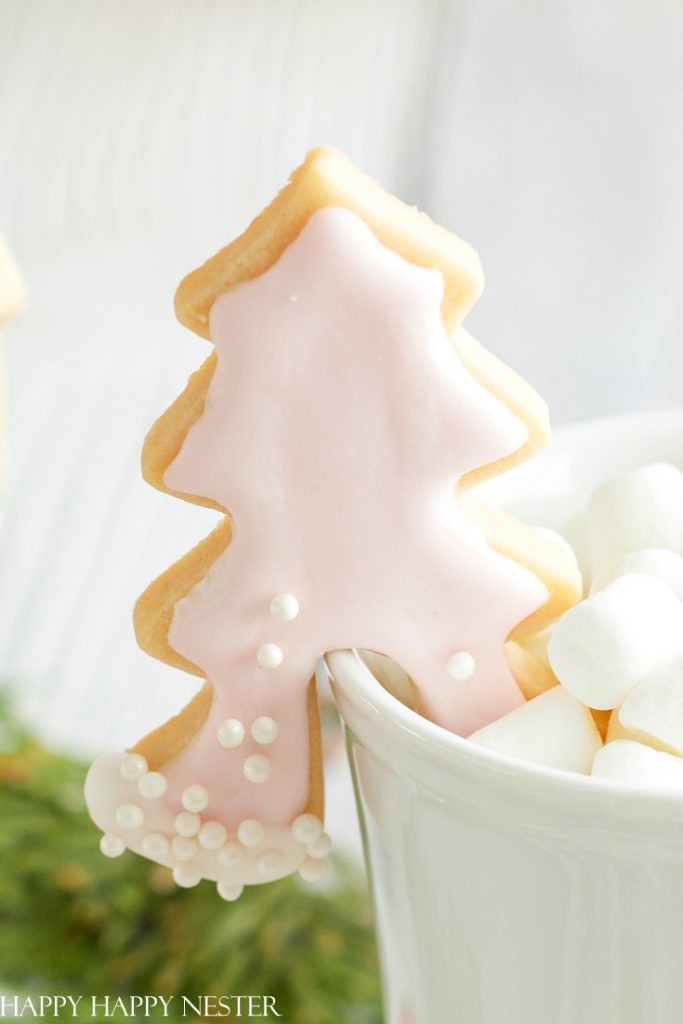 HANGING MUG TOPPER COOKIES AND CUTTER
These adorable Hanging Mug Topper Cookies are the easiest to make. Unlike the complicated mini gingerbread houses mug huggers, these cutout sugar cookies don't require building a house. Also, the cookie cutters sit perfectly on the coffee mug's rim since the cutter's physics are excellent.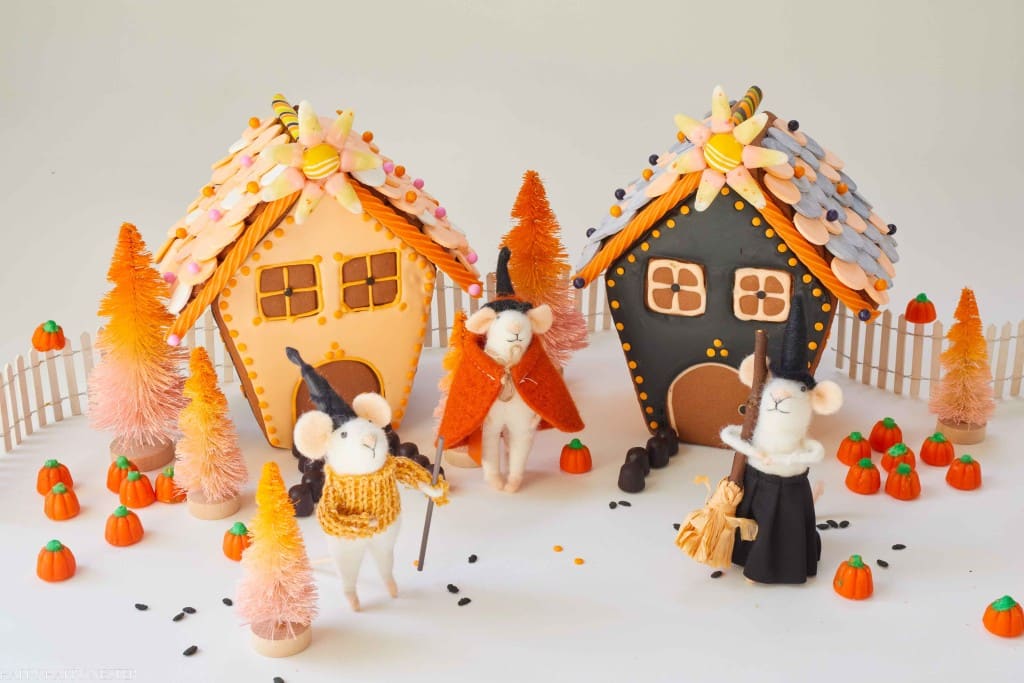 HALLOWEEN GINGERBREAD HOUSE TUTORIAL
Halloween wouldn't be complete without a Halloween Gingerbread House! Make these adorable houses using any gingerbread kit. For mine, I used Trader Joe's gingerbread houses since I love their shape.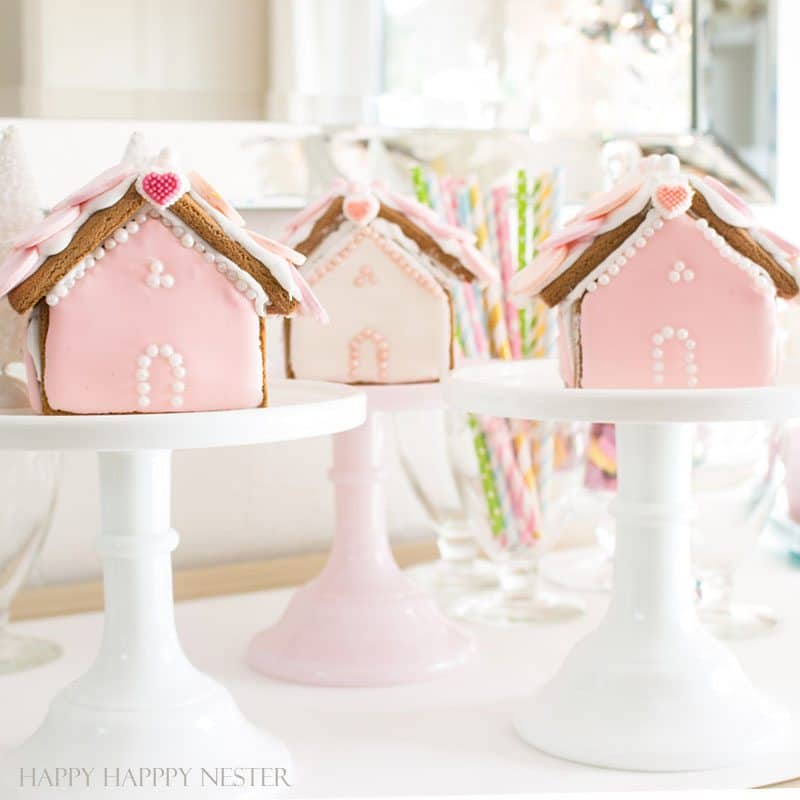 GINGERBREAD HOUSE IDEAS: A VALENTINE'S DAY CRAFT
These charming little pink gingerbread houses bring a smile to my face. They're perfect for adding a touch of whimsy to a Valentine's Day table setting. Consider crafting them this February to create a delightful and romantic ambiance for your family and friends.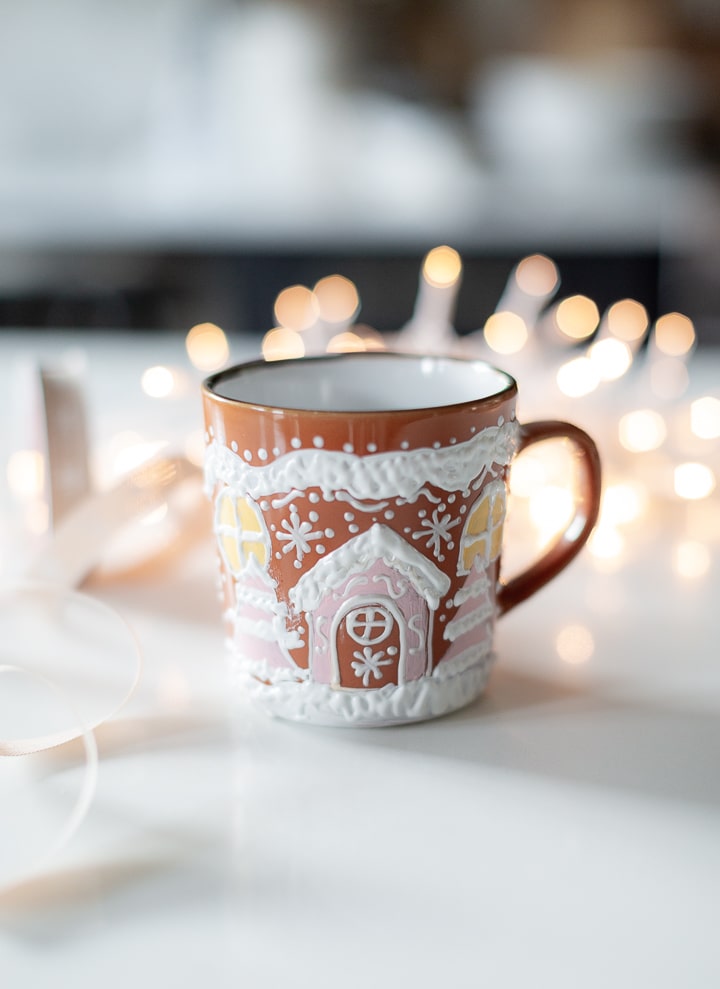 Viral Gingerbread House Mug | Craftberry Bush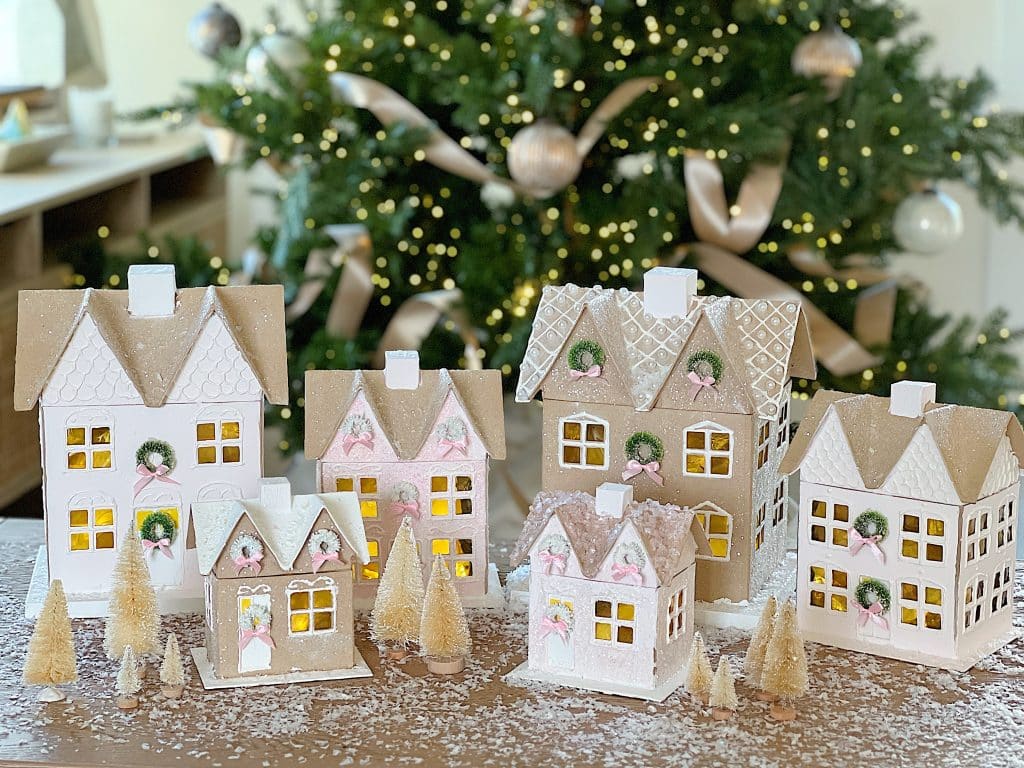 The Best DIY Christmas Gingerbread Houses | My 100 Year Old Home
I had so much fun creating the best Christmas gingerbread houses and I love how they turned out. They were so easy and will last forever!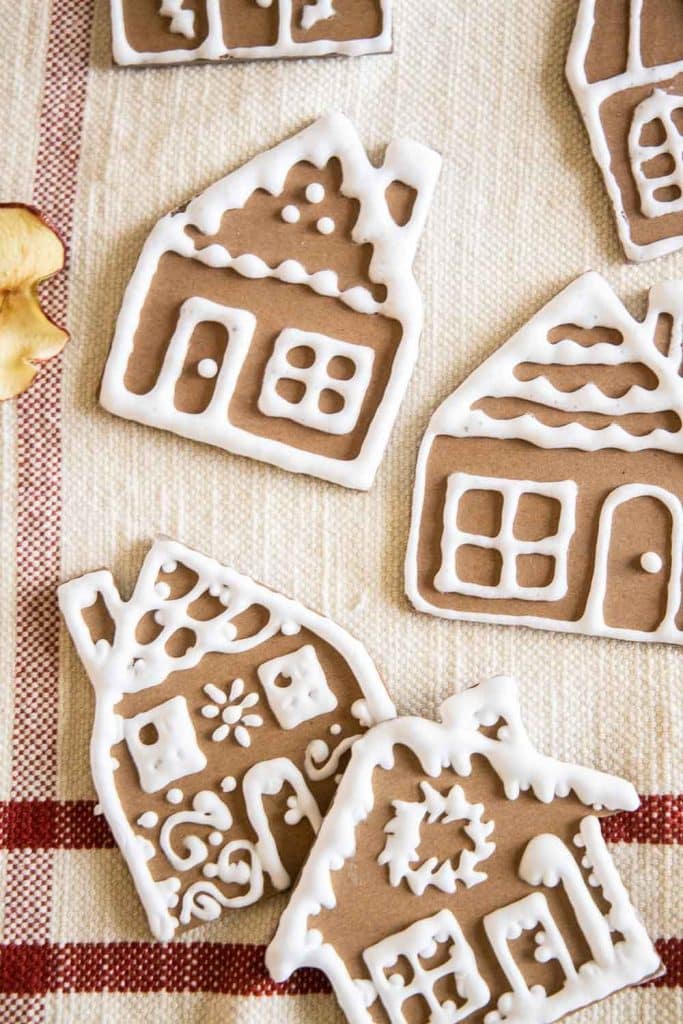 DIY Gingerbread House Ornaments with Homemade Puff Paint | Twelve on Main
Make these easy reusable gingerbread house ornaments! I used my Cricut Maker to cut out the shapes and a homemade puff paint to decorate them!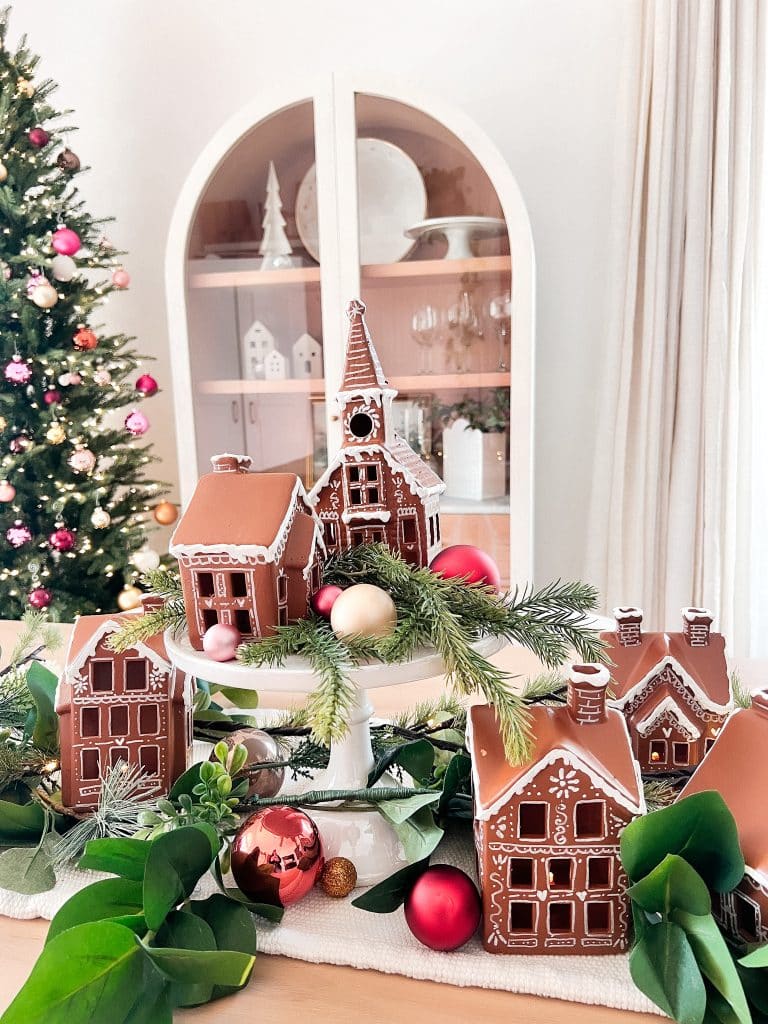 Turn a Ceramic Village into a Gingerbread Village | Tatertots And Jello
Revamp a plain ceramic Christmas village into a festive delight using spray paint, a white paint pen, and puffy paint. A base of spray paint provides a clean slate, while the white paint pen adds intricate details inspired by Pottery Barn's gingerbread houses. Puffy paint adds the final touch, creating a personalized and whimsical holiday village.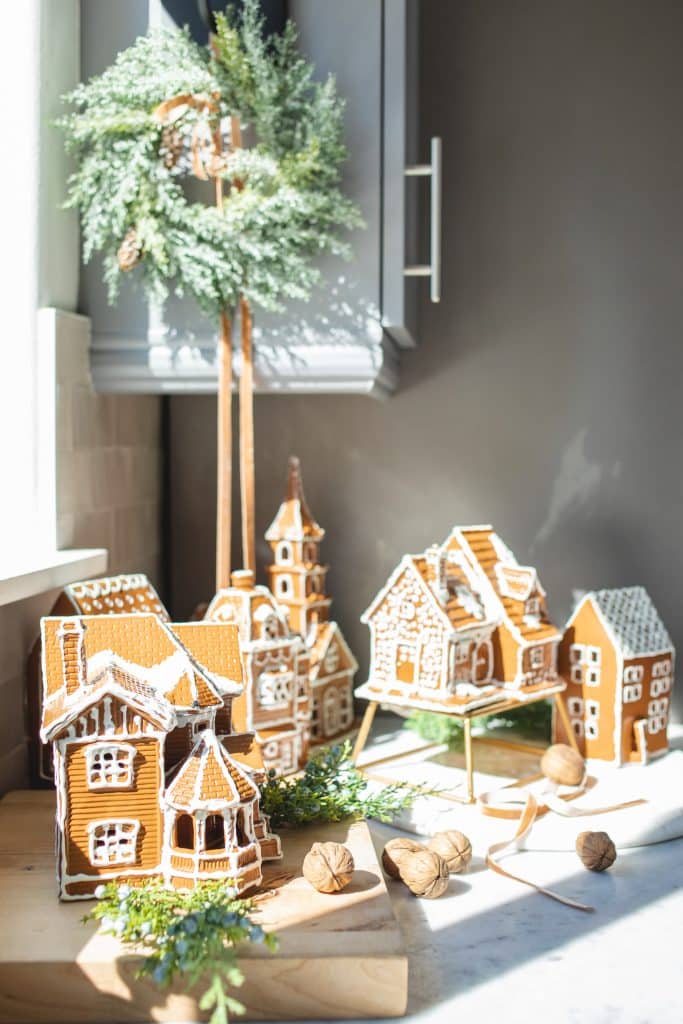 DIY Gingerbread Village | My Sweet Savannah
Thrifted and oh so easy Pottery Barn gingerbread village look alikes!
---
Thank you for checking out my cool gingerbread house ideas. I hope they inspire you to create a festive and enjoyable holiday craft project.
May your holiday season be filled with joy and creativity, and I hope these ideas help make it even more special!
Cheers,

Photo Credits: MyPhotography.com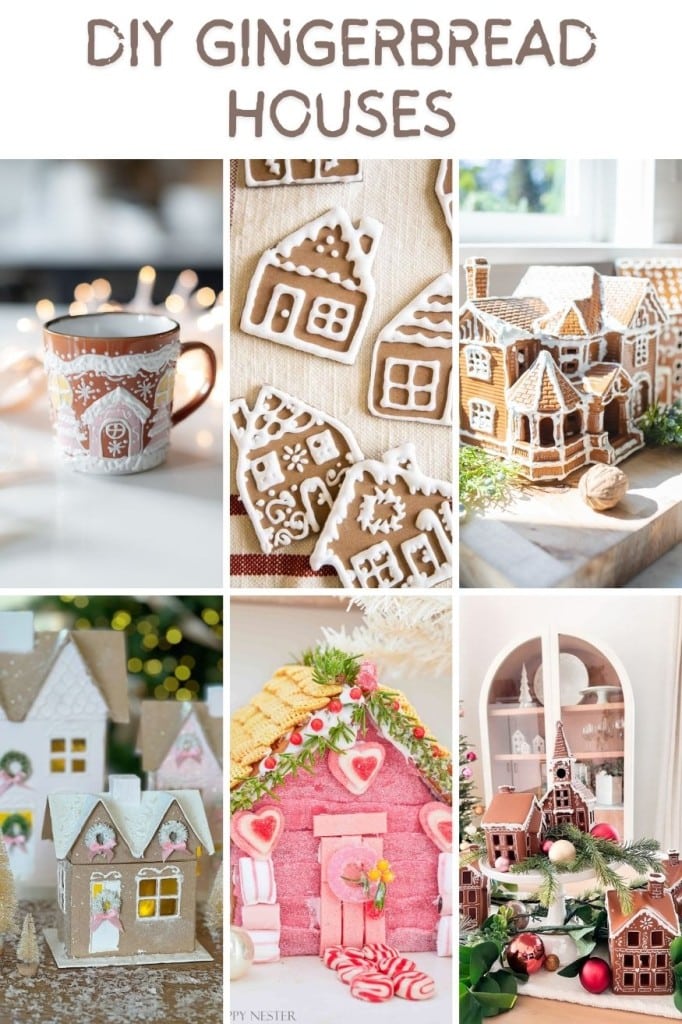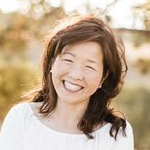 Latest posts by Janine Waite
(see all)