Get ready for a wickedly creative Halloween Dessert Table Ideas that will make your holiday party a smash hit!
Are you excited about the upcoming Halloween season? If you're hosting a party, it's the perfect opportunity to get creative and decorate your dessert table with spooky and fun treats.
From creepy cupcakes to ghostly cookies, there are endless possibilities to make your guests feel the Halloween spirit.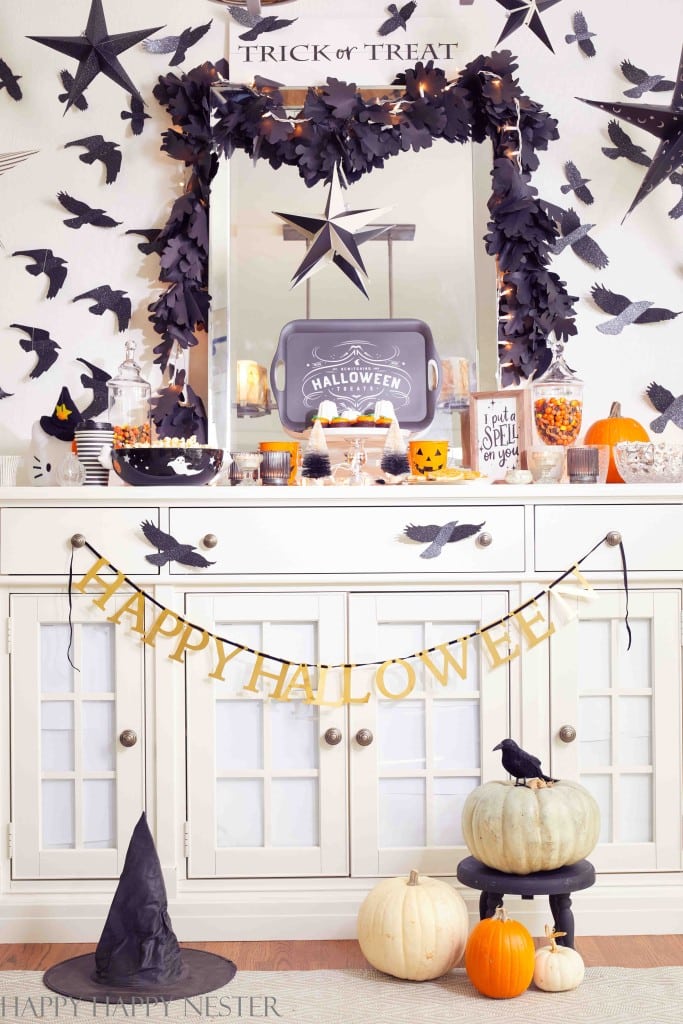 Let's check out some of the most enchanting dessert table ideas to impress your guests and make your party unforgettable. These enchanting Halloween dessert table ideas will impress your guests.
Halloween is a fun time to get creative with your decorating. I'm not one for the spooky decor but rather the cute and fun type of decorations.
I've mostly decorated our porch but I do have a few other dessert table posts.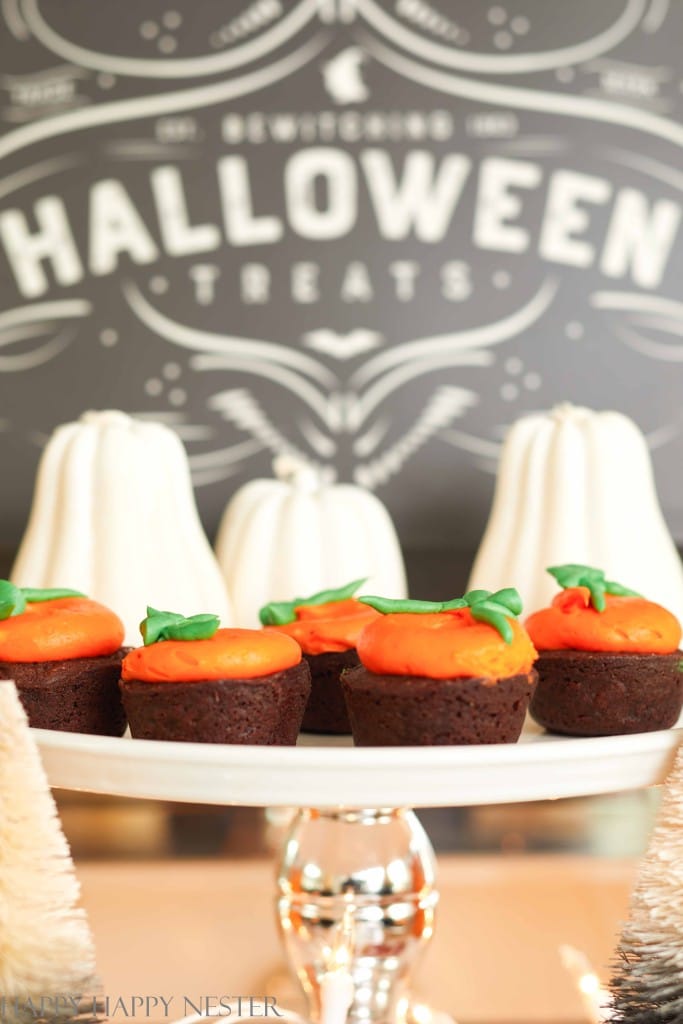 THINGS TO CONSIDER WHEN CREATING A HALLOWEEN TREATS TABLE
Choose a Theme: Start by selecting a fun and festive Halloween theme for your table. Whether it's classic spooky, haunted house, or a favorite movie theme, this sets the tone for your decor.
Table: The table itself is the canvas for your dessert display. Choose a table that complements your theme and provides ample space to arrange your treats. You can use a traditional table or even a rustic wooden table, depending on the theme.
Color Scheme: Select a color scheme that aligns with your chosen theme. The color palette will influence everything from table linens and serveware to dessert decorations and labels.
Decor and Focal Point: Decorate the table with thematic decor elements such as Halloween platters, bowls, wall decor like garlands, crows, and Halloween signs. Create a captivating focal point, like a stunning cake or a beautiful arrangement, to draw guests' attention and add visual interest to the table.
Themed Treats: Prepare or buy Halloween-themed treats like pumpkin-shaped cookies, mummy-wrapped brownies, or ghost-shaped marshmallow pops. The treats should align with your chosen theme.
Creative Labels and Signs: Create labels or signs for your dishes, featuring whimsical or spooky names that add a touch of fun and creativity to your buffet table.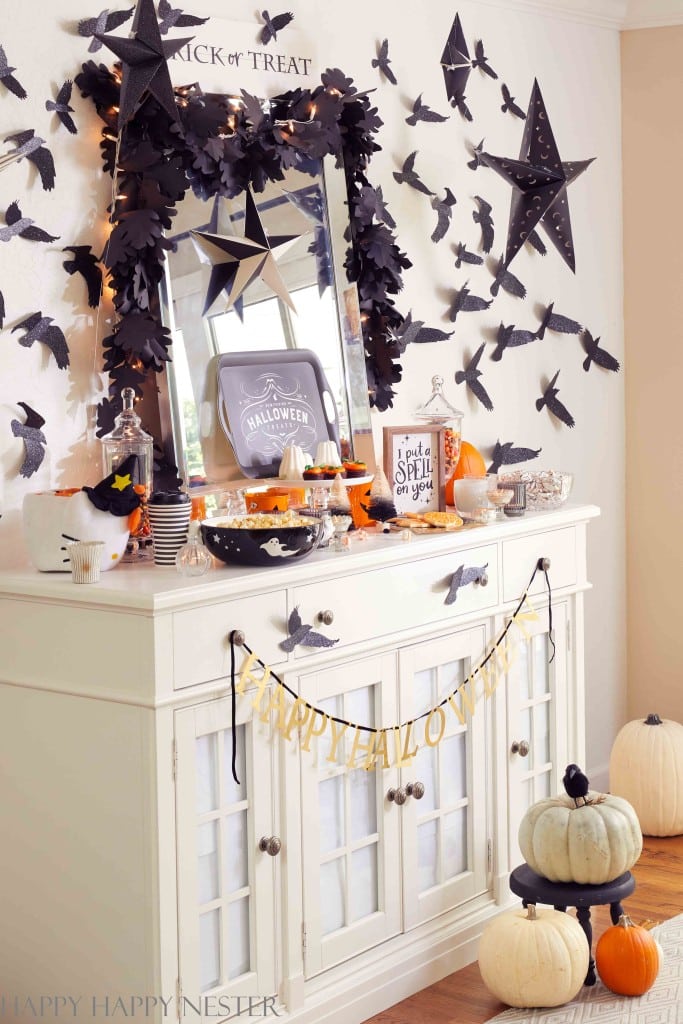 HOW TO CREATE HALLOWEEN DESSERT TABLE
I was thrilled to receive some Halloween table decor from My Mind's Eye. Their cute creations always impress me, and it was their festive Halloween plates, platters, and entertaining decor that served as my inspiration for setting up this fun Halloween table.
So here is a list of a few decor items you might want for your table.
SUPPLIES:
Homemade Black Paper Leaf Garland: Craft a homemade black paper leaf garland to add a touch of eerie elegance to your dessert table.
Apothecary Jars: Utilize apothecary jars to display a variety of candies and other small treats, lending an air of mystery and enchantment.
Halloween Signs: Incorporate Halloween signs to guide and entertain your guests, setting the scene and providing a fun, thematic touch.
Real Pumpkins: Decorate with real pumpkins, painted or left au naturel, to infuse a rustic and authentic Halloween vibe into your setup.
Halloween Trays: Choose Halloween-themed trays to serve and showcase your delectable desserts, adding a playful element to your table.
Halloween Bottle Brush Trees: These miniature trees can serve as charming and spooky decor, evoking a haunted forest atmosphere.
Paper Halloween Colored Stars: Hang paper Halloween-colored stars to create a celestial backdrop and a whimsical, otherworldly feel.
Paper Black Crows for Wall Decor: Scatter paper black crows as wall decor to give your setup a dose of mystery and a touch of spookiness.
Twinkle Lights: String twinkle lights to create a magical and ambient atmosphere, with the option to dim the lights for added effect.
Candles and Glass Votives in Amber and Black: Use candles and glass votives in amber and black to provide a warm, flickering glow that adds an enchanting and slightly eerie ambiance to your dessert table
Napkins: Don't forget stylish napkins that complement your table setting, ensuring your guests dine in spooktacular style.
Happy Halloween Garland: A Happy Halloween metal garland adds a touch of festive elegance and a cheerful greeting to dessert table decor.
HOW TO BUILD YOUR HALLOWEEN TABLE
Step 1 – Drape a Garland and Add Twinkle Lights
I always pull out this pretty black leaf paper garland during Halloween. Here is the tutorial to make one. But, if you need to buy one, here is a black leaf garland that is an excellent substitute. Also, add some twinkle lights to the garland if you like.
Step 2 – Hang Crows on Wall
I'm intimidated by the people who decorate their walls at Halloween with bats. Well, My Mind's Eye sent me a package of these glittery paper crows, and I decided to try displaying them on my dining room wall. I used painter's tape and rolled it on itself so I had double-sided tape. I then attached it to the back of my crow. I place the crows randomly in the same direction so it appears that they are all flying together. It's good to have a few headed in another direction to make it look natural.
Step 3 – Hang Stars from Ceiling
My Mind;s Eye sent me these beautiful black and white hanging stars.
They are relatively easy to assemble. You'll want to pull the string until the star's points close up where the string is located. I found that I needed to help the points of the stars open since they wanted to stay collapsed.
Also, most of the points have little holes you must punch out and then thread your hanging string at these holes.
I also add Command strips of temporary velcro to my ceiling and then attach velcro to the end of a fishing line attached to my star. It's super easy to install the stars, and if you want a more detailed DIY, here is the Harry Potter Floating Candles DIY post.
Step 4 – Add Candles
Add candles, candlesticks, and a few amber and black glass votives to your table. I love these sets of votives I bought through this shopping link.
Step 5 – Add Plates and Napkins
This is the time you can add some fun napkins and plates. I love these from My Mind's Eye.
Step 6 – Add Treats
Fill apothecary jars with treats and add cookies and brownies to a cakestand. I like to use glass jars since they are charming and old-fashioned!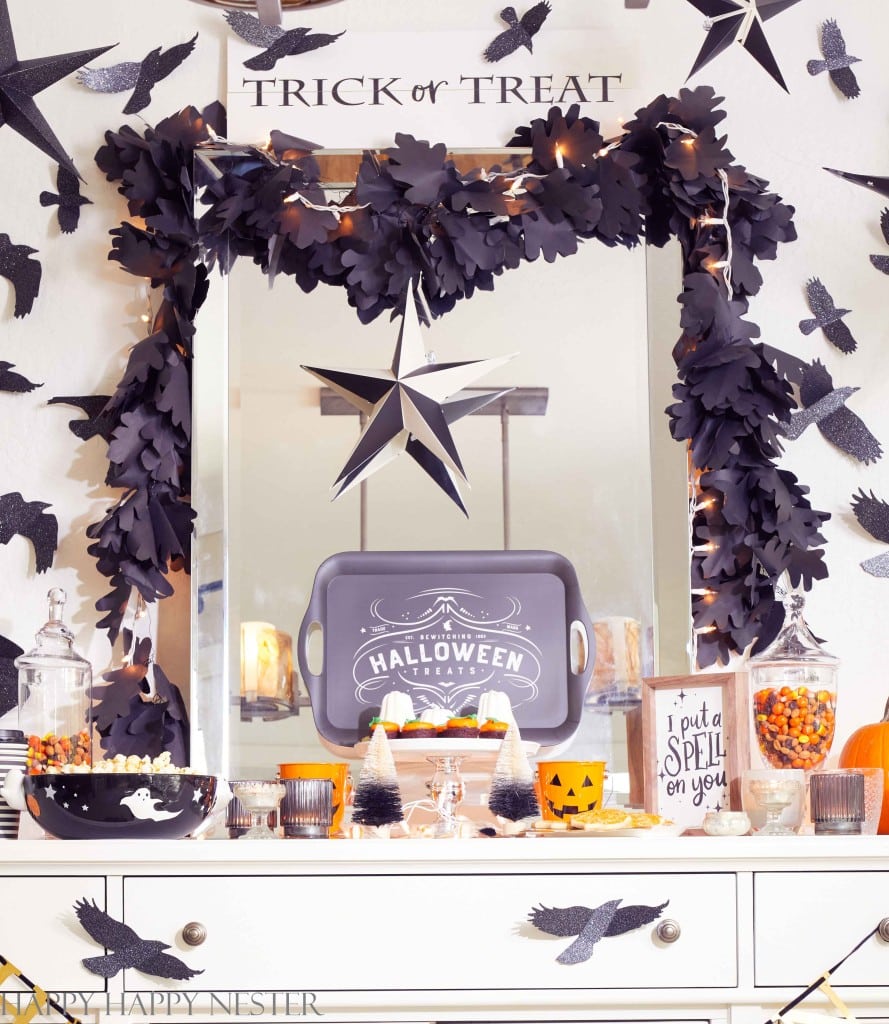 I appreciate you stopping by to take a peek at my Halloween dessert table ideas post.
And if you're hosting a kid's Halloween party, add some fun balloons to the dessert table!
I am wishing you all a spooktacularly Happy Halloween!
Cheers,

Photo Credits: MyPhotography.com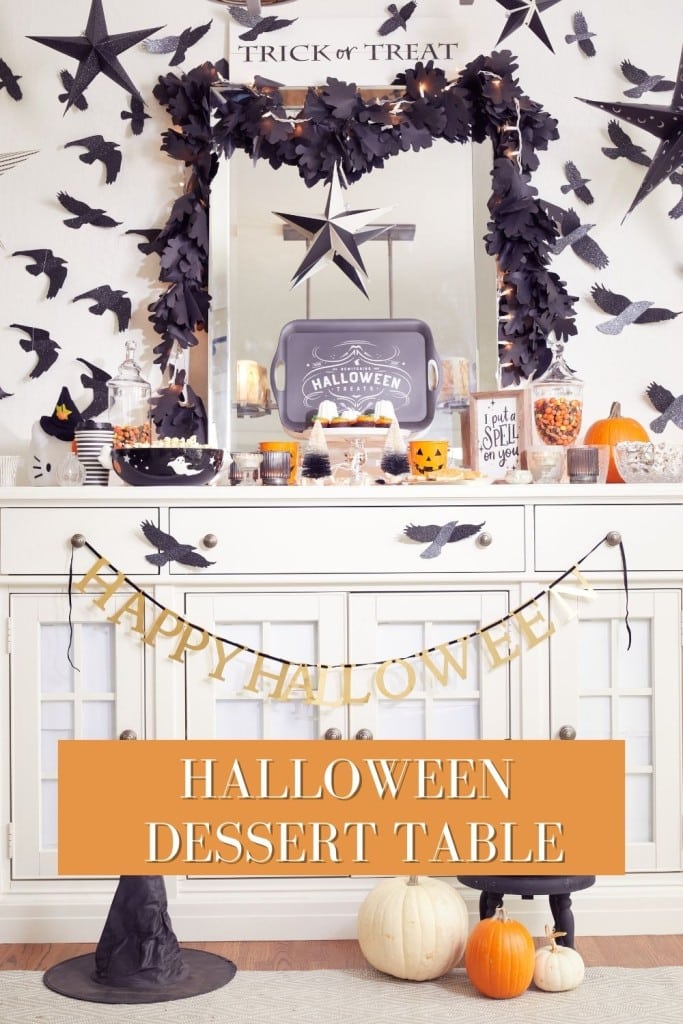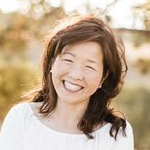 Latest posts by Janine Waite
(see all)