When it comes to Decorating a Table for Halloween, it's all about unleashing your creativity. Start by picking a cool theme and some colors to set the vibe. Then, have fun with Halloween signs, candleholders, and excellent tableware to make your table festive.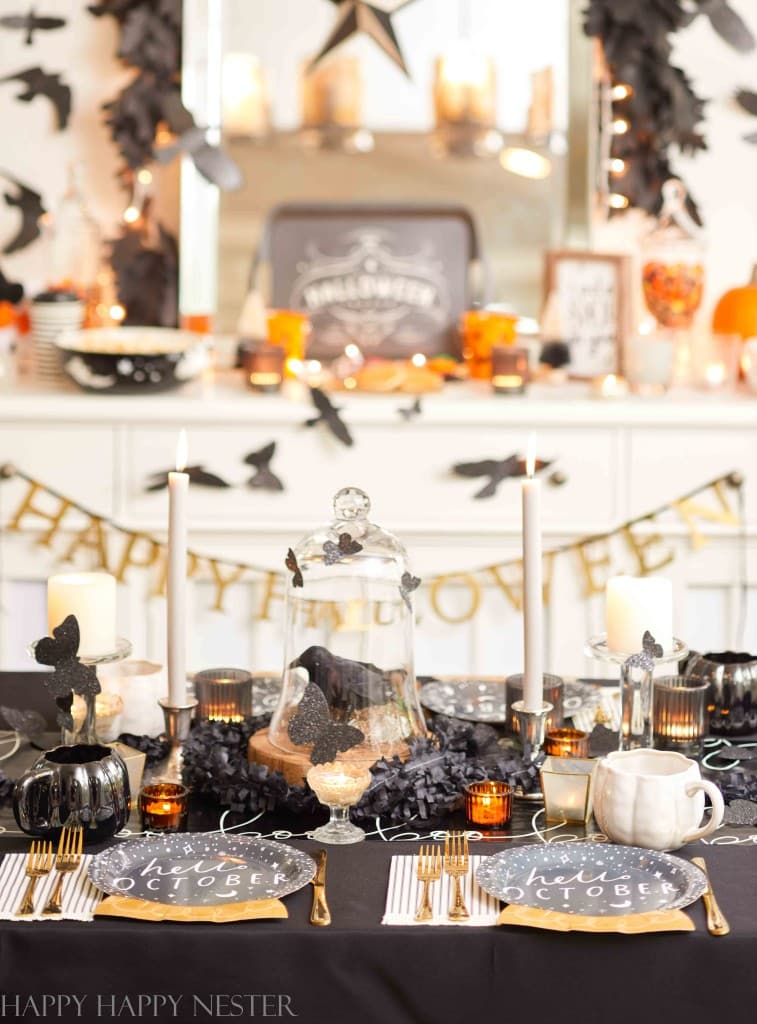 When it comes to decorating a table for Halloween, the possibilities are endless! Think about the vibe you want to create, whether playful, eerie, or something in between.
Halloween marks the start of the holiday season for decorating your home. As soon as Halloween approaches, it marks the beginning of the festive season for decorating your home. Our humble home transforms into a warm and welcoming space, setting the perfect tone for the holiday season that follows,
Here are a few of my favorite Halloween projects!
MORE HALLOWEEN DECOR
Let's discuss how to decorate a table for Halloween.
THINGS TO CONSIDER WHEN CREATING A hALLOWEEN TREATS TABLE
Choose a Theme: Start by selecting a fun and festive Halloween theme for your table. Whether it's classic spooky, haunted house, or a favorite movie theme, this sets the tone for your decor.
Tablecloth and Backdrop: Cover your table with a themed tablecloth, and create a backdrop that complements your theme. This can be a spooky curtain, a simple black sheet, or even a DIY backdrop with cutouts.
Decorative Centerpiece: Place a captivating centerpiece in the middle of the table, such as a pumpkin arrangement, a spooky candle holder, or a decorative Halloween figurine.
Serveware and Display: Use decorative platters, cake stands, and serving dishes to showcase your Halloween treats. Choose items that fit the theme and add to the overall aesthetic.
Themed Treats: Prepare or buy Halloween-themed treats like pumpkin-shaped cookies, mummy-wrapped brownies, or ghost-shaped marshmallow pops. The treats should align with your chosen theme.
Creative Labels and Signs: Create labels or signs for your dishes, featuring whimsical or spooky names that add a touch of fun and creativity to your buffet table.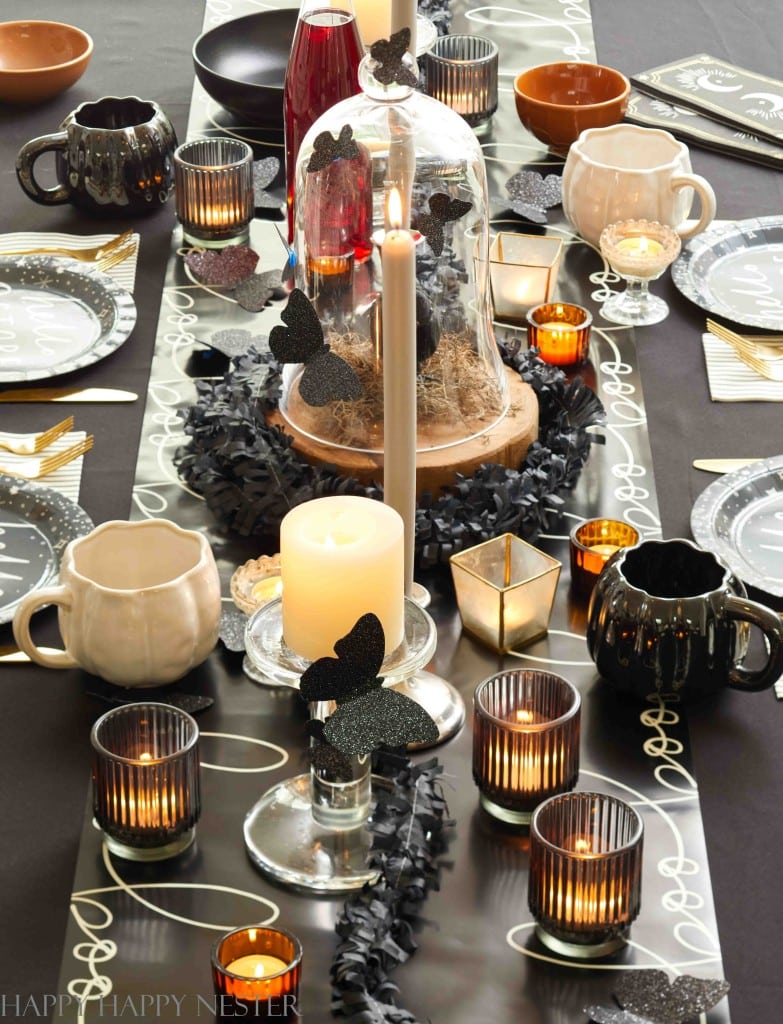 HOW TO CREATE HALLOWEEN DESSERT TABLE
I was thrilled to receive Halloween table decor from My Mind's Eye. Their cute creations always impress me, and their festive Halloween plates, platters, and entertaining decor served as my inspiration for setting up this fun Halloween table.
So here is a list of a few things you might want for your table:
Black Tablecloth: A black tablecloth sets a bewitching foundation for your Halloween display, adding a touch of dark elegance to your table.
Glass Cloche: A glass cloche can beautifully showcase your most eerie or delightful centerpieces, preserving their charm while adding an air of mystery.
Spooky Black Crow: This spooky black crow adds a haunting touch to your table, creating a sinister ambiance.
Spanish Moss: Spanish moss can be used as a natural and eerie-looking table decoration, evoking a mystical, haunted vibe.
Elegant Silver Candlesticks: Silver candlesticks bring an air of sophistication and a hint of moonlight to your Halloween setup.
Grey Candlesticks: Grey candlesticks add a subtle and sophisticated touch to your table, creating a harmonious contrast with the other elements.
Stylish Paper Plates: Choose stylish paper plates in keeping with your theme to add a dash of flair to your table.
Charming Black Pumpkin Mugs: These black pumpkin mugs are both practical and adorable, perfect for serving warm beverages to your guests.
Black Paper Garland: A black paper garland can drape elegantly across your table, creating a sense of festivity and style.
Gold Utensils: Gold utensils offer a touch of luxury to your place settings, elevating your Halloween table to a whole new level of chic.
Brown and Black Glass Candle Votives: These candle votives cast a mesmerizing glow, providing an enchanting atmosphere.
"Boo" Table Runner: A "Boo" table runner adds a playful and spirited element to your table, emphasizing the Halloween theme.
Napkins: Don't forget stylish napkins that complement your table setting, ensuring your guests dine in spooktacular style.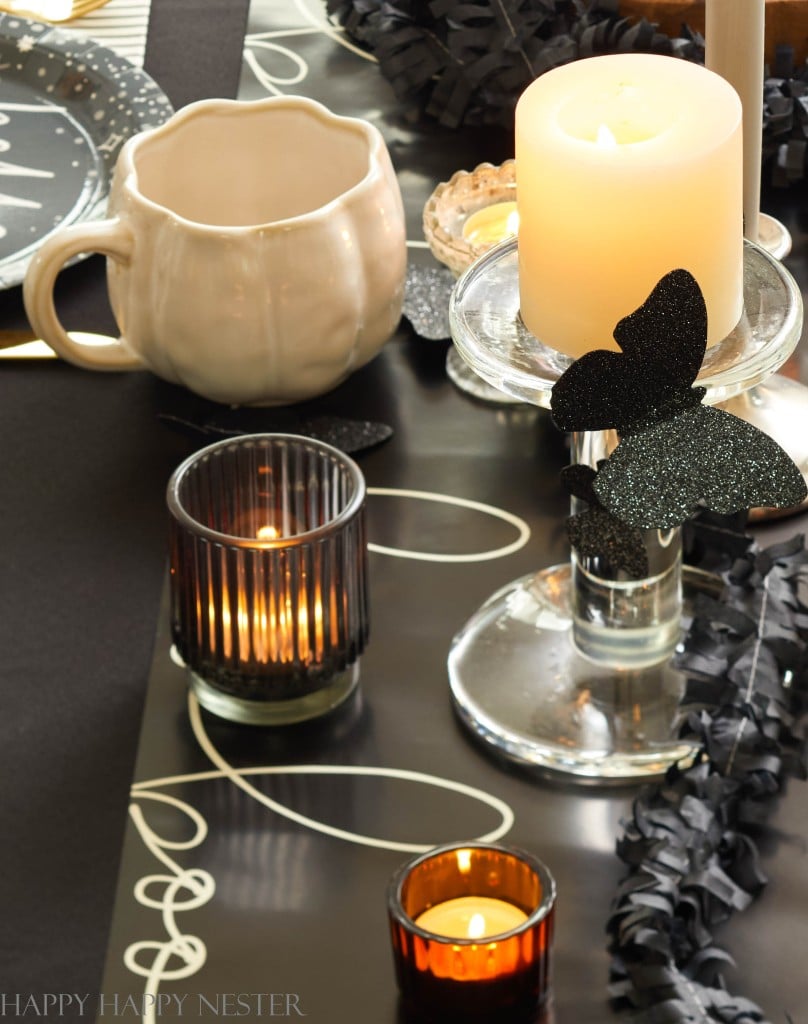 HOW TO BUILD YOUR HALLOWEEN TABLE
Step 1 – Tablecloth
Remove wrinkles by ironing your tablecloth. I love this inexpensive tablecloth that I found here. It looks elegant but only cost about $7.50! Once your tablecloth is ready, place it on your table.
Ste[ 2 – Place Paper Table Runner on the Table
I love this paper, Boo table runner! It's the perfect pop for this Halloween table!
Step 3 – Create Your Halloween Cloche
I bought my cloche and wooden base a while ago, but here's one that you might like. Add Spanish moss to the top of the base and place your faux crow on top. Place the cloche lid back on the base.
Step 4 – Add Candles
Add candles, candlesticks, and a few amber and black glass votives to your table. I love these sets of votives I bought through this shopping link.
Step 5 – Add Plates, Napkins and Silverware
Add these adorable plates and napkins, and top it off with some pretty gold utensils.

Please click on the image to shop the item!
I'm sure I missed some fun decorations you might have kicking around your home. Go ahead and add it to your table.
You can choose bold or muted colors and mix and match different textures and patterns to add interest. Remember to add some fun and festive Halloween decorations like pumpkin-themed plates and cups, spiderweb table runners, and cute little ghosts or witches to complete the look. Have fun, and let your creativity shine! Chilling centerpiece for your Halloween bash.
I received some of my delightful Halloween decorations as a gift from My Mind's Eye. Their holiday decor is adorable! I'm truly grateful for their inspiration for my Halloween table decorating this year.
Happy Halloween!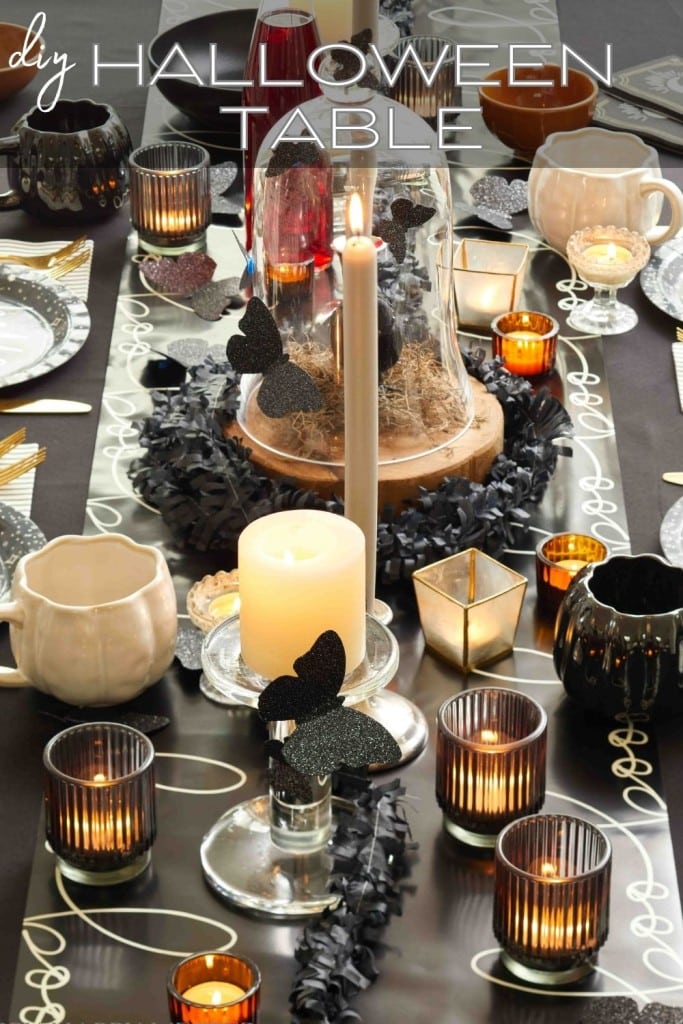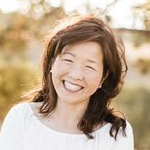 Latest posts by Janine Waite
(see all)