This impressive Charcuterie Board is elegantly styled with delicious cheeses, slices of bread, fruit, and rich chocolates. This epic appetizer will wow your friends and family. Learn how to create this amazing snack in this post.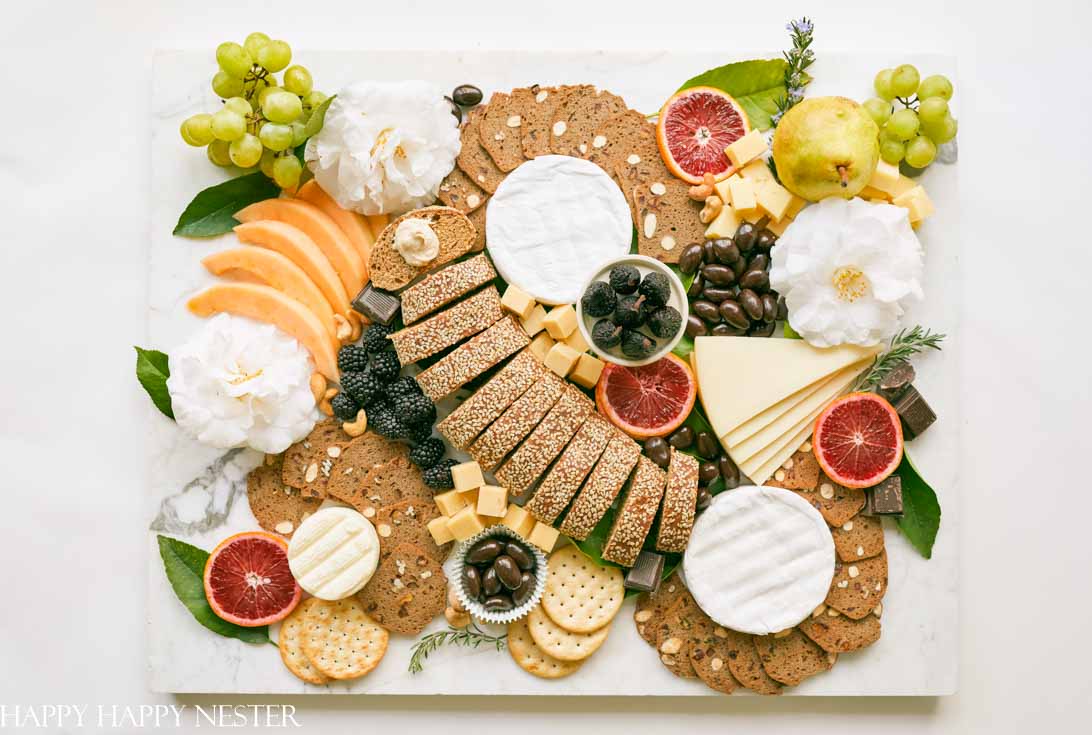 Before I found charcuterie boards, I was always stumped what to make for an appetizer. I found that there is nothing more impressive than a charcuterie board loaded up with a variety of cheese, fruit, bread, crackers, and chocolate.
You might be like everyone else and ask what is a Charcuterie Board? No worries, I didn't know about them until last year. Yup, I created my first board over the summer.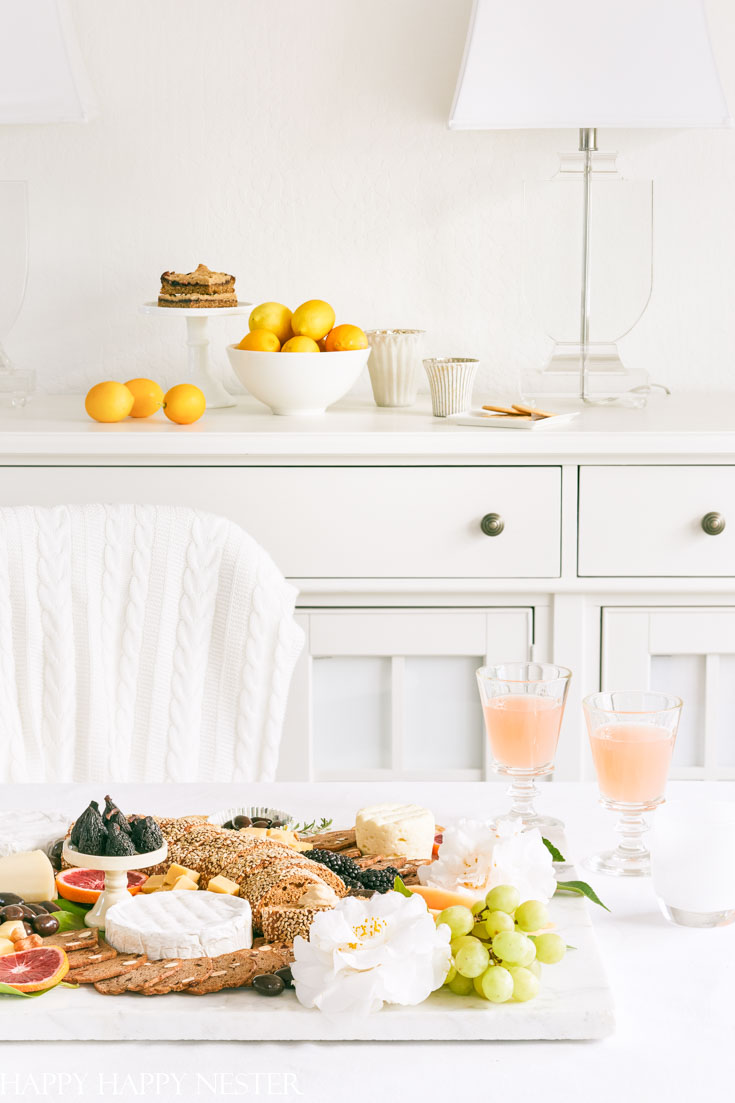 What is Charcuterie?
Ok, let's get how to pronounce the word out of the way. It is "shahr-ku-tuh-ree" and is derived from the French term chair cuit, which means cooked flesh. It now used as a way to prepare and assemble meats paired with cheese, crackers, bread, fruit, and sauces. But of course, a Charcuterie has many themes. And now we have dessert and candy boards that accompany the various holidays.
The great thing about a Charcuterie Board is that you can style it however you wish. If it is Valentine's Day cut your cheese in the shape of hearts. Add a few Valentine's candies with some cookies and it will look perfect for a holiday celebration. The sky is the limit when it comes to creating an amazing charcuterie board.
Today, my board doesn't have meat since we aren't too into it around our home.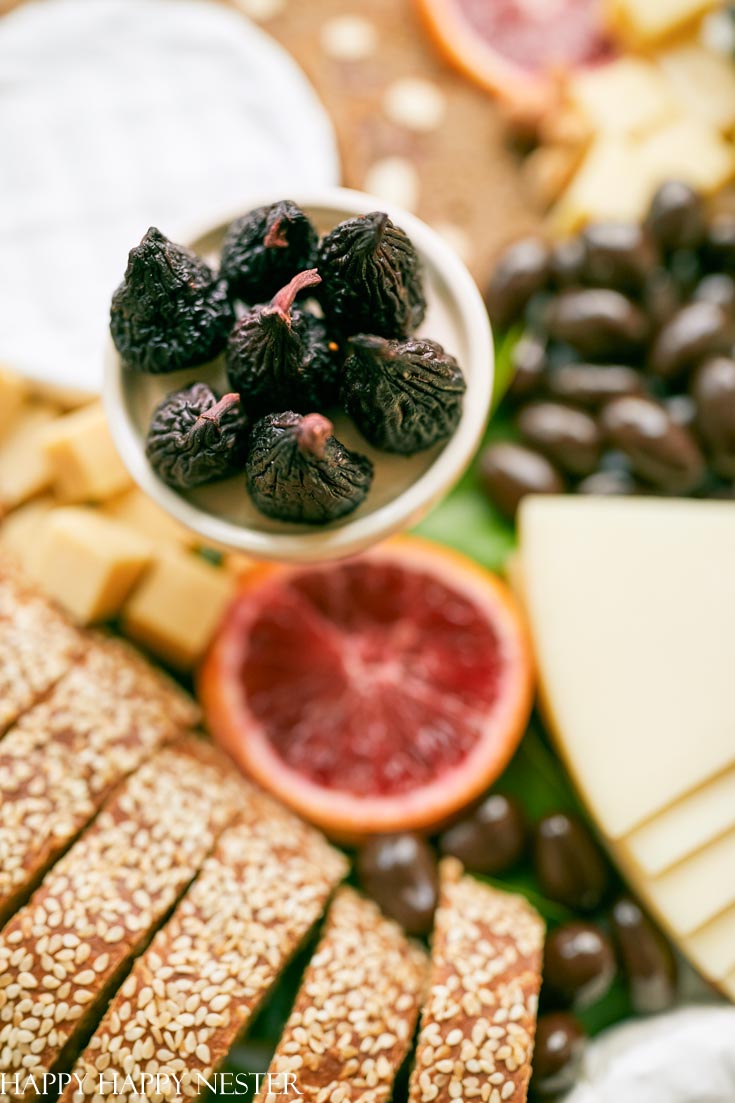 Charcuterie Board: Let's Get Started!
The first decision I make is what type of board will I use. There are so many choices, wood, stone, copper and more. Then after you decide on a material which shape to use is the next choice.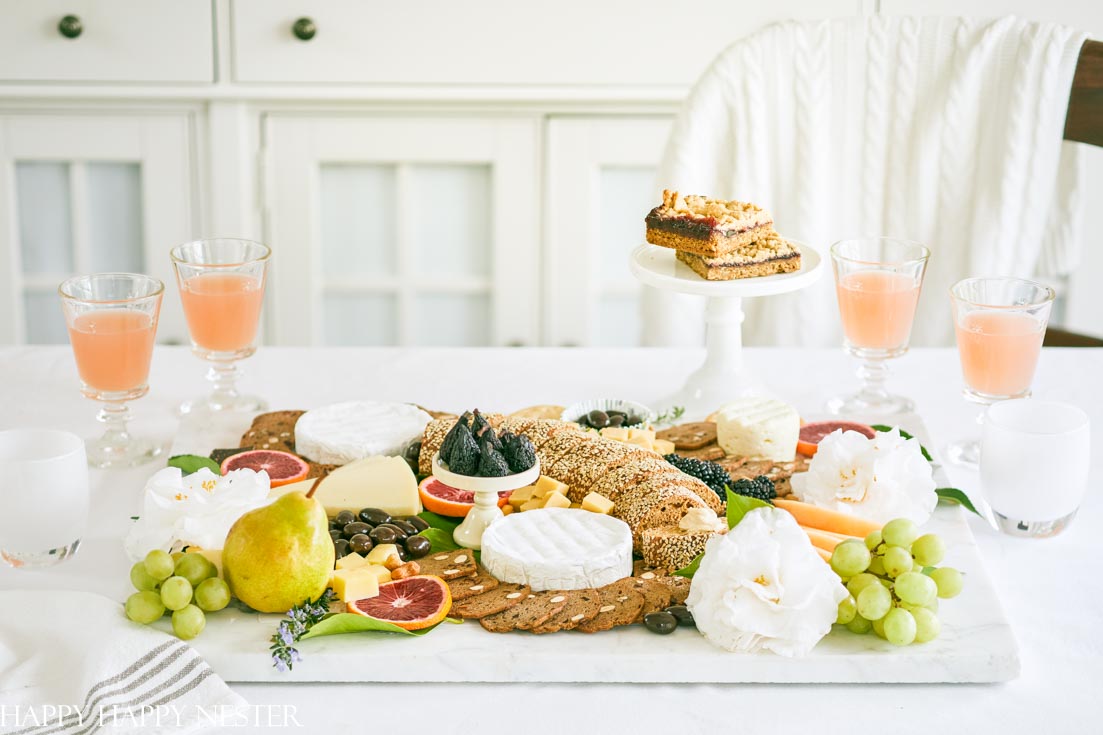 Choose Your Board
You can buy a board (here are a few great selections) or you can even just use what you have. Pull out a cutting board, platter or tray. As long as it flat and there is enough room to spread out your food choices, then go for it!
I love white marble, so we used my brother's big piece of Carrera Marble. You can find a few beautiful marble boards here.
Choose Your Theme
As you can see from the boards my friends created some, chocolate, cheese, candy, and even a fondue board. So whatever your entertaining needs are, create an appetizing and delicious board for your family and friends.
I realized that my mom and aunties made their own version with a variety of their yummy homemade sushi. My aunties arranged their sushi on huge Asian dishes called Imari. There were sprigs of fresh ginger and even this green accent that looked like grass. Their appetizer spreads were just as impressive as today's charcuteries. So, look out, my next Charcuterie post will be a sushi board. I desperately need to redo my sushi recipe and post, but you can view it for a basic sushi recipe.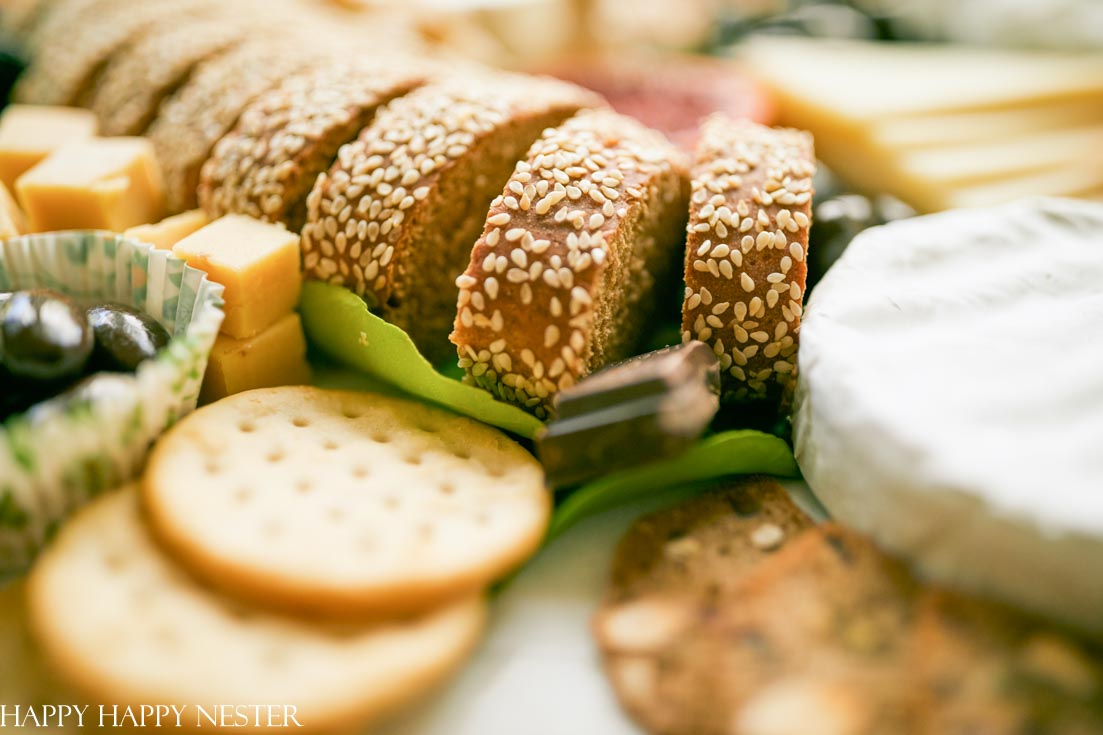 Choose Food For Your Board
Once you decide the theme and food, then the planning begins. I wanted to create a fruit, cheese and chocolate board. So off to Trader Joes, I went and here is what I bought.
Cheeses
2 – 3 1/2 inch Brie Round Cheese
1 – 2 inch Round Petite French Breakfast Cheese
1 – Caramelized Onion Cheese
1 – Manchego Cheese
Breads
1 Rustic Loaf of Bread
1 – Package of Banana Bread Crackers
Fruit
Green Grapes
Dried Black Mission Figs
Pears
Blood Oranges
Cantaloupe
Chocolate
Almond Covered Chocolates
1 pound Trader Joe's Dark Chocolate Bar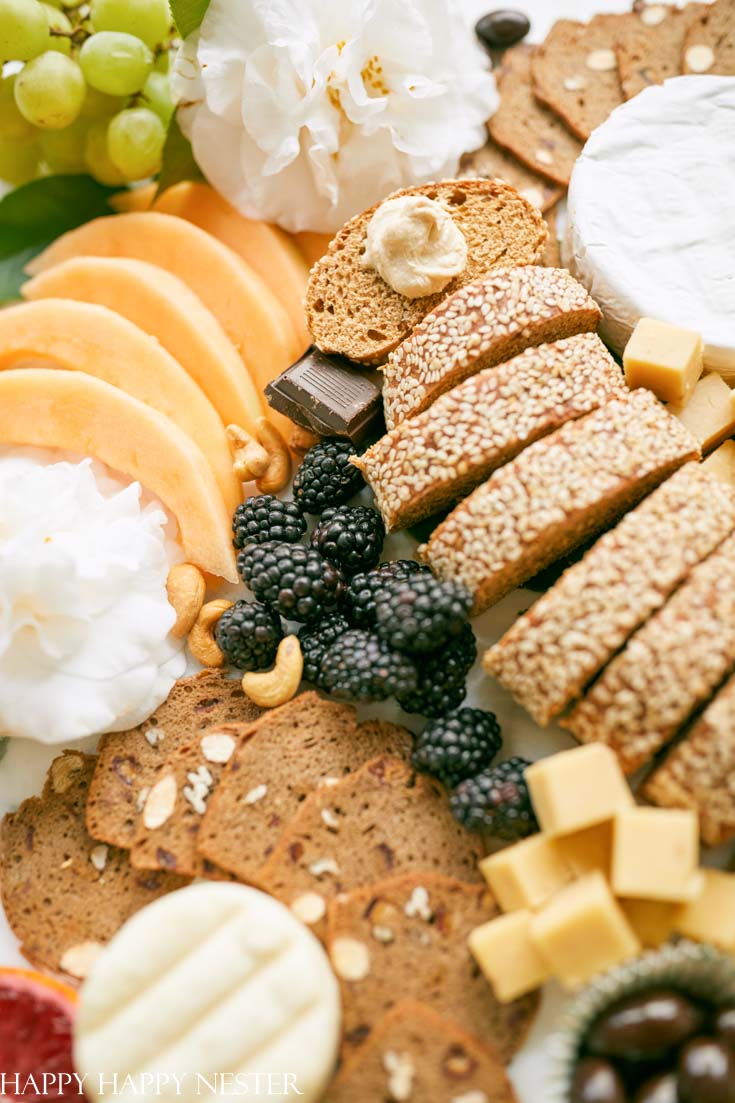 Tips For Charcuterie Board Assembly
Cover Your Board
To protect the marble and wood, I like to place either parchment paper or plastic wrap down on the board. As you know marble will stain, so if you don't want any stains then you'll want to place a barrier down. I only cover the areas where food will go. When styling this marble charcuterie board, I decided to show off some of the marble so I left a few areas open.
I also picked a few lemon leaves from my garden and placed them down for protection and to add a pretty green accent.
Place Your Biggest Items Down First
Since the cheese and bread were the biggest items, I placed those down first. Make sure to evenly distribute them on your charcuterie board to create a balanced composition.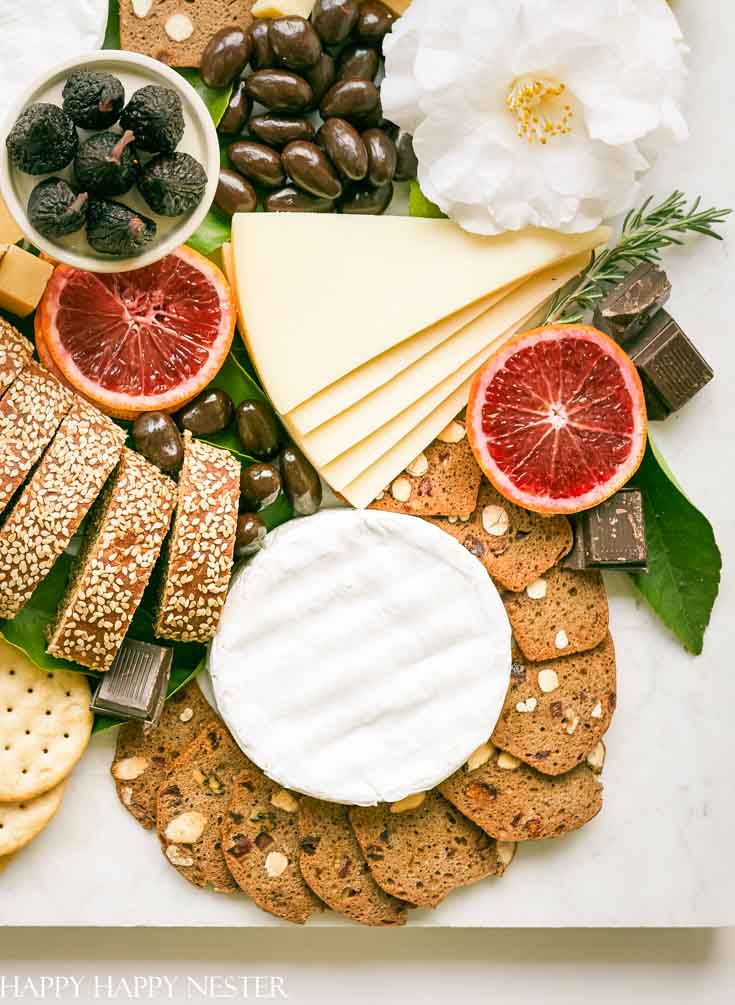 Decide Which Items Go Together
It makes sense to place the crackers next to the dip, cheese or even my Peach Jalapeno Jelly recipe. If you place a bunch of grapes on your board then place them on the edges of the board. You'll want it so that people can easily grab them.
When designing my board, I like to consider my guest's perspective. You see, I want all the delicious food accessible so they can sit back and enjoy their appetizers.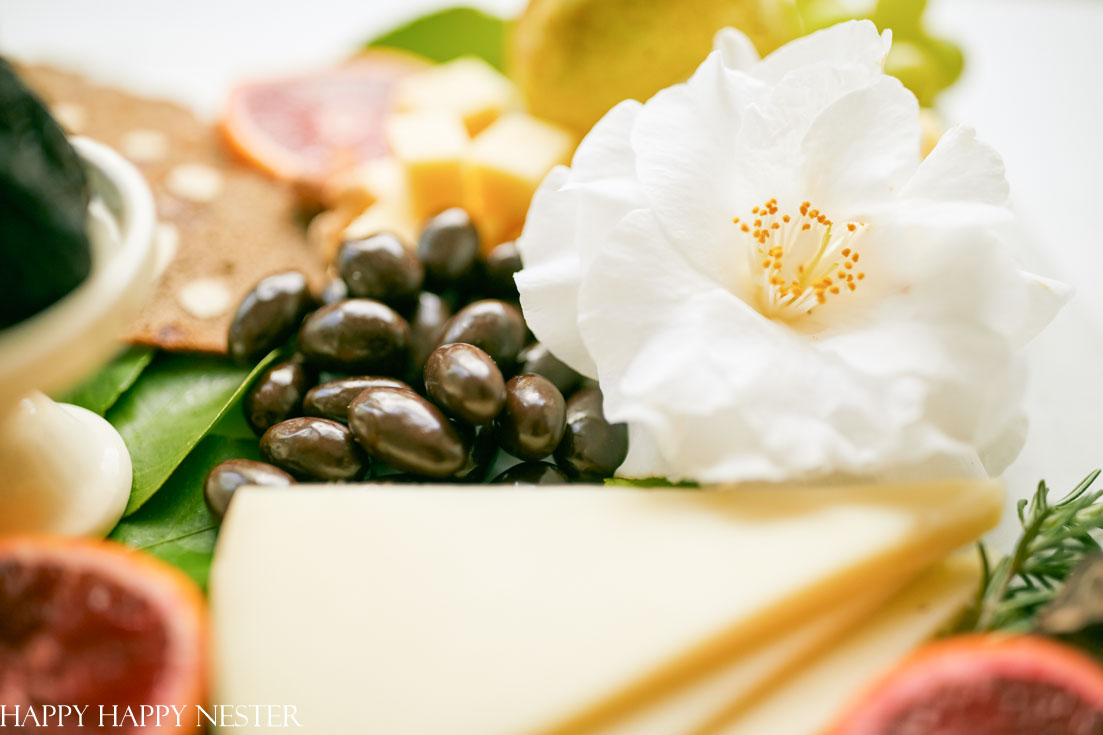 Place Any Flowers or Accents Last
I love to add flowers, leaves, and branches to my charcuterie board. So, I picked a few lemon leaves, white camellias, and rosemary sprigs. All these pretty accents add a nice organic touch to a beautiful spread of food. I did add a little cupcake stand as well as some paper cupcakes liners to hold items. Be creative and add out of the ordinary things for containers.
After this photoshoot, my family devoured this charcuterie board of food. I did add some hummus and chips which didn't make it into this photoshoot. Don't be afraid to add things on the sidelines, like my Easy Flatbread Pizza recipe!
Thanks again for visiting my blog, I hope you found this post helpful.
Cheers,

20 Fabulous Charcuterie Boards!

Hallstrom Home | A Blue Nest | My Sweet Savannah | Cassie Bustamante

Happy Happy Nester | Inspiration For Moms | Art of Everyday Living | Twelve On Main

Craftberry Bush | Jennifer Maune | Zevy Joy | Modern Glam

My 100 Year Old Home | Tatertots and Jello | Two Twenty One | Today's Creative Life

Sanctuary Home | She Gave It A Go | The Design Twins | Pink Peppermint Design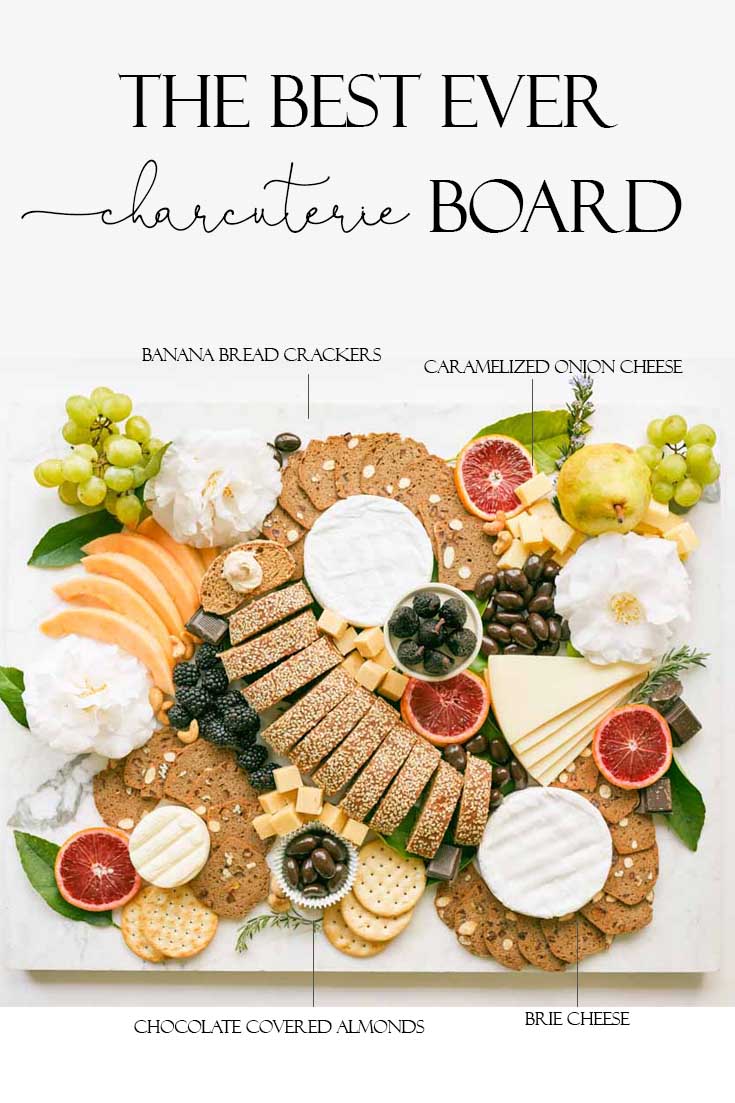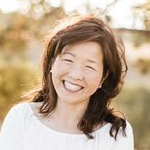 Latest posts by Janine Waite
(see all)