This easy recipe combines a few kinds of cereal to make these Lucky Charms Rice Krispies Treats. This easy treat is a quick no-bake, light gluten-free dessert that your family and kids will enjoy. I used the Rice Krispies and added the cute marshmallows as a tasty and colorfully topping.
My daughter loves Rice Krispies Treats, and she is always asking to make them. I decided to try a twist on the traditional recipe this time, and the family loves them.
I love baking and spending time in the kitchen, and this recipe is a longtime favorite of ours. I do have some fun spring desserts that you might enjoy!

As I mentioned, my daughter loves Rice Krispies Treats. Since she was little, she is always making either brownies or Rice Krispies Treats.
Recently, she thought that maybe the blog readers might want a fun spring Rice Krispies Treats. I loved her suggestion, and I wanted to add a little fun twist to them.
I wondered if I could somehow combine Lucky Charms with Rice Krispie Treats as I was brainstorming. I've always liked the cute marshmallows in Lucky Charms, so I thought to add them to the treats.
Well, here are the results of my little experiment.
I love how adorable they came out! These fun treats are perfect all year round, and your family and kids will love them.
List of Ingredients You'll Need:
Lucky Charms Cereal
Rice Krispies Cereal
Mini-Marshmallows
Butter
Salt
Vanilla Extract
9″x 9″ pan (you can use an 8″x 8″ pan as well)
A Few Helpful Tips
Line the pan with parchment paper, this makes it so easy to remove it from the pan. I'm not sue why no one has thought of this and instead the greased pan. I always struggled getting out the first piece. You know the routine.
Not that it's rocket science to make this Lucky Charms Rise Krispies Treats, but using mini-marshmallows makes it easier to measure and melt.
If you're in a hurry and want the treats to set up quickly, pop them in the fridge or freezer for a couple of minutes and they'll be firmed up in no time at all.
If you want to freeze them for later, place some wax paper or parchment paper in between layers of treats. Then place them in a air-tight container. They will stay fresh in the freezer for a about 6 weeks.
Add some Vanilla extract for yummy addition.
How to Make These No-Bake Treats
Step 1 – LIne Pan
Measure, cut, and line pan with parchment paper. This step makes it easier to lift the treats out of the pan.
Step – Melt Butter and Marshmallows
Melt butter and marshmallow in a medium size pan. Watch the butter, so it doesn't burn. Once the butter melts, add marshmallows. Stir until marshmallows are thoroughly mixed in and melted.
Step 3 – Add Rice Krispie Treats
Fold in Rice Krispie Treats and stir well. Pour the mixture into the parchment-lined pan and pat down to make an even layer.
Step 4 – Add Lucky Charm Marshmallows
Add the cute Lucky Charm Marshmallows to the top of the Rice Krispie Treats. Add as many as you like to the top. Once the treats are cooled, lift the parchment and treats out of the pan. Cut into squares on a cutting board and serve.
Lucky Charms Rice Krispies Treats
This easy recipe combines a few kinds of cereal to make these Lucky Charms Rice Krispies Treats. It's made of Rice Krispies and marshmallows.
Ingredients
3

tbsp

butter

4

cups

mini marshmallows

6

cups

Rice Krispie cereal

¼

tsp

salt

1

tsp

vanilla extract
Instructions
Line the pan with two sheets of parchment paper.

Place butter in a pan and turn the burner to medium to low heat. Watch the butter so that it doesn't burn.

Once the butter has melted, stir in salt, vanilla extract, and mini marshmallows.

Stir the marshmallows until melted. Next, stir in Rice Krispies cereal.

Take the pan off stovetop and stir. Pour into prepared pan and spread evenly. Gently press down the Rice Krispies. Press Lucky Charms marshmallows on the top layer of treats.

Let Rice Krispies cool before lifting them out of the pan. Once out of the pan, cut the treats into squares.
Nutrition
Serving:
1
serving
|
Calories:
99
kcal
|
Carbohydrates:
19
g
|
Protein:
1
g
|
Fat:
2
g
|
Saturated Fat:
1
g
|
Polyunsaturated Fat:
1
g
|
Monounsaturated Fat:
1
g
|
Trans Fat:
1
g
|
Cholesterol:
6
mg
|
Sodium:
120
mg
|
Potassium:
15
mg
|
Fiber:
1
g
|
Sugar:
8
g
|
Vitamin A:
764
IU
|
Vitamin C:
7
mg
|
Calcium:
2
mg
|
Iron:
3
mg
If you need a fun little no-bake dessert, try making some Lucky Charms Rice Krispies treats. It's the perfect light little dessert.
Happy baking,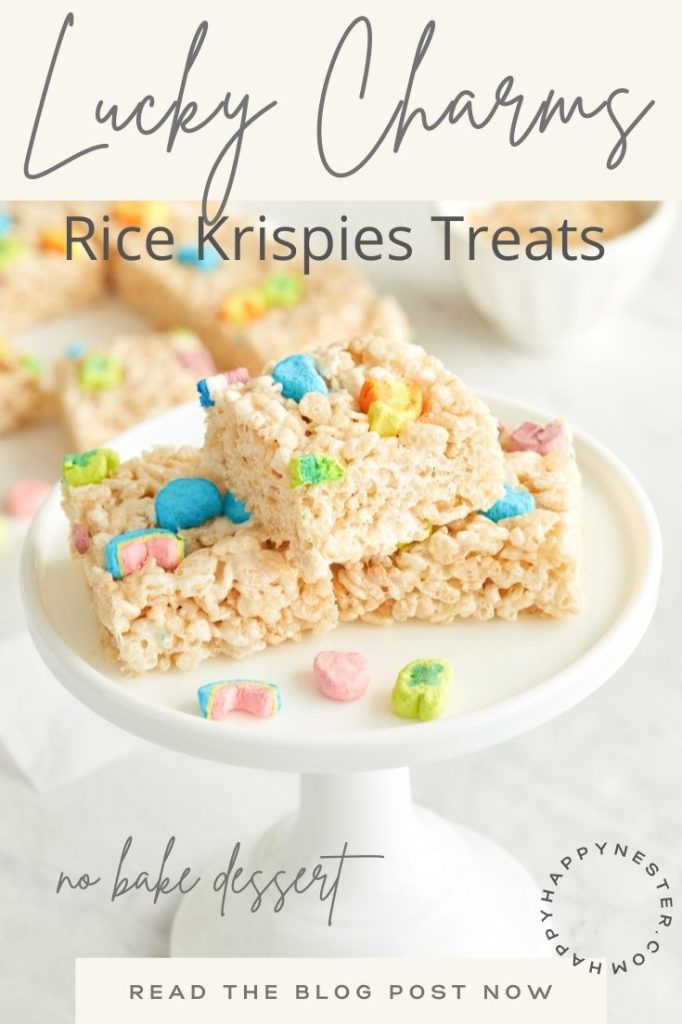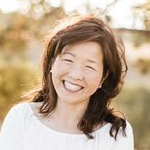 Latest posts by Janine Waite
(see all)