Every time I view the felt flowers on Pinterest, I'm like,
"I've gotta make those!"
This is the story of my life! I have a list a mile long of projects that need to tackle.
So, I would recommend you sign up for my newsletter, so you don't miss out on them.
Also, I would like to mention that there are some pretty amazing blog posts listed at the bottom. So, happy touring.
Flowers are my passion these days.
Did you know that flowers are in my DNA?
Well, I like to think that, since my grandmother was a teacher of the Japanese flower arranging called, Ikebana.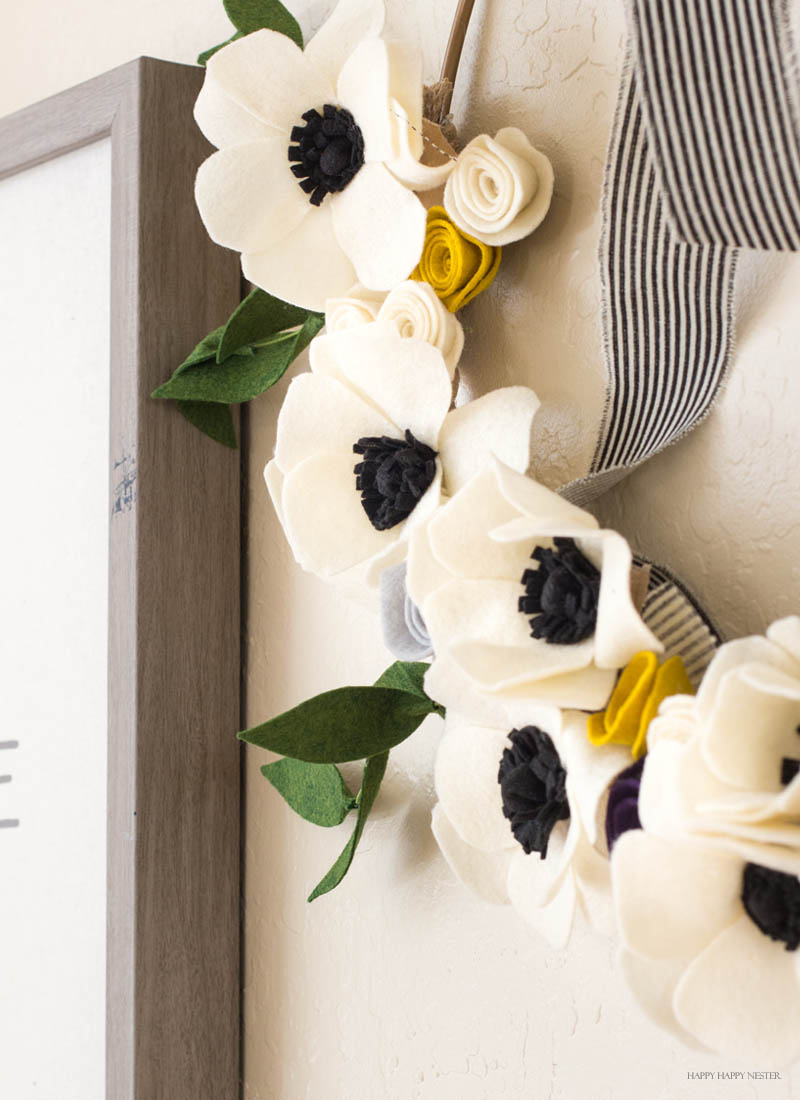 My mom continued this love of flowers with her rose garden.
So it only makes sense that my brain has flowers imprinted on it.
Well, the other day I found some felt flower wreaths over on Etsy, and I thought, I can make them.
But before we move on, if you missed my latest paper flower wreath, you need to check it out.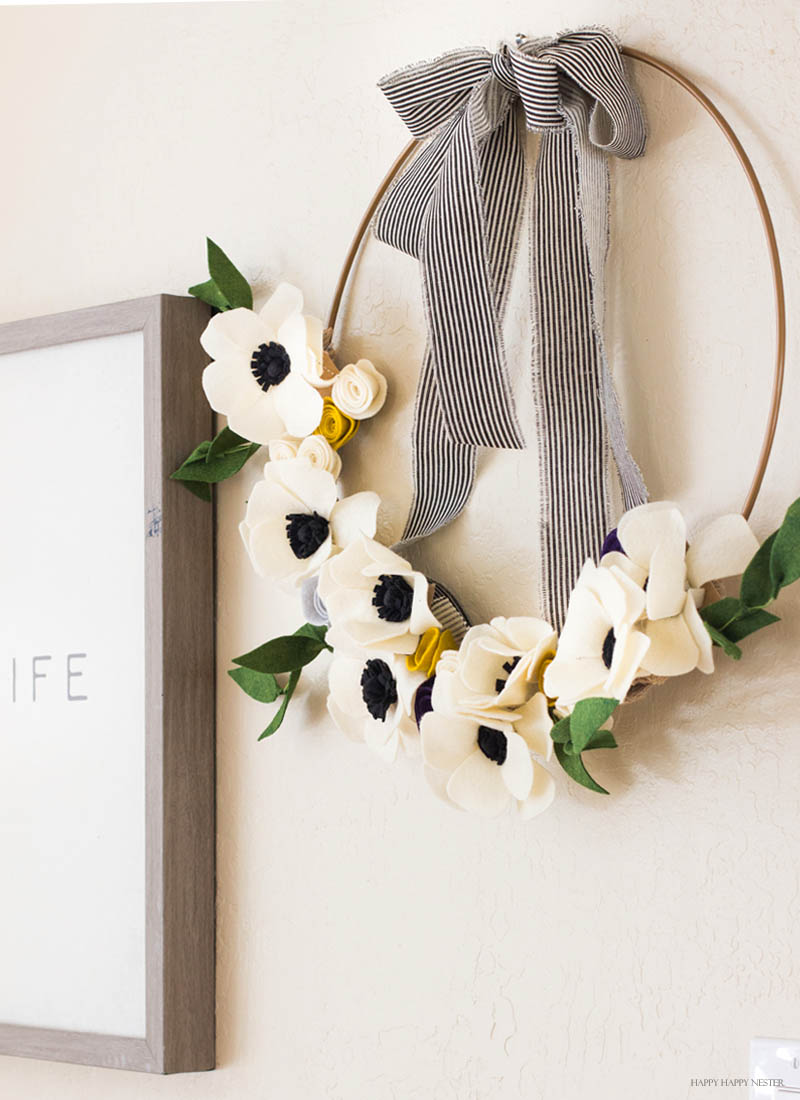 So, my quest to make felt flowers began by searching various blogs.
I must admit that I found the how to's but I had a tough time finding the felt flower patterns. So, of course, I made my own.
And this is your lucky day because I'm happy to include my paper flower template in this post.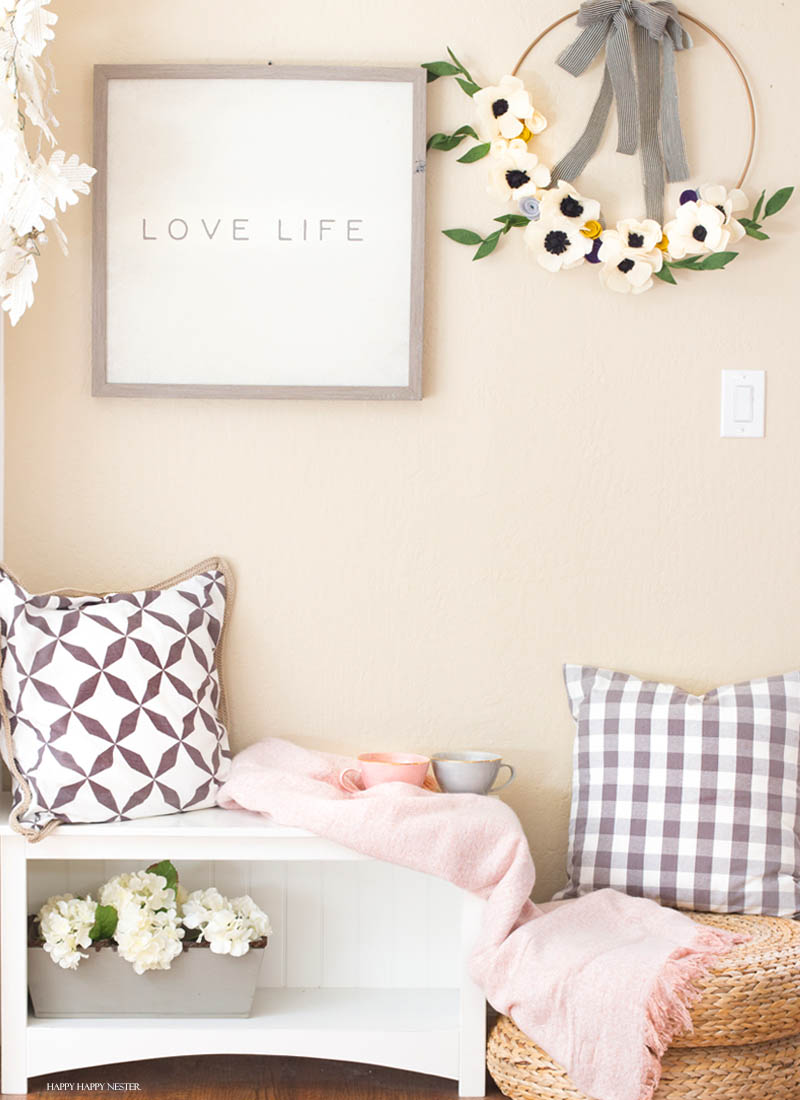 So, I'm thrilled to show you how to make an anemone flower and also a rolled felt flower or rosette.
Basically how to make felt flowers for wreaths.
Oh yeah, the paper book leaf garland peeking on the left side is such a fun project too.
*This post contains affiliate links
Felt flowers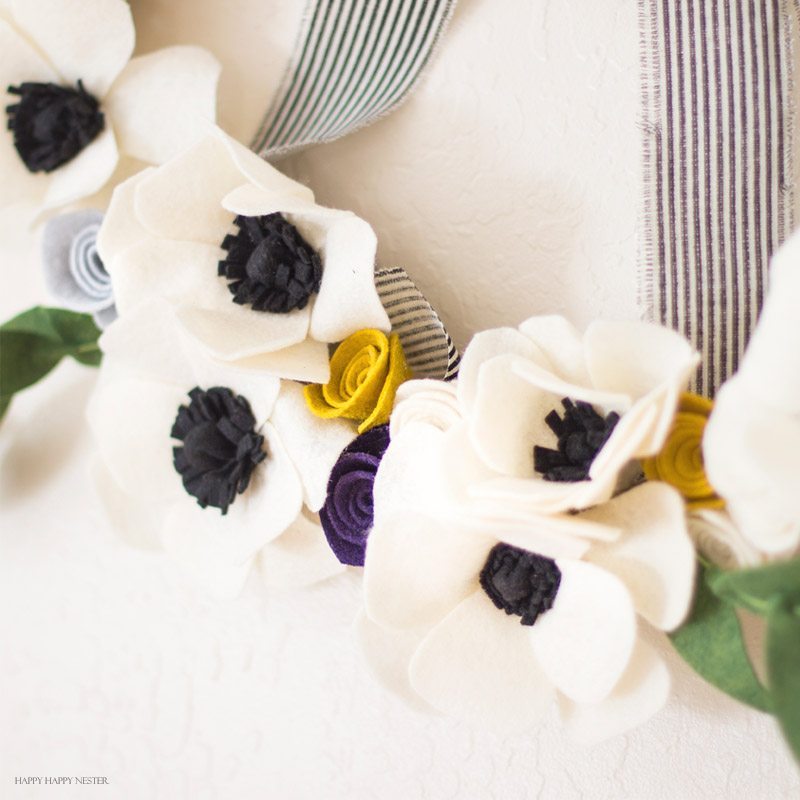 Felt Flowers and Leaves Materials
1 19″ Metal Hoop Ring or if you want to make a small wreath (which is wise if you don't want to make many flowers) then buy this 8″ Metal Hoop Ring
Felt – I bought 1/4 yard of each of my colors at Joann Fabrics. It was very inexpensive, and I had plenty of felt for the project.
Ribbon (I used a burlap ribbon)
Cardboard pieces
2-inch black and white ribbon for a bow
Felt Flowers and Leaves Directions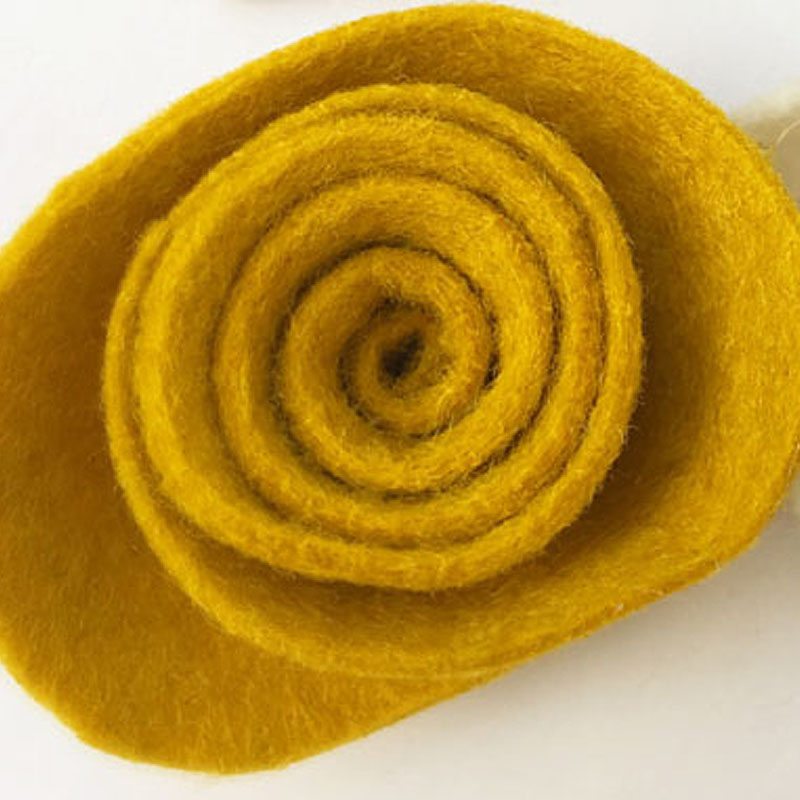 Felt Rosettes
(I made 15 rosettes: 9 cream and 2 yellows, 2 purples, 2 greys)
I have a post on how to make Rosettes.
I found a cup with a diameter of 3 1/2 " circle for my template.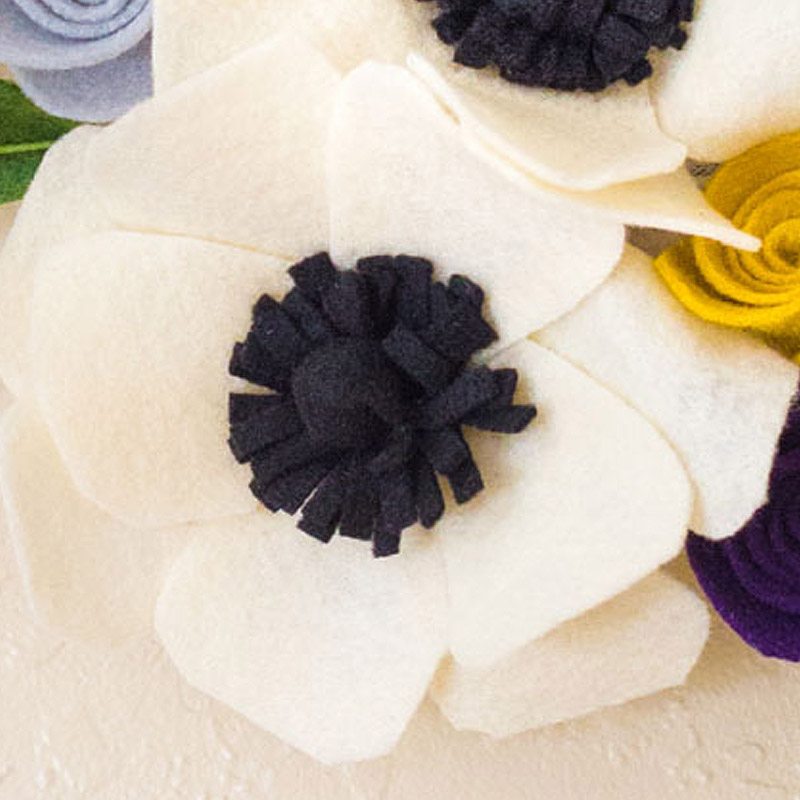 Felt Anemones
(I made 9 flowers for my 19″ hoop)
1. I found excellent instructions on this blog: Something Turquoise
2. Unfortunately, she didn't provide the petal template, so I created one for you.
3. I did glue a few of the petals together so that they wouldn't flop and leave a big hole in the flower.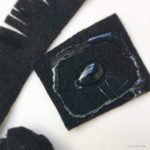 4. Also, if you don't want to buy a little felt ball, I just made my own with the black felt. Next, cut a small square out about 1 1/2″ x 1 1/2″. Then place a spot of hot glue in the middle. Next, put a circle of glue around the outer edges of the square material. Then pinch up the sides like you are covering a lollipop. You'll have a small round ball at the top. Once it is dry, cut off the bottom edges.
5. So, I also didn't create a green stem for the bottom of the anemone since the base of the flower is not visible.
Felt Leaves
(I made 5 branches)
1. Cut the wire however long you want your branch to be.
2. My wire is 5″ in length, and I placed four leaves on the branch.
3. Cut out leaves.
4. Place the top leaf at the top of the stem and put a dot of hot glue at the bottom of the leaf.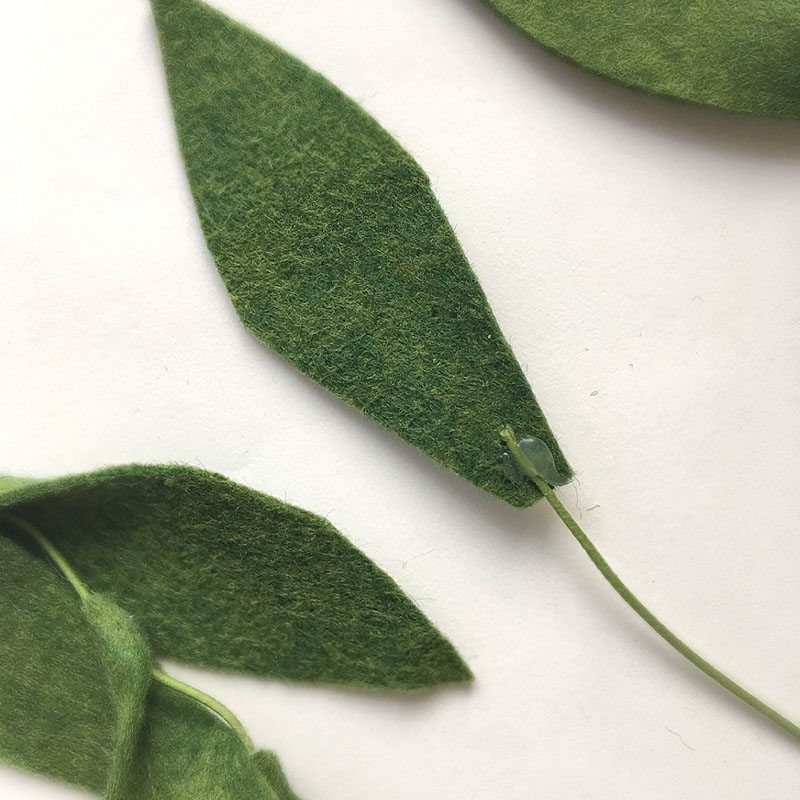 5. Put the wire at the base of the leaf and in the middle and pinch the outer edges together with the glue.
6. Then, repeat this step for the other leaves moving down the stem alternating the leaves from one side to the other.

Making the Wreath
1. Cover the wreath with Burlap ribbon.
2. Place dots of hot glue as you wrap the ribbon around the metal ring. This will make it easy to attach the flowers to the ring.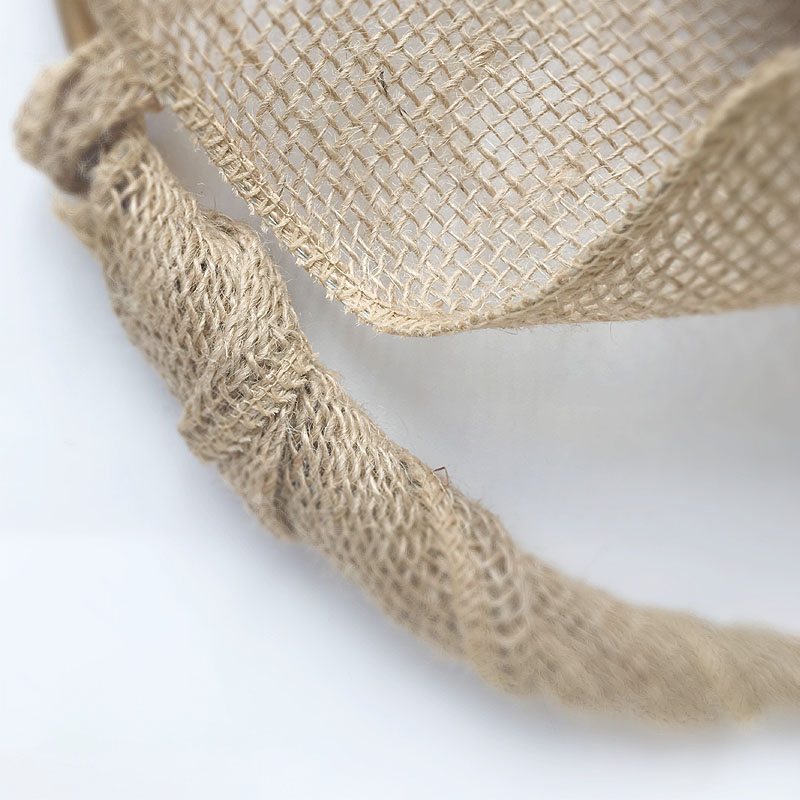 3. Attach the flowers you want straight onto the burlap.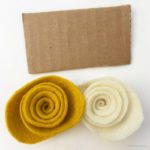 4. Then if you plan to place some felt flowers to the side or inside the wreath, cut out small pieces of cardboard and glue them to the wreath.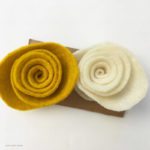 5. Then place your flowers on the cardboard. Trim the cardboard.
6. So, next tie your ribbon on the top or where ever you like to put it.
So now you are ready to make your own felt flower wreath, right?
When you make your first felt flower you will be hooked. Well, at least I'm planning on making more felt flowers. I love how the Anemone reminds me of the Rifle paper flowers…simply beautiful.
Well, my sweet wreath welcomes guests when they enter our home. If you like this project you'll love my paper magnolia flowers
Ok, toodles for now,
Cheers,

Shop this post:
I'm so excited that the Seasonal Simplicity series is back again; and this time it's to celebrate Summer! Today I've joined up with a talented group of bloggers to kick of this series by sharing a beautiful DIY or Craft project with you all! Enjoy the inspiration and ideas…
The Happy Housie / The DIY Mommy /Confessions of a Serial DIYer / Zevy Joy
Finding Silver Pennies / Happy Happy Nester / Tidbits / Vinyet Etc.
A Pretty Life / Artsy Chicks Rule / Town and Country Living / Newly Woodwards
Southern State of Mind / Craftberry Bush / Summer Adams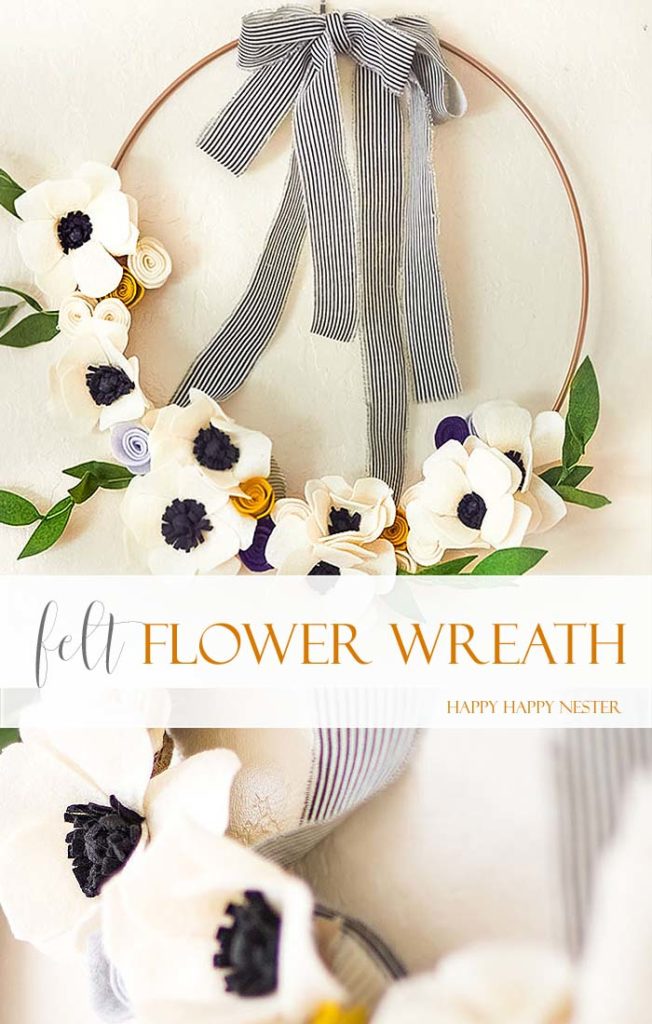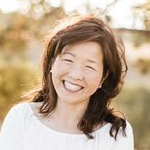 Latest posts by Janine Waite
(see all)