Around Cinco de Mayo we fall in love with our outdoor living rooms in our backyard.
This is when our warm early summer weather truly begins.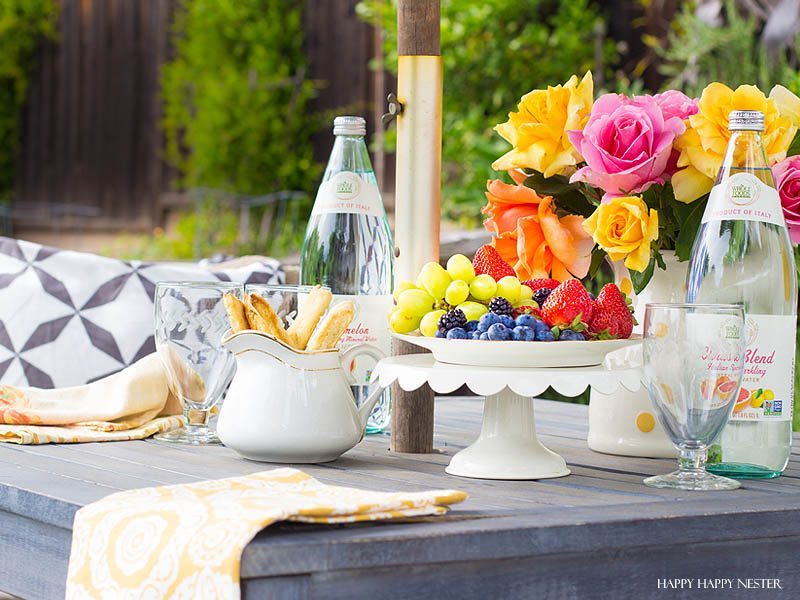 And if you add 153 days to this date, you will still find us outside. Give or take a few days.
Our weather here in Northern California is sunny and warm with evenings that are so perfect for hanging around the table and just chatting the night away.
Ok, before I dive into my funny stories, I want to remind you to visit my talented blogging friends on the list below.
Some of us are sharing our gardens and some of us are sharing our outdoor living rooms!
By the way, I did write a post about refreshing our deck.
Here are Our Outdoor Living Rooms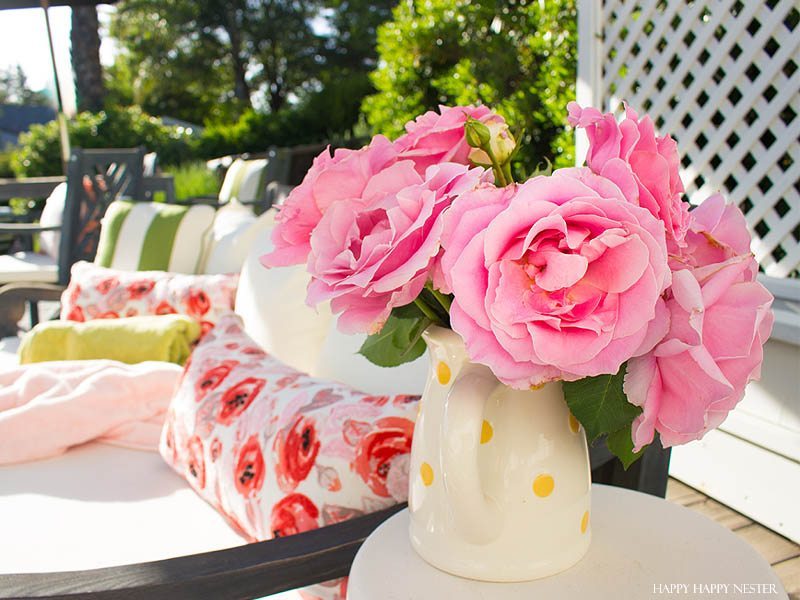 So, back to my yard.
Our outdoor living rooms have been a hilarious combination of hard work, patience, money, and humor.
Since I'm sharing my garden, let me just say,
things aren't always coming up roses around here!
And did I mention that almost every project has been a debate between my husband and me?
Does this happen in your home?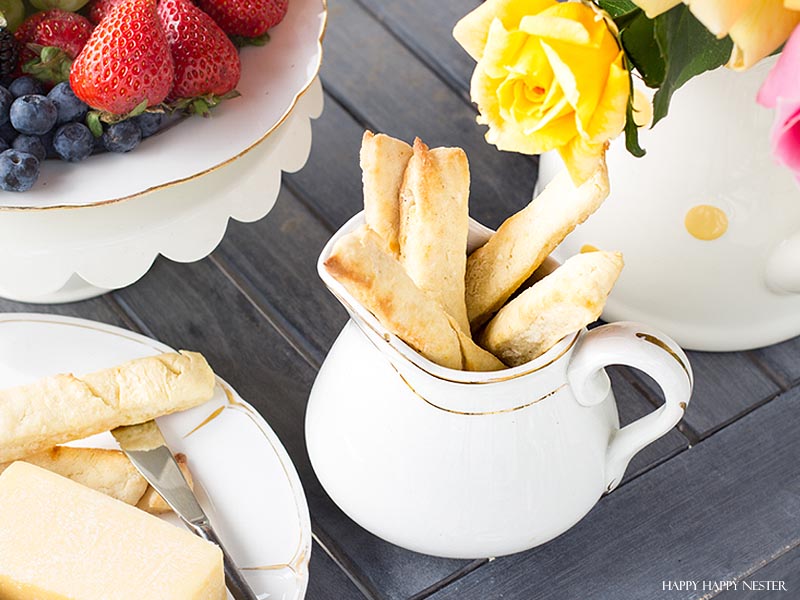 It boils down to a blend of money and aesthetics.
And it might be helpful to know that our personalities are polar opposites.
Sometimes it surprises me that things even get done around here.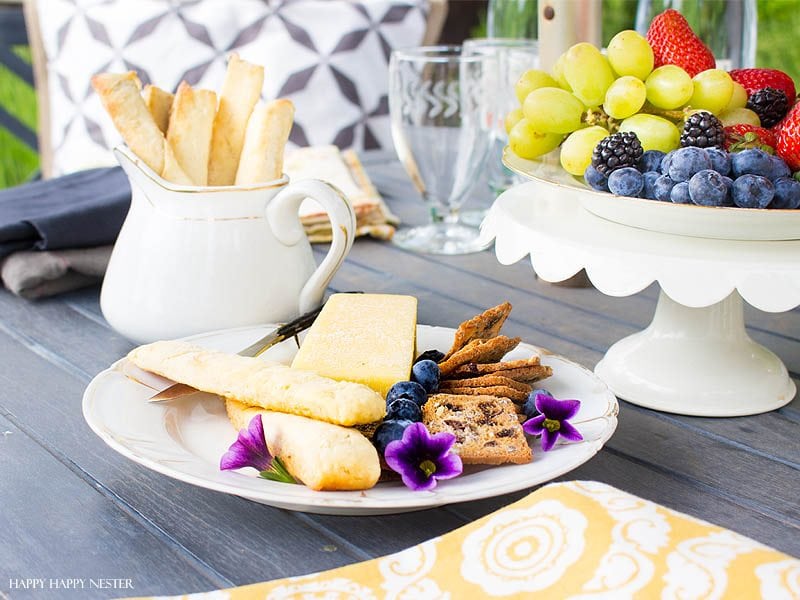 Let's take a look at our outdoor living rooms
We finally dealt with the big fire engine red deck that stood next to our pool.
I even cringe sharing it with you, but if you are curious you can view my original deck, here.
I have to post a disclaimer since I had nothing to do with that color.
You see when we bought the house it came finished with the lovely red deck.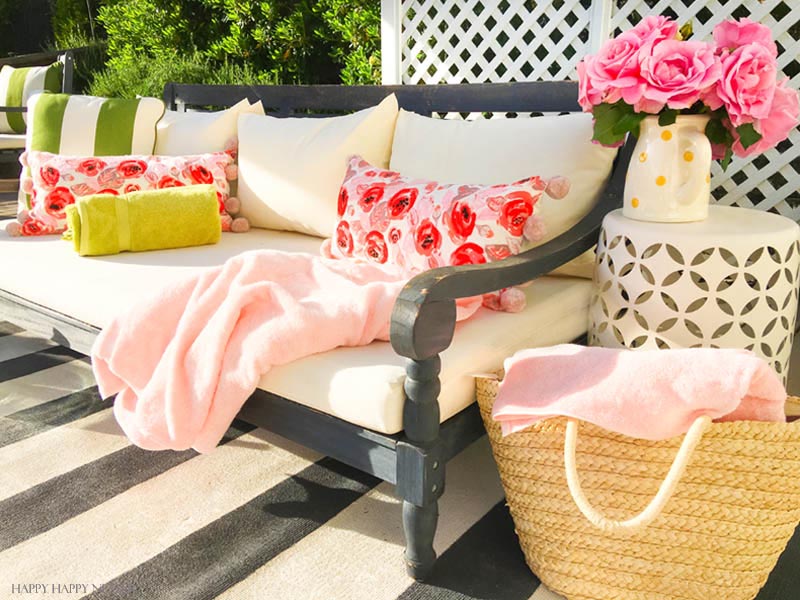 So, here is how the problem came about.
You see when choosing out a new deck stain, my husband gravitated towards the natural colors and I pushed for a clean pristine white stain that matches our house trim and existing pergola.
Hey, at least we agreed that the original fire engine red color just stood out like a sore thumb.
Seriously I have nothing against the lovely color red.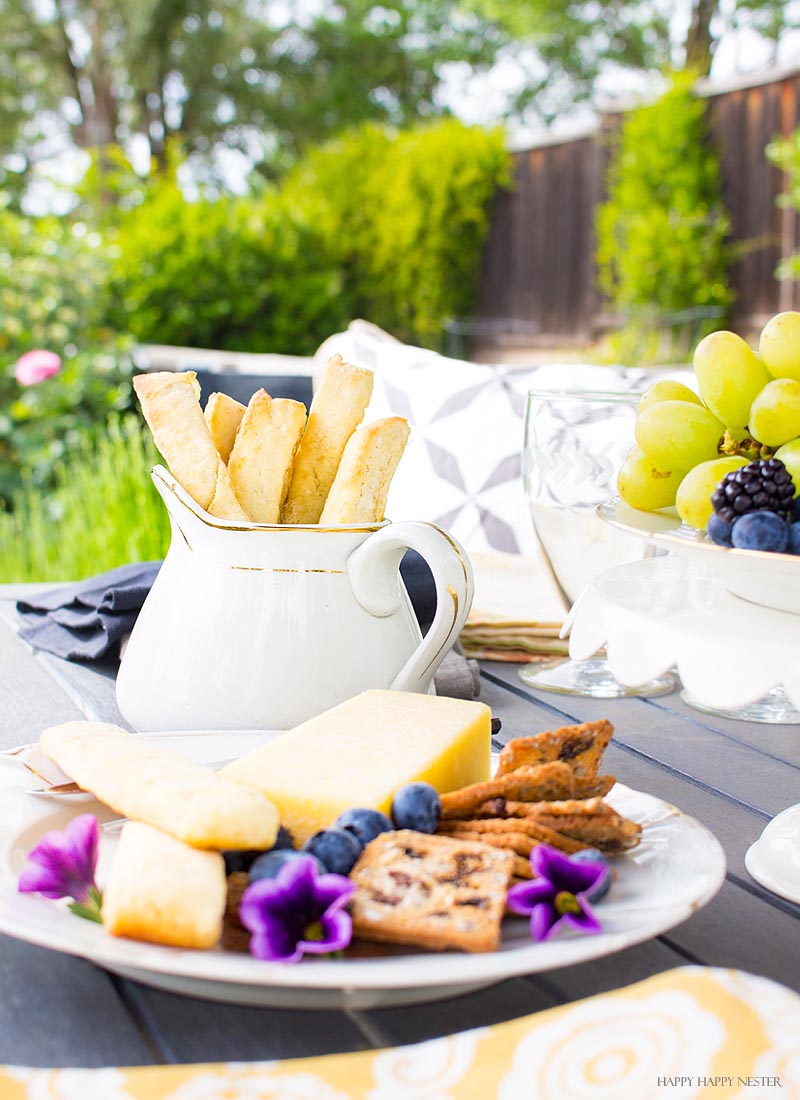 We went back and forth between a boatload of colors.
Yup, our deck has about three stain colors under the final one.
We drove our kiddos crazy since they were my painters in training.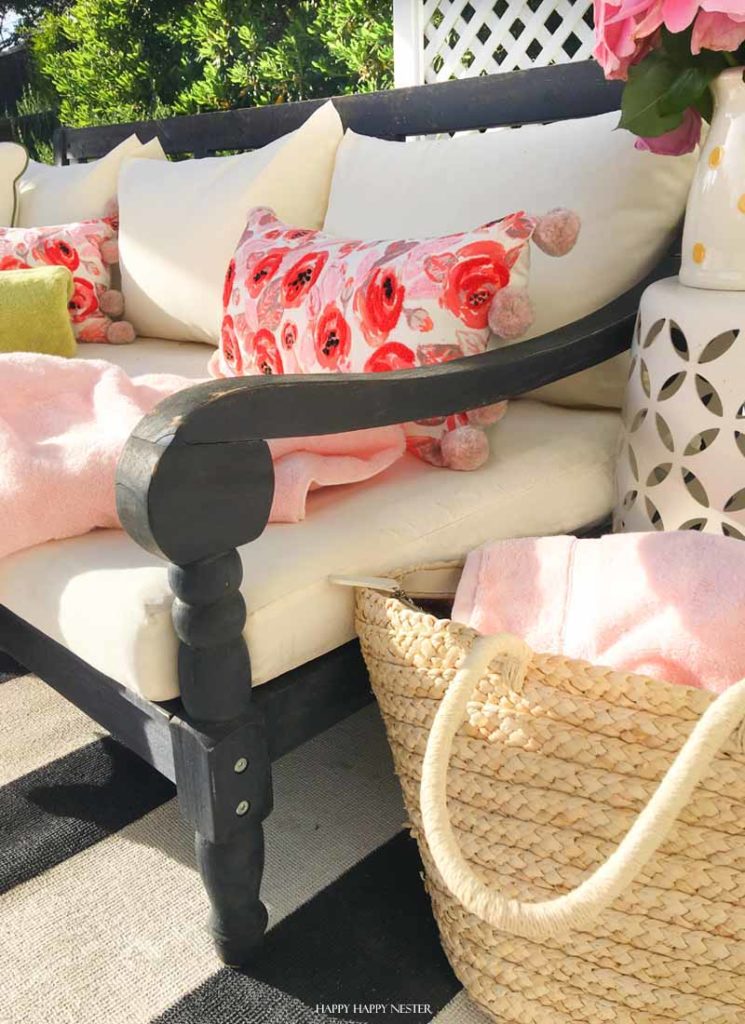 It was a stalemate and something had to happen.
I painted the deck white…
I know it is a bit passive aggressive but sometimes you have to make a move.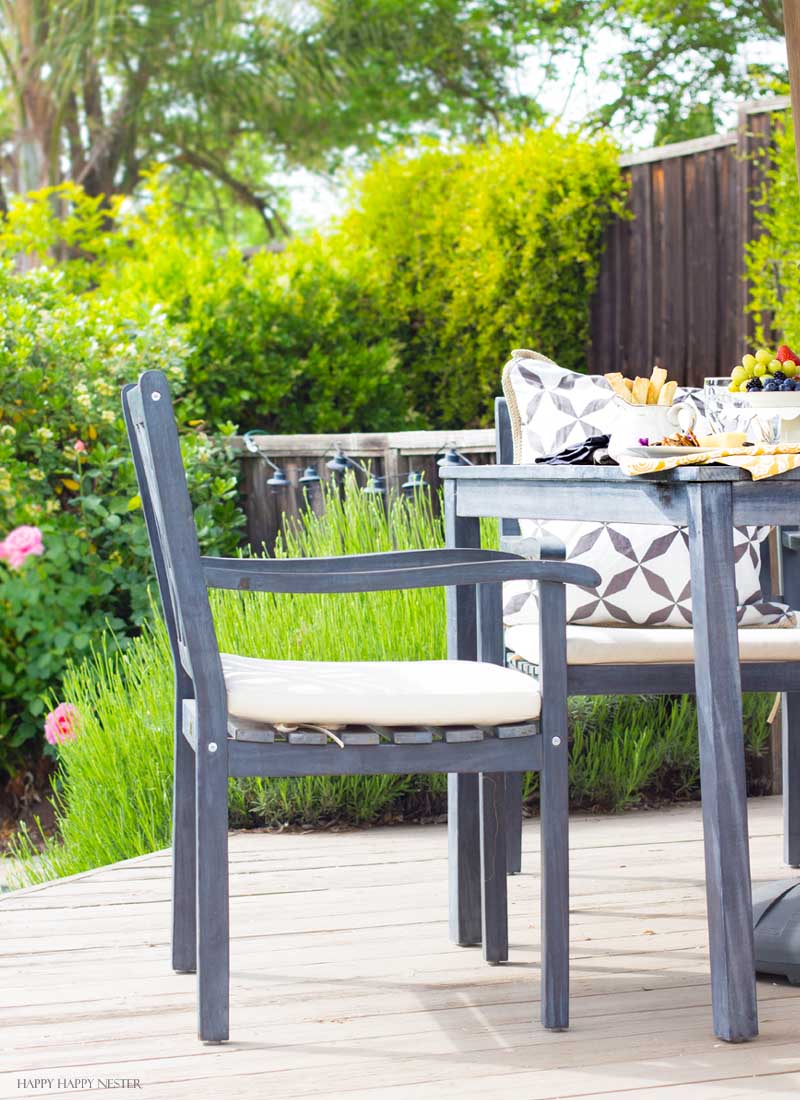 Of course, a couple days later my husband admitted that I was right.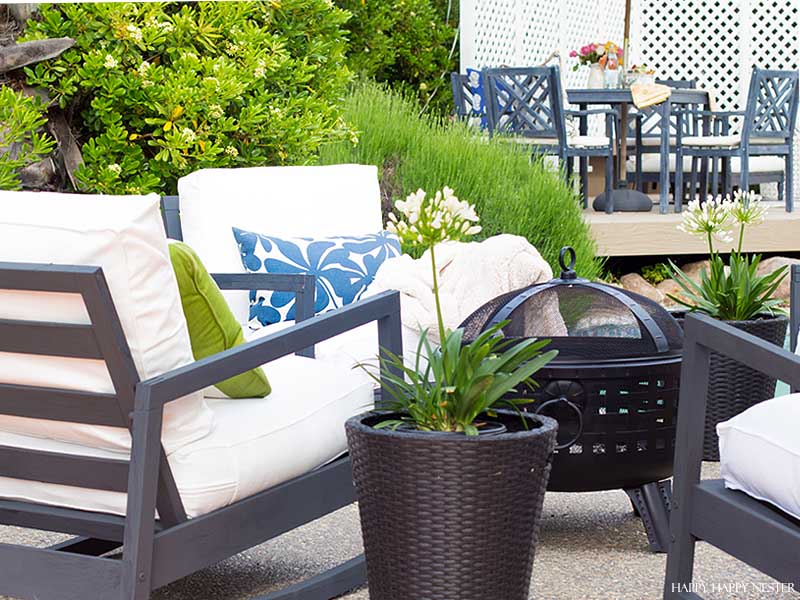 Now on to our another one of our outdoor living rooms.
One of my husband's biggest concerns is to not spend money.
That darn budget!
These adorable chairs were given to me, hooray for free.
So when they start to look worn out, I slap on a coat of chalk paint on them and they are ready for another summer.
I'm learning how to be frugal. 🙂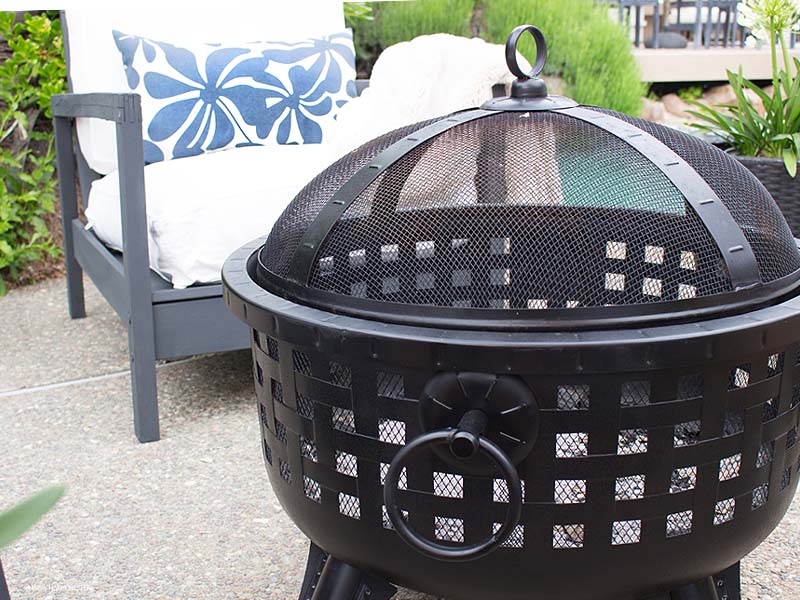 The firepit was showing a bit of rust so I sprayed a bit of high heat bbq spray paint on it and within minutes it was a happy bbq!
Yup, originally my husband was like, you're going to buy a firepit?
Well, now he loves it.
This is the story of my life, are you seeing a pattern here?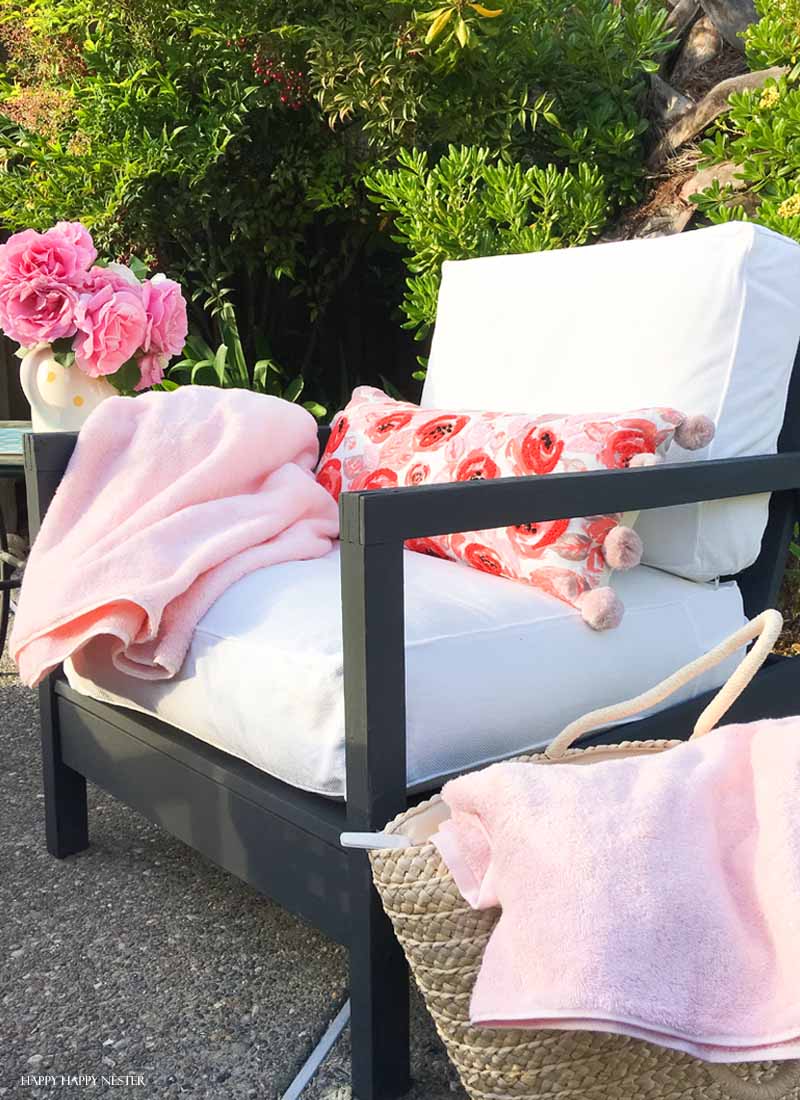 Oh yeah, I didn't even talk to him about this adorable umbrella. I just bought it. All done by a committee of one… moi.
Now, the patio flooring has never been our favorite and every spring, we sit at our table and brainstorm on how to replace it.
Right now, I would love to stencil the whole thing, and my husband wants to sandblast it and get more years out of it.
Oh boy, here we go again!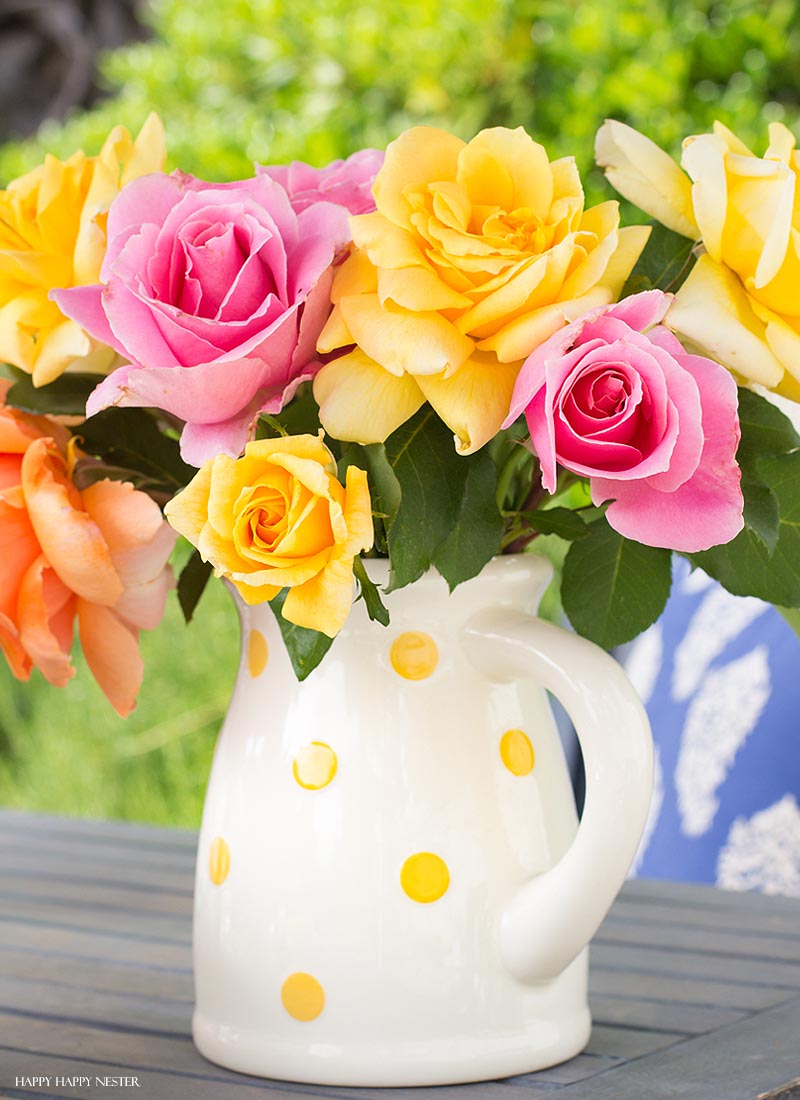 Overall, I must secretly admit that it is good that my husband is keenly aware of saving money. I'm a bit more inclined to be creative and not quickly replacing our decor with new items. So as a friend says, it is all coolio.
If you are interested in the pretty pink pillow featured, here is the link: Lumbar Pink Pillow
Cheers,

PS: I will be following up this post with a recipe for the delicious breadsticks pictured here.
*This post contains affiliate links
Make Sure to Visit These Other Great Blog Posts!
Martha | Simple Cozy Charm
Kim and Lacey | Styled with Lace
Amie | Meme Hill
Ashley | Modern Glam
Summer | Summer Adams
Judy | Life is Better at Home
Yuni | Love Your Abode
Joan | 2 Ladies and a Chair
Amy | Crazy Chic Design
Bethany | The Posh Home
Janine | Happy Happy Nester
Jackie | Finding Lovely
Rhonda | Hallstrom Home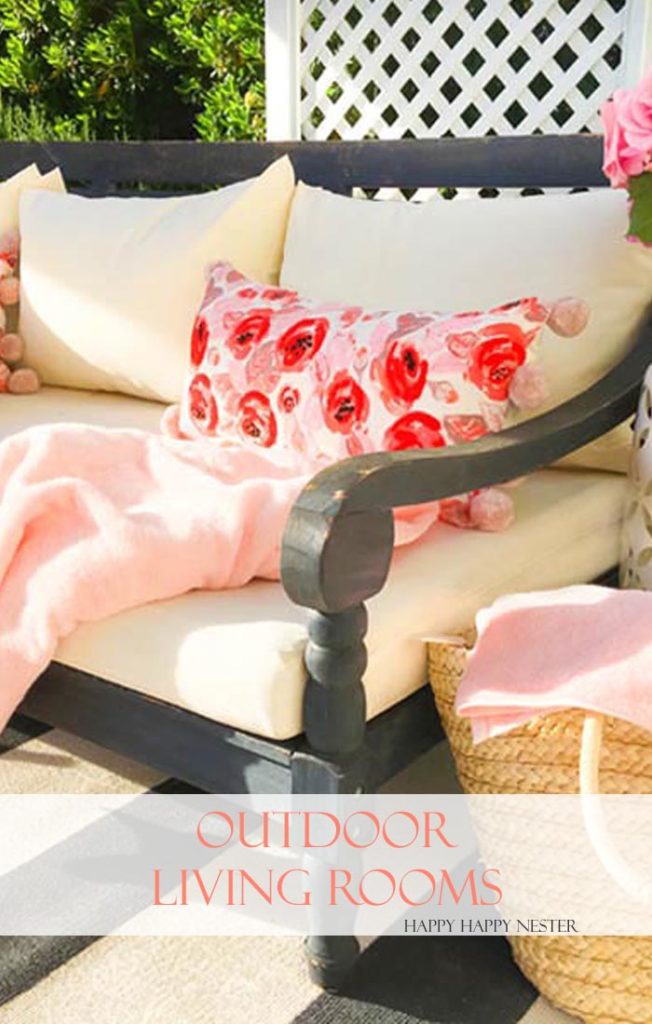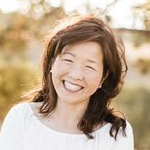 Latest posts by Janine Waite
(see all)