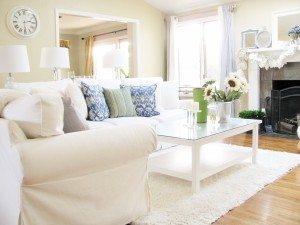 Paint 
I'm always asked about the wall paint in our home, so I decided to devote a blog post to it. Wall color is so important to me and I know from experience it can be a tricky thing to master. My hope is that if I can help a few of you, that would make me happy. My family and friends know I'm kind of obsessed with color and I have been known to repaint a room many times. I think in our last home in Seattle every room probably had about four coats of paint on them. I guess you could say my art degree is resurfacing in the form of color theory on walls.
~ A Note About the Nester ~
I had a painter work on three rooms in our house during our remodel. I wasn't happy with my color choices, so over the weekend, I repainted every room with a new color. I'm a crazy lady!
Let's talk color, it can be a daunting task choosing the right colors for you home. Sometimes, I think surroundings have a lot do with your choices. Our last home in Seattle was inspired by the coffee shop atmosphere. Our color scheme felt like a Starbuck shop, rich with dark browns, emerald greens, and mocha of course. We moved down to San Francisco about six years ago and our home is a typical one story Northern California Ranch style home. When we first made the change it was quite a transition and it took me a while to fall in love with this new look. Now I love this style home and couldn't imagine anything else. Our current abode is much lighter and has the coastal feel, it is bright, happy and full of sunshine. So I guess that before deciding on wall color, I usually try and think about the style I want and what colors work with it. Then from there, I choose two colors that I want to repeat throughout our home. I like a cohesive feeling and like to repeat colors in various rooms. If you choose your colors this way, it will help you to narrow your choices and stay focus and not get too overwhelmed.
Well, let's start the tour. My main color choices are coastal, so the two main wall colors in our home are grey and beige.
Entry 
Benjamin Moore, Revere Pewter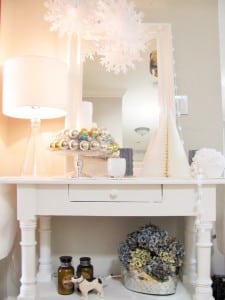 This is our entry, I finally settled on Benjamin Moore's Revere Pewter. This is an interesting shade since in some light it appears blue and sometimes grey. It is a real subtle color that isn't too overpowering, so if you are a little shy with paint this is a nice safe light choice of grey.
Kitchen
Benjamin Moore, Revere Pewter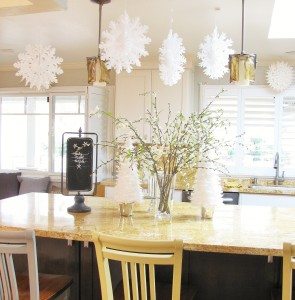 While we were remodeling our kitchen, I quickly realized that the existing tan walls actually heightened the yellow so much that it felt like the walls were screaming. Just a little tidbit of info, choose your wall color after your countertop is installed. Our kitchen granite is such a committed yellow, so to subdue it a bit, I choose the Revere Pewter. Both compliment each other nicely and the grey tones down the yellow. Little did I know that a couple years later this color combination is popular and is everywhere. Here is the link to our kitchen remodel post: Kitchen Remodel Part 1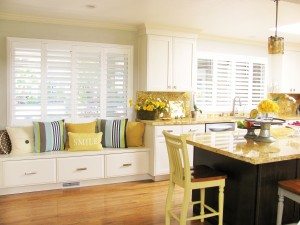 Dining Room
Benjamin Moore, Revere Pewter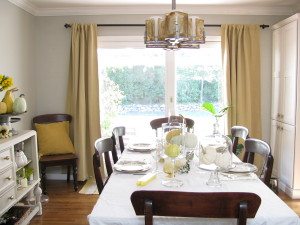 I have the same Revere Pewter in the dining room. It plays nicely with our dark wood dining room table. I do think I may find some new curtains to change out for the summer.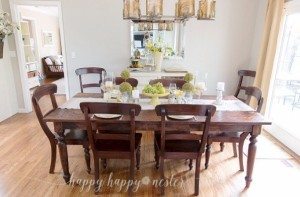 Living Room
Restoration Hardware Latte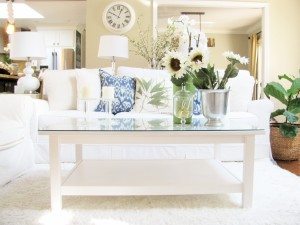 Our living room has gone through a few colors. It started off pretty dark reminiscent of our Seattle home and now it is a light tan. Our current color is Restoration Hardware's Latte. I love it and it just adds enough splash of a color but not too overwhelming. It makes a nice neutral background for most colors of home decor.
Master Bedroom and Bath
Benjamin Moore, Muslin and Restoration Hardware, Silver Sage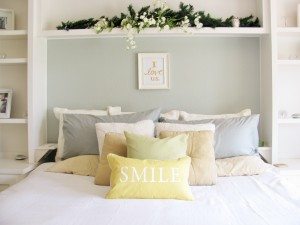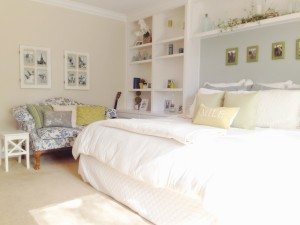 Our bedroom is pretty much a beige, Benjamin Moore Muslin. I love how it makes the room even lighter when the sun shines in the morning. I decided that four beige walls were overwhelming so I painted the little area above our bed a Restoration Hardware, Silver Sage. This color is carried over into the bathroom and the repetition works nicely in the two rooms.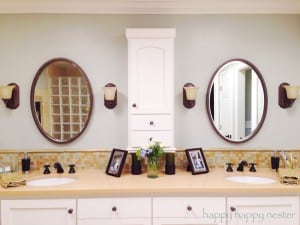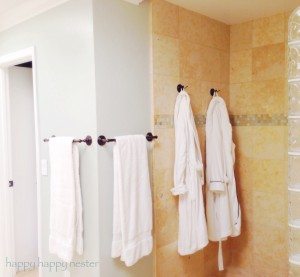 Family Room
Benjamin Moore, Muslin
Our family room is Benjamin Moore Muslin. The white shows up nicely against it and similar to the Living Room, I can have fun with a variety of accent colors. Here is a "before" post of this room that used to be a catch-all for storing things: Family Room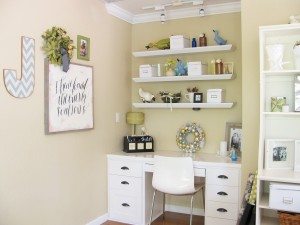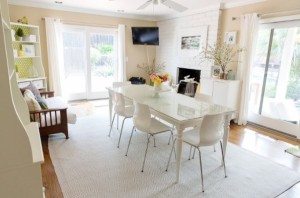 This wraps up my home colors. I still have more rooms to work on, so stay tuned to future posts. If you have any questions about colors and how to choose them, drop me a line. I'll try my best to help you on your project. Or just write a comment below and I'll make sure to reply.
Cheers,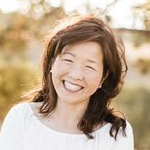 Latest posts by Janine Waite
(see all)