Well Hello, October, I've been impatiently waiting to share my Halloween ideas with you!
But, first, let me welcome you if you are visiting from Ashley from Curls and Cashmere. Her blog is full of great and inspiring lifestyle posts and I'm sure you loved her latest post! And speaking of latest posts, don't forget to check out my Fall Home Tour.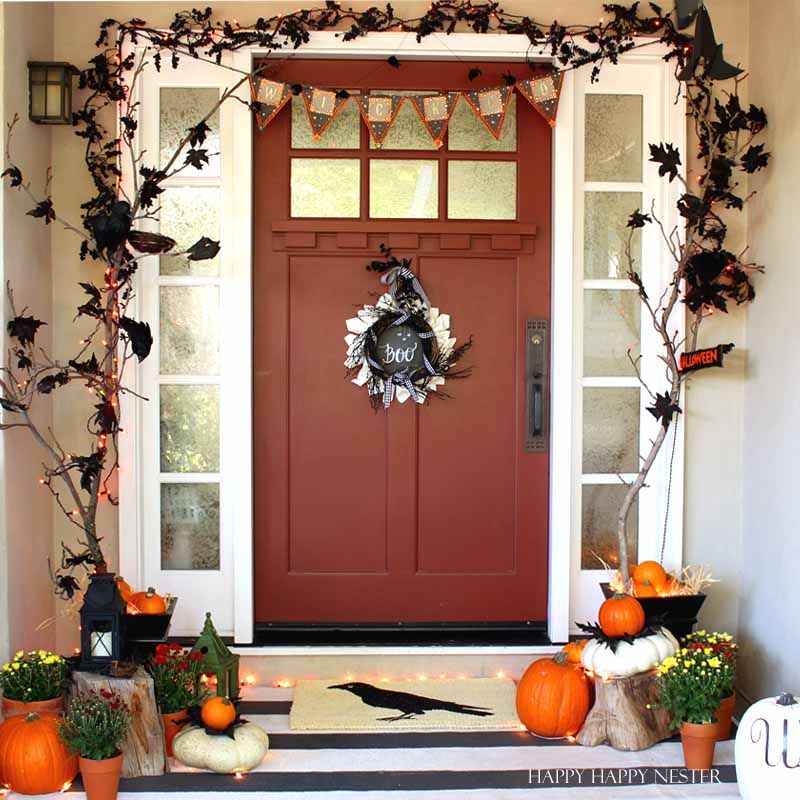 Trick or Treat!
Today, I have a Halloween treat for you.
So, lately, when I started to tackle my Halloween porch, I could feel my Buddy the Elf tendencies reemerged this fall.
It's Buddy the Elf, what's your favorite color? Ok, focus Janine!
Well, here is how it all began.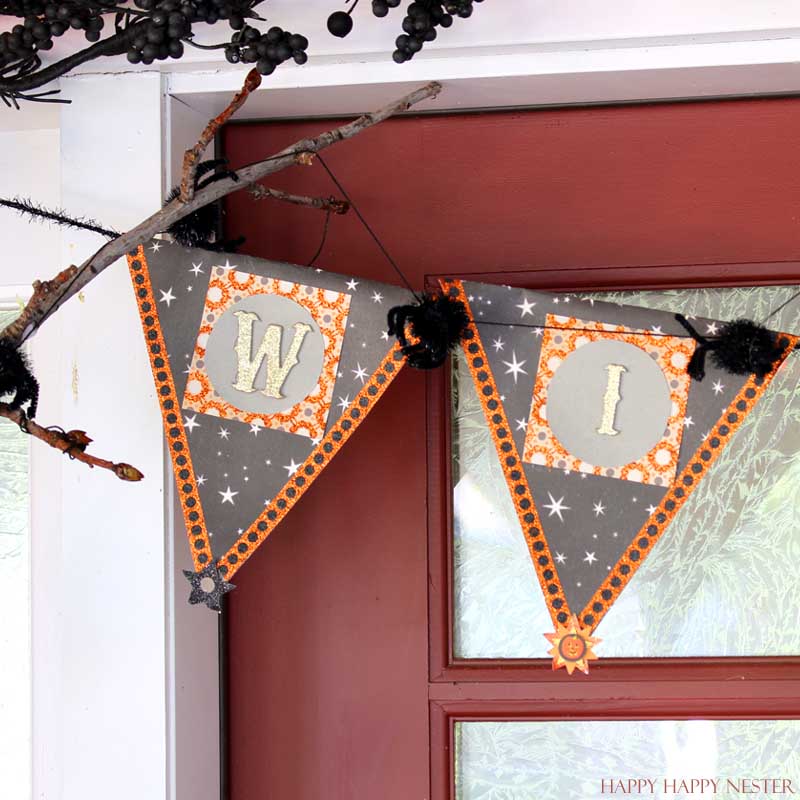 My Halloween Porch
So, about a week ago, I started decorating our front door, seems innocent, right?
But, after a bit, I glanced at the porch, and I noticed that the whole left side was empty. The designer in me got to thinking.
My porch composition is off kilter.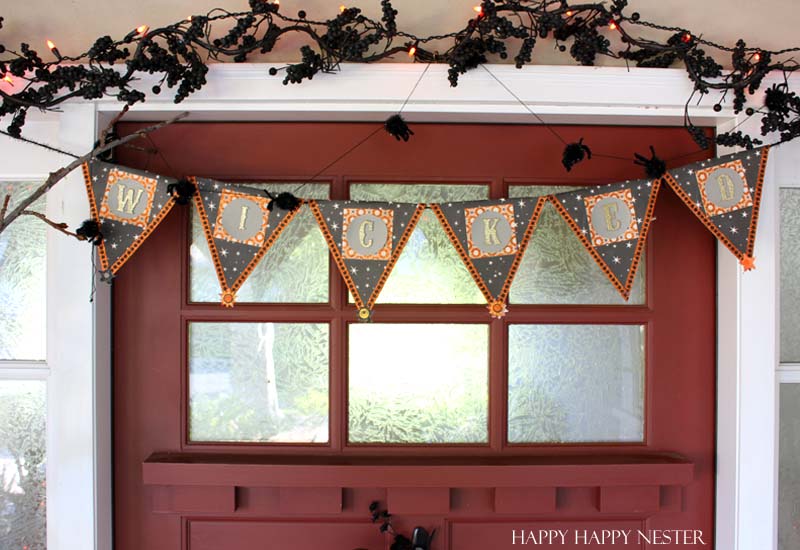 That one kernel of thought was all I needed. Before I knew it, the Halloween decor had a mind of its own and somehow it grew across the porch!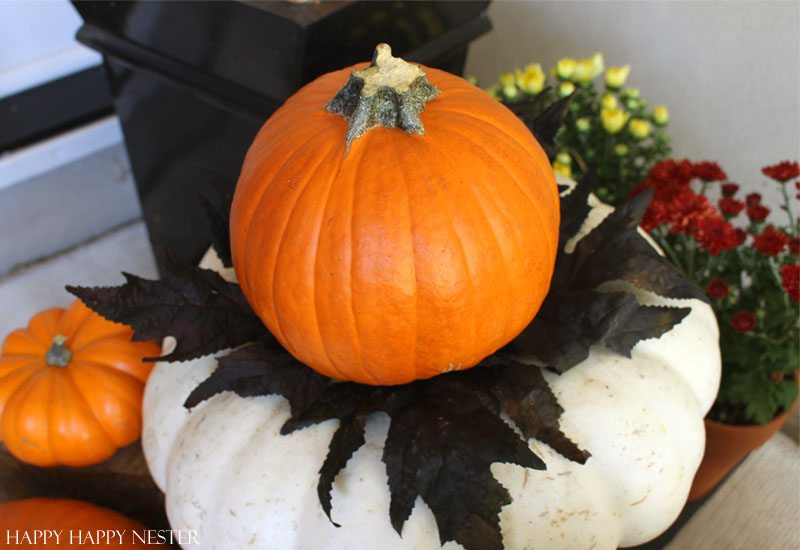 All my Halloween ideas came bursting out, and I never looked back.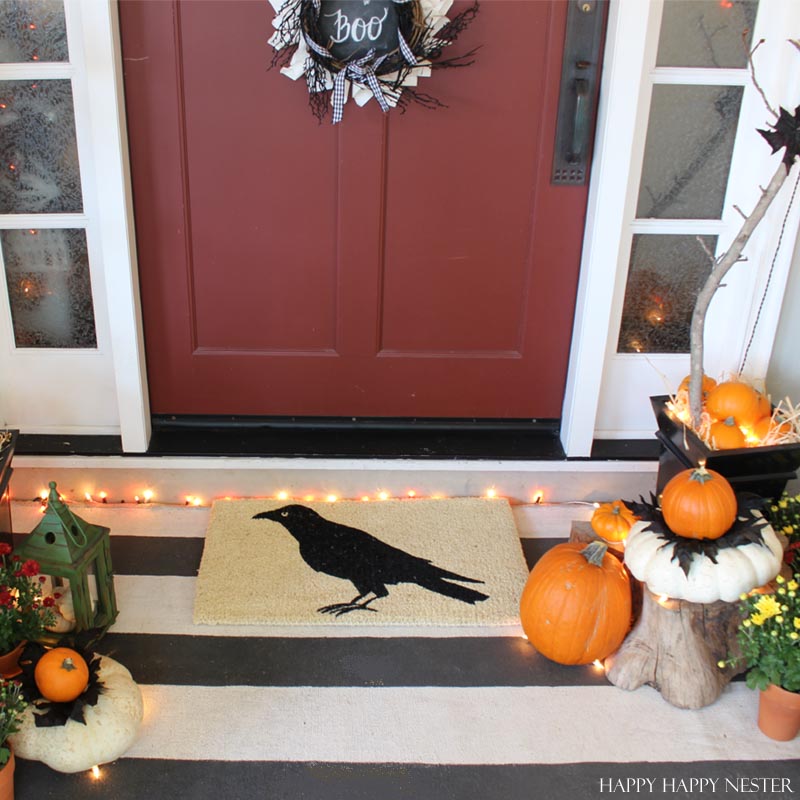 And did I mention that we live in a neighborhood that has a constant flow of walkers and bicyclists?
And as I was up on my ladder working on stringing my gazillion lights, one mom was biking by on her stylish cruiser bike, and she yells out to her kiddos, "Look at her cute porch!"
Thank goodness I waited until October to begin my Halloween decor.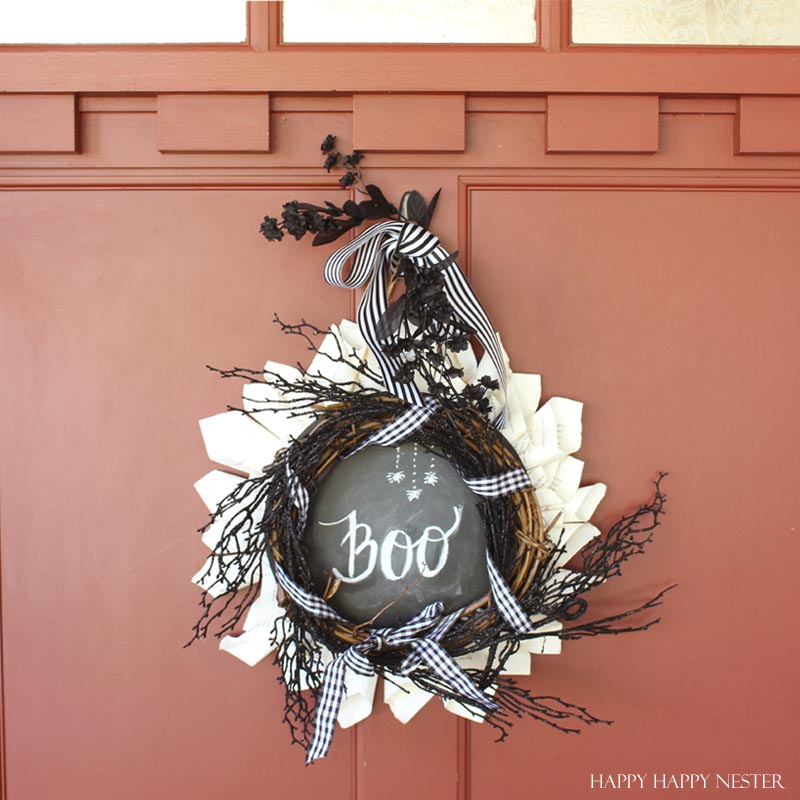 Wreaths, garland, twinkle lights, mums, and finally hanging paper bats are finally up.
And boy, do we have one decked out porch.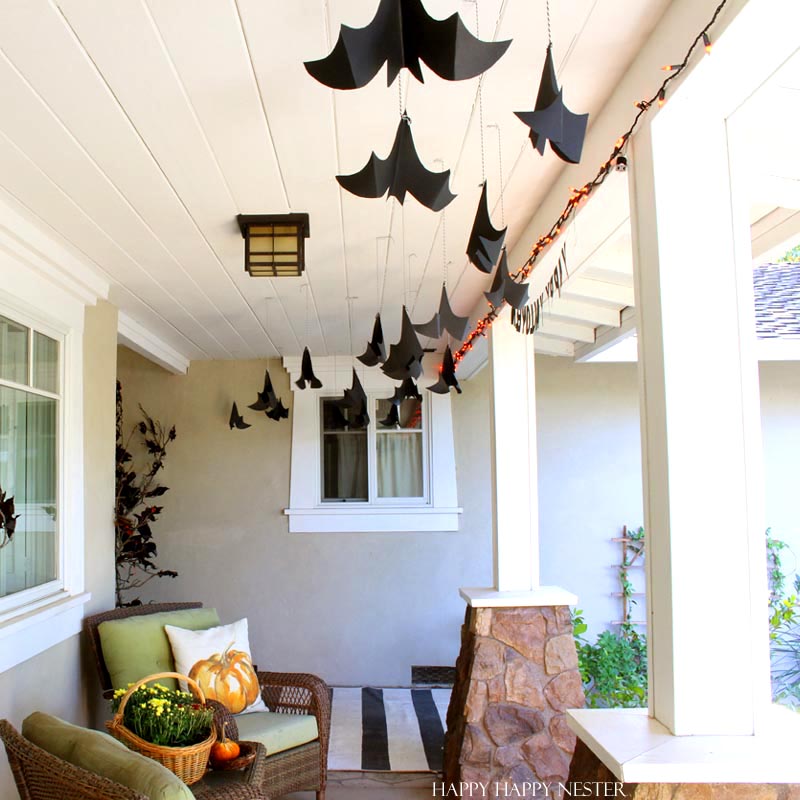 So, recently my kiddos spied my new Halloween porch, they had this overwhelmed look on their face and said, "Mom, that's a lot of decorations!"
Hmm, is this a compliment or criticism, I can't tell.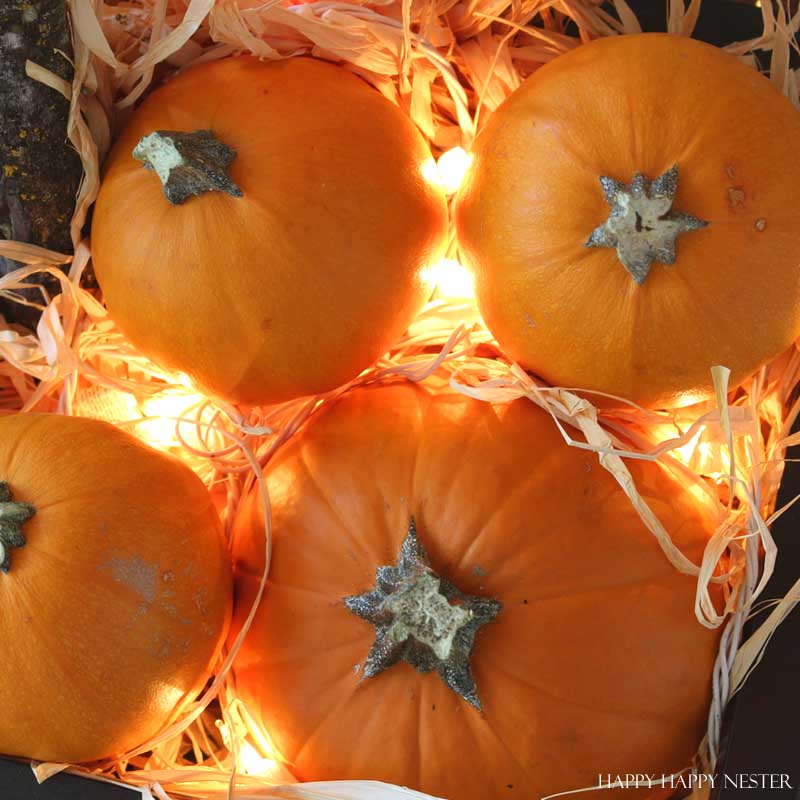 Ok, maybe my last trip to the grocery store, I didn't need those extra six pumpkins. But, how was I to stabilize my branches in the planter?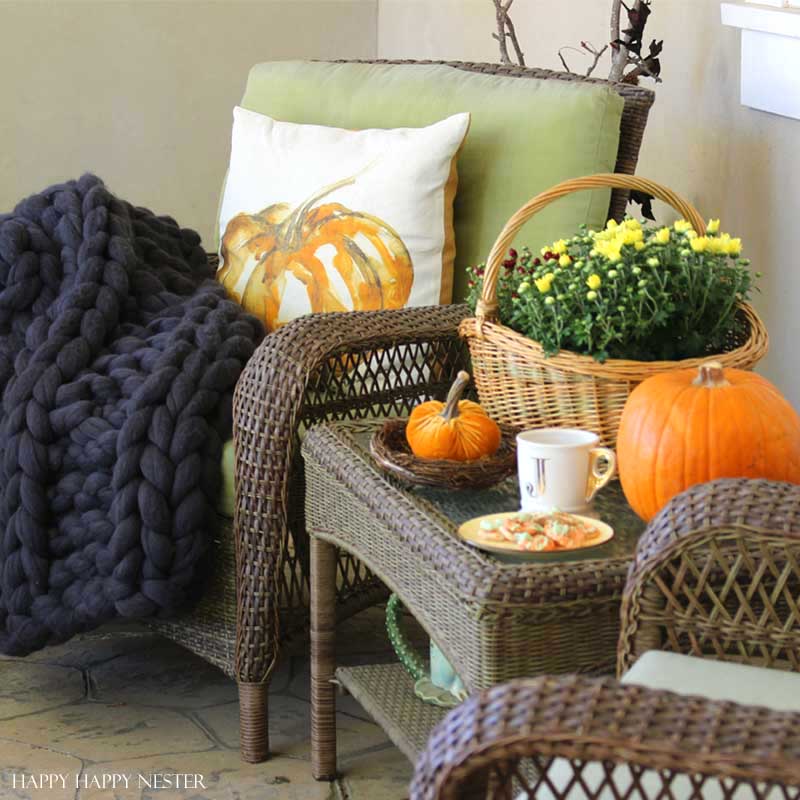 But, seriously when I have a free moment to create and step away from my computer and phone, I get in the zone, and there is no stopping me.
A google-plex of Halloween ideas are dancing around in my brain.
My husband says I'm a woman on a mission and watch out! There is no token orange pumpkin on our doorstep, but instead a mini pumpkin patch.
A Funny Story
Even my hubster thinks I'm crazy!
One lazy Saturday morning, I'm lounging in my PJs, and I was horrified to discover that he was breaking up some of my precious branches in our backyard and cramming them in our yard debris receptacle.
I instantly ran outside, not batting an eye that I'm still in my PJs and my favorite fuzzy slippers. And I frantically yelled, stop!
Yeah, maybe I was bit dramatic and maybe not so subtle.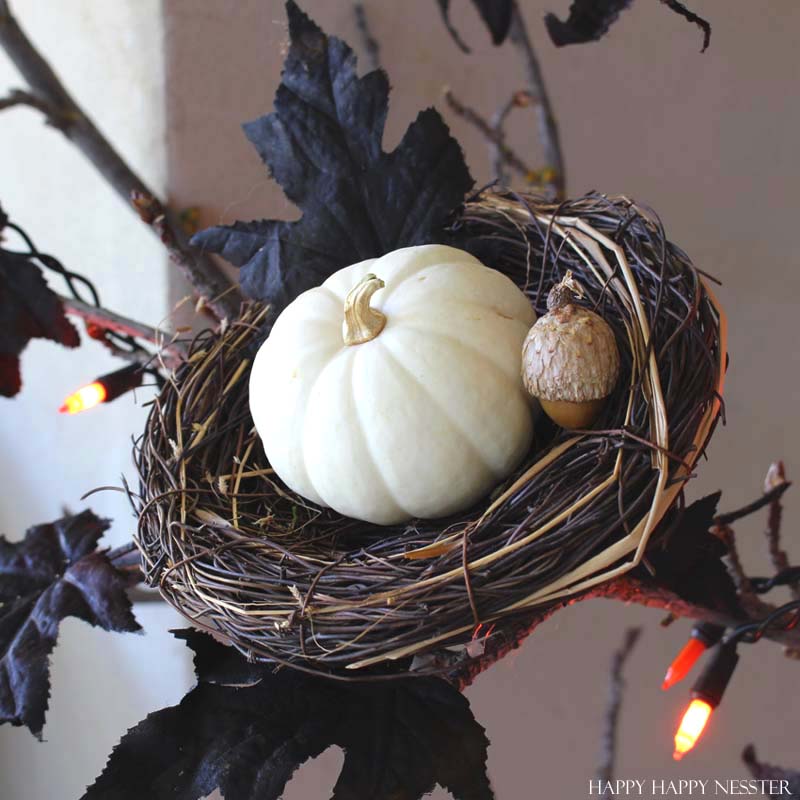 He is like, huh? Well, you see, I had held onto to these sticks for over a year, and I had great plans for them.
Bloggers feel that Everything is a possible project.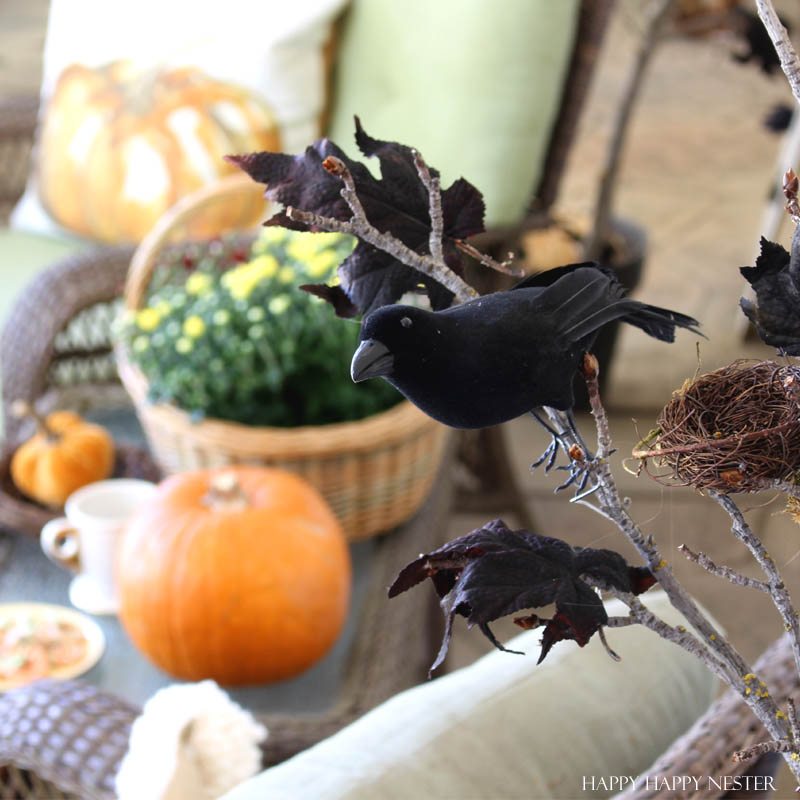 So, I got busy and hot glued some Halloween inspired black silk leaves. If you are wondering, I just took a bright orange fall leaf garland and spray painted the leaves black.
I added some lights to the branches, but of course, they had to be the cute orange ones to match the Halloween theme.
And don't you think twinkle lights just add a bit of charm?
A Murder of Crows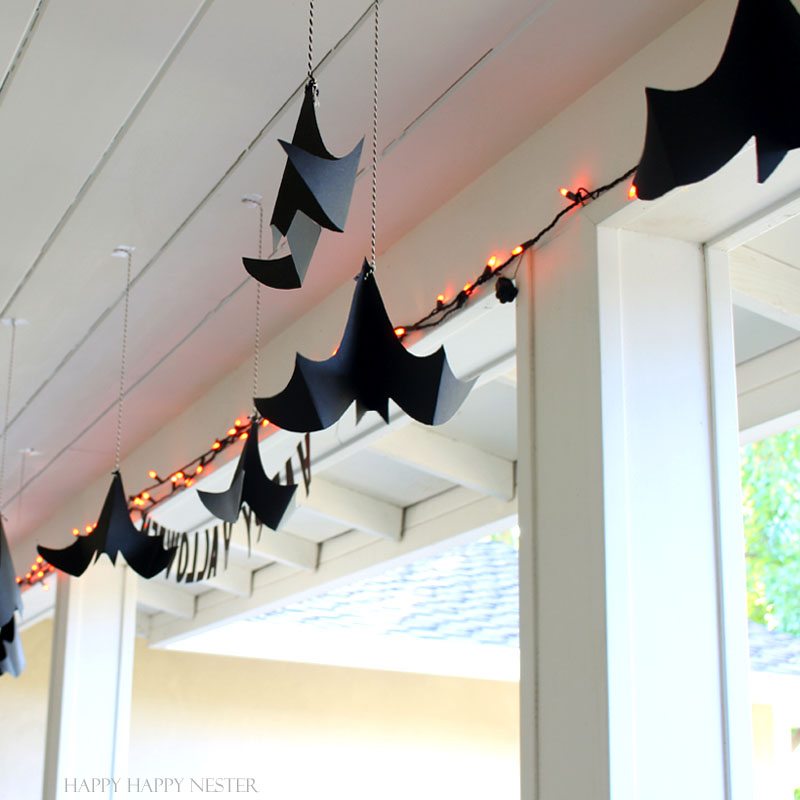 These paper bats are from Martha Stewart. Don't you just love them?
You know how I love paper and all my paper craft projects!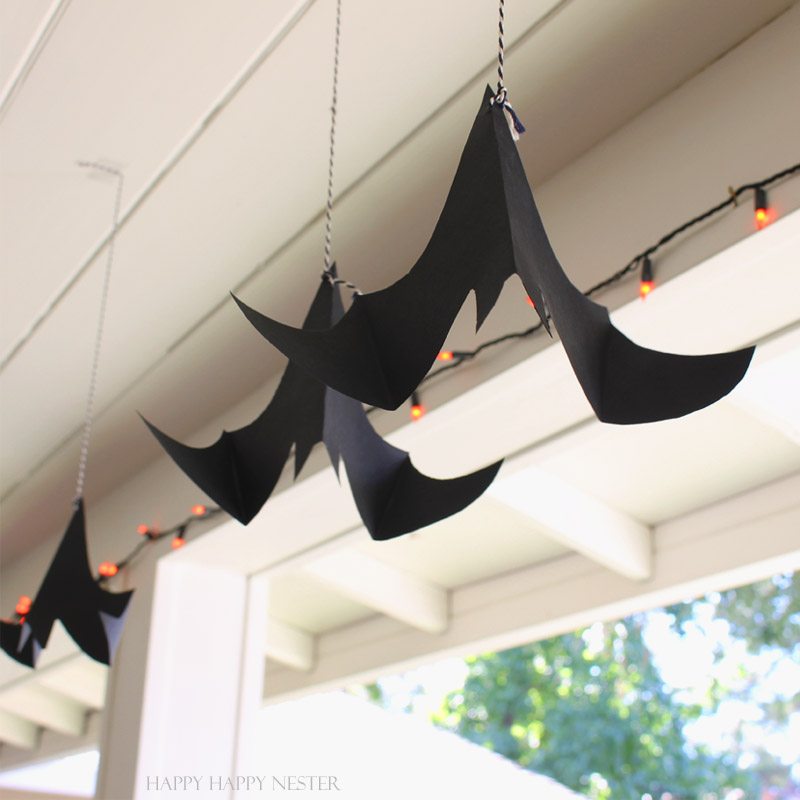 So, I didn't use Martha Stewart's template since the bat pattern was so huge and that it was a bit too big for my porch. So, when you download her template, use the reference image which is smaller. I just made mine a tiny bit bigger.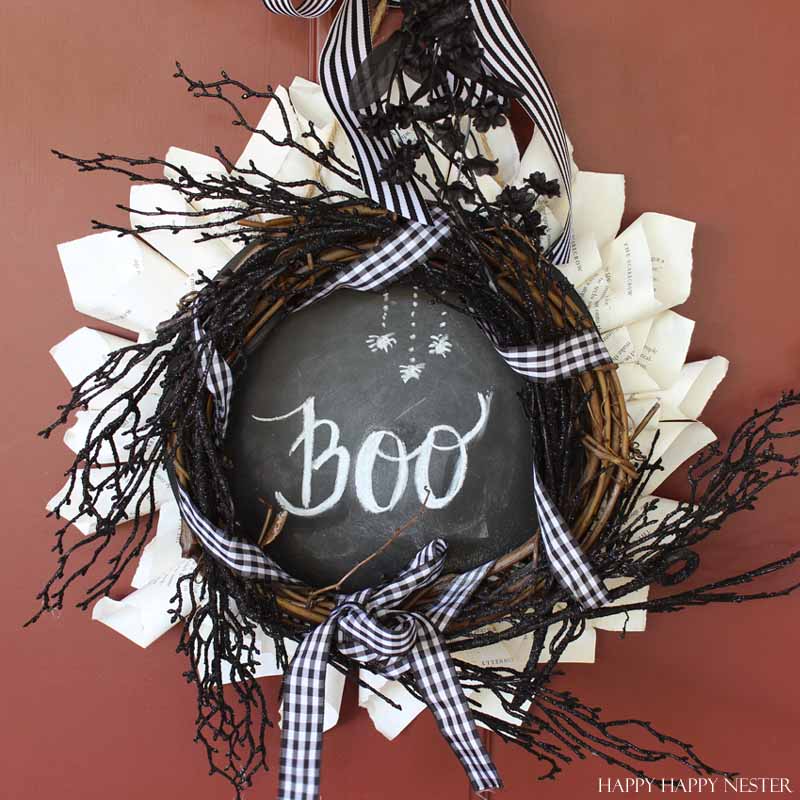 I will be sharing how to make this fun Halloween wreath later this week.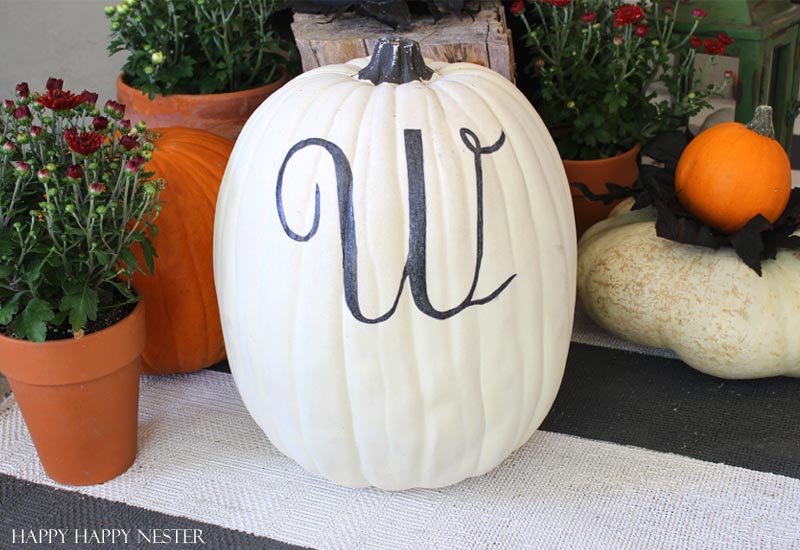 I'm always smitten by calligraphy on objects, and I found this project on Pinterest. The cool thing about using faux pumpkins, I'm able to unearth these pumpkins every Halloween and Fall.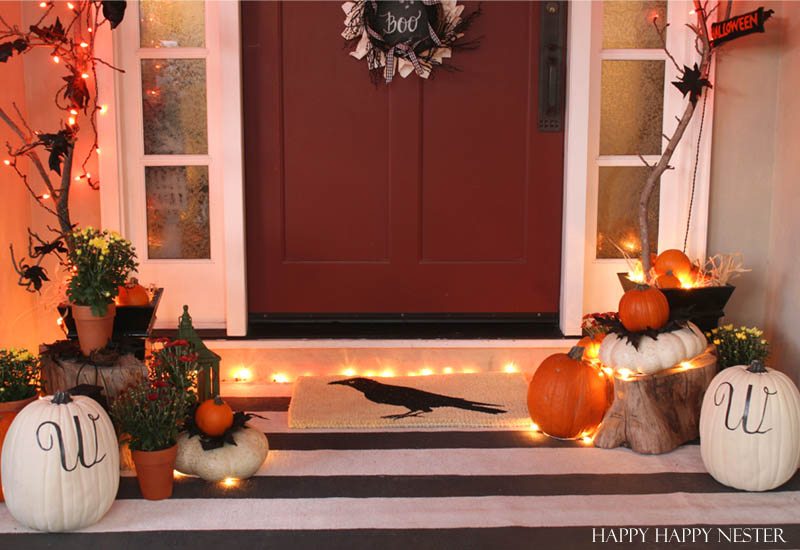 Crows are just as plentiful in our neighborhood as the deer. Both of them are like our resident lawn ornaments all year long.
So, let's just say they are our home's mascots.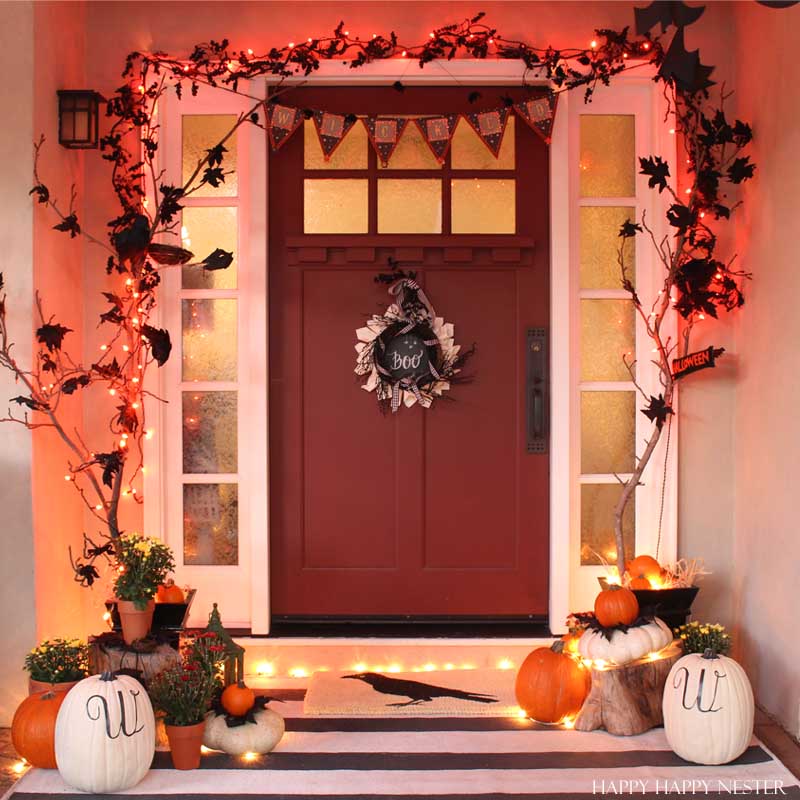 Black Crows | Tag Crow Door Mat | Black Planter
Anthropologie Initial Mug | Chunky Wool Throw | Pumpkin Pillow
Well, this concludes my front porch tour.
Happy Halloween, and may you be inspired to decorate your front porch! Don't forget to visit my friend, Judy;s post at  Life is Better at Home
Also, pay a visit to my other friends (see the list below) on the blog tour for more Fall and Halloween ideas.
Cheers,

More Fall and Halloween Tours
Mysha | Remington Avenue
Sheila | Maison de Cinq
Ashley | Curls and Cashmere
Janine | Happy Happy Nester
Judy | Life is Better at Home
Martha | Simple Cozy Charm
Olivia | Reinvented Collection
Jodie and Julie | The Design Twins
Jackie | Finding Lovely
Joan | 2 Ladies and a Chair
Ashley | Modern Glam
Kim and Lacey | Styled with Lace
*The above post contains affiliate links. When you buy products from my links, I make a small commission.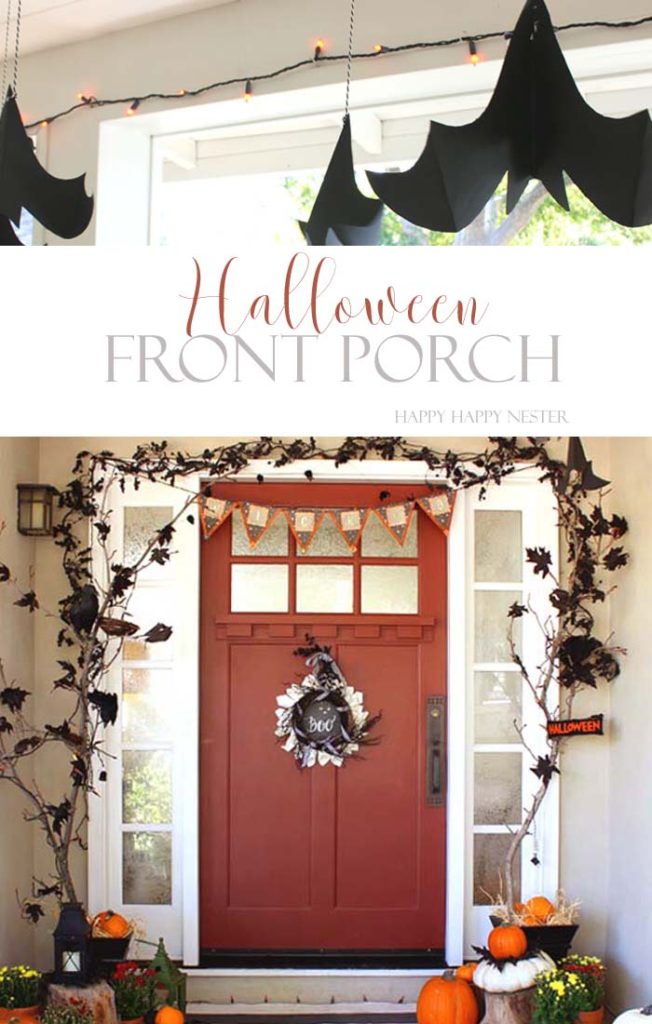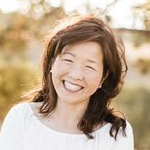 Latest posts by Janine Waite
(see all)