Beautiful Christmas Decorations in Green is the topic for today's Boutique of the Week. If you like handmade holiday decor, then check out these pretty ornaments, wreaths, and trees.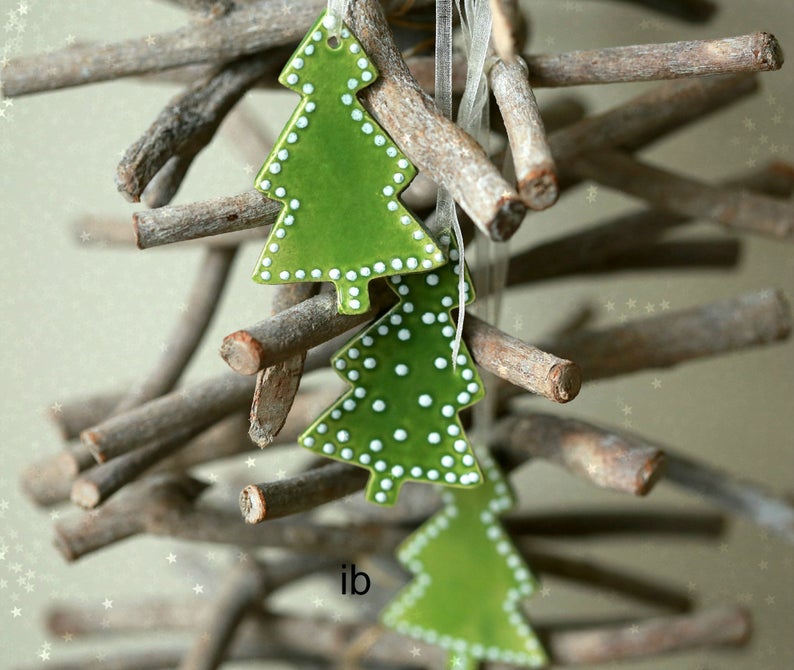 Here is my earlier post if you missed it, Shopping for Christmas Decorations in Red. And today, I'm featuring green decorations.
Since our pandemic, I'm shopping mostly online, and I love finding unique, handmade decor.
While I'm exploring online shops, I love saving cool items for you. I hope you find something you like and can support these small businesses.
If your budget is tight, then maybe get crafty and use these posts to be inspired. Enjoy and recreate your own version.
Beautiful Christmas Decorations
*The following post contains affiliate links
GREEN ORNAMENTS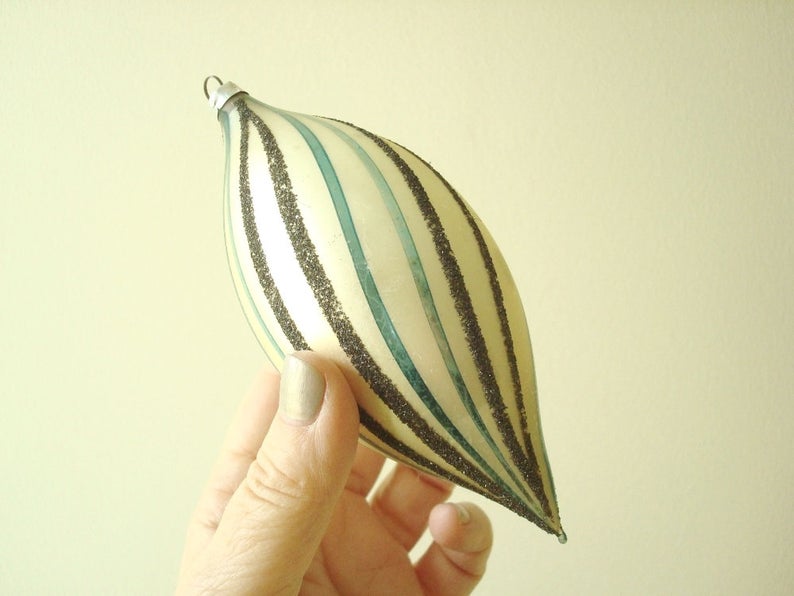 German Vintage Glass Christmas Ornaments
An extraordinary pair of vintage glass ornaments. Large 5-inch "fat teardrops" have a frosted matte background with glitter swirls in pink, green, and darkened silver.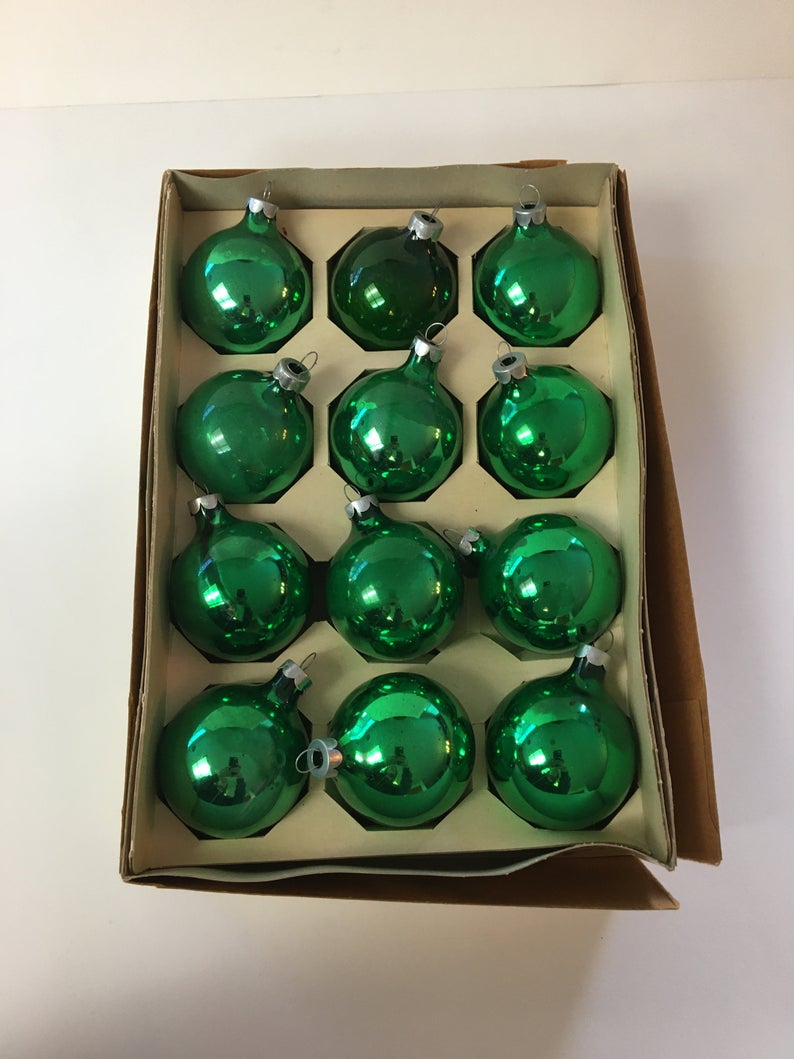 A dozen classic glass Christmas ornaments in bright, vibrant green. Delicately aged with some charming variations in color throughout!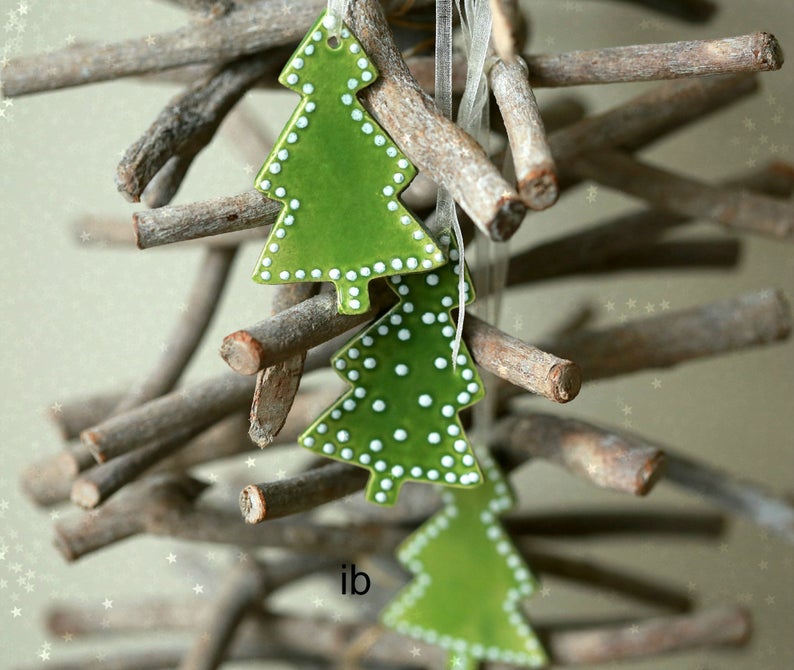 Winter season is around a corner, and you can decorate your home with new Ceramic Christmas Tree Ornaments. These lovely ceramic ornaments are made from white clay and glazed on both sides. The glaze is a beautiful, shiny, forest green color topped with white dots.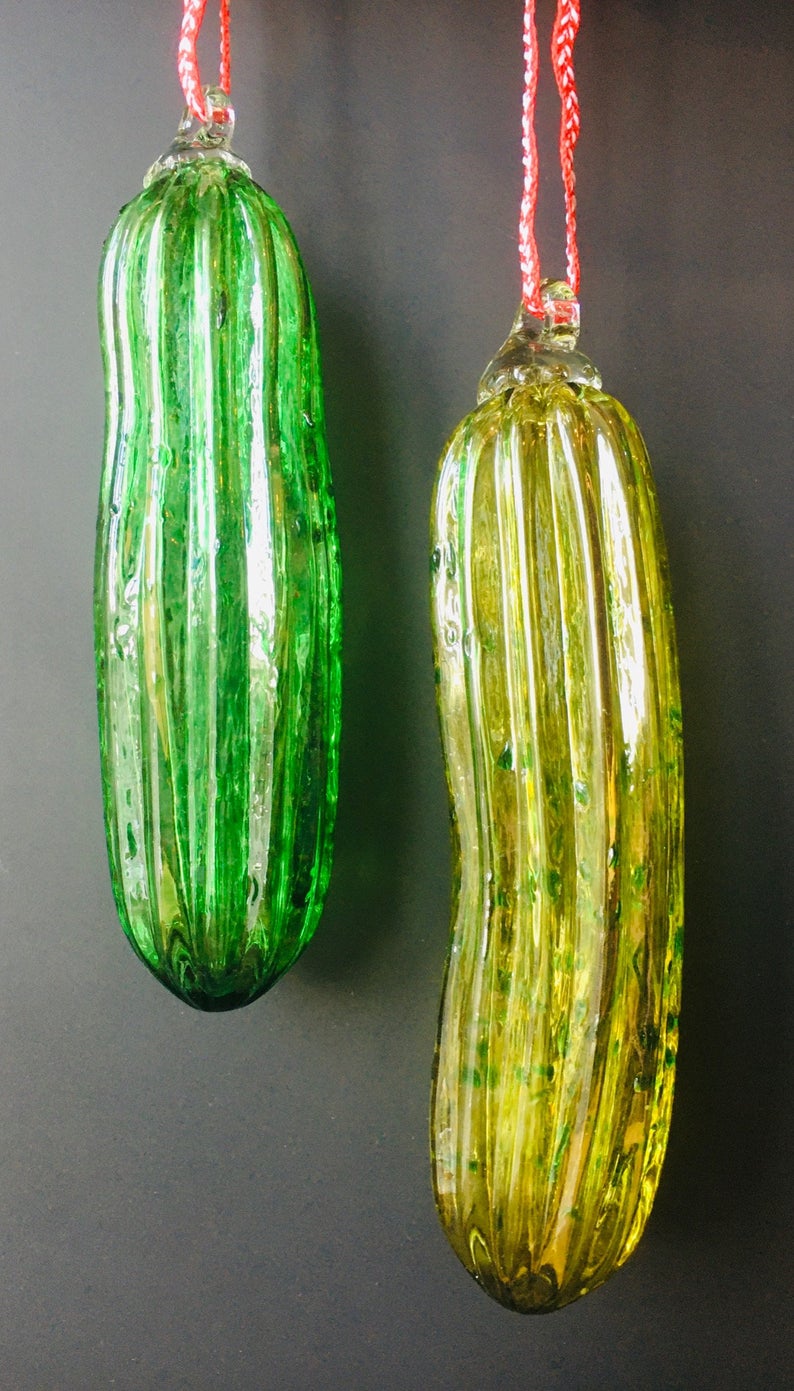 Fun, handblown glass pickle ornaments! A great gift for any pickle enthusiast or the perfect ornament for the "hide the pickle" holiday tradition.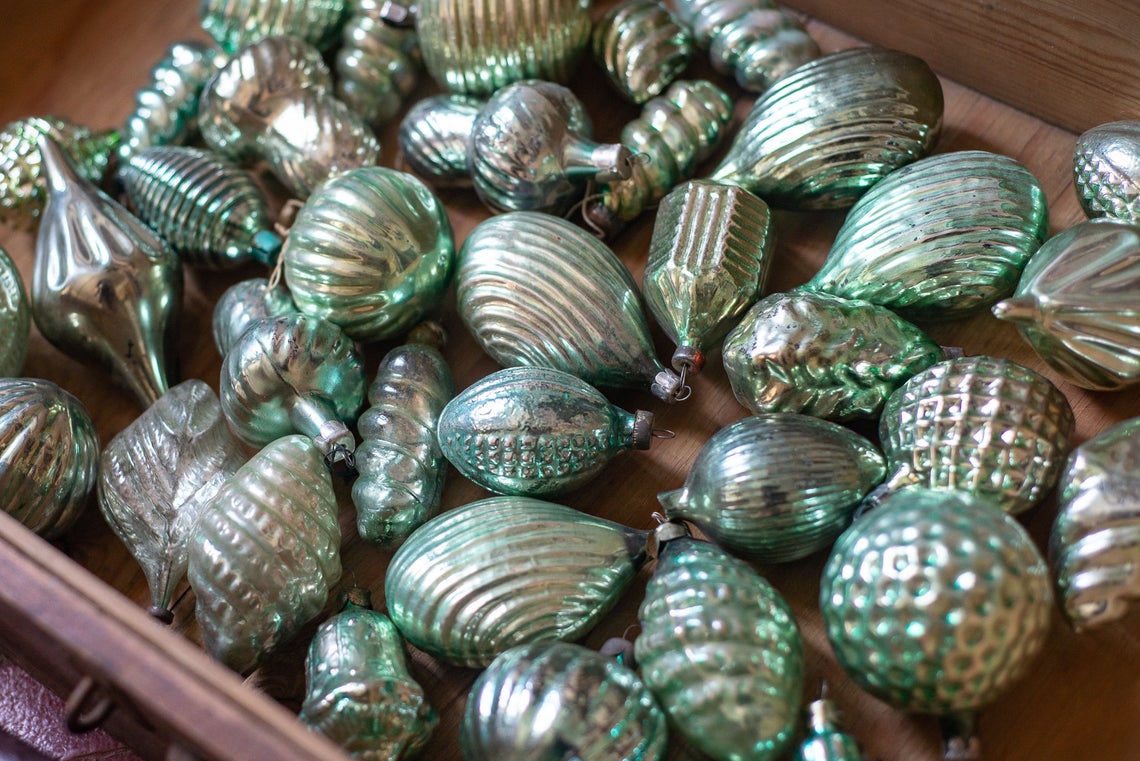 Pale Green Vintage Glass Ornaments
This set of pale green silver shadows assorted glass vintage Christmas ornaments from the 1950s-1980s.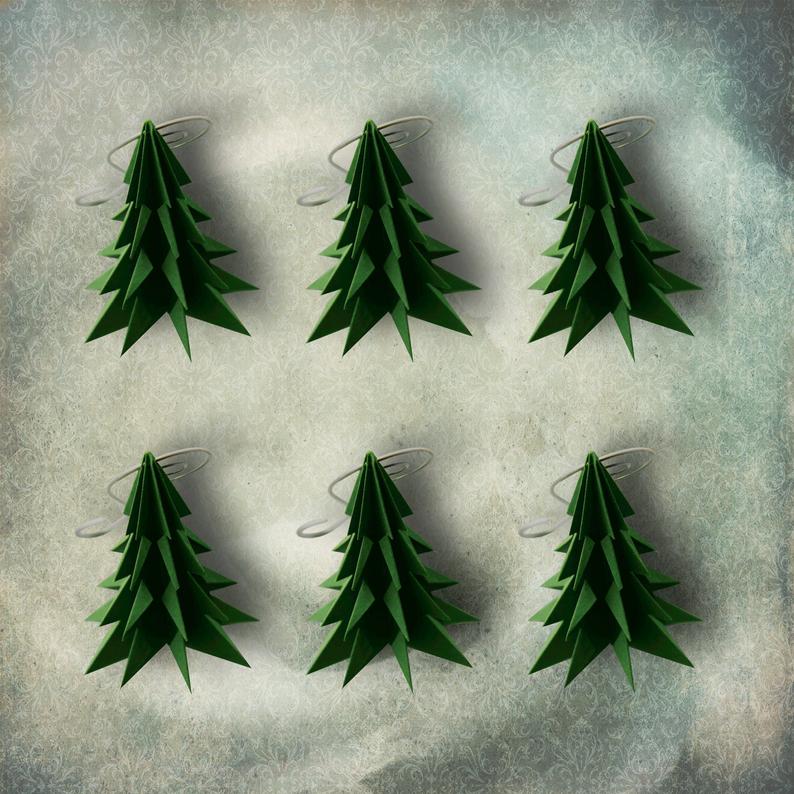 These are six beautiful dark green origami ornaments, and each ornament is 2 inches in height and crafted from acid-free paper.
GREEN WREATHS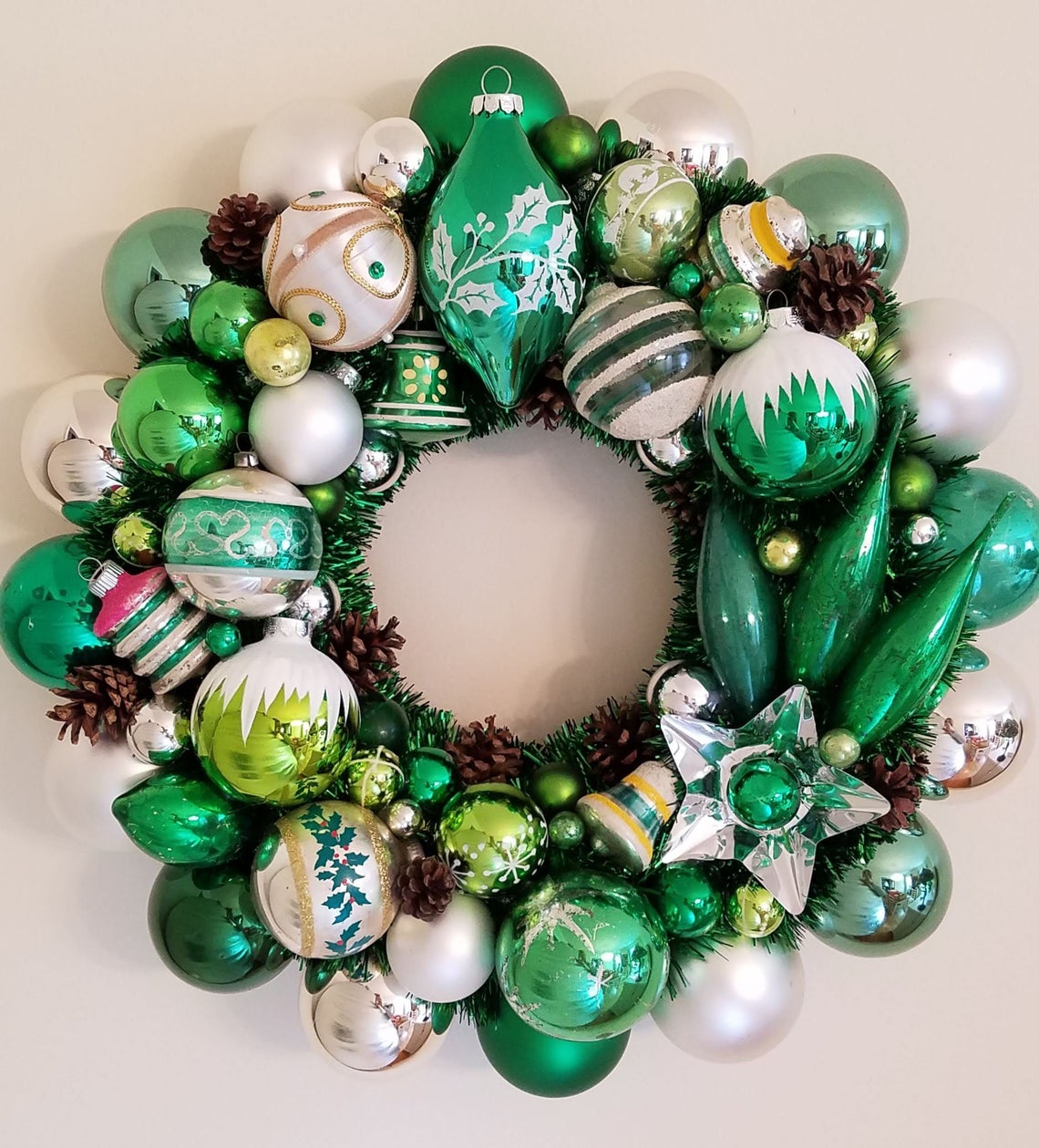 Authentic vintage and antique ornaments are used on the top, visible layer for a rich, aged look. Newer ornaments are occasionally mixed in, but the overall "vintage" look is carefully maintained. Since they are usually covered up, the outer perimeter uses more new ornaments due to their strength and durability.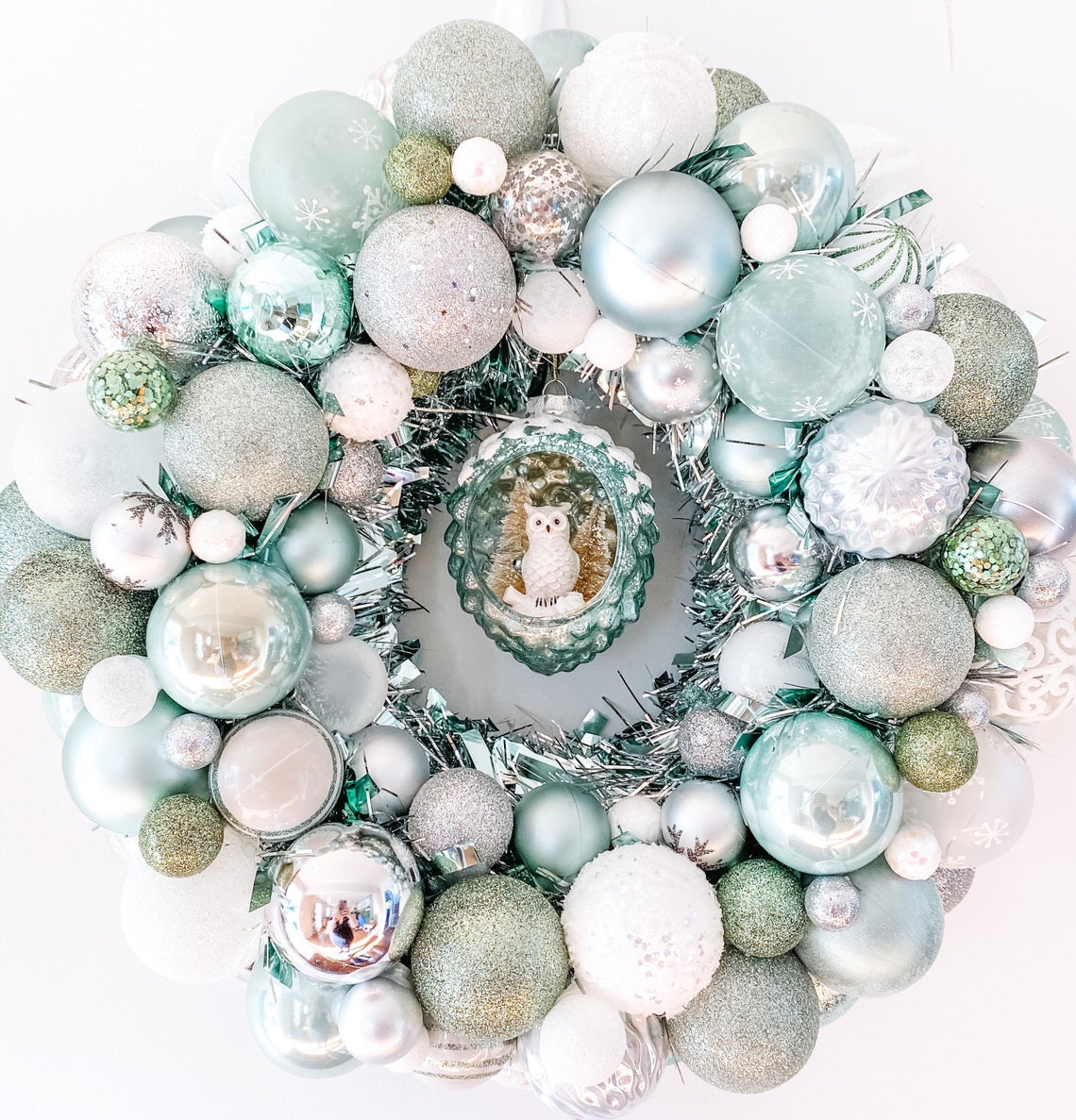 This wreath is lightweight and made of shatterproof ornaments in a contemporary color combination of mint green and white, with silver touches. It features a green and white glass owl ornament in an outdoor winter scene.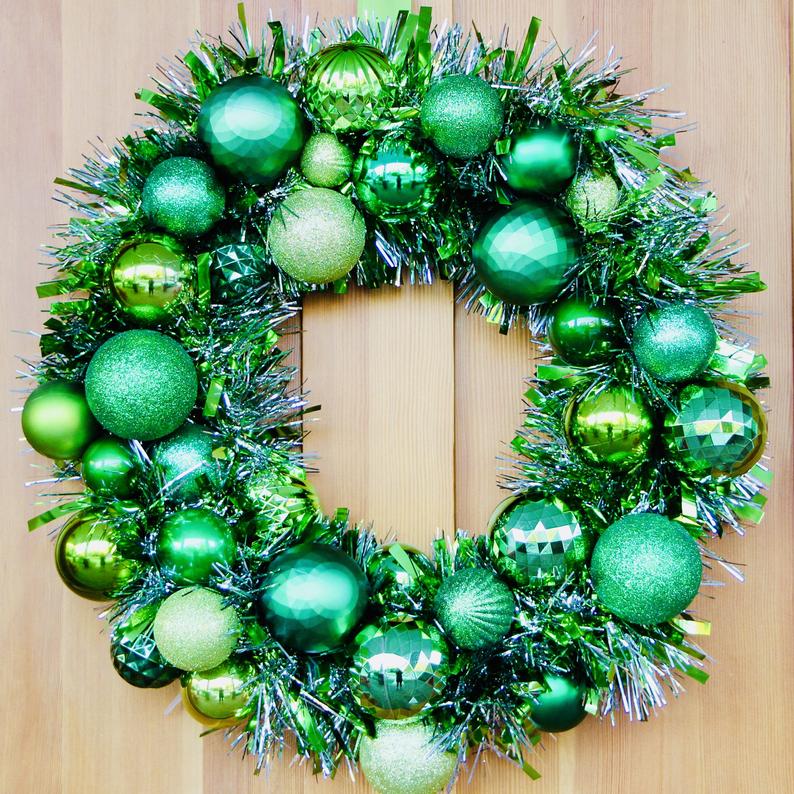 Green Ornament and Tinsel Wreath
This green ornament and tinsel Christmas wreath are sparkly and fun! Perfect for your front porch, entry, or as a gift. Ornament wreaths make such beautiful Christmas decorations.
GREEN TREES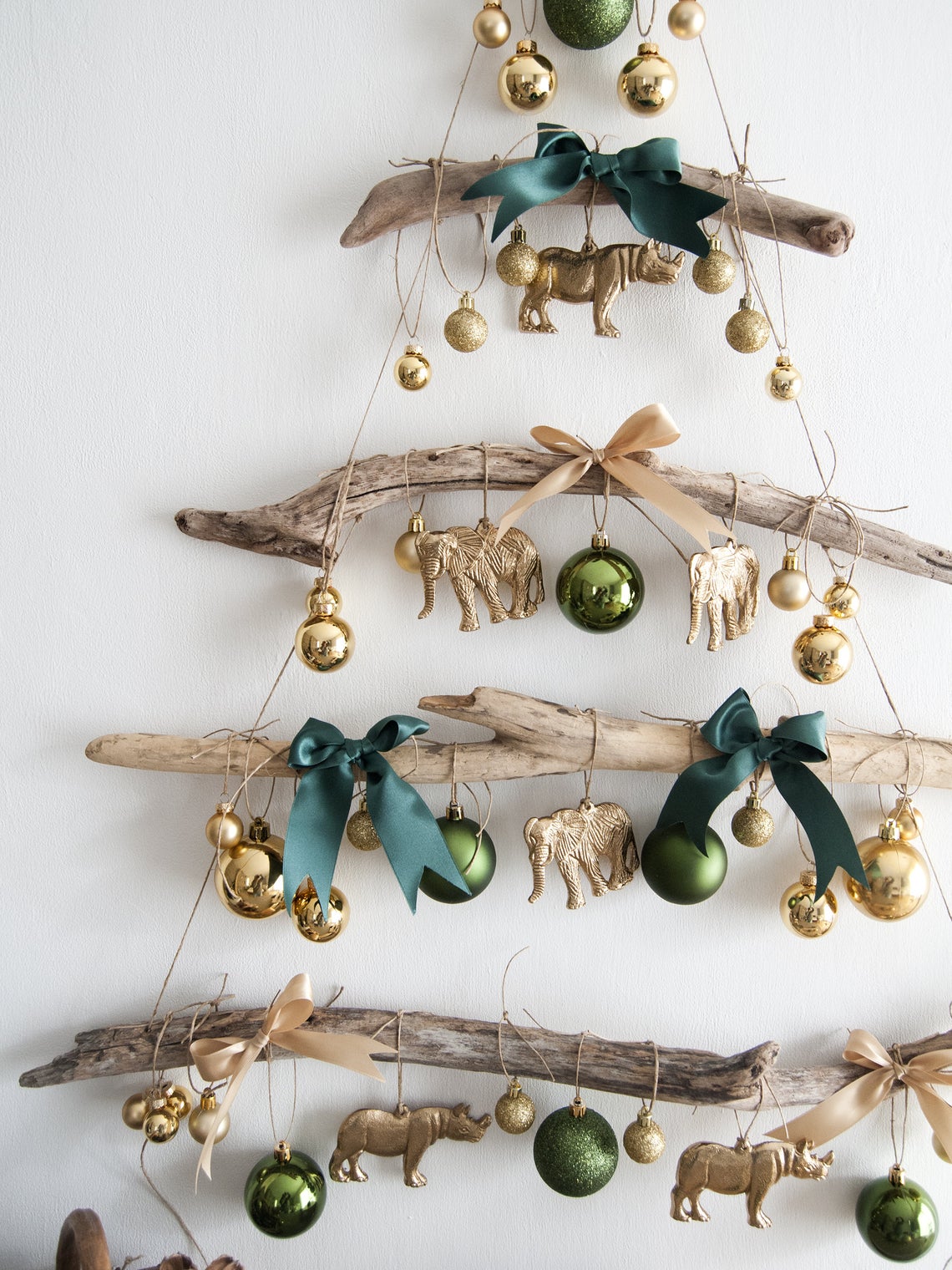 Driftwood Christmas Ornament Tree
Driftwood Christmas tree wall hanging, consisting of 6 branches and diverse ornaments in gold and green color.
Perfect for those who want to decorate a small space or for those who like to be original. This shop has a great blog that is full of french home decor ideas.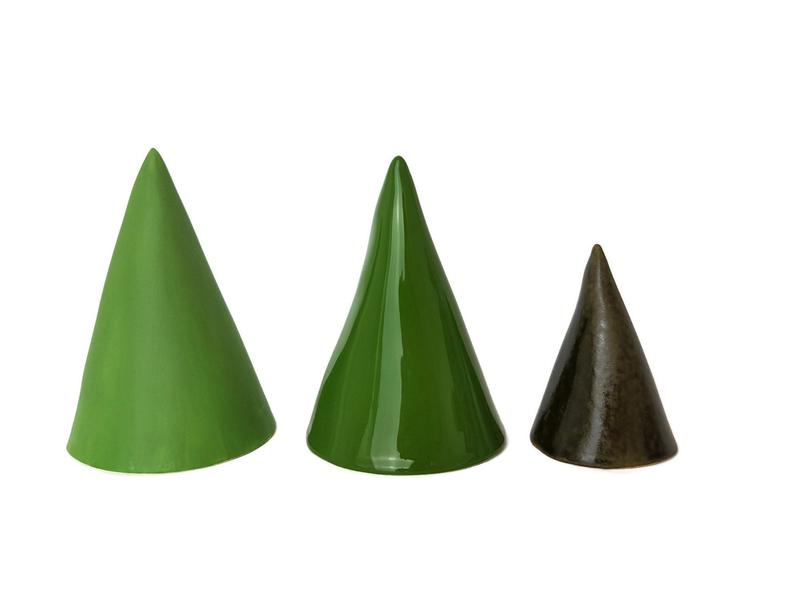 These ceramic Christmas trees are made from white clay and are fired in a kiln two times. These modern styled trees are handmade and handpainted.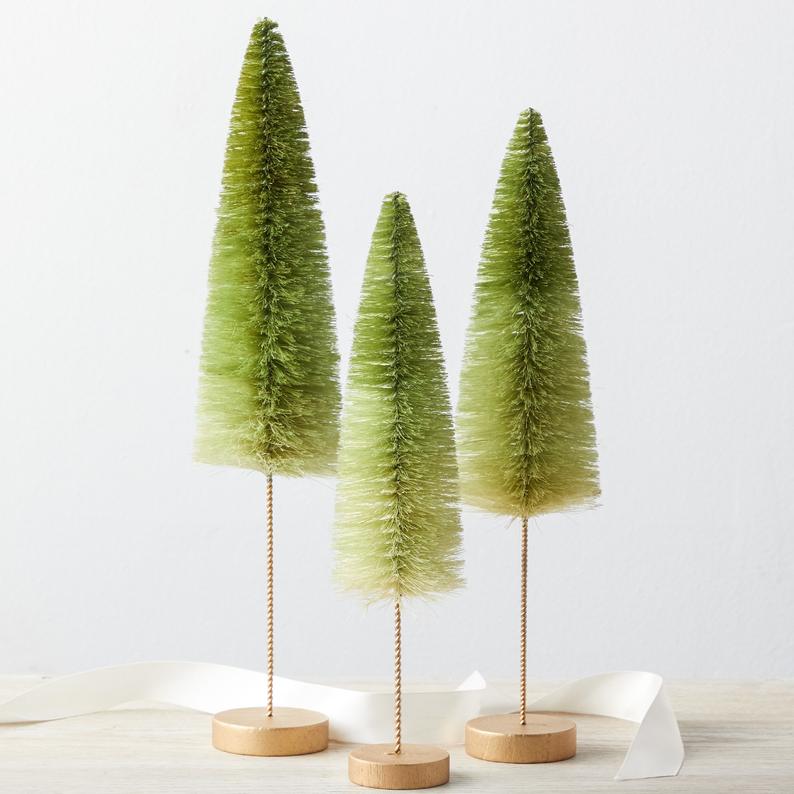 Celebrate Christmas and winter with this set of 3 hand-dyed bottle brush trees. The set of 3 sizes are hand-dyed in green ombre to match any winter decor. The wood and metal wire base is a matching gold color. Ombre Green is perfect for celebrating all winter long.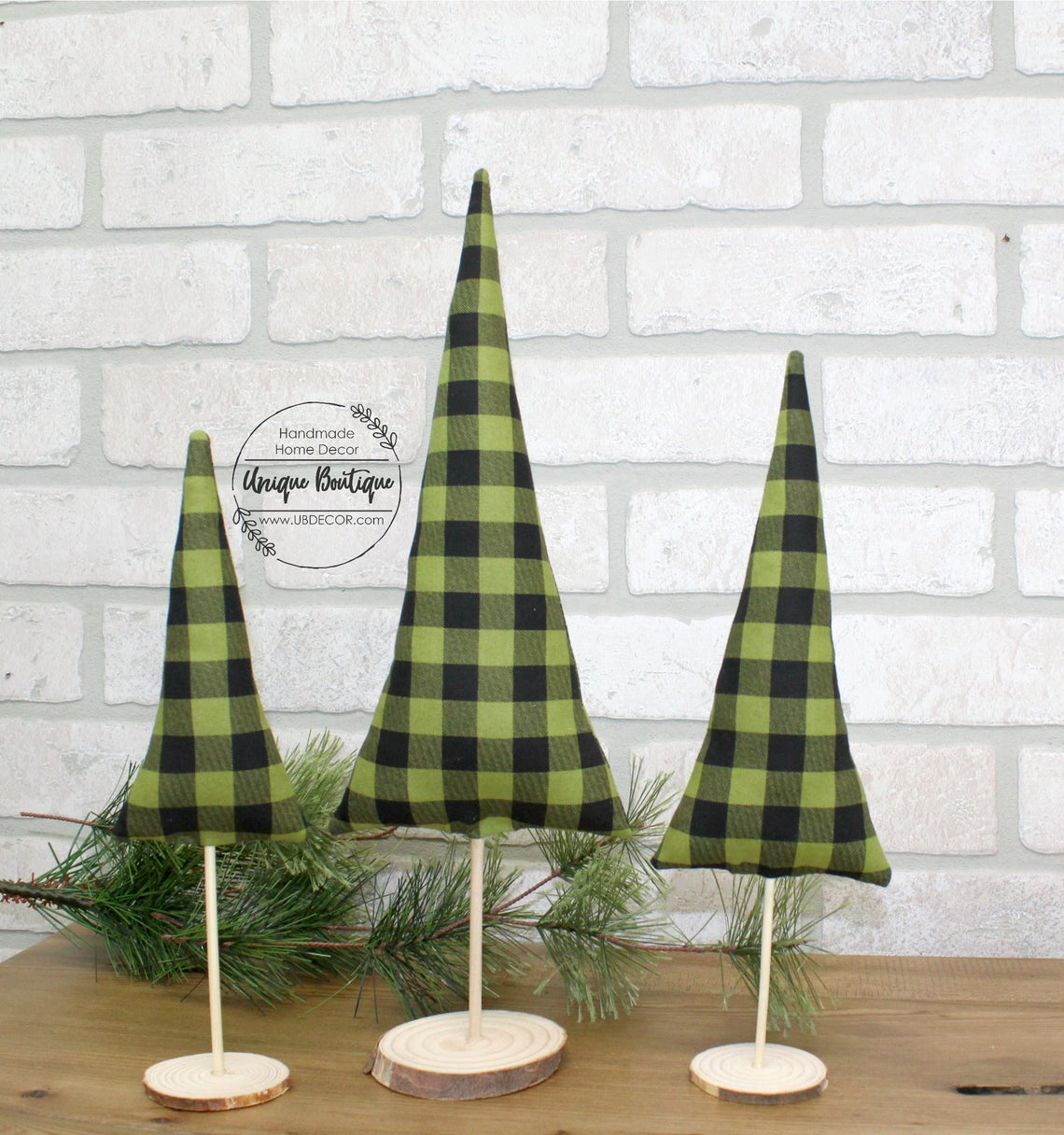 These handmade fabric trees are a perfect way to add a pop of color to your holiday decor. Great for decorating or gift-giving. Each tree is hand-sewn and attached to a natural birch wood slice base. These are such beautiful Christmas decorations!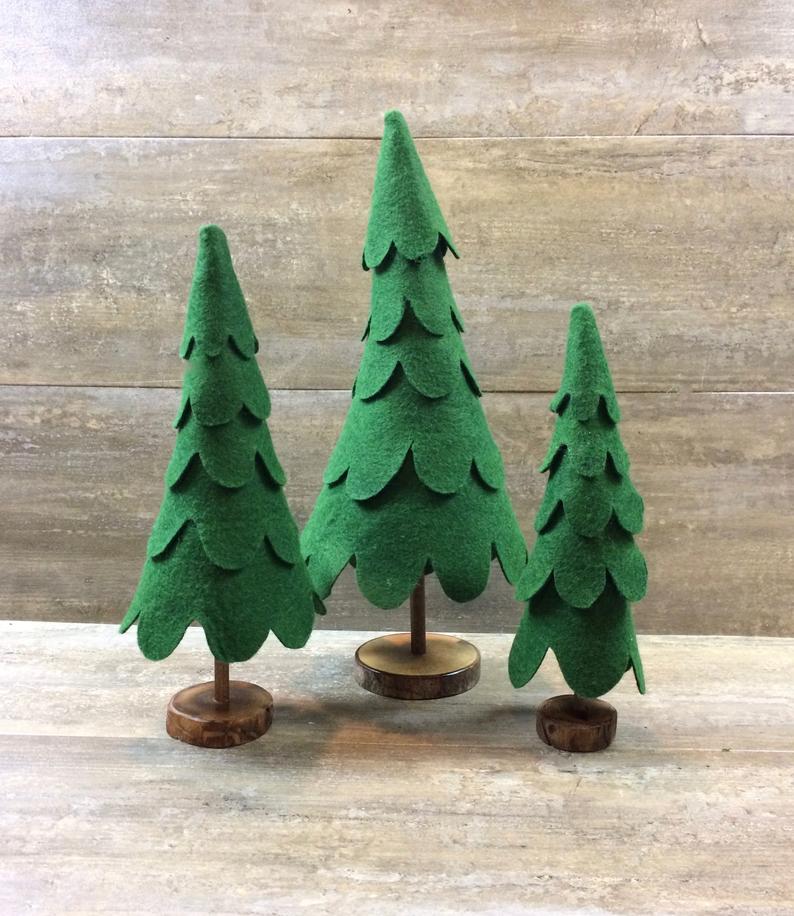 These trees will quickly become a favorite part of your annual holiday decor and are the perfect addition to your holiday scenes or will stand out on its own.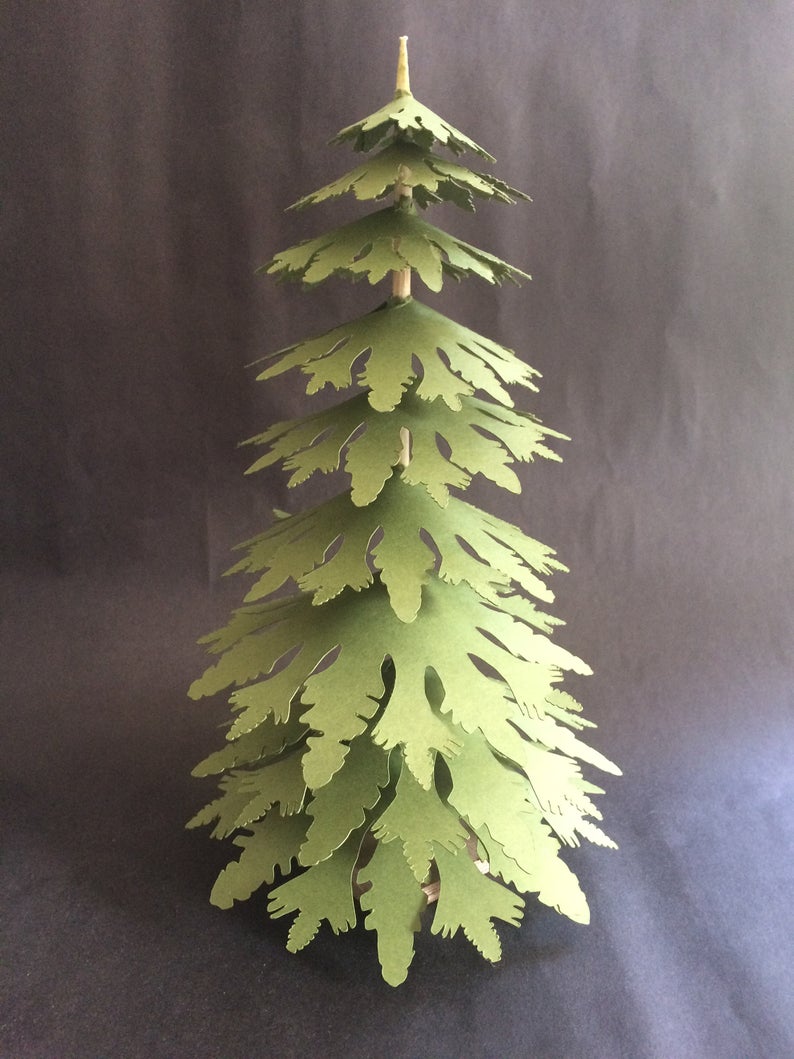 Each paper tree kit contains the parts for one tree: 9 precut paper branch disks, a pointed dowel for the trunk, a pre-drilled plywood base, and printed instructions. Easy assembly.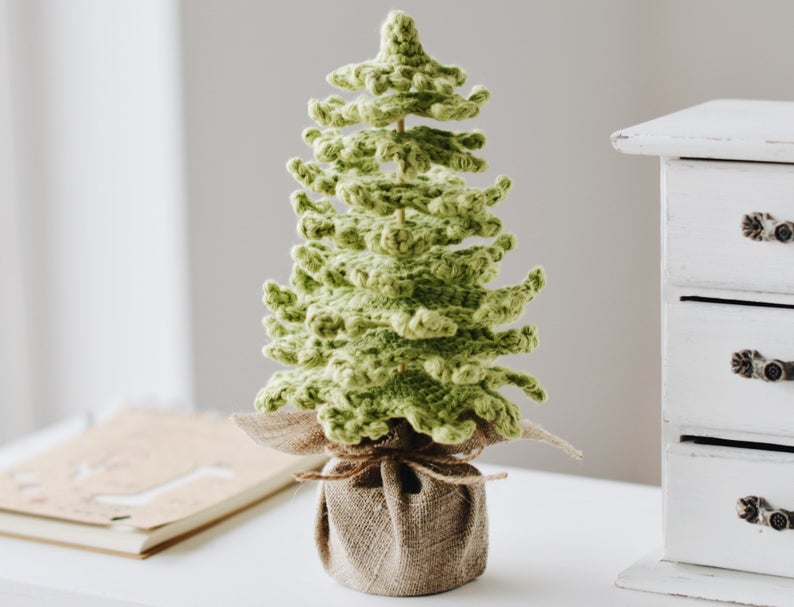 Crochet Pattern for this Cute Christmas Tree
This adorable farmhouse crochet pattern Christmas Tree is a great way to add touches of the holiday spirit around your home. Its small size can serve as a centerpiece on a shelf, desk, or ledge of the fireplace.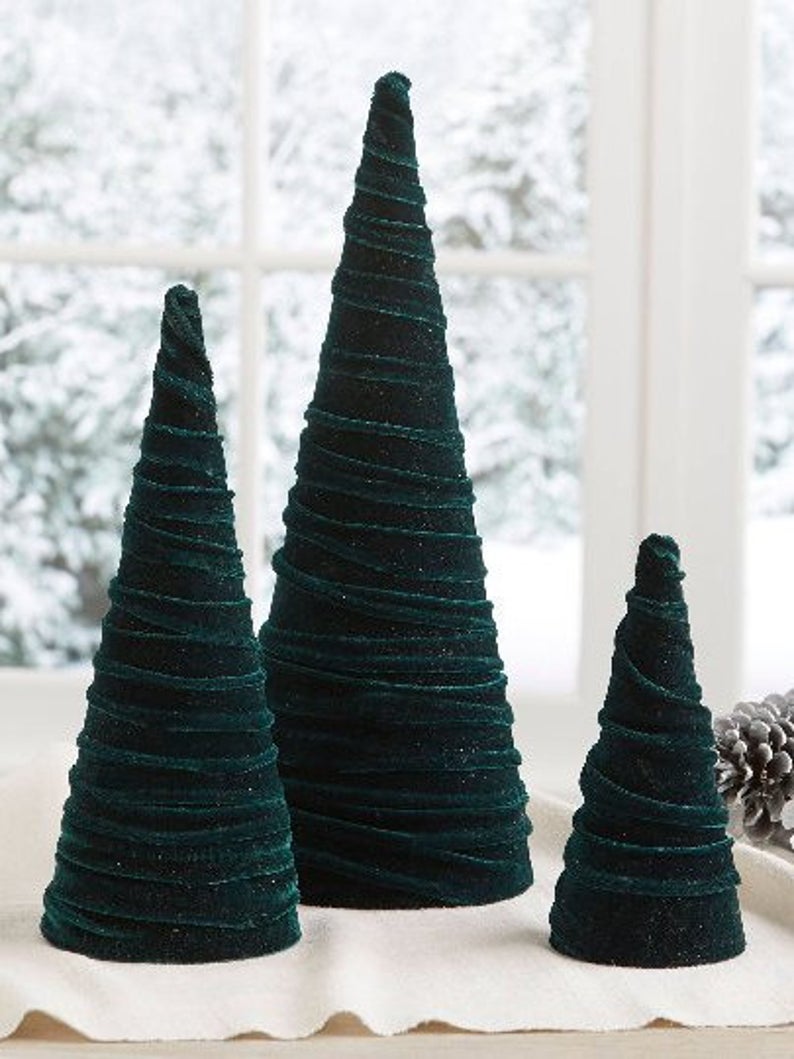 Add this holiday decor to your mantle, your table, a shelf, or where you want to add a luxurious touch to your home, in the rich look of velvet. They are sturdy and easy to store.
Thanks so much for stopping by, and I hope you enjoyed this post on beautiful Christmas decorations.
Here are other Christmas Boutique of the Week Posts:
Cheers,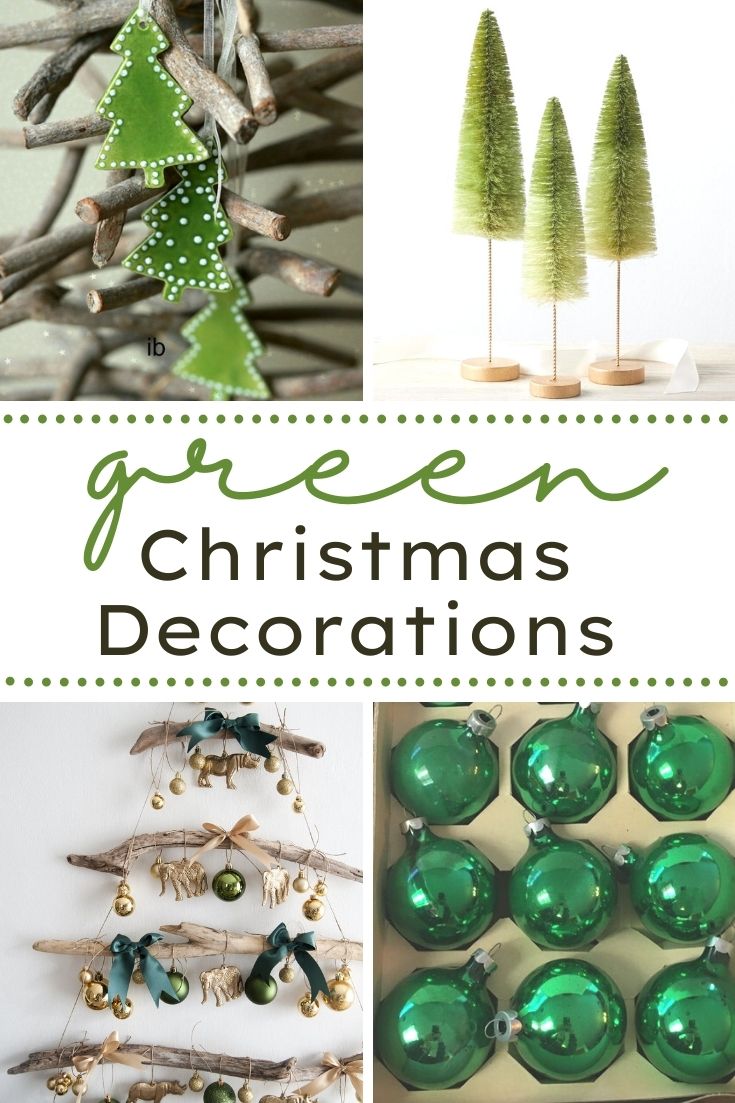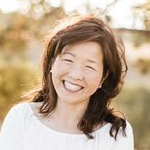 Latest posts by Janine Waite
(see all)