If you're trying to figure out what to give to your friends and neighbors this year, why not try my Double Chocolate Chip Cookies in a Jar DIY? Who can resist homemade chocolate chip cookies? This Jar of yumminess includes all the ingredients except for three things. Plus, these cookies are hands down delicious!
Some of my close friends aren't much into baking, so this is the perfect gift. First, they have to add a few ingredients and then add the contents of this Jar and bake. Plus, these cookies are so incredibly delicious that they will love your homemade gift.
Today's post is part of a monthly blog hop with my talented friends. Their holiday gifts are attached to this blog post.
I hope today's project inspires you to create!
Double Chocolate Chip Cookies in a Jar
*The following post contains affiliate links
The wonderful thing about this gift is that the ingredients are wholesome and have no added preservatives. It's the next best thing to homemade desserts.
I also love that if your friends get a bit overwhelmed with all the holiday treats, they can make your cookies at a later date. The Jar keeps everything fresh for a couple of months.
Oh my goodness, they are the perfect Valentine's Day treat! But, first, I'll have to try making them into heart-shaped cookies.
And speaking of treats, here are a few posts you might enjoy perusing!
Here's a bonus to this gift. I'm sharing my little instructions printable that you can attach to your Jar. It's such a cute recipe card that adds a slight holiday accent to your gift.
You can download it by filling out this form. Don't worry. It's all free, and if you already subscribe to my newsletter, you won't have a double subscription.
Uh, let me tell you about these double chocolate chip cookies in a jar. I found this recipe in my husband's mom's collection. When we visited her over the summer, I asked her to share her favorite recipes. So I made her delicious homemade buttermilk doughnuts that I finally shared on the blog.
Well, I found this cookie recipe among her files, but I don't think she makes these cookies.
The recipe claimed they are super duper yummy, so of course, I was excited to make them. Unfortunately, the first batch was too sweet for me, and the chocolate tasted more like cocoa.
So, I tweaked the recipe a couple of times and came up with a different cookie. A cookie that is super chocolatey and crunchy on the outside and soft on the inside. I sprinkled a tiny bit of kosher salt on the top to bring out the flavors.
How to Prepare Your Cookies in a Jar
Supplies:
32 ounce Mason jar (I made a double batch and used this Jar)
plastic bag or small cellophane bag
small rubber band or baker's twine
1 cup flour
1 tsp baking powder
1/4 tsp salt
3/4 cup chopped nuts
1/2 cup dark chocolate chips
1/2 cup raw sugar
Hershey Kisses (optional)
Kosher salt (optional)
Instructions: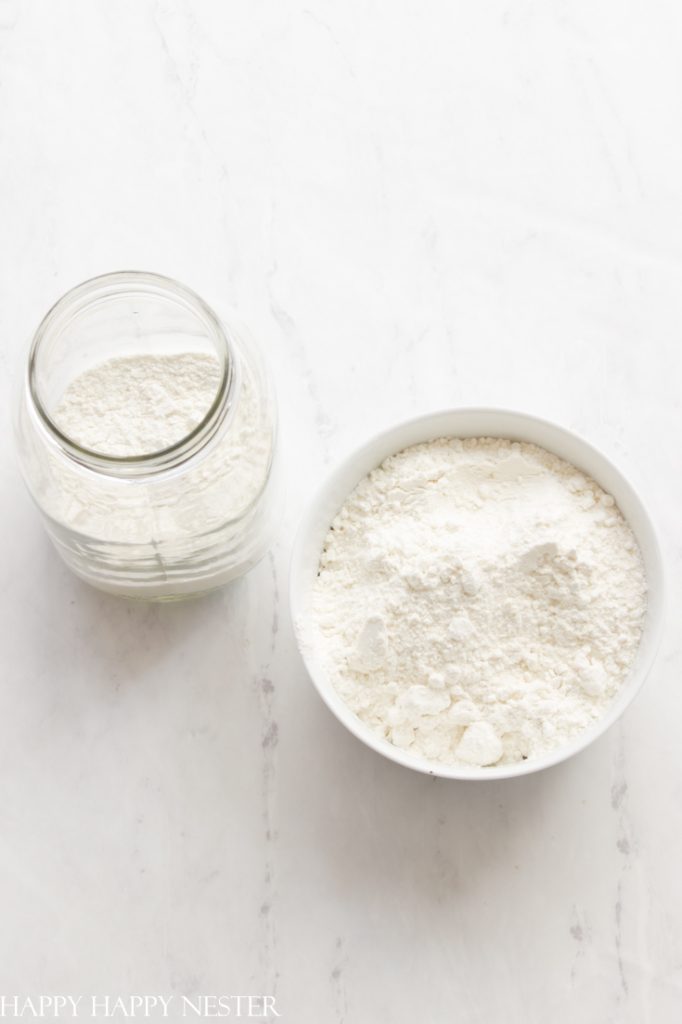 Step 1 – Mix Dry Ingredients
In a medium-size bowl mix, flour, baking powder, and salt together. Next, place this flour mixture into your Jar. Finally, pack down the flour with the back of a spoon.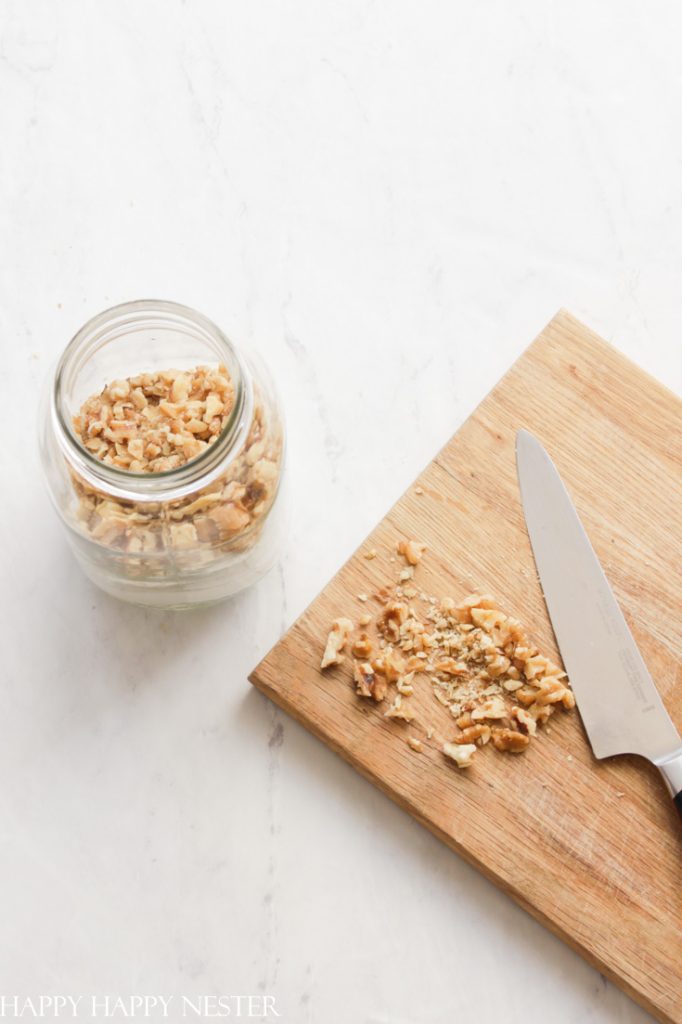 Step 2 – Add Chopped Nuts
Add a layer of the chopped nuts on top of the flour mixture. Spread evenly in the Jar.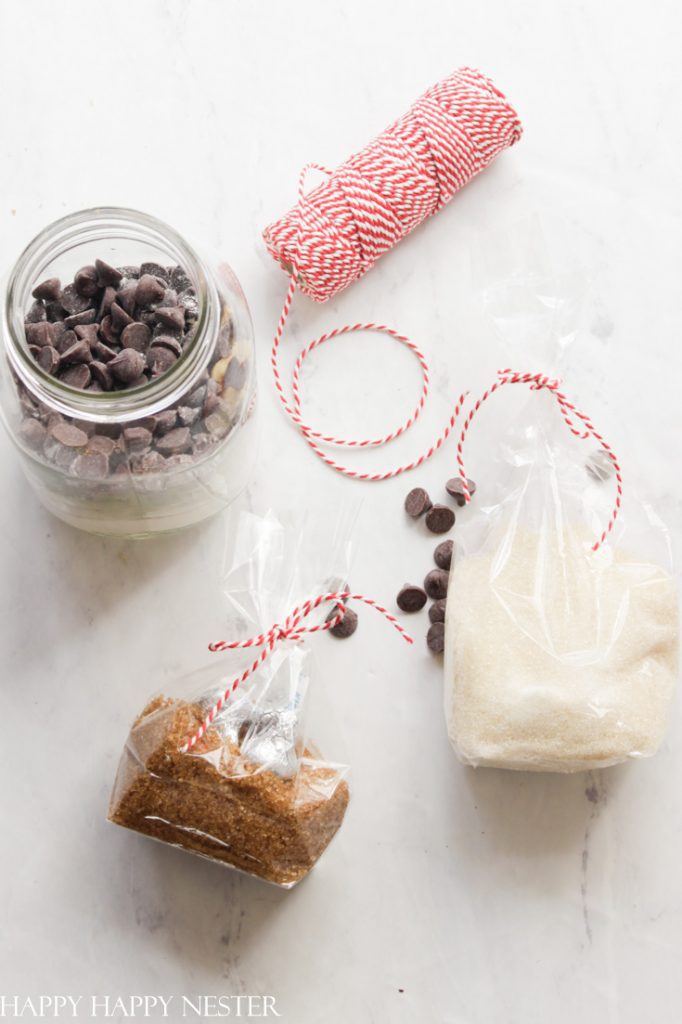 Step 3 – Pour Sugar in a Cellophane Bag
Pour the granulated sugar into a small cellophane bag and tie the top with a rubber band or twine. Leave enough room at the top to spread the sugar when placing it in the Jar. Then, add the sugar to the Jar and pack down as much as you can.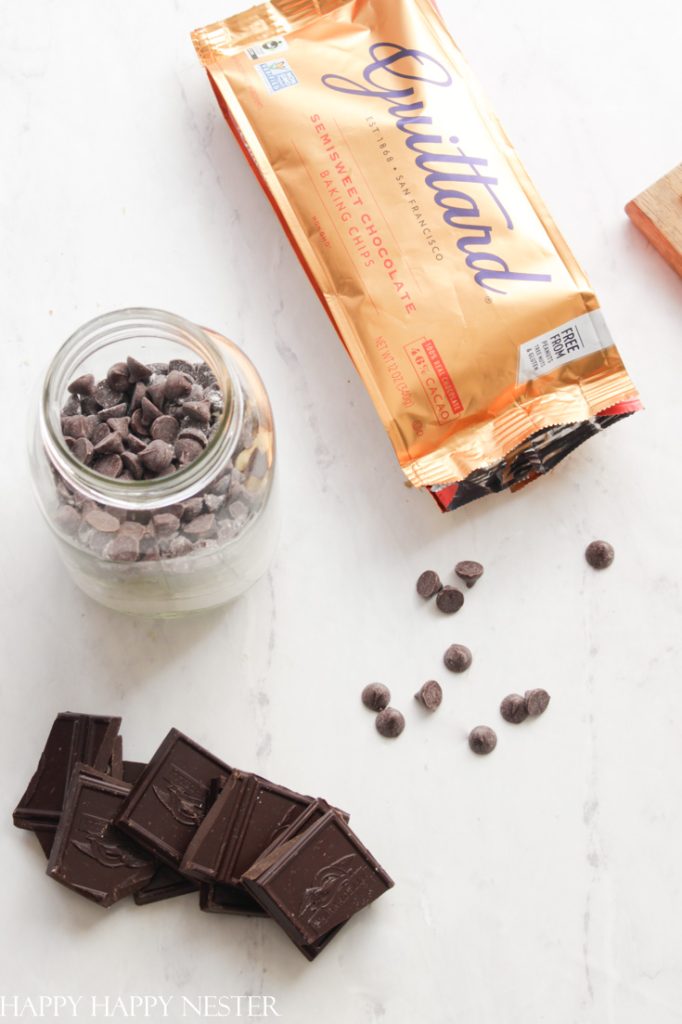 Step 4 – Finish Layers
Roughly chop up blocks of chocolate and place this final layer in the Jar.
Step 5 – Package up Raw Sugar and Hershey Kisses
Place the raw sugar and kisses in a small cellophane bag and tie it with baker's twine.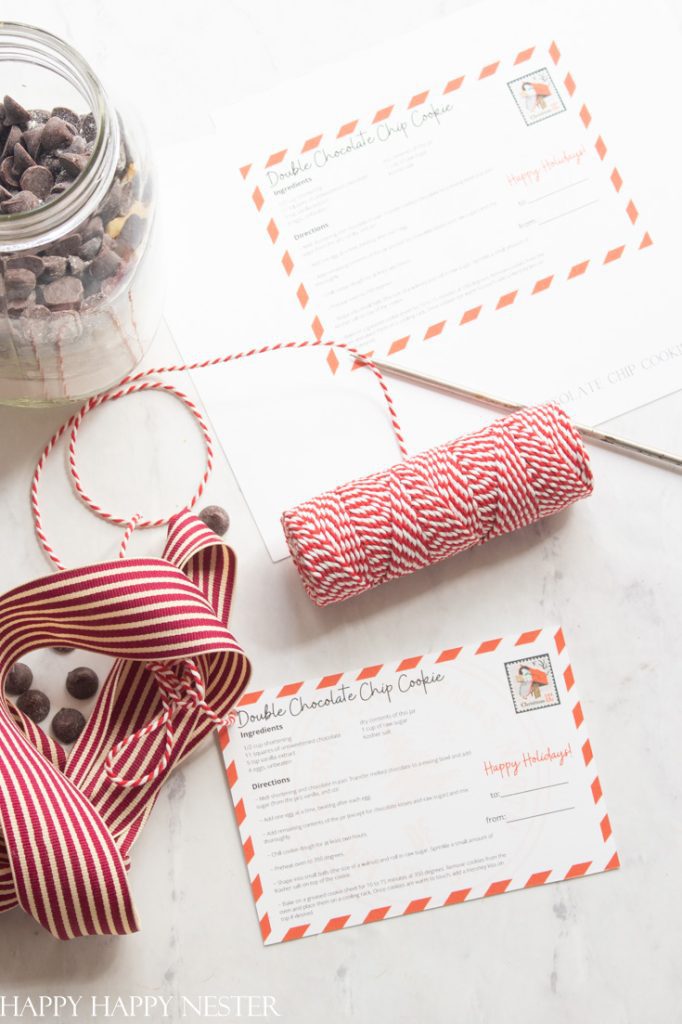 Step 6 – Print Out Tag and Attach it to the Jar
Download and print out the recipe card on white cardstock. Cut and punch a hole in the top left-hand corner of the card. Wrap a ribbon along the rim of the Jar and attach the card to the ribbon.
I love this recipe and so do my friends. All my experimentation with the original recipe paid off. Plus, I've never had a cookie quite like it, which makes me super happy!
Cookies are probably my favorite dessert, and this one makes me super happy! I'm delighted to share this recipe, and thanks for joining me on this post of double chocolate chip cookies in a jar DIY.
Happy Holidays to you and your family!

PS: The whole recipe will come out next week, so stay tuned!
More Amazing DIY Gift Ideas
3-Ingredient Gingerbread Sugar Scrub | Tatertots and Jello
This gingerbread sugar scrub smells like cookies while it exfoliates and invigorates the skin and it's a perfect gift idea for anyone on your list! with free printable tags.
How to make Personalized Socks with a Cricut | The DIY Mommy
Need a fun & cheeky DIY gift idea? Learn how to make personalized socks with a Cricut for a unique gift this season. This is a great project for a beginner Cricut user, and it's so affordable!
DIY Cocktail Napkins | My 100 Year Old Home
We all know that a good party starts with great drinks. Today I am sharing easy DIY cocktail napkins to give as a gift. Try pairing it with a pair of martini glasses, cranberries, and a colorful bottle of Tanquerey gin.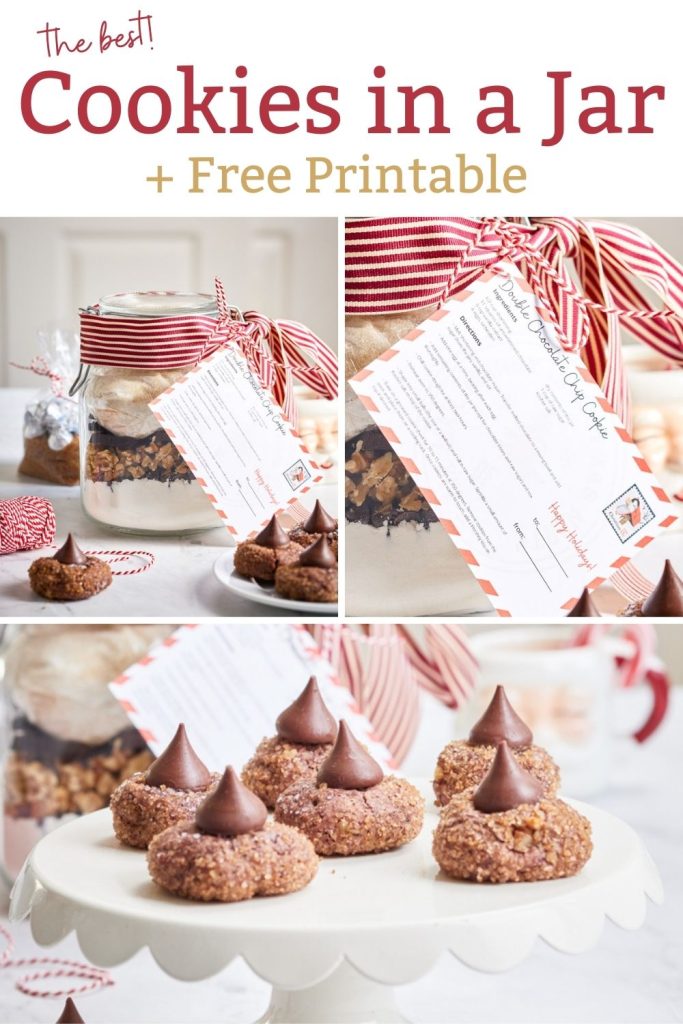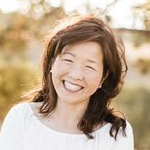 Latest posts by Janine Waite
(see all)