I love this time of year when all the hydrangeas turn royal colors. I decided to share my Dried Hydrangea Wreath Tutorial with you this fall. This simple wreath is gorgeous with its purples, blues, and deep green flowers. Use your flowers from your garden or buy them from a store.
Fall is the best time to use your hydrangeas and make a beautiful wreath. If you have them in your garden, this wreath DIY is super inexpensive to make.
I hope you're having a remarkable fall. I know there is some extreme weather going on in our country. Stay safe and healthy.
So much is going on right now that I'm happy that fall is a beautiful distraction. I keep busy creating recipes and home decor.
As you all might know, I have many wreaths over here if you're interested in creating a few this fall.

Every fall, I take a trip to the San Francisco Flower Market, and I love all the gorgeous hydrangeas. The vendors have buckets and buckets of purple, blue, and green hydrangea blossoms. There is one shop at the market that sells beautiful hydrangea wreaths. I looked for them on my last visit but didn't see them since I was probably too early.
So, I decided to make one this fall.
How to Dry Hydrangea Blossoms
How to Make a Dried Hydrangea Wreath Tutorial
This wreath is so simple to create! You'll only need a few supplies and minutes to create this beautiful fall wreath. I did use a significant wreath form, so mine came out huge! The bigger the wreath, the more flowers you'll need.
I used about 41 blossoms to make a
Take a look at the list below.
Supplies You'll Need to Make a Hydrangea Wreath
41 Hydrangea Blossoms
Ribbon or Wire for Hanging
Scissors
How to Make a Hydrangea Wreath
Here's how many hydrangeas I used for each wreath section:
Outer Edge – 16 Flowers
Top Edge – 14 Flowers
Inner Circle – 11 Flowers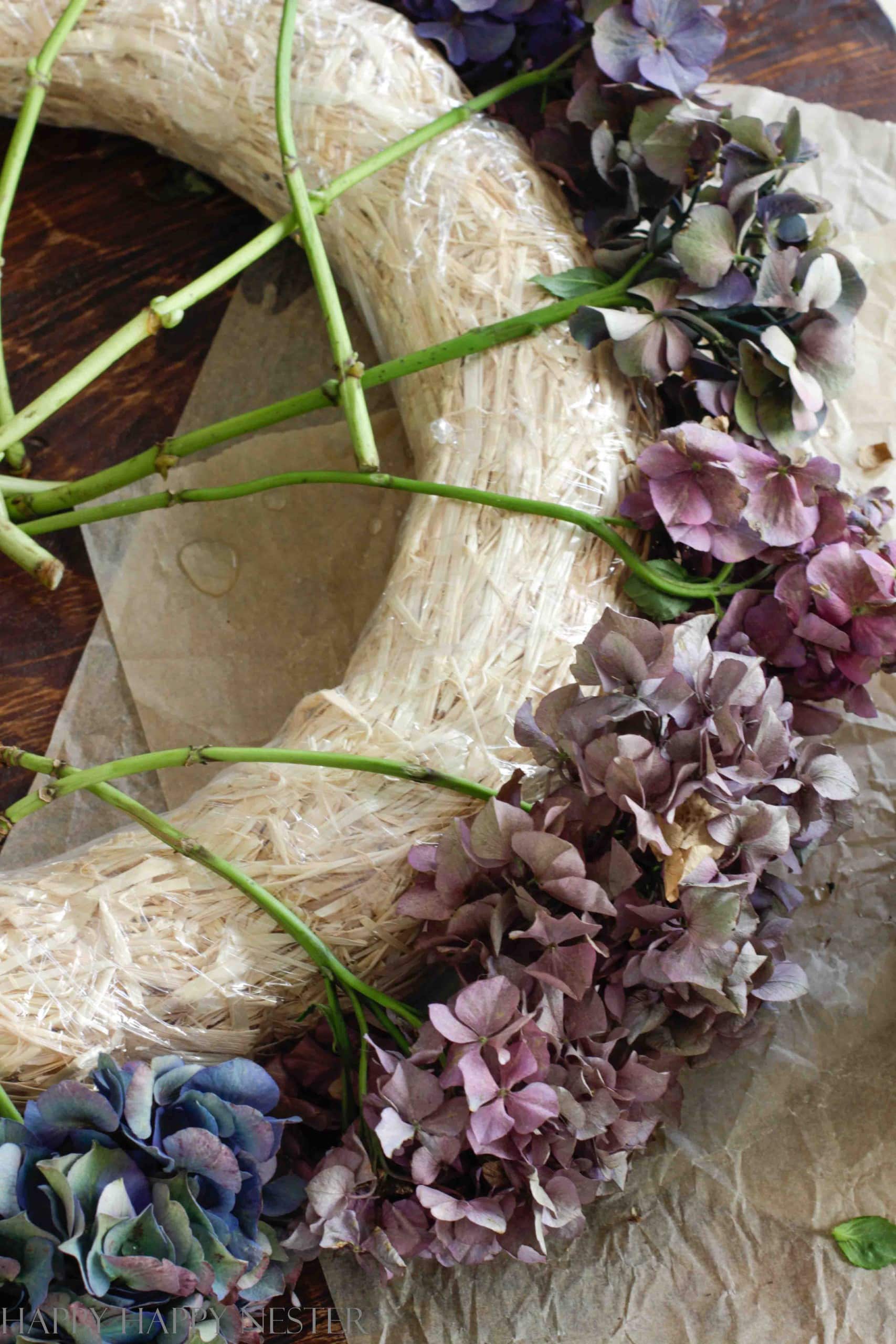 Step 1 – Layout Flowers
I laid out my first layer of flowers on the wreath. Start with the outer edge of your wreath form.
Trim off stems and leave about five inches beyond the blossom.
Take the tip of your scissor and dig a hole into the side of your wreath. Next, insert your blossom into the hole you just made and ensure the hydrangea is snug against the wreath.
Continue this step until you have a layer of hydrangea covering the whole side of the wreath, as pictured above.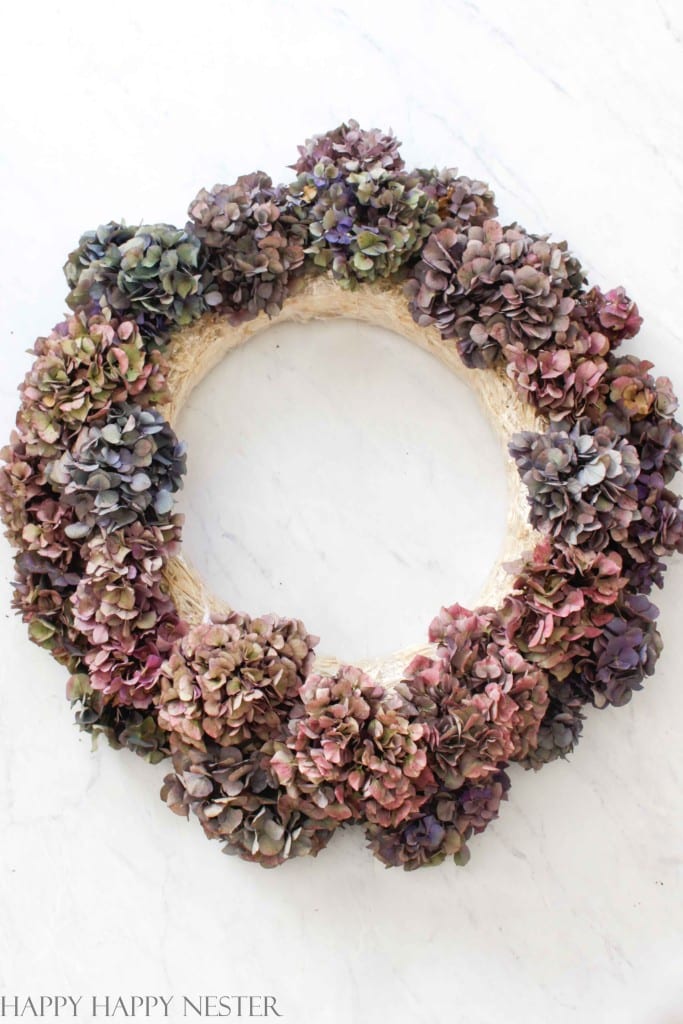 Step 2 – Fill the Top of the Wreath
Now repeat the process of step 1 for the top of the wreath.
Step 3 – Fill the Inner Circle of the Wreath
Repeat step 1 and fill in the inner circle of the wreath form with blossoms.
Step 4 – Hang the Wreath
I attached some fishing line to my wreath. I looped the line through the wreath and then made a knot with a loop at the top. I hung my wreath from the fishing line loop.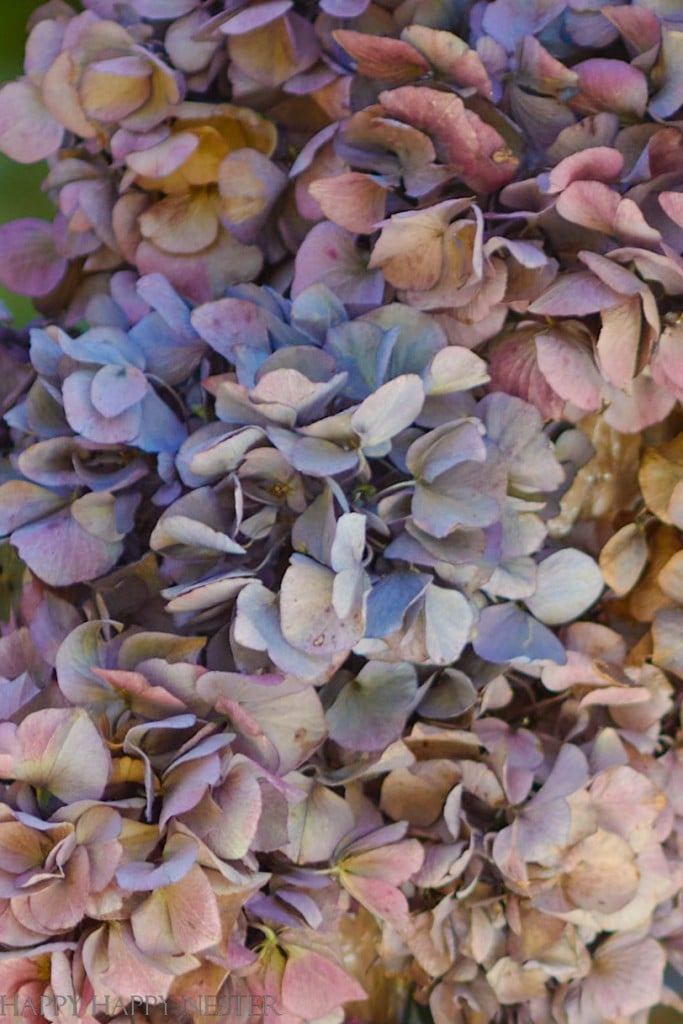 Frequently Asked Questions:
How do you dry hydrangeas for wreaths?
If you pick the flowers too early, they might shrivel and die. So, it's best to pick them early to late fall when the blossom leaves are a bit leathery. Place the branches in a vase of water and let the flowers sit until they are dry.
How long does it take hydrangeas to dry?
It takes about one to two weeks for hydrangea blossoms to dry.
How long do dried hydrangea flowers last?
The blossoms can last for about a year.
Do dried hydrangeas keep their color?
They fade a bit, but if you want them to have a vibrant color, dry them in a vase of water. So, the slower the drying, the better the color. Also, place them in a cool and out of direct sunlight to preserve the flowers better.
A funny note is that I found these hydrangeas at a booth at the Flower Market. I waited for the booth owner to show up, and you saw the store was empty. I went shopping and circled back to find the owner putting his hydrangeas away.
I asked him if I could still buy them, and he was willing to sell them.
I bought two bundles, and my shopping trip to the city was complete. The rest of the story is history. And I made this fabulous hydrangea wreath for you today!
It was fun making this wreath, and I was delighted to find a home for it outside. I painted our chimney this summer, and now it's the perfect wall for my decor and wreaths.
Make this fall-dried hydrangea wreath, especially if you have a bunch of blossoms in your garden. This is the perfect craft project for you!
Happy Crafting!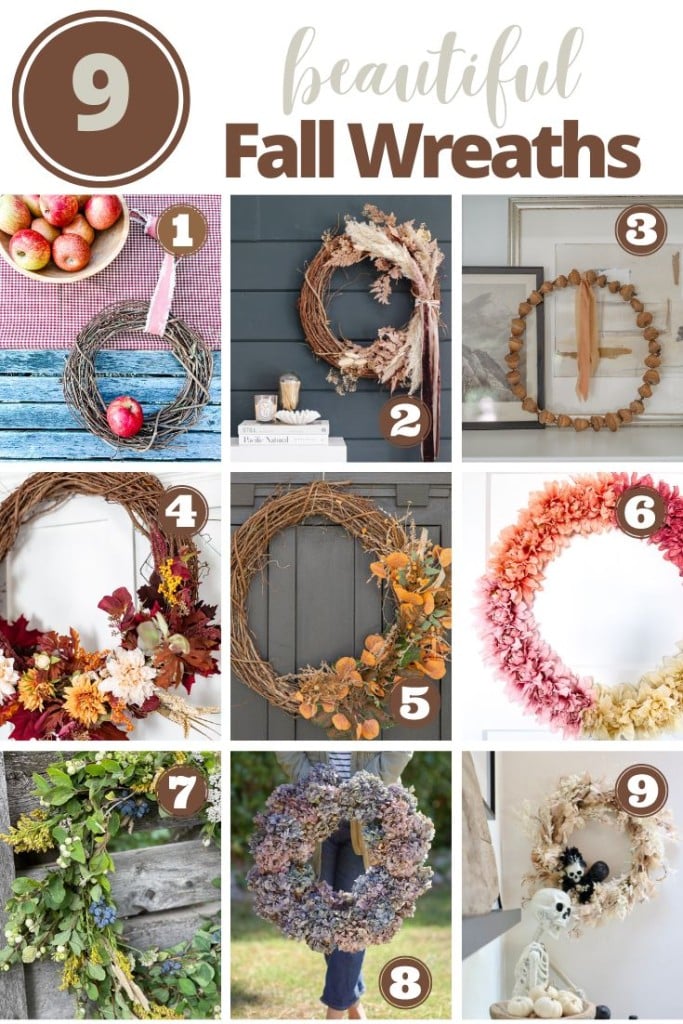 Blogger's Best Fall Wreaths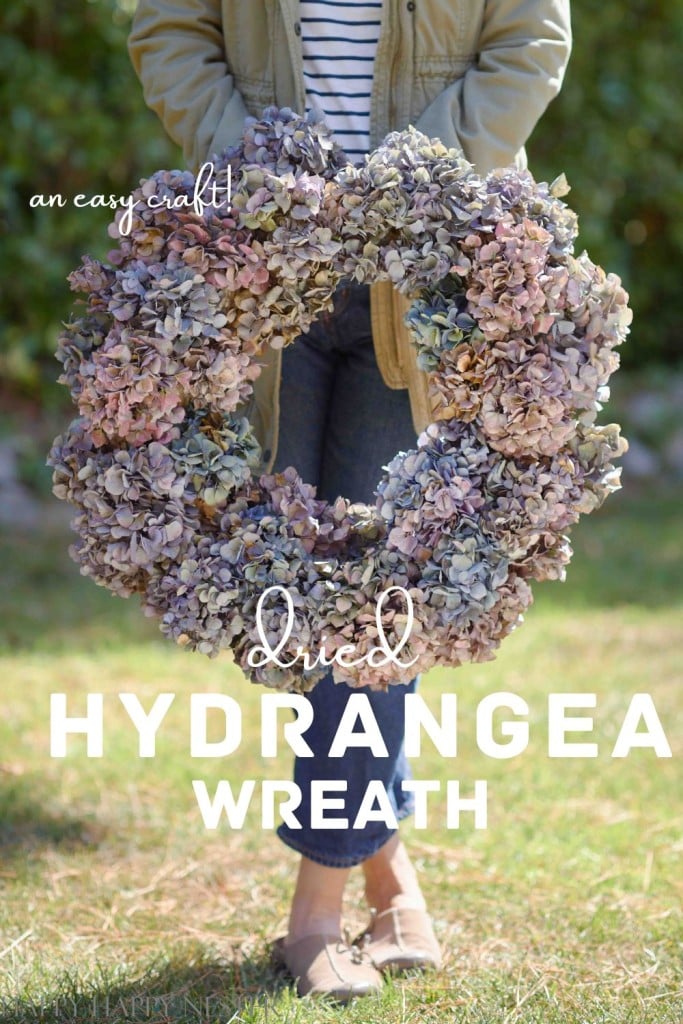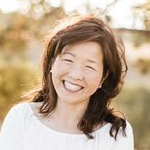 Latest posts by Janine Waite
(see all)