Here are 14 Winter Wreath Ideas (DIY) that I've rounded up in this blog post. And since there are 14 wreaths, there is a little something for everyone's style. So, make one or two of my wreaths and place them on your front door this holiday season!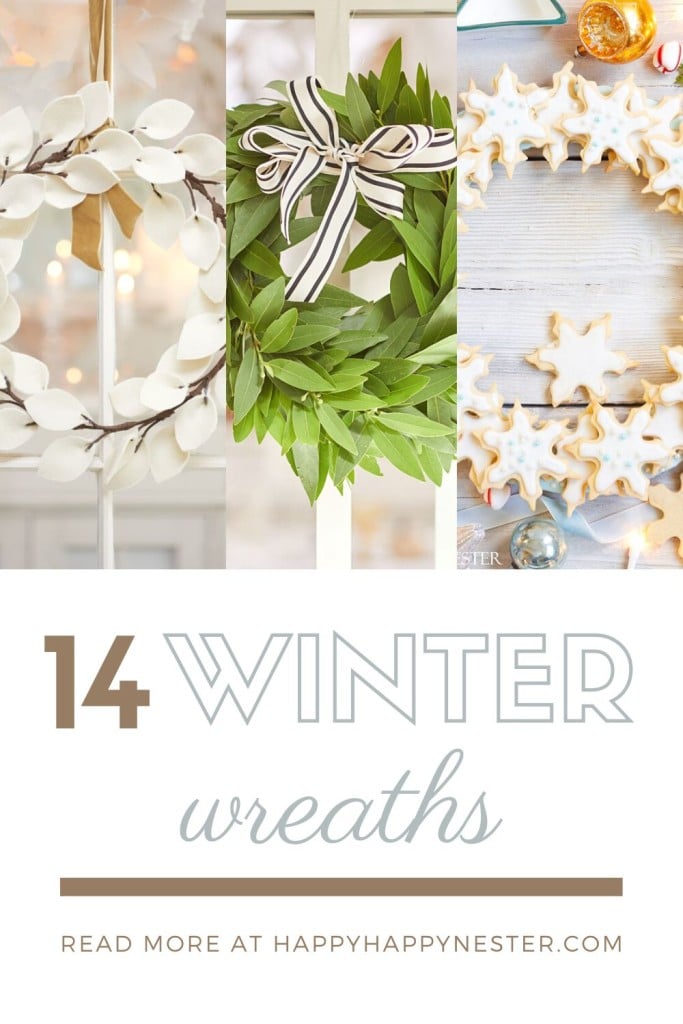 Make a wreath for your home, or make one as a gift this year. Wreaths are always an excellent way to cozy our homes during winter.
I'm a longtime blogger. I've lost count of how many years I've been blogging. I'm also not counting how many craft projects I've created. This all translates that I've made a lot of wreaths!
So, I got this brilliant idea to share in this blog post.
And when I got to counting my winter wreaths, I had 14!
I had no idea that I had that many wreaths.
Winter Wreath Ideas
This project is a simpler version of How to Make a Vintage Ornament Wreath.
Over the years, I made an ornament wreath and wasn't too excited to sacrifice my precious ornaments. So, I came up with a new way to attach them without glue. Also, the fantastic thing about this wreath is that you can change the ornaments each year to match your holiday decor!
Here's a buying option if you don't want to make it: Vintage Ornament Wreaths
2. Silver Christmas Wreath With Vintage Ornaments
Learn How to Make a Silver Christmas Wreath in this DIY post. You can use vintage ornaments or new ones, whichever you prefer. This silver and gold wreath is the perfect holiday accent for any decorated room. Add cute bottle brush trees to the house to enhance the retro style.
I love any felt craft project, and I've always wanted to create one. The beauty of this project is that you can make it whatever color matches your decor. You'll be happy to know that you can change the felt colors and create a pretty Christmas wreath or, for that matter, a fall wreath.
Here's a buying option if you don't want to make it: Felt Wreaths
This easy and adorable fuzzy blue Bunny Tail Wreath is fabulous. Create small bouquets of the dried grass and then attach them to a wreath. Bunny Tails are grass that comes in many colors. So choose what style you prefer and personalize your wreath.
Here's a buying option if you don't want to make it: Bunny Tail Wreaths
Today, I'm sharing with you an Easy Pom-Pom Wreath DIY! This winter, everything is coming up pom-poms. Pom poms are super easy to make, and no special equipment is required. Make your wreath any size that fits your home.
Here's a buying option if you don't want to make it: Pom Pom Wreaths
Make a Chunky Knit Wreath in Under 30 minutes! Yes, you heard correctly. This is probably the simplest wreath I have ever created. I can't get enough of the beautiful Merino wool yarn.
Here's a buying option if you don't want to make it: Chunky Wreaths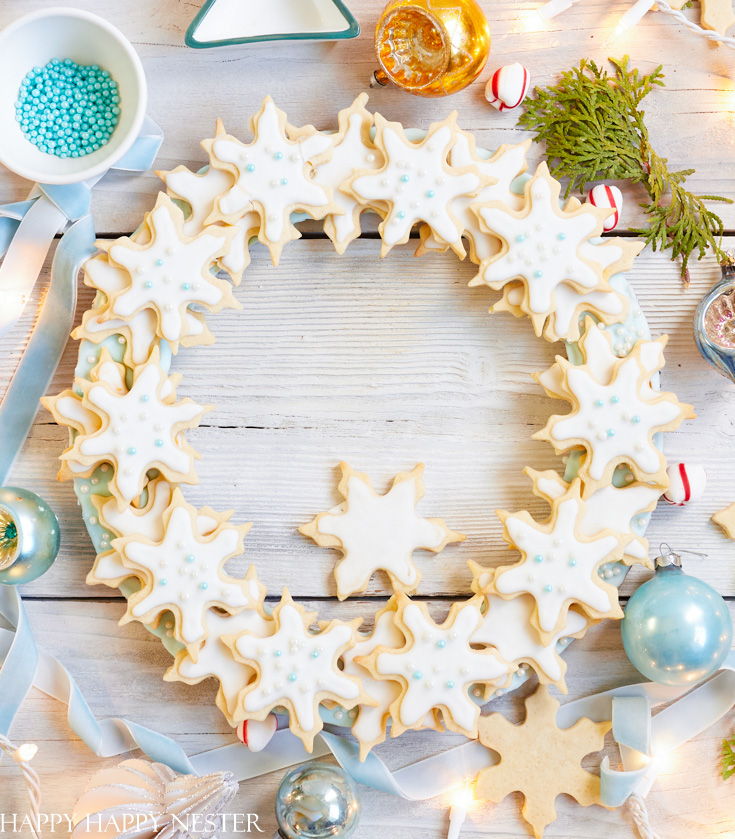 An Edible Holiday Wreath made from sugar cookies makes a beautiful treat or gift! I've always wanted to create a wreath made of cookies but needed to devise a way to attach the cookies. Finally, after watching The Great British Baking Show, I got the courage to tackle this project. And you're in luck since I'm sharing my winter wreath ideas tutorial with you today!
8. Yarn Wreath DIY With Ornaments
Make this Yarn Wreath DIY with Ornaments for the holidays! This wool wreath is simple to make even though it looks hand-knitted. This original design is something that I created the other day, and I added a few cute ornaments to make it festive. Add whatever colors that go with your home decor. That's the beauty of this craft project.
9. How to Make a Bay Leaf Wreath
Over the years, I tried several steps to make this bay laurel wreath, and I finally figured out a few essential things. So, this helpful tutorial has excellent tips on how to make the best bay laurel wreath. Make sure to check out How to Make a Bay Leaf Wreath. 
Here's a buying option if you don't want to make it: Bay Leaf Wreaths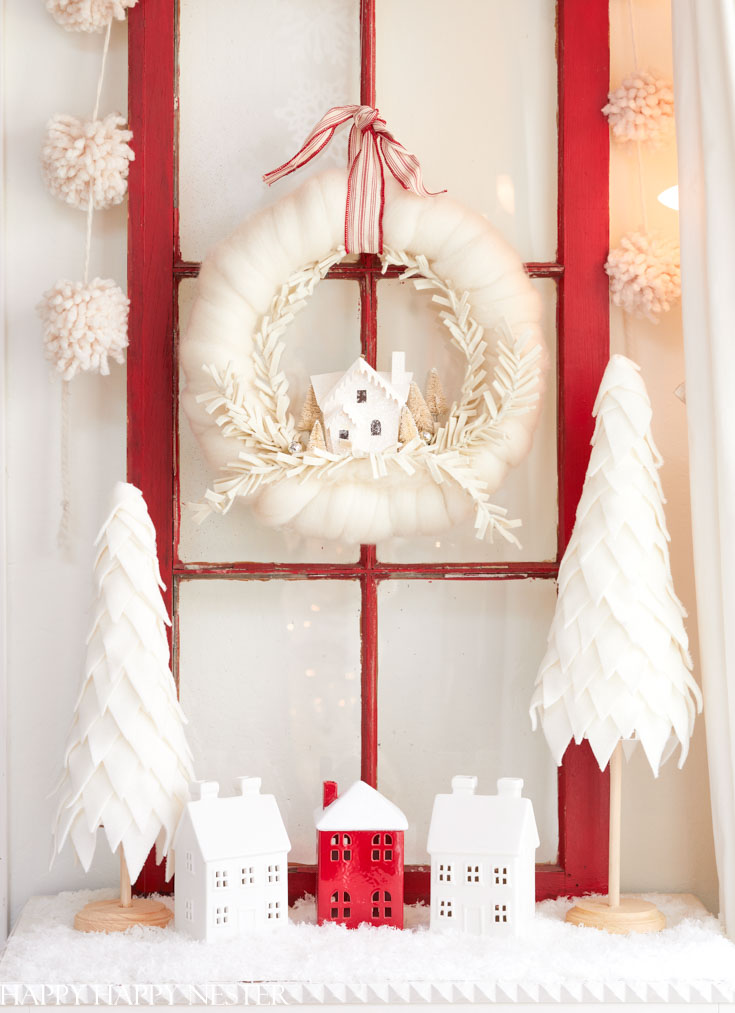 10. DIY Winter Wreath Ideas Roundup
And by the way, this DIY winter wreath is pretty easy to create. The most time-consuming part to make is the felt pine branches. They take a little time, so make them when you're sitting around and watching a holiday movie. And even that isn't complicated.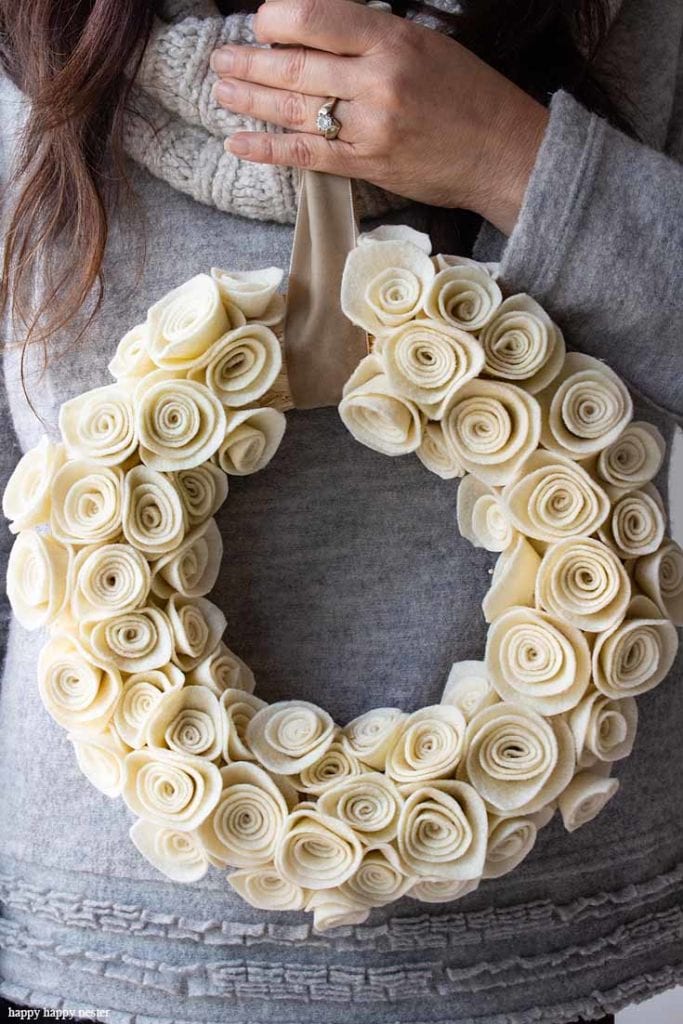 11. Rosette Felt Wreath Tutorial
I love felt and flowers, so you can imagine that a Rosette Felt Wreath Tutorial is perfect in my mind. So, for this wreath, you only need to make one thing, felt rosette flowers. And I find if you make them while you can watch a movie and then place them on your wreath, it makes the project a lot easier.
This neutral-colored wreath will look great in your home all year long.
Here's a buying option if you don't want to make it: Rosette Wreaths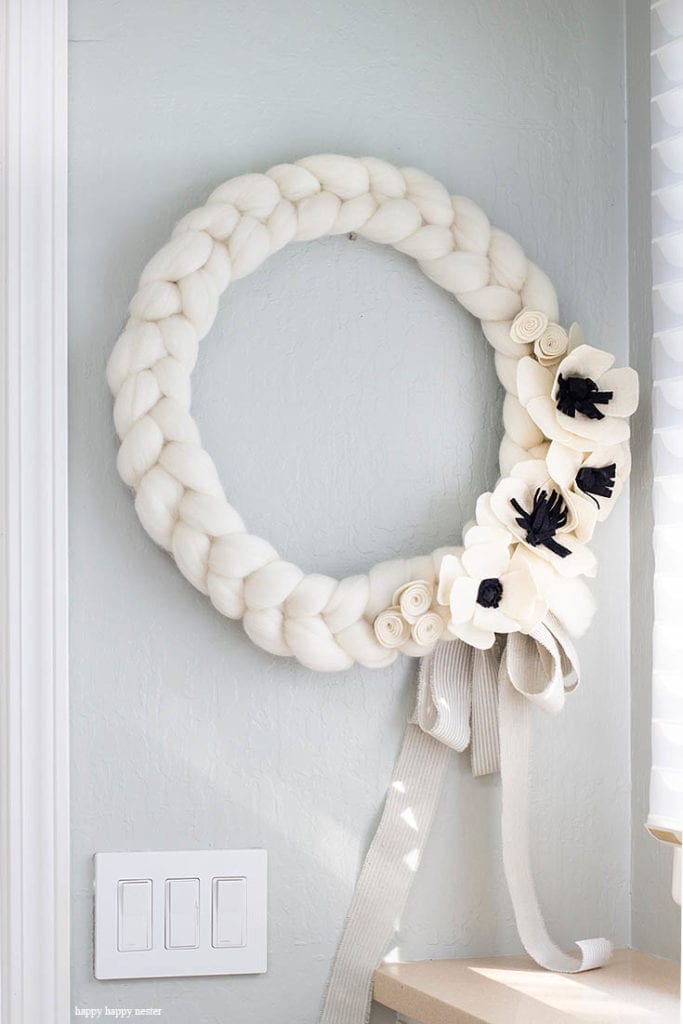 12. Quick and Easy Arm Knitted Wreath
Here is a Quick and Easy Arm Knitted Wreath to chase your winter blues away. Not that you have the blues, but this cute wreath should lift your spirits and start your year with a happy, bright start.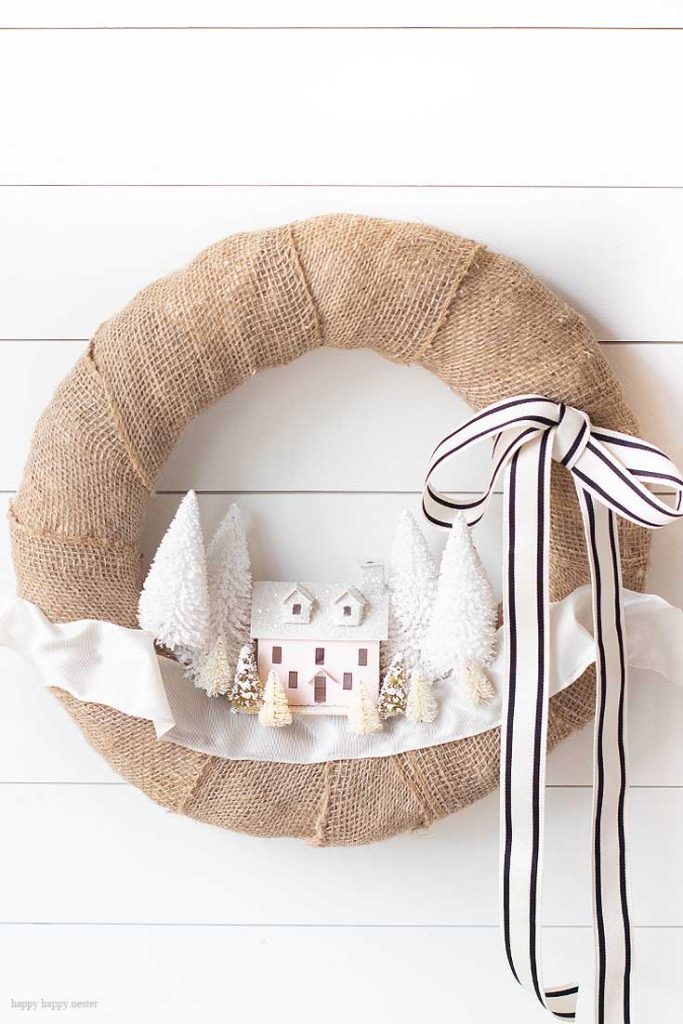 13. DIY Christmas Village Wreath
This DIY Christmas Village Wreath was inspired by Martha Stewart's  Magic Village-Themed Christmas Wreath. Have you seen her stunning wreath from a couple of years ago? I fell in love with it the minute I saw it on Martha Stewart's Living Magazine cover.
So, recently I set out to make a similar wreath, but of course, my wreath went on its little adventure. The results are what you see here in this post.
Here is a link to some Putz Houses!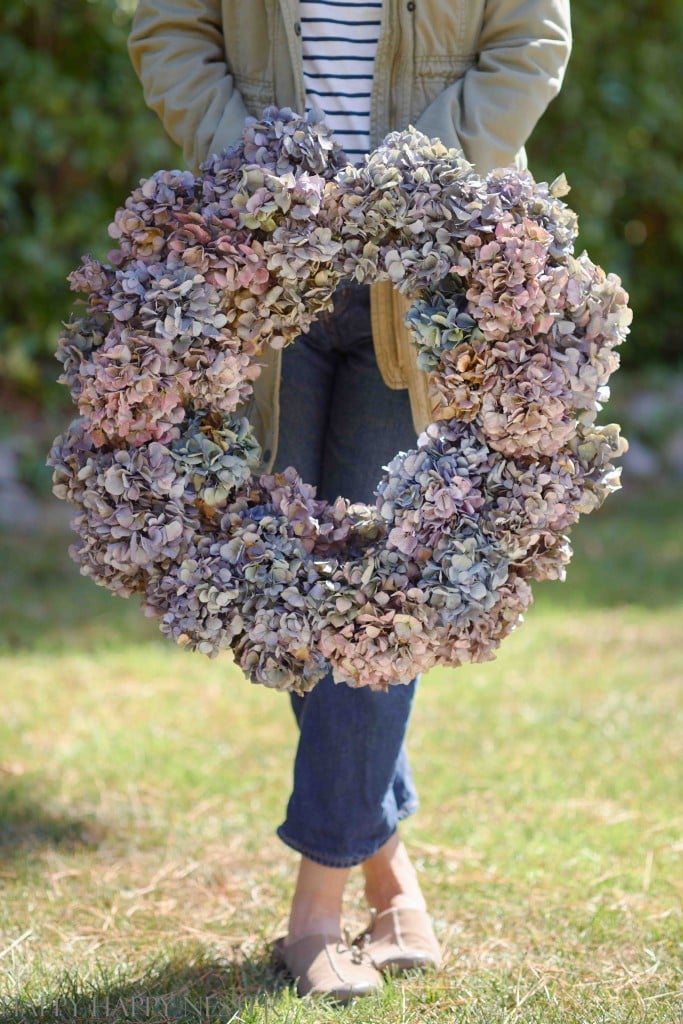 I love this time of year when all the hydrangeas turn royal colors. I decided to share my Dried Hydrangea Wreath Tutorial with you this fall and winter. This simple wreath is gorgeous with its purples, blues, and deep green flowers. Use your flowers from your garden or buy them from a store.
Here's a buying option if you don't want to make it: Dried Hydrangea Wreaths
---
Thanks for hanging out with me! Rounding up my winter wreath ideas was like walking down memory lane!
I enjoyed hanging out with you!
Happy Holidays,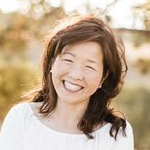 Latest posts by Janine Waite
(see all)