You can feel that autumn is on its way, and I've already started adding charming fall vibes to our home with the perfect Fall Dining Room Table Decor!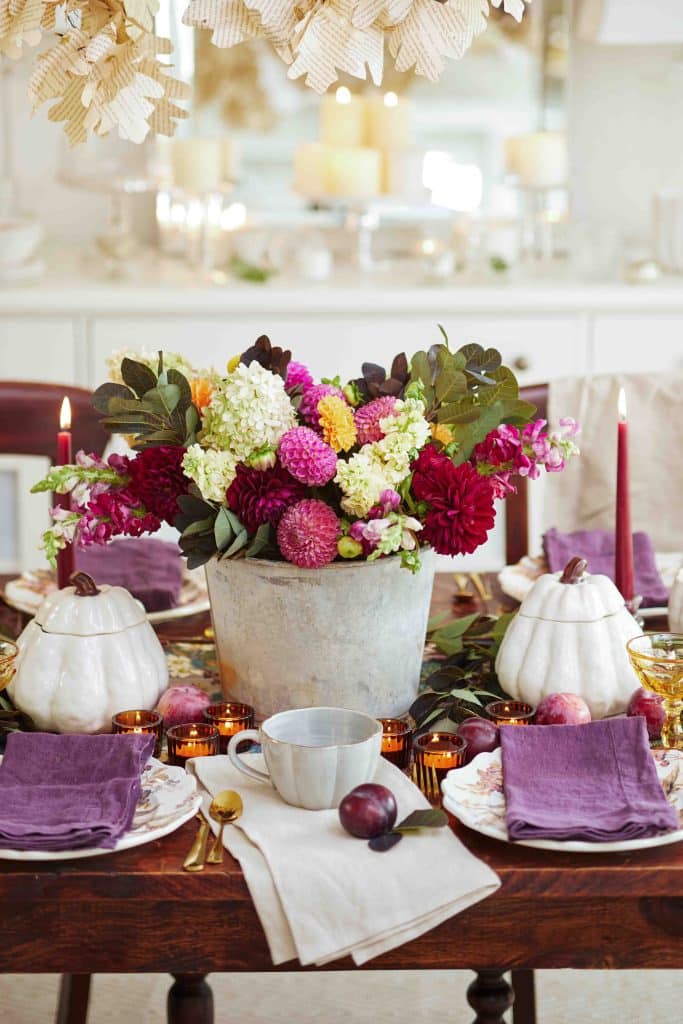 I totally get into the cozy indoor mode during fall and winter. Something about hibernation vibes makes me love bringing in warm and comfy decorations. So, add some warm hues and charming calico patterns to create a cozy and inviting atmosphere.
Whenever the seasons shift, I'm all about giving our dining table a makeover. It's the simplest way to play around with different seasonal decor vibes.
You see, fall table decorations are a fantastic way to embrace the cozy and festive vibes of the season. Bring warm, earthy colors like deep oranges, rustic reds, and golden yellows. Combining elements like pumpkins, gourds, and leaves can instantly evoke that autumnal feel.
---
Before we dive in, I want to share that my fall table is part of a blog hop with my talented friends. Be sure to view their stunning table settings, linked at the bottom of this post!
---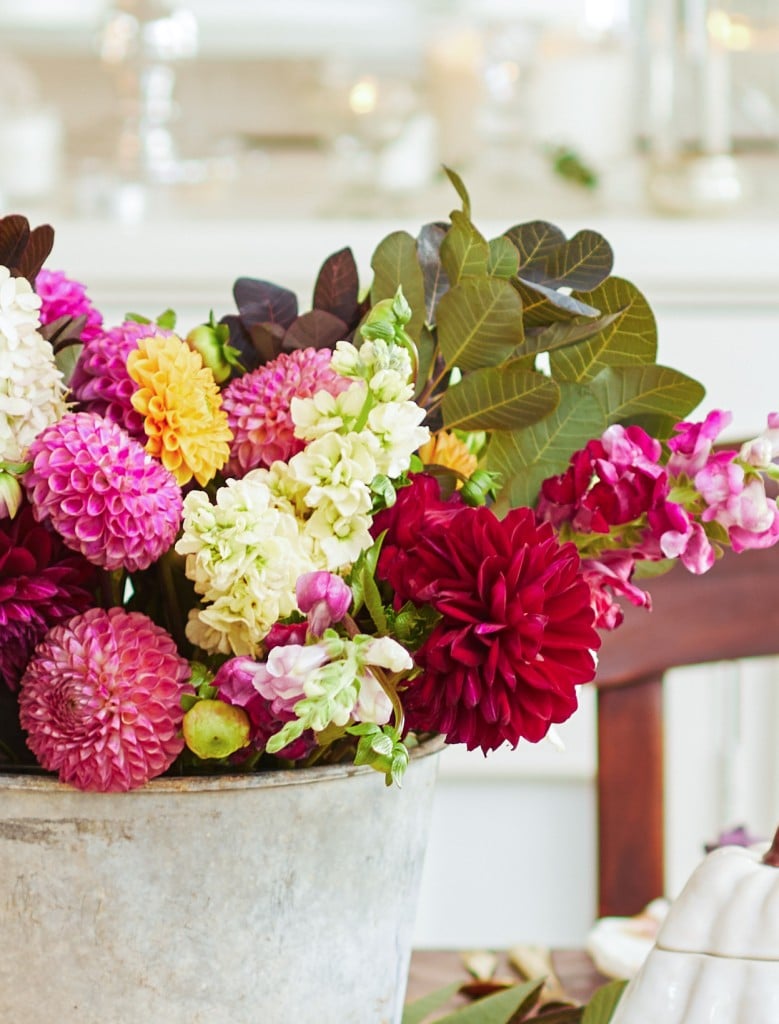 How to Decorate a Table For Autumn
So, when you're getting creative with your fall dining room table decor, here are a couple of things to think about:
Colors: Fall is a time of rich and regal colors that bring warmth and opulence to any setting. While orange, red, brown, and gold are iconic autumn hues, royal colors can elevate your fall table decor. Consider using these colors in your tableware, napkins, and decor elements.
Tablecloth: A tablecloth in warm, autumnal colors can anchor the theme. You might choose a deep burgundy, burnt orange, or muted plaid pattern. The texture of the fabric can also add to the coziness.
Flowers: Choose flowers synonymous with fall, like sunflowers, dahlias, and chrysanthemums. Arrange them in rustic vases or even hollowed-out pumpkins for a unique touch. These vibrant blooms instantly infuse the table with autumnal hues.
Plates: Opt for dishes in earthy tones or rich jewel tones like deep reds, oranges, and gold. Consider using textured or patterned plates that evoke the feel of fallen leaves or rustic textures. Mix and match different sets for an eclectic vibe.
Candles: Candles are a quintessential part of fall decor. Go for unscented or autumn-scented candles like apple, cinnamon, or pumpkin spice. Place them in lanterns, glass jars, or candleholders for a warm and inviting glow.
Leaves: Scatter colorful artificial or dried leaves down the center of the table as a runner. You can even write guests' names on larger leaves and use them as place cards. This adds an authentic touch of nature to the decor.
If you're curious about more of my fall table setups, be sure to explore related posts!
Frequently Asked Questions:
How do you decorate for fall in a classy way?

To decorate a fall table elegantly, focus on earthy, warm colors like deep purples and rich browns. Heighten your fall table's charm by playing with textured linens, adding a hint of metallic shine, and arranging those gorgeous seasonal flowers.
What colors for fall decor?

For fall decor, consider using warm and earthy tones like purple and brown to capture the cozy essence of the season.
What is a popular decoration in the fall season?


Fall pumpkins, foliage, and flowers are popular and iconic decorations for the fall season, instantly adding a touch of autumnal charm to any setting.
How do you set a pretty fall table?

Create an enchanting fall table by including items such as pumpkins, leaves, candles, and dried foliage, bringing a captivating seasonal atmosphere to your setting.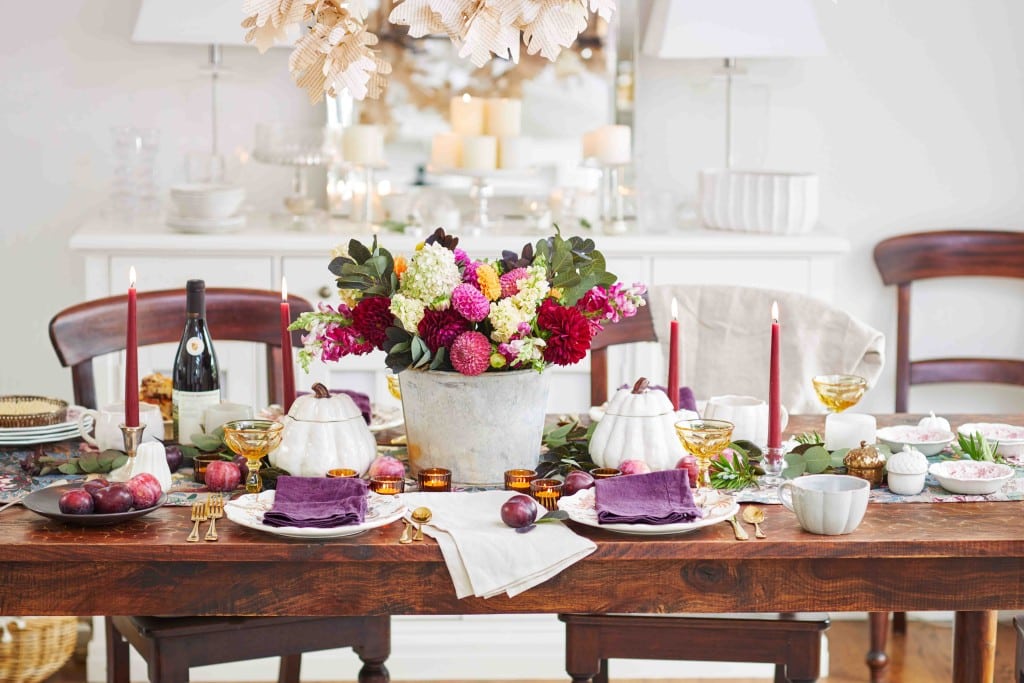 Fall Table Decor in The Dining Room
The dining table becomes a focal point, adorned with textured tablecloths, floral centerpieces, and pumpkin-themed candles. It's like bringing a piece of the outdoors indoors, with leaves, greenery, and earthy elements adding a touch of natural beauty.
Here are the Fall Table Decorations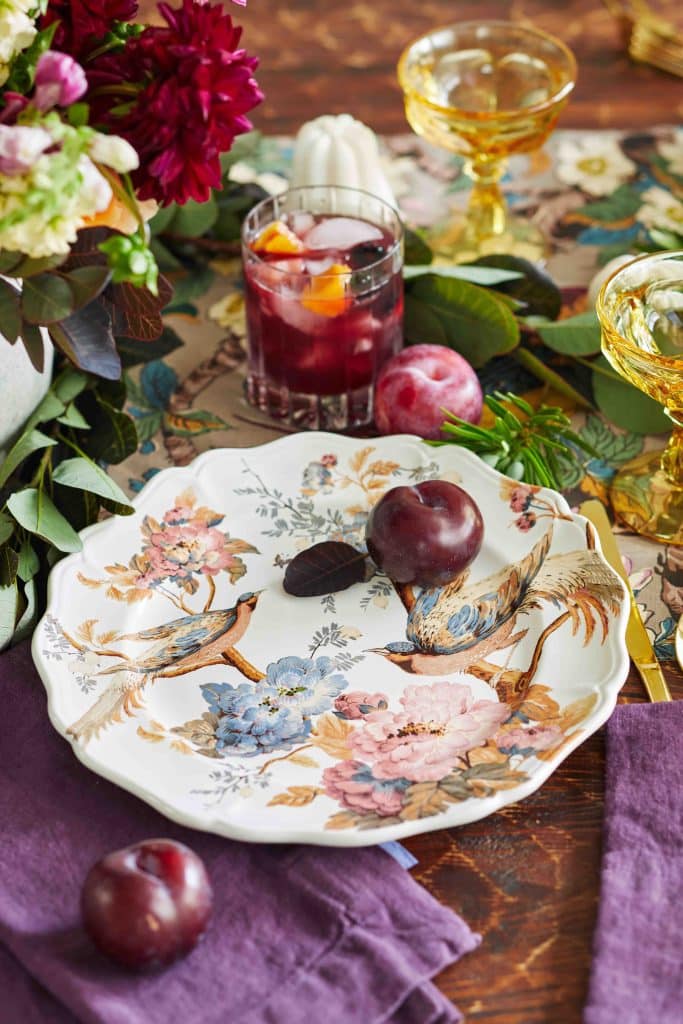 Fall Place Setting
I have a love for mixing designs and colors in my place settings. I thoroughly enjoy incorporating my collection of vintage plates into the mix.
My designs gravitate towards an eclectic English approach to table decoration.
This style brings a sense of warmth and coziness to any room or tabletop.
And this year, Pottery Barn is carrying the most beautiful place settings! These floral bird plates fit the bill for a fall table.
Autumn Floral Arrangement
When it comes to fall florals, I never forget to include stunning burgundy dahlias – their boldness perfectly captures the essence of autumn.
However, I always enjoy foraging in our nearby fields for fresh greenery.
Tablecloth/Table Runner
I discovered this amazing pheasant floral bird runner at Pottery Barn for my table. The mix of deep greens, warm rusts, and cool greys totally sets the mood with those classic fall colors. The fabric you bring in sets the vibe and makes a statement for your autumn table.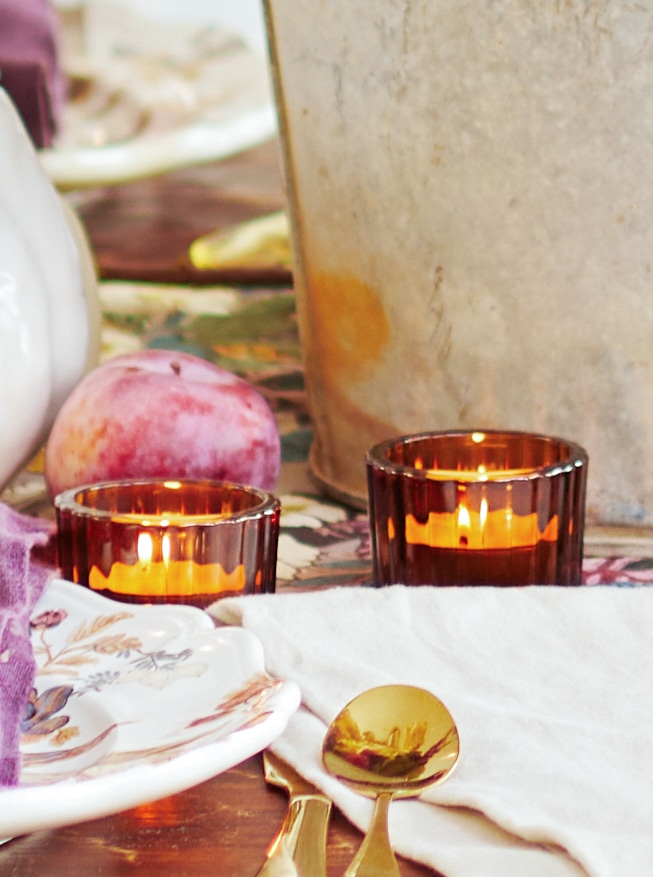 Candles
Consider including amber-colored glass votives to beautifully mirror the autumn color palette when it comes to candles. I found this set of 14 votives.
Incorporating pumpkin candles is a simple way to add autumn vibes to your room.
I stumbled upon some pumpkin candles on Etsy, and I'm absolutely delighted by their lovely appearance.
And finally, Yankee Candle has this wonderful Spicy Sangria candle that is a gorgeous burgundy color!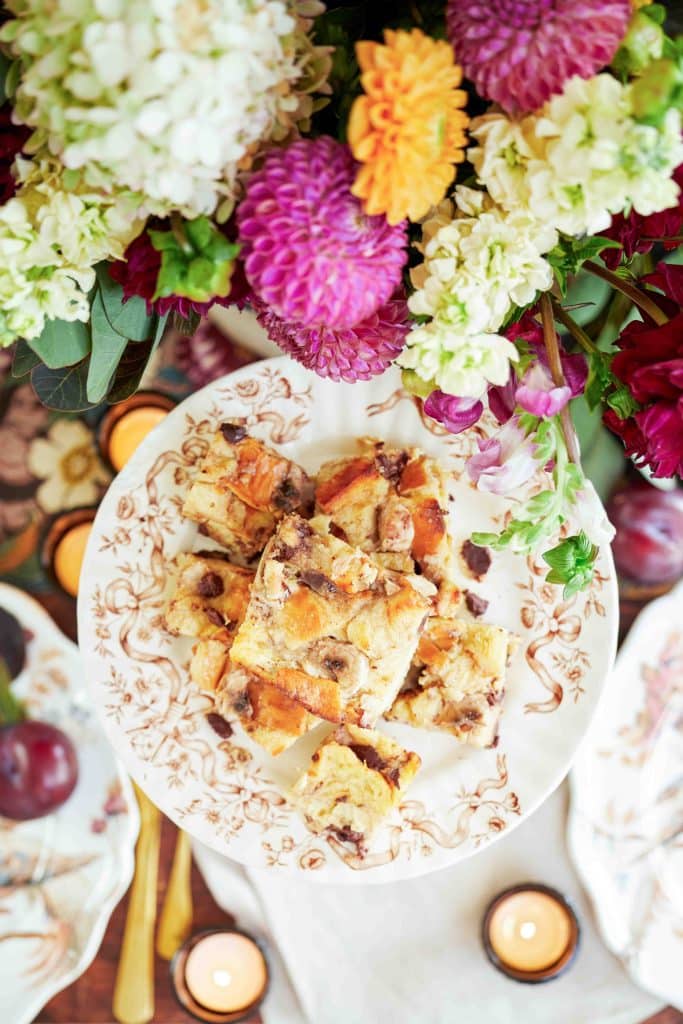 Fall Recipes
And finally, don't forget to bring in some scrumptious fall dishes and delightful drinks to round out the seasonal experience.
Why You'll Love This Fall Dining Room Table
Non-Traditional Color Palette: Using unconventional colors adds a twist to the fall decor, bringing uniqueness into your decor scheme.
Eclectic Blend: The mix-and-match approach with various table runners, plates, and decor elements introduces a charm.
Warmth and Inviting Ambiance: The carefully curated combination of textures and colors wraps the table in a warm embrace, making it a focal point for gatherings and fun dinner party conversations.
Elegant Jewel Tones: The incorporation of jewel-toned colors and vibrant flowers brings bursts of opulence to the setup, infusing a touch of luxury that perfectly complements the cozy fall mood.
Effortless Fall Dining Table Decor: You'll find it incredibly easy to replicate my table decor, as I've designed it to be effortlessly recreated with minimal creative input. All the resources are available, so you can have everything delivered to your home.
Blogger's Best Fall Tables!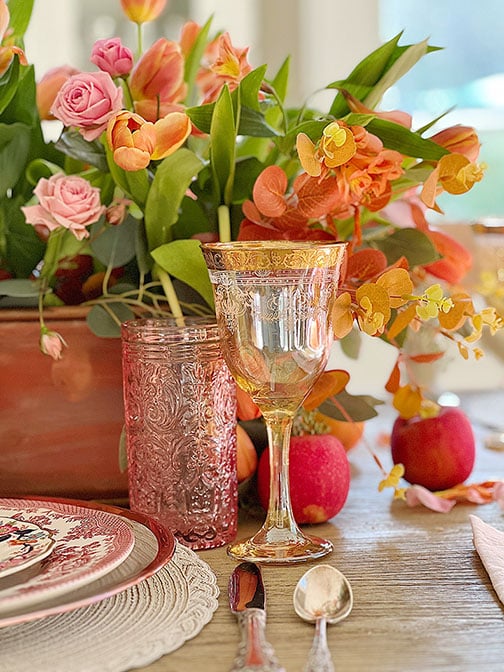 Dining Room Fall Table Decor Ideas | My 100 Year Old Home
I love fresh flowers and today I am sharing lots of dining room fall table decor ideas. This fall table is highlighted with fresh flowers in my fall palette colors. But there is a little twist! I added faux greenery to my fresh floral centerpiece. Can you tell which flowers are faux?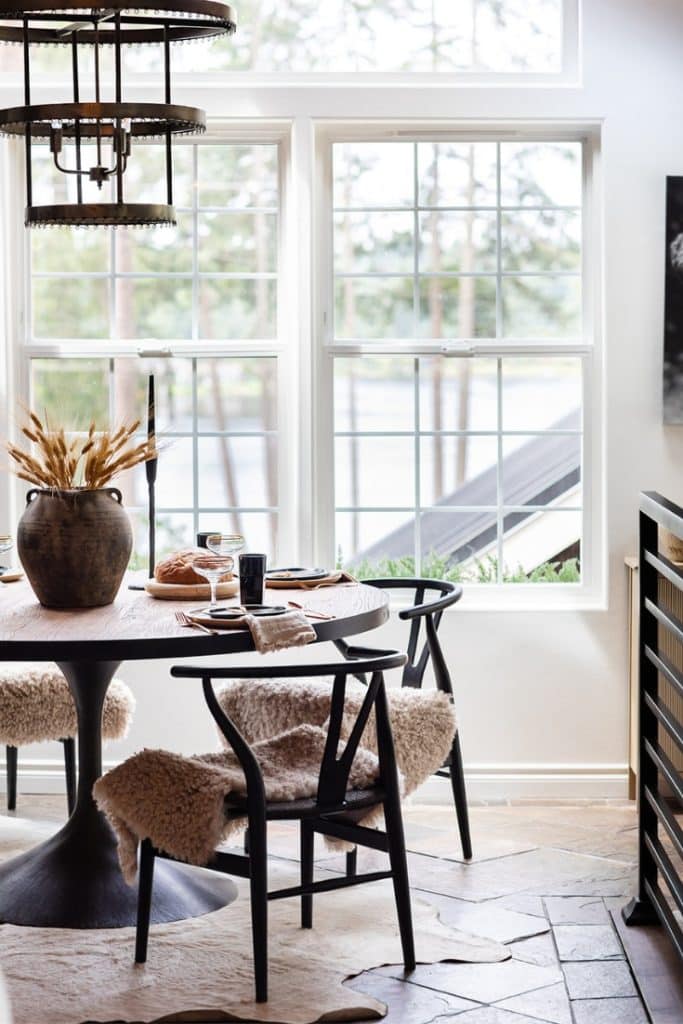 Organic Modern Fall Table Setting | My Sweet Savannah
Create an organic modern table setting for fall. Whether you are hosting a dinner party, or simply having a family meal together, my tips will help you create a cozy vibe that everyone will love.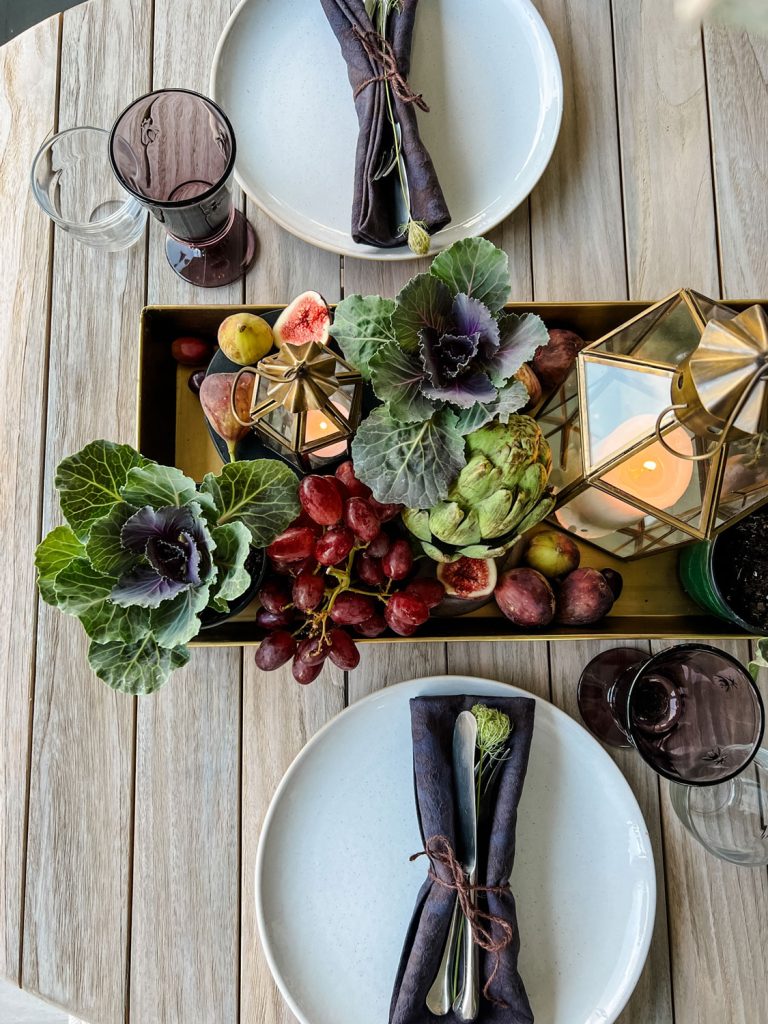 How to Create a Beautiful Organic Fall Tablescape | Most Lovely Things
Inspired by Terrain: create an earthy organic fall tablescape for dinner on the porch.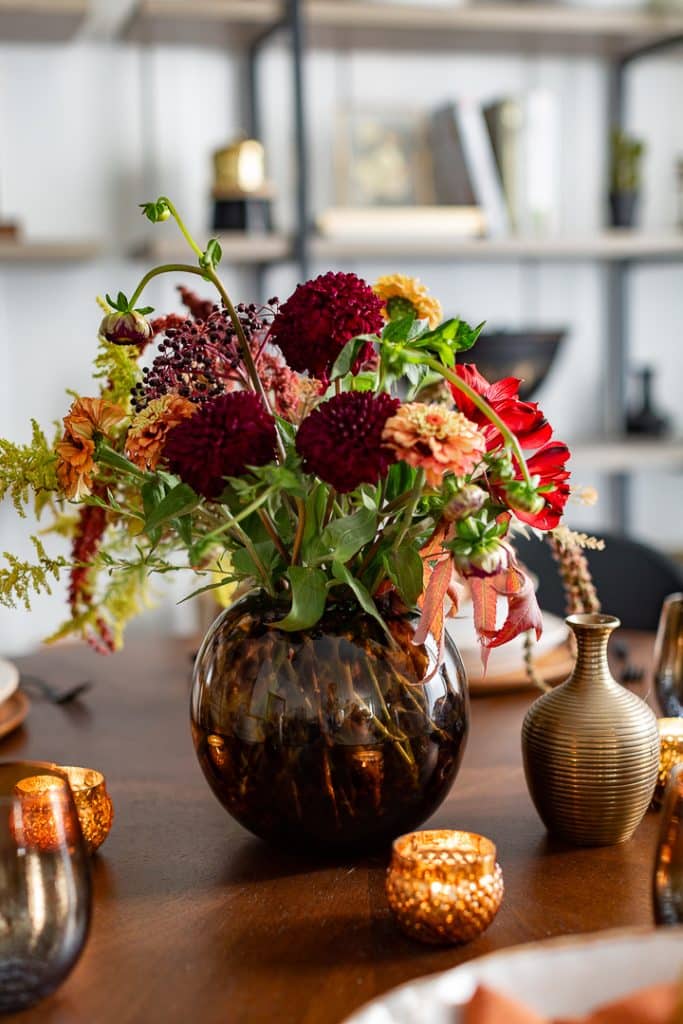 Fall Tablescape Ideas | Craftberry Bush
Elevate your dining experience with Fall Tablescape Ideas, where warm hues, rustic elements, and seasonal decor come together to create a cozy and inviting atmosphere.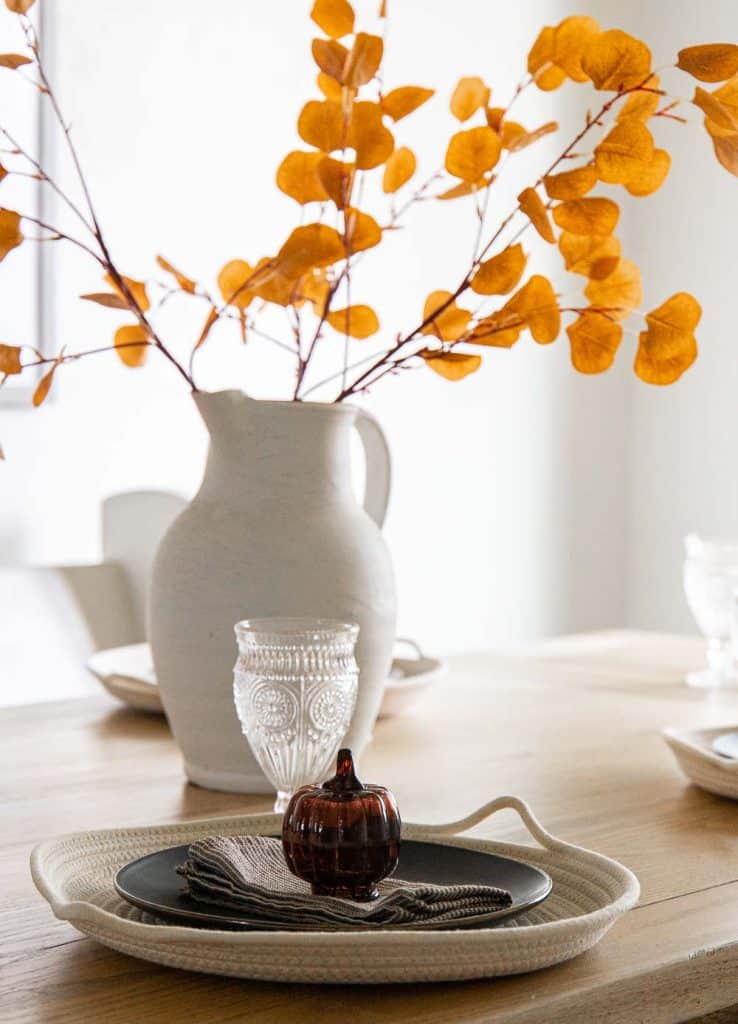 Fall Table Decor Ideas Using Target Dollar Spot Decor | Twelve on Main
I created a fall tablescape using items I found at the Target Dollar Spot! They had some amazing items that I was able to add to my aesthetic and it turned out amazing!
---

Thank you for joining me at my table. With the cozy fall season just around the corner, let's get ready to welcome it with a beautifully set autumn table!
Happy Decorating for Fall!
Cheers,

Photo Credits: MyPhotography.com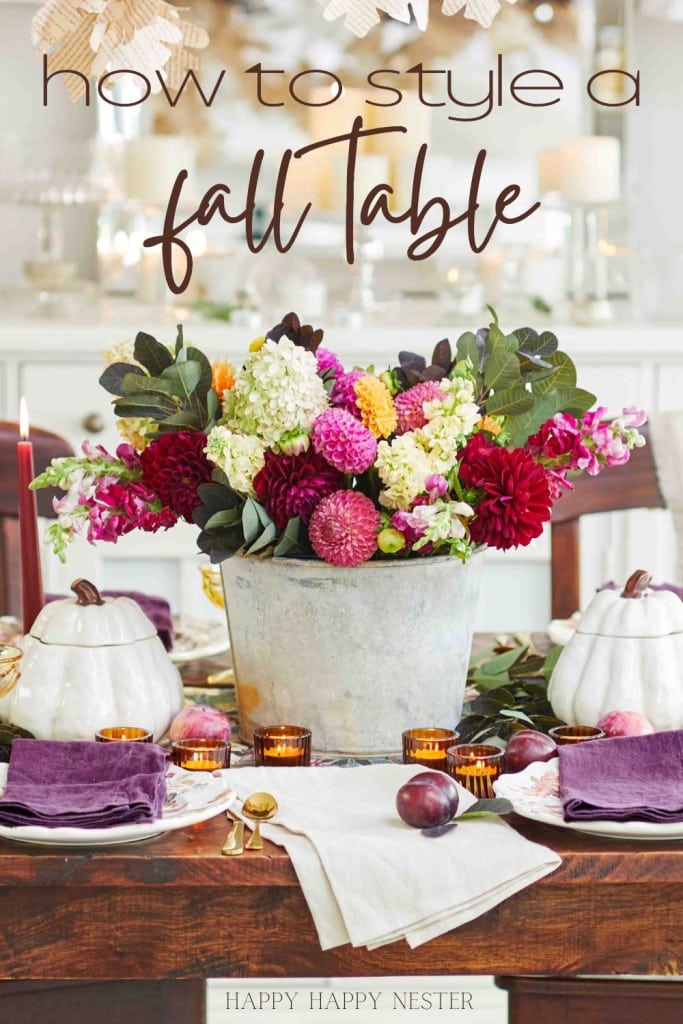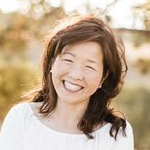 Latest posts by Janine Waite
(see all)