Need help with Fall Mum Display Ideas for Your Front Porch? Check out this post for the best color combinations, arrangements, and containers.
Do you like chrysanthemums in the fall? The nurseries are full of these delightful fall flowers, and I love how the colors mimic the beautiful leaves in autumn.
Today's post is part of a blog hop with my fellow blogging friends. So make sure to check out their outdoor fall decor posts down below.
And speaking of fall decor, here are a few other blog posts that you might find interesting:
Welcome to Happy Happy Nester if you're new to my blog!
My porch is all decked out for you, and I hope you can stay a bit and soak in the fall vibes.
Let's talk about decorating your porch for fall. Do you struggle with how to what to display on your patio? What color themes to use? What decor items to use?
I know exactly how you feel, and the decisions can be super overwhelming. I'll deconstruct some fall porch ideas for you, but let's start with the flowers first.
Fall Mum Display Ideas
*The following post contains affiliate links
What Colors to Use
Since I used orange and white pumpkins, it's a no-brainer that I chose the same colors for my mums.
I did buy a few burgundy mums to match our front door, but the three colors were a bit much. So I scaled back on that color and mainly used the white and orange color combination.
In Liz Marie's front porch, she can see one color of mums, and Laura from Inspiration for Moms, used shades of pink.
I think that if you feel overwhelmed with your front porch decorating, keep it simple and restrict yourself to one or two colors.
How to Display Mums – Containers
Be creative when it comes to displaying mums. Hollow out a faux pumpkin and plop a vase in it. I lined my cute bushel baskets and placed one mum in each.
I also brought out my old baskets and plopped my mums in them, too, and I love how they look. Just remember to line time with some plastic, and I used a large garbage bag to line my baskets.
Fall Mum Arrangement Ideas
I love the old basket that I found at a thrift store. I placed a liner in it and then put big rocks on the bottom to lift the plants. Next, I set three mums side by side with a few mini-pumpkins in the front. I tucked some branches from my Nadina bush to add color and organic movement.
Of course, the striped ribbon is bold and crisp and is such a fun accent.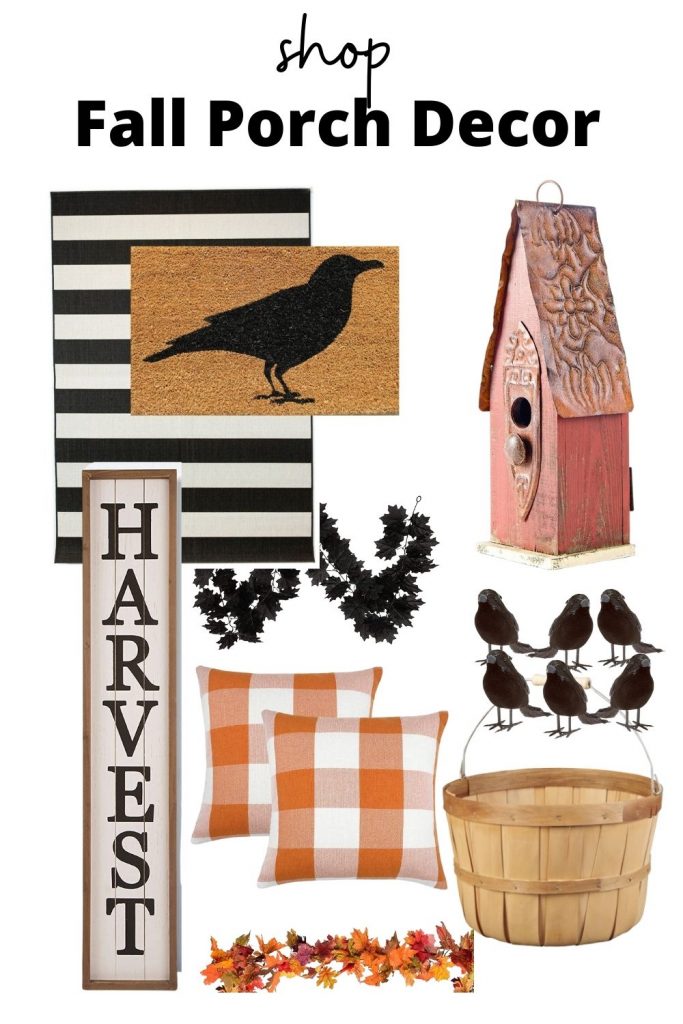 Black and White Outdoor Rug | Crow Porch Door Mat | Black Maple Leaf Garland | Rustic Birdhouse
Wooden Harvest Sign | Orange and White Buffalo Pillows | Faux Crows | Wood Bushel Bucket | Fall Garland
More Thoughts on Decorating a Fall Porch
Besides fall mum display ideas, I considered a few more things when decorating. Let's take a look at some of these key elements.
Pumpkins
I bought these white pumpkins from our local Ace Hardware. I have never seen these mini pumpkins with their cute stems, and I love the size and how perfectly round they are. I placed some on our front porch as well on my dining room tablescape.
So, if you have an Ace Hardware in your town, make sure to check out their pumpkin supplies!
Garlands
I bought this black beaded garland a while back at either Target or Homegoods. I love the look, but I don't know who else carries it. As an alternative, this pretty black maple leaf garland is stunning. The leaf garland is your standard autumn accent, and I love to combine garlands for the most significant impact.
Cornstalks
Our local Ace Hardware carried these fun cornstalks this year. They weren't expensive, $15 per bunch. If you buy some, make sure to place some towels or plastic down in your car. The stalks love to shed lots of their leaves and husks.
Fall Signs
I bought this cute sign from Amazon of all places. It is my first Harvest sign for my porch, and I love it!
Door Mats and Outdoor Rugs
I always have this crow doormat out for the fall. I love how it goes so nicely with our black and white striped outdoor rug, and the combination is so festive for the fall.
Outdoor Decor
The grey birdhouse was originally a bright green, and I got busy and painted it with Annie Sloan's chalk paint. I love her color graphite since it makes things so dramatic and pretty.
So, add birdhouses, wooden stools, tree stumps, and hay bales to your front porch decorations. Have fun and enjoy decorating your porch for the fall.
---
Thanks for joining our fall blog hop!
I hope now you're inspired by this post on fall mum display ideas, and you're ready to tackle your decorating projects.
Cheers,

Make sure to check out these amazing posts!

How to Decorate your home With Outdoor Fall Decor | My 100 Year Old Home
Minimalist Fall Porch | Modern Glam
Simple Outdoor Fall Table Decor Ideas | Twelve on Main
Fall Mum Display Ideas for the Front Porch | Happy Happy Nester

Decorating Steps with Pumpkins | Finding Lovely
Fall Porch Decor in Subtle Autumn Colors | Maison de Cinq
Fall Decorating on the Front Porch | Inspiration for Moms
How to Make Pumpkins Last Longer (for decoration or eating!) | The DIY Mommy

Modern Farmhouse Fall Front Porch Decor | The Happy Housie
Would You Paint Your Door Pink for Fall? | Most Lovely Things
Fall Front Door With Pumpkins and Mums | Life is Better at Home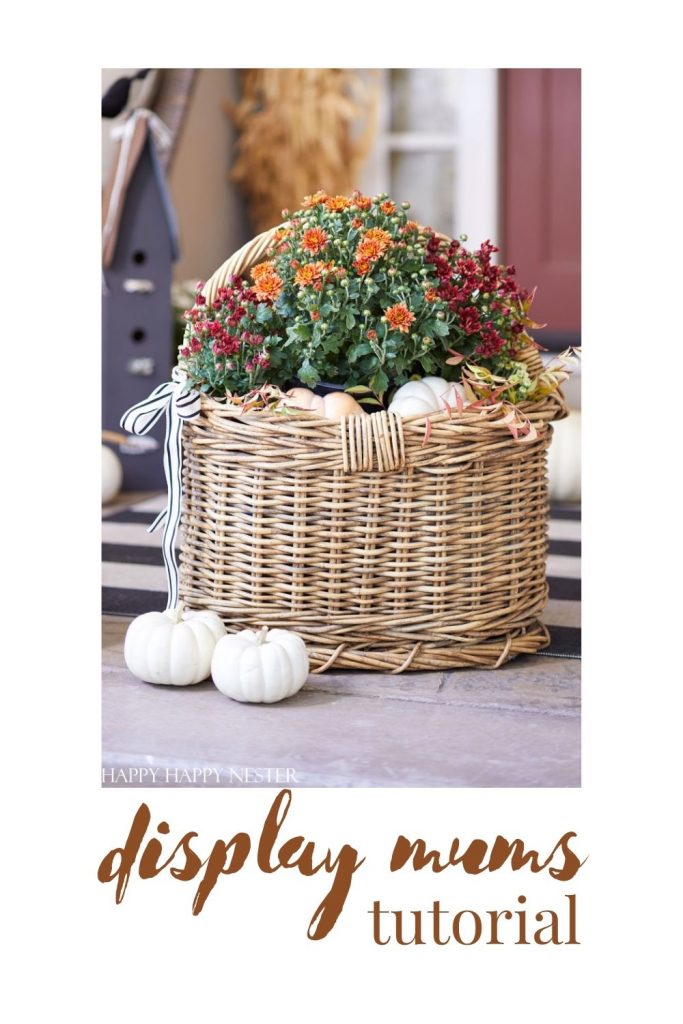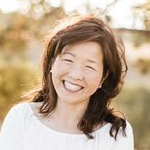 Latest posts by Janine Waite
(see all)