Time to spice up your home with some Front Porch Fall Decor! From rustic farmhouse pieces to traditional Halloween vibes, there is something here for everyone! I have selected a wide variety of items for this upcoming season, so keep scrolling and have a wonderful Wednesday!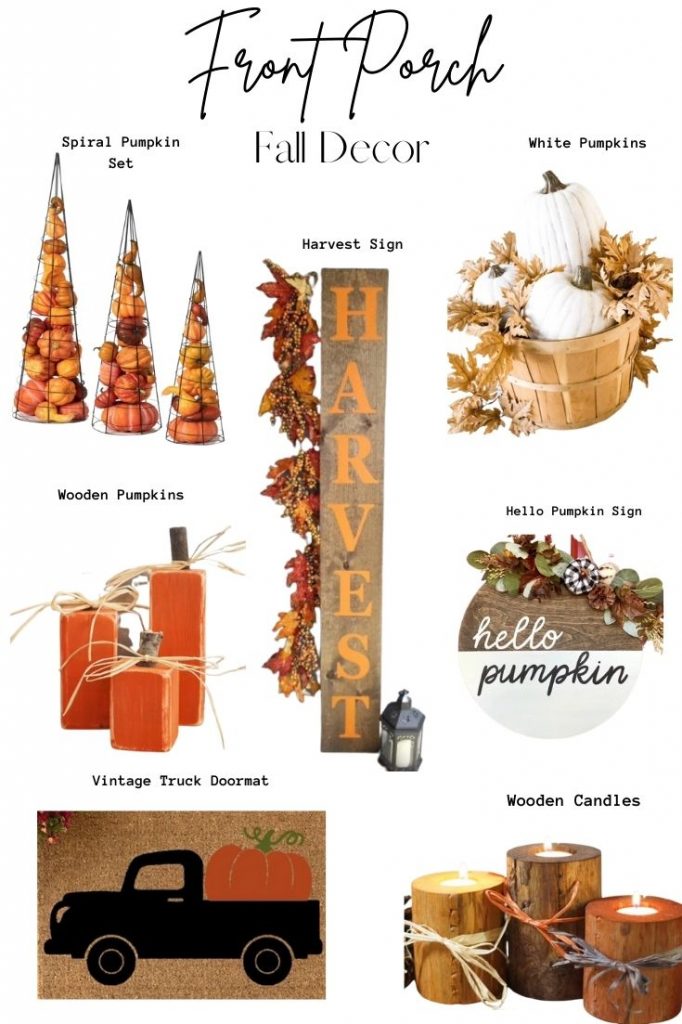 When it comes to decorating your front porch, you want to wow your neighbors and have the best porch on the street! So with these simple yet stunning items, you will be able to create a warm and welcoming space!
Every year I decorate differently. Sometimes I go traditional and use simple shades of brown, red, and black. And other times, I go full-on orange mode! I am here to help you become inspired to mix and match and create a fun look you will love!
With this front porch fall decor collection, your home will transform from a sweet summer look to a style full of pumpkin kisses and harvest wishes!
But before we continue, here are my other Boutique of the Week blog posts. Check them out!
Front Porch Fall Decor
*This post contains affiliate links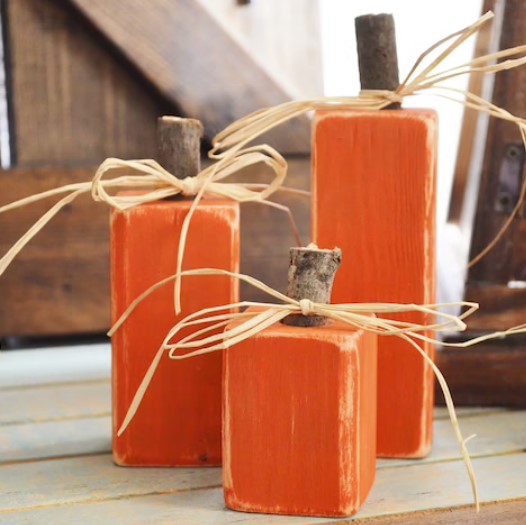 Spice up your front porch with this set of wooden pumpkins! This pumpkin set is the perfect size for your front porch fall decor! Every set is handmade with carefully selected, solid wood.
Give it as a gift to a teacher, boss, or friend…or keep it for yourself to create a welcoming look to your porch!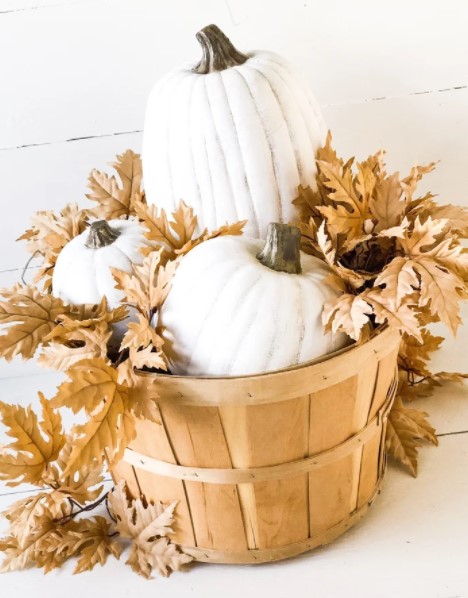 Beautiful hand-painted antique white farmhouse pumpkins perfect for your joyful home! Great front porch fall decor for Autumn and fall, Halloween, and of course, Thanksgiving!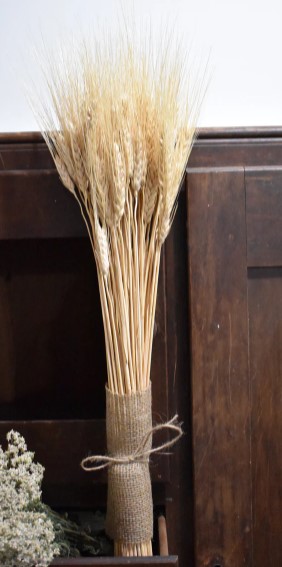 This beautiful dried wheat bunch looks amazing in wedding bouquets, floral arrangements, centerpieces, table dressings, and vase fillers for your home this fall Holiday Season!
Use crafts like wreath making and décor and hang them on your door as front porch fall decor! This bunch of dried wheat is long-lasting grass that will stay nice for years!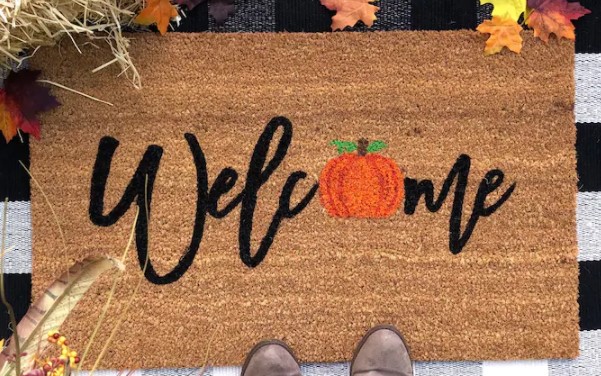 This Welcome Fall Mat Door Mat is exactly what you're looking for to spruce up your front porch! The "o" in welcome is interchangeable with multiple designs!
Welcome family and friends with this wonderful doormat while also creating a cozy style for your porch!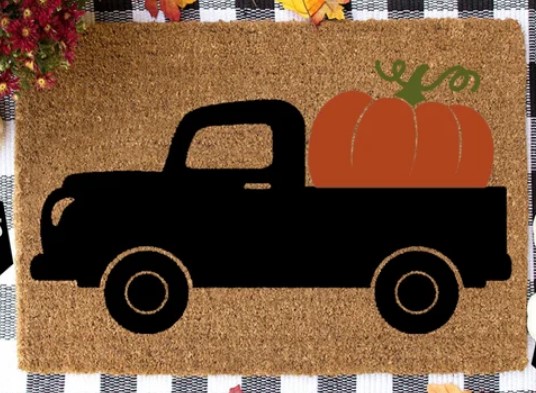 Style the front of your home with this fun fall doormat. Create an inviting scene when having loved ones over! When Fall arrives, it's time to have fun with your decor, and this rug is definitely fun!
It's the perfect piece to add to your existing front porch fall decor!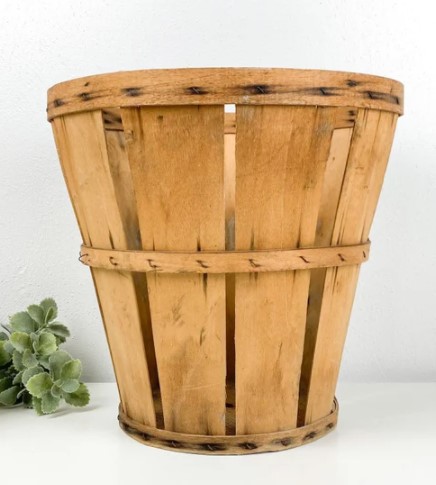 Give your porch a new look with these amazing harvest buckets! These gorgeous items can hold pumpkins, apples, candy, and more!
If your style is more farmhouse, then this piece of decor is the one for you!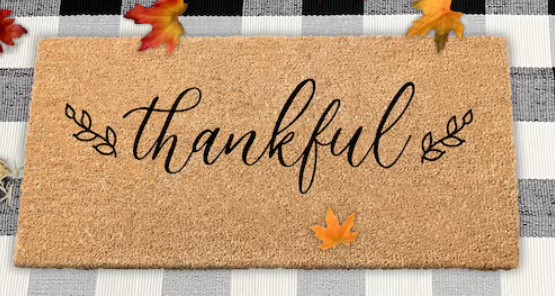 This versatile Buffalo Plaid Rug enhances any decor style. Perfect to use for your front entryway layered with your favorite seasonal doormat as a perfect accent to welcome guests!
Use it as an area rug in your foyer to greet your guests. Effortlessly add texture to your floors in your kitchen, laundry room, bathroom, bedroom, living room, dorm room, porch, or deck!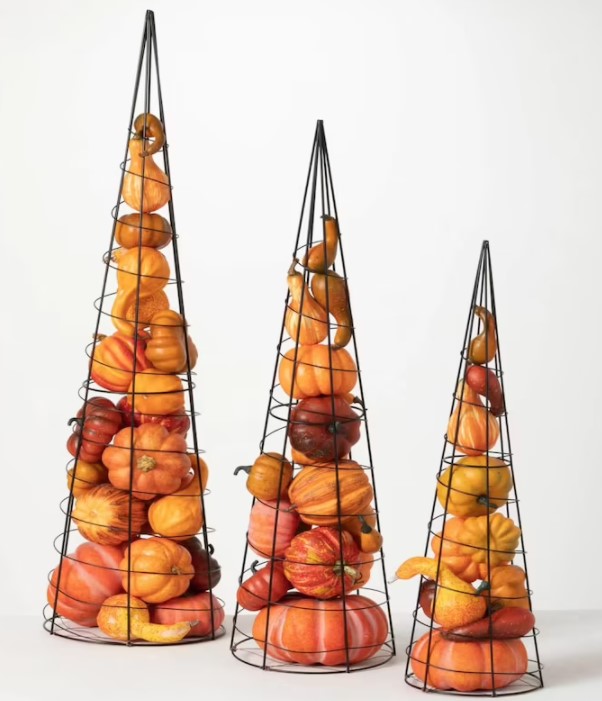 Traditional and classic with a modern twist, this Wire Topiary Pumpkin Set is not your typical decoration. Filled with styrofoam gourds and pumpkins, the metal frame adds sophistication to these pieces!
This fun, festive pumpkin set is perfect for your front porch with its unique pumpkins, spooky spiral, and traditional fall colors!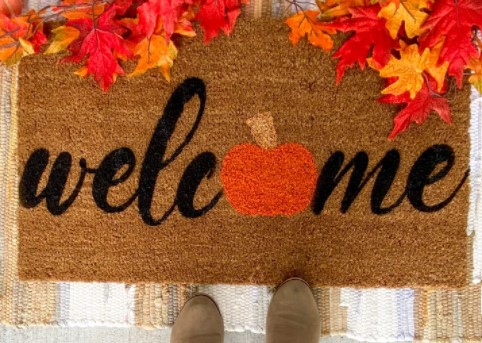 Fall is about spending time inside, by the fire, with loved ones. What better way to welcome them into your gorgeous home than with an inviting doormat!
This welcome doormat is perfect for your front porch fall decor! It's simple yet stunning and creates a cozy environment for friends and family!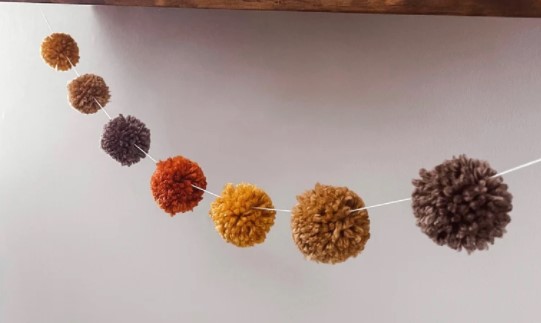 A string of pom garland for the fall season! Perfect for decorating your home, for a baby shower, or for party decoration! I always like to hang garlands and banners to add to my front porch fall decor because it adds festivity and beauty!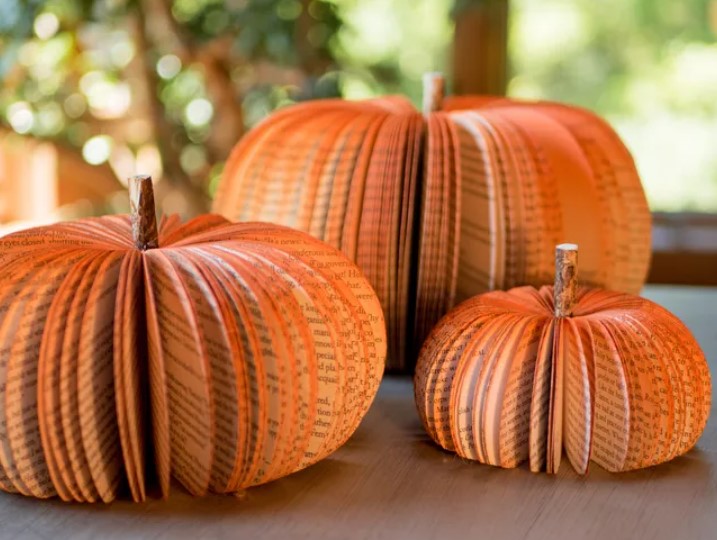 These Paper Pumpkins are made from upcycled books and are the perfect addition to your fall decor. They add a wonderful touch as a table centerpiece and will certainly serve as a conversation piece while providing that cozy fall look.
You can even use them to decorate your fire mantle, end table, hutch, bookcase, or give them away as party favors or gifts. The options are truly limitless with these paper pumpkins!

Add warmth to your front porch with this fall harvest sign! Adding a big sign like this will definitely make your front porch pop with festivity and farmhouse style!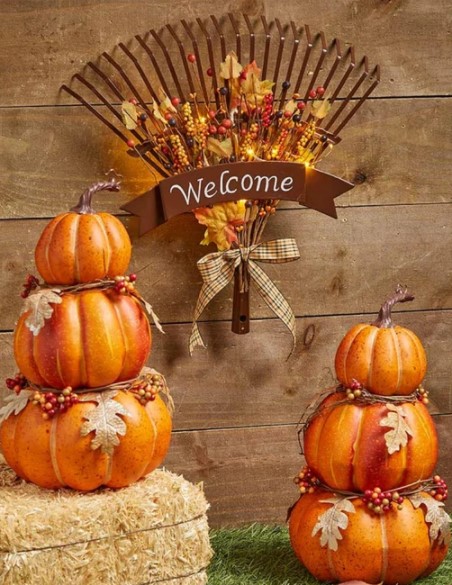 Give your home a country feel with this Harvest Porch Collection. You can use the Stacked Pumpkin Stake in any outdoor space, or you can remove the stake for tabletop use!
It includes 3 pumpkins trimmed with berries, rattan, and leaves with a shimmery, metallic finish. The Rake Door Hanger offers a novel twist on the basic wreath!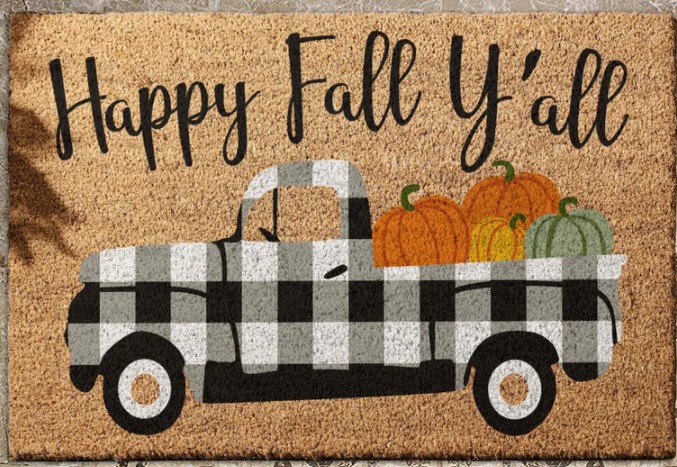 Spice up your front porch fall decor with this festive doormat! It will definitely create a fun and welcoming look when inviting friends and family over!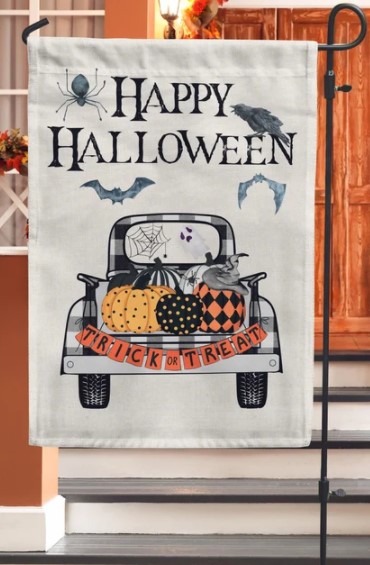 You are going to love this collection of Autumn & Halloween-themed garden flags. You will love the beautiful colors that they will add to your yard/garden! Perfect for creating a welcoming atmosphere at your home!

These UVA stalks are the perfect addition to a fixer-upper decor or rustic decor! They are also great for craft/DIY projects!
Not to mention, these stalks of Pampas will look amazing alongside your existing front porch fall decor. Whether it's in a vase or basket, it will look festive!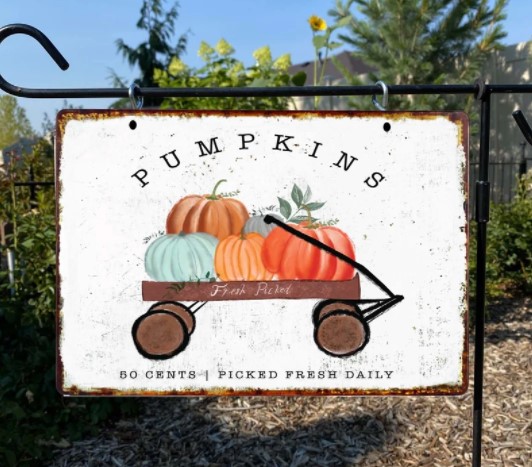 Add that fall vibe to your decor with this beautiful hanging sign! It's easily interchangeable for each season & the beautiful colors throughout the design will complement many decor styles.
The sign can be hung from any standard size flag stand or yard stake, from a mailbox, or even a lamp post!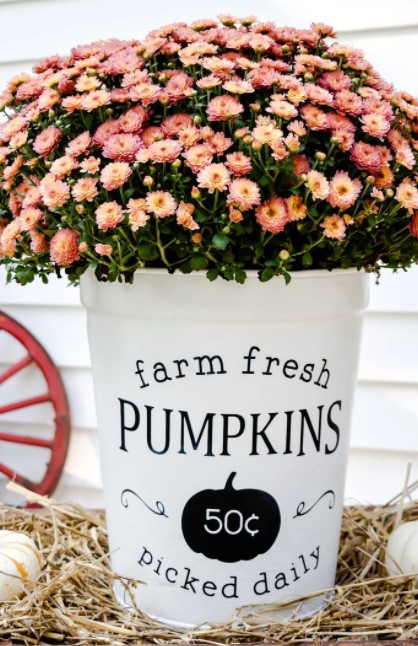 This painted white metal sap bucket will add the perfect farmhouse touch to your decor on a fall-themed front porch! It also makes a great housewarming gift! Pair it with pumpkins, mums, lanterns, and cornstalks to look festive and welcoming.
Beautiful Wall décor in perfect farmhouse style: statement harvest flowers composition that can be great as a centerpiece for Thanksgiving, an amazing countertop décor for your living room or amazing kitchen, as well as a door decoration!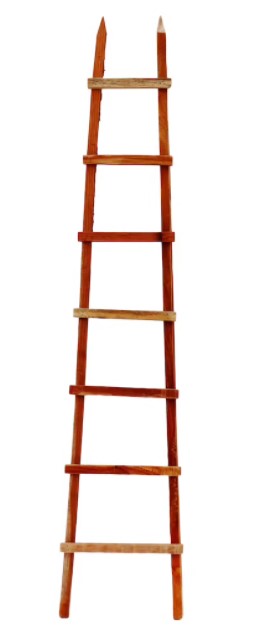 This is a great little ladder with a ton of uses. Smaller but NOT tiny, it's the perfect accent piece! Great for apartments and small spaces too!
Wonderful for a desk or tabletop lean-to. Tap into your inner crafter and use it all year round! Put it into a pot to grow on or get creative and decorate it for Halloween, Thanksgiving, and Christmas.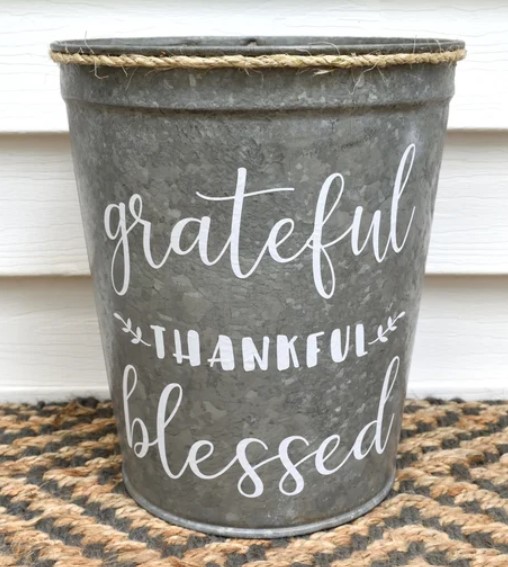 This galvanized sap bucket is perfect for a fall-decorated front porch. It will add the perfect farmhouse touch to your decor! It also makes a great housewarming gift! Pair it with pumpkins, mums, lanterns, and cornstalks to look festive and welcoming.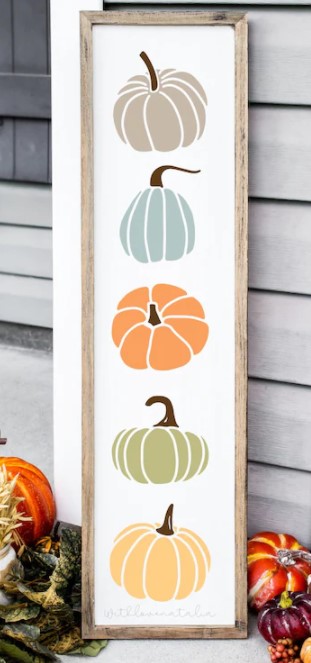 Cute wood sign for fall! This sign will be perfect for your front porch fall decor! Hang this frame above or propped on a mantle, and add cute decor with it! Fall decor is my favorite, and this will be perfect for the season!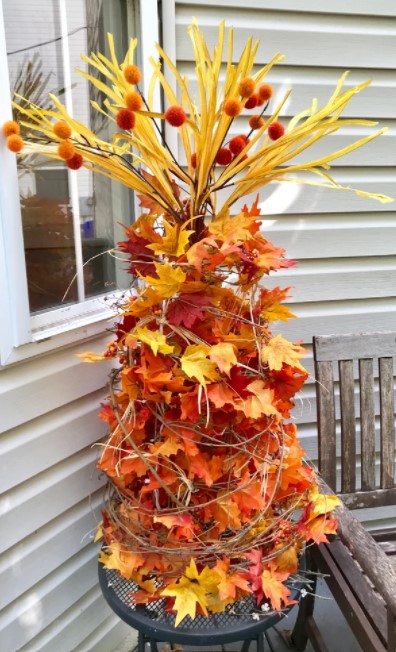 This fun, festive fall tree is perfect when you want to make a stunning space! Create this look with supplies and a spooky spirit to create a wonderful piece of front porch fall decor!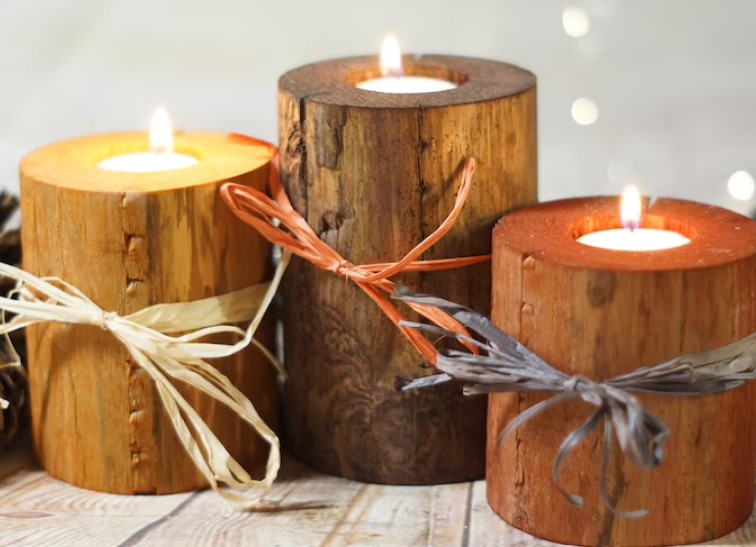 These beautiful fall candles are the perfect piece of decor when it comes to creating a cozy space. In all seriousness, you can place these candles anywhere in the house, and I guarantee you will fall in love with fall!
Not only can these gorgeous decorations be inside, but they can also be placed outside, safely, alongside your other decor!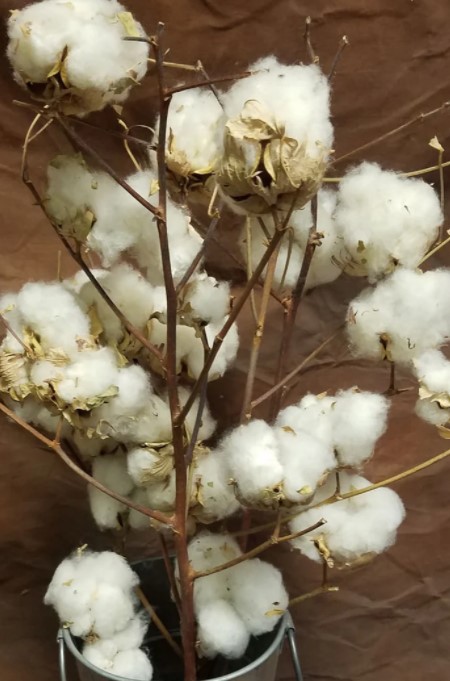 Style these dried cotton stems in a vase, among floral arrangements, or on a wreath! Whatever you decide to do with them, they will look gorgeous alongside your existing front porch fall decor!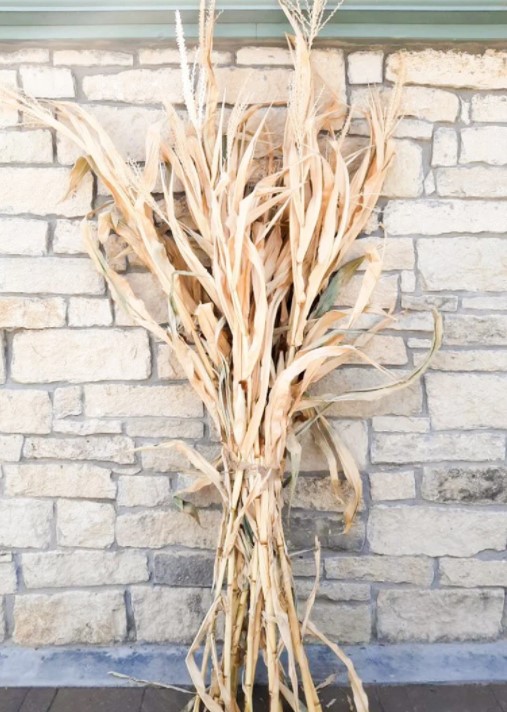 Dried Corn Stalks are a perennial favorite for fall and holiday decorating! Tied to a porch or fence post, arranged near a doorway, these lovely dried stalks make quite a statement.
Whether you are decorating for Halloween, Thanksgiving, or fall in general, you will love the look!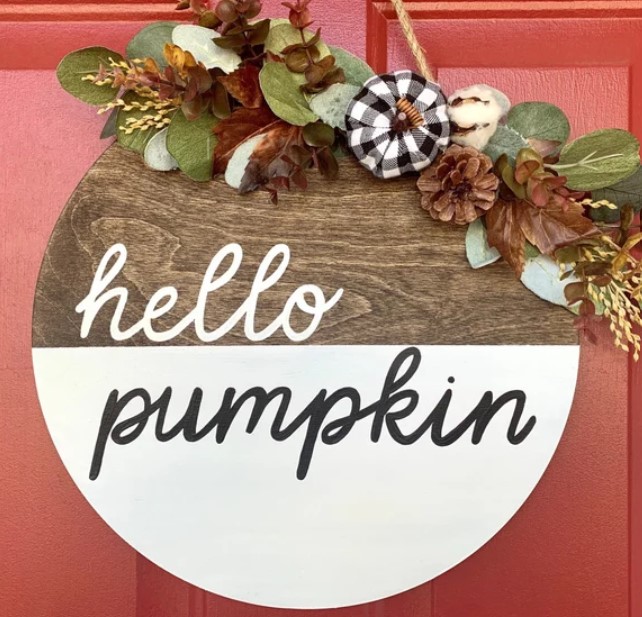 This rustic hand-painted "hello pumpkin" wood door sign is the perfect decor for your front porch or entryway this fall! When it comes to creating a stunning space with gorgeous decor, this pumpkin sign is perfect! It's chic, stylish, and adorable!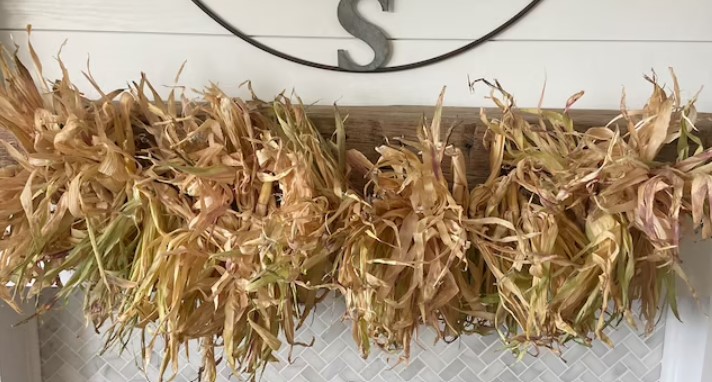 The Garland is strung on twine. It has been frayed to make it full for a beautiful addition to your Mantel, doorway, etc.
When creating a fun look for your front porch, it's better to go big or go home! With this amazing garland, you will create a fun, unique look no one else on the block will have!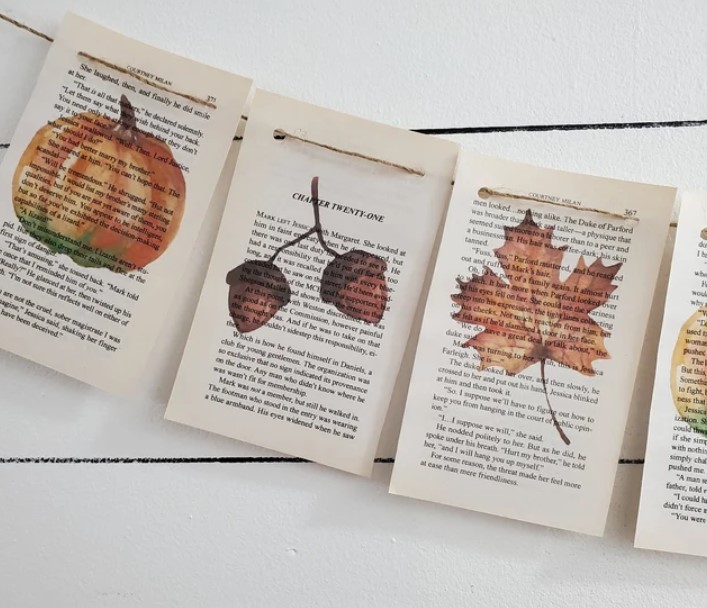 Hang this fall banner on your front porch to add a rustic look to your existing front porch fall decor! This garland is full of acorns, leaves, and pumpkins to give your porch a traditional style as well.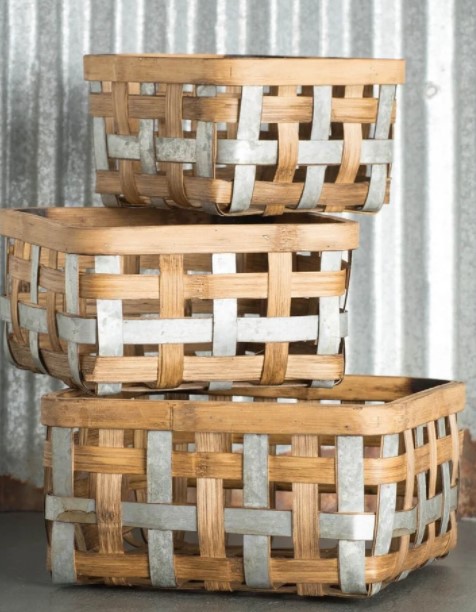 These Bamboo and metal weaved baskets are gorgeous for your front porch! Place them near your pumpkins or stacks of hay and fill them with apples, pumpkins and, more to create a warm and welcoming look!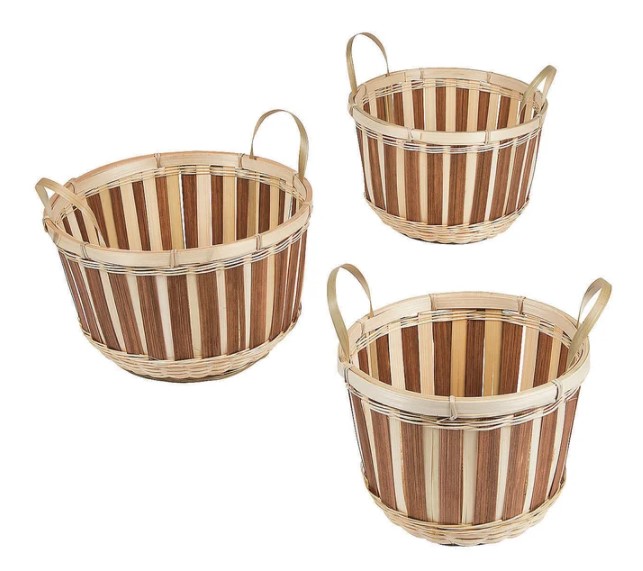 These Bamboo Bushel Baskets are a cute addition to fall wedding supplies if you're planning a country wedding. Fill them with party favors, individually wrapped treats, wedding cards, and more!
Many possibilities for these rustic baskets! They're made from sturdy bamboo, so you'll use them in your home and throughout your happily ever after as well. Place these baskets outside to add to your existing front porch fall decor.! Place these baskets outside to add to your existing front porch fall decor.
---
Thanks so much for checking out this collection of front porch fall decor! I had such a blast finding these pieces for you that I found some inspiration for my own porch! Now it's time for me to spice it up in my own home! Stay tuned for more fall decor, crafts, recipes, and more! Happy Fall, Y'all!
Have a wonderful Wednesday, friends,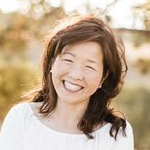 Latest posts by Janine Waite
(see all)