Make a cute Halloween Charcuterie Board this fall. So many boards feature skeletons, pumpkins, and Hocus Pocus characters, but this board displays a cute spider web! Create them out of mini marshmallows. And the spiders are made of white donut holes and licorice. Learn how to make this fantastic Halloween-themed board.
This festive Halloween dessert board is pretty easy to create. The spider web is probably the most time-consuming part, but the results are fun and perfect for a Halloween party!
I'm a bit obsessed with designing charcuterie boards, and it looks like I have quite a few over here. If you are interested in making a few this fall, check out my other boards!
Today, you're in for a Halloween treat! I've collected a few yummy desserts for this festive board. I'm sharing my design with you so you have fun putting one together. I've done all the hard work, and you can enjoy copying mine.
But, please add things or substitute items if you need to. This is a template that is flexible and can be tweaked.
Make this board for your children or friends and family.

We have tarantulas on the mountain a couple of blocks from our house. Sometimes, they are out on the trails on a late summer day. September is the month for mating, so they come out of their homes searching for a mate.
I love seeing them on our hikes; we saw quite a this year.
So, it made sense to make a Halloween charcuterie board with spiders! And the natural choice of marshmallows to make the web was an easy decision.
I don't think anyone has made a spider web charcuterie board that I know of!
Ingredients You'll Need to Make this Halloween Charcuterie Board
Brown and (optional Maroon M&M's)
Banana Chips (I bought mine at my local grocery store)
White Donut Holes
Small Icing Tube (I used a light color icing)
Black String Licorice (I used black licorice wheels and trimmed them)
Ghost Cookies (I bought mine at Whole Foods)
How to Make this Halloween Treat
There are a few items that you'll have to create. I kept this charcuterie board element list pretty simple. You'll have to make the marshmallow spider web, the donut hole spiders, the pretzel licorice broom, and the spelling out the words.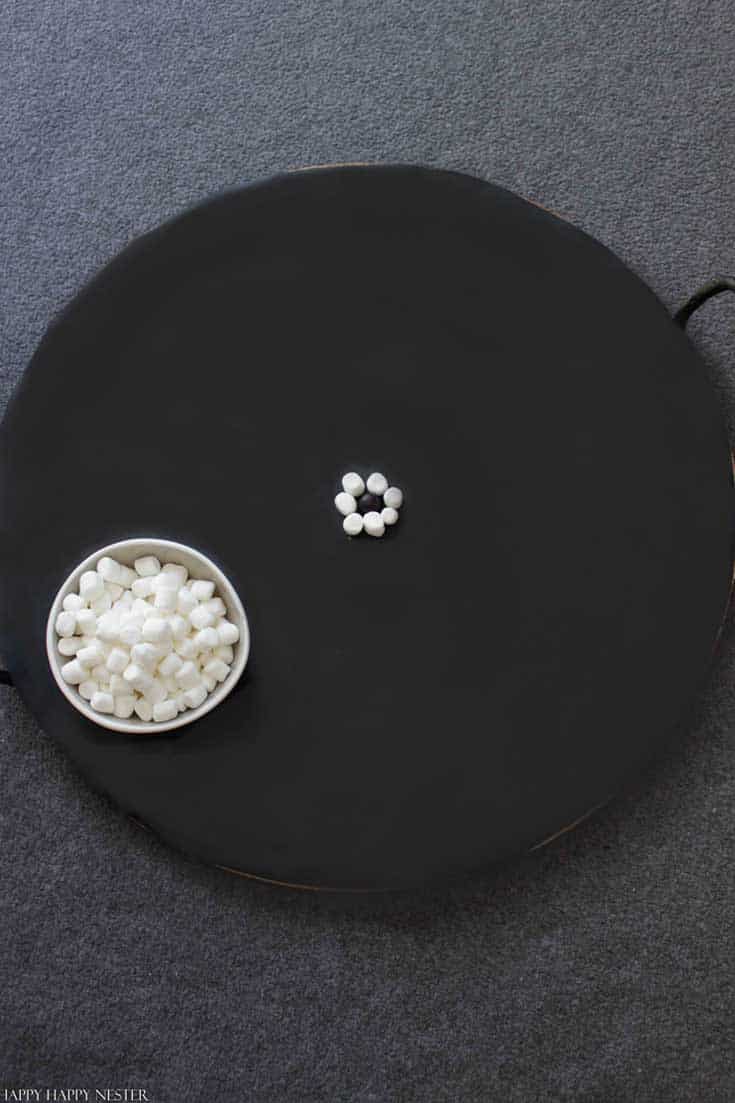 Spider Web
This is the first thing you will create on your charcuterie board.
Make a Small Circle: Start with a small circle of marshmallows in the middle of your board.
First Line: You'll make a line of marshmallows that goes straight across the circle. You should have an upper and lower section to your board with a marshmallow line dividing them. You can fill in the circle or leave it empty.
Six More Lines: Next, divide the top section into three parts with marshmallow lines and do the same with the bottom portion of your web. Make these web structure lines reach the edge of your board with about a six-inch border.
Webbing: Beginning in the center, make a marshmallow webbing that connects the two lines. The line should not be straight but curved like a spider web. I made three of these lines for each section.
M&M Filler: I filled the web with brown and maroon M&M's. Don't worry if you can't find the maroon M&M's. I went to our local candy shop and saw all brown M&M's. Here is a link if you want to buy them online.
Spiders
Legs: Snip eight small portions of black lace licorice for the legs. My legs range from 1/2″ to 1″. I didn't have the lace licorice, so I bought the black licorice wheels, which are made of two lace licorices. I split them with a knife, so I had lace licorice.
You'll want to poke them into the sides of the donut hole, four on each side.
Eyes: Place a bit of sugar icing on the backs of the spider eyes and attach them to the top of the donut holes.
Pretzel Brooms
Broom Stick: I trimmed off about a quarter inch of the stick pretzel since I wanted it on top of my ghost. But, you can make it any length.
Broom Bristles: Cut orange licorice into about 1″ to 1 1/2″ pieces. On one end, make about three vertical slices up the licorice. Attach the top of the licorice to the bottom of your stick pretzel. Gently fan out the cut licorice like a broom.
Trader Joe's Alphabet Cookies
Spell Out Words: I found this part a bit time-consuming! Finding the letters I needed to spell out Halloween, Spooky, Eek, 31, and Boo took me a little time. You see, my husband kept grabbing cookies and eating the letters.
Building The Board
Once your web is filled in with M&M's, place a pretzel border around the web. Leave about six inches around the edge to place chips, caramel popcorn, and banana chips on the border.
Place your Halloween words just on the other side of the border. I decided not to cover the web with words since I wanted to read the letters. I also loved the idea that leaf corn chips got caught in the web.
Once you have everything placed on your board, serve and enjoy it with friends.
Make it ahead of your party if you prefer!
It's been quite a week, and I'm so happy I pulled this Halloween charcuterie board together. Sometimes when you feel like you have no creativity in your body, it can emerge out of nowhere! That's what happened with this project.
My husband and I experimented with some meringue for this project, and it flopped. So it was back to the drawing board, and I had success. And I'm happy to be sharing this fun charcuterie board with you!
I hope you are having a lovely fall!
Happy Thursday to you all.
Cheers,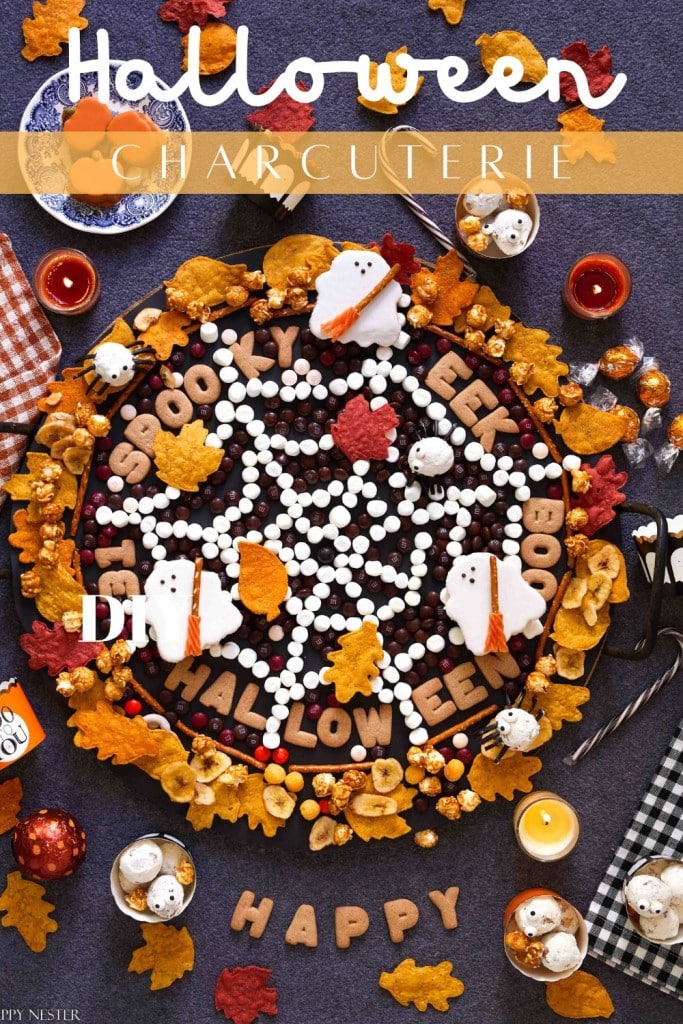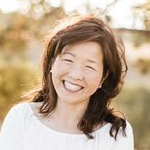 Latest posts by Janine Waite
(see all)