Over the years, my husband obsessed with making rich and creamy eggs without adding milk. He finally perfected his technique, and I'm sharing all his tips and tricks for scrambling eggs. Here are the secret tips on How to Make Creamy Scrambled Eggs.
This scrambled egg recipe will convince you that the creaminess is from milk. But, the only ingredients in this recipe are eggs, butter, salt, and pepper.
I love breakfast!
So I thought it would be fun to have a week of all breakfast recipes. Over the years, I have collected a few dishes, and here is a list of some.
Creamy Scrambled Eggs
Every Saturday, I looked forward to my breakfast with my husband. He traditionally makes his egg dish, and I make us tea and fruit and yogurt.
It is probably my favorite meal of the week.
Breakfast almost becomes a brunch for us on Saturdays. While we dine on this tasty breakfast, we catch up on the week's events. It's such a relaxing time of the day that we may sit and chat for like an hour to two hours!
Before he figured out how to make these creamy scrambled eggs, I must admit that I wasn't much a fan of eggs. But now I enjoy them every weekend and look forward to them.
You see, they taste like he added a yummy cheese to them!

My husband's obsession with making creamy scrambled eggs began when our son told him about Gordon Ramsey's scrambled egg technique.
Over the years, my husband tweaked the recipe and created a whole different version. The results are a lovely custardy egg that he cooks every time he makes it.
Ingredients You'll Need
4 Eggs
1 Tablespoon Butter
Salt and Pepper
Directions
Step 1 – Whisk Eggs and Butter
Place the eggs and butter in the pan. Whisk ingredients to blend the egg yolks and whites. You don't need to combine the eggs thoroughly. And don't forget to include the chunks of butter.
Step 2 – Cook on Low Heat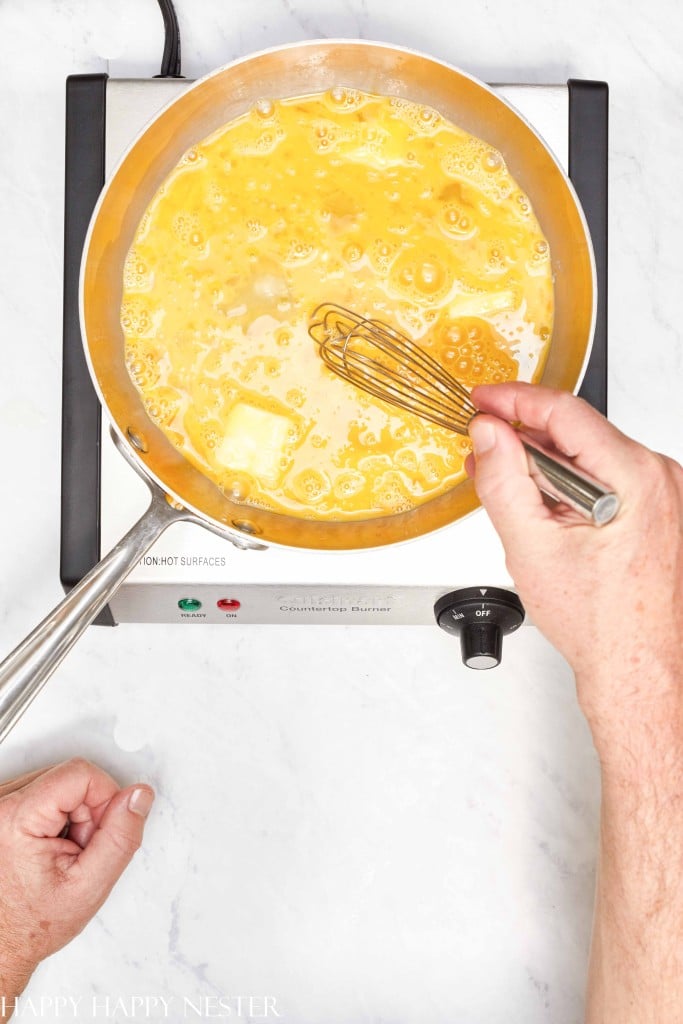 The Low Heat is Crucial When Scrambling Eggs
The low heat will guarantee that your eggs won't dry out and burn.
So, the lower the temperature, the more custardy the eggs will turn out. And of course, the longer it will take to cook them.
If you get a little impatient with the lower temperature, you can increase the temperature and stir the eggs aggressively. Also, you can take the pan off the stove to cool it down or turn down the temperature.
Choosing the right equipment to scramble eggs
The Pan
My husband uses our All-Clad Skillet. He prefers this pan since he can control the temperature since it distributes the heat evenly.
He has tried a cast-iron pan, and he feels that it takes too long to cool it if it gets too hot. We don't have a Teflon pan, but that would work.
Also, he likes our All-Clad skillet since the interior edge is rounded making it easy to mix with his favorite spatula!
The Spatula
My husband prefers a somewhat stiff silicone spatula. We searched for the perfect spatula to stir the eggs and not stick to the surface.
He found the rounded corners were essential to scoop up all the eggs in the pan.
When to Add Salt to the Eggs
My husband always salts the eggs after, but we recently read that adding salt to the pre-cooked eggs increases the moisture.
But, despite this new finding, my husband feels that it may prolong the cooking time. Also, he mentioned to me that Gordon Ramsey suggests you salt the eggs after they are cooked. So, he sticking to salting the eggs later.
Frequently Asked Questions:
Can I make scrambled eggs without butter?
You can make them without butter, but the more butter, the better. It makes the eggs moist and delicious.
What happens when if I add milk to the eggs?
Everyone is in the habit of adding milk to eggs. Well, I guess we should all stop this habit! Milk waters down the taste of eggs and makes them rubbery and colorless. Milk also makes it easier to burn scrambled eggs.
Can I make it in a Teflon pan?
Teflon would guarantee that the eggs won't stick to your pan.
How do I avoid the eggs from sticking to the pan?
If you cover your pan with butter before scrambling the eggs, the eggs will stick to the pan. The only thing that will guarantee that the eggs won't stick to your pan is using a Teflon pan.
Can I make it with a wooden spoon?
A wooden spoon is probably not the best thing when scrambling these eggs. If you have a flat wooden spatula, then that will work. Wooden utensils are tough to clean, and eggs love to stick to them.
What happens if I cook the eggs on too high a heat?
The eggs tend to dry out and aren't creamy.
Creamy Scrambled Eggs Recipe
Over the years, my husband obsessed with making rich and creamy eggs without adding milk. He finally perfected his technique, and I'm sharing all his tips and tricks for scrambling eggs. Here are the secret tips on How to Make Creamy Scrambled Eggs.
Ingredients
4

eggs

1

tbsp

butter

1

pinch

salt

1

pinch

pepper
Instructions
Cut butter into small pieces so it can melt quickly. Whisk eggs & butter in a skillet.

Turn the stove burner to medium heat, and place the pan with eggs on the burner.

Begin gently stirring and folding eggs with your silicone spatula.

When the butter begins to melt, the eggs will gradually start to curdle and cook as you stir and scrape the pan. Turn heat down to low.

Reduce heat further if eggs begin sticking to the bottom of the pan faster than you can stir and fold. Lift the pan from the burner occasionally if necessary and continue stirring.

Continue stirring and folding until eggs are cooked to the desired consistency. Then transfer immediately to a plate to keep them from overcooking.

Sprinkle with salt and pepper… and enjoy!
Nutrition
Serving:
1
serving
|
Calories:
176
kcal
|
Carbohydrates:
1
g
|
Protein:
11
g
|
Fat:
14
g
|
Saturated Fat:
6
g
|
Polyunsaturated Fat:
2
g
|
Monounsaturated Fat:
5
g
|
Trans Fat:
1
g
|
Cholesterol:
342
mg
|
Sodium:
189
mg
|
Potassium:
124
mg
|
Fiber:
1
g
|
Sugar:
1
g
|
Vitamin A:
650
IU
|
Calcium:
51
mg
|
Iron:
2
mg
---
Thanks for stopping by for my week of breakfast recipes. Tomorrow, I'm sharing my other favorite breakfast that we make over here at the Waite Pad!
I hope you enjoyed my husband's creamy scrambled eggs recipe! My next obsession is perfecting Julia Child's French Omelet.
Bon Appetit!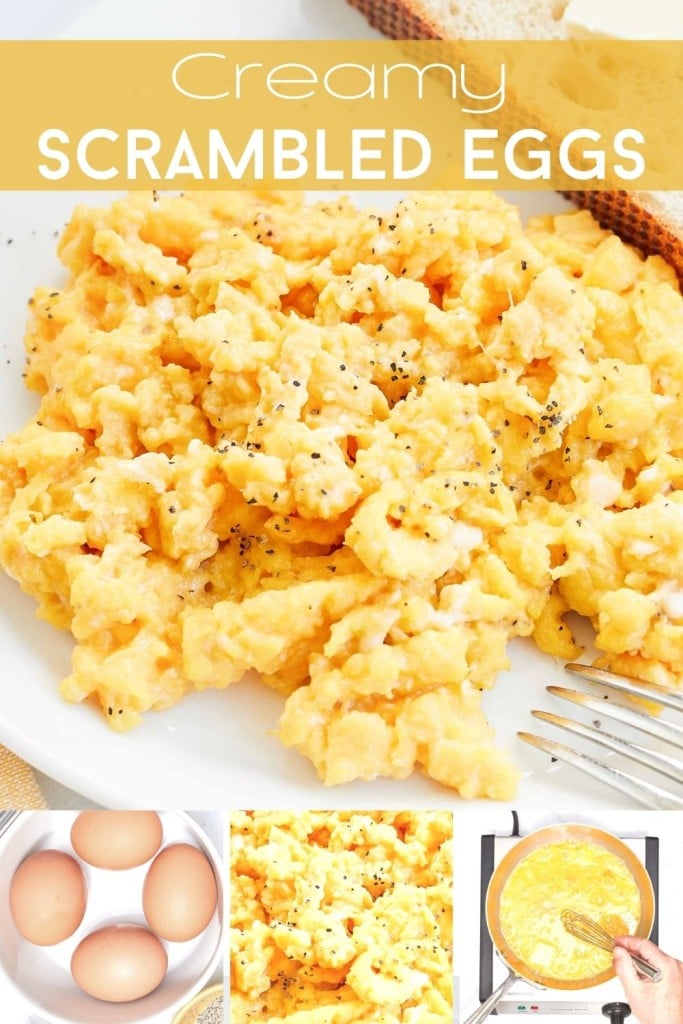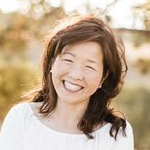 Latest posts by Janine Waite
(see all)