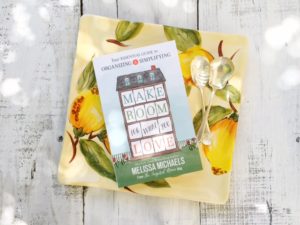 5-Week Make Room Challenge
This post contains affiliate links, but the opinions are my own.
The helpful and inspiring book, Make Room for What You Love is the topic I'm sharing today. This book is all about decluttering and purging all our miscellaneous things. There was a time in our lives when my husband and I packed up all our belongings, and we moved cross country in a tiny U-Haul trailer. At the time, it felt like we had a ton of stuff, but looking back it is pretty laughable how little we owned. Fast forward to our current home and we have filled our three car garage and a little tough shed out in our yard. I think that Melissa Michaels book, "Make Room For What You Love" is so timely for us and our generation. I believe with the availability of products via stores like Target, Amazon and Costco we seem to have more things in our home in comparison to earlier generations. My home is not immune to this phenomenon of owning too much and so when I read Melissa's book about organizing, simplifying and decluttering. I decided to participate in her five-week challenge, and I hope you will join me.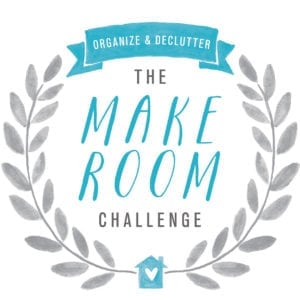 Here are the rooms we'll tackle and feel free to change up the order.
I know there are probably rooms that you are dying to organize first!
Kitchen
Play and Creative Places
Master Bedroom
Bathrooms
Entry Way
Today, I want to share my kitchen reorganizing that was inspired by the book, "Make Room For What You Love"  My original intention was to reorganize our drink station, and when I began tackling it, one thing led to another and I quickly had about three-fourths of our kitchen unearthed. So for the next couple of days, I was rethinking my storage, moving things to better locations and here is what I learned about me and my kitchen.
Seven things to consider
when organizing your kitchen:
Kitchen Flow
Move Things
Food Locations
Space
Prime Locations
A Few Good Cookbooks
Make Room For What You Love
Kitchen Flow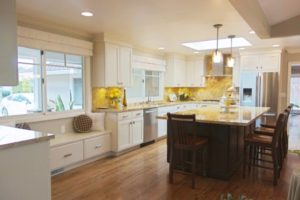 Kitchen flow is so essential to creating space. I have a bake, drink, and cook stations, and it is so sweet to have most items I need for specific tasks. Last week I was brave and reorganized my drink station, to be more efficient. I also love that it is out of the main flow of the kitchen, and this allows other's to make their drinks without encroaching on the rest of the kitchen activity. Here is a post of our Kitchen Remodel.
Don't Be Afraid To Move Things Around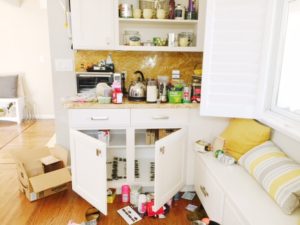 Unfortunately, when you move things around, we make giant messes. No worries, the end goal will mean less clutter as well as great enjoyment of your new space. Play some motivating music and dig into your room and purge and reorganize. Try and stay focused and don't lose sight of the fact that the final results will be worth all your effort. I promise that your new organized surroundings will bring lots of happiness to your daily life!
Food Locations Strategies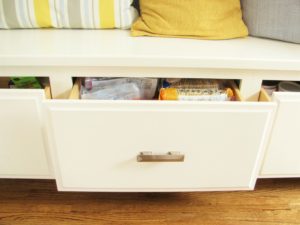 In our house and other's that we have rented, I have noticed that food stored in deep dark cabinets or a corner lazy susan, is easily neglected. You see, I placed our food in the cabinets on the backside of my kitchen island. This spot's hard to get to location meant that the food wasn't used and forgotten. Originally, I stored food in our corner lazy susan. Hmm… that didn't work either, food kept falling off into the crevices of the cabinet, and I couldn't stay on top of rotating the old food with the new. Recently, I had an ephiny to store the food in our readily available draws. I know that I love draws, and this system would work. Bottom line, be realistic of your habits to neglect things and place food in areas that will get your attention!
Space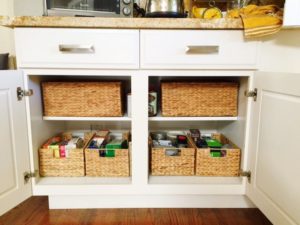 I had our tea and coffee stuffed pretty haphazardly in a cabinet that was insufficient to store everything. It took me a couple of years to finally tackle this project. Now they are happily stored in hyacinths baskets, and the new space has more than enough room for all our items. I realized that I wasn't realistic about the amount of area needed for this drink station. The tip for organizing a station is to plan out your space thoroughly.
Prime Locations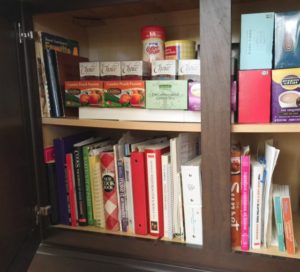 Don't be afraid to rank your kitchen items and place the most important things in prime locations. Let's be real here, how many of you use all your cookbooks? I have more cookbooks than I need, and they were taking up prime space in our kitchen. When I finally realized that I could move them to an out of the way location, it freed up a lot of great storage space.
A Few Good Cookbooks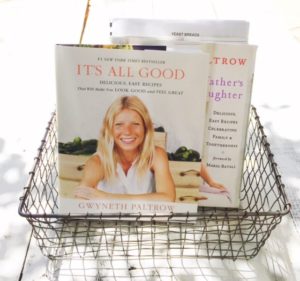 My friend, Kelly, brought it to my attention that we probably only use about three to four cookbooks (I love Gwyneth Paltrow's Cookbooks) on a regular basis. When she said this, it made me realize that she is right and that it would be practical to have my most used cookbooks out and readily available. So, I found this cute storage basket and I'm loving how it looks on my kitchen counter.
Make Room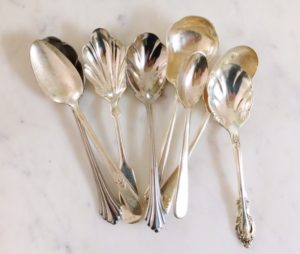 Here is my lovely collection of silver spoons that I unearthed in a drawer, and now I have room for them at our drink station. It is always fun to shop your house for items and repurpose them for new tasks.
I enjoyed decluttering and reorganizing our kitchen, and I love that I discovered a few things about my process. I'm happy that I could pass them along to you and inspire you to reclaim your kitchen. Don't wait any longer and join me in this 5-week challenge of simplifying and decluttering your home. Drop me a line and let's talk. I have teamed up with some talented bloggers who are also participating in this Room Challenge. So make sure to visit their blogs and get ready to be inspired!
Cheers,

Eleven Gables / Craftberry Bush / At the Picket Fence / Julie Blanner / Beneath My Heart /
Thrifty Decor Chick / Emily A. Clark / Reluctant Entertainer / My Sweet Savannah /
Domestic Fashionista / At Home In Love /320 Sycamore / Sunny Side Up / Happy Happy Nester /
The White Buffalo Styling Co / Sweet and Simple Home / Finding Home Farms /
In My Own Style / Fox Hollow Cottage / The House of Silver Lining / Infarrantly Creative /
Fieldstone Hill Design / Shabby Nest / Today's Creative Life / Sarah M. Dorsey Designs /
Just A Girl / Southern Hospitality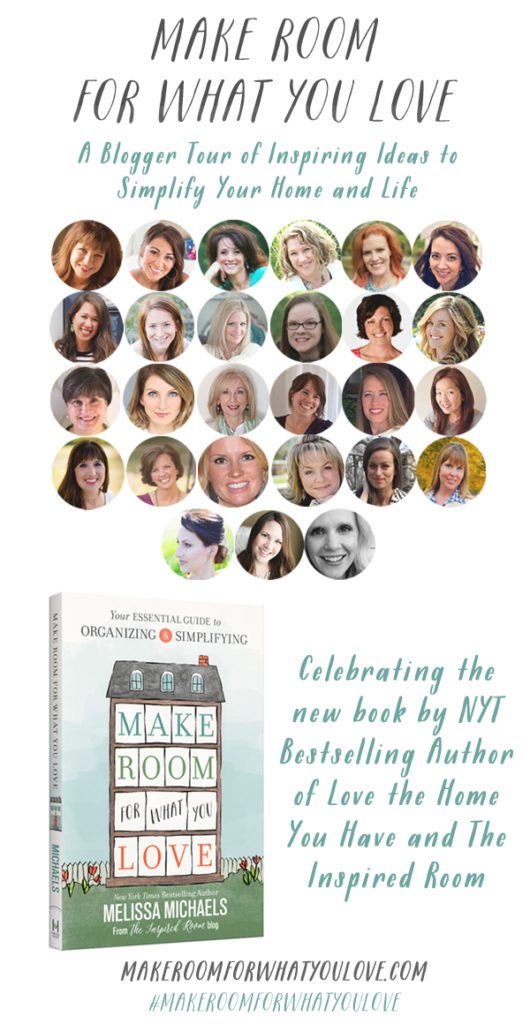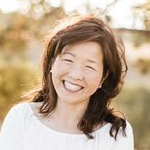 Latest posts by Janine Waite
(see all)