Now that we are home more and unable to visit shops, I'm always perusing the internet. So, I thought with Mother's Day upon us, and it might be helpful to feature a cute Online Jewelry Boutique Shop.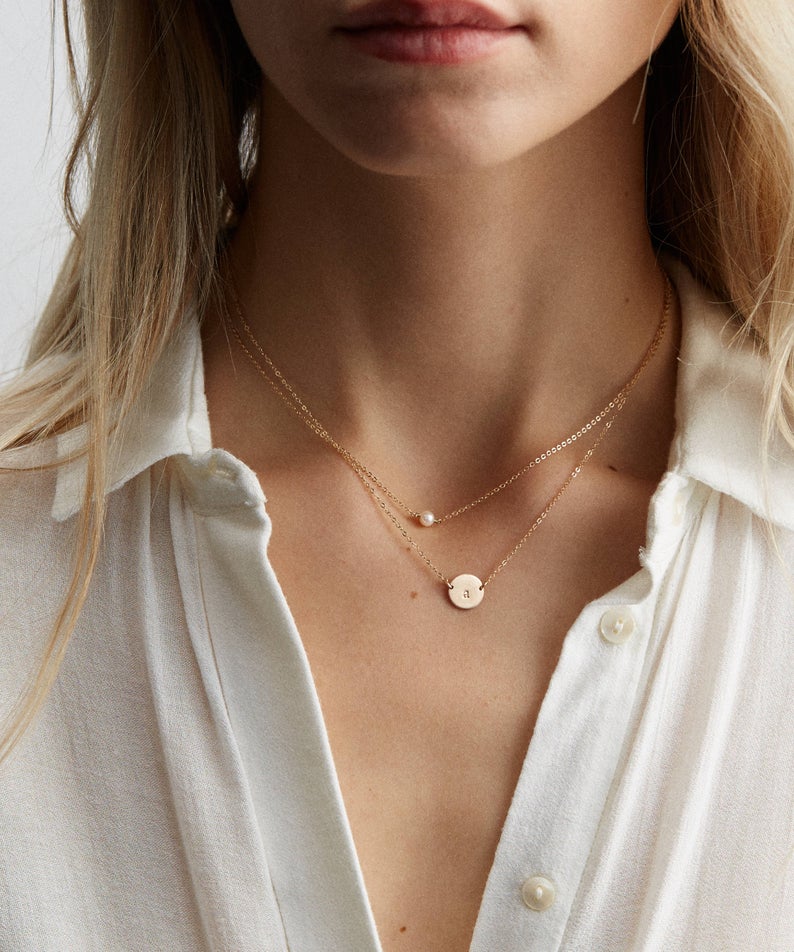 This online jewelry boutique shop, GDLNx Layer and Long, has the sweetest jewelry for women of all ages. I instantly fell in love with their products, and I have a feeling that you will like them too. I love supporting small businesses in this weekly post. It is incredible to promote these companies that are mostly run by women who followed their dreams.
*The following post contains affiliate links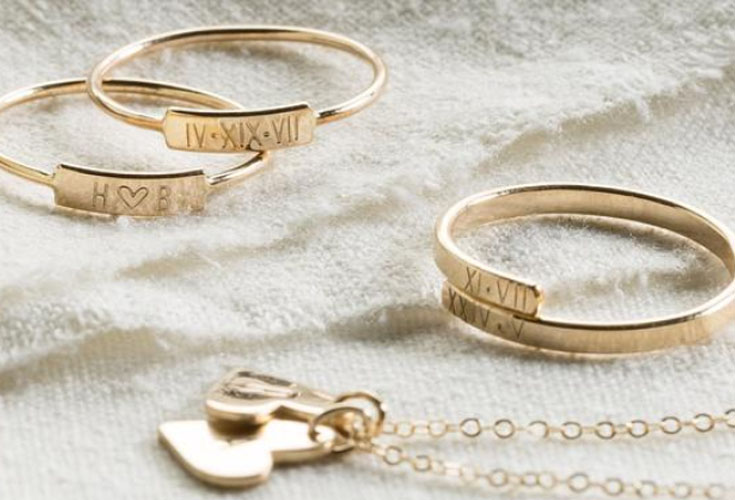 Online Jewelry Boutique Shop Owner
Ok, without further adieu, let's get to know, GDLNx Layer and Long. The founder, the owner, is Chrissy Lavdovsky. And here is what she says about her online jewelry boutique shop:
Opening an Etsy store was one of the best decisions I've made. It offered an ideal solution for selling and reaching people that allowed me time to focus on creating and being able to connect with my customers.

Layered + Long started on my living room floor with my toddler and my dog by my side. It's taken endless work and all my determination and passion, but L+L is now my dream come true. I feel like the luckiest girl ever and I'm so grateful for the fabulous Etsy marketplace and community for making this possible!
Their shop is located in La Conner Washington, and all the jewelry is handmade in their Pacific Northwest Studio. And they have been on Etsy since 2012 and have multiple 5-star reviews is fantastic.
What Makes This Jewelry Shop Special?
Handmade
All their jewelry is handmade in their studio in Washington.
Gold and Rose Gold
They used top quality 14K gold-filled, sterling silver, and rose gold-filled jewelry.
Personalize Jewelry with Special Messages
They specialize in creating personal jewelry and offer a variety of ways to add extra meaning and love to their jewelry.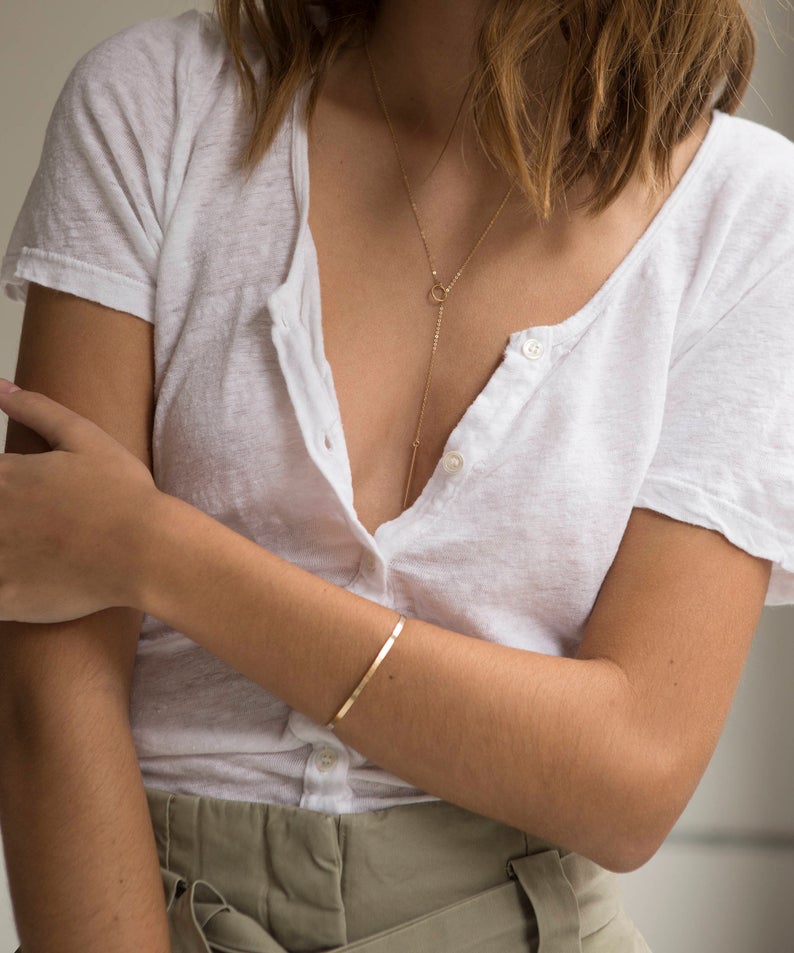 Some Jewelry Gift Ideas
Shopping at an Online Jewelry Boutique Shop is the best in this time of Shelter in Place. It is nice that we can shop without leaving our homes. Here is a list of a few occasions that personalized jewelry would make a great gift!
Graduations
Birthdays
Christmas
Valentine's Day
Mother's Day
Anniversaries
Gorgeous Necklaces
The descriptions are from GLDNx Layer and Long's shop.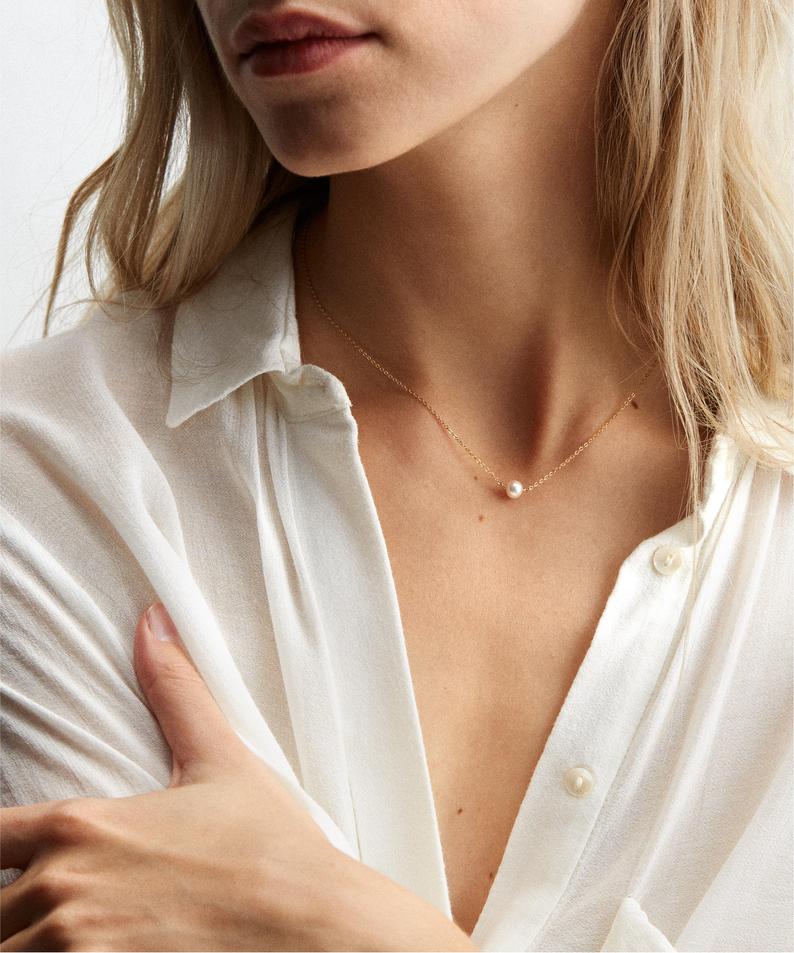 Simple Pearl Necklace
A Simple, Dainty Pearl Necklace – the classic everyday staple piece! Choose from 3 sizes of pearl – suspended on 14k gold fill, sterling silver, or rose gold chain. It looks elegant on its own or layered with pieces. You'll probably be wearing this one all the time. We don't blame you.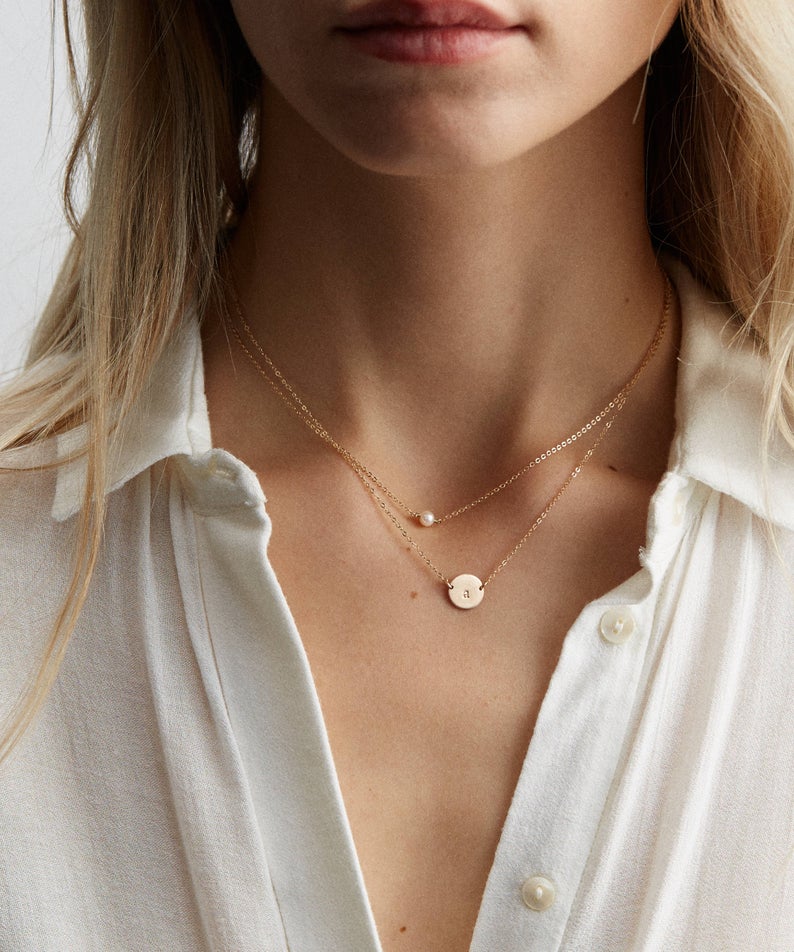 Personalized Layered Necklace
Set of 2 Dainty Layering Necklaces: Personalized Disk Necklace and Custom Gemstone/Birthstone Necklace. Available in Sterling Silver, 14k Gold Filled, or Rose Gold Filled. Your choice of genuine gemstone and personalization for your disk necklace! Simple, modern staple pieces that look great alone or layered together.
This Online Jewelry Boutique Shop has the prettiest necklaces.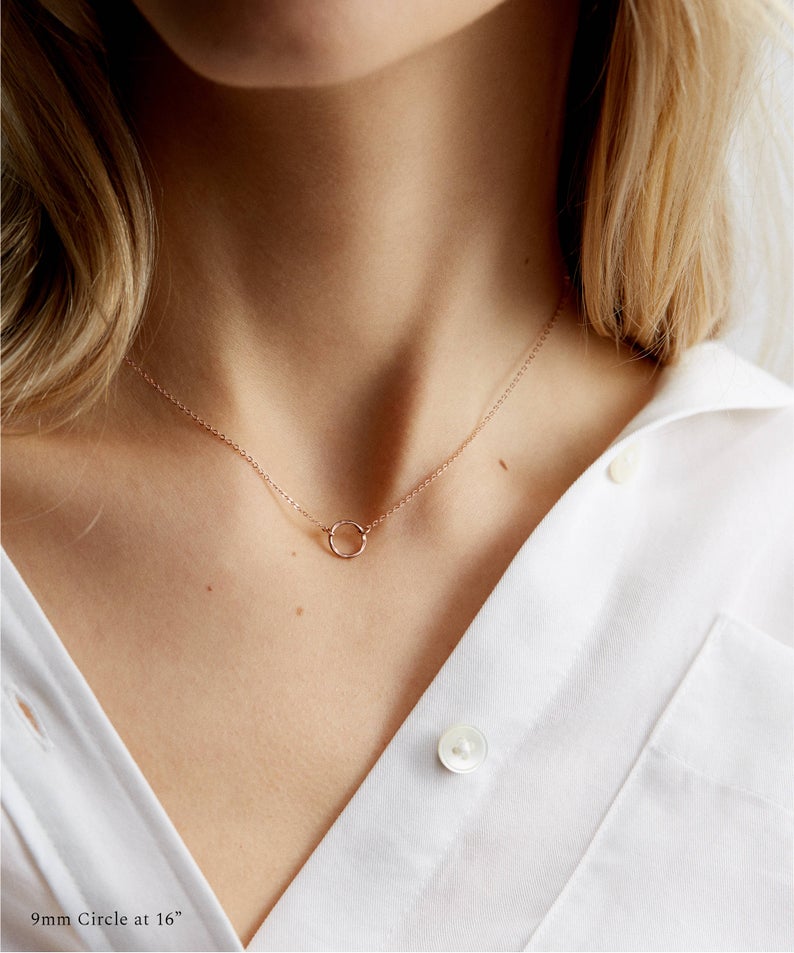 Open Circle Necklace
Delicate Jewelry Gift For Her. Open Circle Necklace for Mothers, Daughters, Sister, and Friends. No doubt, you've got some ladies in your life who deserve a beautiful, thoughtful gift. Well, here you go! They'll love this one.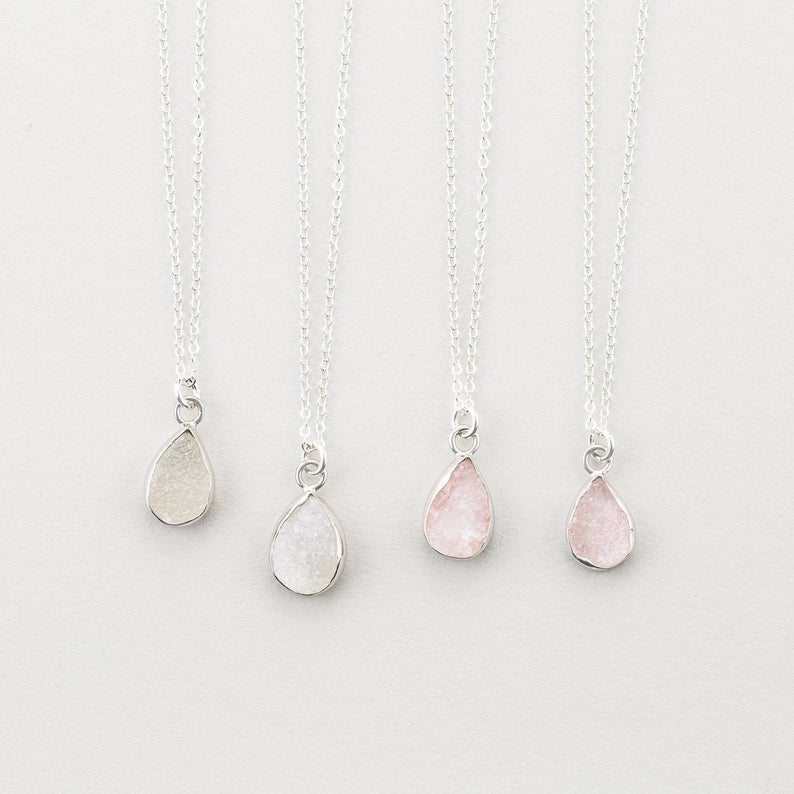 Small Teardrop Necklace
Teardrop Druzy Pendant Necklace. Featuring genuine, tiny crystals that form naturally in the earth in a variety of colors, druzy are treasured for their eye-catching sparkle.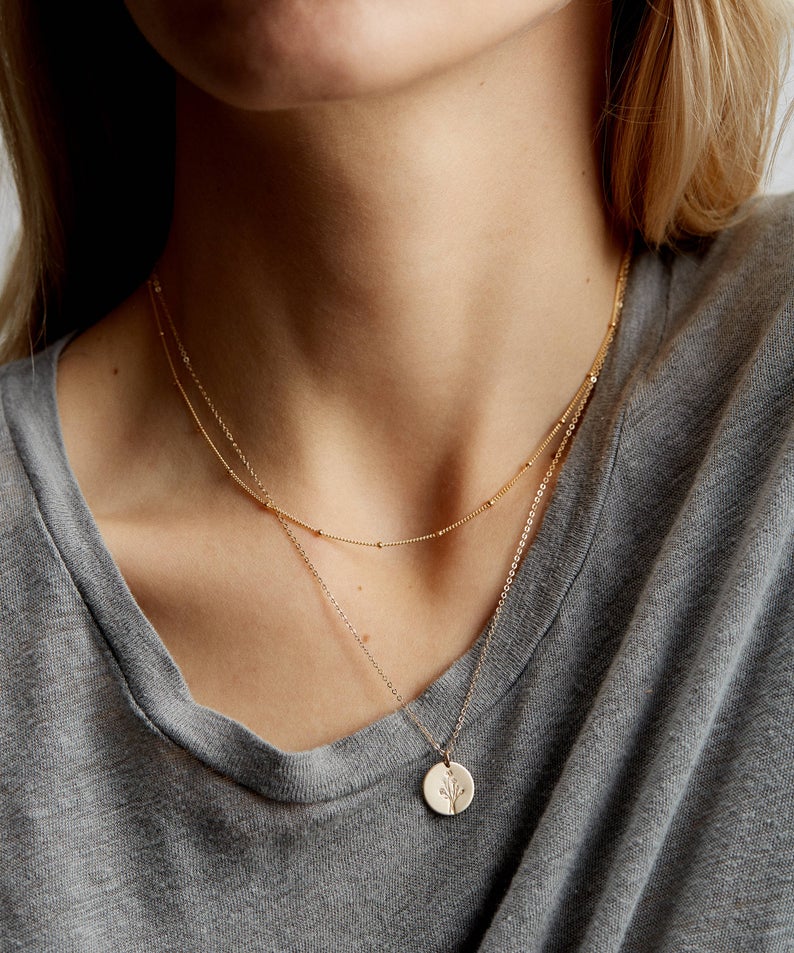 2 Simple Layering Necklaces
A dainty set of 2 simple layering necklaces. In 14k gold filled, sterling silver or 14k rose gold filled. Personalize your disk with an initial or symbol or leave blank.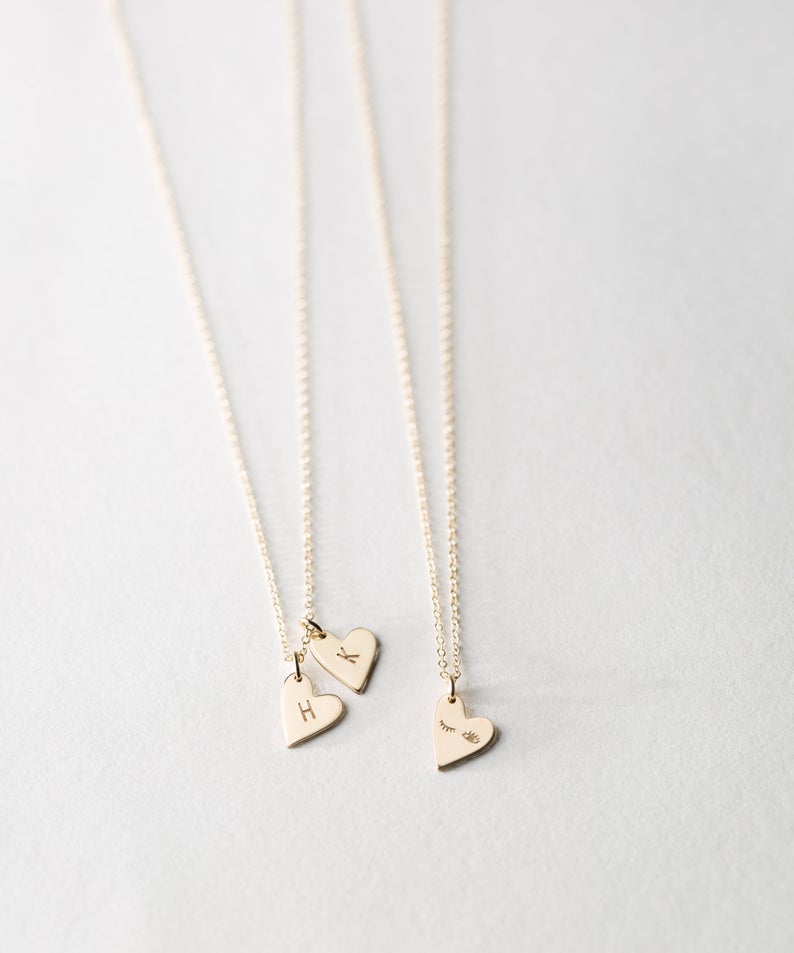 Personalized Heart Tag Necklaces
Special Personalized Heart Necklace. What symbol shows you care more than the heart? Take these along and keep them close. Our custom-designed bespoke hearts are super unique and can even personalize your heart with a fave initial or symbol.
Here are Some Adorable Rings
More from this Online Jewelry Boutique Shop, GLDNx Layer and Long!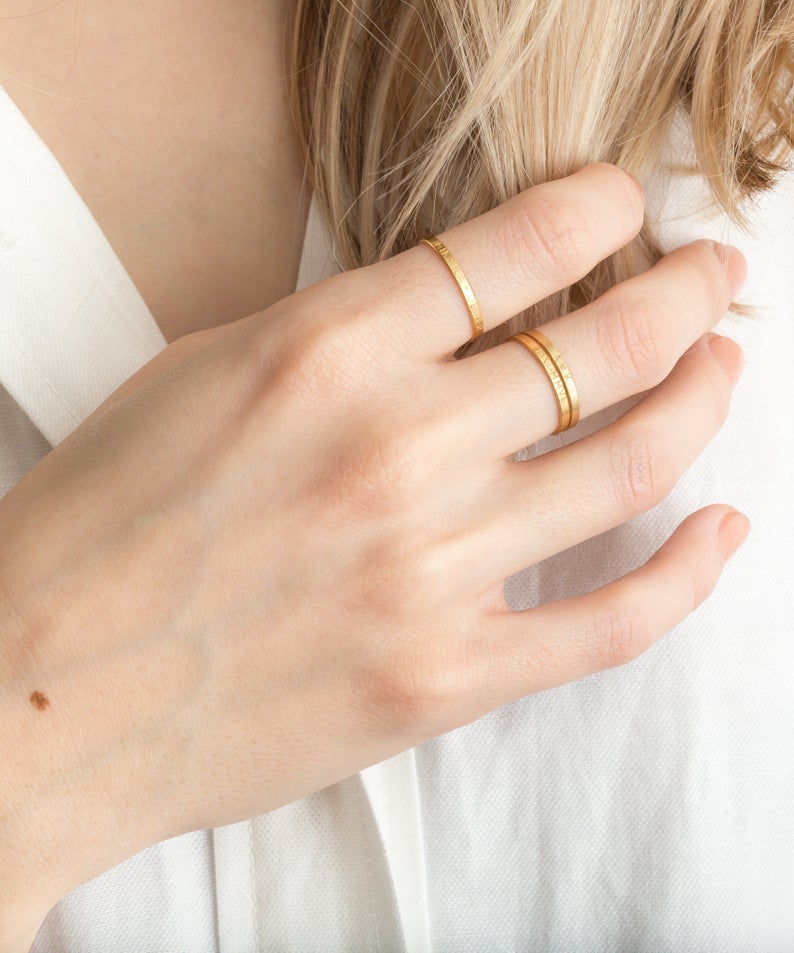 Personalized Stacking Rings
Personalized, Stackable Name Rings – in 14K Gold Fill, 14k Rose Gold Fill, or Sterling Silver. Create your meaningful statement stack with these delicate beauties.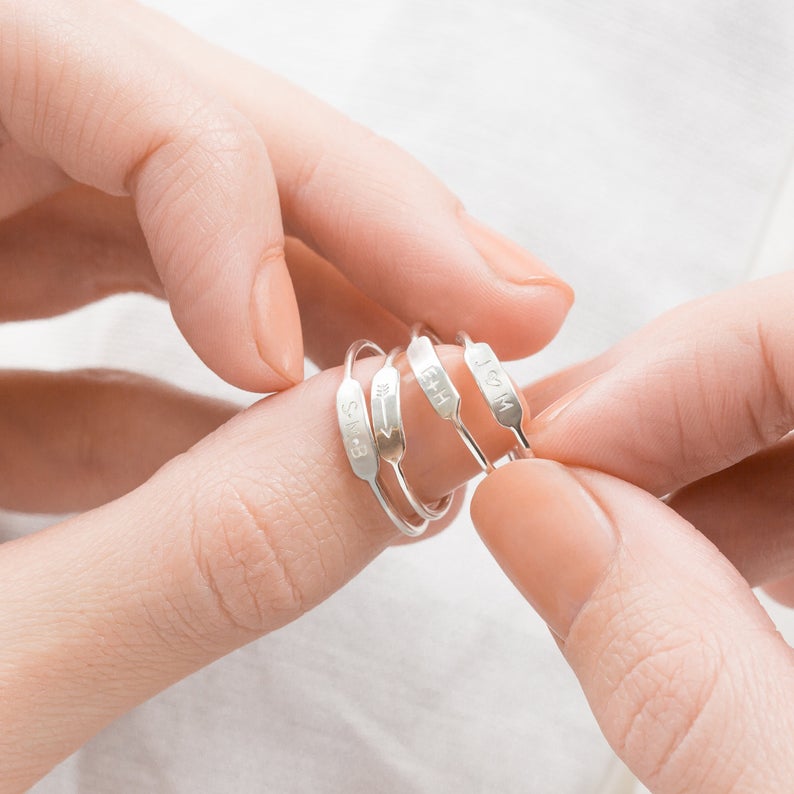 Dainty Bar Rings
Dainty Personalized Stacking Bar Ring. Personalize your Gold, Silver, or Rose Gold ring with words & symbols, or leave it blank! Made to last using only top quality materials and authentic hand-stamped personalization. You'll love this piece for a long time to come.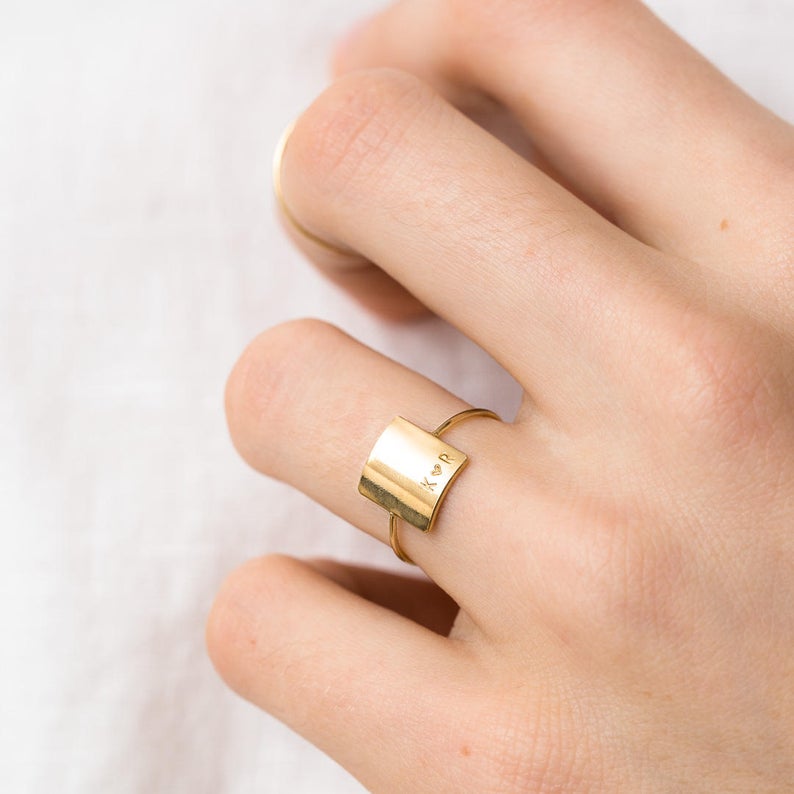 Personalized Statement Ring
A Personalized Statement Ring that's bold but still dainty! Custom personalize yours with a sweet, subtle message in tiny letters – – it will be a special, meaningful piece you'll treasure.
Dainty Bracelets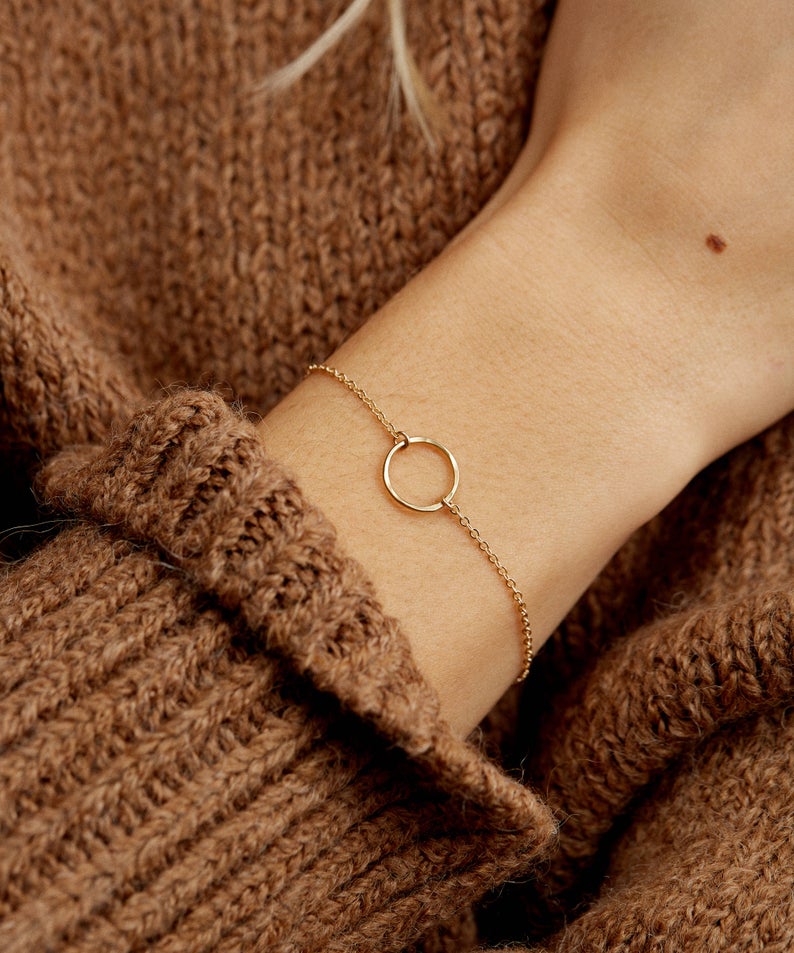 Open Circle Bracelet
Dainty Open Circle Bracelet gift, in 14k Gold Fill, Silver or Rose Gold. Beautiful hand-hammered finish. This subtle and dainty bracelet is the perfect gift to give to your loved ones. They'll never stop thanking you.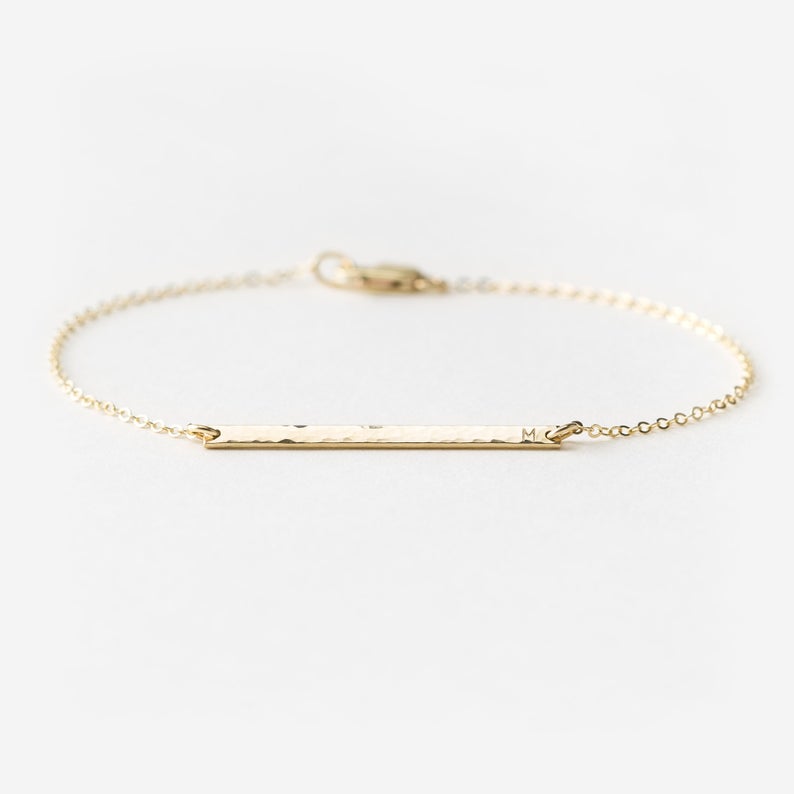 Extra Dainty Bar Bracelet
The Daintiest, Dainty Personalized Bracelet you'll ever meet. She's perfect for teeny initials or other mini inscriptions you want to keep close. The custom, made to order bracelet is available in 14k gold-filled, sterling silver or rose gold filled. For those of you who prefer it subtle, this baby's for you.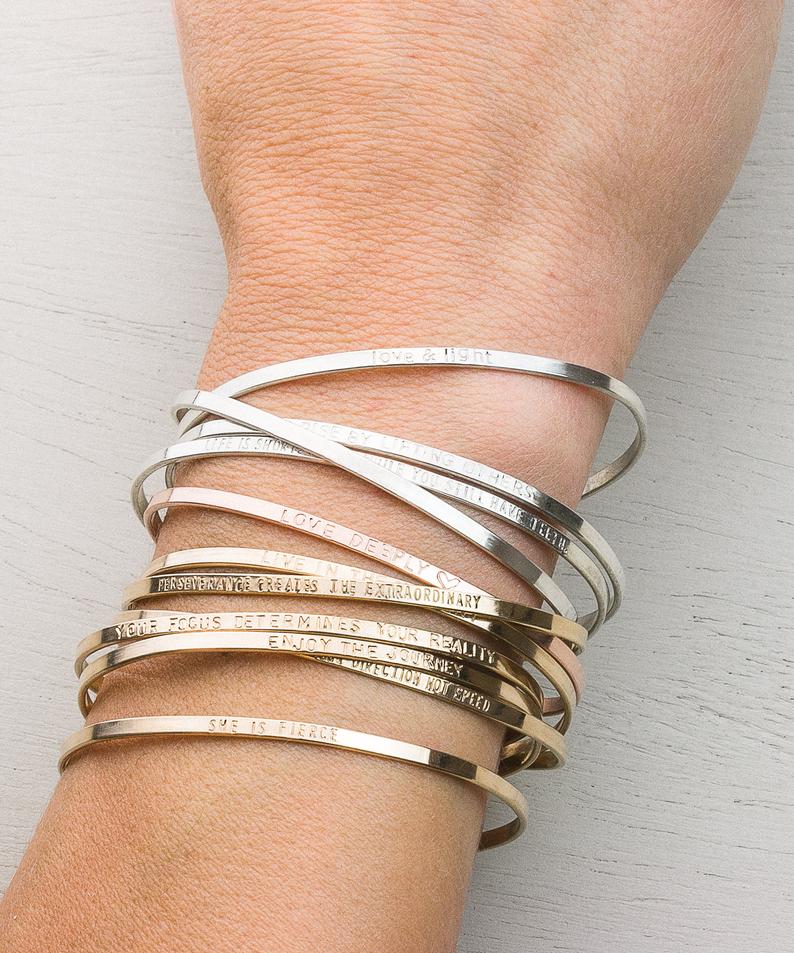 Personalized Cuff Bracelet
Personalized Inspiration: this Cuff Bracelet can be inscribed with your own words! Minimal & Dainty Cuff is elegant and beautiful alone or as a stacking bracelet. It's your new favorite bracelet. Or the perfect, meaningful gift. 14k Gold Fill, Sterling Silver, or Rose Gold Fill.
Beautiful Earrings
More from this Online Jewelry Boutique Shop, GLDNx Layer and Long!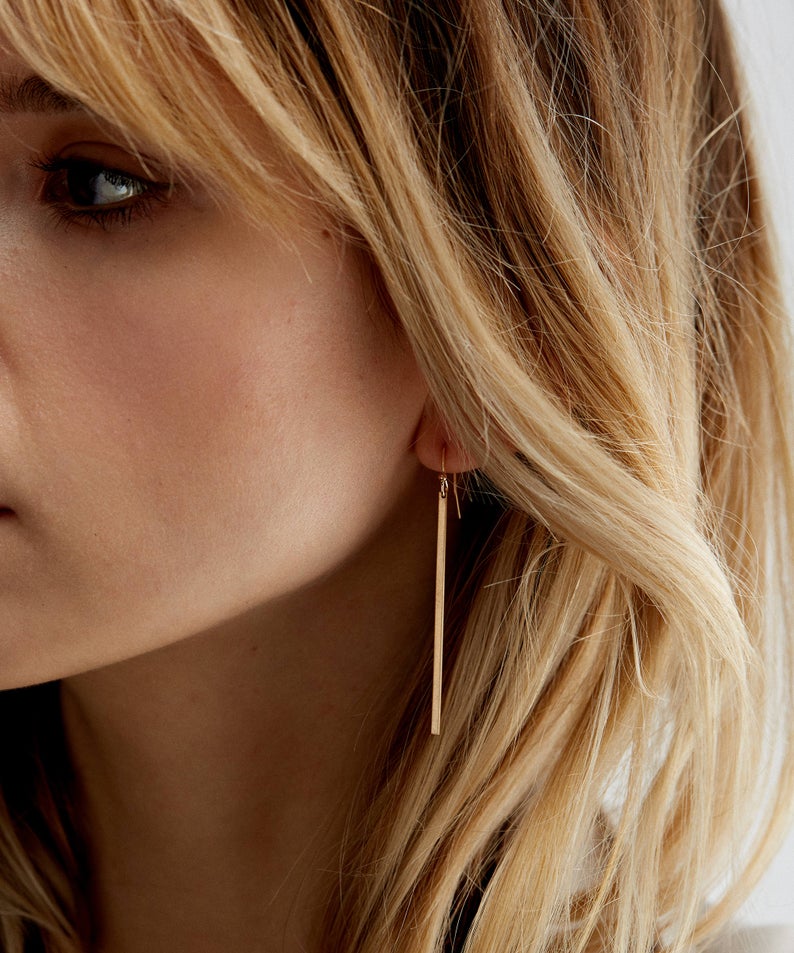 Bar Drop Earring
Minimal, Dainty Bar Drop Earrings. Simple, everyday earrings in 14k Gold Filled, Sterling Silver, or Rose Gold Filled. So comfortable to wear – will go with everything, all the time. Choose from three sizes of bars or all three! The smooth "Venetian" finish makes a beautiful, subtle texture.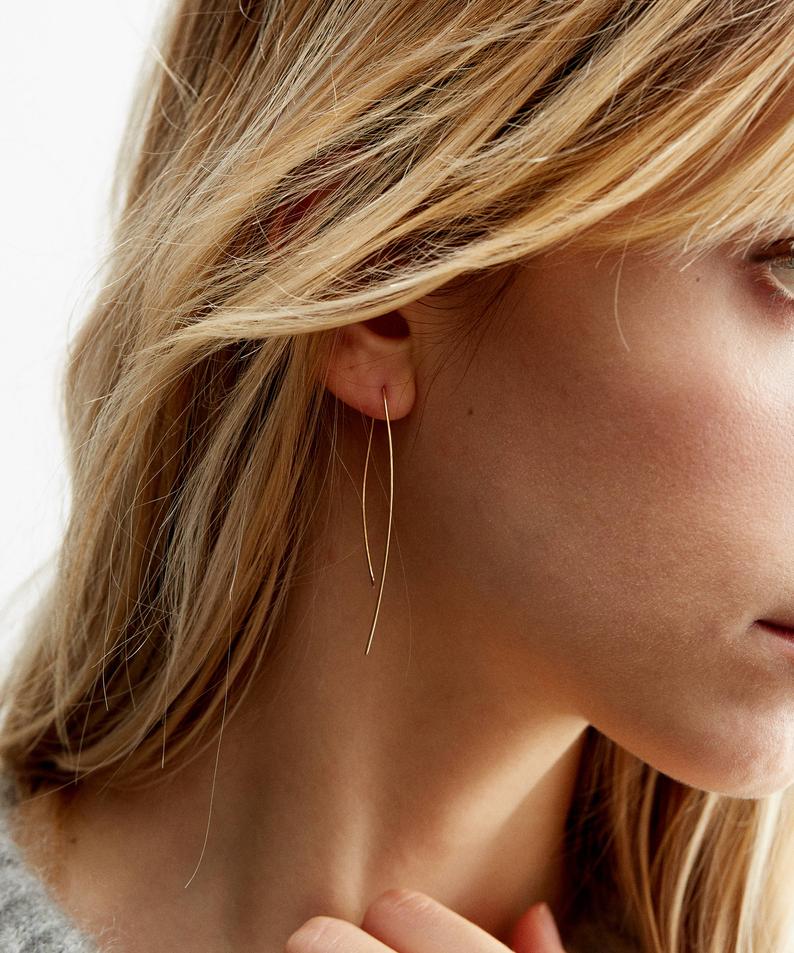 Arc Ear Threader Earrings
Delicate and minimal Open Hoop Threader Earrings. 14k Gold Fill, Sterling Silver, or Rose Gold Fill hand-formed arc. These handmade threaders are a simple, elegant addition to your everyday look.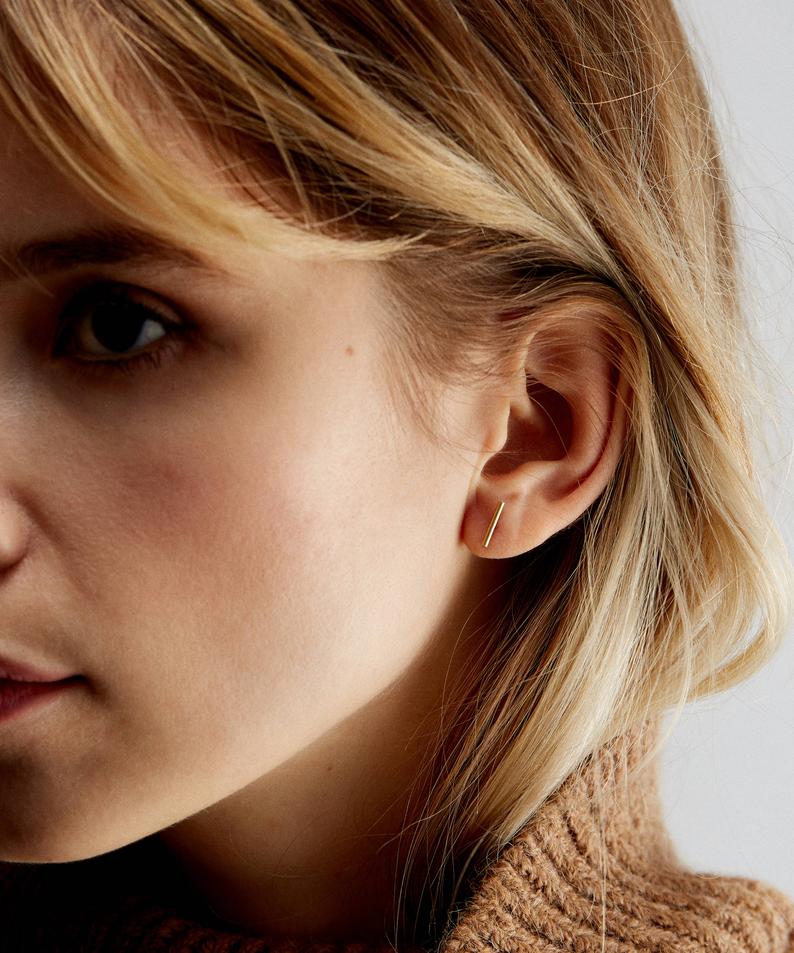 Bar Stud Earrings
Minimal Earring Gift: 14K Gold Fill, 14K Rose Gold Fill, or Sterling Silver Round Bar Stud Earrings. These simple, skinny studs come in three different sizes, very versatile. An everyday staple and a perfect gift for your girls. 🙂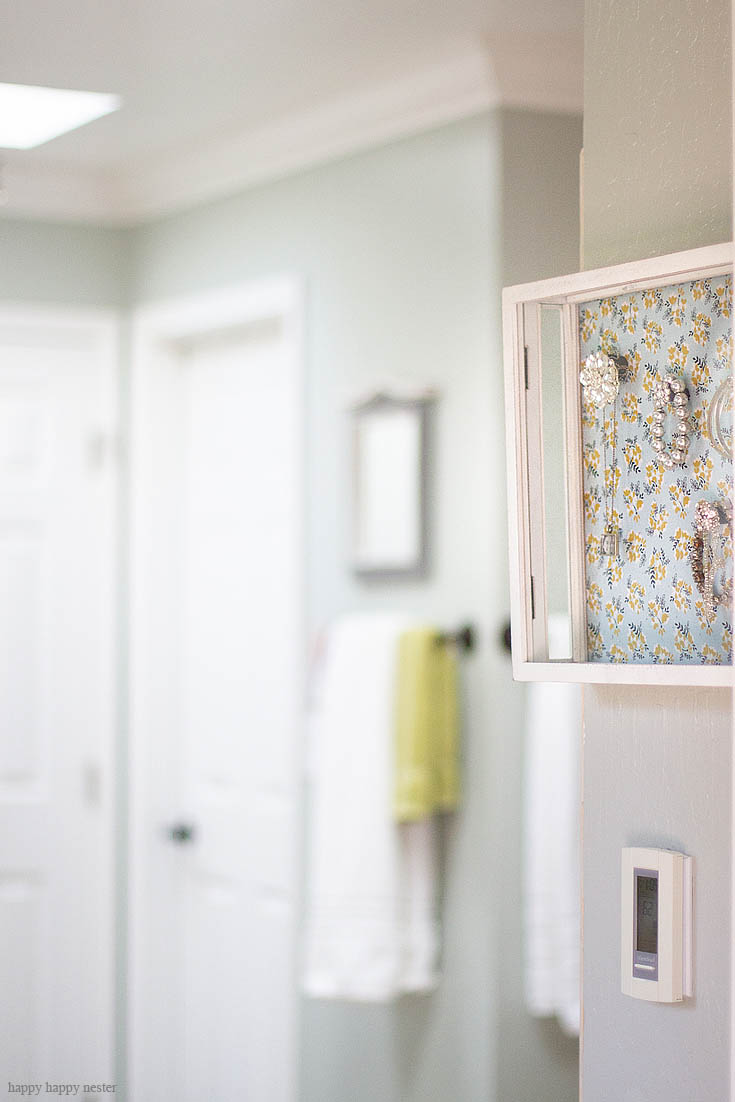 Here Are Some Cool Jewelry Holder DIY Ideas
I'm sure a jewelry container has crossed your mind when it comes to organizing your jewelry. Well, KariAnne from Thistlewood Farms has the prettiest Hanging Jewelry Organizer Project. I have one that is a Magnetic Jewelry Organizer. My jewelry organizer has helped keep everything perfectly organized, and also it is super cute!

Here are some of our past Boutique of the Weeks:
Happy Mother's Day to you! I'm sure this Mother's Day is one that we will never forget. Here is to cooking a homemade dinner and enjoying time with our beautiful families. Thanks for joining me today, and I hope you enjoyed this fun online jewelry boutique shop.
Until my next blog post, stay safe and healthy!
Cheers,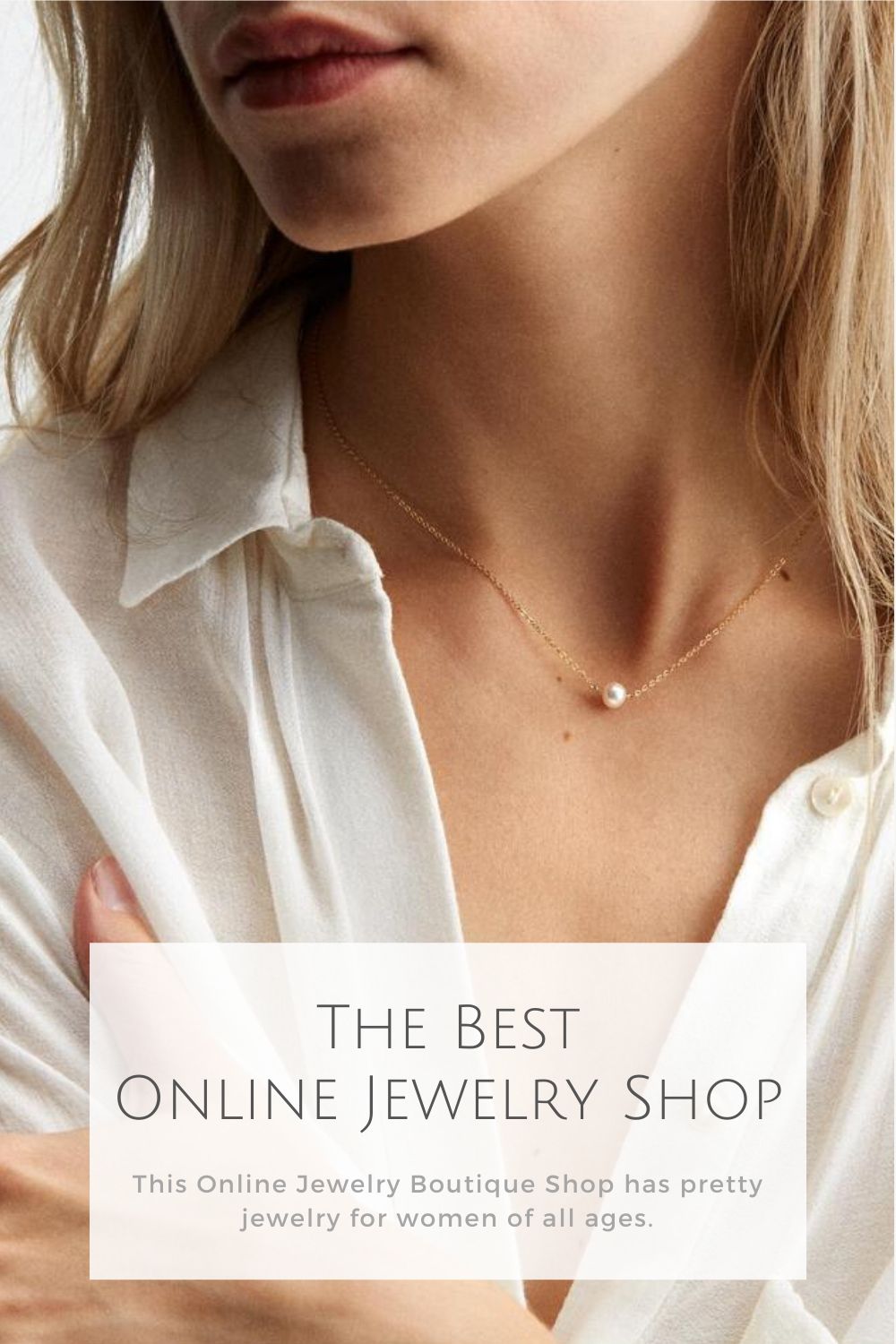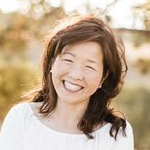 Latest posts by Janine Waite
(see all)