When June arrives in Northern California, I'm all about Outdoor Tablescapes and dining on our patio. There is nothing quite like sitting outside on a warm summer evening and enjoying a wonderful meal and a pretty table.
One of our favorite things to do in the summer is to sit outdoors at our dining table. And I love changing the tablecloths and table settings to infuse a new look to the space. Today, I'm sharing my latest colorful table with you.
Over the years, I have decorated and shared our backyard on the blog. So, if you missed them, check out these posts.
I'm excited to share this table with you since we spent all winter remodeling our backyard. We started our big project after Thanksgiving and the job was completed in May.
My husband and I just finished repainting our white pergola, and I highly recommend hiring a professional painter if you have a big patio project. But, now that we finished the painting, I can sit back and relax a little bit.
The results of all our hard work came out nice and now I can't wait for the new plants to mature and grow.
But in the meantime, I'm sharing my summer table as well as the tablescapes of my talented friends.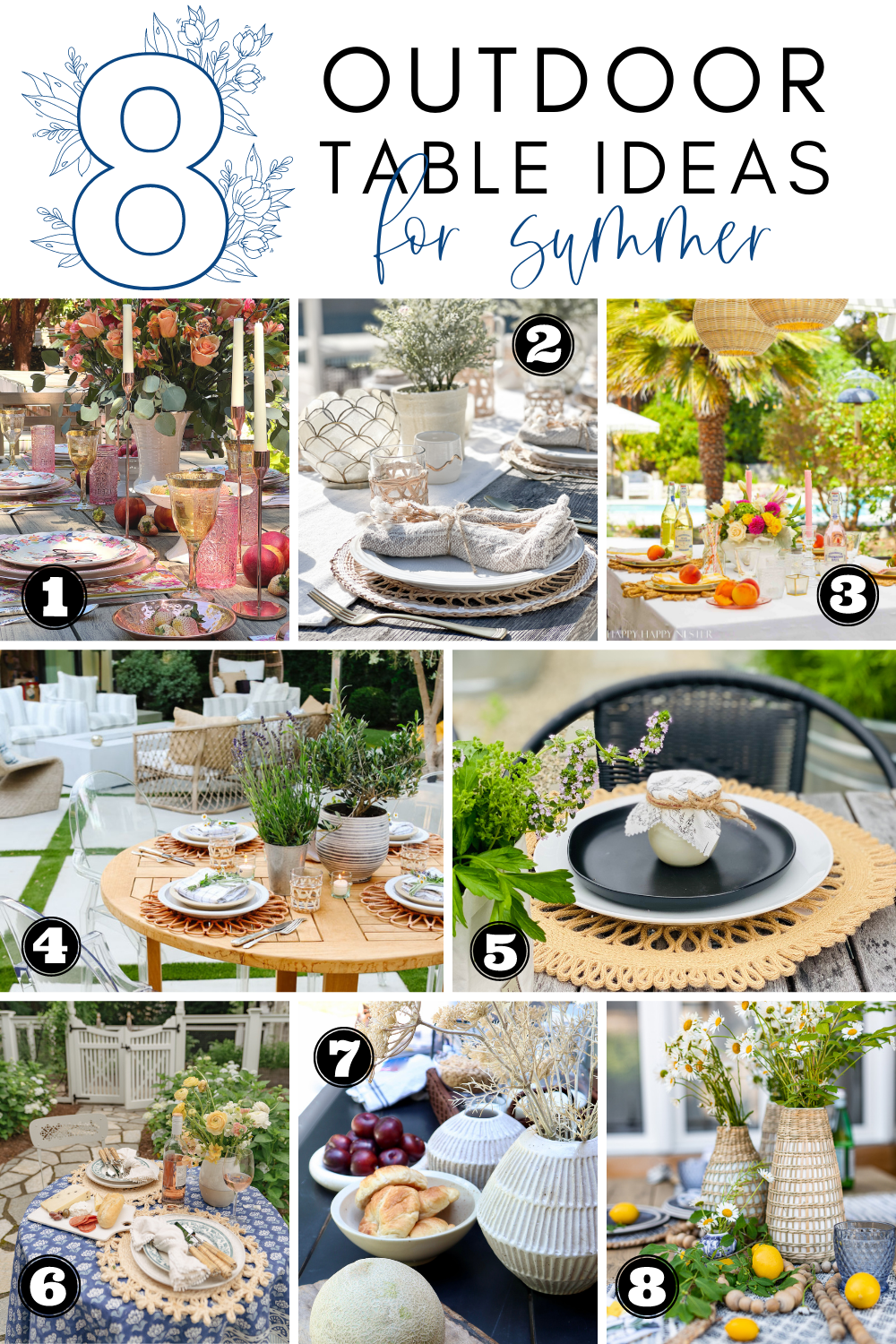 Ok, now let's take a look at what I've been busy creating over here in our backyard.
How to Set Outdoor Tablescapes
Creating a summer table has a few key elements that you need to figure out while decorating. And sometimes your choices flow easily and other times changes are in order.
For this project, I thought I had my table all figured out. You see, my original table design was a blue and white gingham table cloth that morphed into an all-white table. The white table was a bit drab and unexciting so I quickly added some bright colors with accents.
I did panic a bit when things were coming together, but I kept pushing on and finally found the summery look I was after.
But throughout the process I made sure to select these things for my table:
Table Cloth
Placemats
Floral Centerpiece
Plates/Glassware/Silverware/Napkins
Candles
Choosing a Table Cloth
For this table, I went with the standard white table cloth. I wanted the fabric to compliment the pretty colorful flowers and the white doesn't upstage decor but rather supports its surroundings. I did try the blue and white gingham fabric but it did overpower the items I set on the table.
Placemats
I found these adorable woven placemats and fell in love with them at first sight. Their whimsy design of what echoed flowers was exactly what I was looking for. Unfortunately, it appears that Domain Home who made these placemats went out of business. So, I'm linking to some alternative placemats.
Floral Arrangements
I usually like to visit the San Francisco Flower Market but since I took some time off from the blog last week, I was cramped for time. So, I took a trip to my favorite local flower source, Trader Joe's! I've noticed that they carry a few seasonal flowers so I snagged the pink dahlias!
My brother who is my photographer mentioned that my all-white bouquet needed color. So, at Trader Joe's, I was on a mission to find some colorful summer flowers. And I'm happy to report it was a successful shopping trip.
On a side note, I always make a point to add flowers with a beautiful fragrance. So, I added some Stargazer Lilies and some Gardenias from my garden.
Choosing Plates, Glassware, Silverware, and Napkins
I have a few options for plates, glassware, silverware, and napkins. My plates are mainly white or beige and my glassware is mostly clear and colorless.
I love to jazz up a table with pretty napkins. Most days we use white or black cloth napkins. But for special occasions, I splurge on patterned and colorful napkins. I have a few places that I like to shop for my dinner napkins, Pottery Barn, World Market, and Williams Sonoma.
A little side note about my pink gingham cloth napkin. Pottery Barn carries these napkins in the spring, so make sure to check their stores seasonally for these cute napkins!
Candles
When it comes to candlesticks and tapers, I have quite a few on hand. For this table, I decided the pale pink set off the peach color that I have going on on the table. As some of you know, I love the color combination of orange and pink. These colors scream happy and fresh to me.
Also, I love glass candlestick holders since they create a light, bright, and sparkly atmosphere.

---

---
I'm so happy to share our favorite summer outdoor dining tablescape with you!
Who knew that in the middle of winter our backyard remodel would be complete and I would be decorating our outdoor dining table.
Now, I have to patiently wait for the landscaping to mature and look lush! Life is all about being patient, content, and happy.
Cheers and happy summer dining outdoors to you all!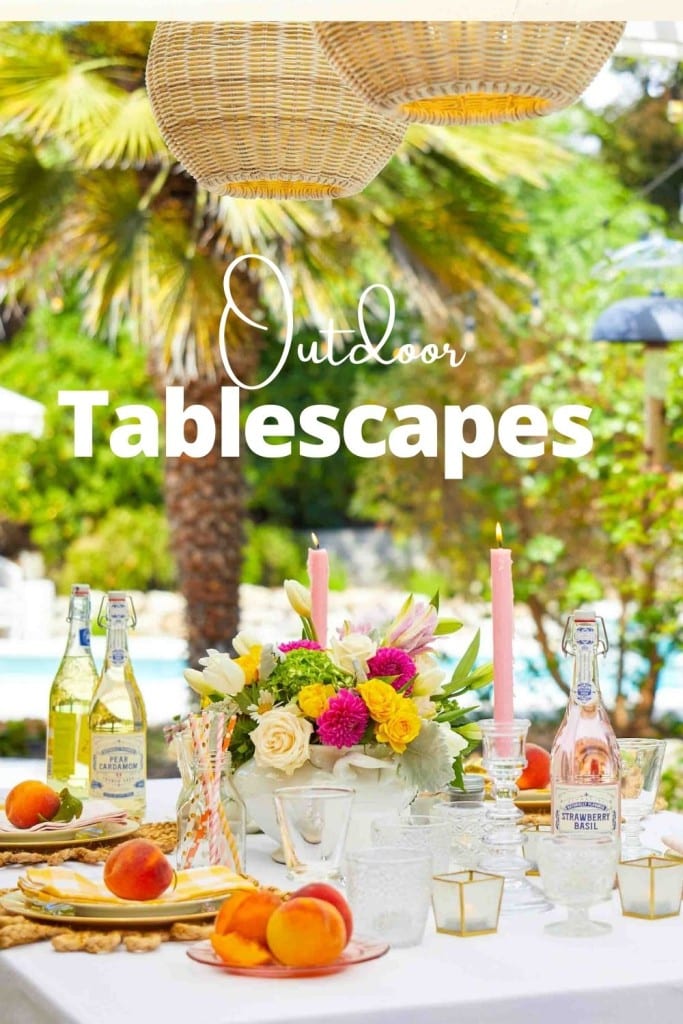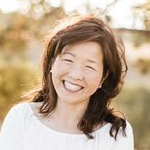 Latest posts by Janine Waite
(see all)