Protect Furniture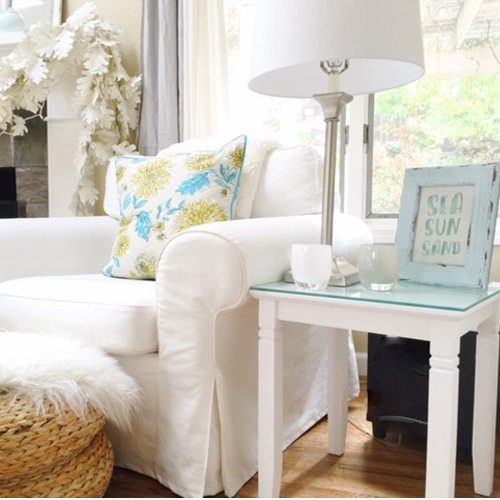 Protect furniture with glass. I'm sure you are all wondering what great information I have to share in regards to how to protect your furniture. I'm happy to divulge my little decorating secret so that your tables can look fabulous too. Family life can be tough on our homes and furniture, and there are some easy ways to prevent the daily wear and tear.
~ A Note About the Nester ~
I remember our family mid-century sofa that my parents owned. It had an avocado green vinyl that looked like it belonged on the television show, The Brady Bunch. It wasn't terribly comfortable to sit on, but nor did it stain or tear. So, looking back, I feel that it was the perfect couch for a family of seven.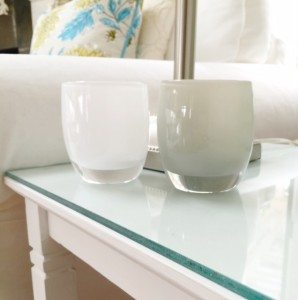 Let's be honest, when you watch television, do you put your snacks on your coffee table? And if you have a wood table, do you lay a coaster underneath your cup to protect the table? A while back, I had the idea to place a sheet of customized glass on a table to protect it from water or food. I have gone to town with the whole glass idea, and we have it on three tables. I tell you, it is the best, and I love that I don't have to worry about our furniture. I no longer have to remind my family about using coasters.
Here are a few great points in regards to glass table tops.
1. It thoroughly protects furniture forever. Once you place it on your table, it immediately begins protecting it.
2. It is washable with a little Windex. I used to cringe when our family would place their feet up on our coffee table. I guess it bothered me that I didn't have a great way to wash the wood surface. Well, with glass, I just wipe it clean with some Windex, and it is fresh, shiny and ready to use.
3. Since it is glass and completely protects the wood surface, you can place hot or wet items on it. It is such a worry-free surface.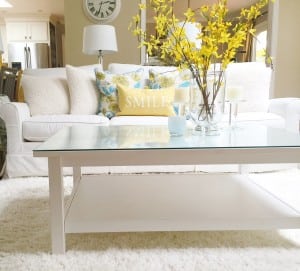 4. I love how beautiful it looks with it's shiny and reflective the surface. It makes the table top looks so sleek and polished. Here is the link: Summer Home Tour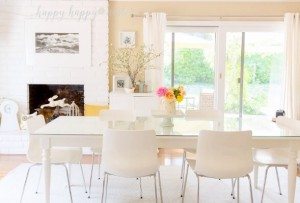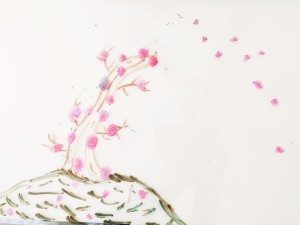 5. You can also write on the glass surface with markers. My family loves to write messages or work out homework on our table in our family room. It also makes an excellent surface for drawing and is perfect for kids of all ages.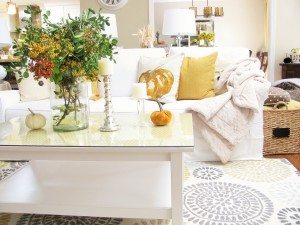 6. If you want to decorate your table, a creative alternative is to lay paper or fabric in between the glass and table. I love to do add some color to the table when I want a new look for you room. Here is the link: Fall Home Tour
7. You can easily install stickers underneath the glass to keep it in place. I have used this in the past, and it can take away the wood stain. I guess if you plan to keep the glass on forever, you don't have to worry about these little pads leaving a small mark.
The only downside to the glass is that it can be a little expensive. I had them customed made at a glass shop and for the piece on our coffee table, I think it was something like $70. But, in my book, it has protected the furniture ten times over so it has been it's weight in gold. Even my husband who is a penny pincher has remarked how the glass is such a great investment.
A home should be lived in and comfortable and not like a museum which is only for admiring from a distance. I enjoy it when I find a way to have a beautiful home and not have to worry my family shenanigans. If you want to preserve your tables, I hope you look into purchasing this custom glass to protect furniture in your home.
Cheers,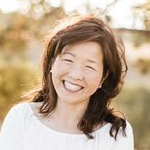 Latest posts by Janine Waite
(see all)