I've always wanted to design a Romantic Outdoor Summer Table, and I finally got the opportunity the other day. And to top it off, I collaborated with my brother, who happens to be a talented photographer.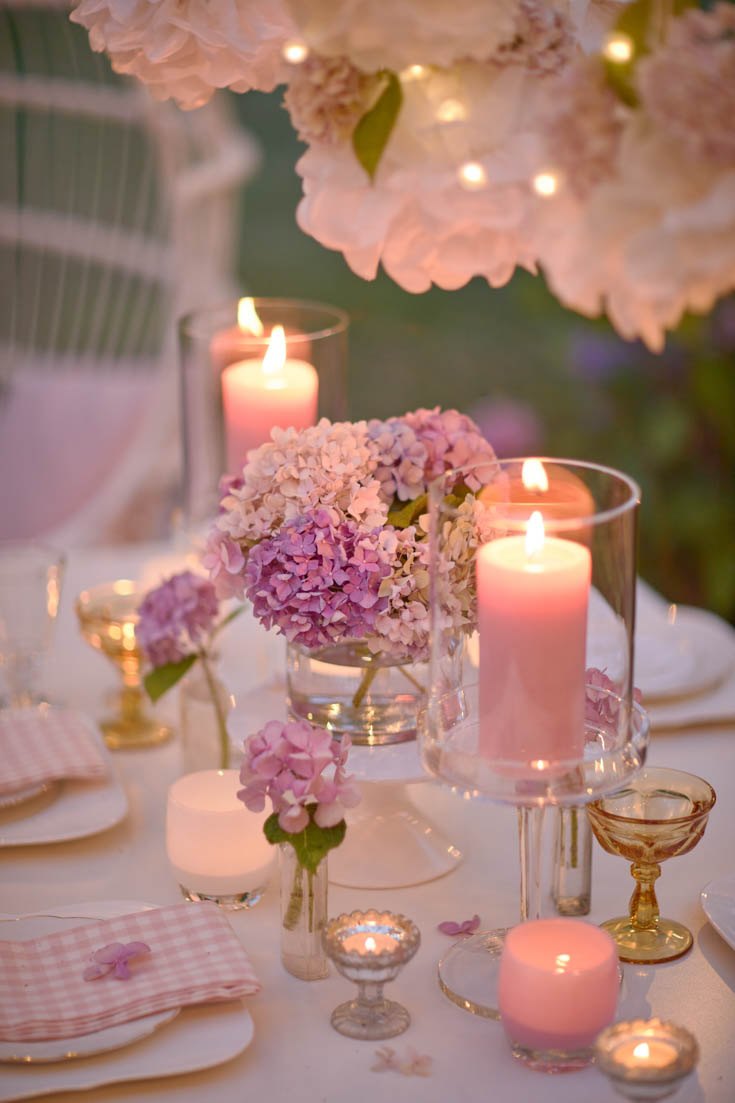 You are going to laugh at this, but all winter long, my brother and I dreamed of creating an outdoor summer table. Yes, Mark and I are total nerds with a capital N, but I'm proud of what we pulled off this week.
But let's backtrack a bit.
I must admit that since March, I've struggled with my focus and creativity. I find it kind of challenging to decorate or craft when I can't hop in the car and head to Joann Fabrics. Instead, I'm buying things on Amazon, and most of the time, my supplies don't arrive on time.
You see, for this outdoor summer dining table, I had planned to string some fun paper lanterns outside, but it turns out they got delayed.
Well, I finally pushed my frustrations aside, and last night I had a blast setting up this table.
I'm happy to say that maybe my decorating mojo is starting to come back.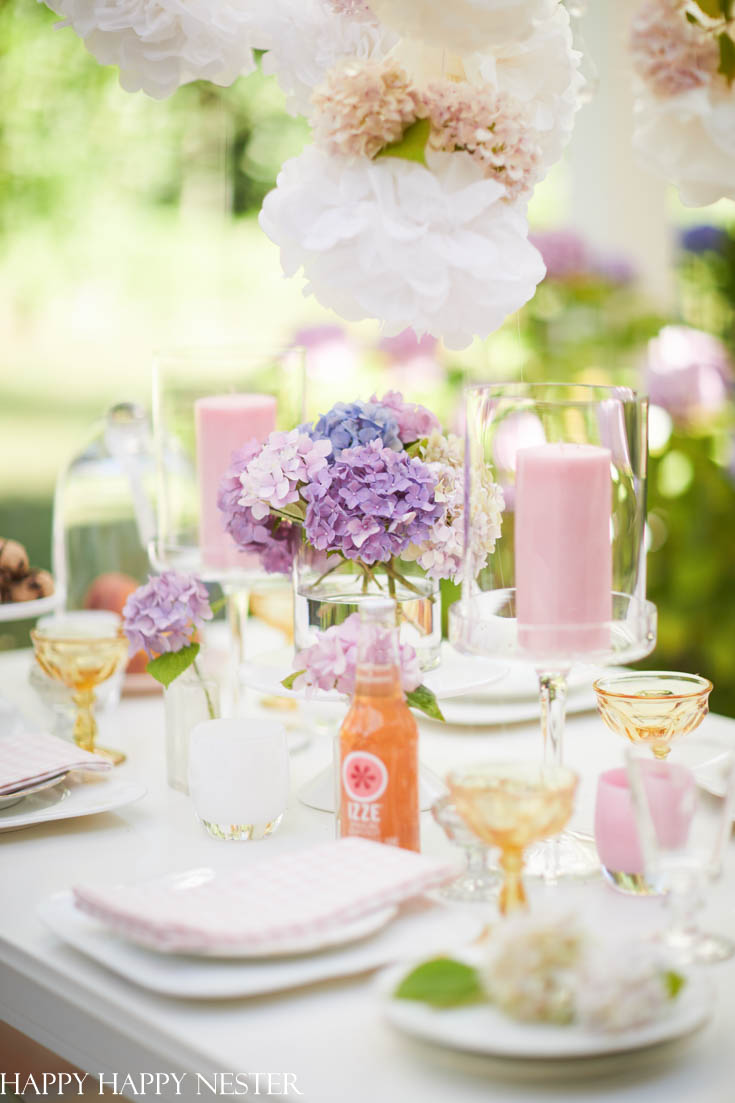 There were a few obstacles that I had to overcome since I'm basically in lockdown due to the pandemic going on right now. So, I ended up shopping our house and garden to create this romantic summer dining table.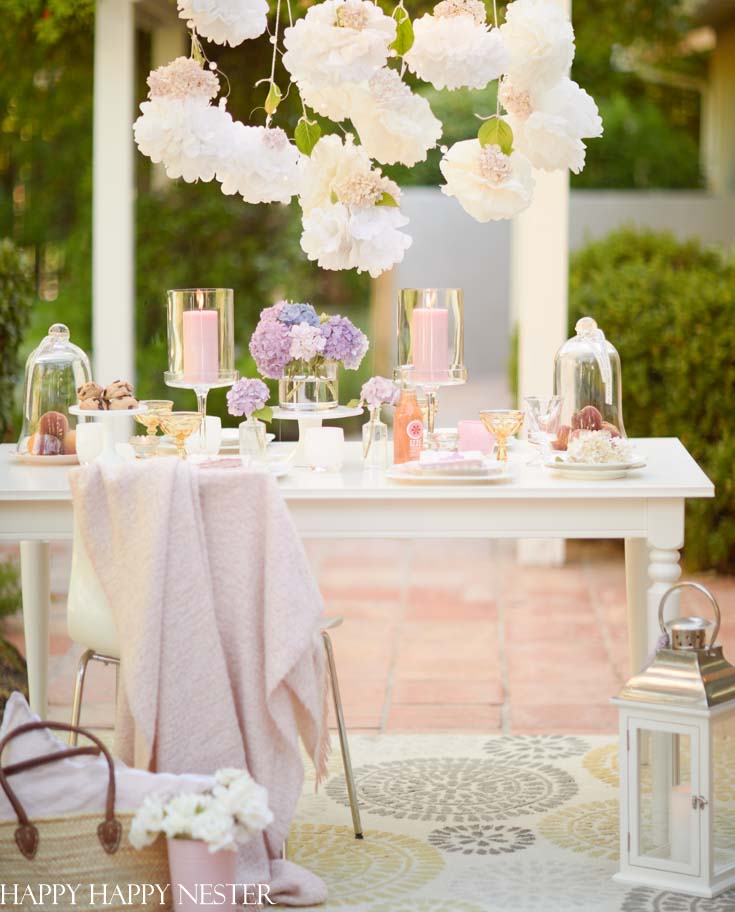 *This post contains affiliate links.
Let's take a look at my results.
Make Some Tissue Paper Flowers
Well, since I didn't have the white paper lanterns, I had to come up with an alternative that would have the same feel.
And you know that I love flowers and tissue paper. So, I decided to make some large tissue paper pompoms. I wanted a dreamy and floral atmosphere, so I combined my hydrangeas from my garden with my tissue paper flowers. Then I hung them up above the table.
I love that they look like fluffy romantic clouds of flowers.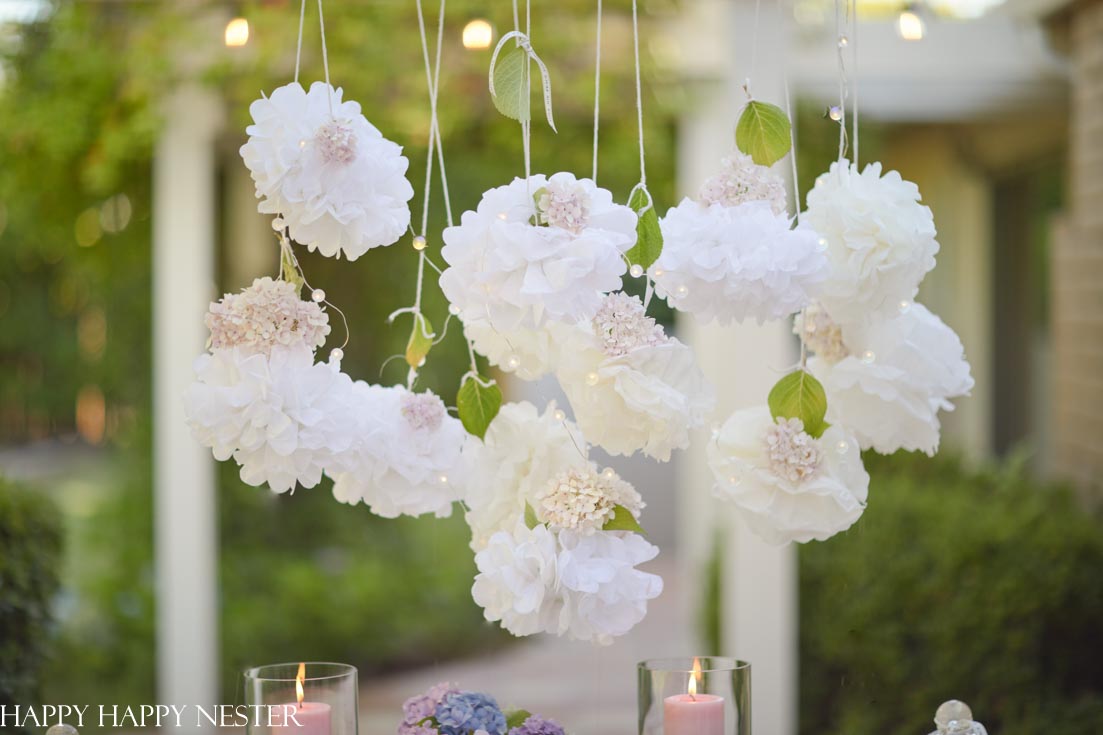 I tried crafting a few colors of tissue paper flowers but finally settled on the simplicity of the white and cream. I wanted the movement of attention to flow from the tissue paper flowers to the hydrangeas on the table below.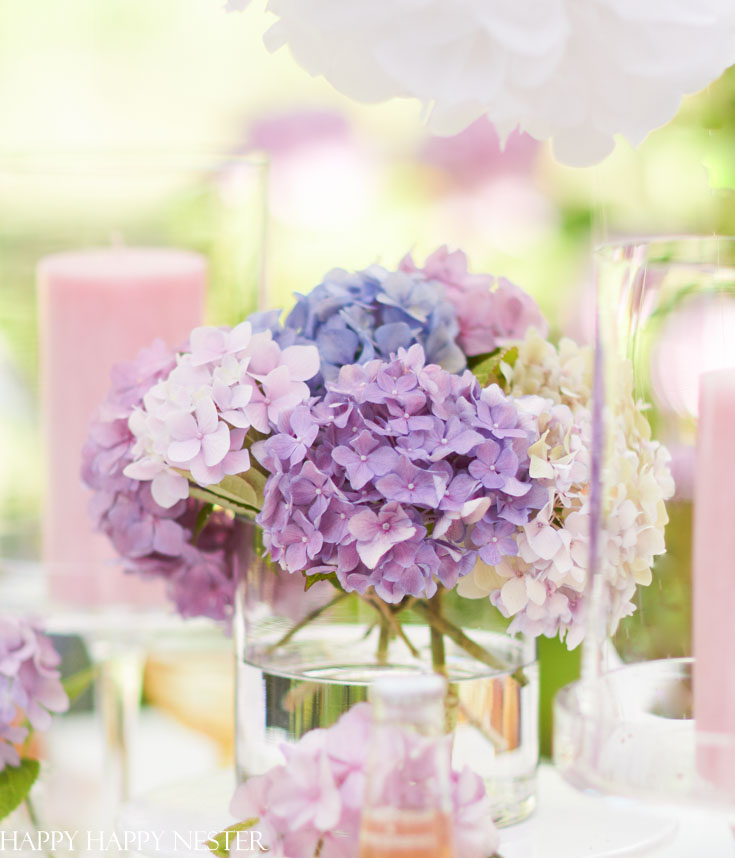 Add Summer Flowers from the Garden
I didn't have the luxury of perusing the San Fransisco Flower Market, or for that matter, our local grocery store floral department.
So, off I went to snip some flowers from my garden. I have a gazillion hydrangeas blooming right now, so I happily trimmed a few for this romantic outdoor summer table.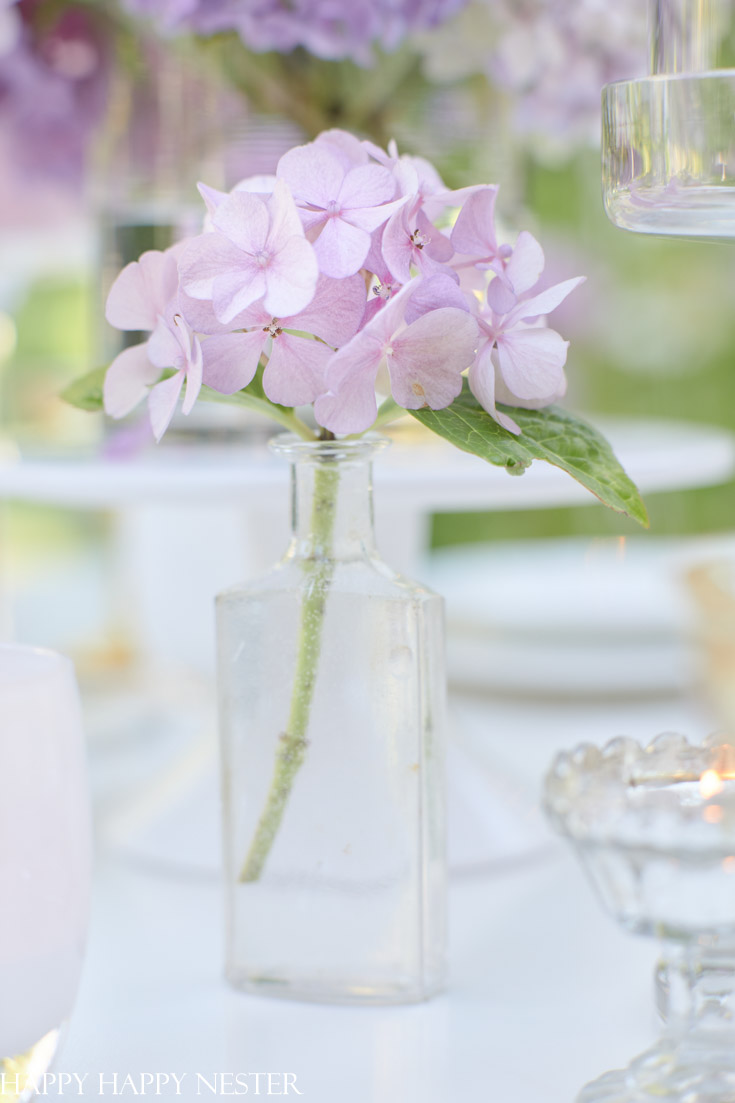 I wanted every vase to be a glass container since they nicely reflect light and add a bit of sparkle to the table. And I borrowed some pretty bottles from my husband's vast collection of antique bottles. If you don't have any of these lovely antiques, check out this source I found.
When picking the flowers, I only wanted pink and lavender hydrangeas. Don't you think they go nicely together?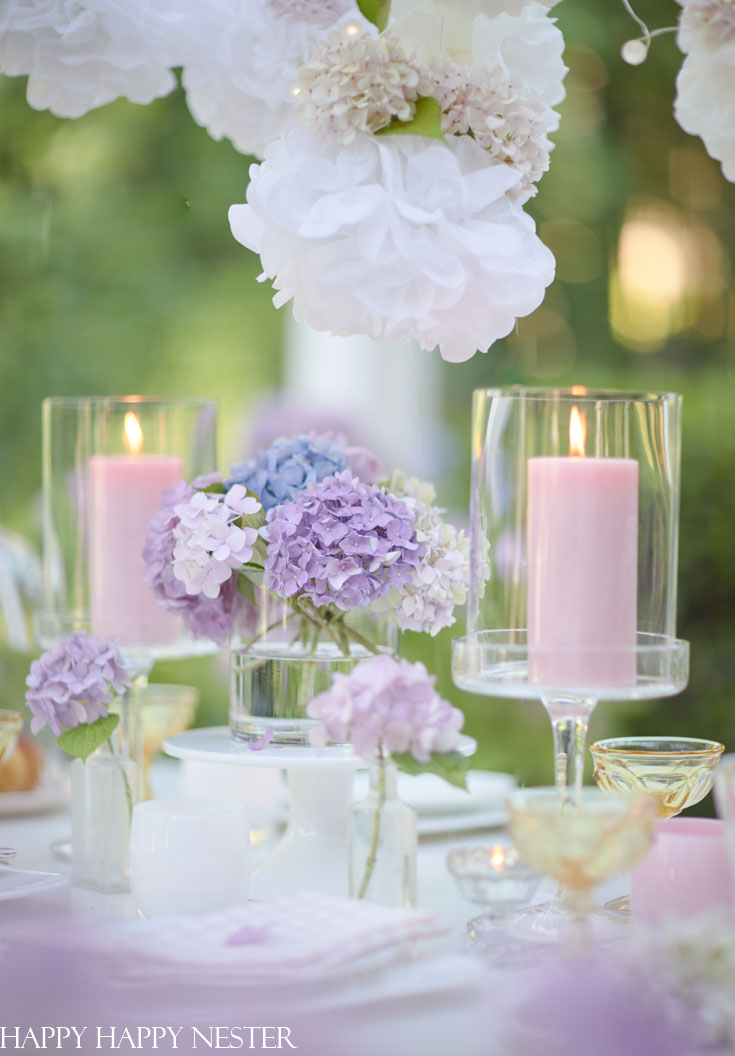 Use Candle Lighting and Twinkle Lights
I resorted to candles, battery-operated string lights, and Edison style outdoor lights. I have quite a collection of glassbaby votives, and so I had fun placing them around the table. I love how they provide light and also are pretty accents of colors.
Speaking of the Edison style outdoor lights, if you are interested in how to install them, then check out my husband's outdoor lighting DIY project. Yes, Michael did a little guest appearance showing off his carpentry skills.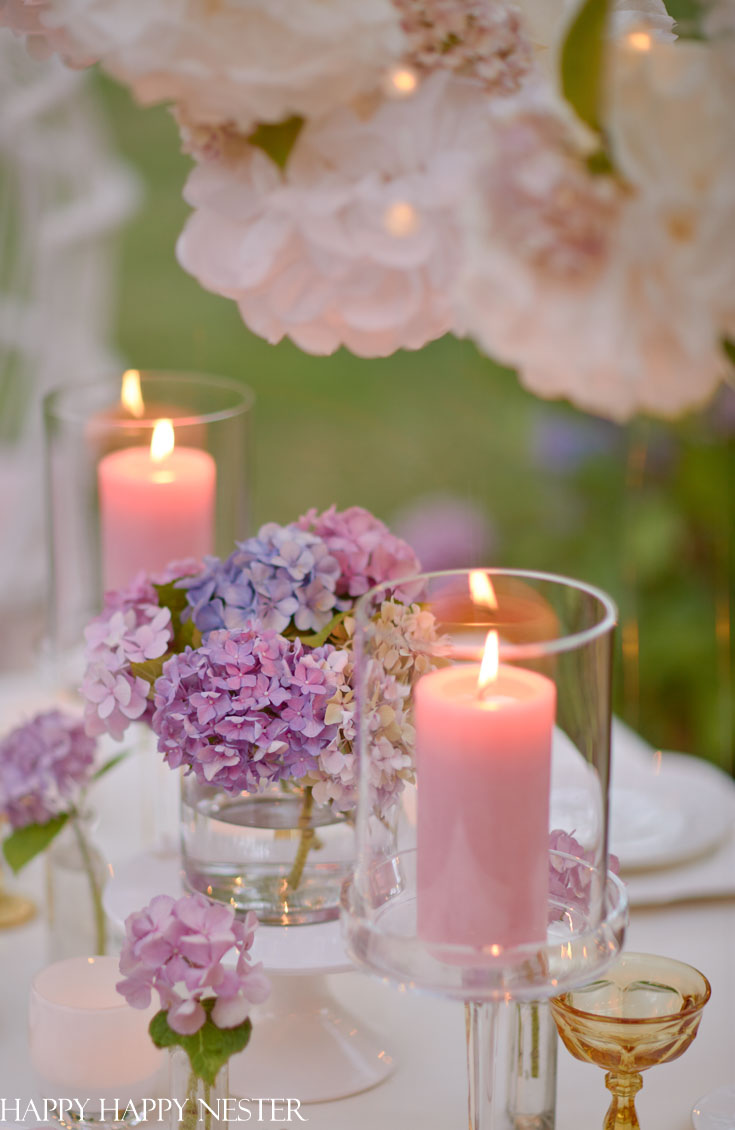 Ok, now I can check off creating a romantic outdoor summer table, I'm not sure what is next. But, I'm sure my brother Mark and I can come up with another fun project.
Make sure to check out my blogging friend's beautiful Summer Dining posts. What a fun blog hop this is, and thanks for joining us!
Cheers,

More Summer Dining Ideas!

Summer Flower Arrangement From The Garden | Modern Glam
A Simple Summer Tablescape for Casual Dining | The Ginger Home
Summer Dinner Ideas | My 100 Year Old Home
Easy Summer Dining Table | Zevy Joy

Summer Dining In The Garden | Twelve on Main
Goat Cheese Appetizer Board | Maison de Pax
Lemons and Wild Daisies Tablescape | Craftberry Bush
Summer Table Settings | Jennifer Maune

Romantic Outdoor Table Setting | Happy Happy Nester
5 Tips For Easy Summer Entertaining | French Country Cottage
Easy Summer Dining Tips | Dreaming of Homemaking
Easy Ideas For Outdoor Summer Dining | Sanctuary Home

21 Simple Summer Table Decorating Ideas | Thistlewood Farms
Lake View Summer Tablescape | Styled with Lace
Simple Summer Table | My Sweet Savannah
An Easy Summer Dinner on the Patio | Most Lovely Things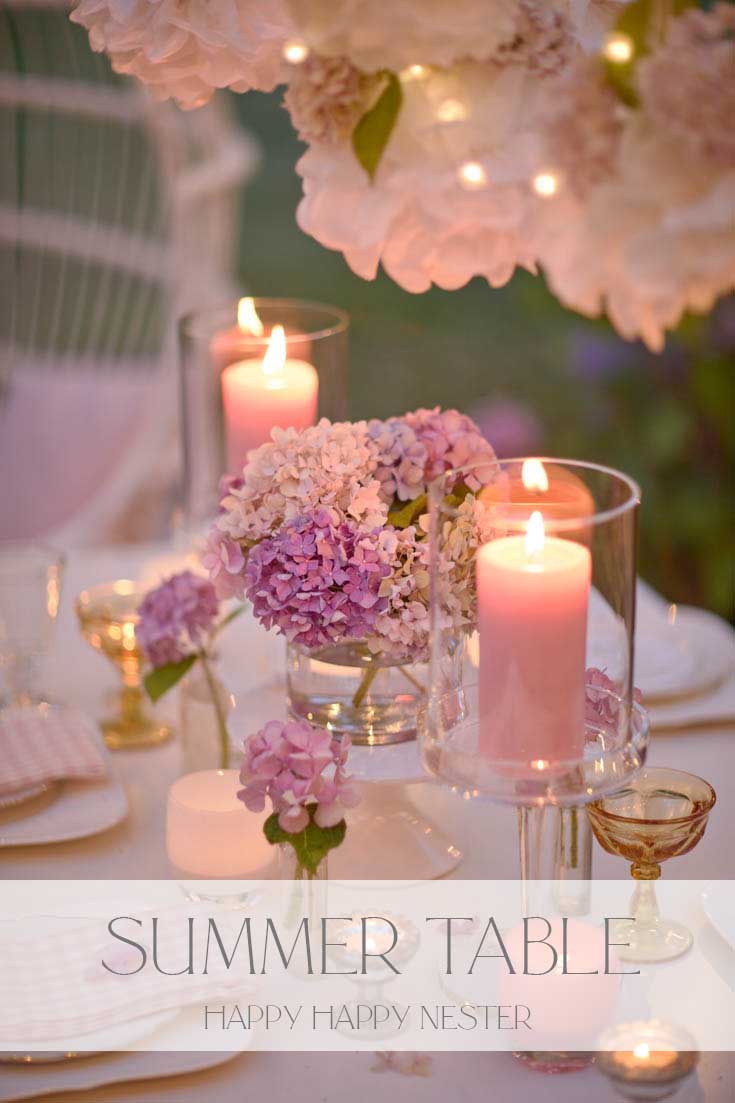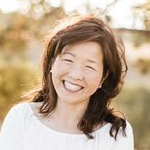 Latest posts by Janine Waite
(see all)