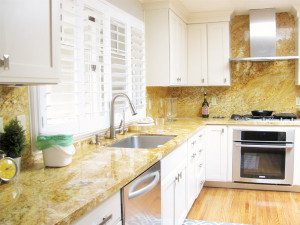 Tuesday Tip: OXO Compost Bin
Our neighborhood finally switched over to composting, this means that we can recycle our food scraps in a special yard debris trashcan. I'm happy that some waste management alternatives are now a standard thing in our communities. This solution will definitely lessen the burden on our ever growing landfill problem.
~ A Note About the Nester ~
It is the worst feeling to see the garbage truck go by your house and remember that your trashcans are not curbside! I have on many occasions run out in my pajamas to put out our trash in the morning. This is my son's job, but now and then he forgets. I'm pretty certain I'm not alone on this little life experience?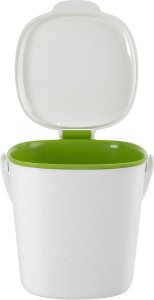 Finding the best indoor bin for our food scraps is not an easy thing. Our first container was ceramic, and it was cute, but unfortunately, my husband cracked it. It looked great in our kitchen, but it was more about looks rather than functionality. You see, my special biodegradable bag got pretty slimy and gross, and there was always a puddle of liquid at the bottom. I guess there is a process (anaerobic) that takes place when food starts to break down. For all of you that have science backgrounds, I'm sure this is science 101. The results of the anaerobic composting are smelly and wet. Well, since my cute container was broken, I had to find another alternative. Oh boy, and I'm a girl that loves to solve household missions! The other day, I just happened to be at the Container Store and found the OXO Compost Bin. It is a little pricey, but I took the plunge and purchased this little garbage pail. I was pleasantly surprised that this compost bin is awesome! I can keep our food scraps in it for the week with a small amount of moisture build up. That means that the bag doesn't break on the way to our yard debris trashcan. Don't you just hate when you have this leaky bag and that sometimes you have to double bag your compost?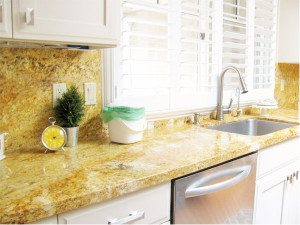 Let's take a look at the pro and cons of this compost bin.
1. Appearance
It is a sleek and simple design that will look great in any kitchen. It is white on the exterior so it coordinates well with any color kitchen.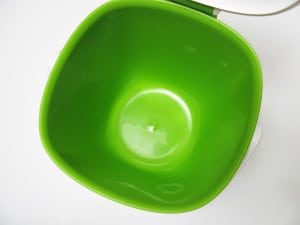 2. Size
It is a little less than a gallon in capacity, but I find that it is plenty big. If you are a big family, maybe you'll be emptying it more frequently. I like that it is somewhat small, so we don't neglect the contents.
3. Dryness
I have found that the filled bags stay pretty dry after five days. Currently, our bags have been in it for about three or four days and there is little moisture on the bag. I'm not sure, but I think the double wall feature helps keep the moisture from forming too quickly.
4. Odor
Now here is where it falls short in my review. There are no odors when the lid is closed, but once you open it you'll smell the decomposing food. I'm ok with this since the odor is contained as long as the lid is closed.
5. Price
The price of the OXO Bin is about $20, but I feel it is money well spent. It is a good addition to our compost storage solution.
Hope this review helps with your purchase of a compost bin. I'm happy with OXO and I thought it would be nice to pass along my review. If you liked this post, maybe you might enjoy reading about our great Toaster Oven Review Leave me a note or just say, "hi" in the comment box.
Cheers,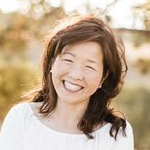 Latest posts by Janine Waite
(see all)