This smooth Gluten Free Lemon Drizzle Cake is wheat-free but tastes like it has wheat. It's similar to a lemon pound cake recipe minus the wheat flour. The intense lemon flavor makes it the best lemon cake around.
This recipe has a unique blend of tapioca starch, xanthan gum, potato flour, and sweet rice flour.
You probably like my other recipes if you're like me and love lemon dessert recipes!
Gluten-Free Lemon Drizzle Cake
*The following post contains affiliate links
This is a really moist cake, so if you like a dense cake then you'll love this recipe. The sweet rice flour gives it stickiness instead of grittiness. Also, the combination of gluten-free flours is better than the grocery store versions.

When my daughter did a year of synchronized swimming, we would stop by Starbucks after her grueling practices, and she would purchase their delicious lemon pound cake. She still talks about that yummy lemon cake.
But, over the years, she hasn't had that cake since we tried a wheat-free diet for her. So I thought that I would make my gluten-free version. And that's how I came about making this recipe.
Why You'll Love This Recipe
It's a gluten-free dessert that is great for those sensitive to wheat. I also crafted a flour blend that doesn't have a gritty texture.
Also, if you love lemon desserts, you'll love this very lemony cake!
It's a moist version of lemon pound cake. The moisture combines nicely with a tiny bit of stickiness that I love.
It has a delicious drizzle icing that compliments the zesty lemon taste.
Can I Use The Gluten-Free Flours Available
I tried this recipe with King Arthur's Gluten-Free flour, and the cake came out gritty tasting. No surprise since the main ingredient is rice flour. Rice flour has a grainy texture when used in wheat-free desserts.
Ingredients You'll Need For This Wheat Free Dessert
Sweet Rice Flour (I use Koden Farms Brand)
Baking Powder
Salt
Butter
Eggs
Buttermilk
Lemon Juice
Lemon Zest
How to Make a Wheat-Free Lemon Pound Cake
This recipe is best if you measure all your ingredients. The prep is essential so that making the cake goes smoothly.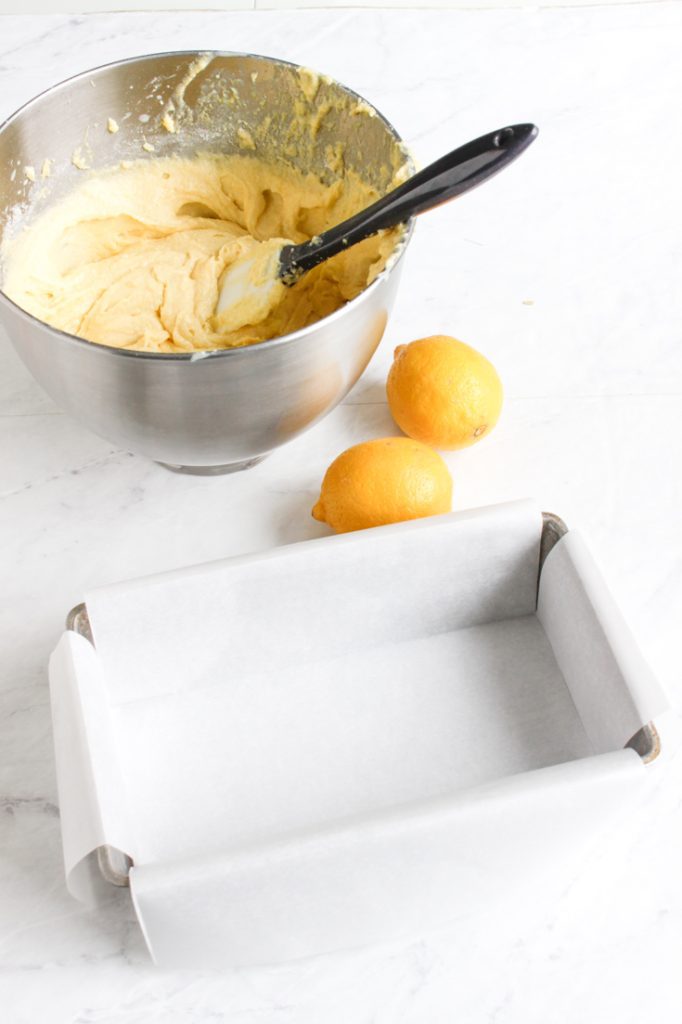 Step 1 – Line Loaf Pan
Line your 9″ x 5″ x 2 3/4″ loaf pan with parchment paper. I cut two sheets to line the pan. I strongly recommend this step since I tried coating with oil and flour and had the most challenging time getting the cake out of the pan.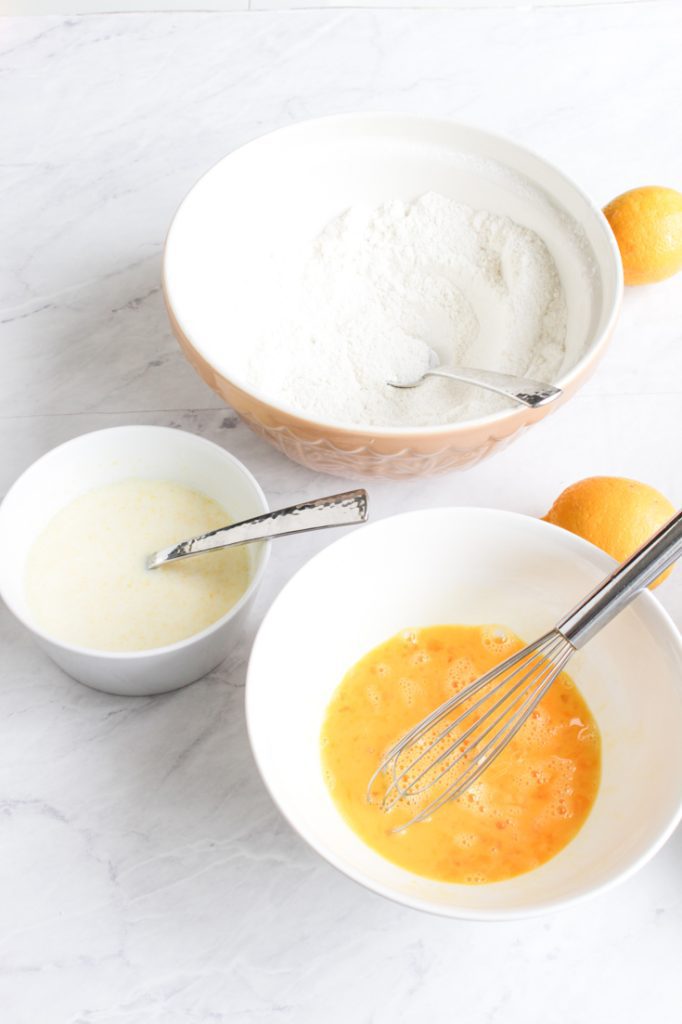 Step 2 – Measure All Ingredients and Make Cake Batter
This recipe has a lot of ingredients, so measure all your ingredients before starting. You'll mix the sweet rice flour, potato starch, tapioca flour, almond flour, baking powder, and xanthan gum. In another bowl, you'll combine the lemon juice and zest and let it sit for a bit.
Then you'll combine the lemon mixture with buttermilk and vanilla.
Using a stand mixer fitted with a paddle, you'll beat the butter and sugar until fluffy. Add the eggs and beat until blended.
Next, incorporate half the milk and then half the flour. You'll repeat this until it's mixed well.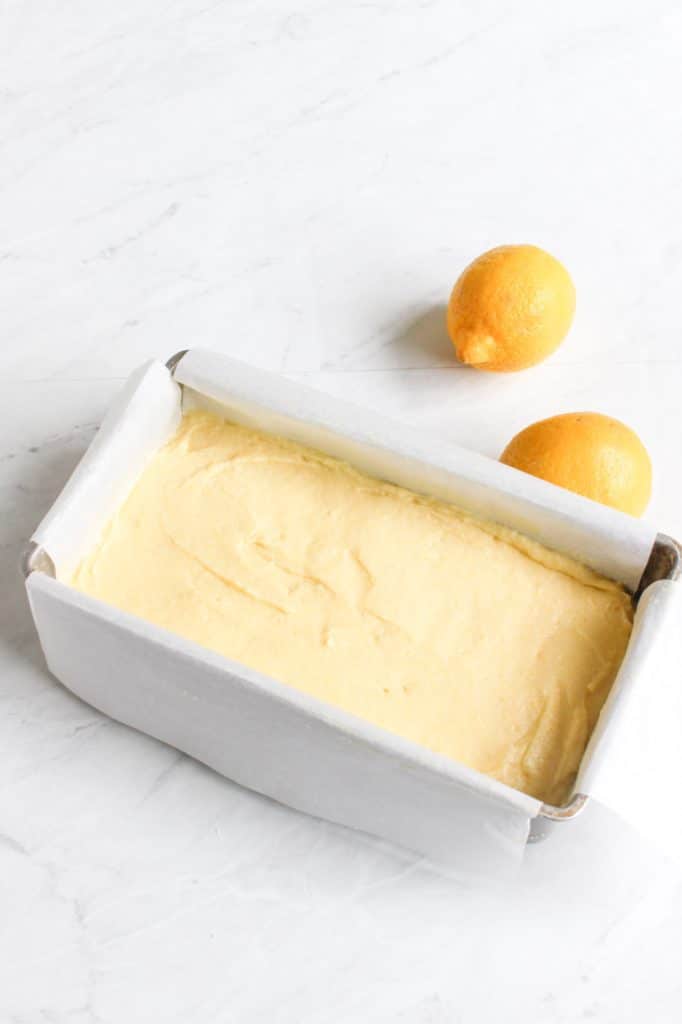 Step 3 – Fill Pan with Batter and Bake
Now here is the tricky part. There is a lot of cake batter, so make sure to fill 3/4 of the pan. If you have a little extra, place it in a muffin tin.
Bake cake at 325 for 70 minutes.
Let cool on a cookie rack and then grab ahold of the parchment paper and pull the cake out of the pan after 20 minutes.
Step 4 – Drizzle Icing on Cooled Cake
Gluten-Free Lemon Cake with Drizzle
This smooth Gluten Free Lemon Drizzle Cake is wheat-free but tastes like it has wheat. The intense lemon flavor makes it the best cake.
Ingredients
Lemon Cake Batter
1

cup

sweet rice flour

⅓

cup

potato starch

add 2 tbs

3

tbsp

tapioca flour

½

tsp

zanthan gum

¾

cup

fine almond flour

3

tsp

baking powder

1

tsp

salt

2

sticks

unsalted butter

room temperature

4

eggs

room temperature

½

cup

buttermilk

room temperature

6

tbsp

lemon juice

3

tbsp

lemon zest

1½

cup

granulated sugar

1

tsp

vanilla extract

1

tsp

almond extract
Sugar Drizzle
1

cup

powdered sugar

1

tbsp

butter

melted and cooled

2

tbsp

buttermilk
Instructions
Cake Batter
Line a 9" x 5" x 2¾" loaf pan with parchment paper.

Prep and measure all ingredients.

Mince lemon zest to a fine paste. You will have about 2 tablespoons after mincing.

Combine zest with juice in a small bowl and mix. Set aside for later.

Whisk rice flour, potato starch, tapioca flour, xanthan gum, almond flour, baking powder, and salt in a large bowl. Set aside the flour mixture.

Combine lemon juice mixture, buttermilk, and vanilla in a medium-size bowl.

In a small bowl, gently whisk eggs.

Using a stand mixer fitted with the paddle, beat room temperature butter and sugar on medium-high speed until fluffy. Reduce speed to low and add the egg mixture. Turn off the mixer and scrape down the batter from the sides of the bowl.

Beat batter at medium speed for a minute.

Reduce speed to low and add ½ the flour mixture. Next, add ½ the buttermilk mixture, scraping down the bowl as needed. Repeat with the final ½ buttermilk and ½ flour mixture.

Increase speed and beat cake batter until smooth and blended.

Scrape batter into a parchment-lined pan and smooth the top with a rubber spatula.

Place in oven, and after 15 minutes, cover lightly with tin foil. Continue to bake for 50-55 minutes. Bake until a toothpick comes out clean.

Let the cake cool in the pan on a wire rack. After about 20 minutes, grab the parchment and lift the warm cake out of the pan. Set the cake on the baking rack to cool.
Drizzle
Combine powdered sugar, melted butter, and buttermilk in a mixing bowl. Mix icing until smooth.

Place parchment paper under the cooled lemon cake. Then drizzle icing on top of the lemon cake.
Nutrition
Serving:
1
serving
|
Calories:
347
kcal
|
Carbohydrates:
35
g
|
Protein:
4
g
|
Fat:
22
g
|
Saturated Fat:
13
g
|
Polyunsaturated Fat:
1
g
|
Monounsaturated Fat:
6
g
|
Trans Fat:
1
g
|
Cholesterol:
119
mg
|
Sodium:
291
mg
|
Potassium:
494
mg
|
Fiber:
1
g
|
Sugar:
13
g
|
Vitamin A:
721
IU
|
Vitamin C:
6
mg
|
Calcium:
197
mg
|
Iron:
1
mg
A Few Last Questions:
How Long Will The Lemon Drizzle Cake Last?
If you place it in an airtight container and leave it out on your kitchen counter, it should last three to four days.
Do I Need to Refrigerate This Cake?
I feel that there is no need to refrigerate this cake.
What is the Difference Between Sweet Rice Flour and Rice Flour?
Regular rice flour is made from non-glutinous, long-grain brown or white rice. Sweet rice flour or Mochiko is made from a glutinous, short-grain sweet rice called mochigome, also known as "sticky rice."
I use sweet rice flour for the glutinous quality that makes this cake a tiny bit sticky and moist. So, this cake has a bit of a mochi quality that I love!
---
This week is all about lemons, and I love this theme. I did have to reschedule one of my posts to next week, so there will be one more lemon project.
Let me know what other recipes you would like to see over here. I love hearing from you!
Happy Baking,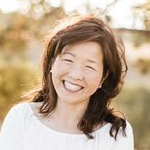 Latest posts by Janine Waite
(see all)