Summer calls for time to rewind and relax, whether it's indoors or outdoors. What better way to spend some "you-time" than chilling in a chair reading a book, magazine or playing your favorite crossword game! Here I have 15 options of the best Hanging Rattan Chairs from Serena & Lily, Etsy, Amazon, and more!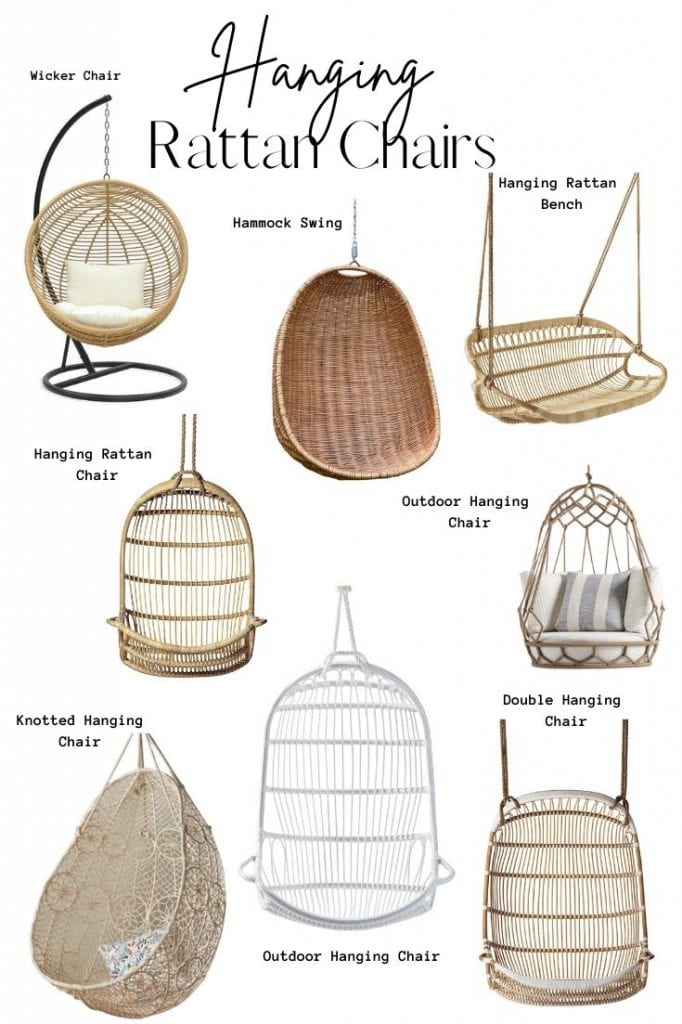 I have always looked for new decor to decorate the house with that can also be a place to hang out and relax. So if you're like me, then this Boutique of the Week is for you! Feel free to check out some outdoor, indoor, custom, and handmade home decor!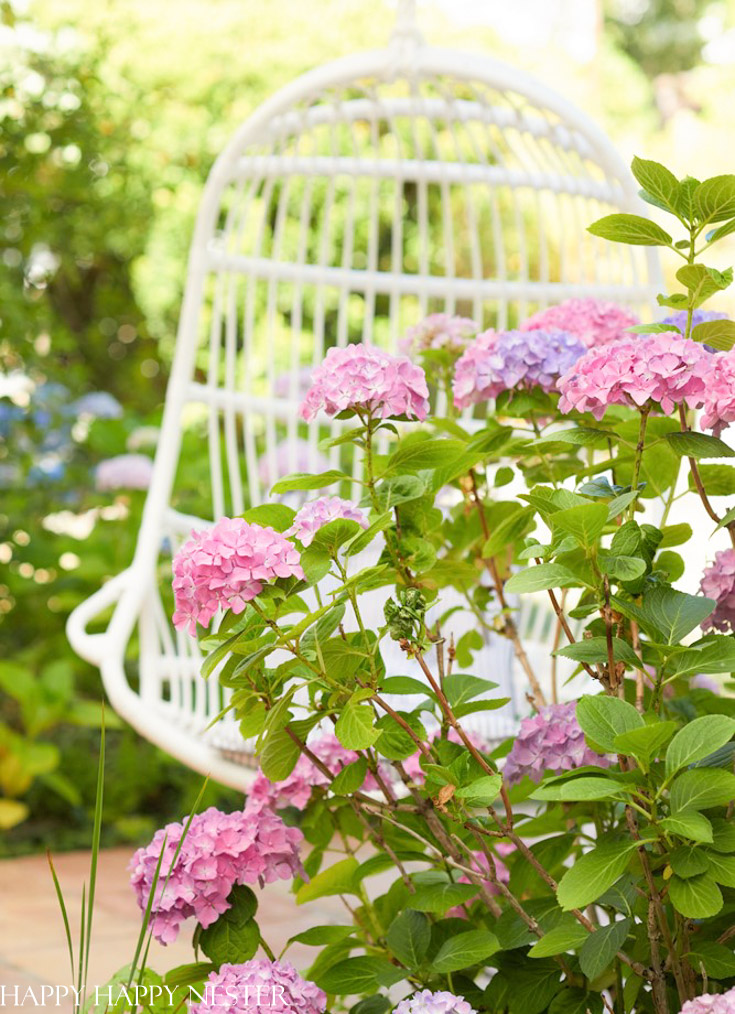 Check out this collection of hanging rattan chairs to incorporate some stylish decorations into your home to give it a unique look no one else will have!
Regardless of your style, there is something for everyone here! So come on, stay a while and keep scrolling to find the perfect chair!
If you love this Boutique of The Week, then check out my other Boutique of the Week blog posts! Enjoy!
Hanging Rattan Chairs
*This post contains affiliate links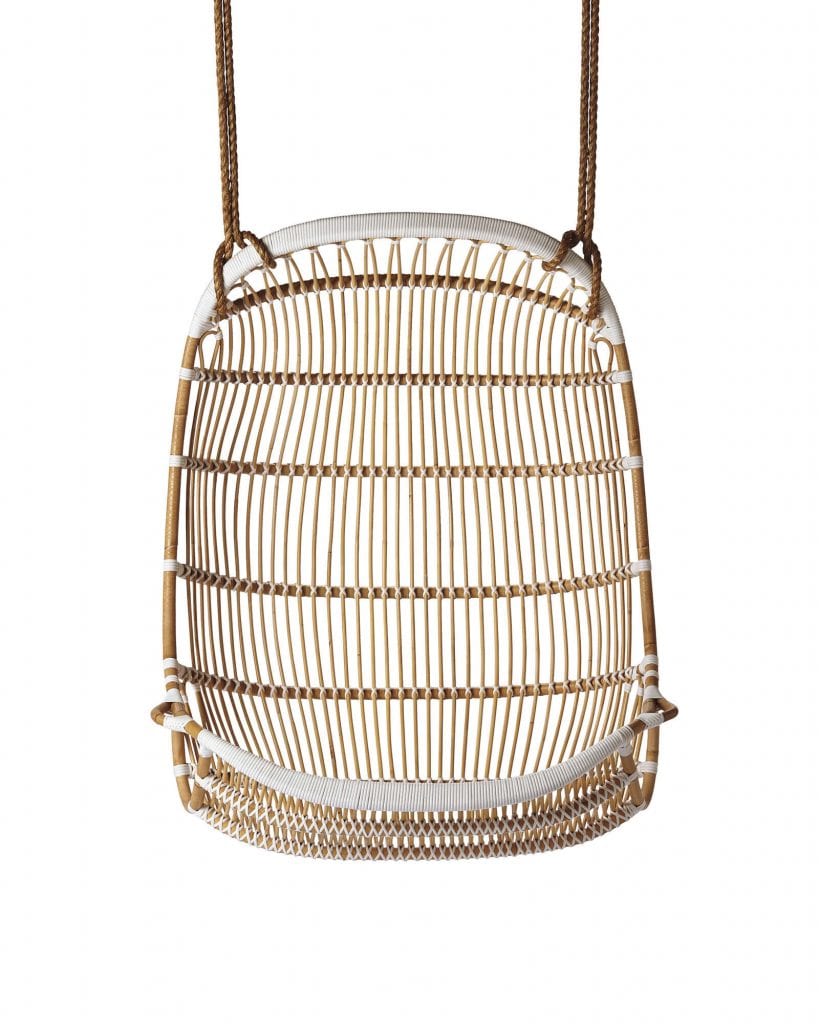 Inspired by a Scandinavian design from the 60s, this chair has been updated the look with a crisp white trim and expanded the scooped seat to fit two! Add a comfy pillow of some signature fabric for a pop of color. A heavy-duty loop and rope ensure that it's super sturdy!
This chair is not only comfortable, but it's a gorgeous piece of wicker home decor when it comes to decorating the house. The simple color and lovely design make for a wonderful chair!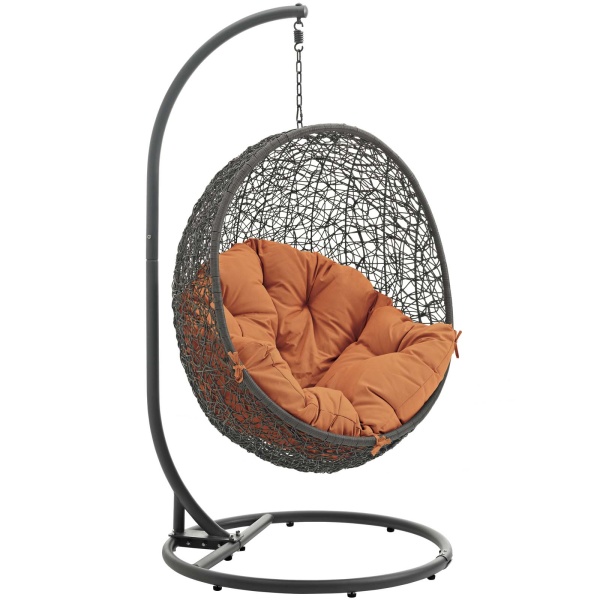 Dark Grey Hanging Rattan Chair
This chair is so comfortable. It almost feels like sitting on marshmallows! Not only is this hanging rattan chair comfortable, but the size and sturdiness make you want to spend hours in the chair. The details are so amazing and perfect. How can you resist a unique chair like this?
On another note, the color isn't like any other hanging chair I've seen before. And because of this choice of color, you can spice up your home decor with darker tones! All in all, it's fun, stylish, and 100% worth it!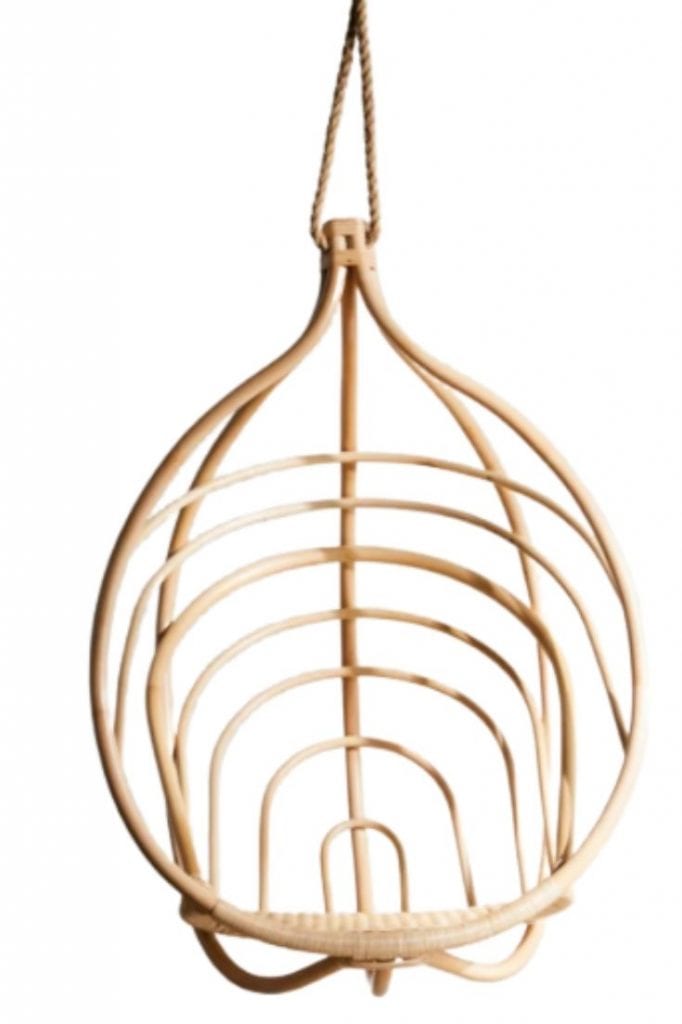 Out of most of the hanging rattan chairs that I have come across, this chair is one that caught my eye. I have never seen such a unique chair design, so I had to share this piece with you all. Because of its uniqueness and simplicity, this chair would be a perfect pick of home decor!
Add a cushion and some pillows to incorporate your style and wham! You got yourself a stylish piece of home decor that you can also relax in and take time for yourself!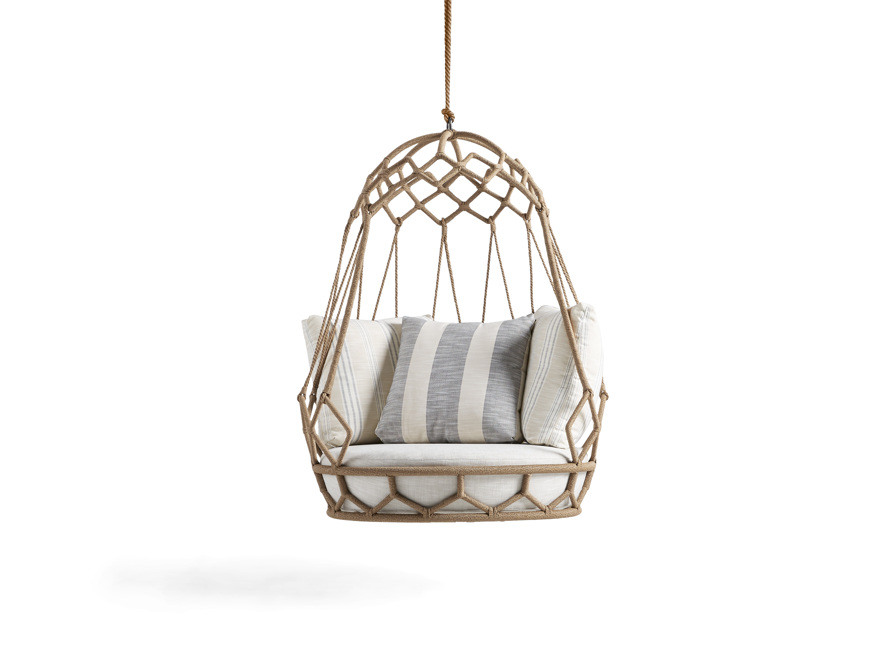 Showcasing Boho coastal aesthetics—This Marina hanging chair features a chic, eclectic, and inviting design that perfectly accentuates any indoor or outdoor gathering space! A textural mix of materials from handwoven all-weather ropes to incredibly durable antimicrobial cushions covered in oh-so-stylish outdoor fabrics frame unique comfort that is as fun to sit in as it is to look at!
This is available with a rope for hanging or a stand for placement in any seating arrangement, so you can mix and match the style of this hanging chair!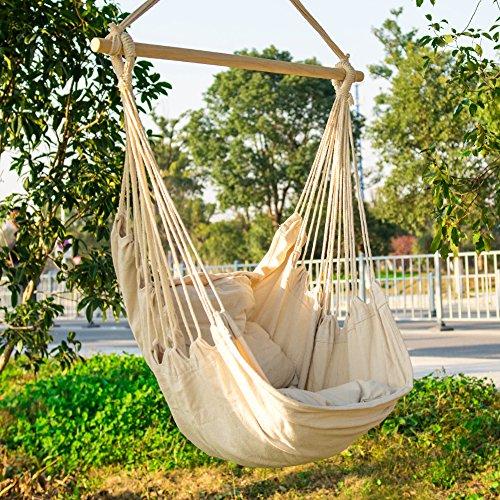 Even though this post is about hanging rattan chairs, I had to include this awesome hammock! I mean, seriously, this is a comfortable, stylish-looking chair that I can totally see myself spending hours reading a book or watching the birds at our new bird feeder!
If you love hammocks, check this one out! This chair is cute, inexpensive, and comfortable. I mean, what more could you ask for? By saying that, I definitely recommend this piece of decor!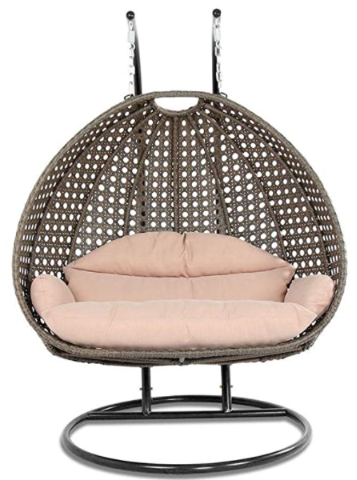 I always loved bigger spaces to hang out in and relax, and this chair matched exactly that! Add some cushions, pillows, and more to spice up this piece of wicker home decor! So if you love bigger chairs that fit 2 or more people, then check out this rattan chair!
Who wouldn't love a cushioned, comfortable, big space to hang out and wind down in? I would, and this chair is the perfect culprit! So check out this chair along with the many others!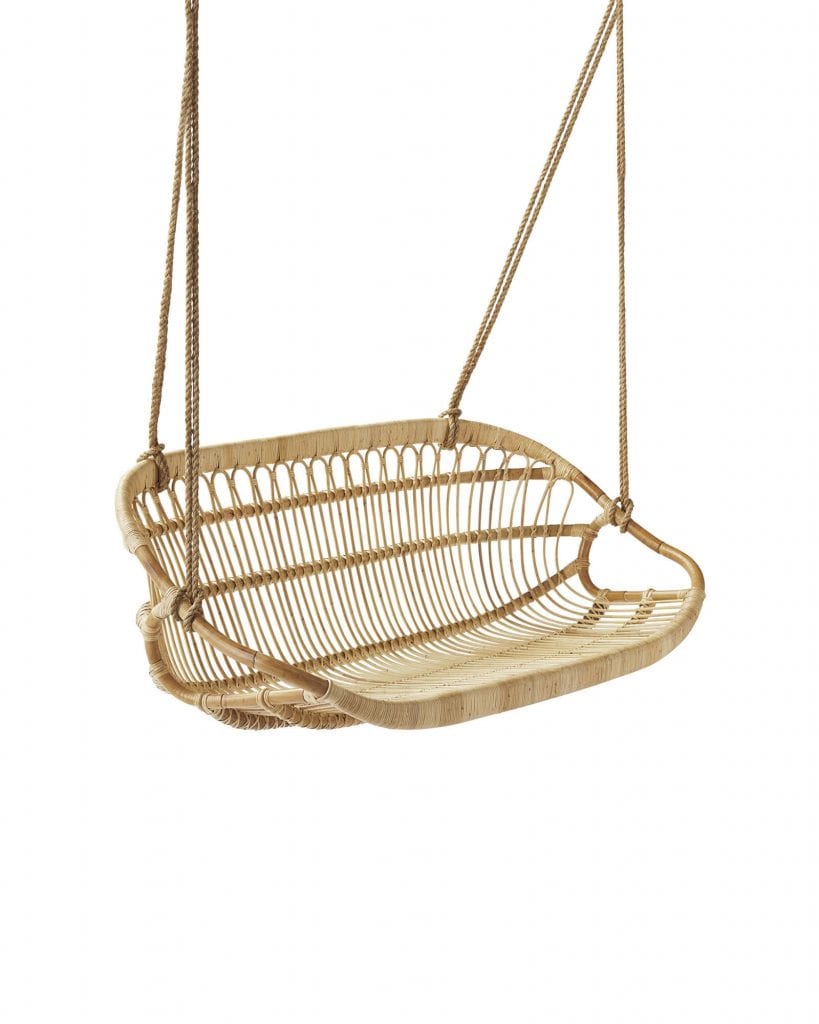 Inspired by a Scandinavian design from the 60s, Serena and Lily created this scooped-seat bench for two! I love this decked out with pillows – such a great way to add softness while displaying your own fun mix of pattern and color! Add a basket of cozy throws nearby, and you've got all the makings of a lazy afternoon…A heavy-duty loop and rope ensure that it's super sturdy!
This bench would look gorgeous as an indoor or outdoor decor piece and can seat yourself along with friends and family! Not only is it durable, sturdy but it's also comfortable and stylish! What's not to love? Check this chair out to get a start on decorating your home!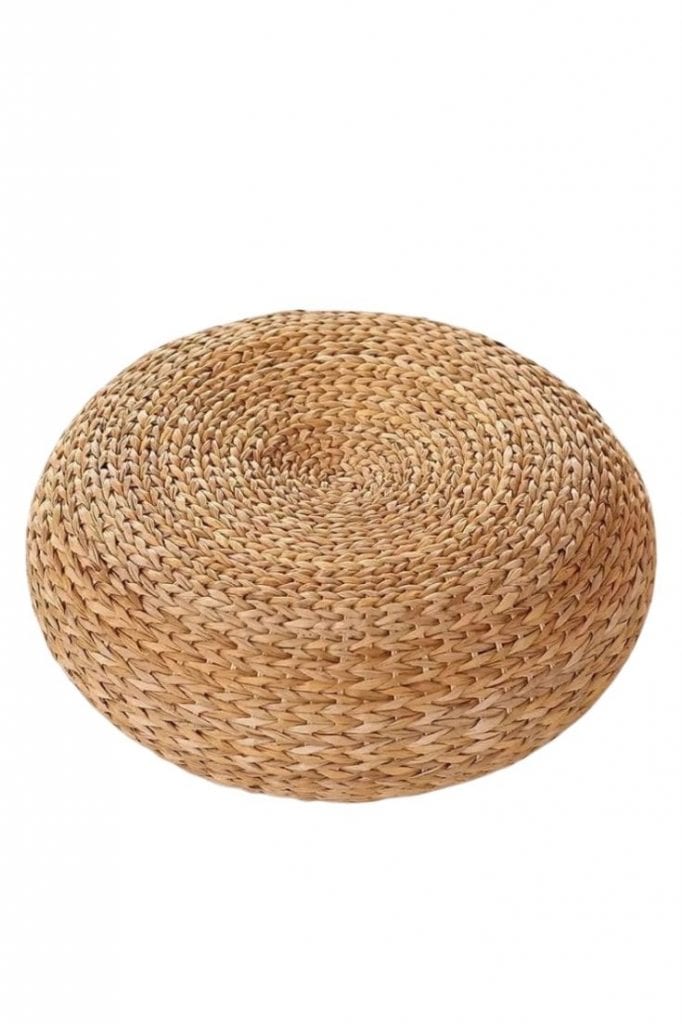 This is a natural and environmentally friendly, convenient, and durable cushion with hooks for easy storage. This comfortable sitting cushion is made from natural cattails only with a strong sponge filling. The cushion has retained its natural color and the texture and subtle fragrance of the plant. The simple and classic design will suit any home décor and can be used in any house. And, as this cushion is handcrafted and free of artificial chemicals and paint, it makes for an ideal sitting cushion for children or adults practicing meditation!
I own some of these, and I love them! They are perfect decor for my living room, and I just knew that I had to include them as a bonus to this blog post because of how amazing, durable and stylish they are!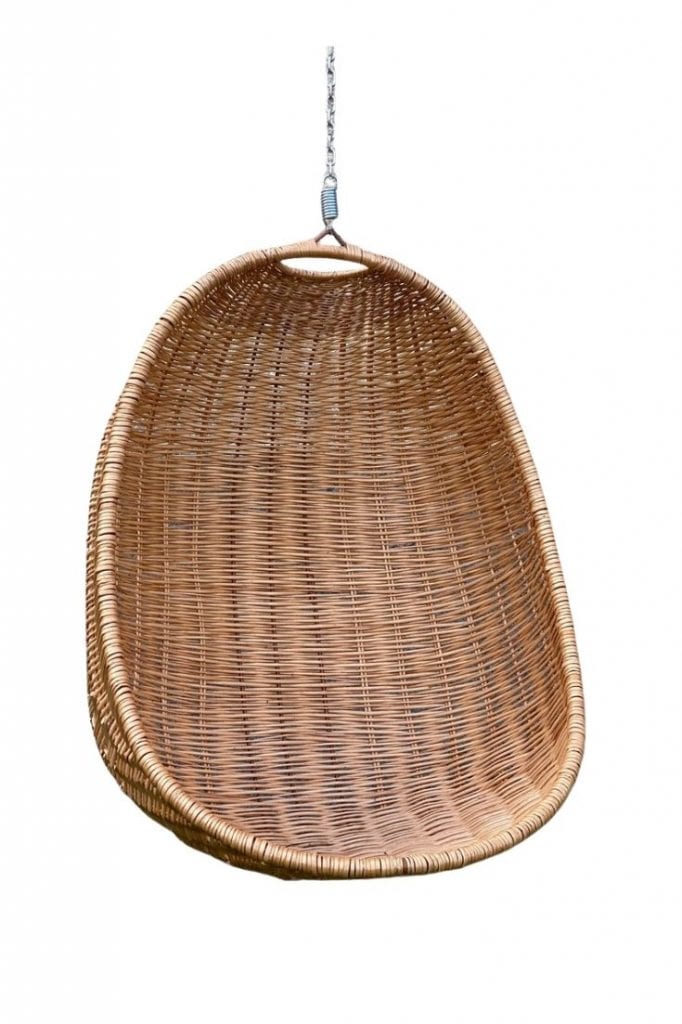 This boho hammock swing chair is a great choice when choosing from a collection of hanging rattan chairs! This is the rocking chair of the new generation and will seriously make you relax more often. It is a suspended rocking chair, which creates a cozy, cute, and stylish look!
This chair is suitable for loggias, balconies, and summer cottages, whether it's indoors and outdoors, and will make for a wonderful piece of wicker home decor!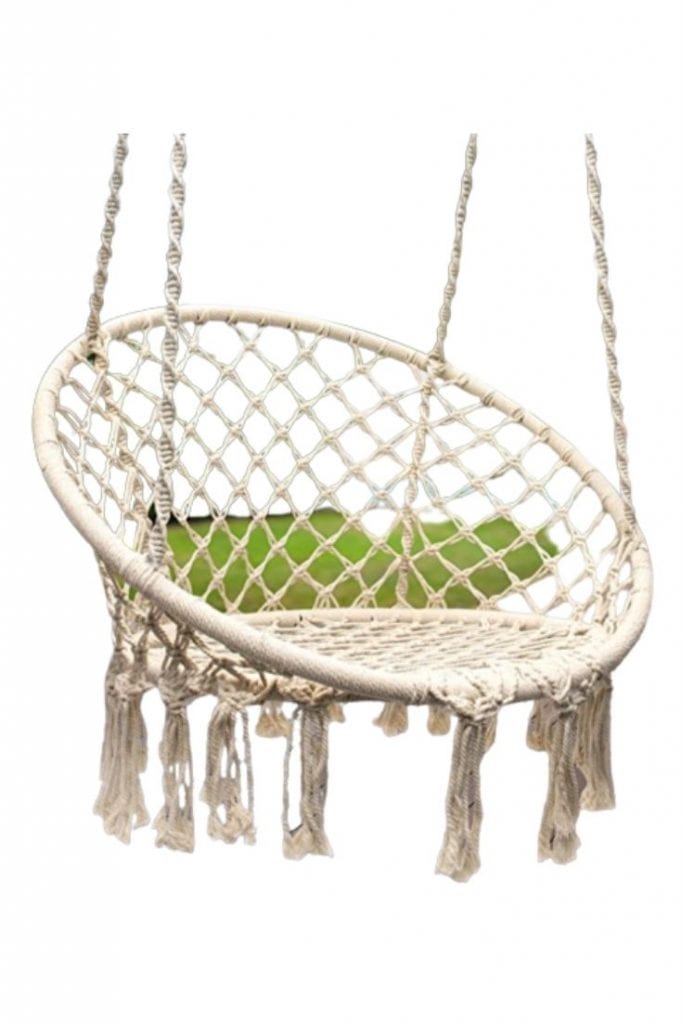 This boho hanging chair is one of a kind. It's fun, stylish, and unique because of the lovely design of the thread! Once you add a few cushions or pillows, this chair will look amazing within your home, whether it's outside or indoors! These are such fun chairs to swing around in and are somewhat a rocking chair and can be used to either hang out, relax or unwind in.
When picking out a unique hanging chair, this choice is 10/10 and will create a fun patio space or indoor space to share with family and friends!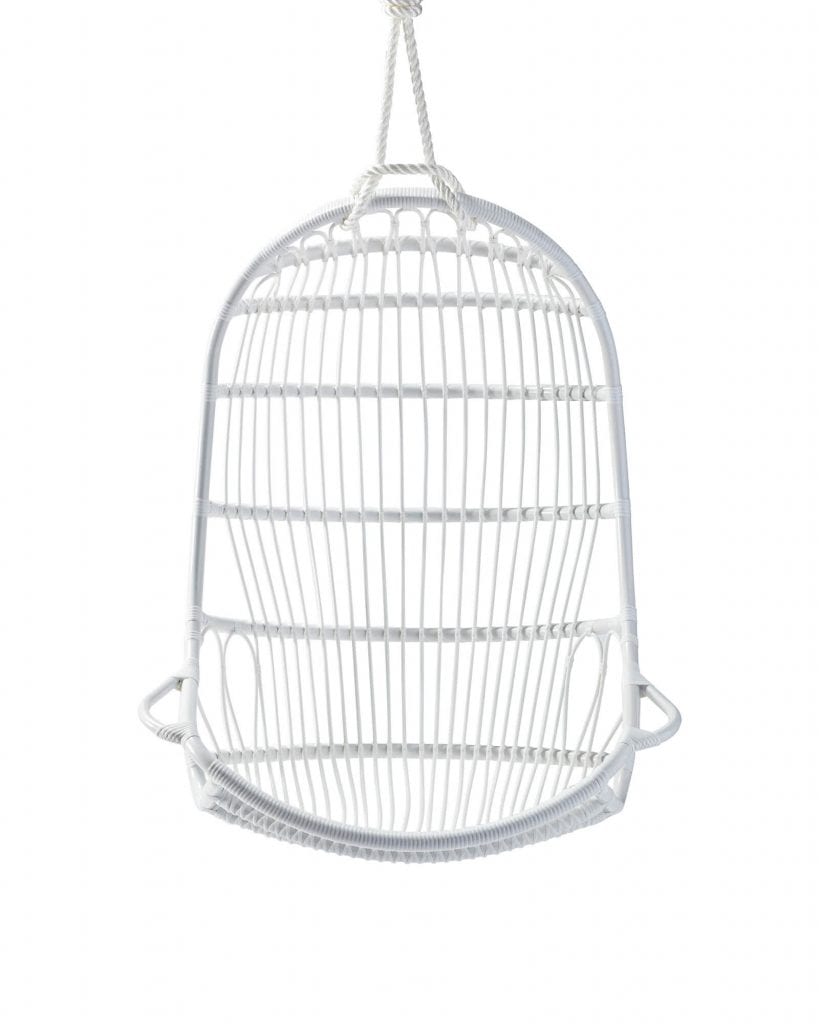 I own this chair and absolutely love it! We have had this chair outdoors on our patio for about two summers now, and it looks amazing! It's comfortable, a perfect place to hang out in, and it adds such a fun look to my outdoor patio!
If you're looking for an outdoor hanging chair, this is the one! Seriously, I love this chair, and you will too! It's crazy because there are so many types of hanging rattan chairs that it's difficult to choose one, but this is one of a kind, and it will last for many seasons!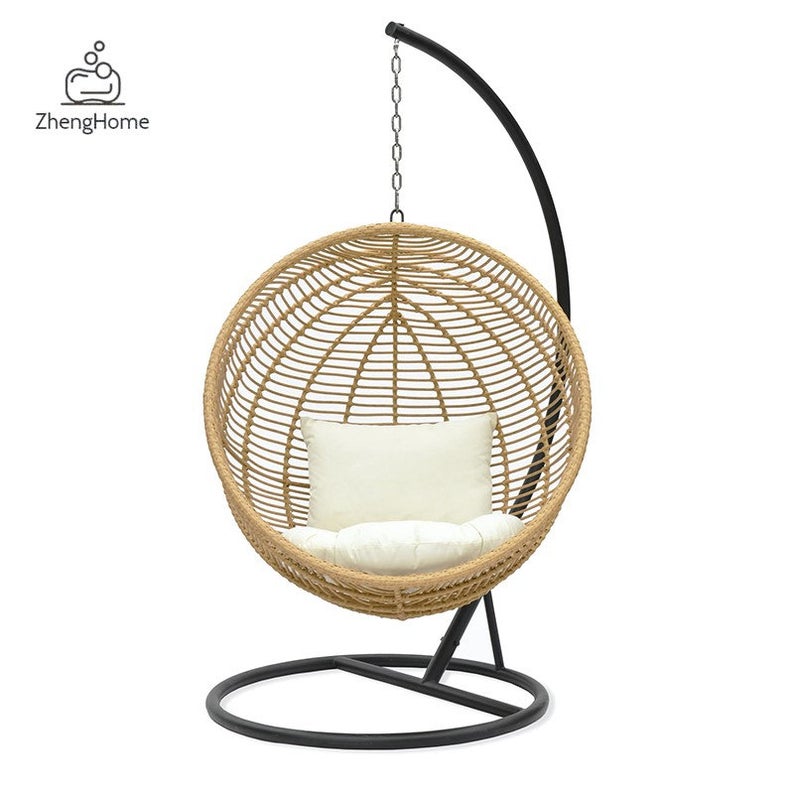 This is a wonderful piece of decor when you want a hanging chair! It's simple because of its design, colors, and overall this hanging chair is great to relax in, take a nap in or hang out and read a book in!
This chair is not only comfortable, but it's a gorgeous piece of wicker home decor when it comes to decorating the house. The simple color and lovely design make for a wonderful chair!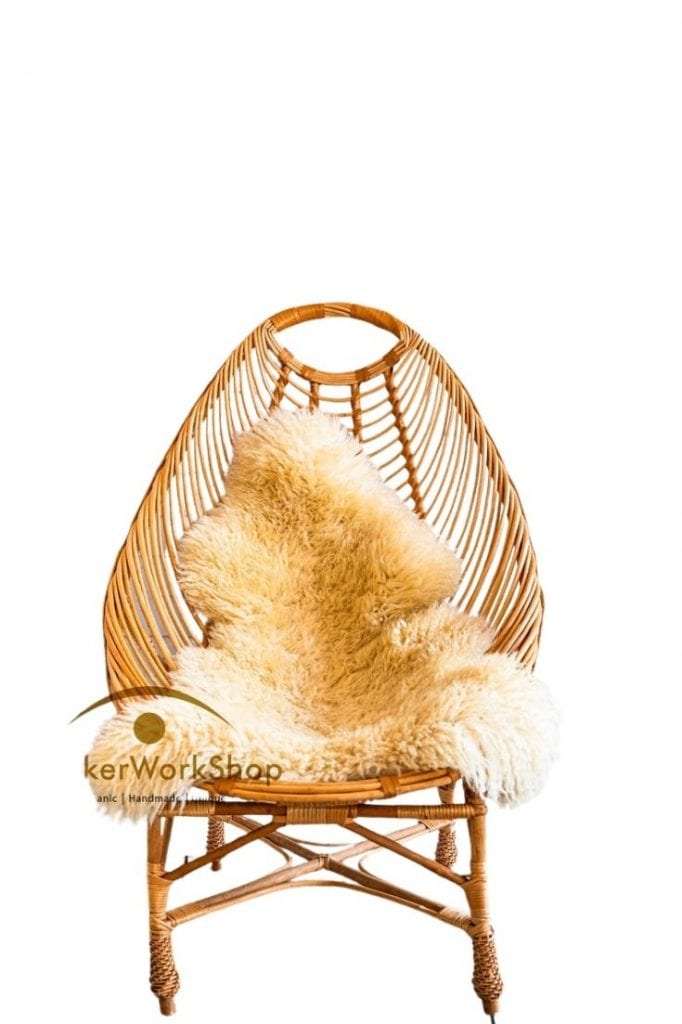 This wicker chair is a stunning piece of decor and is beautifully made with love and care. And I would definitely recommend this chair because of its comfort, design, and simple color to match your existing decor!
Add a blanket, throw, pillow, cushion. You name it! Styling this chair will be no problem at all and will definitely bring a pop to your home, whether it's inside or outdoors!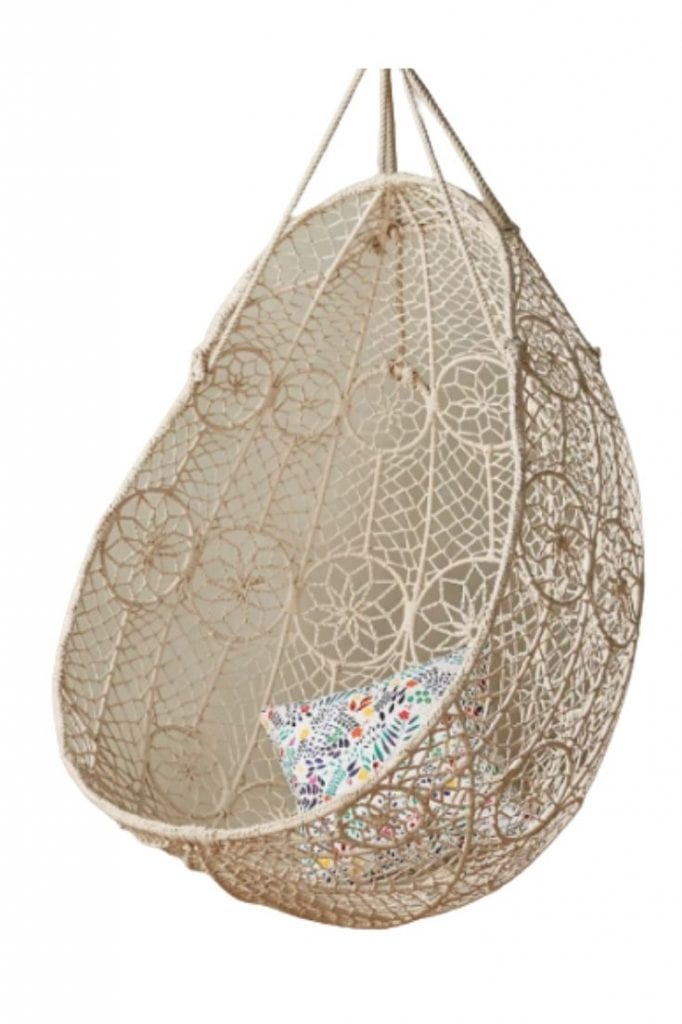 Sling this pod of neutral-hued macrame for a creative living room seat that feels just as serene as it looks! This chair is a beautiful pick of home decor and will definitely make your space light up! Because of the lovely knotted design, this chair is one of a kind.
When choosing from a collection of hanging rattan chairs, you want one that is different, unique, durable, yet comfortable. This knotted hanging chair is the one for you! It matches all of those descriptions and more, so check it out!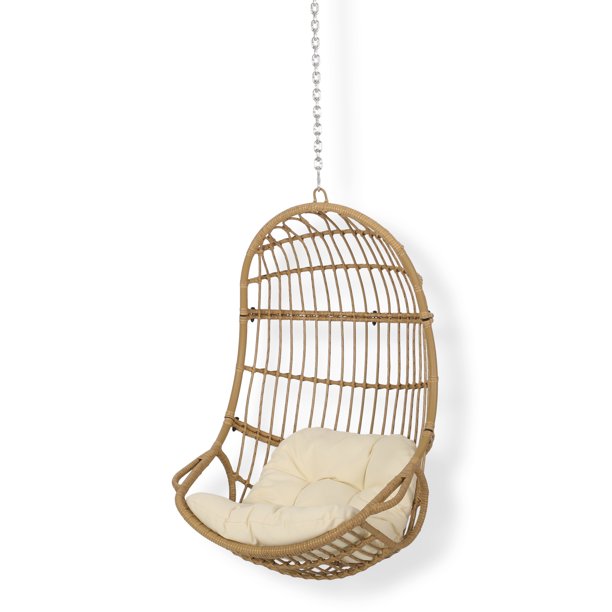 This light brown/beige hanging chair is so beautiful and will look amazing in any space within your home, whether it's the living room or patio! Add some cushions, pillows, throws to add a little bit of YOU!
When wanting a spot to take some time to unwind, this hanging chair will help you do just that! This chair should be your first choice because of its comfort, durability, style, and simplicity!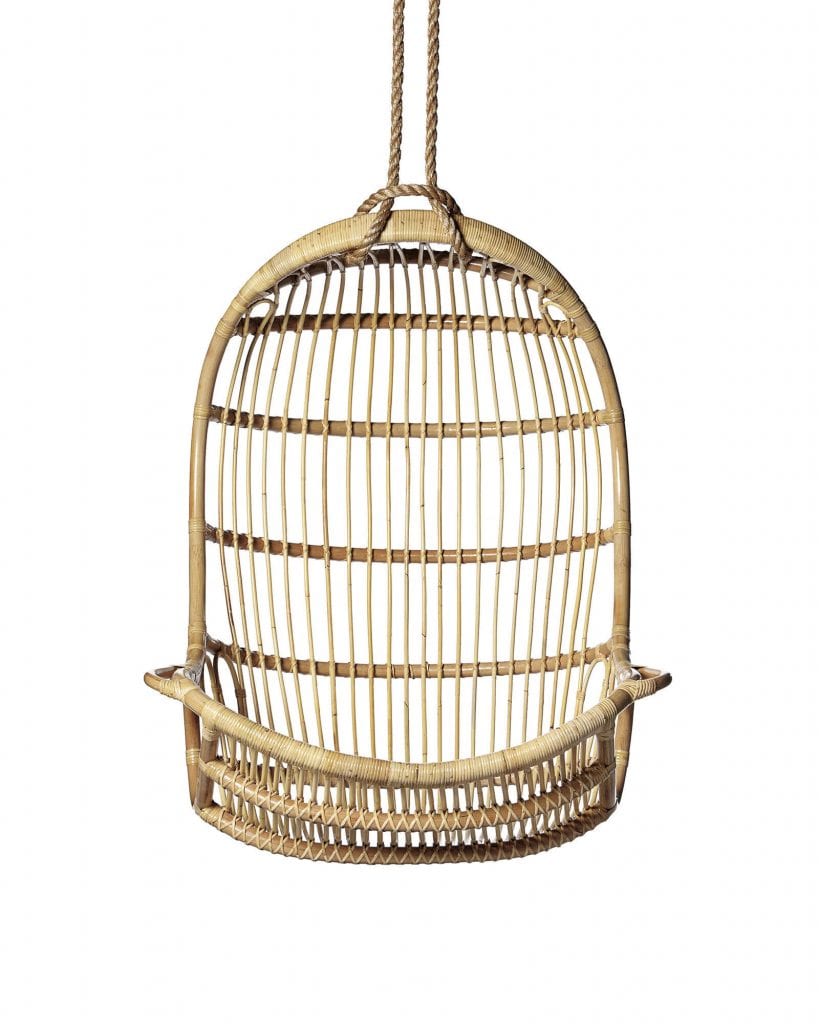 Meet the natural crowd-pleaser. This iconic design from Serena & Lily features a sculptural frame with hand-bent rattan and a scooped seat that cradles you as you float. Picture it adding a bit of fun to the living room or the library. Then, add pillows for a pop of color and sink in comfort!
This is a great choice of a chair for decorating your home with bigger pieces of furniture like this! When wanting a simple, stylish look, this chair is for you. But seriously, I have the outdoor hanging chair, and it gets the job done! I spend hours sitting in that chair and never get tired of it! Check out this chair to hang out inside in style!
---
We love our Serena & Lily hanging rattan chairs! It surprised us how fun it is to sit in a swinging chair. Of course, it is a luxury, but it adds so much to our outdoor living space.
Thanks for joining us for today's Boutique of the Week!
Cheers,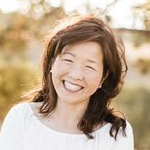 Latest posts by Janine Waite
(see all)