Summer is here and it's time to hang outside with family and friends! If you've been wanting to change up your outdoor summer decor, here are some decor ideas from Etsy to spice up your outdoor oasis!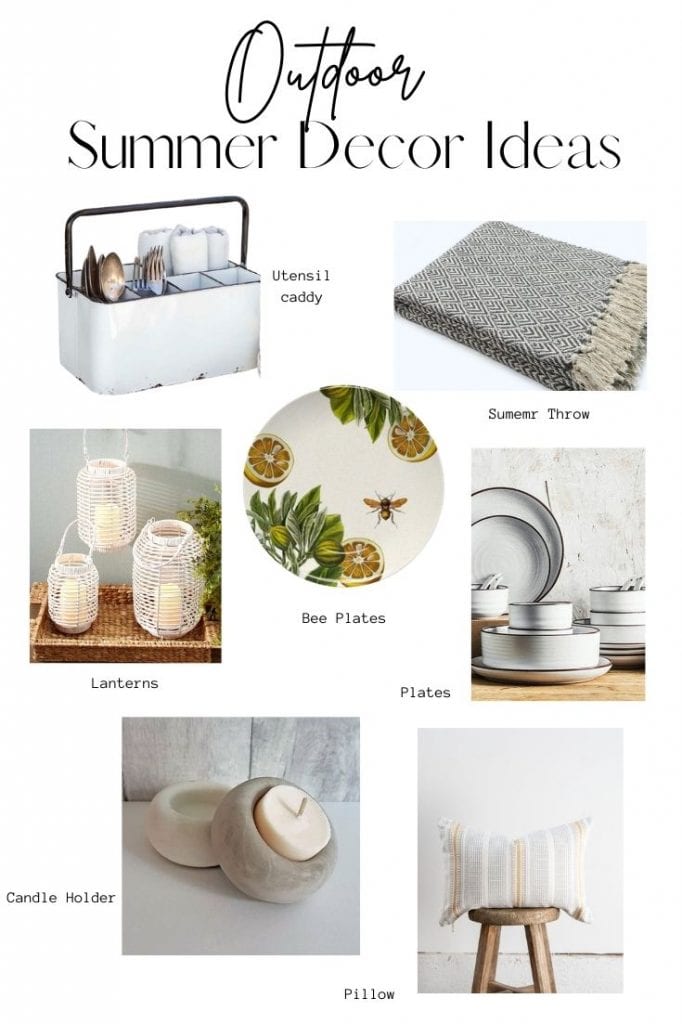 I have always enjoyed decorating my home, especially the backyard patio, so if you're like me this post is the one for you! Feel free to check out some stunning, simple, and stylish pieces of furniture!
Check out these outdoor summer decor pieces to incorporate some stylish decorations into your yard to give it a unique look no one else on the block will have.
Regardless of your style, there is something for everyone here! So come on, stay a while and keep scrolling to find the perfect picks of summer decor!
If you love this Boutique of The Week, then check out my other Boutique of the Week blog posts! Enjoy!
Outdoor Summer Decor Ideas
*This post contains affiliate links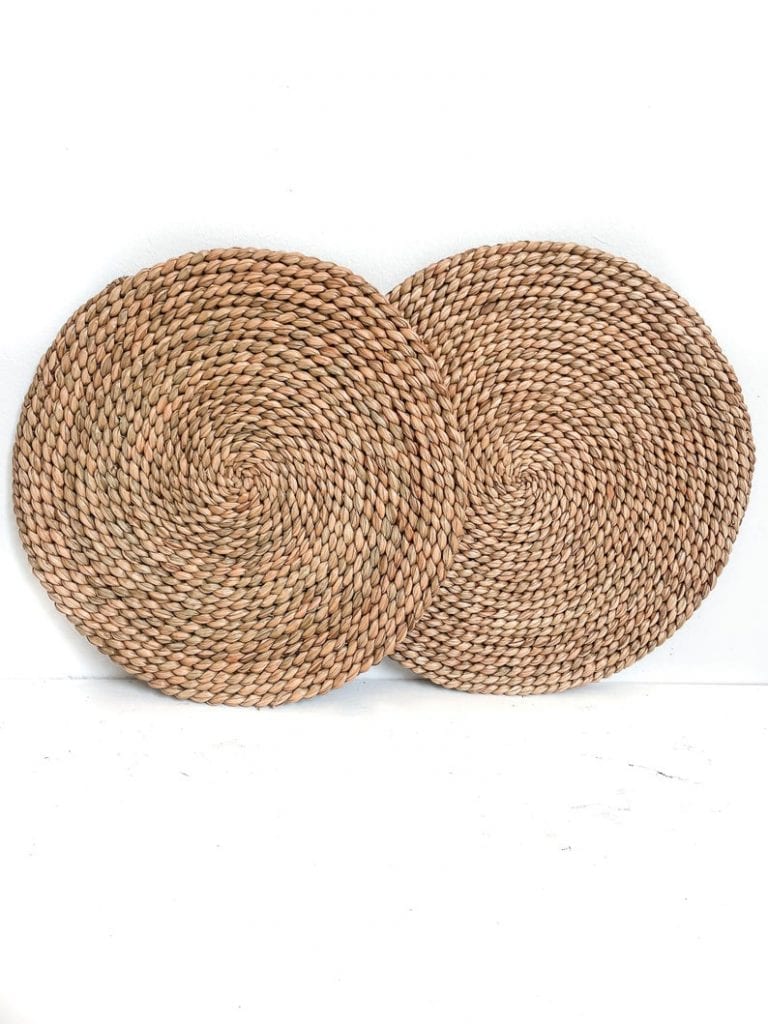 These beautifully crafted placemats are woven together by weavers in Zambia using sustainably and locally sourced materials that are perfect for outdoor summer decor!
If you've been looking for a simple placemat that will change up your table decor, these are an amazing choice! They will add a natural warm ambience to your table setting unlike any other placemat.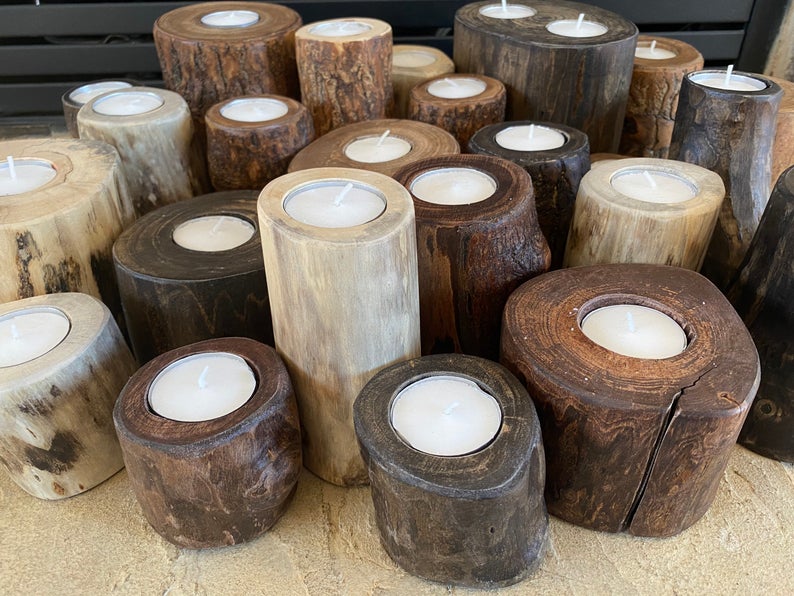 I have always loved the charm and warmth of our one-of-a-kind rustic live edge tea light candle holders made from fallen branches. They are simple enough for a decor piece but stunning enough to make a statement during dinner!
There is a variety of candles to choose from ranging from color, shape and size! No two candles are the same – colors, cracks, knots, bark and measurements vary from one candle to the next.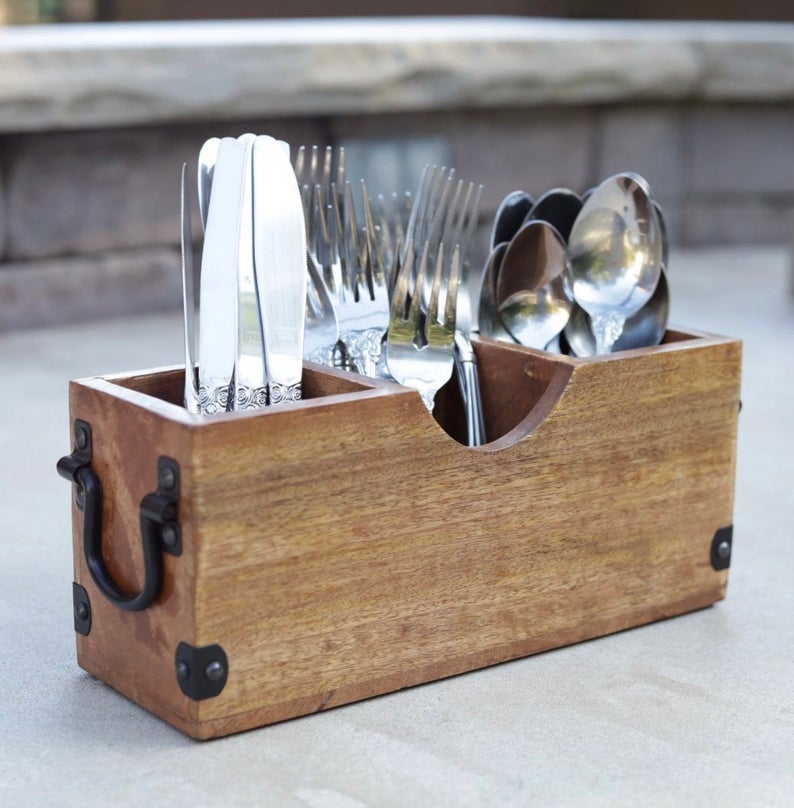 This utensil holder is actually handcrafted from an eco-sustainable mango wood! Given the wood's strength and density, this flatware holder is made to last for the many years to come! Solid large Metal handles to move the caddy easily and metal brackets for extra strength.
This is also handmade and designed with love. This caddy to be as multipurpose as possible. You can use all of its 3 compartments as you please or according to your needs!
You can place inside forks, spoons, knives, chopsticks, salt and pepper shakers, toothpicks, napkins, and any sauce that you like. All in all, this is a great choice of outdoor summer decor when it comes to wanting to decorate the patio!
This lantern will instantly add interest to any room, and even your backyard! This rustic wooden lantern is clear glass, so you can enjoy your lantern indoors or outdoors. You can also easily hang lantern on a wall sconce hook or outdoors on a shepherds hook. You can also add your favorite aromatherapy candle to create a romantic and relaxing spa setting! The possibilities are endless with this outdoor summer decor idea!
Not only is this a wonderful piece of furniture for the patio, but you can easily upgrade a room and make it look larger by adding light fixtures or a lamp! Candle holders are a great way to make any room feel more intimate.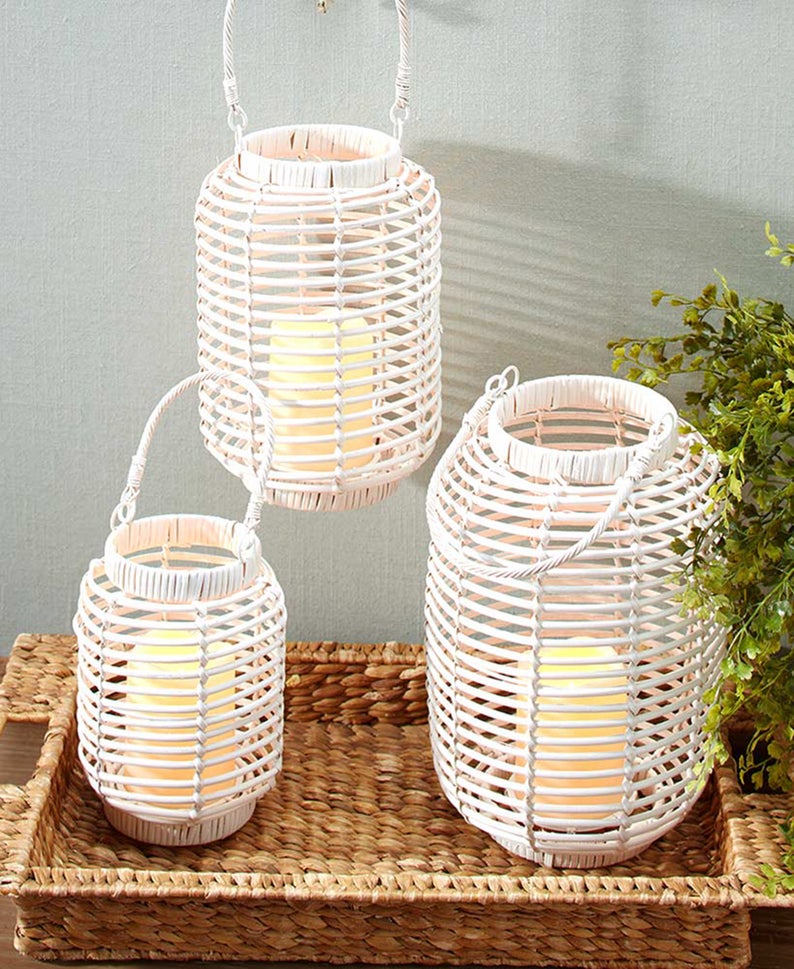 Enjoy the warm glow of candlelight without the danger of fire with this Wicker LED Candle Lantern. It's a simple yet stunning choice of outdoor summer decor!
The lantern can be displayed indoors or outdoors on a covered porch and will definitely make a statement! Not only is this lantern a perfect choice but it is also available in 3 sizes, each comes with an LED candle, and two colors such as brown and white!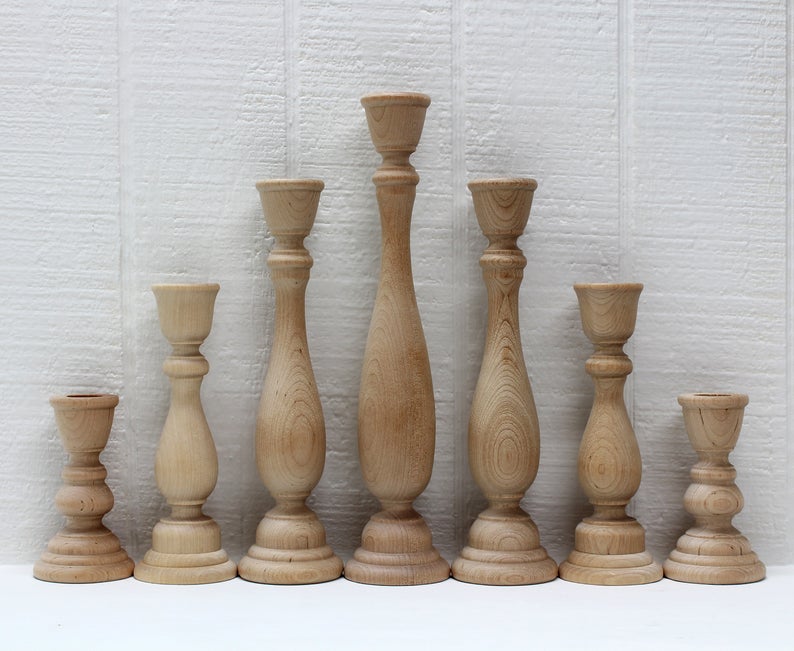 These unfinished wooden candle holders are so beautiful when it comes to wanting some light in your backyard, whether it's during dinner or hanging out with friends and family!
There is a variety of different sizes to choose from, so you can have fun with mixing up your outdoor summer decor!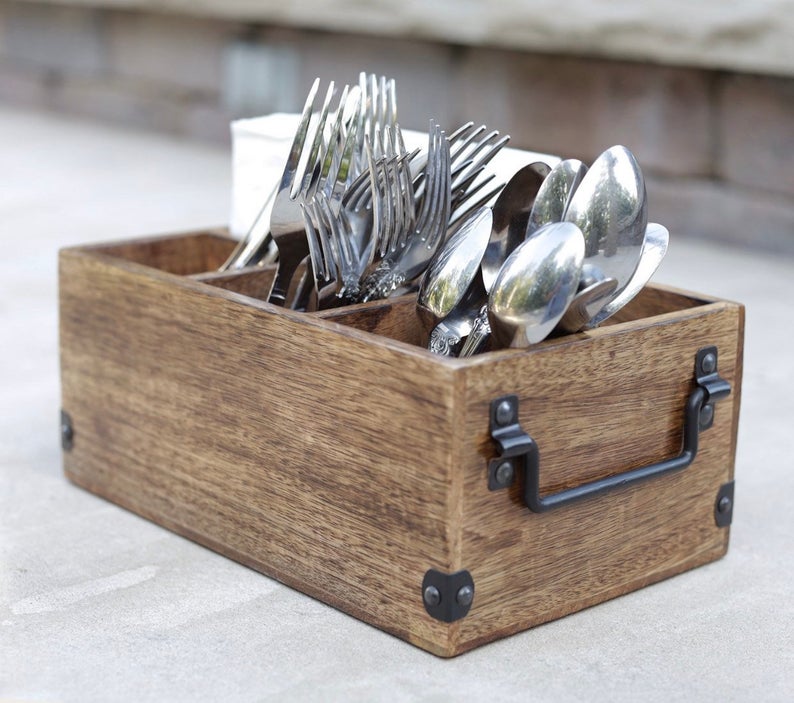 This utensil holder is actually handcrafted from eco-sustainable mango wood! Not only is this holder eco-friendly, but it is also durable, so it will look amazing for many years to come!
This is also handmade and designed with love. This caddy to be as multipurpose as possible. You can use all of its 3 compartments as you please or according to your needs!
You can place inside forks, spoons, knives, chopsticks, salt and pepper shakers, toothpicks, napkins, and any sauce that you like. All in all, this is a great choice of outdoor summer decor when it comes to wanting to decorate the patio!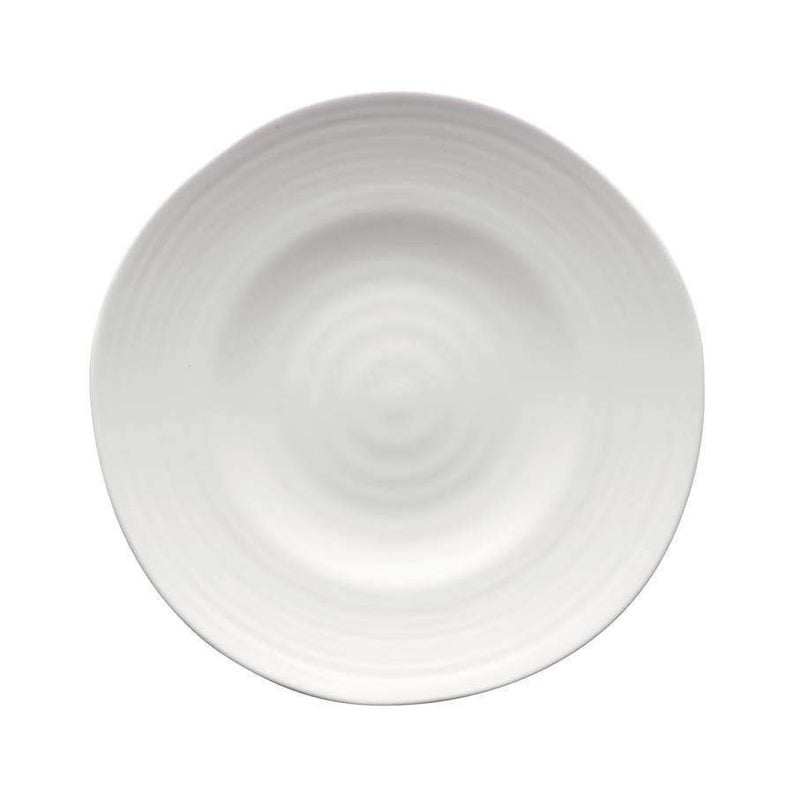 This gorgeous gourmet round dish is the perfect plate. But seriously, it is! It's simple yet unique when wanting to add a touch of white to your table decor!
If you've been wanting a more simple look for your patio table decor, check out these rounded plates to make a simple yet stunning statement!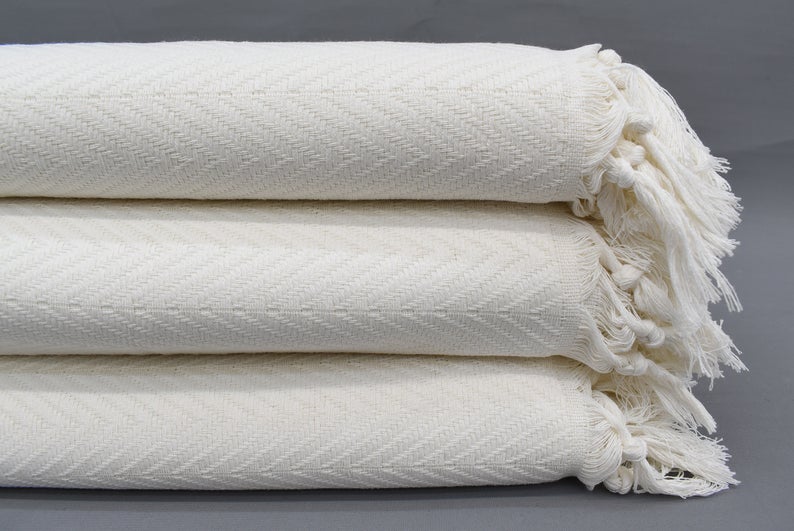 This lovely white blanket is light weight, airy, and great quality! Meaning this beautiful throw will last for many years to come when wanting to snuggle up during the summer nights!
It's also a perfect touch of simplicity when decorating your patio with simple furniture! I mean who doesn't love a soft, durable, and elegant blanket? I sure do and would give this blanket a 10/10!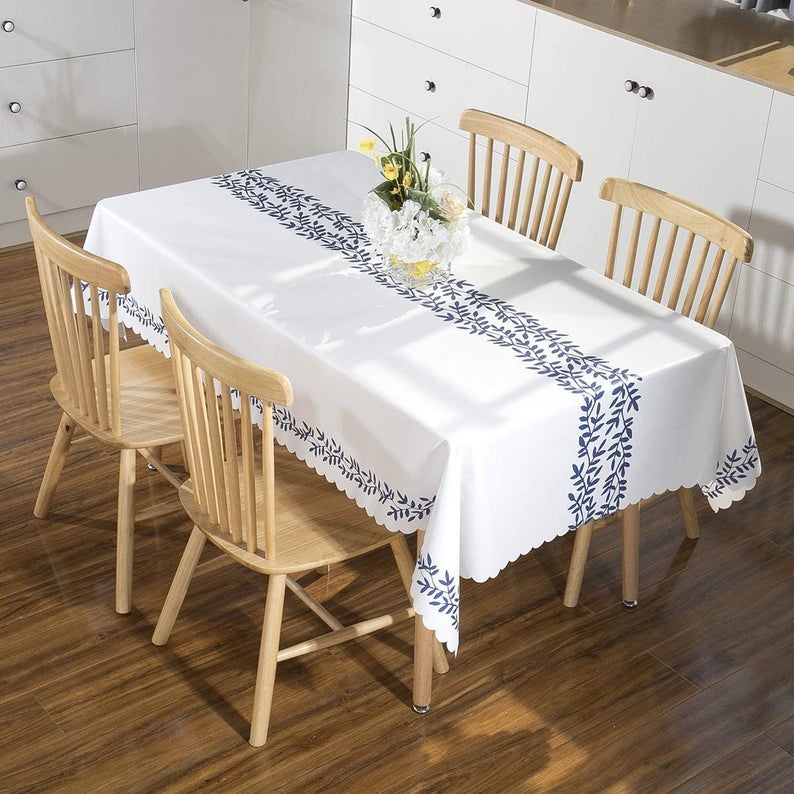 This tablecloth features premium Vinyl material its unique tassel design, elegant confine edges, and flawless construction makes it not only a tablecloth but also attractive home equipment!
This wipeable tablecloth is actually made out of high-quality Vinyl PVC quality thick build meaning it won't be easily removed from the tabletop. And its water and oil resistance allows it to have a longer life, making your daily life and parties more frequently add more vibrancy even to outdoor dining!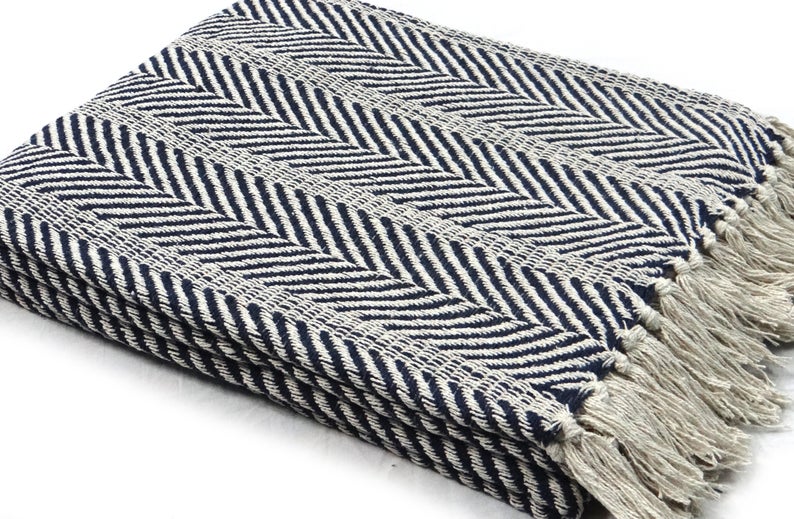 This cotton blanket is a perfect choice when it comes to outdoor summer decor because even though it's summer, it still tends to get cold at nights, and having a throw to be able to snuggle with makes a big difference!
I believe when decorating your outdoor oasis, you need a design or two whether it's a pillow, blanket or tablecloth. So, here is another reason why this cotton throw is a perfect outdoor summer decor idea because it's has a lovely print!
This gorgeous glass pitcher is one of a kind. Literally. Each pitcher is unique and a perfect piece of decor when it comes to serving some ice cold lemonade or alcoholic beverages when spending time with loved ones!
Having unique glassware can make all the difference when it comes to spicing up your table decor and purchasing a new glass pitcher is the first step!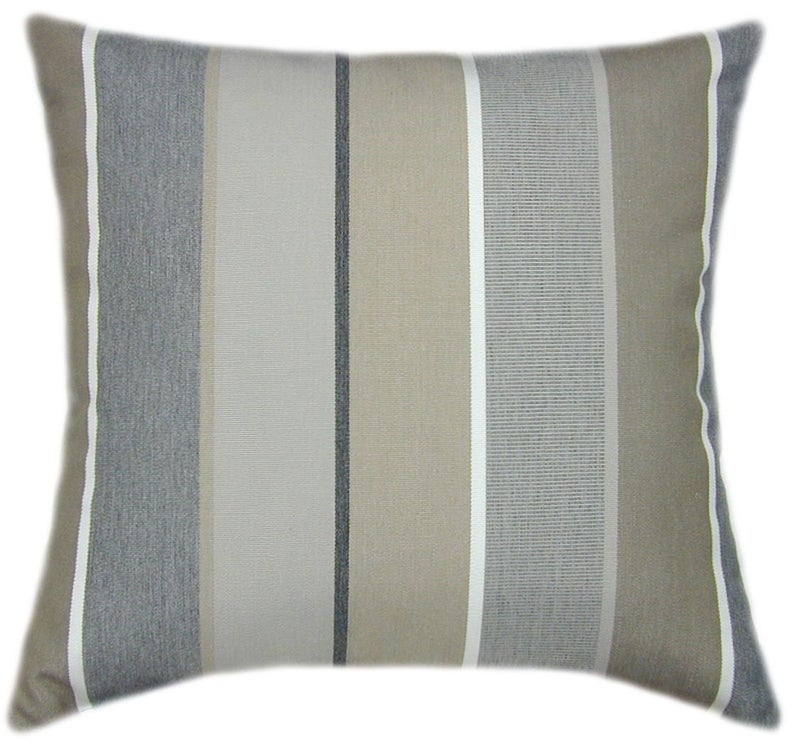 This outdoor pillow is UV rated, meaning it's durable to be in the sun and is also perfect for spills and unexpected weather! When choosing a pillow, Subrella pillows are the best type you're going to get! They are some of my favorite and I definitely recommend getting one!
Not only is this such a great pillow but there is also a variety of shapes and sizes to choose from when it comes to mixing up your outdoor summer decor!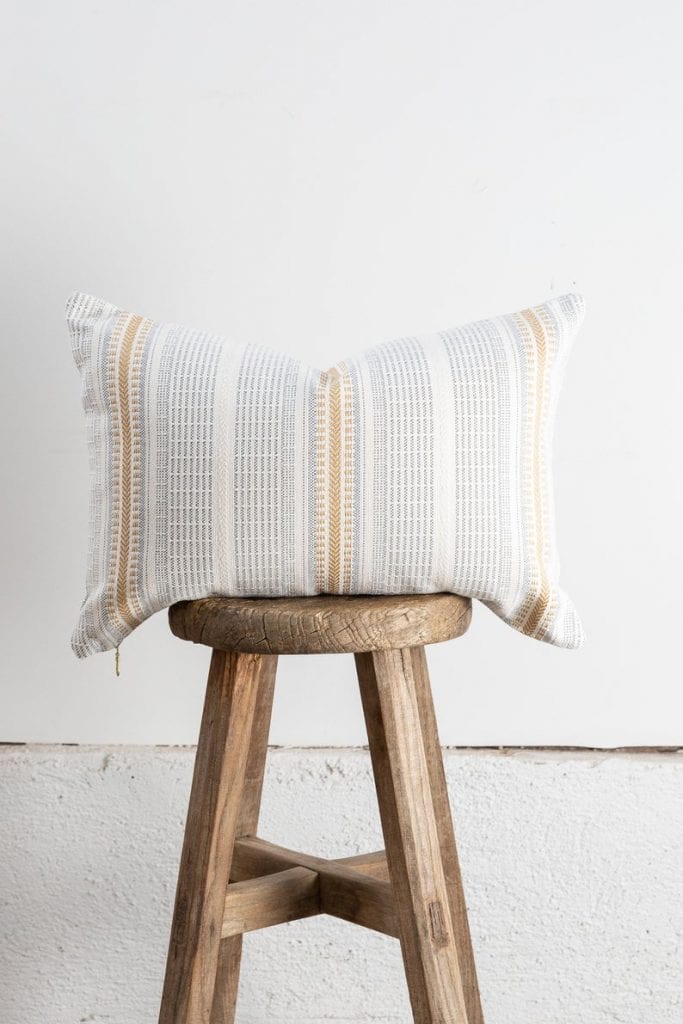 This fun pillow is made of a durable indoor/outdoor designer fabric, meaning it will last forever! This pillow also features a cream background with muted yellow and light blue/grey stripes to add some simple color to your patio decor!
This pillow is made out of 98% olefin, 2% polyester and has some advantages such as its strength, colors, comfort, along with its resistance to staining, mildew, abrasion & sunlight!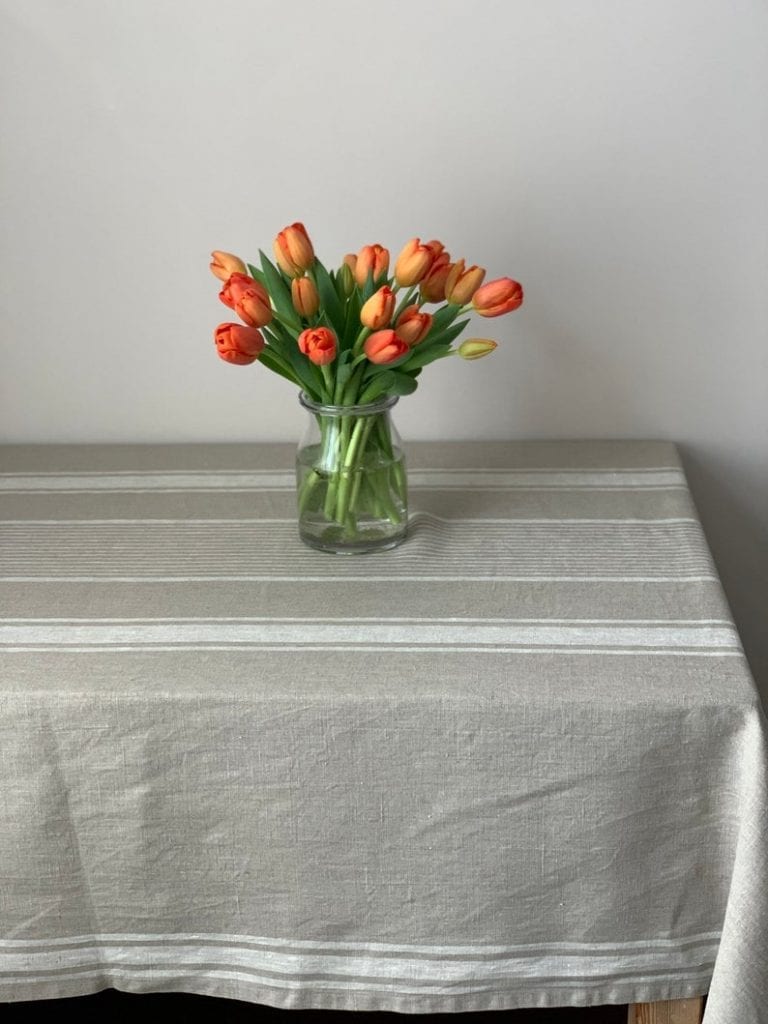 This linen tablecloth is so lovely when it comes to wanting a simple look for the backyard patio. Its adorable rustic texture that is at the same time incredibly soft and pleasant both to eye as well as touch will definitely help make a change when decorating!
This ecofriendly and classy linen tablecloth will set the right mood in your home for your every day as well as special occasions!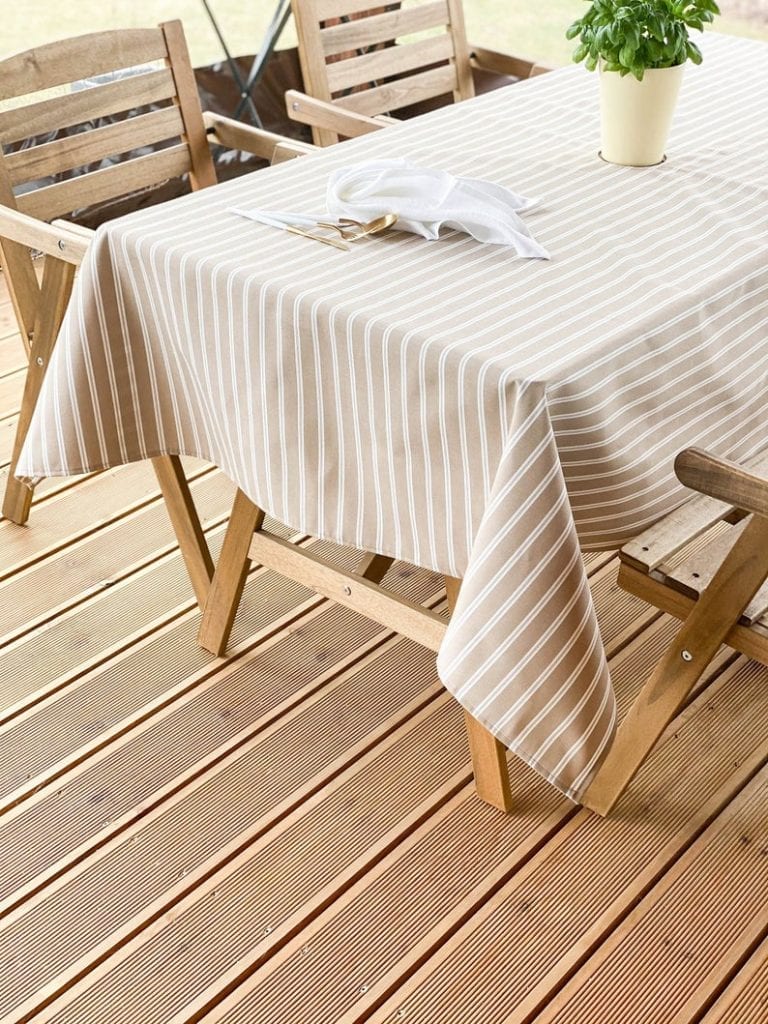 This striped outdoor tablecloth is good looking, easy to take care of tablecloth, and is also waterproof meaning the tablecloth is covered with fluid resistant coating, which holds up after washing! This technology saves the cotton look of the fabric so it will keep the color and durability for many years to come!
This is a perfect choice of outdoor summer decor because it's always nice to switch up the tablecloth when months pass through the year and different holidays are being celebrated!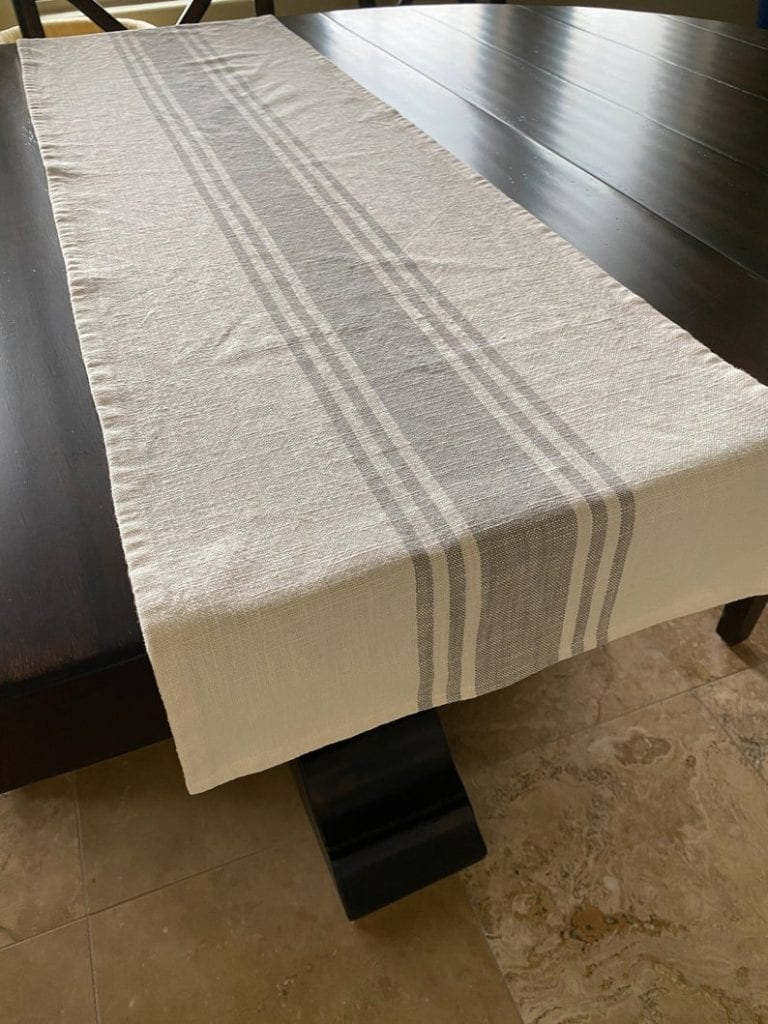 These table runners are actually reminiscent of French grain sacks to create a simple, farmhouse appeal to your decor! The stripes in this fabric are woven in, not printed or painted on the surface along with some slight nubby imperfections and wrinkles which are the nature of the material.
Made from a soft and nubby textured, medium weight 100% cotton that was washed and dried prior to the making of this runner, this helps give you a clean and fresh tablecloth that is ready to set and styled!
Add that farmhouse appeal to your outdoor dining table with these pretty runners!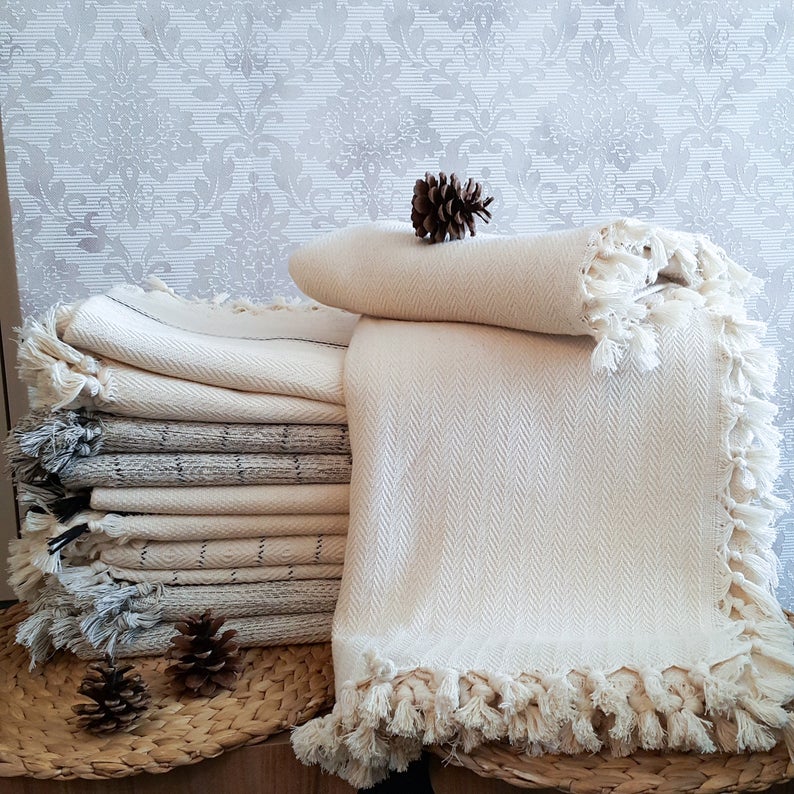 These boho styled blankets have many advantages to them when it comes to choosing a nice throw or blanket to have in the backyard. Some of those advantages are, these are decorate, cozy, eco-friendly, free of chemicals, easy to carry, takes up little space and soft to the touch when snuggling with!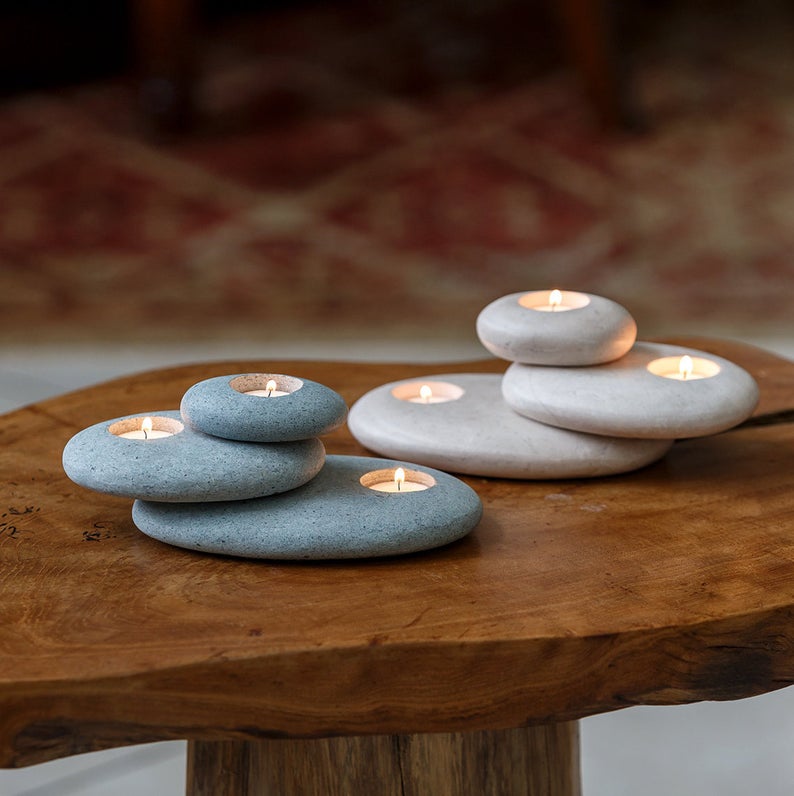 Beautiful stacked river rocks, which happen to be hand carved by Indonesian artisans making a beautiful center piece to your outside dining room or table top!
These light holders illuminate your favorite space, while sharing your appreciation of nature's pristine creations. This piece of outdoor summer decor is ideal for modern homes with aesthetic surroundings inspired by ancient Japan but universally appreciated by men & women alike!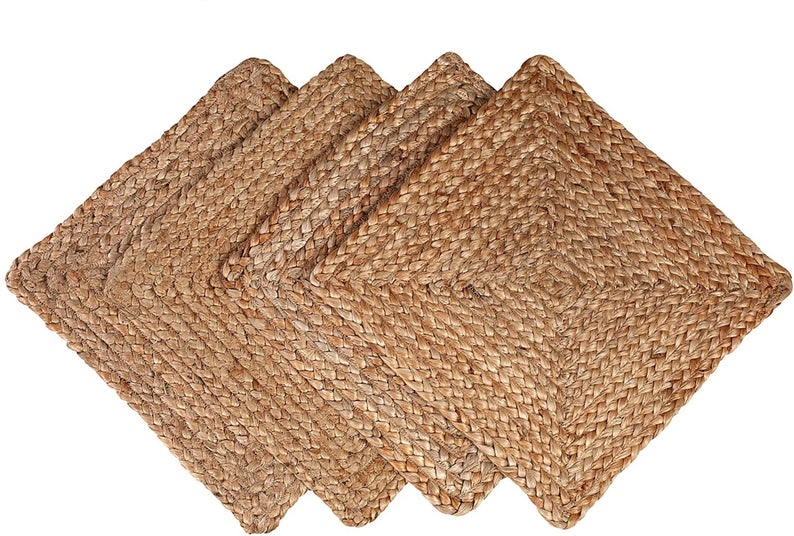 These square placemats are fun and unique when it comes to choosing different table decor! Plus, if you're wanting a rustic, farmhouse look, these placemats are for you!
I think switching placemats helps a lot when re-decorating or decorating your outdoor patio for the first time, because it's also nice to be able to have fun with something as simple as a placemat!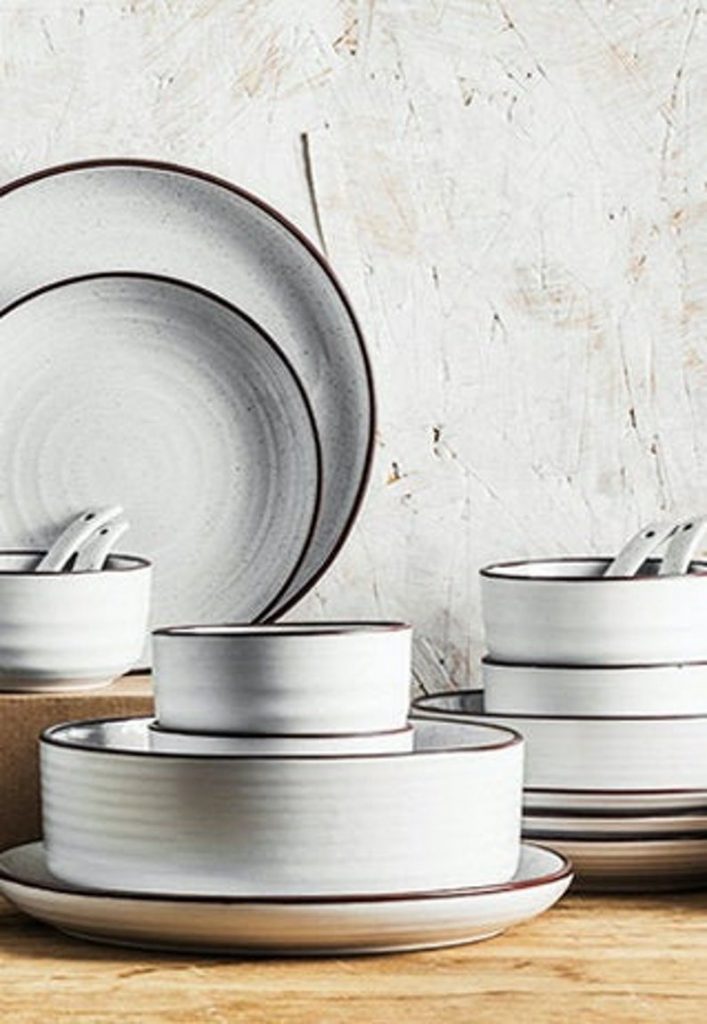 Speckled Glazed Ceramic Plates
These hand-finished speckled glazed plates evoke a rustic mid-century aesthetic that is both timeless and modern. They have very slightly grooved concentric rings and a glazed dark copper colored rim!
There are two options for the bottom of the bowls – either Black or White. Available in two different sizes, the Salad Plate and Dinner Plate these plates are durable and elegant.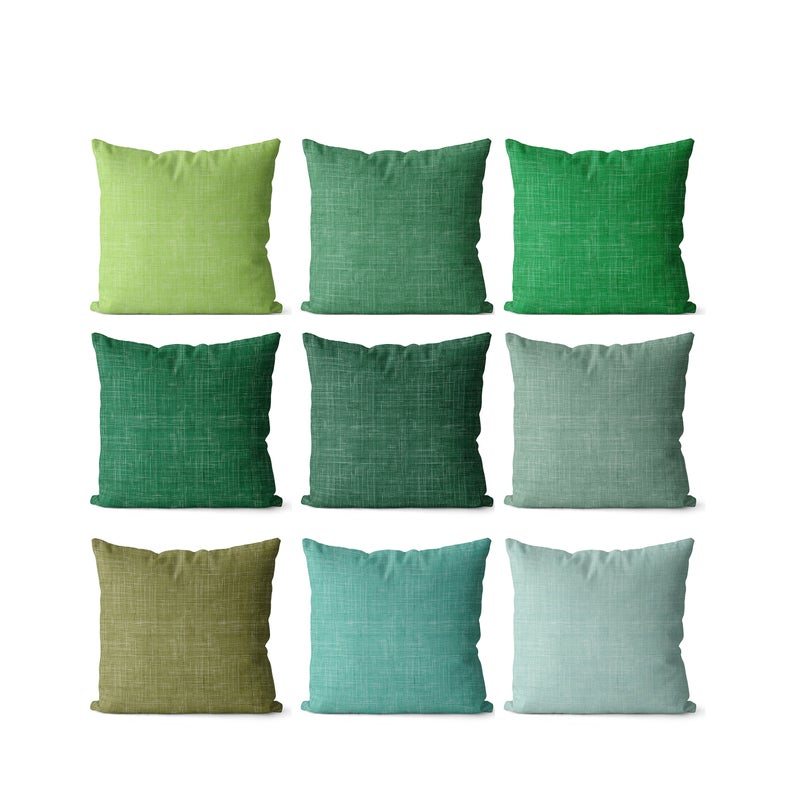 Mix and match with these shades of green pillow covers! And make a statement with these solid colors without the pattern!
Simply choose a style along with a size and wallah! It's that easy to pick your perfect pillow for an outdoor summer decor idea! When it comes to decorating you can add this pillow to a grouping of pillows or add a single pillow to a chair!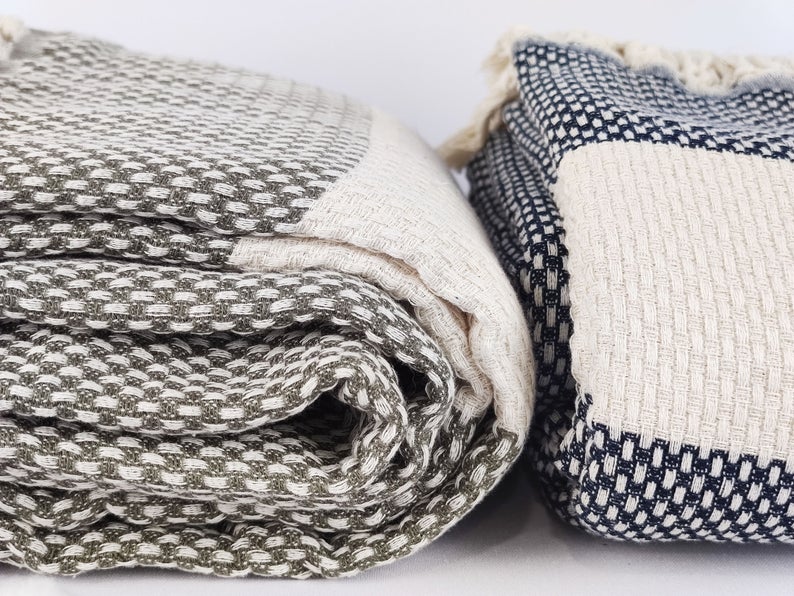 These blankets are exactly what the title says, they are indeed super soft blankets! And will make such a great addition to your outdoor decor for these summer nights! When wanting a pattern or change of style, check out these cotton blankets to spice up your decor a bit!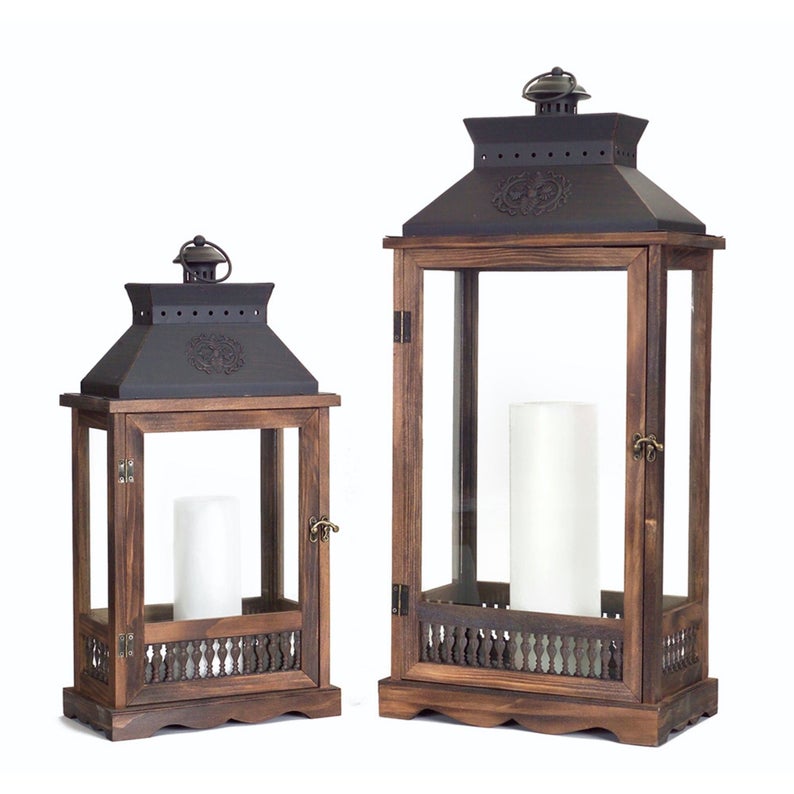 This farmhouse rustic candle lantern set of 2 is perfect for adding an everyday beautiful accent to your home decor! These lanterns feature glass side panels, and a distressed metal top. Perfect for LED candles to be displayed inside or on a covered patio! Makes a gorgeous statement piece for a family gathering or special occasion!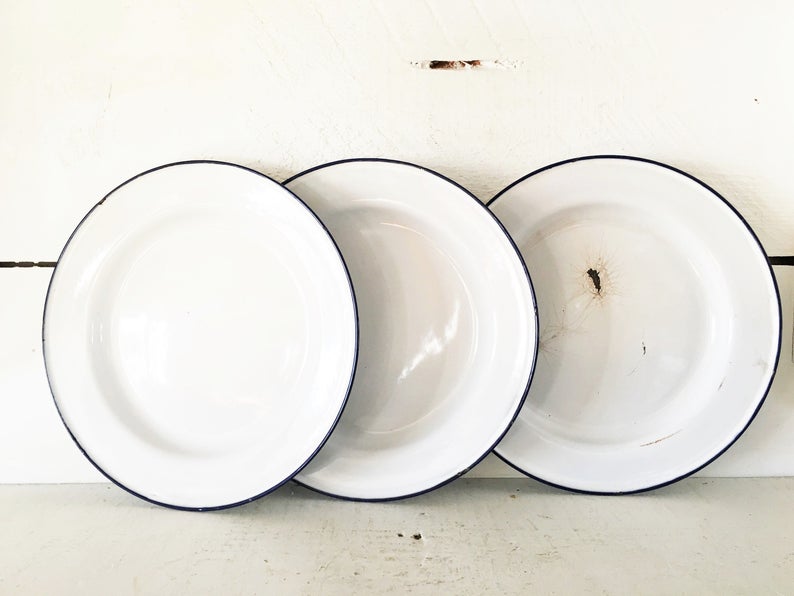 If you're wanting some farmhouse table decor, these plates fit the description! They are rustic, vintage and will look so lovely when decorating your patio dining table!
This set of 3 is an old set, but that makes a wonderful addition to the whole farmhouse look and will look amazing when enjoying meals with friends and family!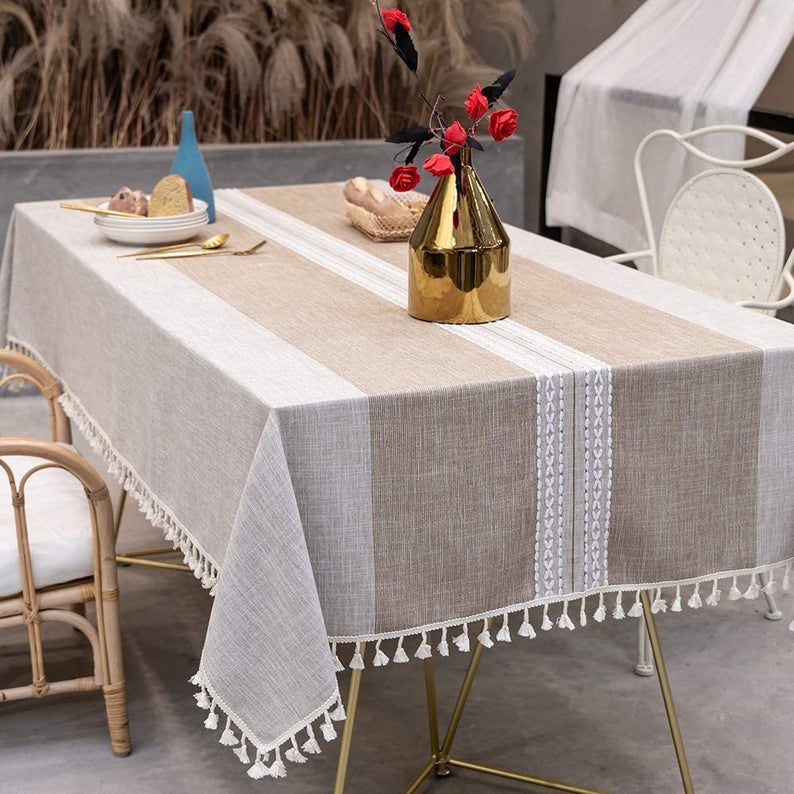 This tablecloth is made from a natural, eco-friendly cotton and linen blend with a dense textile texture and a thick, soft fabric that won't wear out even after long-term use!
This is also made out of the comfort of cotton and the firming of hemp with the perfect proportion, which is wrinkle-free and shrink-proof!
This rectangle tablecloth is suitable for the backyard patio! It is the perfect match for any indoor and outdoor dining venue as well! Add a delicate tablecloth to the table to make the family enjoy a more pleasant meal in an elegant environment and make life better!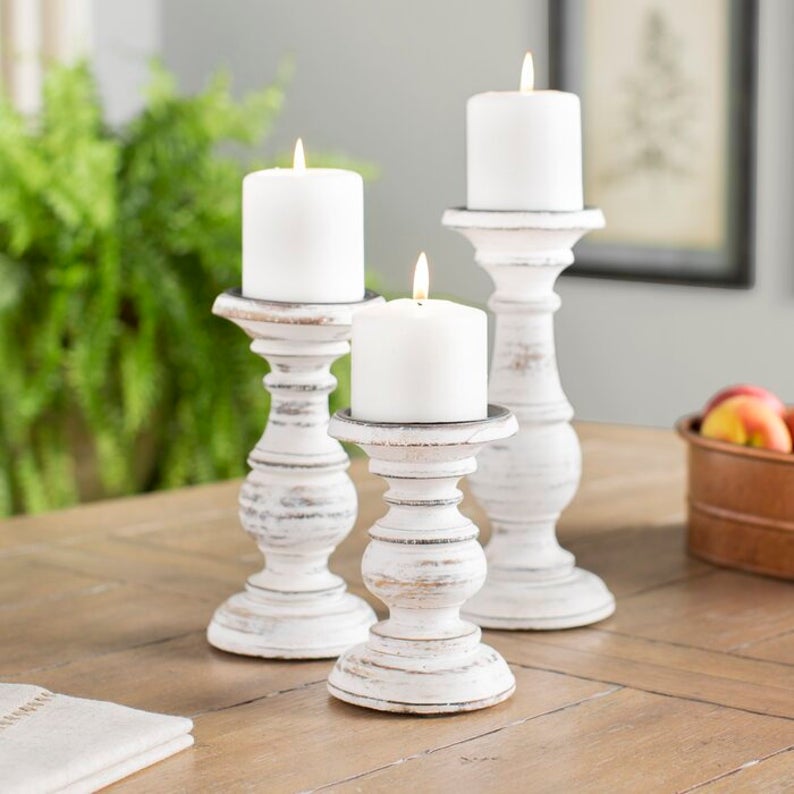 Rustic Wooden Candle Holder Set
Awaken your inner farmhouse vibes with this glam set of three wooden candlestick holders! This fabulous candle holders come in three different sizes and are constructed from pure mango wood, making them extra durable and can last for a long time!
Their exterior design showcases pawn-shaped stands in distressed black wooden finish. Ideal as decorative candle holders for great outdoor summer decor pieces and can be used for fancy occasions!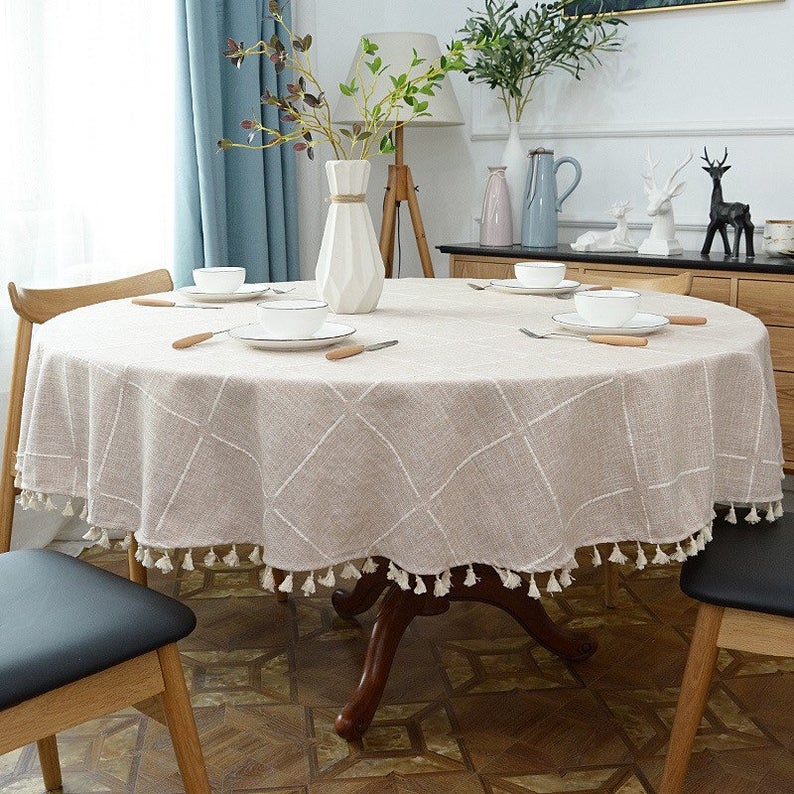 This round tablecloth is a perfect choice of decor when it comes to wanting to switch up your style! This has a simple design along with lovely Mediterranean styled tassels at the bottom to add a pop of fun to your dining table!
When decorating with more neutral colors, this tablecloth is great because of the color, simple design and pattern that will make a statement no matter what!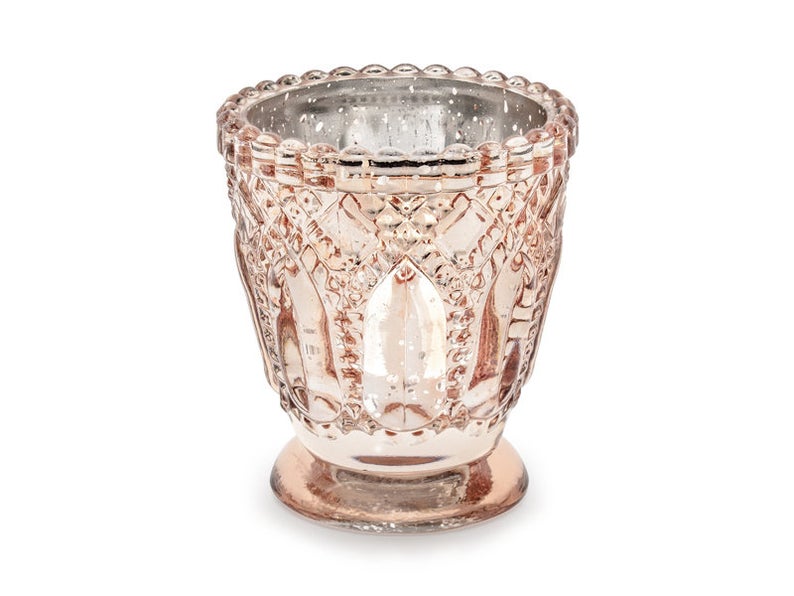 This rose gold antique effect frosted glass tea light holder will be perfect on the table for your special day! The tea light holders create a dreamy atmosphere for your desired romantic, elegant setting. These will be loved by your guests glowing throughout the evening and into the night!
Place a tea light in the middle of the tea light holder, for it to come to life and to get the ultimate lighting for your special day. The details of the frosted glass finish and rustic look will be a flawless feature to your table arrangement!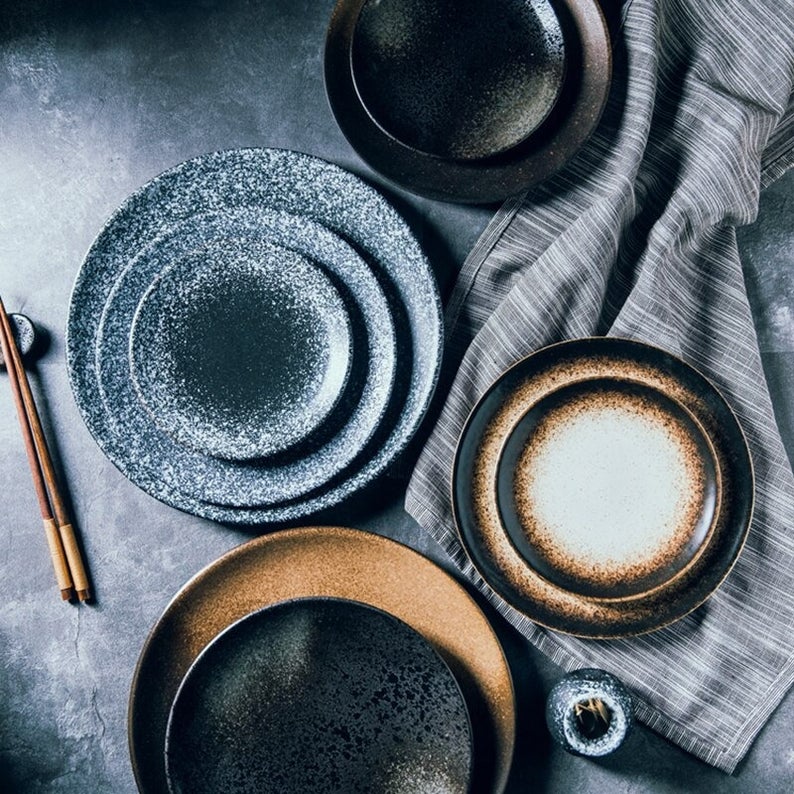 Restaurant Quality Ceramic Plates
These plates have been expertly designed and manufactured from the best quality ceramic and tastefully hand painted to give an authentic Asian style appearance!
What a great plate collection for impressing guests at dinner parties or for use for eating food at home! These plates would make a fantastic present for a friend, relative, Chef or someone who loves cooking at home as well!
Use this plate collection for its practical use or display as an ornament or focal piece or storage item as outdoor summer decor. This fantastic plate is available in 3 sizes and four wonderful colors to choose from!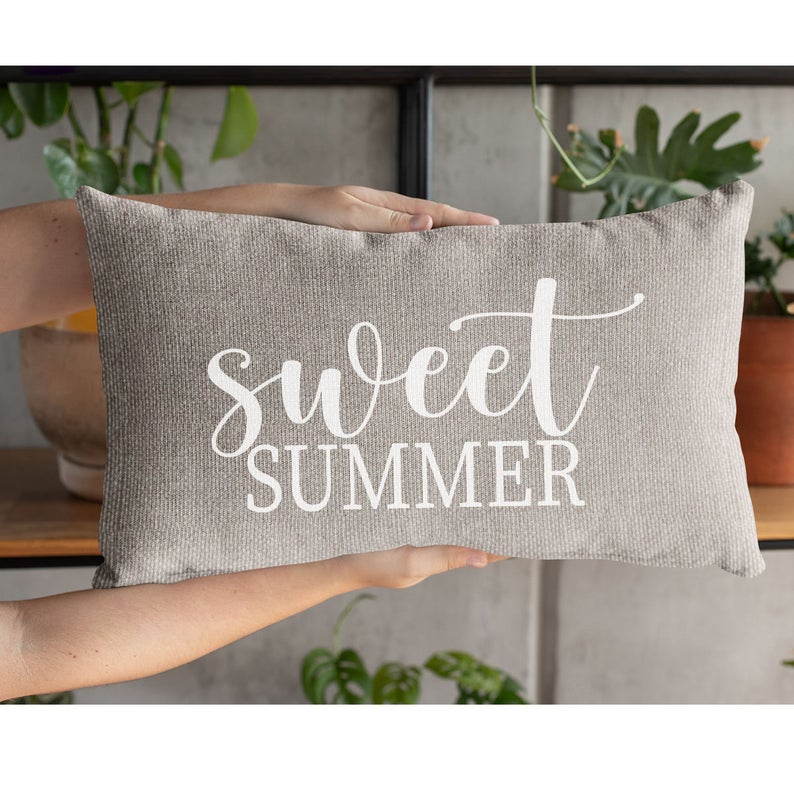 This pillow's shape is perfect for a decorative accent that highlights your unique design! The pillow is also made from moisture-wicking polyester that has a high-end linen feel to it.
When wanting a fun look to your backyard patio, try out a new pillow with an inspirational quote or a enjoyable saying to add an entertaining style to your outdoor oasis!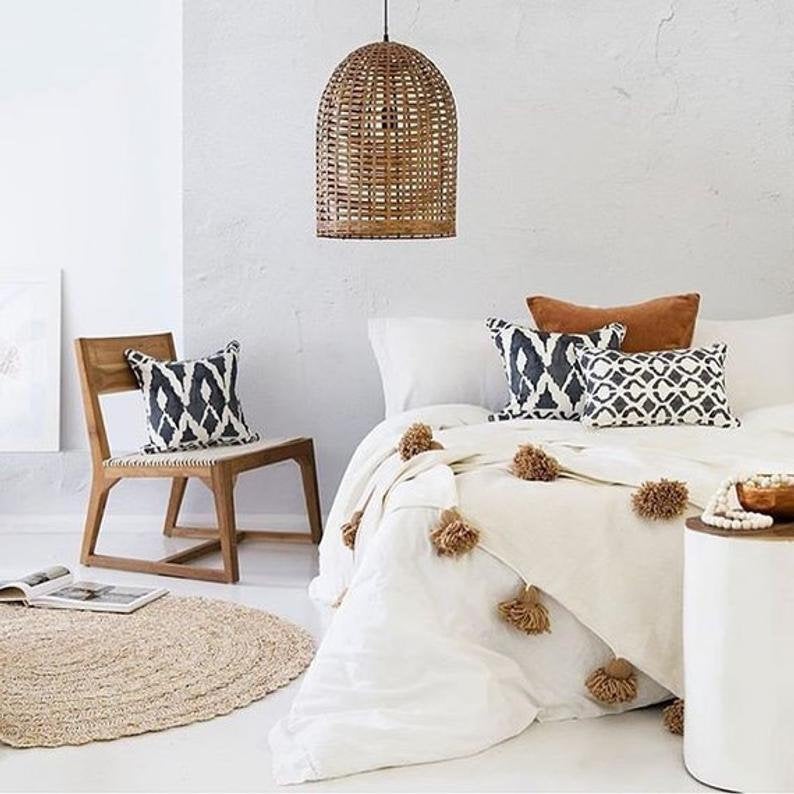 Give your outdoor patio a dash of style with our Moroccan pompom blankets, a beautiful Authentic Moroccan blanket that it is carefully hand loomed by our Highly skilled artisan who has both the creativity and the skills!
This warm,cozy and beautiful Moroccan Pom Pom blanket is acutally hand loomed in Marrakech on traditional wooden looms, from 100% cotton with pompoms on 2 sides. This pom pom blanket is beautiful choice for a throw or blanket waiting to be snuggled in during the cold summer evenings!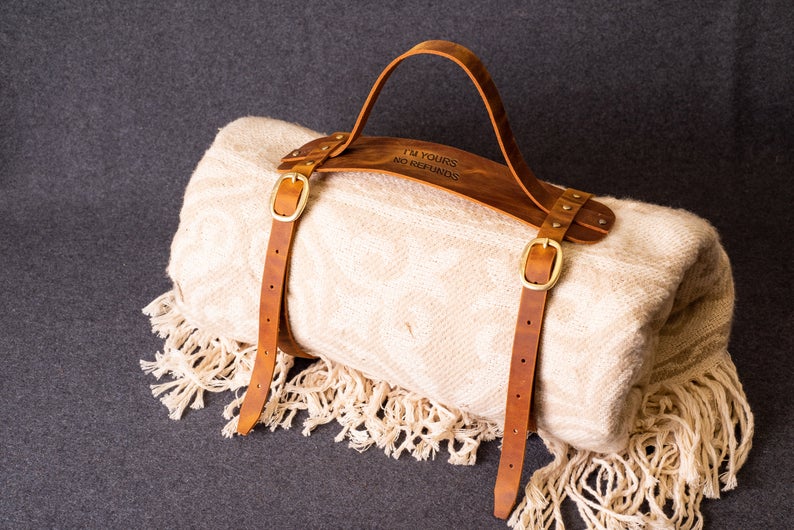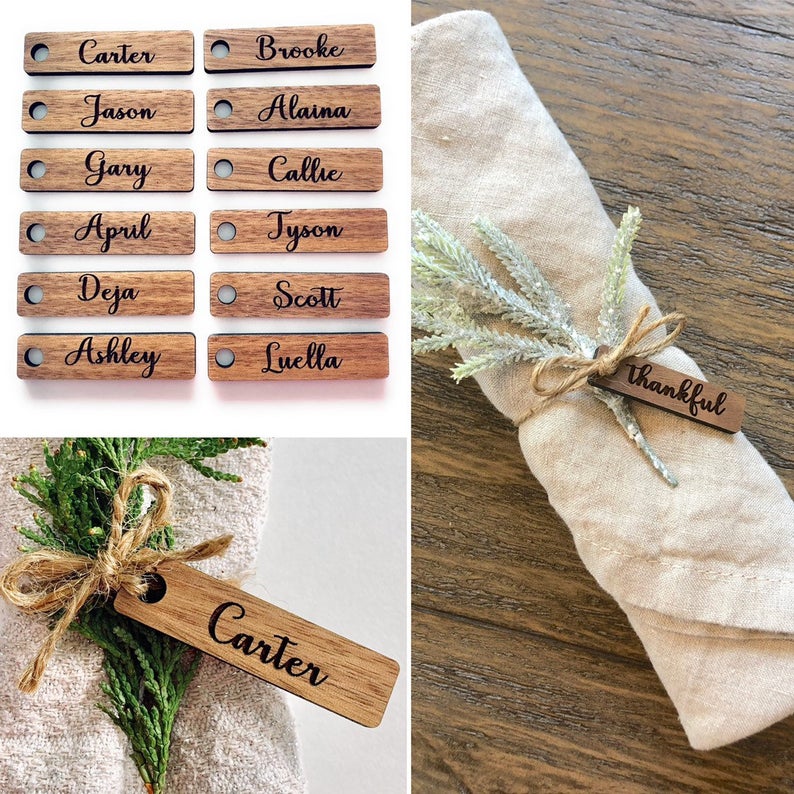 These custom napkins are such a fun way to celebrate a nice dinner with friends and family! If you're looking for a farmhouse look for your table decor, check out these rustic looking set of napkins with personalized name markers!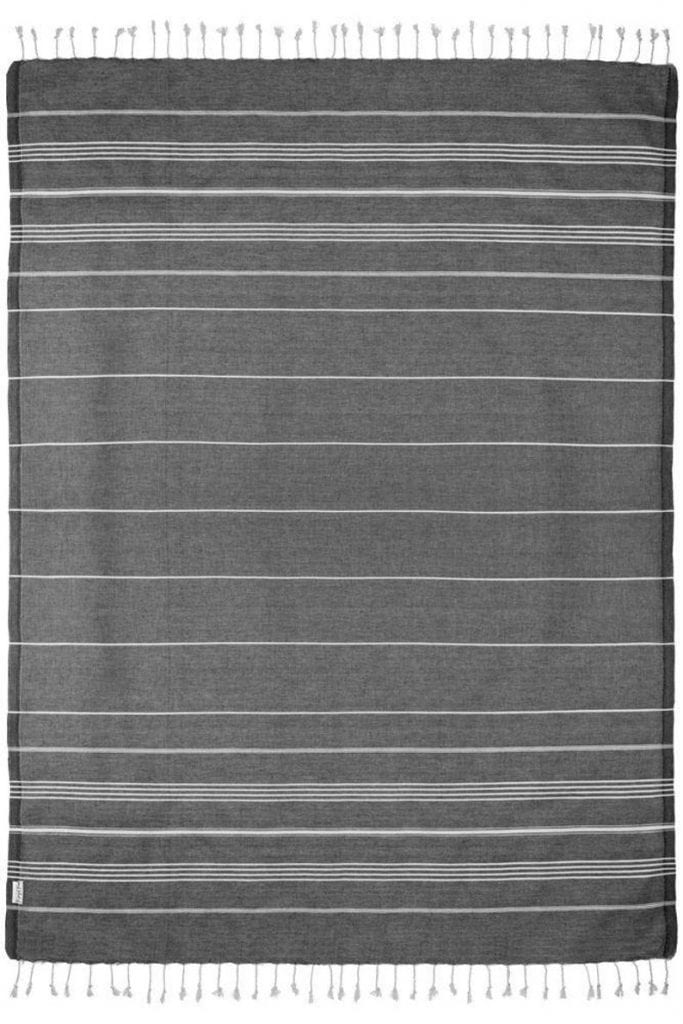 This basic throw blanket is designed with elegant stripes and hand-tied fringes accenting each end. With the exclusive high density weaving technique, our throw blankets are softer, more absorbent, and quick drying than more than ever!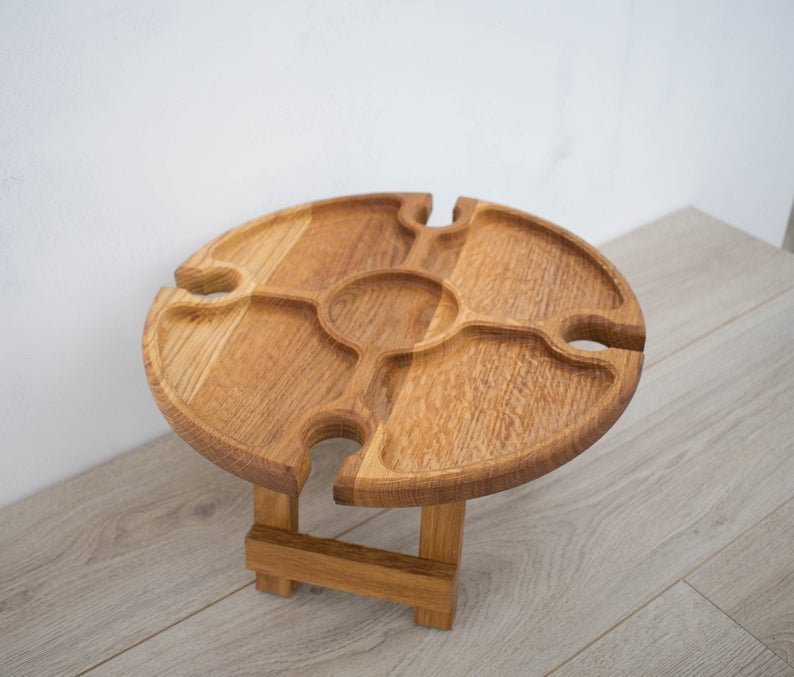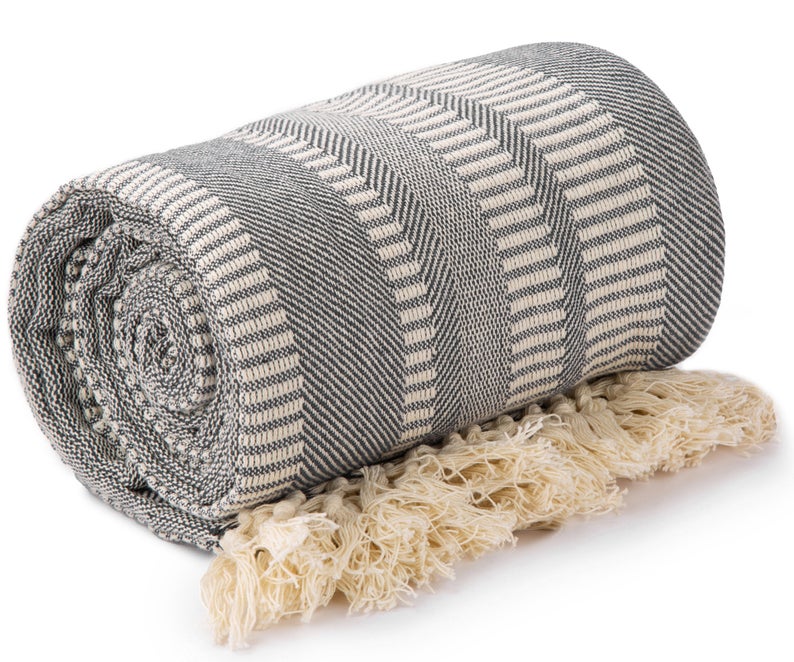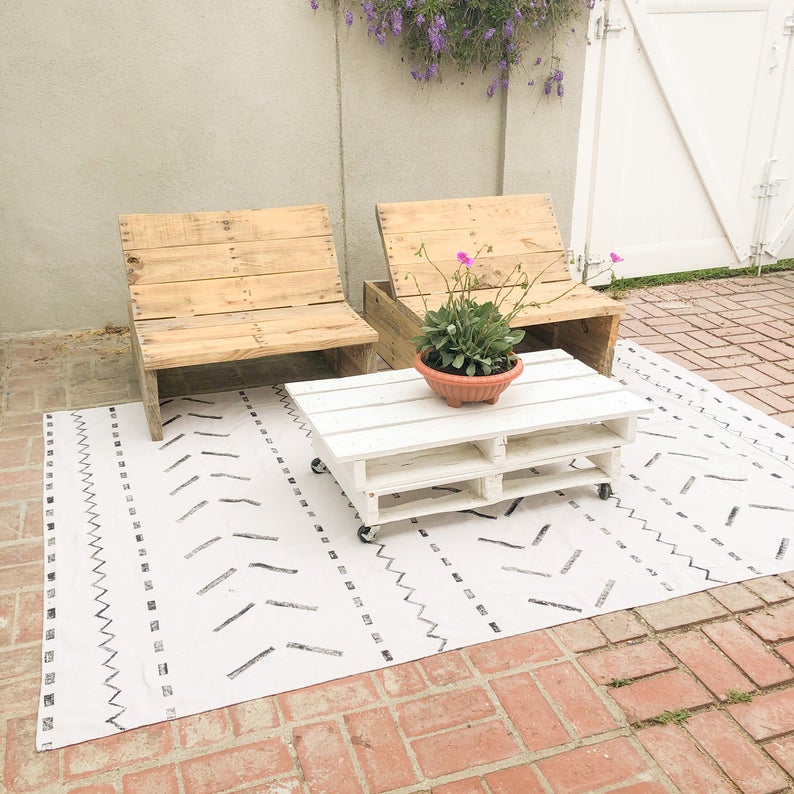 This canvas rug, hand-stamped with a tribal design, is the perfect accessory to revive your outdoor space. The lightweight drop cloth canvas material is easy to scoop up and throw in the wash, and also doubles as an outdoor beach or picnic blanket!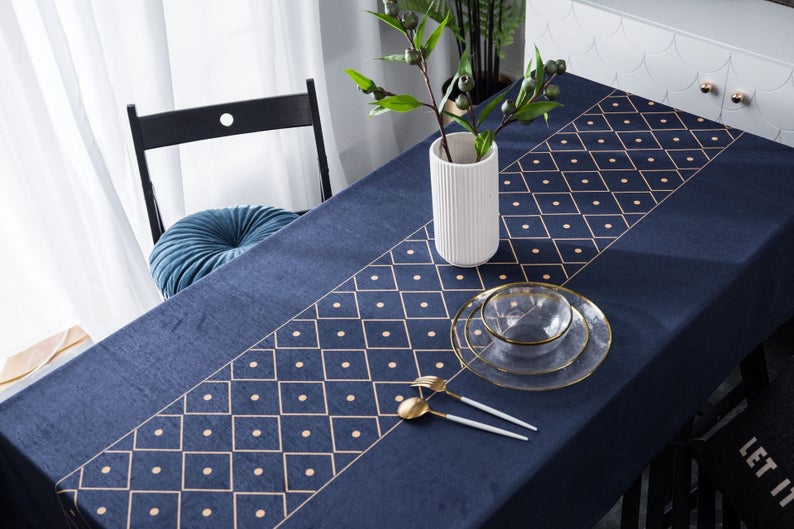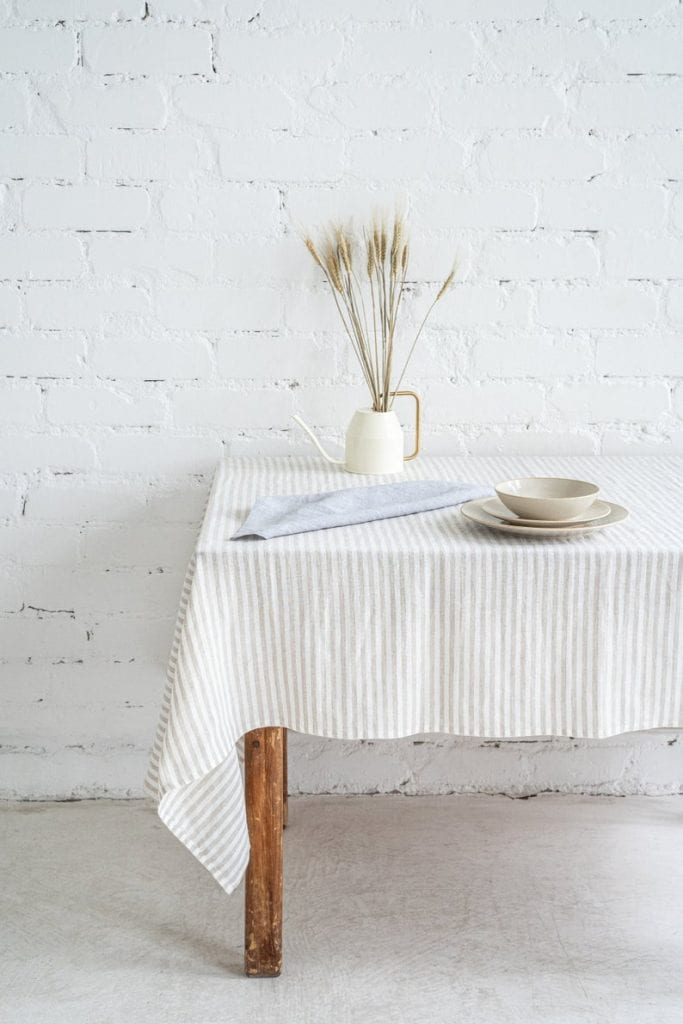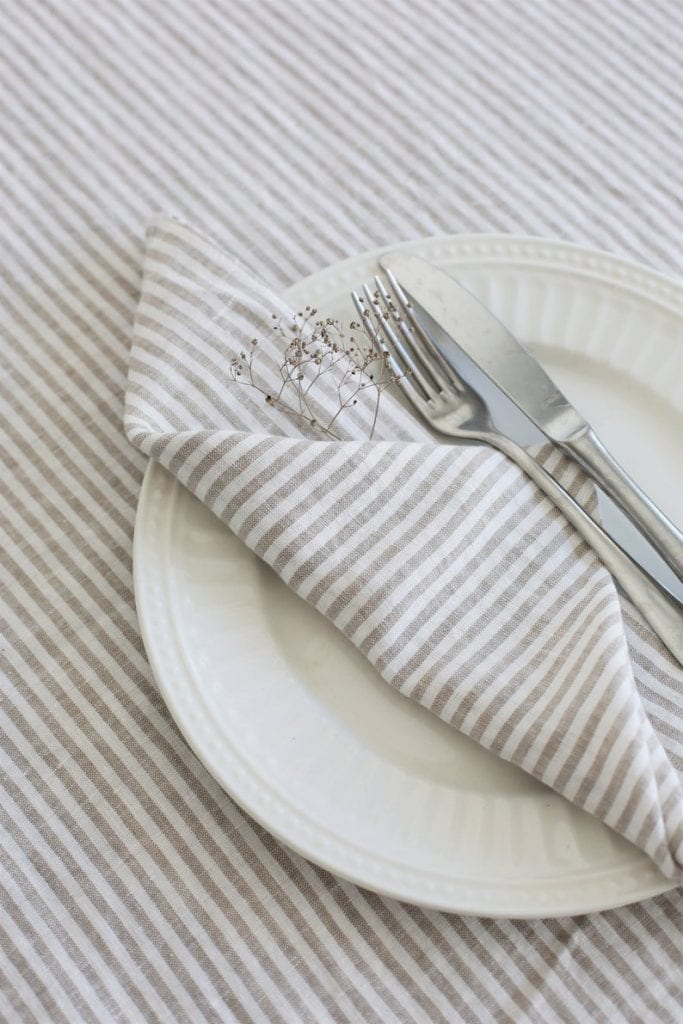 These natural linen cloth striped napkins set is designed and handcrafted for cozy and stylish home. With washed linen table cloth napkins you will transform a table from the everyday to the special occasion!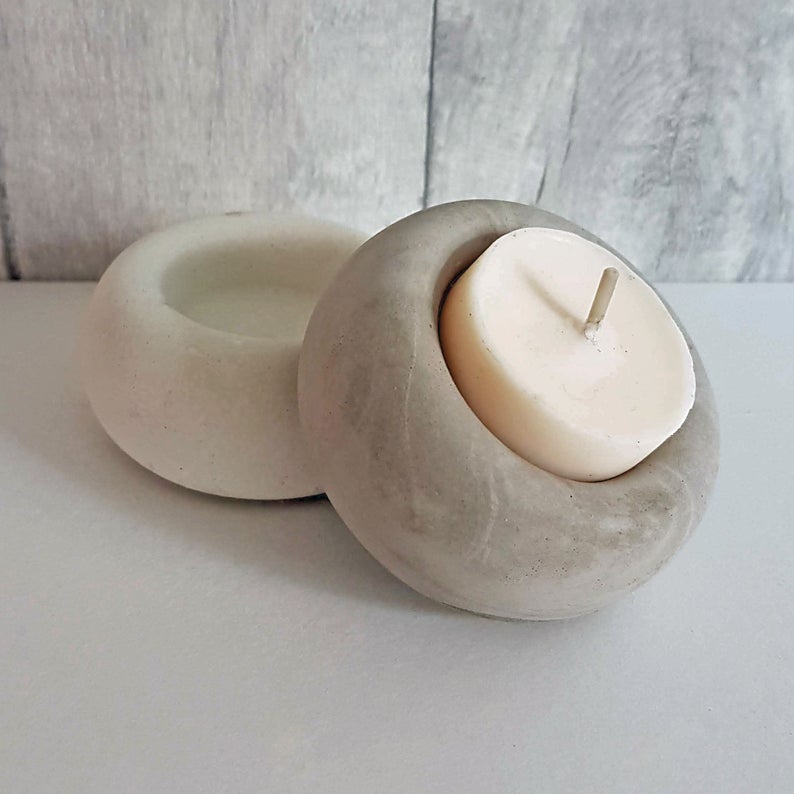 These stunning concrete round "Harper" tealight candle holders are the perfect addition to any home. This product is available as a white, natural grey or dark grey set or a monochrome set which includes white, grey & dark grey!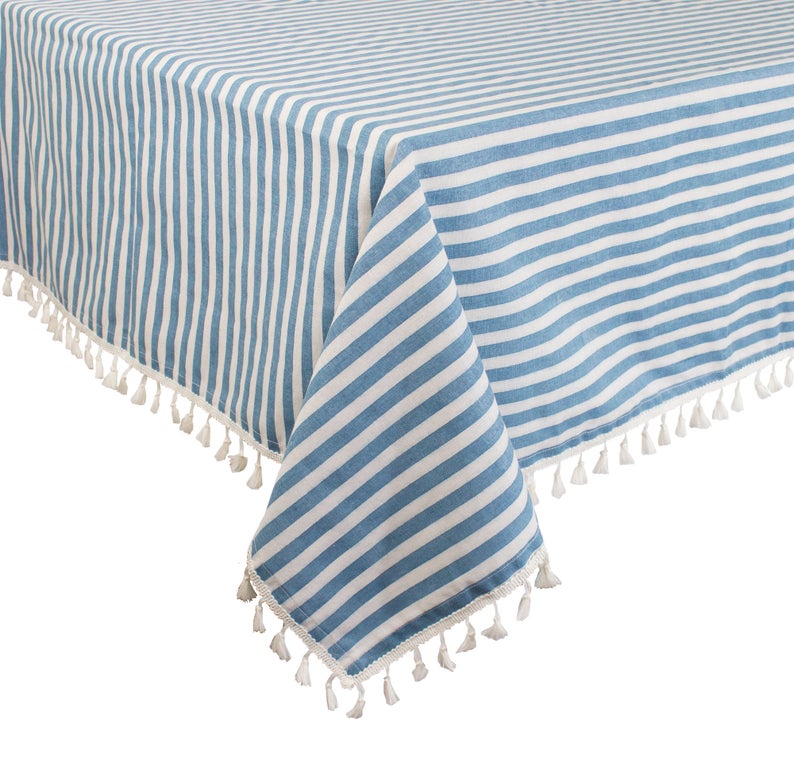 Add some variety to your kitchen linens with this contemporary striped tassel tablecloth. Featuring french gray stripes on cotton fabric, the tassel edges contrast of the acts as a pretty accent that brings a casual style to your table!
This tablecloth is the perfect choice for tasteful kitchen linens for your everyday use and outdoor decoration. Perfect for everyday entertaining or formal gatherings and special occasions!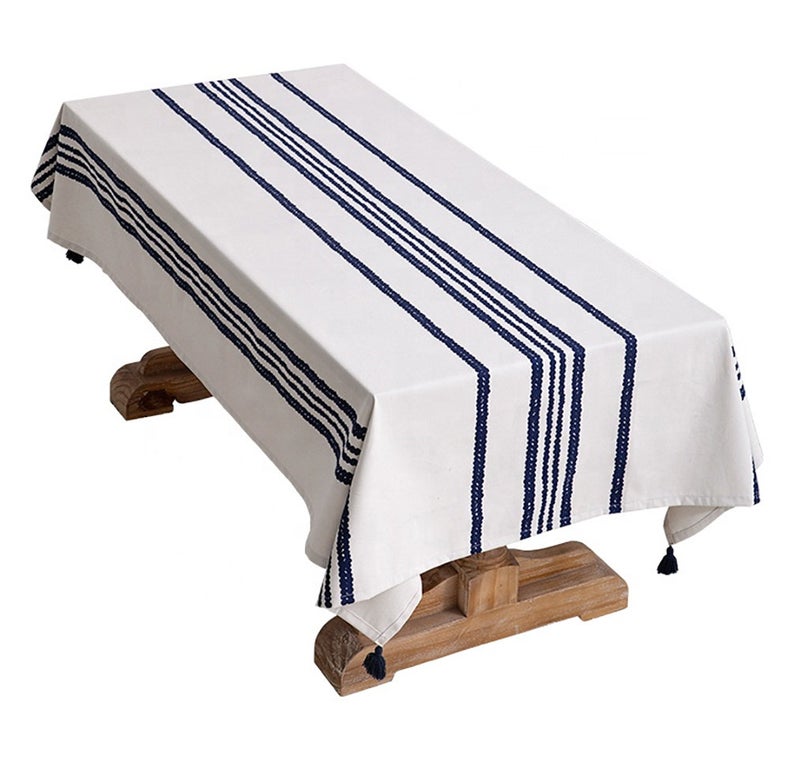 Bring a touch of style to your table setting with the Beaded Chain Print Cotton Tablecloth. Boasting a beautiful beaded chain pattern in a blue tone palette lends a touch of modern style, finished with a tassel design adding a delicate and beautiful classic style. This unique print tablecloth is the perfect choice for your everyday use and family gathering and casual dining décor!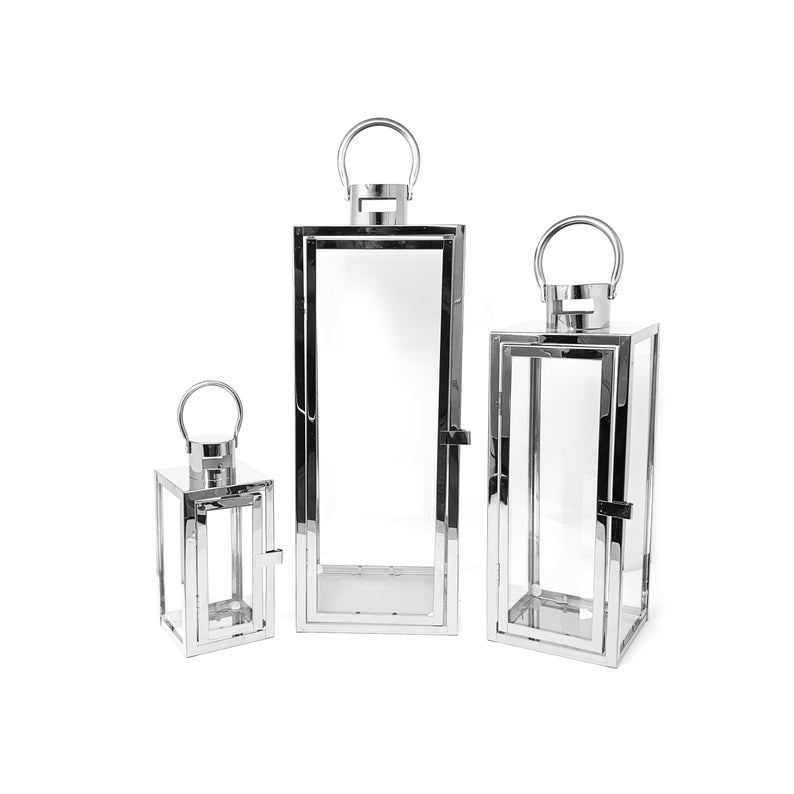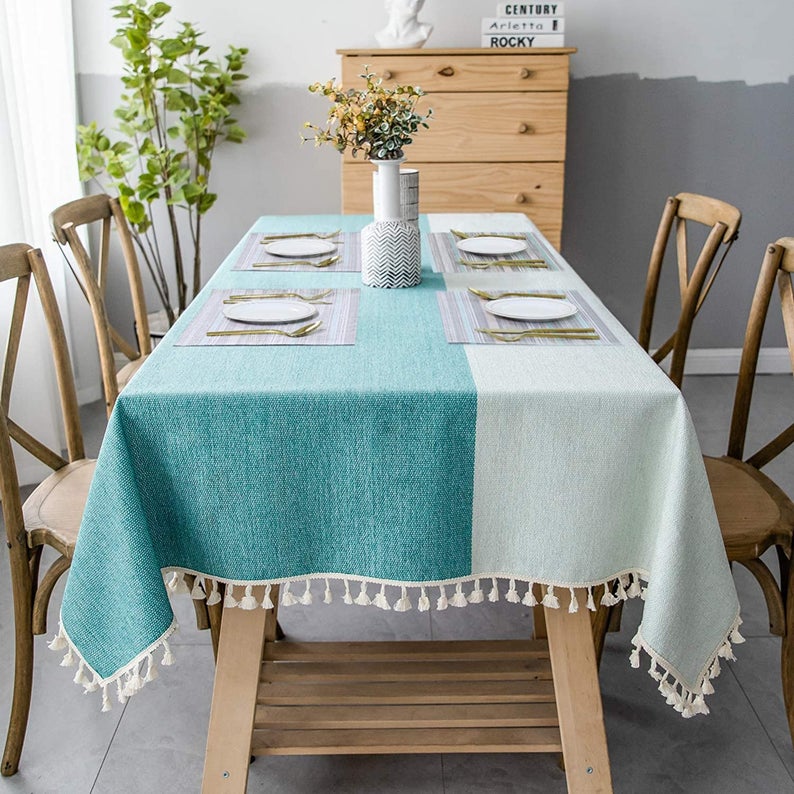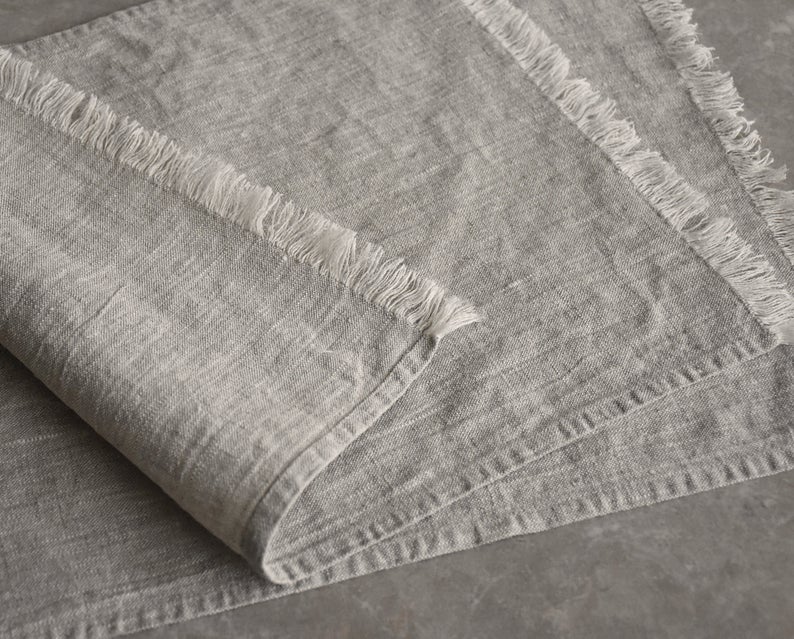 This set of rough light linen color placemats is a wonderful choice of outdoor summer decor when it comes to decorating the dining table! With the fringed table mats for dining and kitchen table serving, this eco friendly, prewashed and softened tablecloth will make a statement!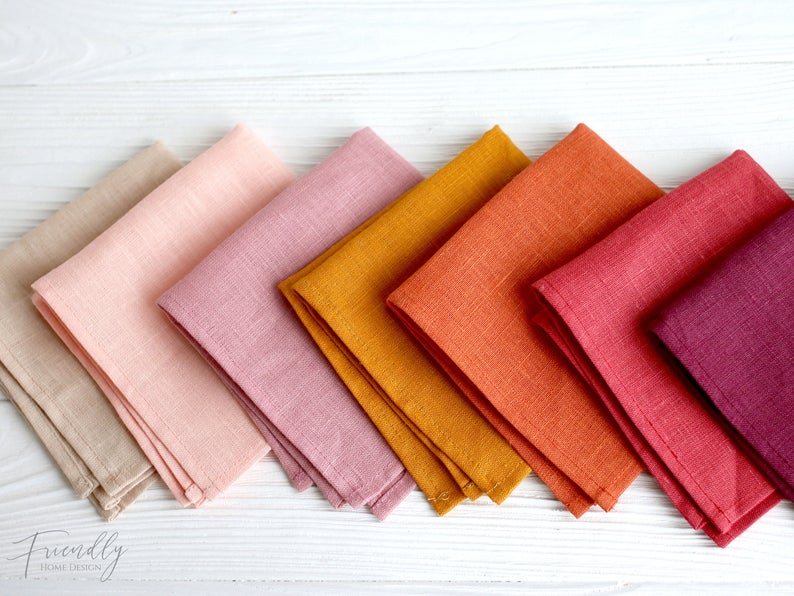 Add a beautiful touch of color for your home or a special event in your life with these gorgeous linen napkins of the most wonderful colors! These napkins are long lasting linen napkins for your table that will bring the fun and entertainment to your backyard patio!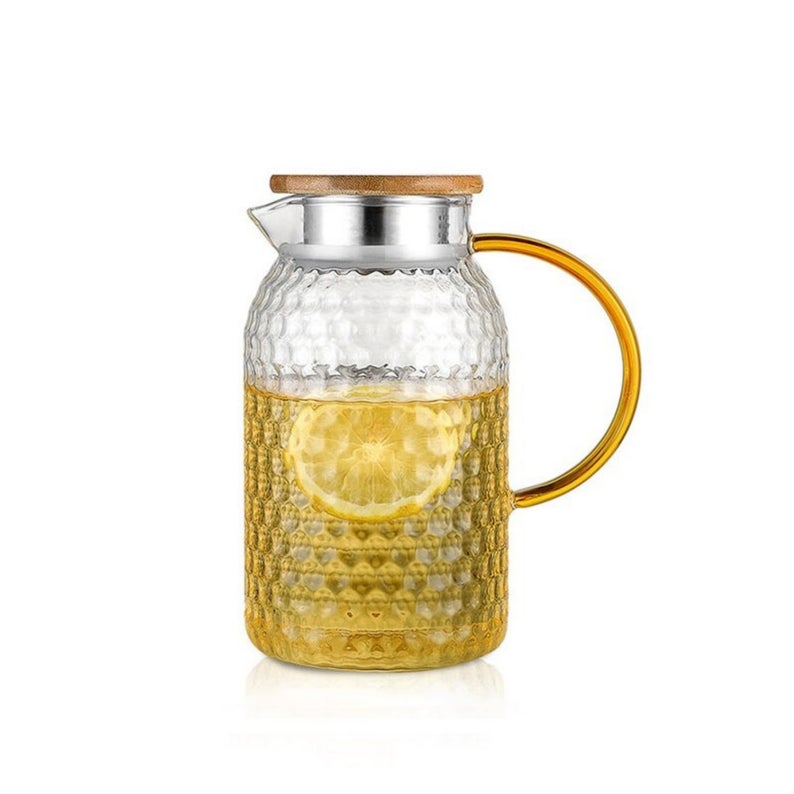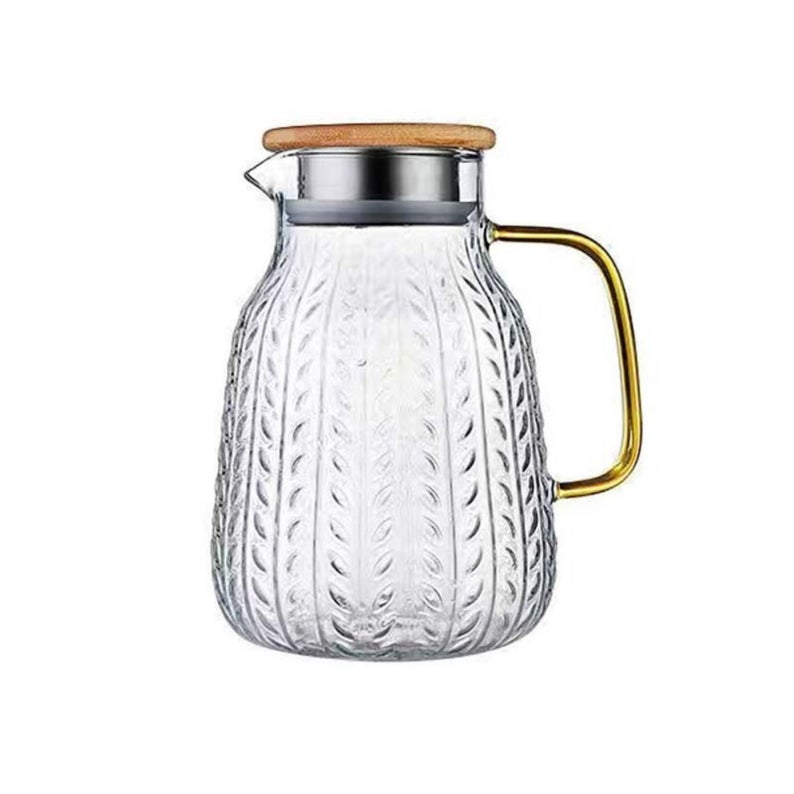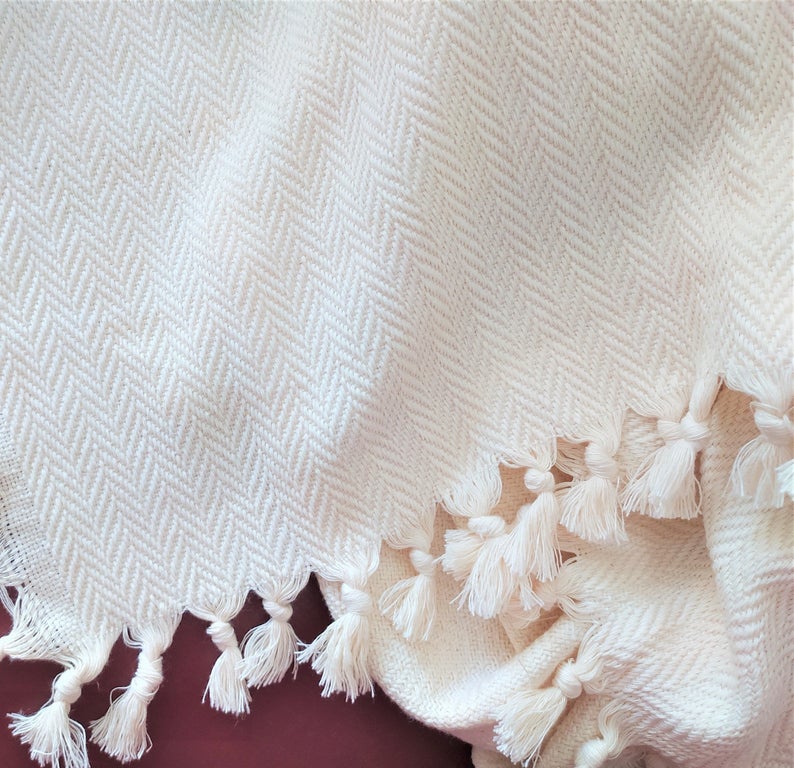 If you are looking for an extra soft touch natural organic light and handmade blanket these are for you!
They can be used for interior decor, as a king bed bedspread, cover or bed blanket, sofa -couch cover, outdoors in a garden or terrace. Hand woven in a geometric pattern these 100% cotton blankets are very cozy and comfortable. Makes a perfect wedding housewarming gift, Christmas Gift!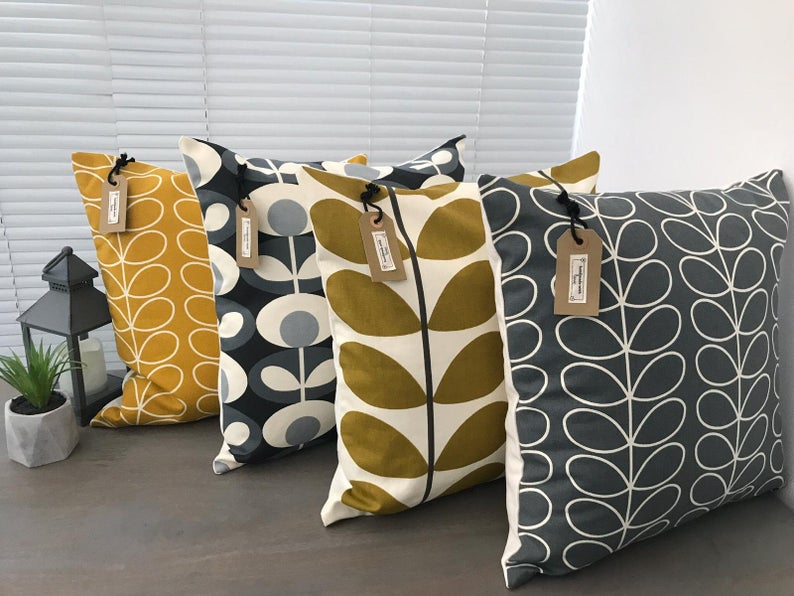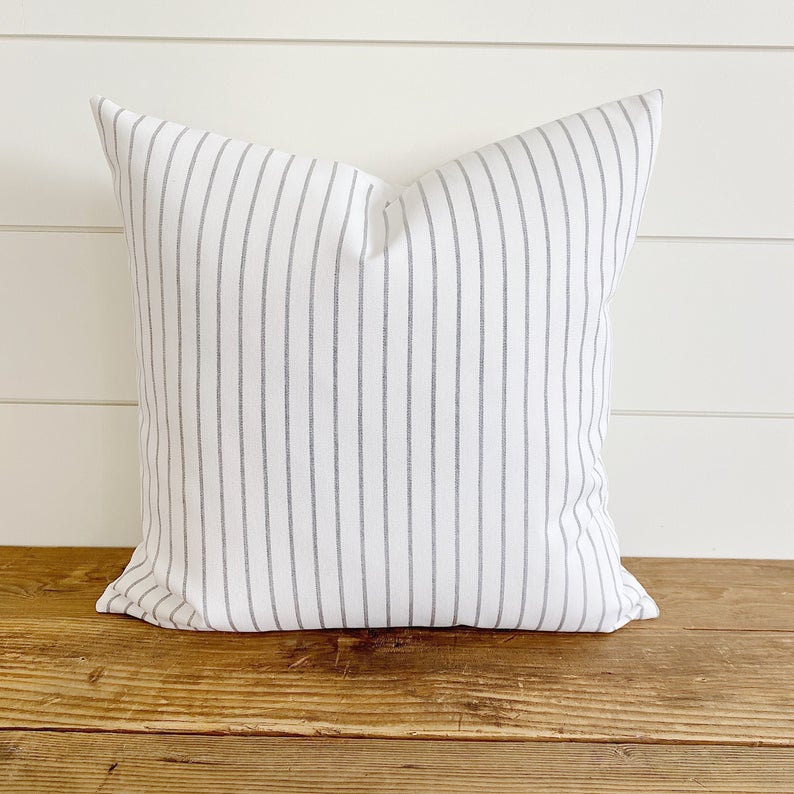 This thin gray stripes smartly style the front of a classic pillow cover, ready to go with anything. Our indoor/outdoor pillows can stand up to the outdoor elements and also provide a fashionable, yet resilient option for indoor use!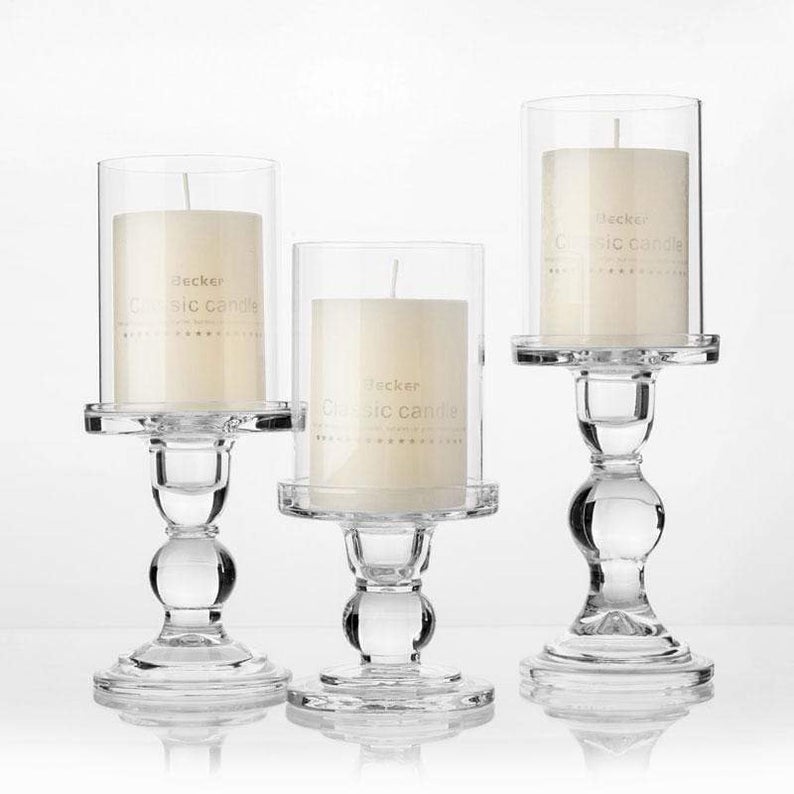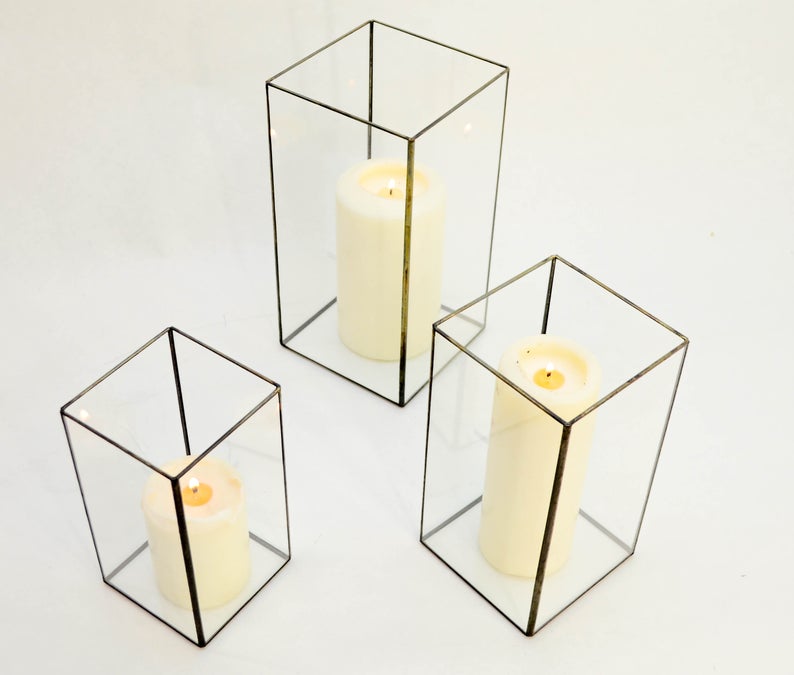 Geometric Glass Candle Holders
This set of 3 glass terrariums Rectangles can be used as a candle holders, vases or containers for fruits and other little things. The product is perfect for any decor and decorate your home and event!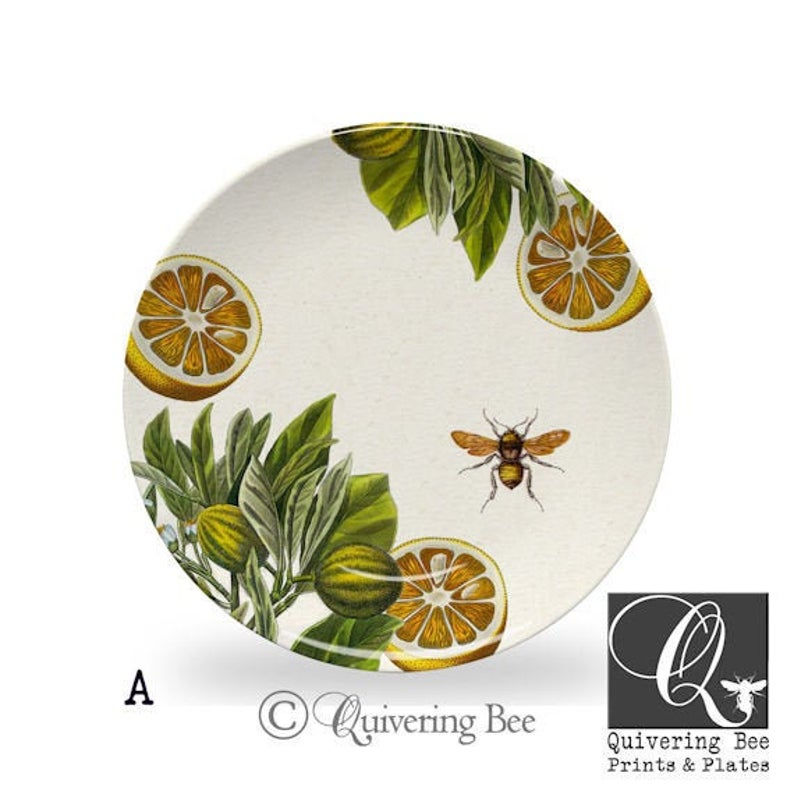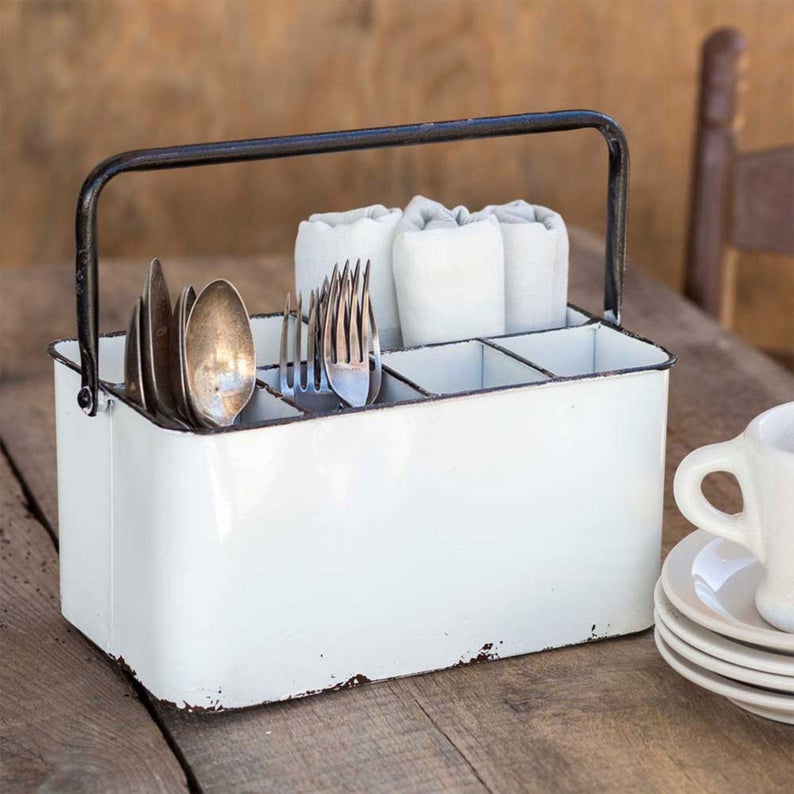 White Farmhouse Utensil Holder
This white utensil holder is a great looking farmhouse utensil carrier that will finish that farmhouse style in your backyard patio! The simple and rustic look of this holder will definitely make a statement on the dining table when enjoying meals with family and friends!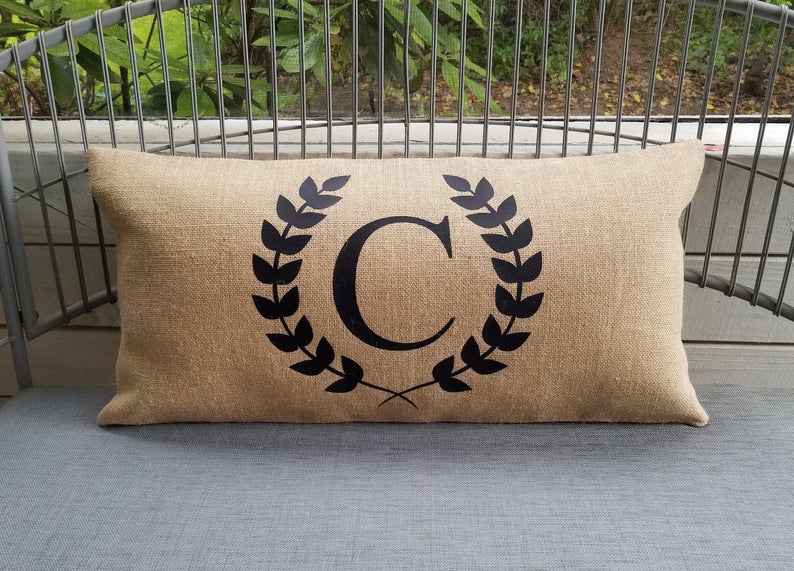 Farmhouse Style Outdoor Pillow
Burlap Monogrammed pillows are a great way to add curb appeal to your front porch and welcome your guests!
These rectangle sizes, like the one shown in first several pictures, are perfect for layering in front of your favorite patterned pillows or simply on their own. The larger sizes look great on a bench!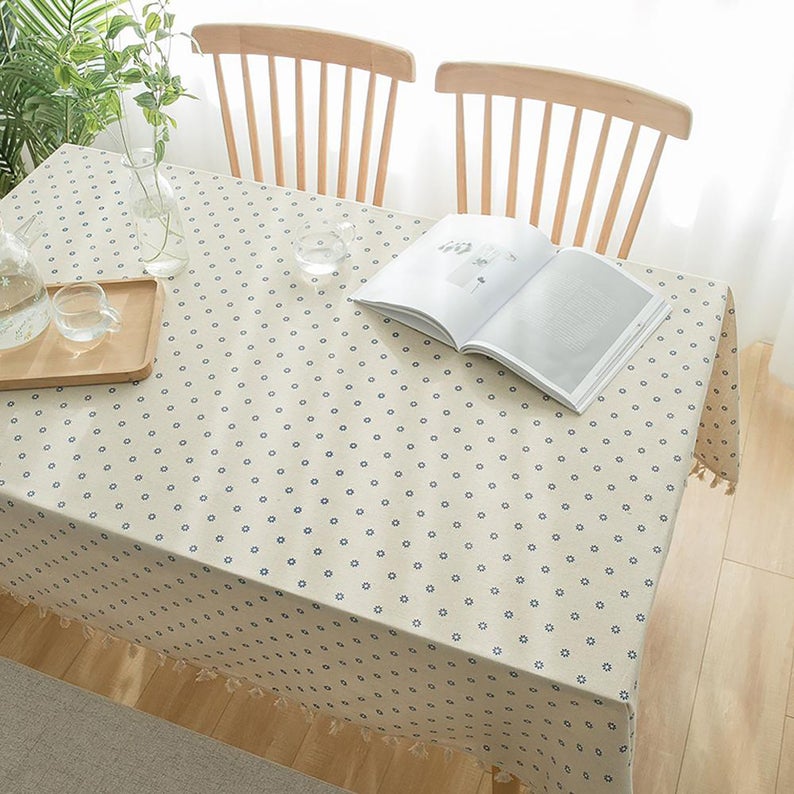 Daisy Flower Cotton Linen Tablecloth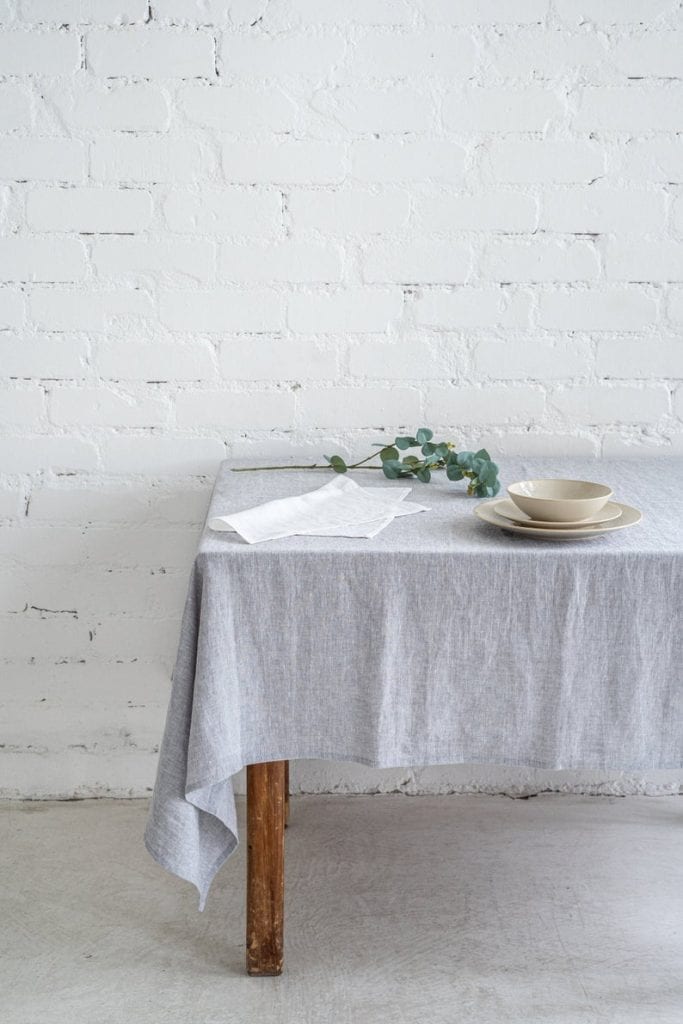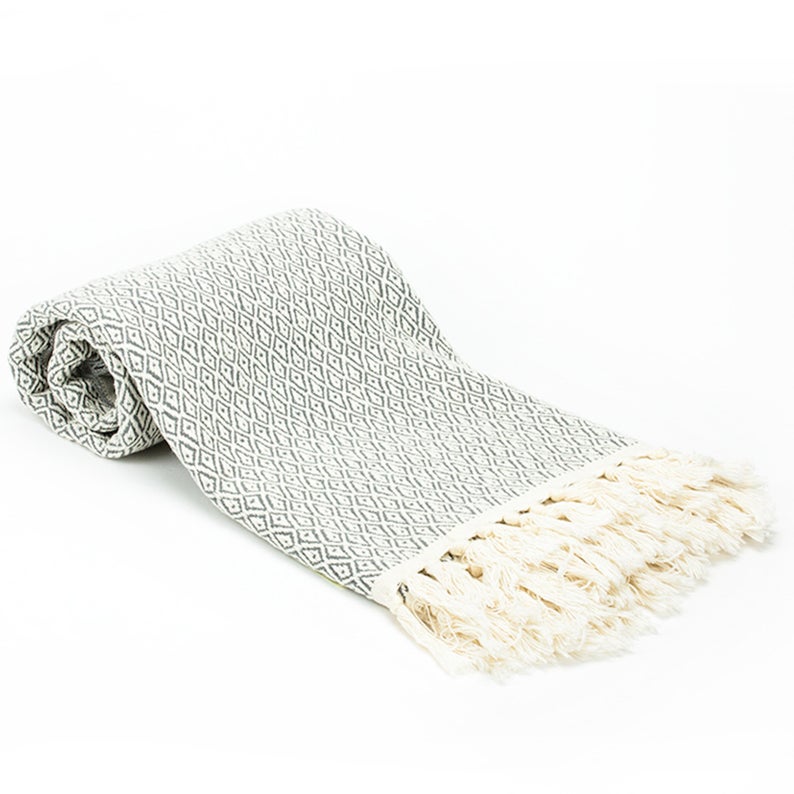 This throw is made out of 100% cotton colorful and is used as a quality throw and blanket. While they are mostly used for home decor and comfort, customers love them to cover yoga mats and bath towels. A cotton throw /blanket is the perfect weight for warmer climates. Each blanket is individually woven on shuttle looms!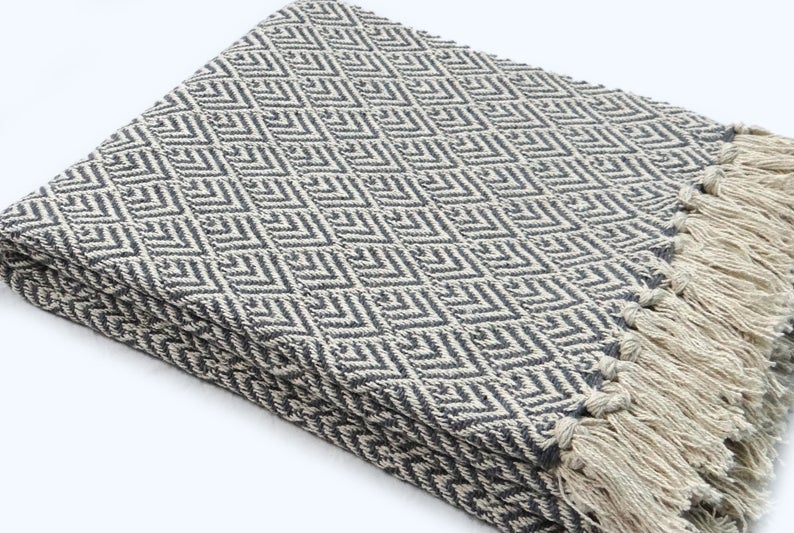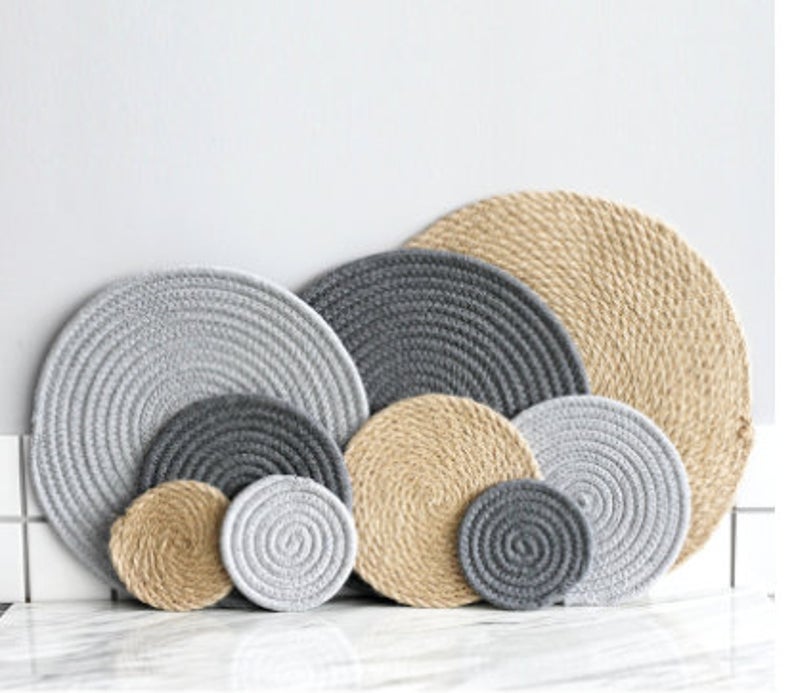 These beautiful Nordic Style Cotton Linen Placemats and Coasters are a perfect addition of outdoor summer decor when it comes to decorating the dining table! Not only is this the perfect choice of decor but these placemats are very good quality, eco friendly and will look fantastic on your table!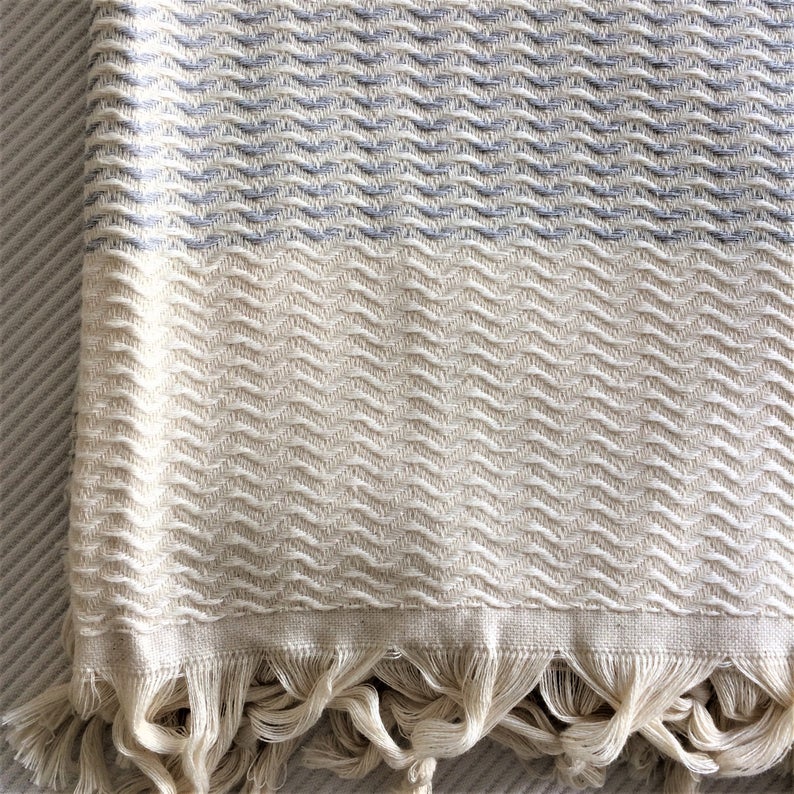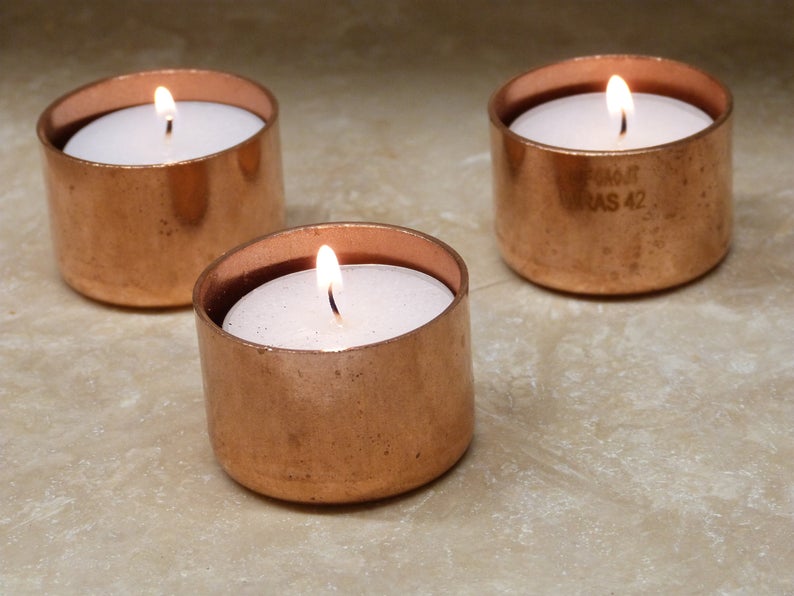 A wonderful combination of light and copper adds a touch to the atmosphere in any area!
They are perfect to go in any room or for a table decoration such as a wedding or anniversary. They are not only stylish but due to natural reflective nature of the copper the result of adding a natural flame gives you a lovely warm glow!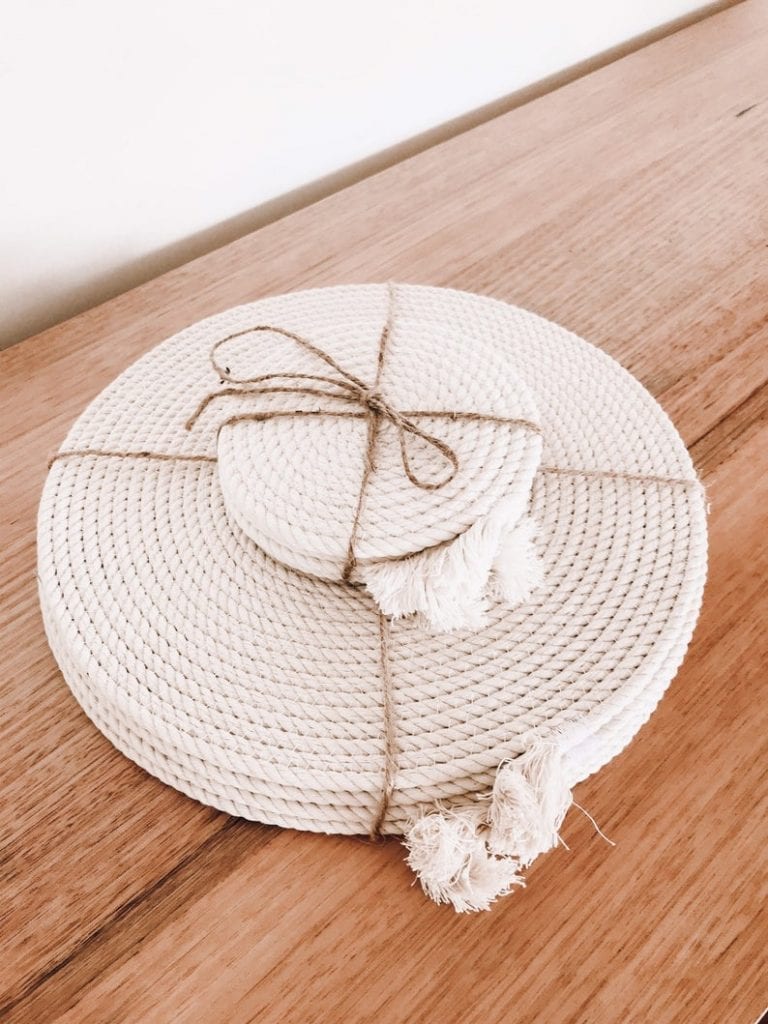 These are some of the most gorgeous handcrafted placemats to have as outdoor summer decor for the dining table! They are super absorbent, made with 100% natural products, and you can add this to your coastal home no spills or breakages. Perfect gift idea!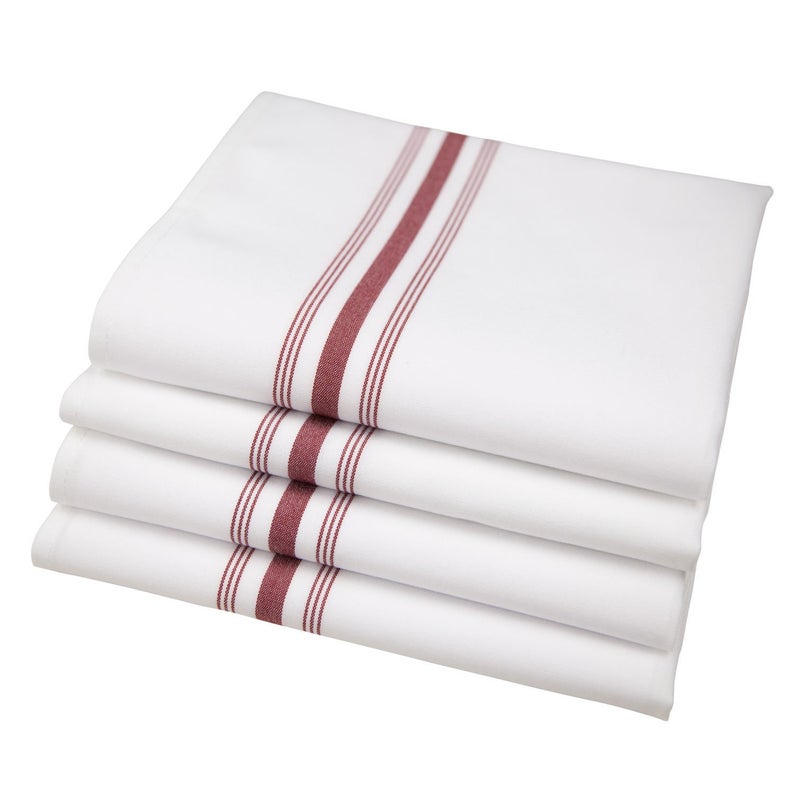 These Bistro napkins are very soft, lot of texture, top quality linen napkins. They get even softer after several washes.
You can order all napkins in one color or split them up, mix as you like!
Commercial grade, absorbent, very soft and great soil and stain release and wrinkle resistant. Easy care, machine wash, tumble dry!
These cloth napkins are also available in 5 different stripe colors so get a couple different colors for different occasions, different tablescapes!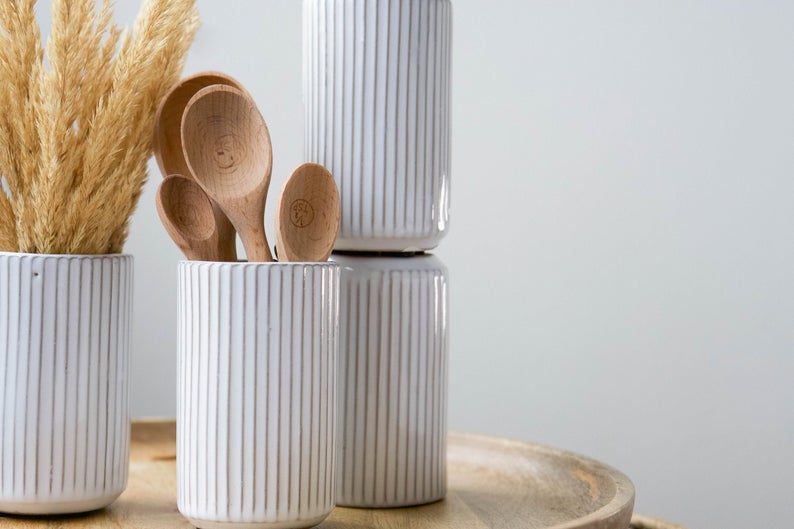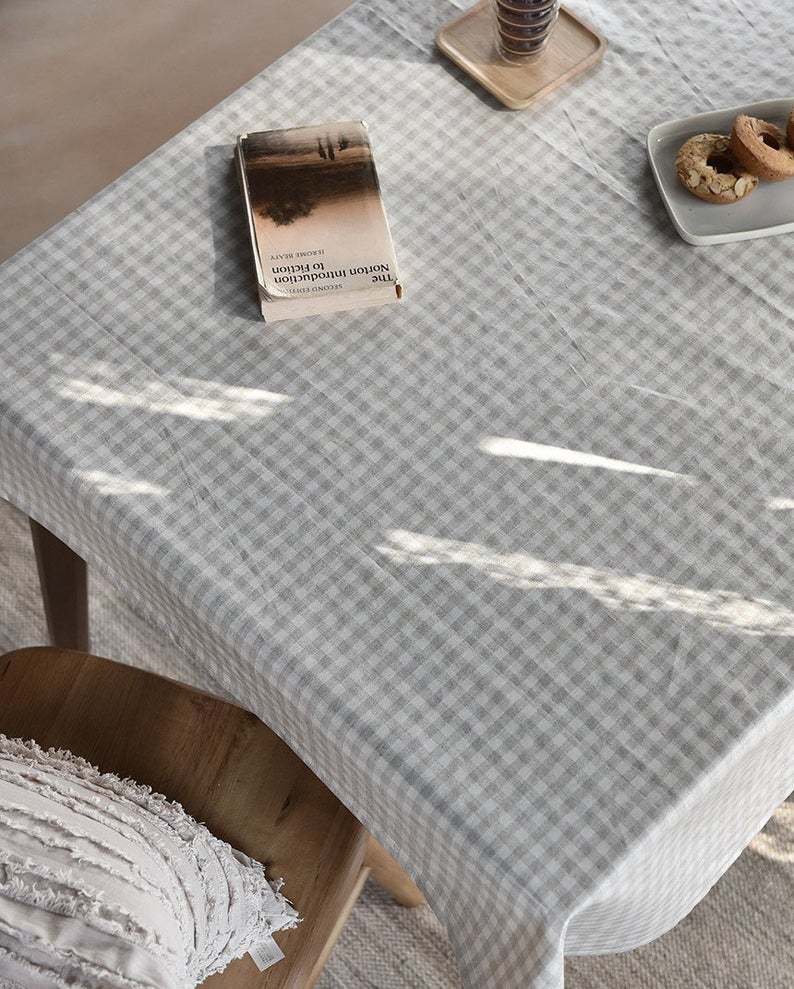 Modern Brown Striped Tablecloth
This waterproof table cover has a clean and simple check design. The simple and modern of this stripe design will make your table look cozy and chic. The 0.4 inch interval stripe design of this table cover will definitely elevate the aesthetics of any tables when used. Brighten up your table aesthetics by using our cozy and chic stripe table cover!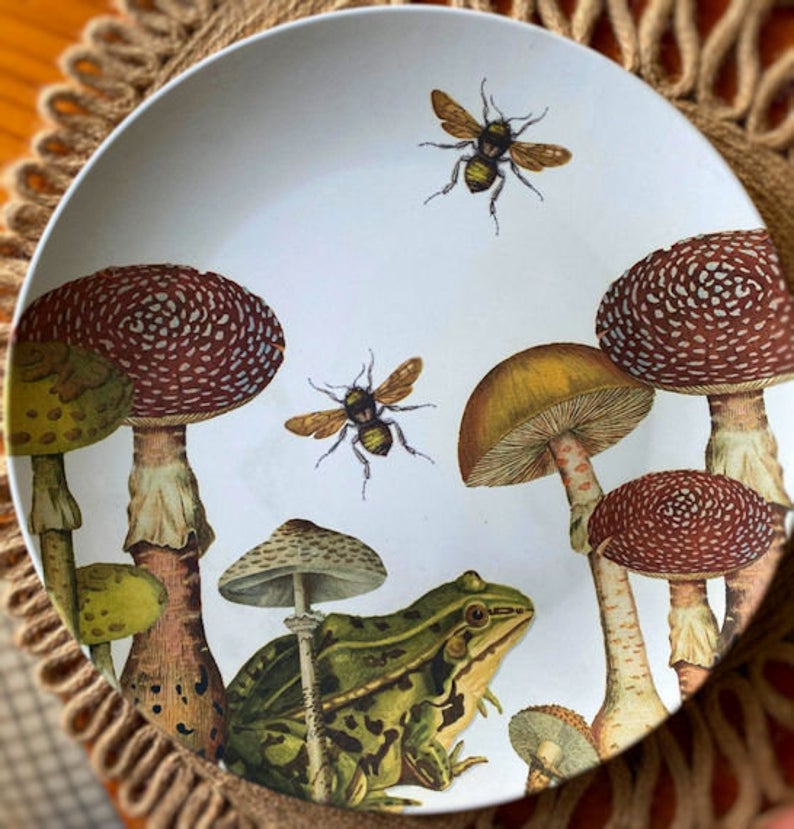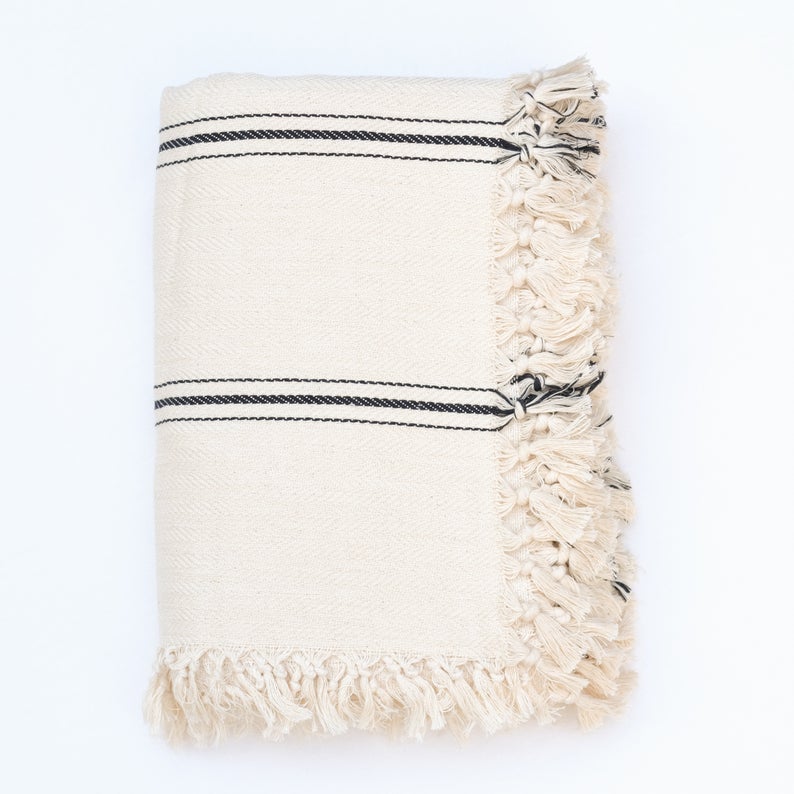 This cuddly blanket is how we call elegance at home! It stands out with it's simple and pure beauty and soft touch! It's made of premium 100% Turkish cotton, unbleached, in it's natural and beautiful cream tone with black stripes, that can match to any place at your home. Thanks to it's naturally long fibers, it's very soft and it becomes softer after each wash!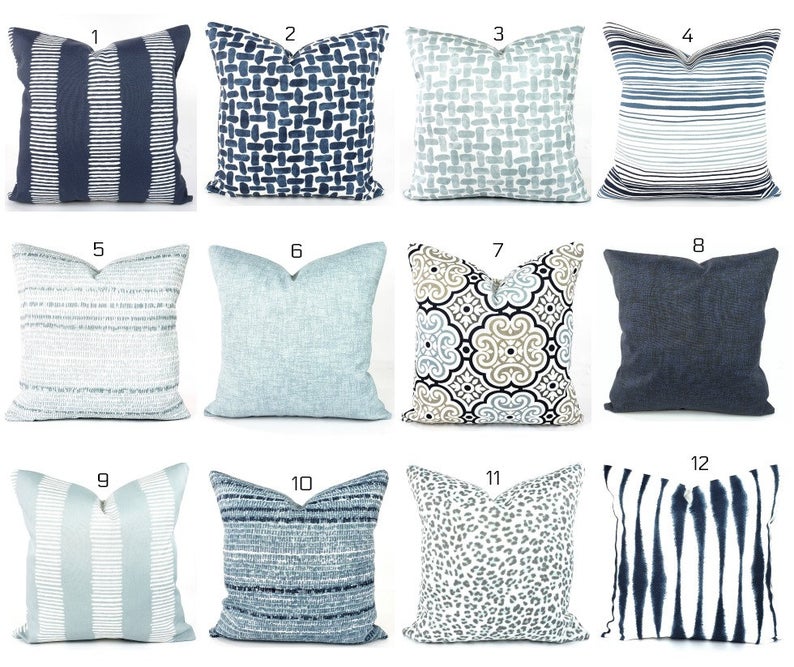 Stunning OUTDOOR coordinating fabrics in navy blue and mineral blue and whites in 100% polyester fabrics. These fabrics withstand 1000 hrs of sunlight and resist mold and mildew. Perfect for your outdoor decorating needs!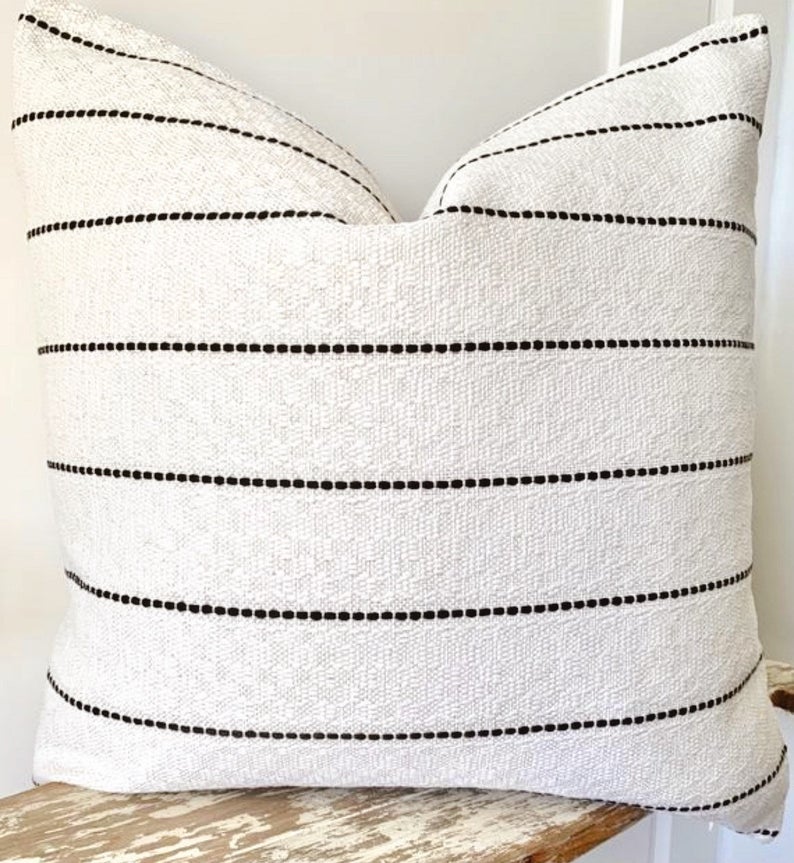 This woven white textured pillow with black or taupe gray stripe interlaced horizontally. Extremely durable, this pillow cover is an easy mixer or a stand-alone statement piece of comfort, indoors or out!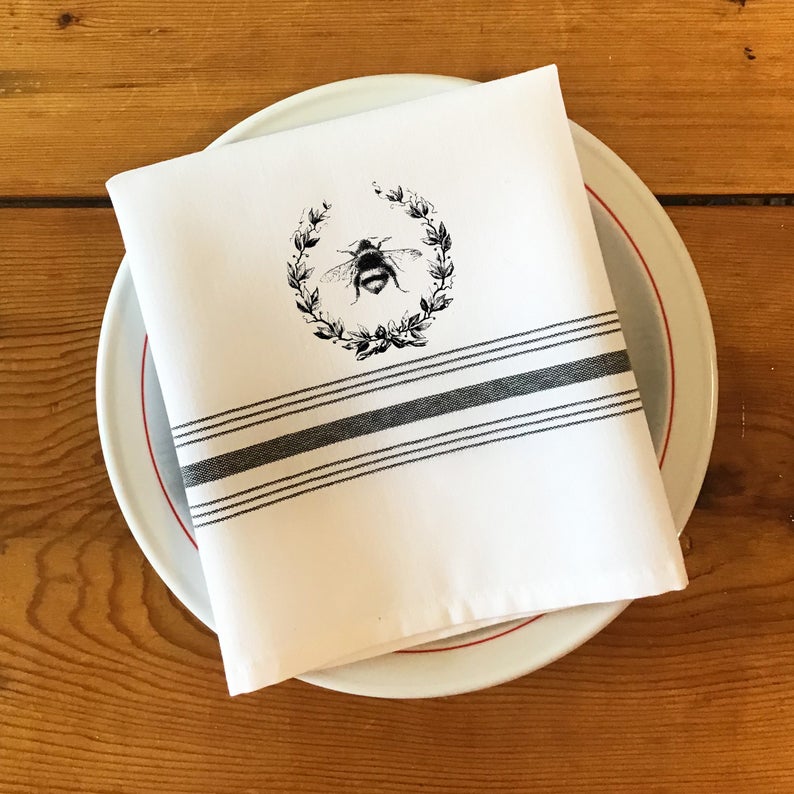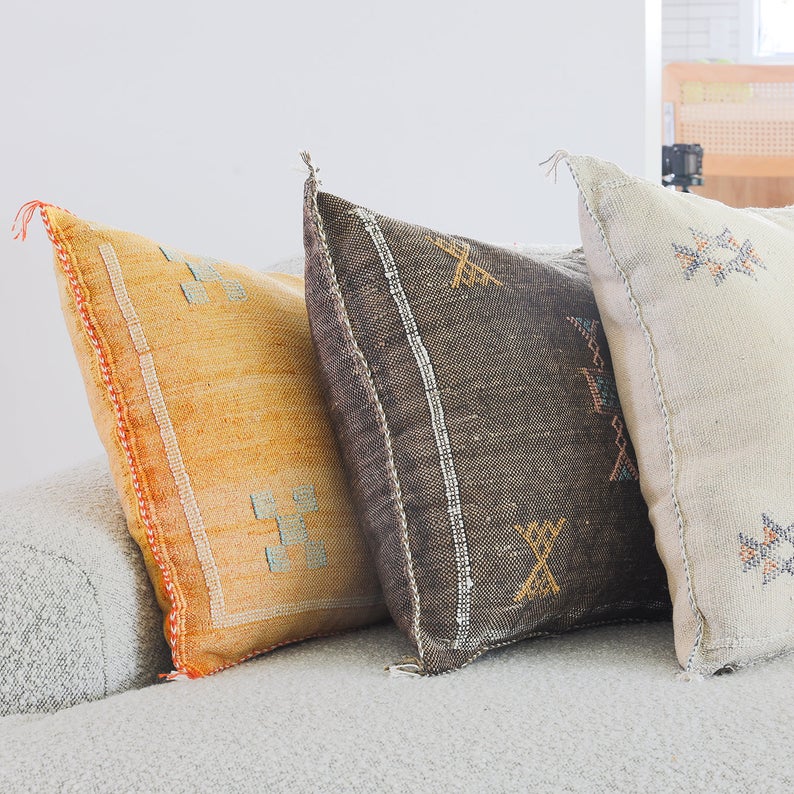 These charming handwoven Atlas Throw Pillows instantly elevate any space. Decorative throw pillows that are made from handwoven cactus silk fabric by the very skilled women, craftsmen and hand weavers who still use time-honored techniques to create a unique piece of art with tribal Berber motifs!
They come in different colors, unique characters, an interlaced braiding and small tassels on all four corners. You can add an accent to any bedroom or living room with these beautifully made pillows!
Fill your outdoor space such as patio or porch with decorative accent throw pillow covers! This blue and tan wide striped pillow for the outdoors will blend well as mix and match with other designs you desire!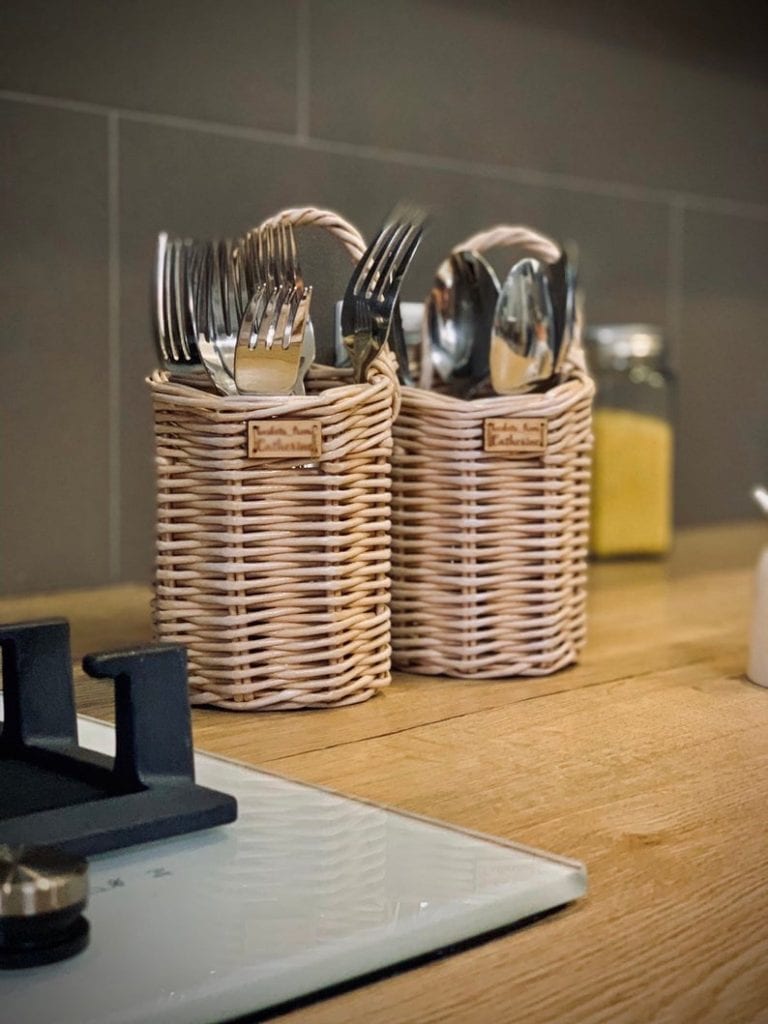 These hanging, hygge style cutlery holders are perfect for decorating your patio dining table with! These round, wall mounted baskets in beige to hold spoons, forks, and the major utensils when enjoying meals with friends and family!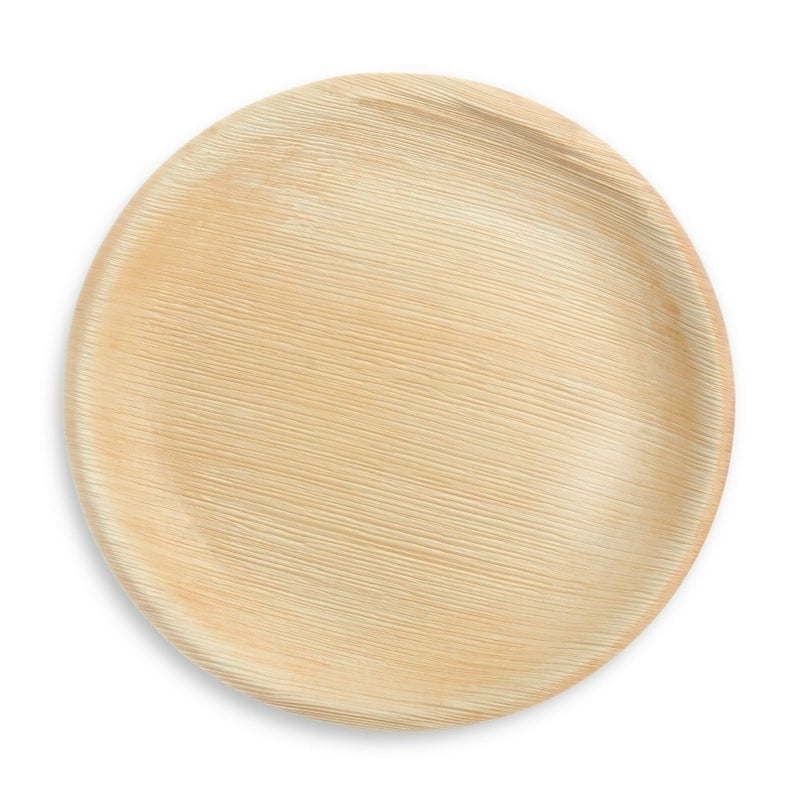 This is a lovely bamboo plate that is perfect for outdoor dining.
---
Thanks so much for checking out this epic summer post! My daughter loved finding all these beautiful items and I hope you enjoyed her collection!
Have a great Wednesday sweet friends,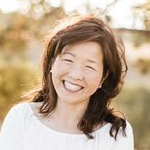 Latest posts by Janine Waite
(see all)