Whether you're wanting to go all out for this holiday or wanting to keep it simple this year, these 4th of July decorations are some of the best to decorate and celebrate with!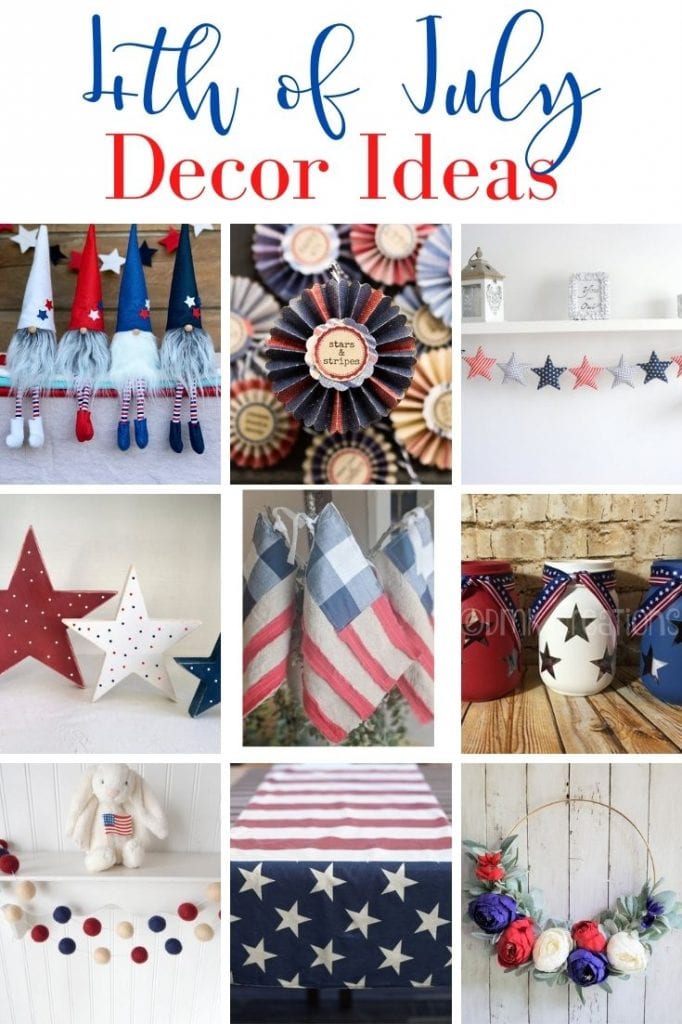 When 4th of July comes around, it is time to decorate and celebrate! This holiday calls for fun times with friends and family to make memories that we will cherish forever. So, for those who are in need of some simple yet fun decor, keep scrolling!
Instead of making the trip to the nearest HomeGoods to buy decor, let's support small businesses that create simple yet stunning decorations!
If you love this Boutique of the Week, then check out my other blog posts for boutique of the week. Enjoy!
Patriotic Home Decor from Etsy
*The following post contains affiliate links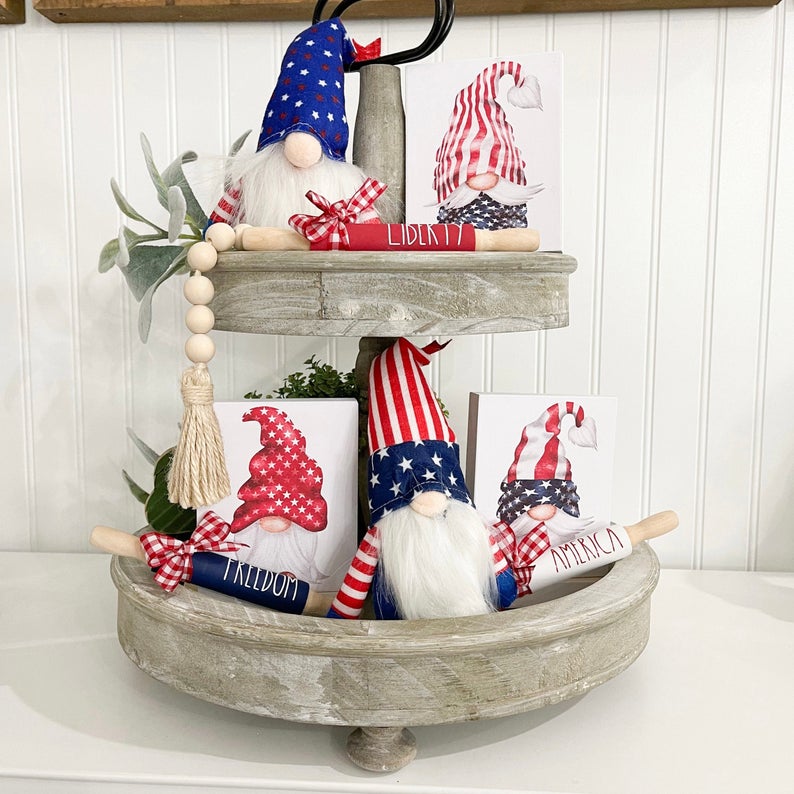 This tiered tray bundle is the perfect addition to your Patriotic decor! Great for your tiered trays, accent tables, kitchen decor, shelf sitters and so much more!
Each Gnome block sign is painted on the sides and back for a finished look. Mini rolling pins are hand painted, given a patriotic themed decal, and come with a matching gingham bow!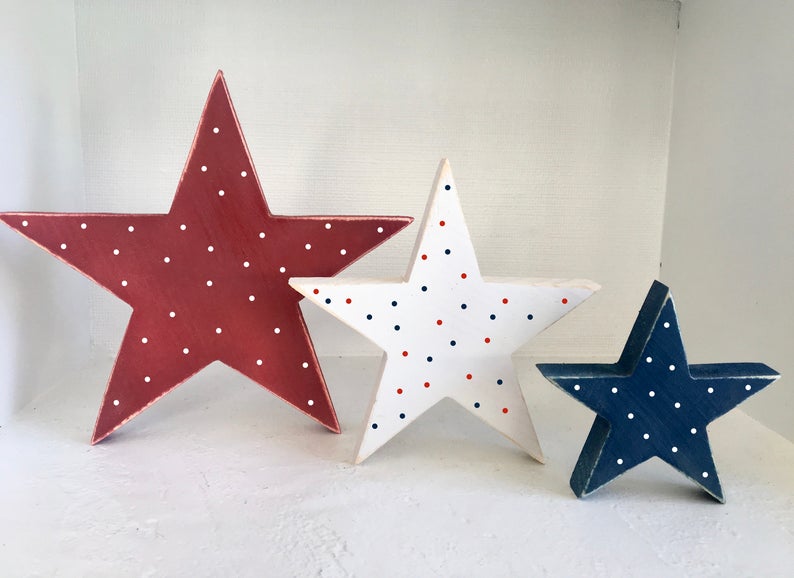 These adorable wooden stars are a perfect addition to your 4th of July and Memorial day decor! They look great on any shelf! The stars will look amazing on a tiered tray or just sitting around in any room!
They are rustic wooden stars that have been painted red, white and navy blue and then distressed for that rustic farmhouse charm!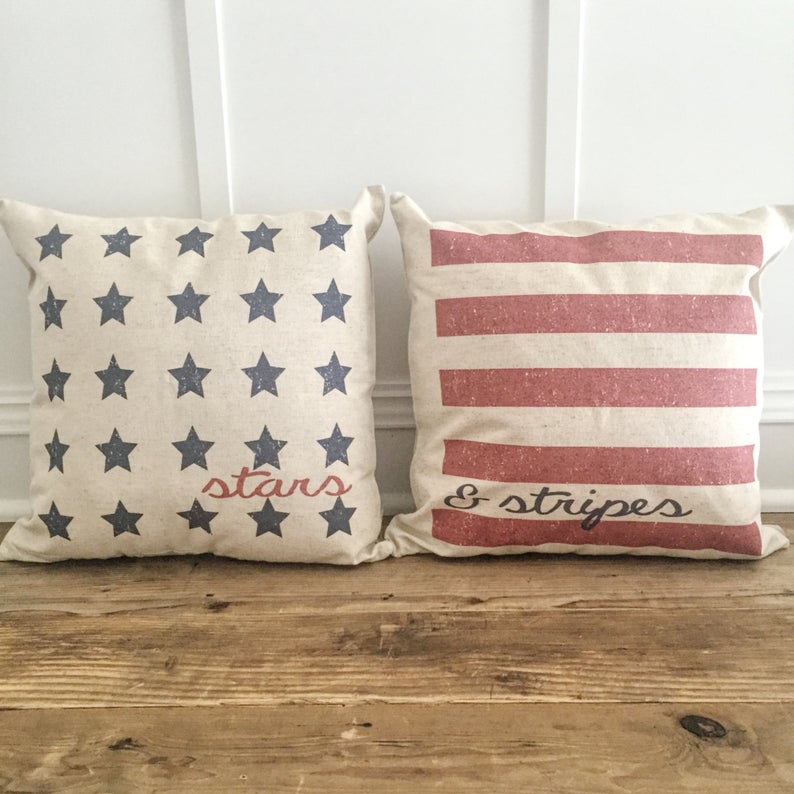 Stars & Stripes American Flag Pillow
The perfect pillows for your 4th of July or All American decor! These look perfect as indoor or outdoor decor so you don't have to worry about whether it's durable for specific weather, because it's perfect anywhere!
Not only are these pillows simple, but they create a vintage, farmhouse look within your home because of the light coloring and vintage style!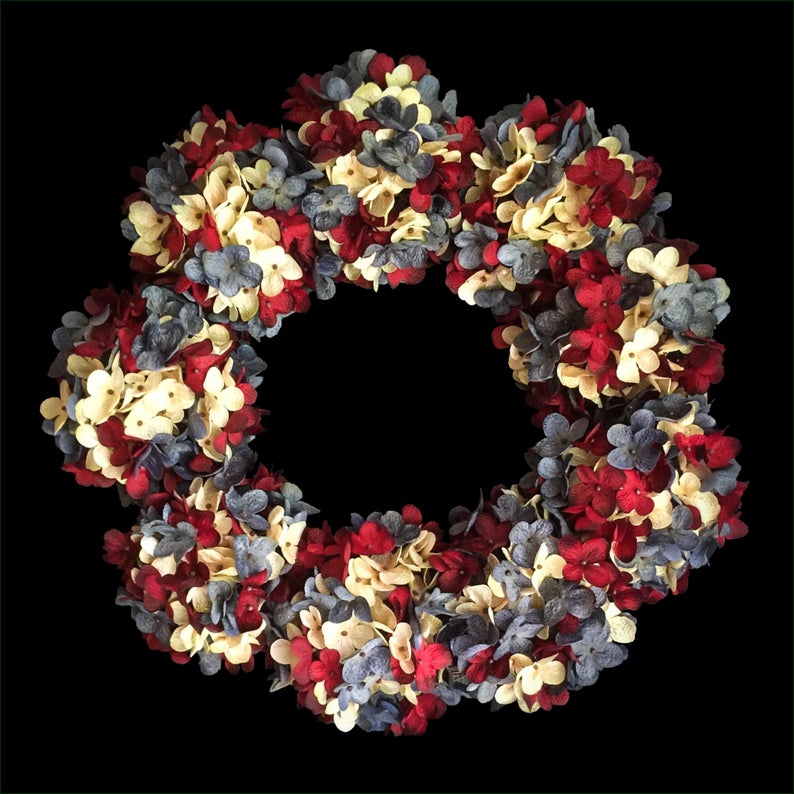 Red, White & Blue Vintage Wreath
A spectacular blended red white & vintage blue hydrangea 4th of July wreath with bursting blended artificial hydrangeas. Handmade in the USA with artificial hydrangeas in vintage red, vintage white with exclusive denim blue colors!
This 4th of July decoration is perfect for Memorial Day wreath, patriotic wreath, and Independence Day celebration decor!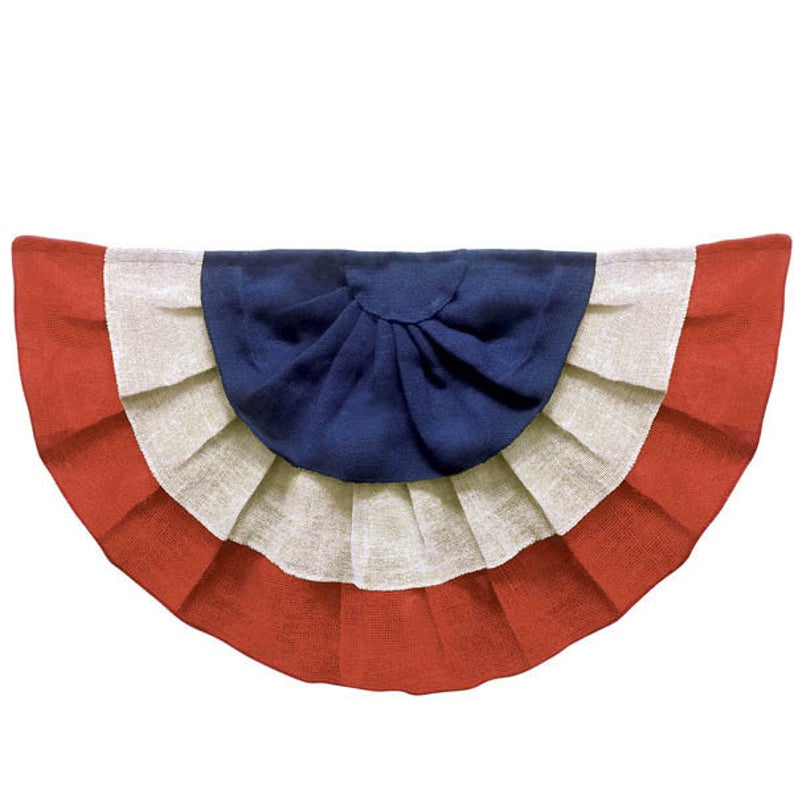 This fun 4th of July piece of decor is perfect to hang on the outside of your home to add some pop of American colors! The coloring and the detailing is superb and durable so this decoration will and can be used for future holidays celebrating America!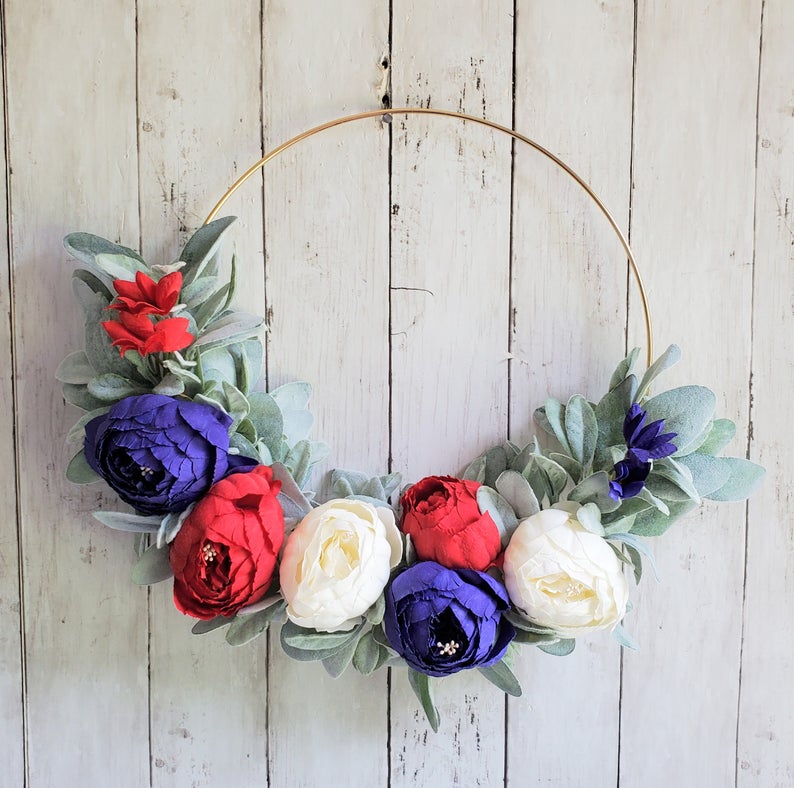 This patriotic hoop wreath is for anyone who wants to display their patriotism in a more modern style, it is guaranteed to draw attention to your front door!
Red, white and blue peonies are beautifully complemented by accent flowers and an abundance of luxurious fuzzy green lamb's ear greenery, all set upon a metal gold hoop.
The flowers and greenery are wired to the hoop by hand, with meticulous attention given to creating the right balance of florals, greenery and colors, for a gorgeous wreath.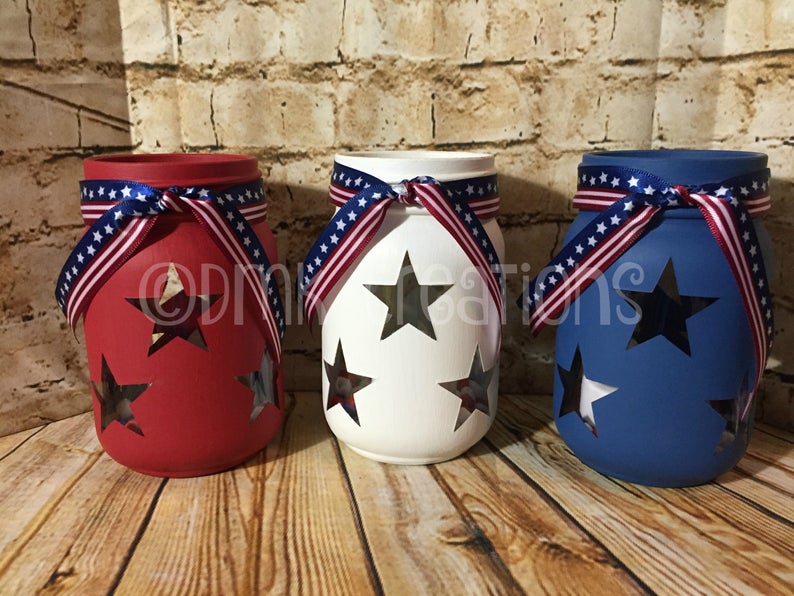 These well-made Mason Jars are perfect for 4th of July because of the different colors and stars on each jar! Not only are they great decor because of their colors and design but because of their many uses!
Such a perfect piece of decor can be be used as a candle holder or simply decor on the table! Anywhere you decide to place this decoration, it will definitely bring the celebration to you!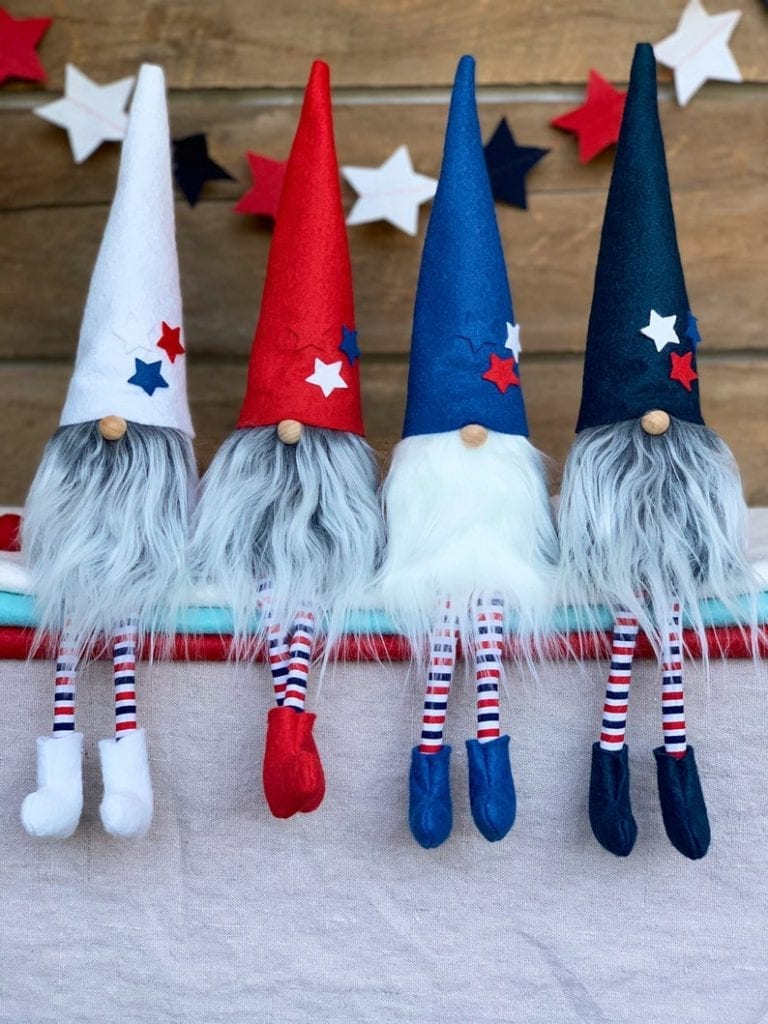 These adorable gnomes are so great to have as decor because they bring the fun to the party and celebration! Not only are these figures fun, but they are each unique which makes them even more special!
These gnomes can be placed on a mantle or side table and will bring a smile to your face whenever you see them!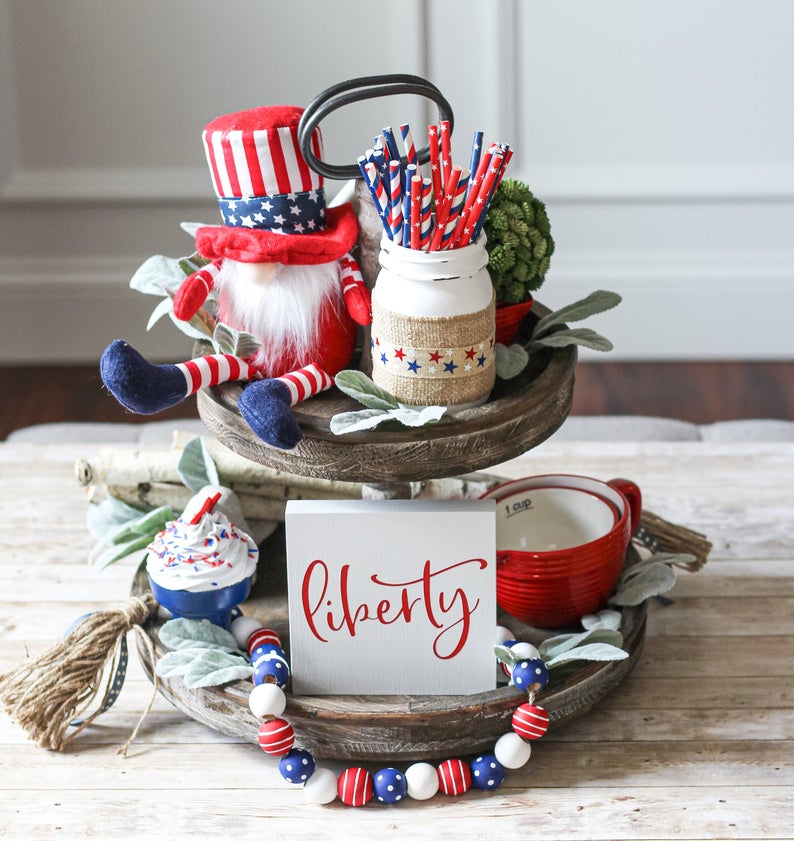 This American Gnome is so patriotic and he loves hanging out during family BBQs and absolutely loves FIREWORKS! It is such a great addition to your other decorations to celebrate a fun holiday!
Not only is this Gnome adorable, but will definitely make you laugh and smile along with help make memories with friends and family!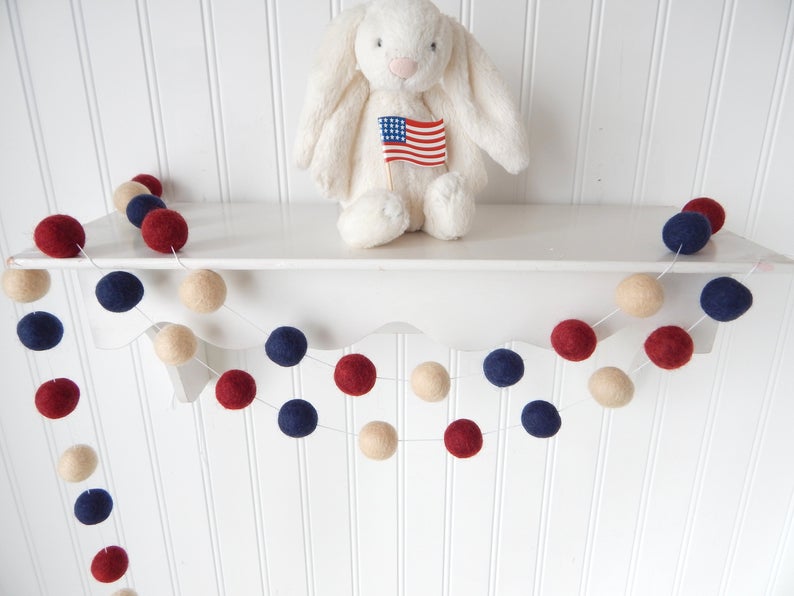 This colorful strand will be the perfect finishing touch to your baby's nursery, child's room or playroom. This garland will also make a reusable, eco-friendly decoration for parties or holidays like celebrating America!
Each of the balls is sewn on the string but is not tied in place, allowing you to customize the position of the your felt balls with a gentle tug!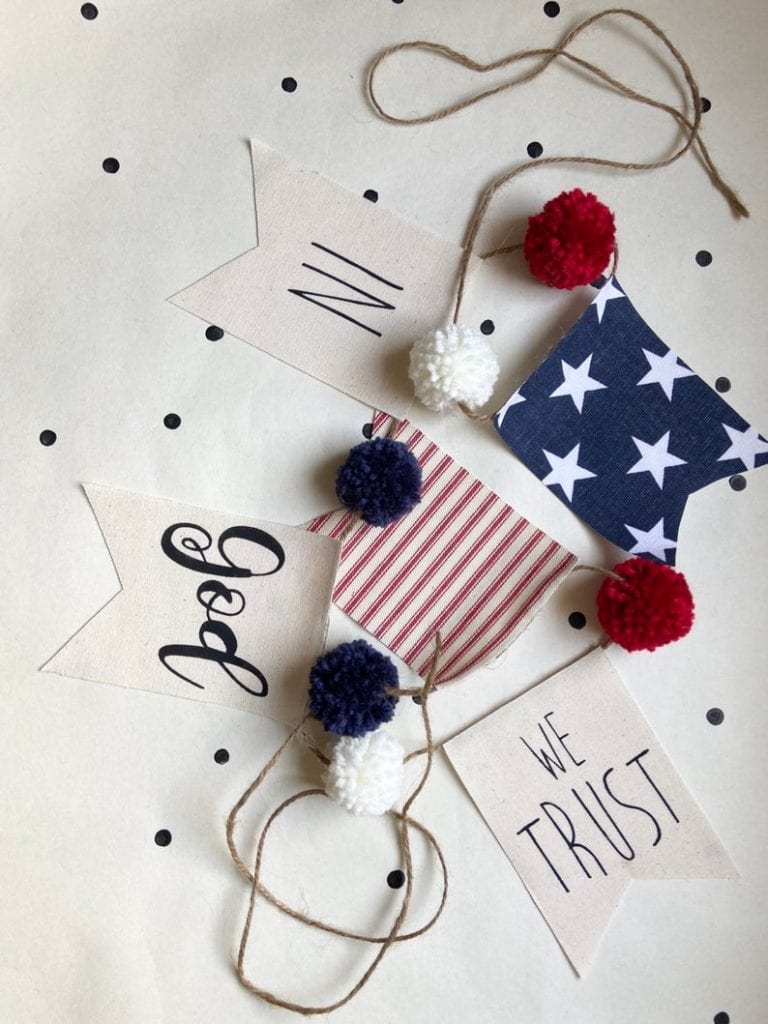 This banner is the perfect addition of decor to have within the heart of your home! It is so simple yet stunning and will be used for years to come!
This 4th of July decoration can be hung from a mantle or on the wall even to create a simple yet fun look to enjoy while celebrating with loved ones!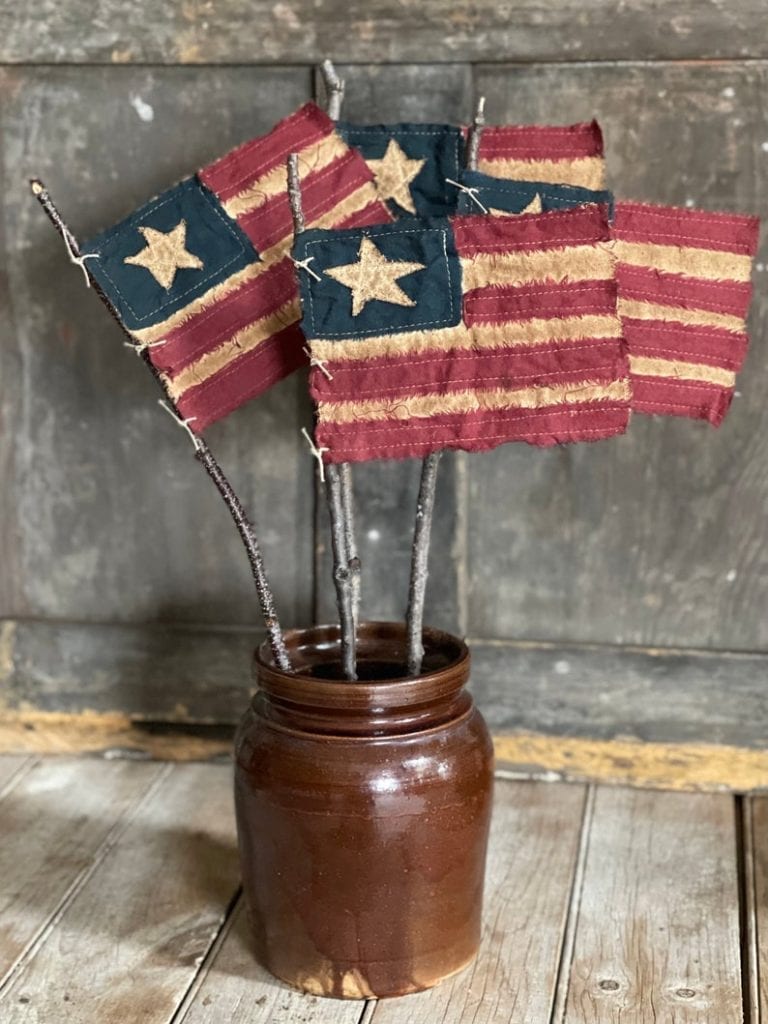 Celebrate colonial patriotism with these little tattered flags and tuck them into any space that you please!
Each of these primitive American flags are made with aged fabric stitched together to give a patchwork appearance. The flags are attached to natural twigs with a bit of sisal!
And by the way, my dear friend Leslie has a great DIY on rustic and cute 4th of July flag tutorial.
This stuffed fabric flag pillow will help create a vintage, farmhouse look within the heart of your home and add a sense of comfort on your couch!
The design and coloring is simple yet perfect for the occasion of 4th of July and will and can be used for future holidays for many years to come!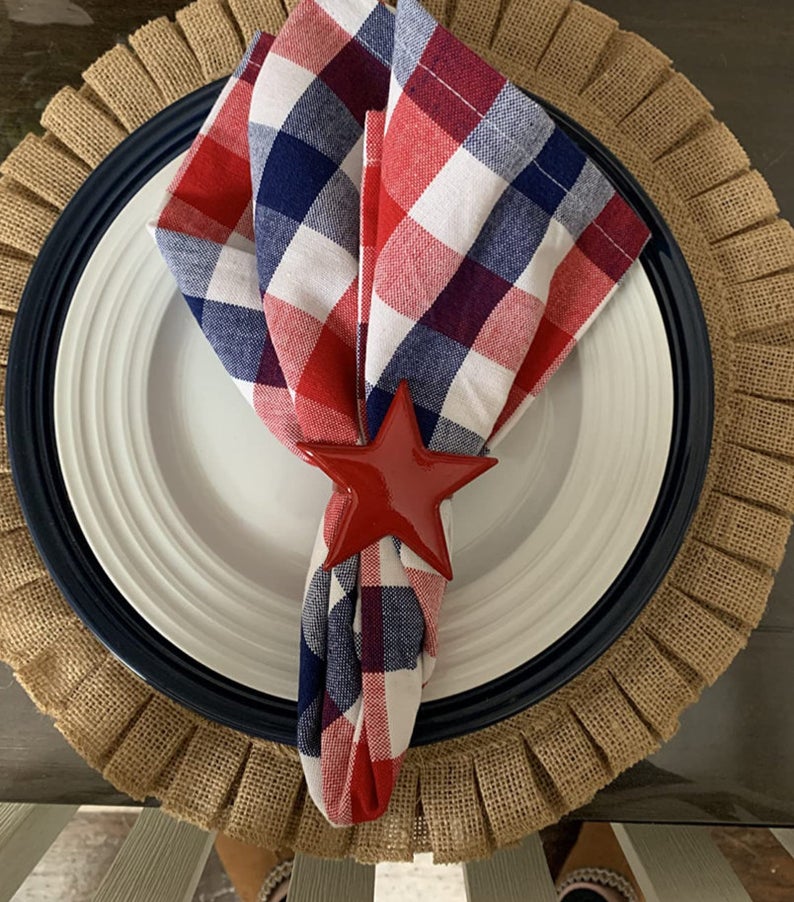 Red, White & Blue Cloth Napkins
You and your family are going to enjoy a relaxing time with these handmade napkins the 4th of July! They come in a set of 6 and they each measure 20×20". They are machine washable too!
These beautiful cloth napkins complement one another so well on the table setting and are durable for many years to come!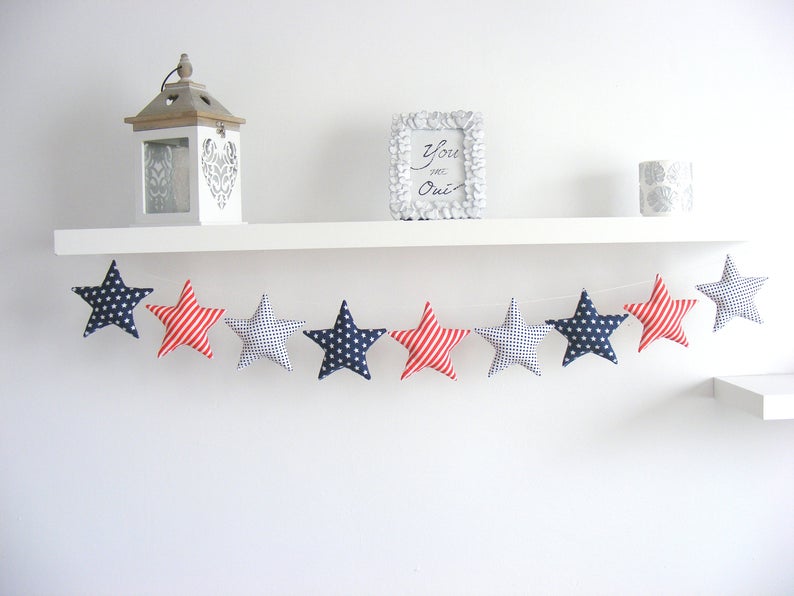 This 4th of July garland is the perfect patriotic garland to have when celebrating! Not only is this a piece of decor but can also be known as a gift to a loved one!
The stars with their different colors and designs help create a fun and stylish look to the house!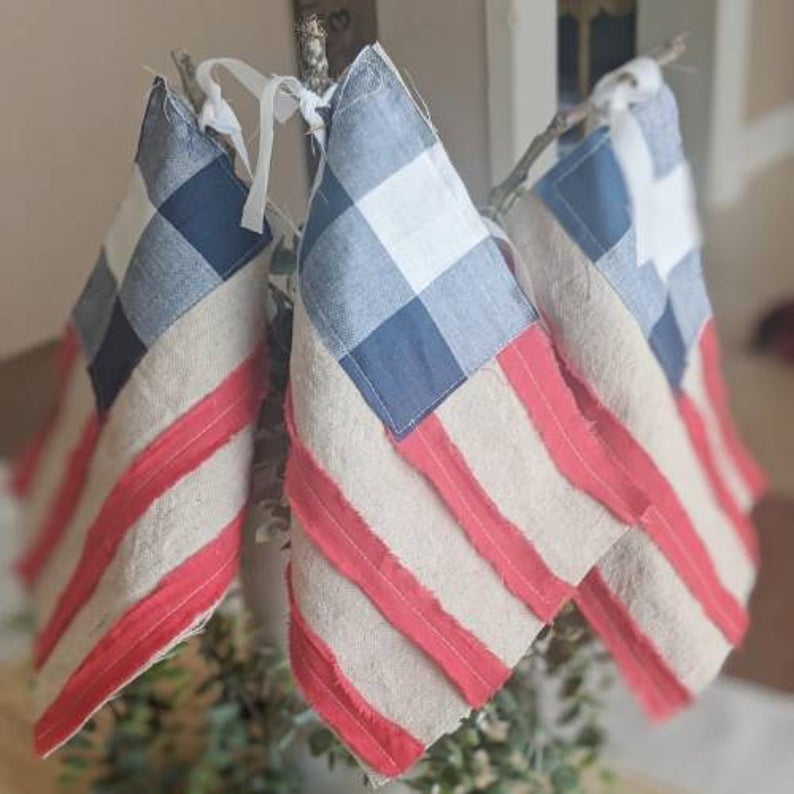 Set of three flags sewn with red stripes and blue and white gingham. Two flags are forward facing and 1 is facing in the opposite direction. All are seen unto a nice weight muslin type fabric. The red stripes have decorative stitching. the perfect touch to your patriotic decor!
Each flag has 2 strips of fabric sewn to the side of the flag to tie flags onto the rustic stick. These pieces of decor are casual enough to be placed around the house to enjoy with friends and family!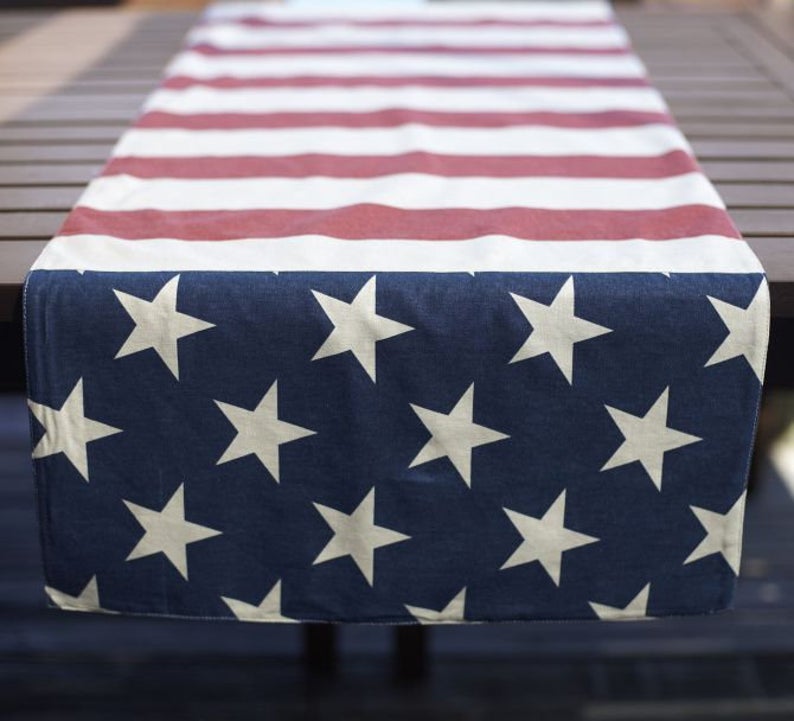 This patriotic table runner is perfect for the table setting when food is served and placed on a platter! This design is simple yet stunning to enjoy when around the table with friends and family celebrating the night away!
Not only is this table decoration perfect for 4th of July but also for other holidays such as Memorial Day or Independence Day!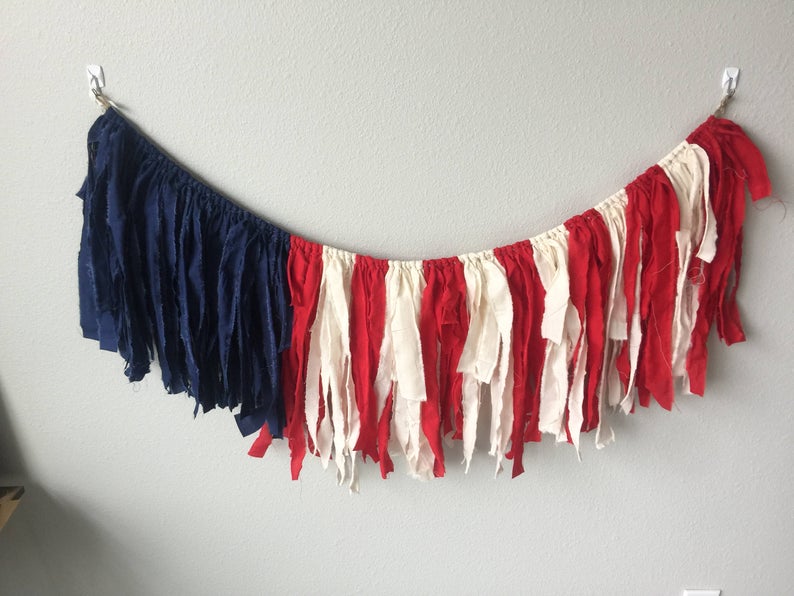 This garland is perfect to decorate your space or party for all the fun summer events including memorial day, 4th of July, Labor day and overall to enjoy during summer bbq's and parties!
This piece of decor can be hun anywhere and everywhere you like whether it's outside or inside to create a fun and lively look while celebrating America!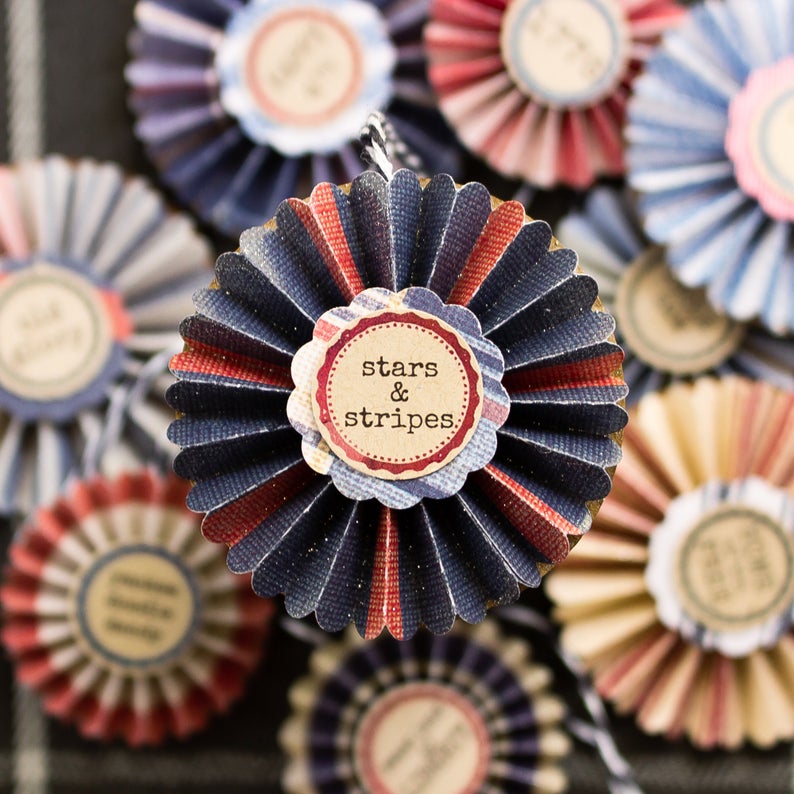 Show your patriotic spirit with these Fourth of July Rosette ornaments!
Cut from plaid patterned card stock. Scored and folded by hand to make rosettes. Dusted with glitter for just a touch of blingy sparkle. Mounted on heavy chipboard for stability!
4th of July Patriotic Mini- Banner to help Celebrate Memorial Day and the Fourth of July!
Celebrate with a vintage inspired banner made with mini fabric pieces of red, white and blue fabrics that will bring a sense of fun to the party when celebrating with friends and family!
---
Thanks for joining us today for this fun 4th of July Decorations roundup!
Cheers,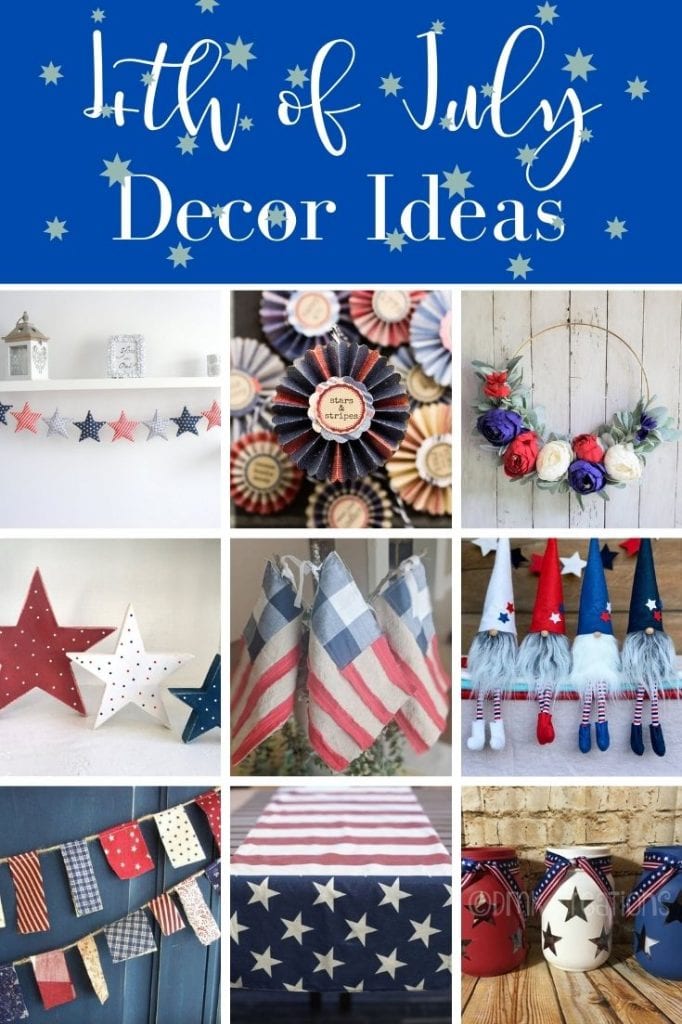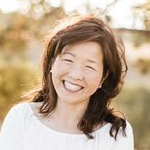 Latest posts by Janine Waite
(see all)