Happy Holidays! Welcome to our Home for Christmas House Tour. This is a view of our cozy cottage at night. The glow from the twinkle and candlelights create such a beautiful environment. And this year, more than ever, we need a beautiful winter holiday home.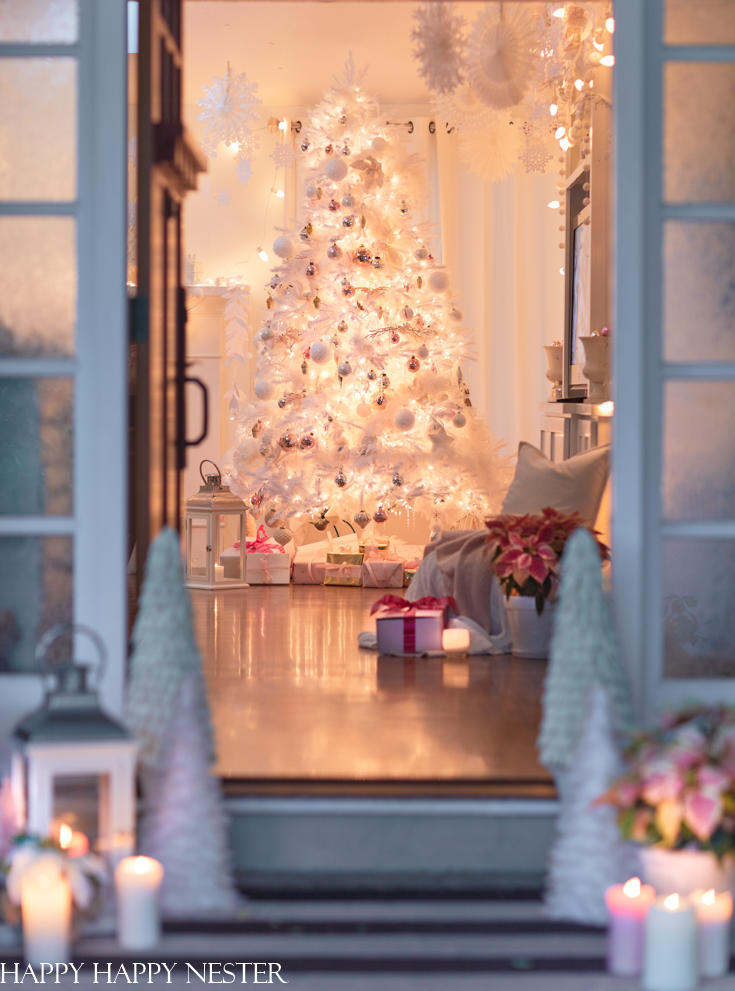 This year I've craved an inviting home, one that embraces our family with a big hug! Between my mom's passing last year and this year's pandemic, our house is our sanctuary.

Today, you are in for a big treat. I'm part of a Night Tour that my sweet friend, Rachel from Maison de Pax. Enjoy this beautiful Christmas tour!
And if you are joining us from Chelsea at Two and Twenty One, a warm welcome, and hug to you.
Ok, I can't share our holiday decor without mentioning the pandemic. My decorating this December began after almost a year of quarantining.
Here are a few 2020 things that happened over at the Waite Pad
Every day is the exact duplicate of the previous day.
All meals are made at home, so our kitchen is working overtime.
Pajamas and sweats are worn all day long.
And family is everything.
This gigantic life-changer definitely made a huge difference in our lives and our cozy abode.
So, I decided that this holiday I needed to develop something that transformed our home into a winter wonderland. I turned to my favorite movie, Elf. I immediately started making paper snowflakes, paper chains, and a paper leaf garland. Our living room and dining room ceilings are filled with paper decorations.
I feel like I finally found my happy place for the holidays!
Ok, without further adieu,
Here's My Christmas House Tour
I did start the holidays with red Christmas decorations, and then after a week, I did a 360 and changed the living room with pink. Once the room transformed with all white decorations with touches of pink, I did my happy dance.
Here are the results.
LIVING ROOM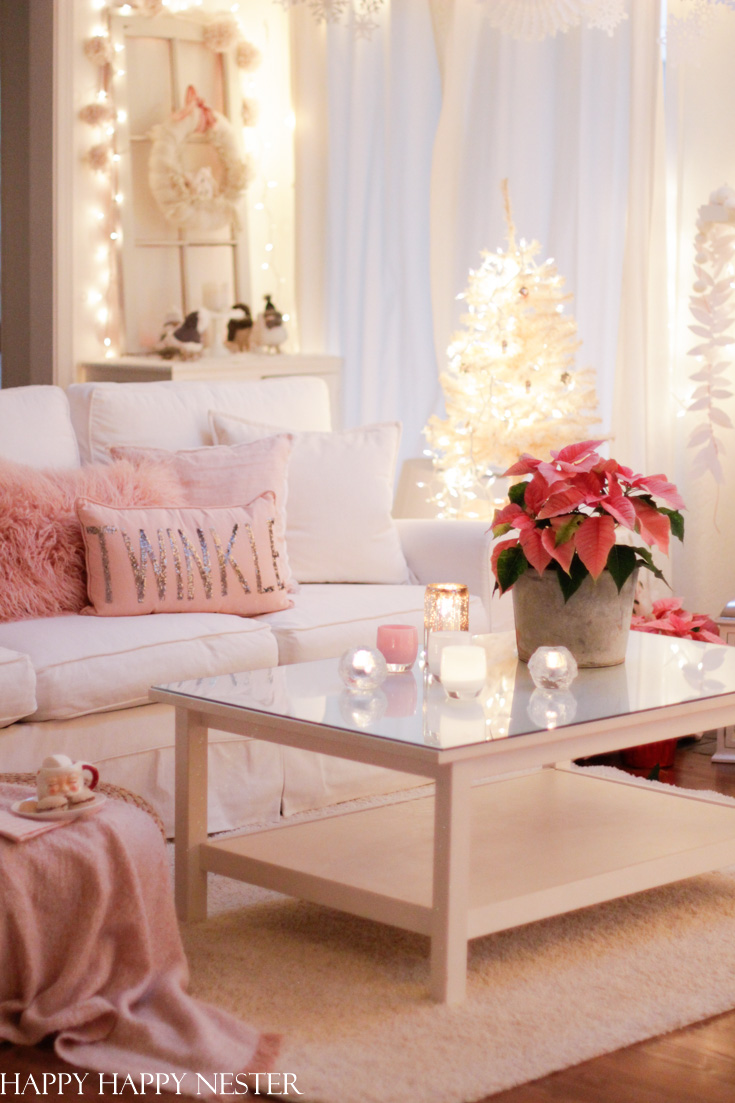 I'm so lucky that my husband doesn't mind pink interiors. He is so tolerant of all my blogging shenanigans.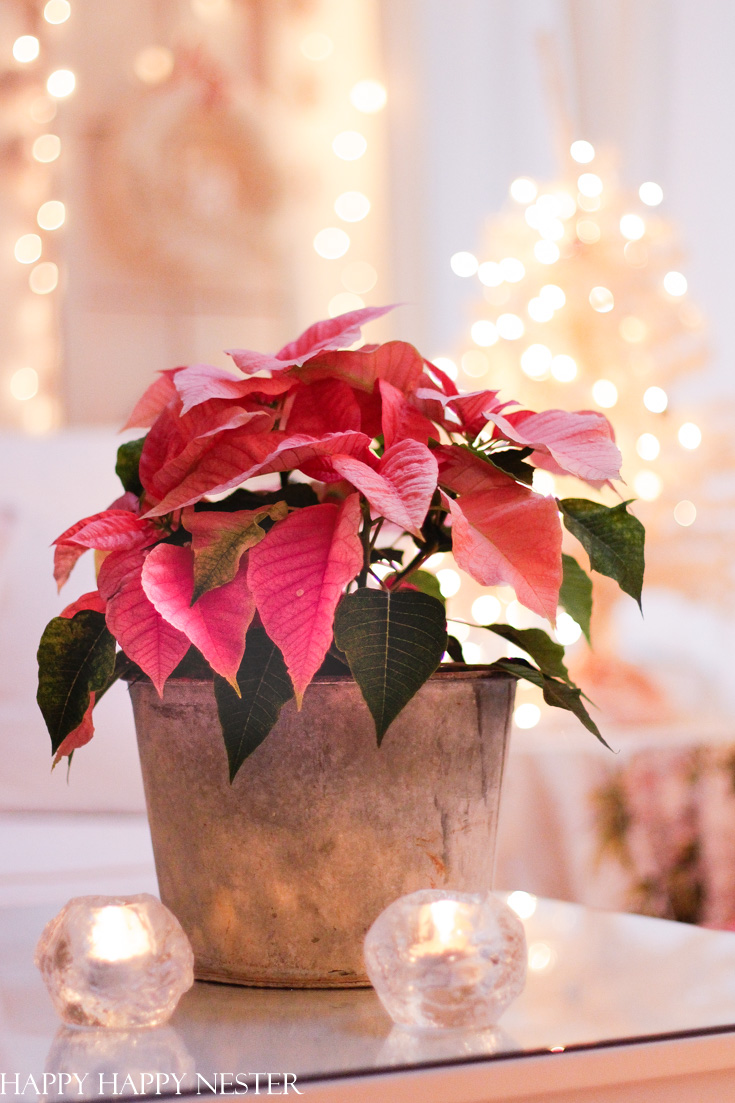 Poinsettias are everywhere in our home this year. Our local Ace Hardware always has a great selection, and since we are in a strict lockdown, I rarely shop. But, Ace's nursery is outdoors, so I bought quite a few in one shopping trip.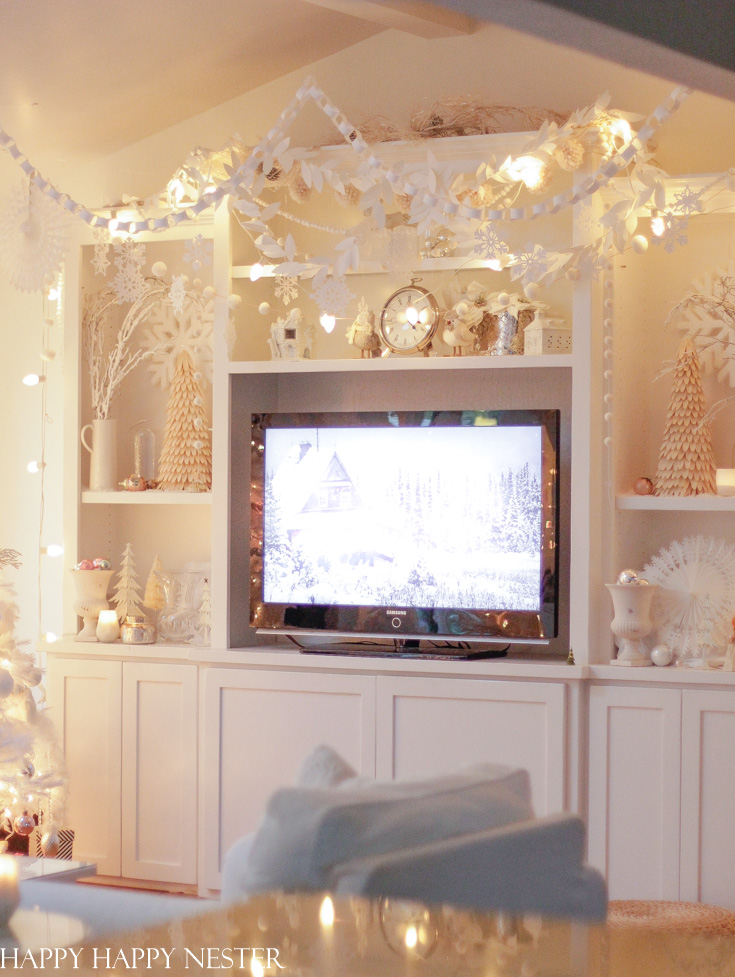 Well, I went a bit crazy with making the paper garlands and snowflakes. Well, you might have guessed it, Buddy the Elf is my hero!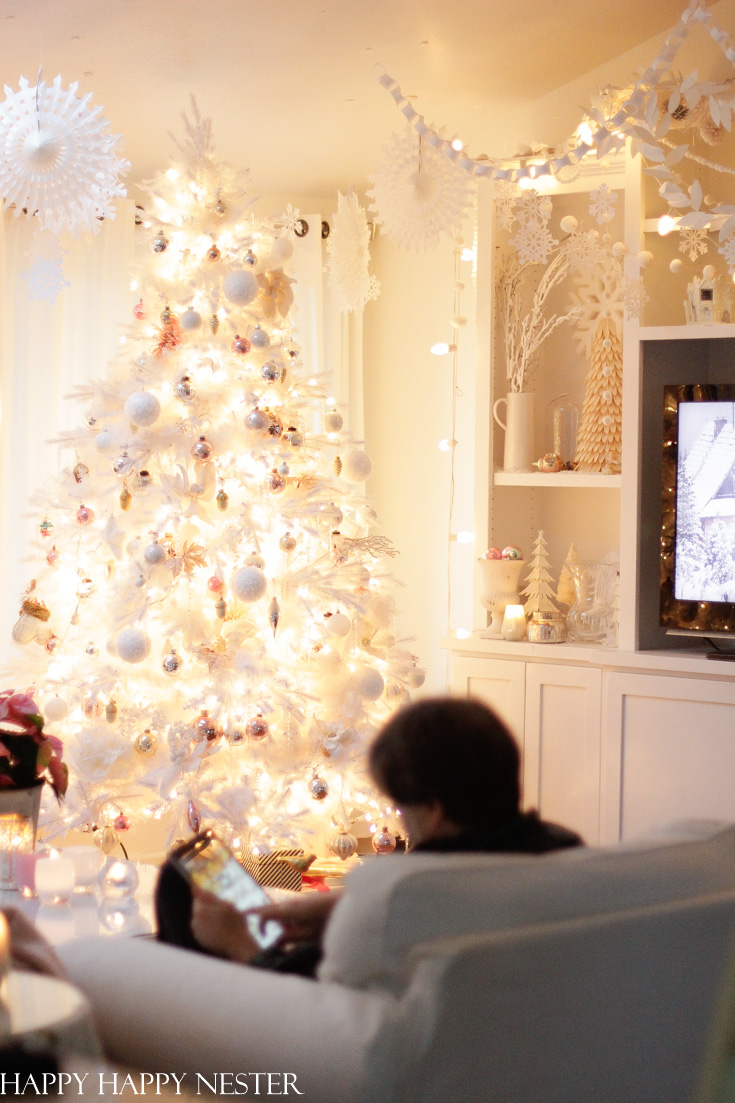 Speaking of my husband, he photobombed my Christmas house tour. Well, I kept moving him around as I took photos for this tour. I finally just took this one while he sat in the chair. Real-life is happening over here.
I recently shared five of my Christmas Tag Printables. If you need some gift tags this week, make sure to hop on over to the blog post.
WINTER DINING ROOM
My Christmas house tour wouldn't be complete without seeing more of my paper decorations in our dining room!
I didn't realize that I bought two packages of these pretty snowflakes. So, instead of saving them for next year, I decided to decorate our dining room. Yup, I think my paper obsession has gone beyond normal.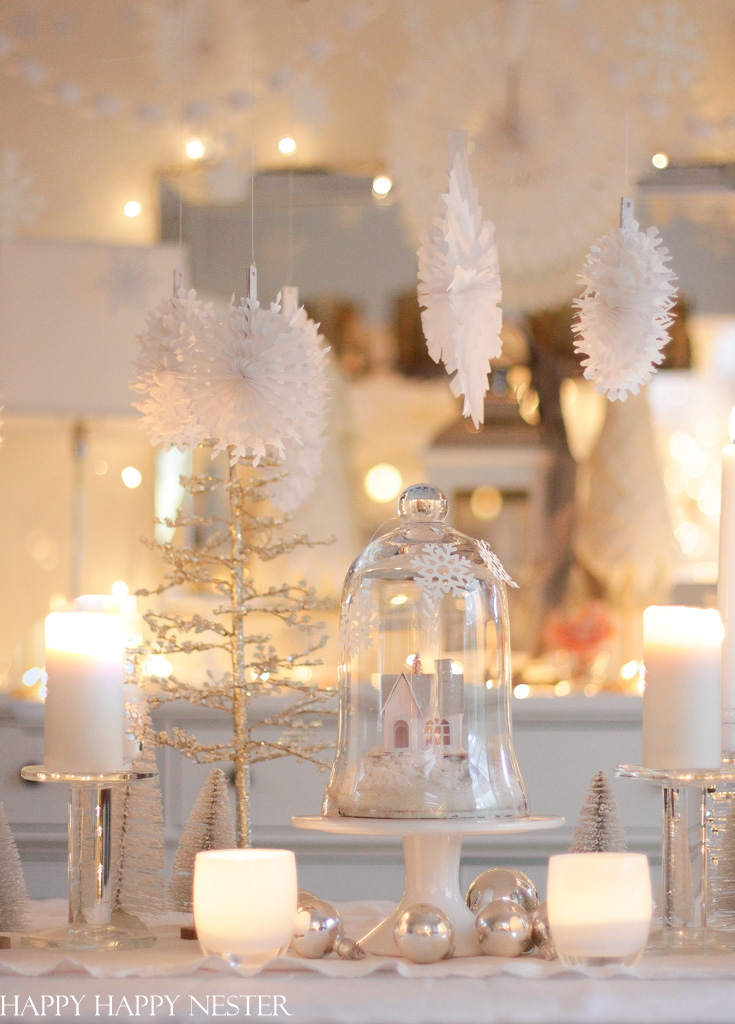 Since we are confessing obsessions, here is one more. I love putz houses. I made this one the other day. If you like these mini-paper houses, then make sure to check out my putz house shopping post. There is something magical about these cute houses.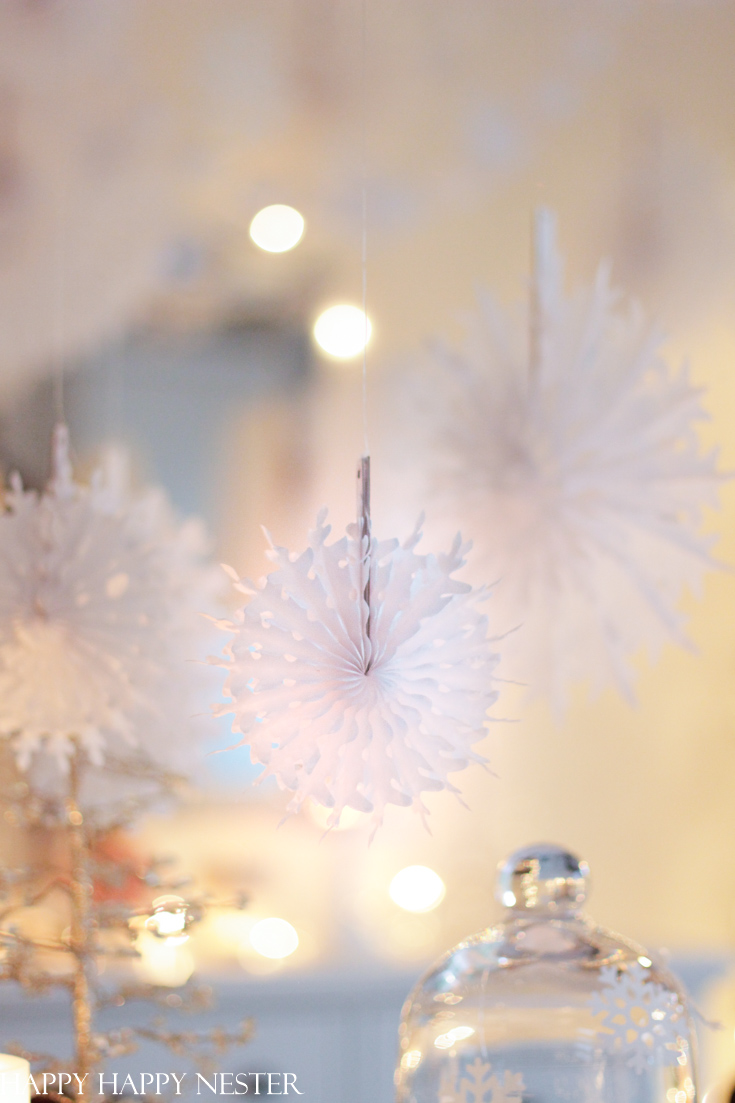 You may know that I watched the movie Elf in November and took a gazillion photos of the interiors. Our house looks like a more elegant version of the movie set. Next year I plan to decorate with paper decorations and add more since I didn't quite cover every surface. 🙂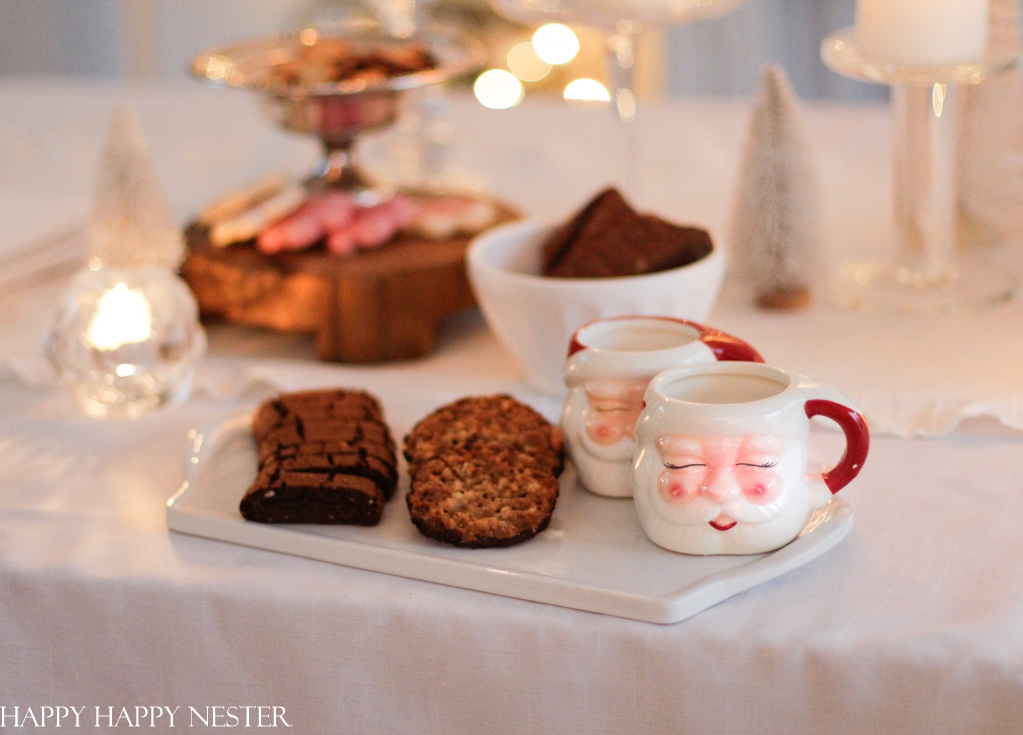 I was hoping to do a dessert charcuterie board but didn't get around to it, so these are for my daughter and husband. They have been waiting forever to enjoy these scrumptious desserts. Yup, they ate all these treats after I took this photo. Don't you love these cute Santa mugs?
BEDROOM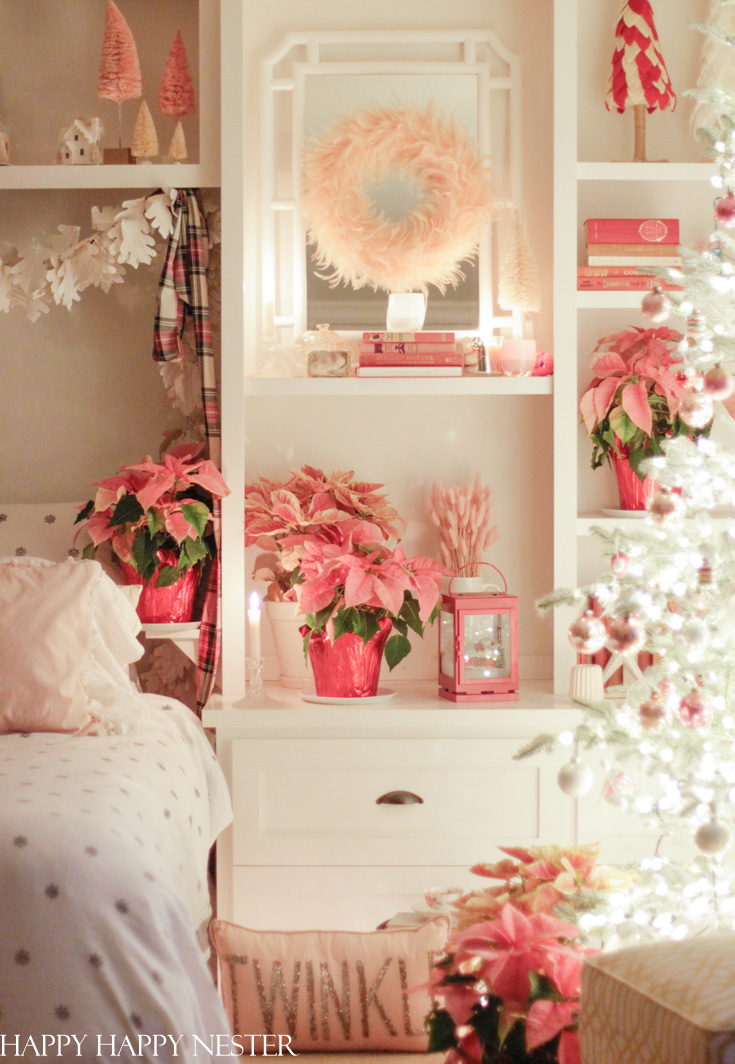 Well, it's off to bed for me, only a couple more days until Christmas. I hope you all have a wonderful time with your family. Thanks so much for joining me today for my Christmas house tour.
Now, the next blog on this night tour is Lauren at the Blesser House. Enjoy her candlelight tour!
Stay safe and healthy!
Cheers,

Don't forget to check out my friend's fabulous Night Tours!
Maison de Pax | Inspired by Charm | French Country Cottage | Shabbyfufu
Maison de Cinq | Thistlewood Farms | Finding Silver Pennies | Happy Happy Nester
Nina Hendrick | The Wood Grain Cottage | Julie Blanner | Bless'er House
Two Twenty One | Ella Claire & Co. | At Home with The Barkers | hosted by Maison de Pax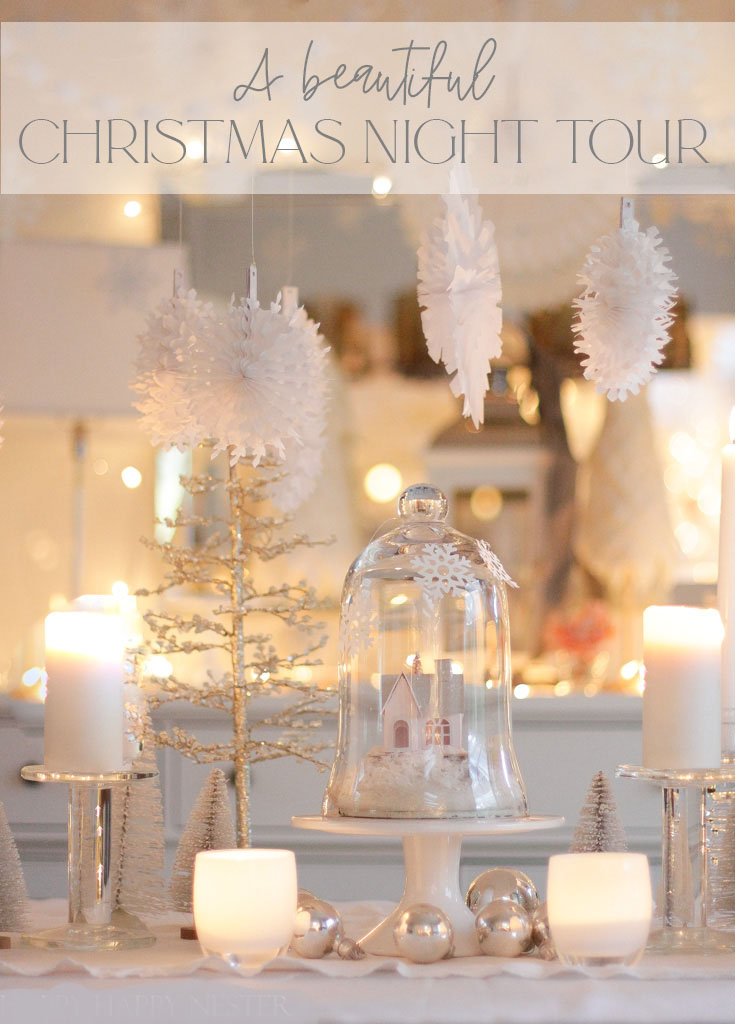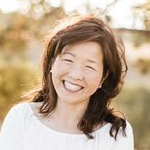 Latest posts by Janine Waite
(see all)