Here's an easy Lemon Sugar Scrub Recipe that uses Olive Oil. The body scrub recipe calls for some fresh lemon rind and a few drops of citrus oils. Make sure to place it in a pretty jar with a ribbon and give it away as a lovely gift to family and friends.
This sugar scrub is a fresh blend of lemon zest, granulated sugar, essential oils, and olive oil. I wanted to use coconut oil but didn't have any in the kitchen. I used my handy dandy olive oil, which is just as good for your skin as coconut oil.
So you probably have all the supplies in your home but maybe need to purchase the essential oils.
This week on the blog, we are celebrating Mother's Day! This particular day is just around the corner if you haven't noticed. Here are a few posts that you might find helpful. Also, today's project is part of a blog hop of my friends. So, make sure to check out their posts at the bottom.
---
*The following post contains affiliate links
If you don't want to make a sugar scrub, here are a few you can purchase: My favorites from Tula, The Body Shop
---
Lemon Sugar Scrub Recipe
I love body scrubs, and I use them daily, but I've never made them. The other day I made some homemade sugar scrub, and I was blown away by how easy it is to make. Also, it was cool that I already had most of the ingredients, which made it so convenient.
I'm a bit partial to anything that has a citrus fragrance. So, I decided to focus on creating a refreshing lemon/mandarin sugar scrub.
Frequently Asked Questions About this Body Sugar Scrub:
Can I use olive oil in a sugar scrub?
Yes. The sugar cleanses the skin, and the olive oil hydrates.
Can you use olive oil in a sugar face scrub?
Yes! Olive oil is safe to use on your skin. Olive oil is rich in vitamins and antioxidants and can help improve skin moisturization, anti-aging, and relief from sun damage.
Does olive oil darken your skin?
No, it doesn't make your skin darker.
Does olive oil lighten your skin?
Extra virgin olive oil has a very slight lightening effect on the skin. It does reduce redness, wrinkles, and sun damage.
I have sensitive skin. Should I use the essential oil?
I would opt not to add the essential oils. If you want more lemon scent, make sure to add more lemon zest to the sugar. Or you can test a small area of your skin to see if you react.
How to Make a Sugar Scrub
Supplies You'll Need:
1 cup of granulated sugar (if you have sensitive skin, use Baker's Sugar or brown sugar)
2 tablespoons finely chopped lemon zest
1/4 cup extra virgin olive oil
15 drops of essential oils* (optional)
glass jar ( I used a glass jar and painted the lid with this gold paint)
Directions:
Step 1 – Zest a lemon and finely mince the zest.
Step 2 – In a medium-size bowl, mix all the ingredients. Transfer to a jar with a lid. Store
If you want to make this a body sugar scrub and don't want to use the essential oils, you can substitute 2-3 tablespoons of lemon or lime juice.
Sugar Scrub for the Face
It's fine and less rough on the skin. Also, it draws more moisture into your skin. Substitute brown sugar for the granulated sugar.
Add more olive oil if the scrub is too rough on your face.
Don't use lime or lemon juice when making a face sugar scrub. The citrus may react with your facial skin.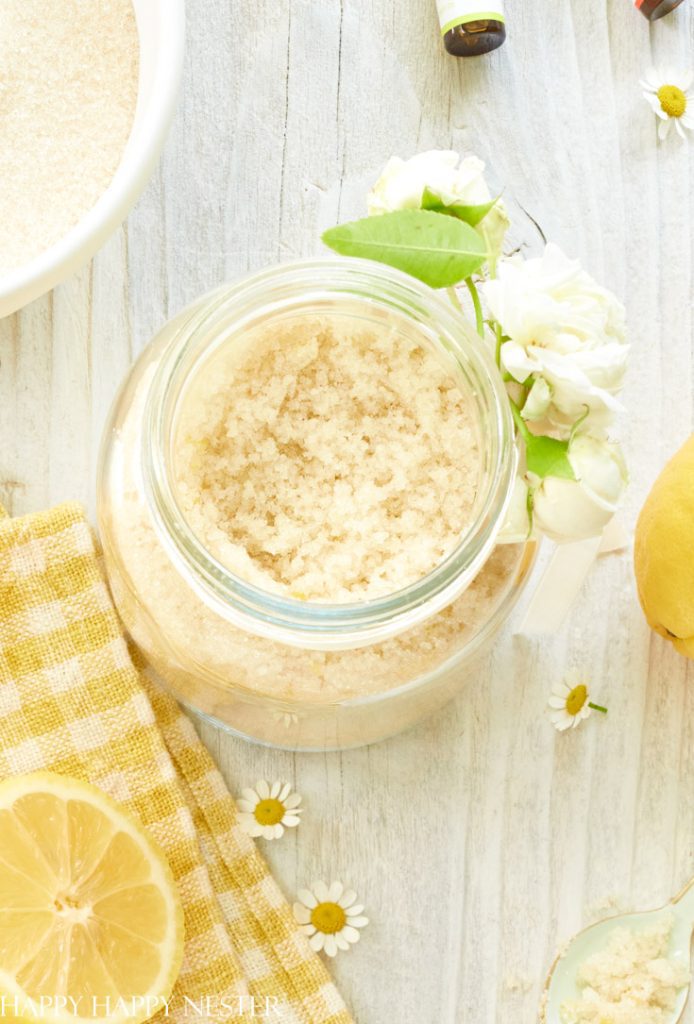 *Oil Options
A Few Oil Substitutes
Instead of citrus oils, use tea tree, bergamot, and geranium oils for acne.
For anti-aging, try pomegranate, grapefruit, or lavender.
For a brighter or glowing complexion, use moringa oil or peppermint oil.
Dry skin will benefit from rose oil, chamomile, or sunflower oil.
Enjoy this easy-to-make lemon sugar scrub recipe. It's always nice to make your skincare scrubs and use simple ingredients.
Thanks for joining me today!
Cheers,

Blogger's Best Mother's Day Gift Ideas

Family Rock Art | Twelve on Main
DIY Beaded Plant Pot Mothers Day Gift Idea | The Happy Housie
Free Printables for Mother's Day | My Sweet Savannah

Rose Body Butter Recipe and Printable Tags | Tatertots and Jello
Lemon Sugar Scrub Recipe With Olive Oil | Happy Happy Nester
Garden Kit for Mom | Most Lovely Things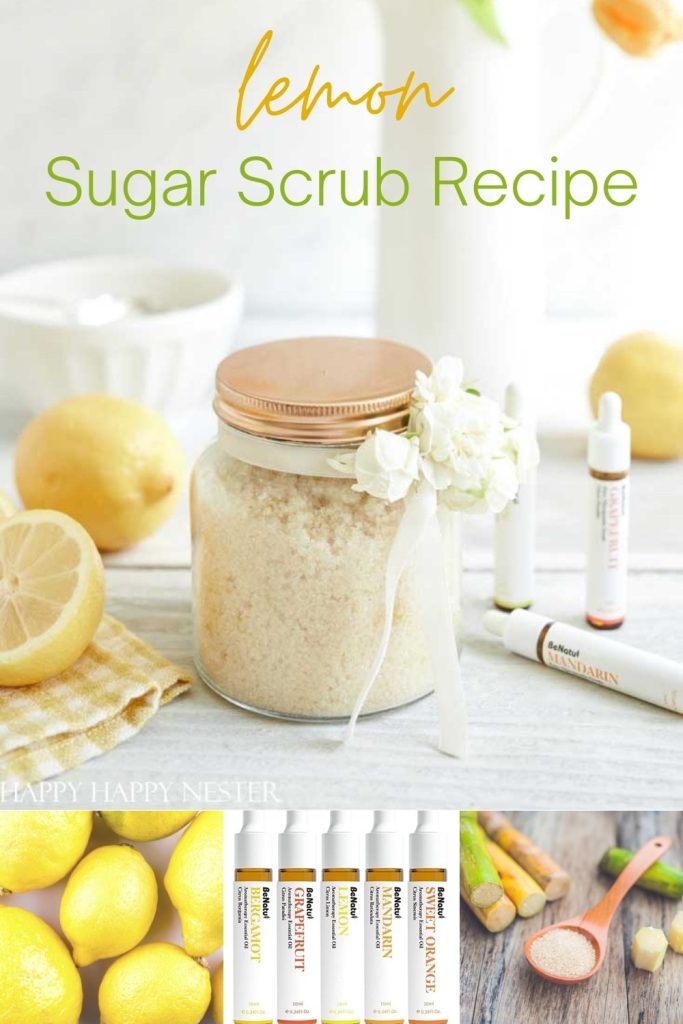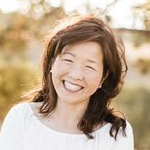 Latest posts by Janine Waite
(see all)