Since peonies are popping up in stores, let's decorate a Peony Cake with Fresh Flowers. Peonies happen to be edible, so they are safe. But, before adding any flowers, always make sure the flowers are not poisonous. Today, I'm going to share a technique in which the flowers have no contact with the cake.
There is nothing quite as beautiful as peonies. And when you have a cute white cake and add fresh peonies, the combination is stunning!
Peony flowers ring in summer with their beautiful shades of pink. And I love decorating our home with bouquets of them. Today, we are going to make a bouquet to place on top of a cake. I'm going to show you how to place any flower on top of a cake safely.
But first, I must mention that this post is a part of a Peony blog hop. So, all our posts are all about peonies. There are a wide variety of projects, so have fun checking them all out.
Peony Cake
*The following post contains affiliate links
Since I'm not great at creating icing flowers, I'm sharing a cake decorated with fresh flowers instead. In a past post, I did top my carrot cakes with my neighbor's camellia blossoms. You can see them in the Easter table decorations post.
How to Place Peonies Safely on a Cake
Before placing real flowers on a cake, I always make sure the flowers aren't poisonous. There are tons of toxic plants, and if they come in contact with food, that's not a good thing.
Depending on where you buy your peonies, you'll want to be safe when adding the flowers. Even though peonies are edible (here is a helpful source), there is always a concern with store-bought flowers. So, to be safe, I've come up with a way to add flowers so that they don't come in contact with the cake.
Let's make a platform that will sit on top of the cake and hold the flowers. This method prevents the peonies from touching the cake. So, whether you buy your flowers from the grocery store or a florist, you don't have to worry about pesticides. But if you are lucky enough to have peonies in your garden, then you probably don't have to worry about this step.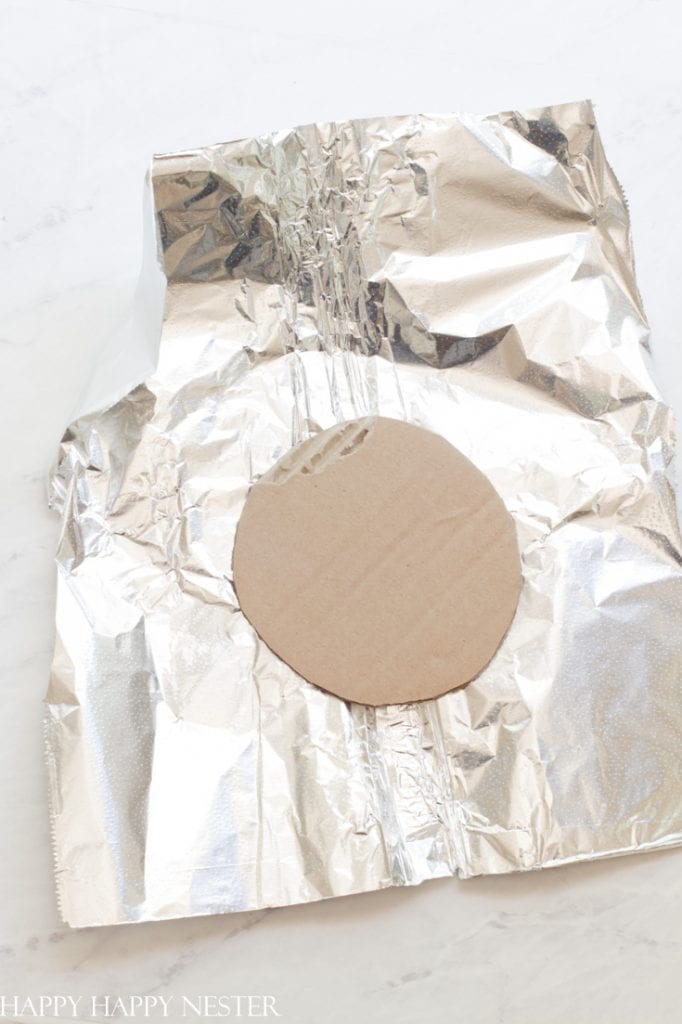 Step 1 – Cut Cardboard to Size
I took the cake pan and drew an outline on the cardboard. Then I cut out the cardboard a little bit smaller since I wasn't planning on covering the whole top of the cake.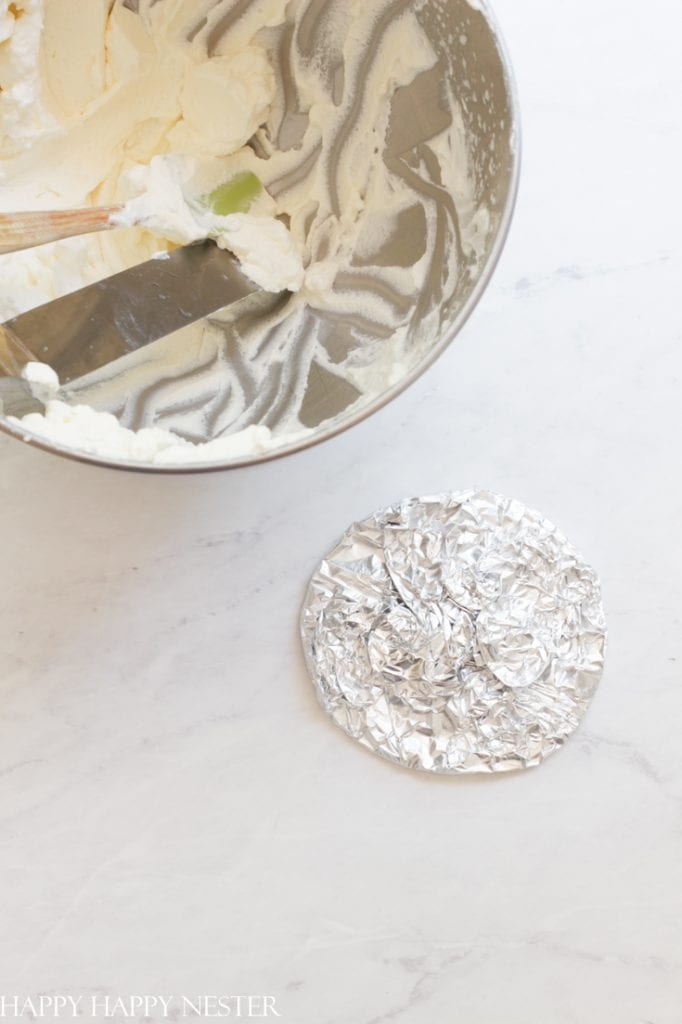 Step 2 – Cover with Tin Foil
Then I thoroughly covered the board with tin foil.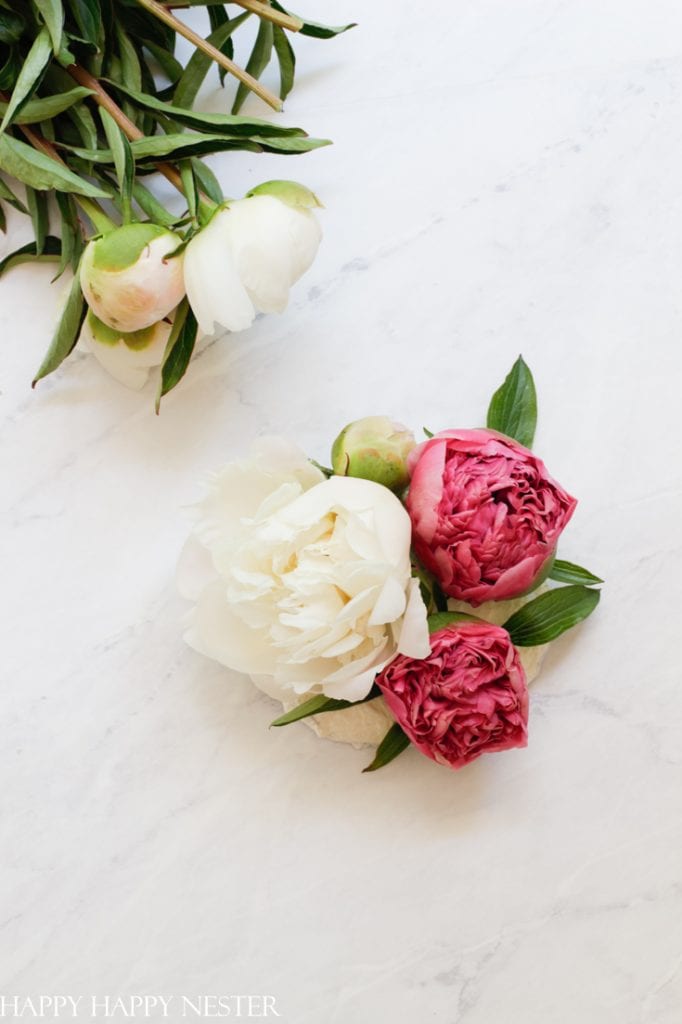 Step 3 – Top with Frosting
I then covered the tin foil disk with frosting. And cut my flowers right under the blossom and placed them on the frosting.
Step 4 – Place the Flowers on Cake
Next, I placed my flower bouquet in the center of the cake. I ended up piping (I used tip number 336) around the base of the flowers, so the tin foil wasn't visible.
Step 5 – How to Remove Flowers Before Cutting the Cake
I use a big flat spatula and slid it just underneath the cardboard. Once the spatula was under the cardboard, I lifted the flowers from the cake. Then you can cut the cake without the flowers getting in the way.
Final Tip About Decorating a Cake with Flowers
When you buy peonies from the grocery store, they are usually in their blossom state. So, I'm sure you're familiar with the tight peony balls? Well, I bought a bouquet, and they stayed in the bud stage for a whole day. So, when decorating your peony cake, make sure to buy your flowers way in advance.
But there are few things you can do to force them to bloom.
1. Cover the Peony
I placed a plastic bag over my peonies and sealed them tight at the stem. The ethylene gas caused the flowers to open up. I used this method today, and they did force the flowers to open. So within 20 minutes, the petals started to loosen up, and within nine hours, the flower was open.
2. Submerge the Bud in Warm Water
Supposedly, submerging the peony bud in the warm water upside down works to open up the flowers. It should take 30 minutes, but that didn't work when I tried it. There was one petal that opened like a half-inch. After nine hours, nothing happened.
Lately, I embraced baking. So, if you want to view some of my cakes, here is a list.
Speaking of food, did you know that peonies are edible, and in fact, some people make tea out of the blossoms. And it supposedly has many medicinal qualities. I love that I learn something new over here on the blog!
Ok this wraps up another fun post. Have a wonderful day and enjoy the all our peony projects!

More Peony Projects
Peony Cake (with Fresh Flowers) // Happy Happy Nester
How to Enjoy Peonies Season All Year Long // My 100 Year Old Home
Watercolor Peony Printable // Twelve On Main
DIY Dollar Store Faux Cane Vase with Peonies // The Happy Housie

DIY Faux Peony Arrangement // Modern Glam
Peony Arrangements & Vase Finds // Finding Lovely
Peony Tips for the Most Gorgeous Arrangements // Inspiration For Moms
Three Free Peony Prints // Tatertots & Jello
Peony Floral Arrangement // Zevy Joy
How To Make Your Own Coloring Book // My Sweet Savannah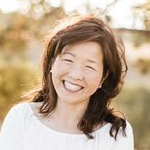 Latest posts by Janine Waite
(see all)