Today's post is on Tiered Tray Decor Ideas for Valentine's Day. If you have a two or three tiered tray that will work for decorating it for seasonal holidays.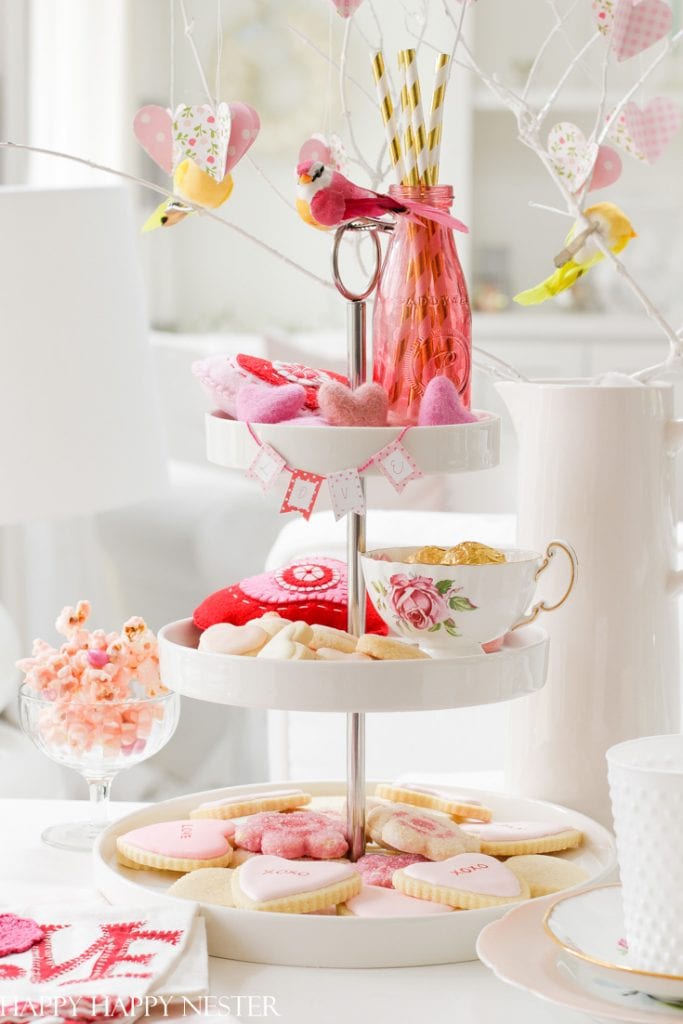 Take out and dusty off your tray and let's get busy styling a cute Valentine's vignette.
I'm excited about sharing my new porcelain tray with you. You see I've always wanted a white one to go with our home. I finally bit the bullet and purchased one and styled it the other day.
I have to say that it came out so adorable.
But before we continue, I must mention that my friends and I are sharing our Valentine's Vignette. Their fabulous projects are located after mine. So as you scroll make sure to check out their posts as well.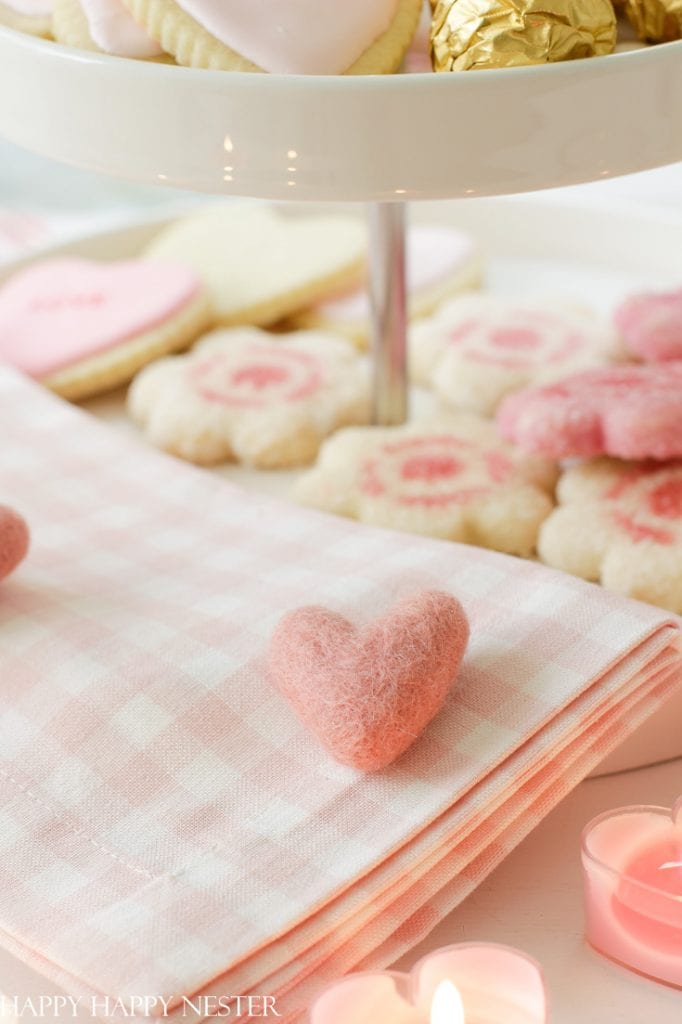 So, this is the first time I officially decorated a tiered tray. There were a few things that I pondered before decorating mine. One of the surprising things that I noticed is that it was a work in progress.
So, I didn't quite mail the tiered tray decor on my first attempt. If this happens to you, don't get discouraged. Take a break. Come back with fresh eyes.
But here are the basic key points that I thought about during my styling session.
Tiered Tray Decor Ideas DIY
*The following post contains affiliate links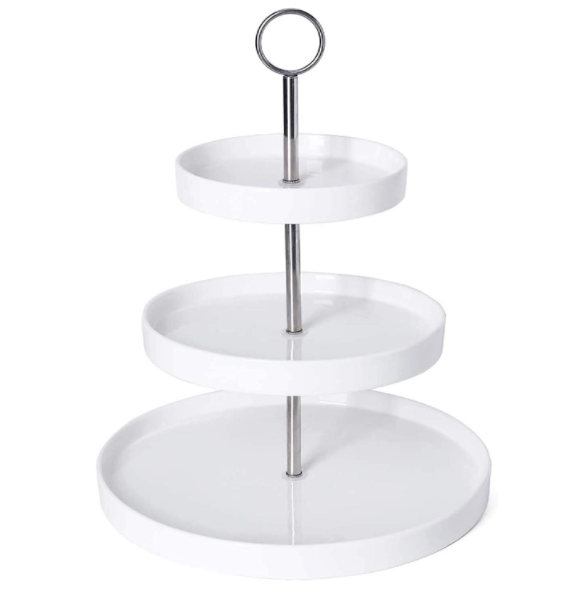 Purchase a Pretty Tiered Tray
I've owned the farmhouse tiered trays that are made out of metal. Well, they sat in my garage unused since the style didn't look quite resonant with me. I'm more of a bright and happy person, so I needed to buy a white one.
I hopped onto Amazon and found this porcelain one, but I worried that it would have a blue tint. So, you're wondering why I don't like my china blue. I feel that it has a cold feel, but that just my opinion.
Well, I was pleasantly surprised that this tray has a rich creamy color that bodes well with accessorizing.
Figure Out The Style
When it comes to style, I like bright and cute. But, go with your passion and color.
I wanted mine to be pink and white in color mostly. Deciding your colors keeps your choices easy!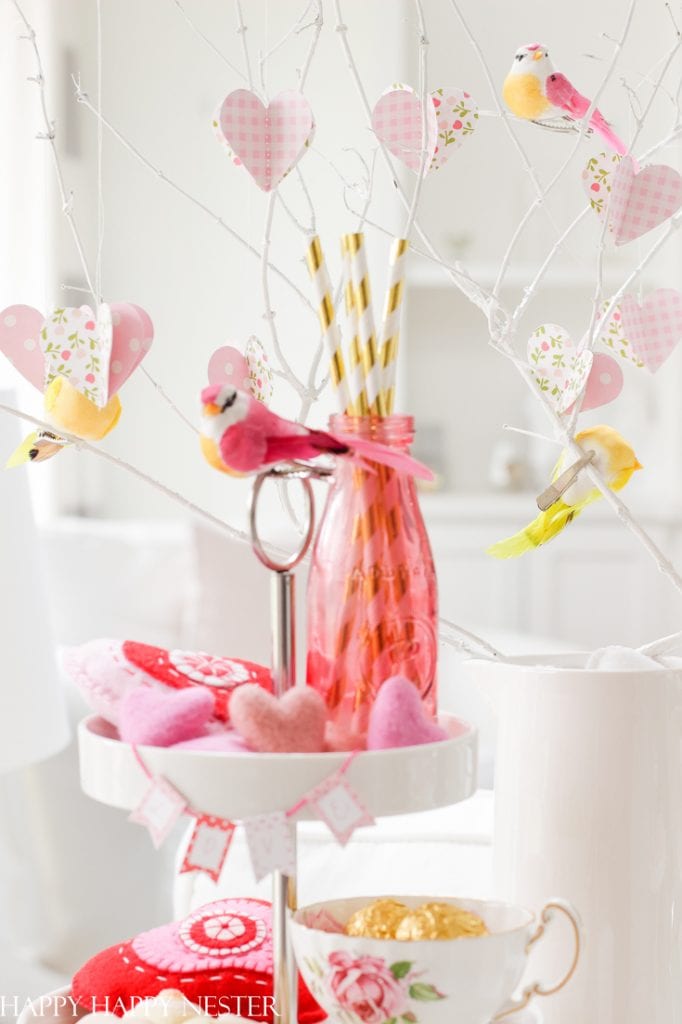 Add Cute Decorations
BRANCHES – I recently show how to make these adorable white branches. You'll want to check out the post since I finally cracked the key to painting branches from a tree.
PAPER HEARTS – I made these, but you can buy them online as well. I hope to post a tutorial later this month.
VELVET HEARTS – Oh my goodness, these are the sweetest hearts. They are velvet-like pumpkins, and they have little crowns on top of them.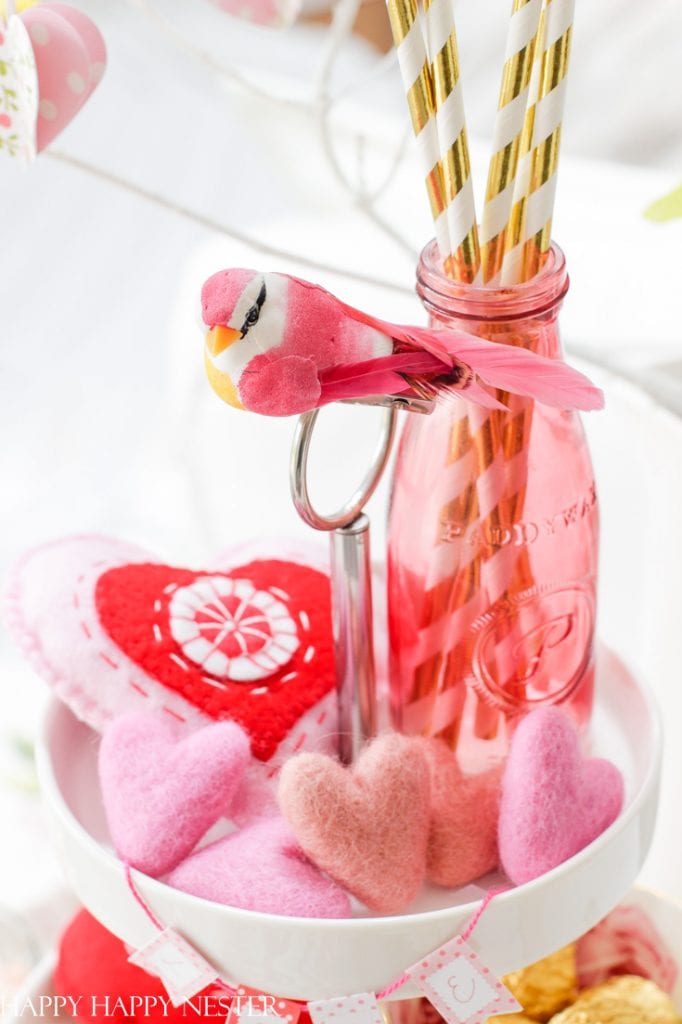 FELT HEARTS – I purchased two kinds of felt hearts. One is embroidered, and the others are pure felt hearts. I'm especially fond of the mini hearts pictured here.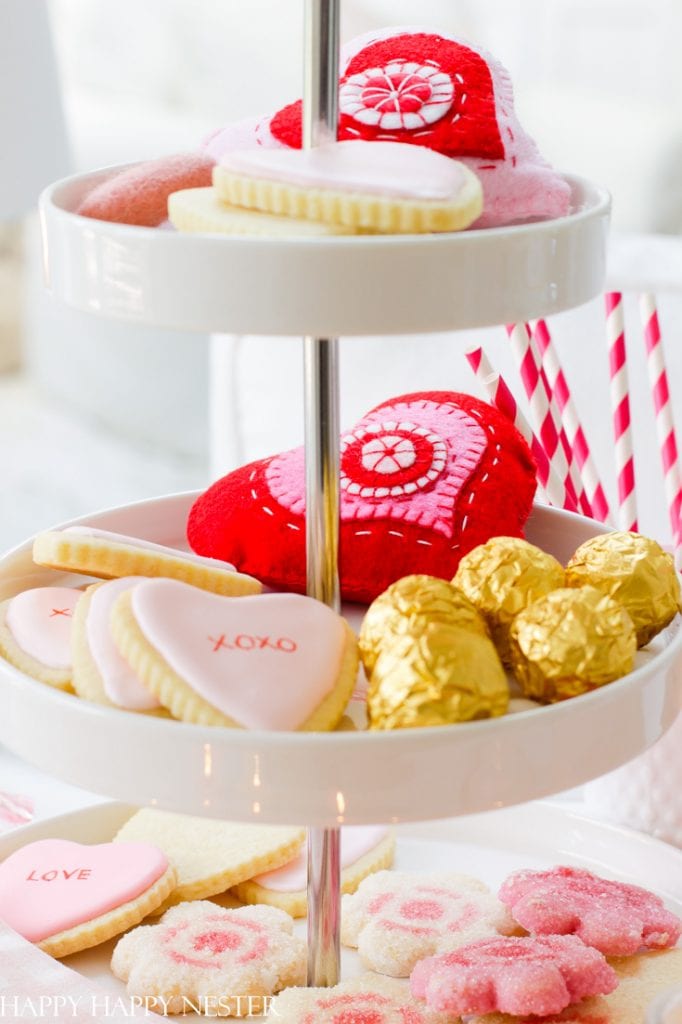 Add Desserts to Your Trays
I made these pretty iced sugared cookies, and here is the link to my sugar cookie recipe. I loaded up my tiered trays with my sweets but, I missed my pink French Macarons cookies. I forgot to take them out of the freezer.
Speaking of which, did you know that they freeze well? So if you can't eat them after baking a batch, then store them in the freezer for later.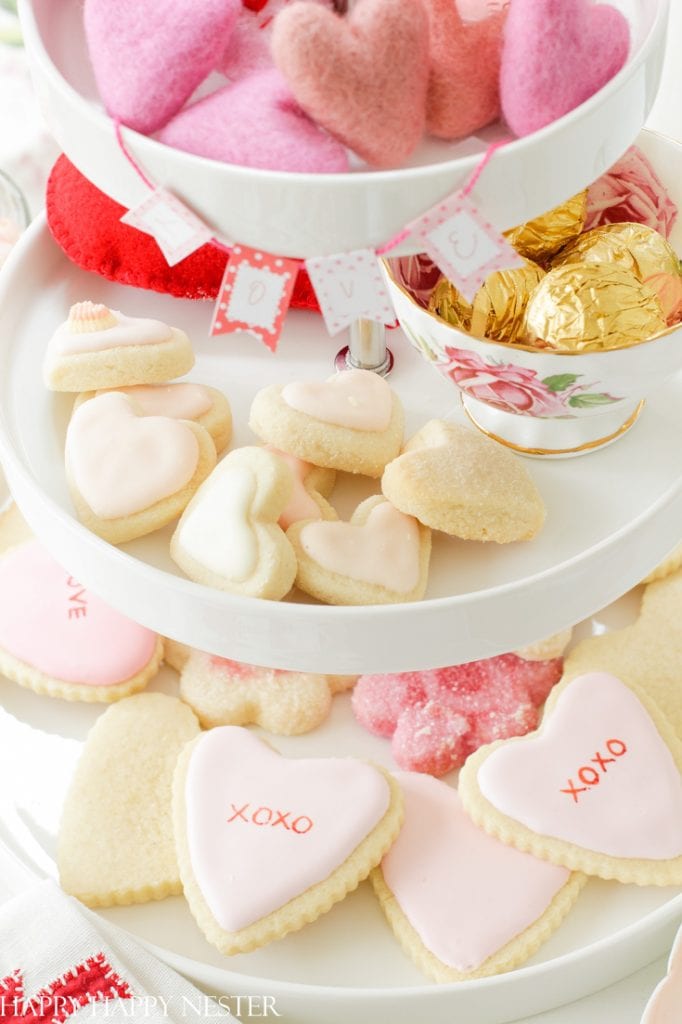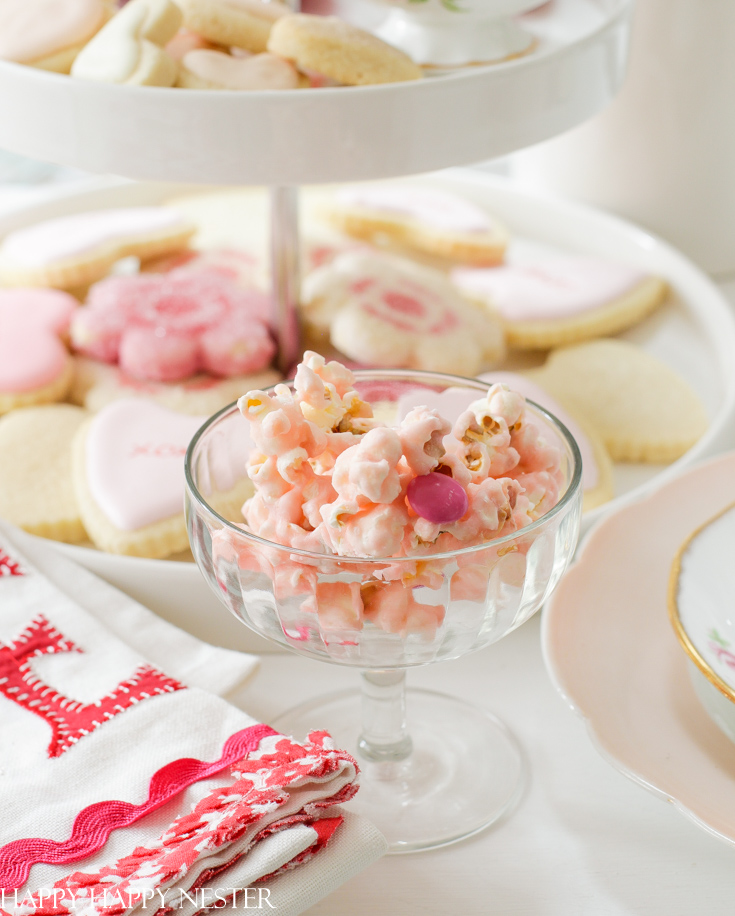 POPCORN – I made this pink popcorn (from another website) last night, and it looks pretty, but it lacks in flavor. So, I'll have to come up with my own recipe. So stay tuned. I have an easy microwave caramel popcorn recipe that is yummy, and I would have included it here, but my daughter devoured the whole batch.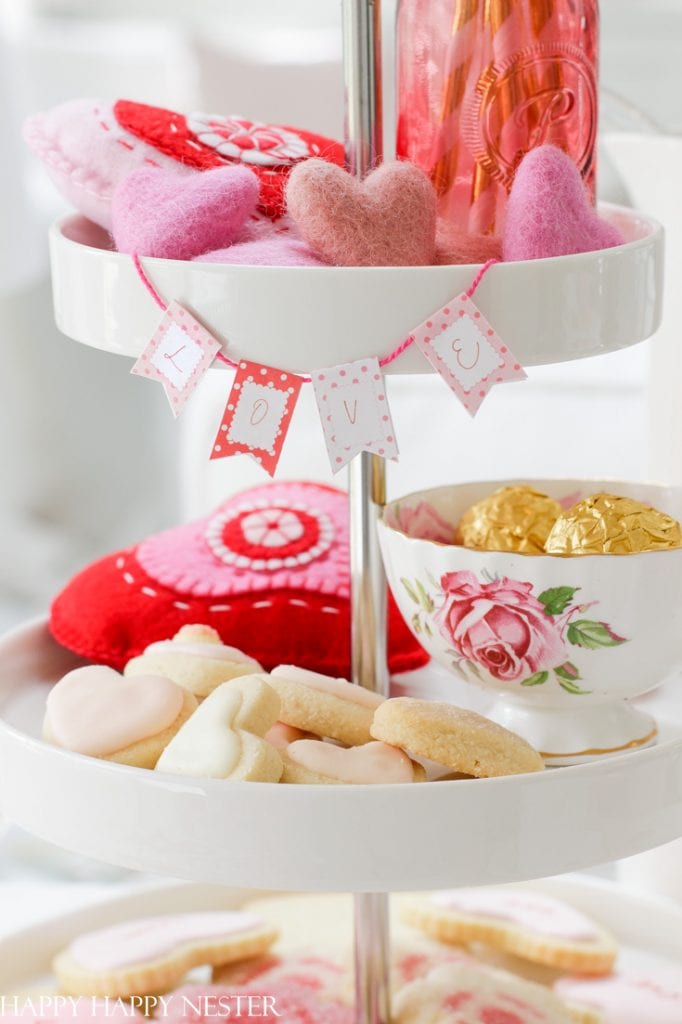 Use Containers to Hold Treats
CONTAINERS – I used my vintage teacups. Find things that are short in stature since there isn't much clearance between the shelves. Here are some suggestions.
Decorate with Cute Banners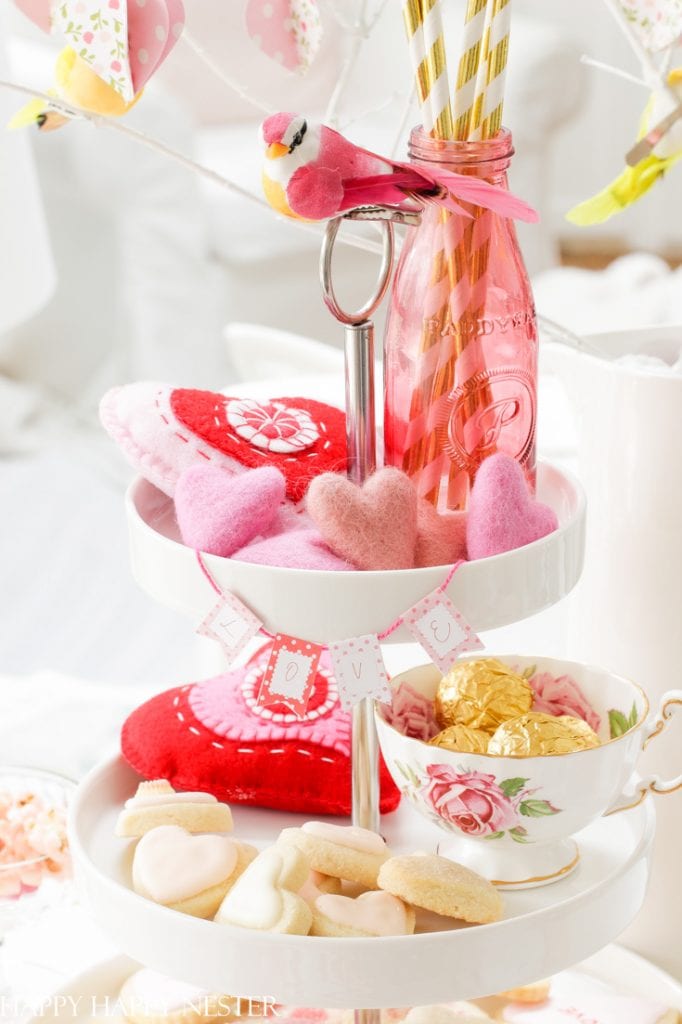 Add Mini-Banners
I bought this digital cake banner over on Etsy, and I placed my own type in the design. So, I didn't open the instructions on how to place type on her designs. So, when you buy the digital graphics, then make sure to read how to add your own type.
This design includes plain banners, so if you don't mind not having words, then go ahead and purchase the digital design.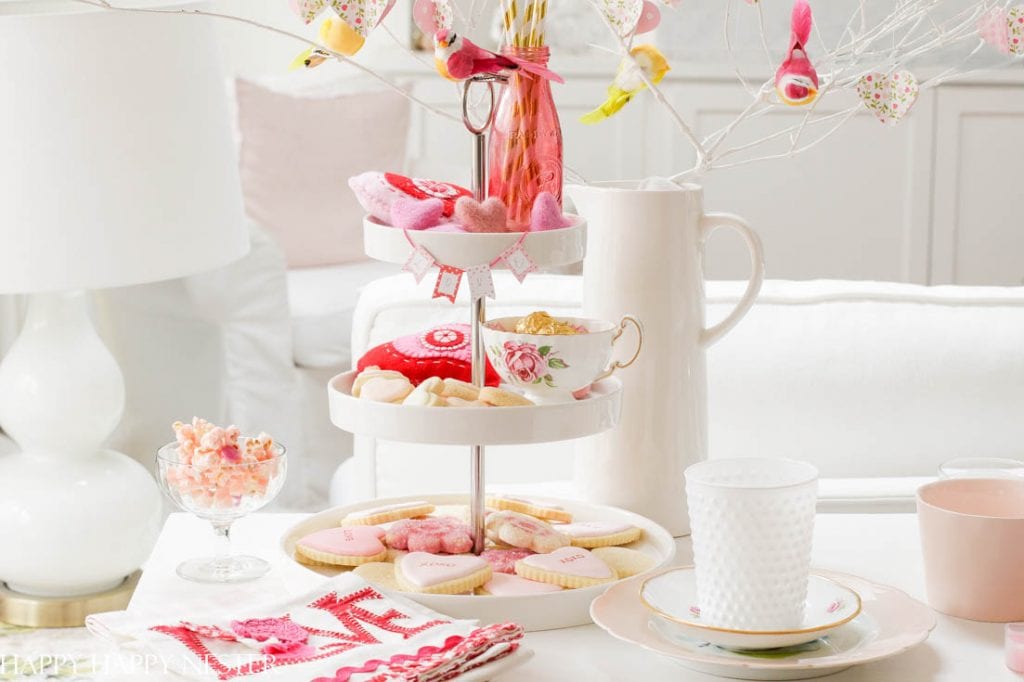 This week has been a hoot. I participated with a few friends in what seemed like a marathon of Valentine's Day Crafts. So, if you missed it, here are the posts:
Valentine Sugar Cookie Decorating Ideas
I want to thank you all for your visit today. You keep me blogging!
I hope you celebrate this year's Valentine's with a tiered tray decor!
Cheers,

9 Valentine's Day Vignette Ideas

Tiered Tray Decor Ideas // Happy Happy Nester
Subtle Valentine's Day Shelf Decorating Ideas // Life Is Better At Home
DIY LOVE Tea Towel // The DIY Mommy
Valentine's Day DIY Vignette // My 100 Year Old Home
Be Mine Valentine Mantel Ideas // Tatertots & Jello

Vintage Valentine's Day Vignette // Seeking Lavender Lane
Valentine's Day Mantel // Modern Glam
Neutral Vignette // Craftberry Bush
Adding Subtle Valentine Touches to the Kitchen // Lemon Grove Lane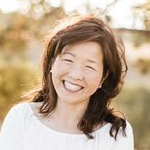 Latest posts by Janine Waite
(see all)