I look forward to grazing on a yummy charcuterie board if you're like me. So I'm always on the hunt for new foods to add. I recently found some of the 25 Best Crackers for a Charcuterie Board! These artisan crackers go beyond the typical Ritz or butter crackers.
These crackers I rounded up today, are packed full of delicious flavors. From cheesy and crispy, to crunchy and sweet, there is a cracker for everyone's taste. So come along and see my latest crackers my family is crushing on.
What is a Charcuterie Board?
A charcuterie board arranges and prepares different meats, cheeses, and finger foods on some platter or board. 
The boards are usually wooden and include round, rectangular, and square shapes. The sizes vary from small to large, depending on the crowd you are feeding.
The original french word charcuterie means a branch of cooking devoted to prepared meat products, such as bacon, ham, sausage, and more. The original charcuterie boards were meat-based and used various parts of the animal. They were of the mind to not waste meat.
What kind of crackers are best for a charcuterie board?
I love all types of crackers, so this is a tricky question. If you're going for a savory charcuterie, then you'll want multigrain crackers if you have more of a sweet board, then maybe an almost cookie-like cracker.
No matter what type of foods you prepare for your board, you can't go wrong with buttery crackers. But, it's a personal thing what crackers work with certain foods. But overall, you might enjoy a savory cracker with savory foods and a sweet cracker with sweet foods. But there are exceptions to this idea.
And then you probably have a favorite cracker that you always buy. I have my favorite crackers that I tend to buy. But I'm here to introduce you to some new crackers that will spice up your charcuterie board.
Let's Take a Look at a List of the Best Crackers
There are no wrong or right crackers for a board. It comes down to what tastes good to you. Let's take a look at a few you may not know about and maybe you can add a few for your next charcuterie board. And by the way, I provided the links for you to buy them if you like.
Ok, let's look at a wide variety of delicious crackers.
Whole Grain
1. Milton's Garlic and Herb
2. Breton Multigrain
Artisan Crackers
3 Taralli
This is a dense little cracker that's made in Italy. I found it at Whole Foods.
This is a crisp cracker that holds up to dips and spreads.
5. Rustic Bakery Rosemary & Olive Oil
6. Rustic Bakery Sweet Onion & Creme Fraiche
7. Rustic Bakery Herbs de Provence
8. Rustic Bakery Everything Spice
Now I love quite a few of these artisan crackers. Rustic Bakery makes some fabulous crackers. The sourdough is lovely and the hacker is like eating a thick piece of bread.
Cheese Crackers
If you like light crispy cheese crackers,n you'll love these cheese sticks. They melt in your mouth with a salty, cheesy flavor.
10. Rustic Bakery Handmade Cheese Coins
Buttery Crackers
11. Trader Joe's Golden Rounds
(These are like the traditional Ritz cracker, and I love them.)
Sweet Crackers
12. Rustic Bakery Citrus Ginger & Thyme
These are wonderful tasting cookies in a cracker form. Pair it with some fig jam and soft cheese for a perfect snack. Oh my goodness, my husband and I love these.
13. Rustic Bakery Apricot, Pistachio & Brandy
14. Rustic Bakery Tart Cherry, Cacao Nib & Almond
15. Raincoast Crisp Apricot, Fig, and Lemon Crackers
These are chewy and crunchy crackers filled with baked fruit. They're a perfect accompaniment to brie cheese. You can pair these crackers with sweet and savory foods.
16. Raincoast Crisps Rosemary Raisin Pecan Crackers
17. Raincoast Crisps Fig and Olive Crackers
18. Raincoast Crisps Salty Date and Almond Crackers
19. Stacy's Pita Chips Cinnamon Sugar
I found a few that I love.
Raincoast: Very crispy and crunchy crackers with bits of fruit, various grains, and nuts. You can find an inexpensive Raincoast cracker at Trader Joe's. There is a wide variety that they make. Here are the different types.
Plain Crackers
20. Stacy's Pita Chips Simply Naked
If you like a thick, crunchy cracker then you'll love these pita chips! They go nicely with sweet and savory foods since there are no herbs or spices.
21. Carr's Table Water Crackers
These Carr's Original Table Water Crackers are made with no artificial colors or flavors and are non-GMO certified. They are delicious and pair wonderfully with several kinds of cheese, spreads, fruits, salami, prosciutto, hummus, roasted vegetables, and more.
They are like a saltine in flavor but not flakey and denser.
22. Stacy's Bagel Chips Everything
Gluten-Free Crackers
23. Milton's Gluten Free Olive Oil Sea Salt Baked Crackers
Inspired by the popular flavor of the NYC everything bagel, Milton's Gluten Free Everything Baked Crackers are made with seven gluten-free grains, four seeds, and a unique blend of seasonings.
24. Milton's Gluten-Free Everything Crackers
25. Raincoast Oat Crisps Gluten Free
If you are allergic to whole wheat flour, these are the best choices.
Now let's talk about building your charcuterie platter.
You can pile on all your favorite foods, or you can plan out the board. I'm here to help you plan, so let's look at all things you might want to consider when making your charcuterie board for your next party.
What type kind of food spread do you want? There are so many types of charcuterie boards that people create. I'm amazed at how creative everyone is, but for this post, I'll highlight some standard board types. The type of board you want to make will determine what foods you need to buy.
Charcuterie Board Ideas
Charcuterie boards are a perfect canvas to display your meats, cheeses, fruit, nuts, and more. So, depending on your preferred style, you'll choose the board to meet your needs and personal preference.
Cheese Board
You can use sharp cheddar or mild for your board. But cover a variety and also use mild, soft, and creamy on your cheese platter.
Fruit Board
Use fresh and/or dried fruit and pair them with chocolate, nuts, and crackers. I always love a fruit board.
Dessert Board
You can make a holiday board for Christmas, Halloween, Valentine's, and more. Add festive holiday foods to create a beautiful and fun holiday charcuterie board!
Candy Board
These types of boards are popular with kids.
Meat and Cheese Board
Use all types of cheese for your board.
Breakfast Board
I made a breakfast board, and my family loved it. But make this for a large crowd since it has many choices for many tastes.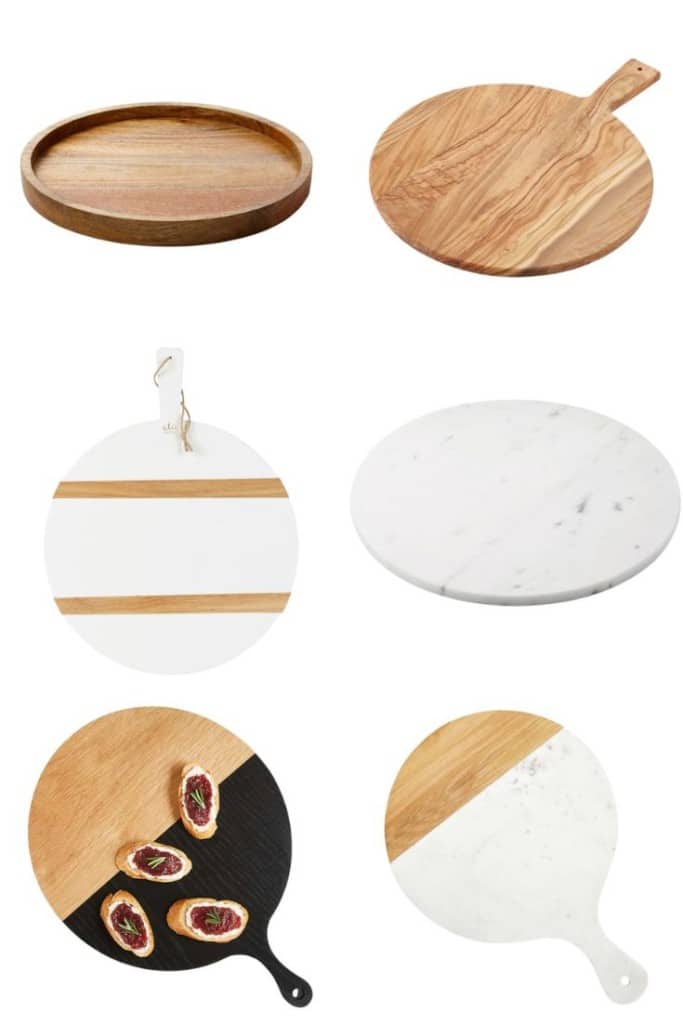 What shape board?
There are a few different shapes of boards to choose from. Of course, I have written a post about the various charcuterie boards.
Round
Wooden Cutting Board
Square
Long Rectangular
---
Look and Style
Do you want your board to have a playful, artsy, serious, rustic, or modern look? I always plan out the style that I wish my charcuterie to show. This is the second thing that I consider when I'm planning my charcuterie board. It will determine what foods I want to include on my board. But, as I mentioned early, I'm how to stylize your board and inspire you with various ideas.
My friend, Sheela, put together the most incredible spread of food. She is a creative floral designer, and her food was styled in a haphazard style but seriously very artsy. Food was draped over other food, and flowers were poking out in places. I love the organicness of her board. You can view this beautiful board in my Spring Table Setting.
I'm more anal-retentive, so I usually have a pattern to my boards. Crackers are laid out in a design and bowls are used to contain food. Your board will reflect your personality.
Ok, but back to the charcuterie board themes. If you want a rustic spread, choose a rustic board, preferably a natural wooden one. If you like modern, choose a black or dark board with modern containers and knives. For a more casual and artsy, choose a little hand-carved tray and arrange the food on top of each other with
Ingredients for a Charcuterie Board
Variety of Cheeses
Soft Cheeses
This type of cheese can include Brie Cheese and other creamy cheeses. If you're not a fan of sharp cheeses, then this category of cheese is for you. I love any brie cheese, but if I chose one it would be French Cheese Brie De Meaux, it's from cow's milk. I highly recommend Cow Girl Creamery out of Petaluma California if you live on the west coast. I'm slightly biased since the company is located in the Bay Area.
Hard Cheese
Gouda cheese is semi-hard and one of my favorites. Gouda can vary depending on how long it has aged. Aged cheeses vary in flavor. So, if it's aged for a few months, it is creamy and semi-soft in taste and texture. The more it ages, the harder and darker it becomes, and almost has a nutty flavor. The aged cheese takes on a strong flavor that people either love or hate. We just bought a slice that was hard like parmesan cheese and had crunchy bits that tasted like salt. These bits are tyrosine, with is an amino acid. This is a sign of well-aged cheese.
Goat Cheese
Goat cheese is from goat's milk. It's a soft cheese-like brie but whiter in color. It has a bit of tanginess that brie doesn't have. I don't think you can go wrong with most goat cheeses, and I love San Francisco's Humbolt Fog goat cheese.
Cheddar Cheese
If you can find Cabot cheese from a giant cheese wheel it's incredible. If you can buy the Cabot Farmhouse Reserve Cheddar, it has the taste of the old Vermont-aged cheddar wheel. It's a sharp white and crumbly cheddar that is creamy and yummy.
Blue Cheese
It's a soft white cheese that combines edible mold that gives it a blue color. I must admit that it's a bit sharp in flavor for me. But I read that if you get the cheese with the milder mold called Penicillium glaucum with its hints of hazelnuts and chocolate.
Semi-Soft Cheese
Semi-soft cheese develops little to no rind. Also, most semi-soft cheeses will hold their shape when cut but are not solid enough for slicing or grating. I have a few types that I love. The cheese at the top of my list is Manchego. It is a Spanish cheese made from sheep's milk of the Manchega breed. It's mild and a wonderful-tasting white cheese.
Dried Fruits
Dried Cranberries
Dried Apricots
Dried Mangoes
Dried Dates
Dried Banana Chips
Dried Raisins
Add-ons
Sprigs of Fresh Herbs – Sage and Rosemary
Edible Flowers
Tags for Cheeses
Cute Cheese Knives
French Bread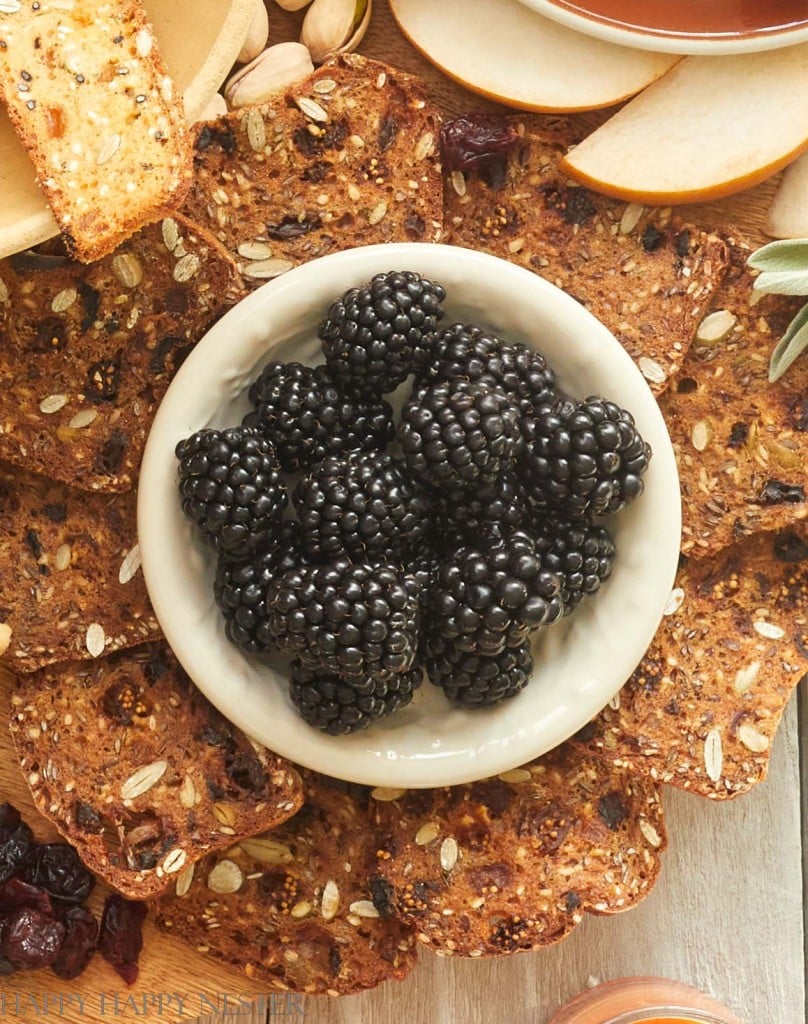 Small Bowls
Dot your bowls around your board in a pattern if you like. They can serve as visual focal points in your platter design.
I'm obsessed with small bowls and I love adding them to my charcuterie boards. They can hold dips, olive oil, jams, and small things you don't want to be lost on your board. I'm funny when choosing which bowls to use. I match my bowls with the feel of the board.
Ok, maybe you're wondering what I'm talking about, so let me explain. If you have a summer charcuterie board full of colorful items, choose bowls that accentuate your food. For today's board, I decided on browns, blacks, and beige. I used my small cream-colored bowls to contrast the browns and blacks. Also, I love how dark foods stand out on them.
How to Build the Perfect Charcuterie Board
Create some beautiful spreads of food on your charcuterie board if you like. I like to think of the board as a blank canvas that I need to fill with shapes and colors.
First, find a board or a flat surface.
Then, cut the cheese into blocks or slices
Plate the cheese.
Next, add small dishes and fill those dishes with jams, preserves, or dips.
Add some meat besides the cheese.
Then add some large fruit and snacks like crackers and treats like chocolate almonds.
Lastly, add some vegetables or crackers next to the fruit and dips. 
I hope you liked this post on the best crackers for a charcuterie board. I will probably keep adding to this post as I create more charcuterie boards throughout the year.
Thanks for joining me and have a wonderful weekend.
Cheers,